28 Best Places to Sell Textbooks For The Most Money In 2023
Many or all of the products featured on this page are from our sponsors who compensate us. This may influence which products we write about and where and how the product appears on a page. However, this does not influence our evaluations. Our opinions are our own. Here is a list of our partners and here is how we make money.
---
The information provided on this page is for educational purposes only. The Modest Wallet is a financial publisher that does not offer any personal financial advice or advocate the purchase or sale of any security or investment for any specific individual.
If you are in search of accurate info regarding the best places to sell your new or used textbooks, you have come to the right place.
One of the most highly discussed downsides to post-secondary education is not only expensive tuition and housing but also the cost of purchasing textbooks every single semester. According to a research study, the average college textbook costs an estimated $105.37.
Students are looking to save money however possible, and the buying/selling of new or used textbooks provides a way for them to do that. Naturally, the need for a way to connect textbook sellers with prospective buyers has been met through the creation of different online textbook trading platforms.
In this article, I will highlight the best places for people to sell their textbooks and make the most money today.
---
Why Sell Your Textbooks?
Aside from the fact that selling your textbooks can help to offset all of the expenses that go along with a university experience, this is not the only reason you should consider selling your textbooks.
Maybe you plan to hand your textbooks down to your siblings or children, keep them for future reference, or maybe there is some sentimental value attached. In these cases, hanging on to a select few may make sense.
Otherwise, getting rid of your unused textbooks is going to provide a variety of benefits. Let's talk about a few of them.
Save Space
Whether you are a biology student or a computer science major, your textbooks are going to stack up. After a year or two, the amount of space that your pile of paper and cardboard will be taking up is going to be significant.
Some of the more substantial textbooks will be upwards of two or three hundred pages and often feature bulky hardcovers that take up even more space. The average university student takes four or five courses per semester — after a year or two of textbooks for every single course, shelf space is going to become scarce.
Given the fact that college and university students do not typically live in the most spacious of accommodations, saving space is often something that needs to be addressed in dorm rooms, student houses, and other shared or smaller living spaces.
So do yourself a favor while also helping out someone else. Sell your textbooks and free up some extra space around your home.
Make Real Money
Textbooks aren't cheap. These days, most textbooks are accompanied by price tags of $100 or more. Some of the more niche or specialty subjects have comprehensive textbooks that have been seen going for upwards of $250 — depending on where you live, that could mean transportation costs for a month, if not more.
This just means that more students are becoming inclined to seek out and purchase second-hand textbooks in order to save themselves some money. Why buy a brand-new textbook for one semester? These students will be looking for second-hand textbooks that they can scoop up before classes and save a chunk as opposed to buying new ones from the bookstore. There is some real money to be made.
Secondhand booksellers offer excellent prices compared to what students will pay at their school's bookstore. Whether it's a consignment arrangement, auction service, a sale through a bookseller, or a direct sale to someone from Facebook Marketplace, make some real cash for your unused books.
One thing to keep in mind is that time is that your timing will often be very important when you are selling your used textbooks. New editions are published almost yearly as more relevant information is added or changed. New editions are always requested by teachers, so previous editions will end up becoming basically useless.
As a result, it is important to sell your textbooks as soon as possible while your edition is still the latest version. The longer you wait, the more likely that your textbooks will be out of date and will end up not selling!
Help Other Students
College and university students are known to often be on a budget with spending while at school. With tuition fees as well as housing and food costs adding up to the tens of thousands, finding ways to save money is important.
Helping other students to ease the financial burden that comes with post-secondary education. Whether you are selling them directly to buyers or selling to online textbook reselling platforms that act as a middleman, your used textbooks will go a long way to helping other students.
Help the Environment
Making some extra cash, saving space, and helping out other students are all great reasons to sell your textbooks. Doing your part to help preserve the environment is another reason and, in my opinion, one of the more important reasons to sell your textbooks when you have finished with them.
Textbooks are incredibly heavy on paper usage, especially when there are new versions and editions of the same subject textbook being printed every year. Instead of throwing them away or letting them sit around collecting dust, recycle your textbooks by selling them to the next student
When we participate in the buying and selling of used textbooks, we are effectively recycling all of that precious paper and helping to reduce our ecological footprint. In a world where renewable resources are more important than ever, participating in every possible paper-saving practice is definitely something we should strive to do.
---
Ways To Sell Textbooks
One of the great things about selling textbooks is the fact that there are actually a number of different ways that people can go about selling their textbooks — they aren't limited to one method.
Let's talk about the most popular ways that people are selling their textbooks today.
Sell Used Textbooks Online
In today's increasingly digital age, people are turning to the internet to do more and more of their business, both from a selling and buying standpoint.
As a result, selling your used textbooks online is definitely going to be one of the best ways to get rid of your used books quickly, efficiently, and effectively.
There are a wide variety of online platforms that have been explicitly designed to help students buy and sell their used textbooks and offset the financial burden of post-secondary education. Examples include buyback websites like BookScouter, Cash4Books, and BooksRun, or marketplace websites like eBay and Craigslist.
Selling textbooks online is advantageous because it allows sellers to access a massive customer base, as opposed to trying to use their own personal network to get their books sold.
One thing to remember, however, is that selling textbooks online will often require time and effort to take photos, create listings, compare prices, package and ship your books out and deal with payments.
Sell Used Textbooks Locally
Selling used textbooks locally is another good way to get rid of your books for some extra cash. Finding textbook buyers in your area is made possible by platforms that specialize in connecting buyers with sellers with a location-based marketplace system.
Craigslist is a perfect example of a place that textbook sellers can go to list and sell their items locally. Simply create and publish a listing, and the platform will make it available to people who are in and around your specific area.
Selling textbooks locally offers an element of simplicity in that buyers and sellers can meet in person to make exchanges or arrange pick-ups/drop-offs. This eliminates the need for sellers to deal with certain aspects of the online selling process (e.g., packaging, shipping, online payments, etc.)
However, sellers who choose to take a local approach do not benefit from some of the perks that online selling provides, like built-in price comparisons and customer bases that are not limited by geographic location.
Sell Used Textbooks Directly To Students
Selling used textbooks directly to students is another great way to get something for your old books, not to mention the fact that it will help them ease a little bit of the financial burden that post-secondary education can create.
There are a number of online platforms that have been developed specifically to help college students buy and sell textbooks. Student2Student is a great example of a website that current students can use to find students from their campus that are looking to buy their specific textbooks.
Another example would be a platform like CampusBooks.com, which offers textbook buybacks from all kinds of sellers. They provide cash quotes and help students get great deals on buying and renting their textbooks each semester.
Sell Used Textbooks To College Bookstores
Going the route of selling your used textbooks to college bookstores is another good option. College bookstores typically are going to have textbook buyback programs in place that allow people to offer up their used textbooks and get cash back.
Visit their websites or make an in-person visit to their bookstore on campus. Depending on the age, relevance, and condition of your textbooks, they may have a cash offer for you. This is a convenient way to make some quick money and get rid of those chunky textbooks.
It is important to remember that college bookstores are most likely not going to pay you top dollar for your textbooks, as they will be re-selling them or renting them in order to generate income of their own.
---
Best Places to Sell Textbooks Online
So now that we have covered some of the most important reasons to sell your used textbooks let's dive into the next step and start selling those textbooks and creating some extra income.
Where exactly should textbook sellers be going to offer up their books and find buyers? In this next section, I will highlight the best places to sell your textbooks and provide insight into how each one works.
1. BookScouter
BookScouter is a free online price comparison website that helps people to buy and sell their textbooks.
BookScouter essentially acts like a middleman, which means that you are not actually selling your textbooks to them. The platform has partnered with a number of other book-selling websites and instead provides users with information regarding places their books can sell.
This information includes textbook style and version information, publishing dates & ISBN numbers, as well as price comparisons between different platforms.
To start selling, simply scan the barcode found on the back of your textbook using the BookScouter app. You will then be provided with a list of places that have active offers to buy that specific book.
Choose which website you would like to sell through, and BookScouter will redirect you to their platform to proceed with the sale. It is important to remember that different companies will have different selling processes that sellers must follow.
BookScouter receives an affiliate fee from whichever marketplace "wins" the auction and gets the sale of your textbook. As a result, you can be sure that you are getting the highest offers available, as their commission will be based on the sale price of the textbook.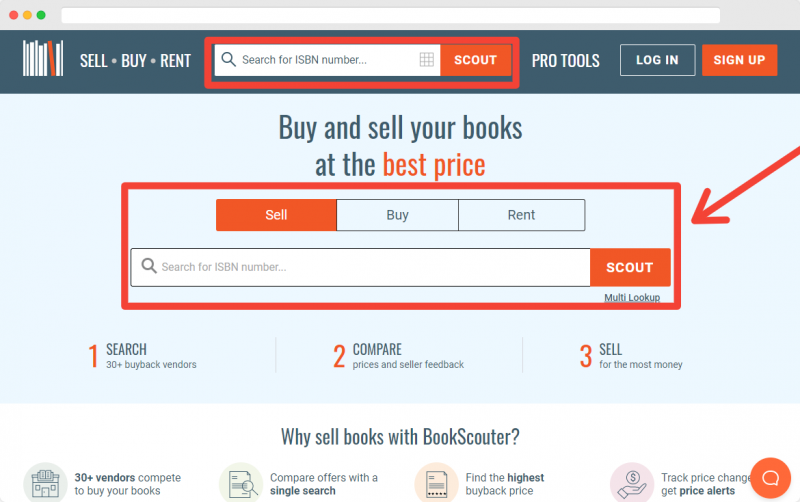 2. Decluttr
Decluttr is an online marketplace that hosts the buying and selling of a wide variety of products, including new and used textbooks.
The selling process simply involves entering the ISBN (International Standard Book Number) associated with your specific textbook into their system. Decluttr will assess the information and provide a cash offer.
If you choose to accept their offer, you will proceed by packaging the designated textbook(s) and shipping it to their warehouse. Once they have confirmed receipt of the package and performed an inspection of the item(s), you will receive your payment by direct deposit or through PayPal.
Shipping your items to Decluttr is completely free, which helps boost your bottom-line earnings when all is said and done.
3. eCampus
eCampus is another online platform dedicated to textbook sharing. They offer users the ability to buy, sell and rent textbooks through a streamlined service that has thousands of great reviews and a Better Business Bureau rating of A+.
eCampus users who are looking to sell their textbooks will follow the same process as most other platforms — input the ISBN associated with the textbook(s) you would like to sell, receive a cash offer quote and choose to accept or decline the offer.
Once an offer has been accepted, you will receive a free shipping label that you can print and use to send your packaged textbooks in. Textbooks can be sold directly to the eCampus organization or can be sold directly to buyers through the platform.
Users can receive cash payment by way of check or direct deposit or choose to receive an in-store credit that pays out 20% more than opting for a cash payout.
4. BooksRun
BooksRun is another great place for people to get some extra cash for their unused textbooks. This company purchases textbooks directly from the seller instead of offering a marketplace that connects sellers to individual buyers.
BooksRun users scan the ISBN of the textbooks they would like to sell, after which they will be provided with a purchase price if there is demand for the book. When an offer has been accepted, sellers will then get a prepaid shipping label that they can use to ship their package for no charge.
Once the books have been received and inspected, the order is confirmed, and sellers will receive payment in as little as four days from the day the package is sent. BooksRun offers payment by way of PayPal deposit or mailed check.
5. Cash4Books
Cash4Books is another online platform that provides a one-stop option for people to take their used textbooks and turn them into cash.
The selling process is the same as other textbook buyback platforms. Scan the ISBNs of each book you would like to sell, and Cash4Books will send you a quote that breaks down their offers for each individual item.
Accept the offer and proceed to ship your books at no charge to their warehouse using the prepaid shipping label provided. Once the order has been received and confirmed, sellers can receive payment via mailed check or PayPal deposit.
Payments are made within 13 days from the date that the package is sent out.
6. Student2Student
Student2Student is an online marketplace designed specifically to help college students buy and sell textbooks from the comfort of their own campus. Instead of shipping textbooks to buyers and sellers, Student2Student takes a more localized approach.

Students looking to sell their textbooks will need to register for a Student2Student account. Once the account has been created, they can enter the ISBN of the book(s) they would like to sell and create a listing for their specific campus.
Students who are looking to purchase textbooks can search the platform and see if there are other students selling their desired textbooks on campus. If there is a match, buyers and sellers can negotiate, come to an agreement, and meet on campus to make the exchange in person.
7. BookFinder.com
BookFinder.com is an online search engine that is designed specifically to search the internet and locate books. Their meta-search system works by performing a scan of the inventories of 100,000+ online booksellers internationally.
Users who are looking to sell their used textbooks will scan each book's ISBN and let the system find the best buyback offers available online. Sellers can compare offers from different buyers and then proceed with the best offer by following the provided link to the corresponding website to execute the buyback.
BookFinder.com works with partners who cover shipping costs when buying back textbooks. Users will need to follow the shipping procedure provided by each specific seller.
8. TextbookRush
TextbookRush is one of the largest independent online bookstores, which has been operating since 2002. The platform offers textbook buybacks and textbook rentals and has a variety of textbooks available for purchase.
For people looking to sell their textbooks, TextbookRush has a typical buyback program in which you enter the ISBN of your book(s) and then receive a quoted purchase price. If you choose to accept, you hit the "add to sell cart" button and proceed to checkout.
TextbookRush will send you a trackable shipping label that sellers will attach to their package and send out to be shipped. Once the textbook(s) have been received and inspected, payment will be made within ten days by way of PayPal.
One thing to remember is that TextbookRush does reserve the right to adjust the allotted payout for textbooks that they deem do not meet the agreed-upon guidelines.
9. ValoreBooks
ValoreBooks is another dedicated online textbook trading platform that offers textbook rentals, as well as a marketplace for users to sell their used textbooks. They connect sellers with textbook buyers, acting as a middleman instead of providing textbook buyback services.
Before you start selling, refer to the ValoreBooks online search tool to verify that the books you are looking to sell are on the list of books that ValoreBooks is accepting. Once you have scanned your book(s), you will receive a price estimate for your items.
When you are ready to ship your book(s), you will be given a prepaid shipping label that allows tracking of your package. Once the package has arrived, it can take up to 7 business days for the contents to be evaluated. When the order has been accepted, ValorBooks sends payment by way of a mailed check or PayPal deposit, both of which can take up to 14 business days to arrive.
10. Chegg
Chegg is an American education technology company based out of California. They provide a variety of educational resources, from homework help and practice tests to digital and physical textbook rentals. Chegg Books is a leg of the company dedicated to the buying, selling, and renting of textbooks, and it is partnered with GoTextbooks.
If you are looking to sell your textbooks on Chegg, simply enter the ISBNs and see what price they can offer. When an offer has been accepted, you will receive a printable shipping label that covers the cost of shipping your packaged textbooks to a GoTextbooks facility.
Upon receipt and confirmation of your order, payment is typically delivered within 5 – 7 business days.
11. CampusBooks
CampusBooks is an online marketplace and price comparison website for textbooks, trade books, and other educational material, as well as novels and general interest books.
CampusBooks offers a buyback program that gives people a chance to sell their textbooks for cash with a simple, streamlined system. They act as a middleman who connects sellers to buyback companies and do not purchase the textbooks directly.
The process is simple. Start by inputting the ISBN of the textbook(s) that you would like to sell, and CampusBooks will search buyback sites to get you the best price.
Once sellers accept an offer, they will receive a free printable shipping label that can be attached to your packaged items and will cover all shipping costs. Once the buyback company has received your package and confirmed the order, you will receive payment. Textbook buyback companies typically offer payouts via PayPal or mailed checks.
12. CollegeBooksDirect.com
CollegeBooksDirect.com is an online bookstore that is designed to help College students get access to both new and used textbooks. They also offer a "sell your textbooks" program that allows anybody to visit the website and find out how much they can get for their used textbooks.
To start selling, enter the ISBN associated with your textbook (10 or 13-character number) into the search engine found on the "sell textbooks" page. An immediate search will be conducted, and if your textbook is in demand, you will receive a quoted price for the book.
If you choose to accept the provided offer, you will then be prompted to package and ship your textbooks out to them.
✎ Editor's Note
Users must have created an account on the platform before proceeding with a sell order. The textbook order must have a minimum value of $10. To receive a free UPS (United Parcel Service) label for shipping, the sell order must be over $30.
Upon receipt and confirmation of the package, CollegeBooksDirect.com will send payment by way of a mailed written check. Sellers can also sign up for their PayPal service and receive payment via a PayPal account direct deposit.
13. Sell Back Your Book
Sell Back Your Book is yet another great platform that offers a direct-from-seller textbook buyback program. People who are looking to get some extra cash for their used books can visit the website and get an instant quote for the textbooks they would like to sell.
Start by inputting a single ISBN, or use the bulk ISBN function to input up to 20 textbook ISBNS at one time. If you have textbooks that are in demand, you will be presented with an immediate cash offer based on an analysis of other online prices.
When an offer has been accepted, sellers are provided with a printable shipping label that will cover all shipping costs. Package your textbooks properly, attach the shipping label and send it off to their facility. Payments are made through PayPal or written check and are typically processed within three business days of your textbooks arriving on site.
14. TextbookX
TextbookX is another online textbook marketplace platform that was launched specifically to help college students find textbooks at reasonable prices. They allow sellers to take advantage of their marketplace of TextbookX customers and offer used textbooks for sale.
To get started, sellers need to create a TextbookX account and register as a seller, providing their name, address, and updated bank information.
Once an account has been set up, enter the ISBN of the textbook(s) you would like to sell into the search field. Next, create the listing by describing the book with its title, author, binding type, and other important features. You will then be prompted to identify the condition of each of the textbooks you are selling (e.g., like new, very good, etc.).
Now that you have created your listing set a selling price and proceed to upload your listing onto the TextbookX marketplace. Once sold, you will be notified by email and provided with a printable address label that is used for shipping to the successful buyer.
Keep in mind that sellers are required to pay for shipping using the provider of their choice. They do have the option of purchasing a shipping label from TextbookX as well.
15. AbeBooks
AbeBooks is known as one of the leading online marketplaces for people to buy and sell rare and collectible books, as well as textbooks, trade books, art, comics, rare maps, and more.
AbeBooks also offers a seller program that requires aspiring sellers to submit an application that must be internally approved before proceeding. Once you have achieved seller status and created an account, you will gain access to the six international marketplaces that AbeBooks provides.
AbeBooks helps sellers reach millions of potential customers worldwide, opening up opportunities to really get top dollar for your books while being able to sell them quickly. They provide a variety of useful tools to help sellers get their items noticed and provide excellent seller support for any issues or queries that may come up.
The all-important kicker with AbeBooks is that sellers are required to pay a monthly subscription fee (starting at $25 USD per month), which is determined based on the number of books they have listed.
There is also an 8% commission fee that is applied to all sales, including shipping and/or other charges. The minimum sale commission is $0.50 USD per item, while the maximum commission is $40 USD per single item.
16. FacultyBooks
FacultyBooks is another good platform that people can use to get some extra cash for their textbooks. They buy everything from used student textbooks and instructor textbooks to study guides and extra editions.
To get a quote for your textbooks from FacultyBooks, simply visit their website and enter the ISBN number of your textbook(s). You will then receive a personalized quote on your textbook(s) — users can input up to 50 ISBNs at one time.
If you choose to accept the offer, FacultyBooks provides a shipping label to cover shipping costs and will even provide free boxes and packaging materials upon request. Once the books have been received and accepted, payment is sent out via PayPal deposit or written check.
17. Half Price Books
Half Price Books is a chain of brick-and-mortar bookstores found around the United States. They deal with everything from textbooks and novels to DVDs, CDs, and vinyls.
Half Price Books offers a buyback program that purchases a variety of items, including textbooks.
It is important to remember that HPB is a strictly in-person organization, meaning that you will have to bring the books you would like to sell to a local Half Price Books shop. Your books will be evaluated on-site, and a cash offer will be made on the spot.
18. BookSeeker
BookSeeker is a locally owned organization based out of Canada and claims to be one of Canada's best-used textbook buyback companies. They, of course, also operate in the U.S.
Their number one goal is to help students find a fair and manageable price for their textbooks and other educational resources. They also create engaging educational content for students that helps with studying habits, goal-setting, and effective test-taking skills.
The textbook buyback program is simple — Visit the bookseeker.io website, and you will be greeted with a "sell your textbooks for cash" message on the home page. Underneath, there is a search field for you to enter the ISBNs of the books you would like to sell.
Once you have inputted the ISBN info, BookSeeker will provide a fair and accurate price quote for your books. This quoted price is locked in for seven days, after which it will have to be reevaluated before proceeding.
When an offer is accepted, sellers will receive a printable shipping label for free that covers all shipping fees. Package your books nicely, attach the shipping label, and send them out to the corresponding BookSeeker facility.
Upon arrival and confirmation of the shipped package, sellers will then be paid out by way of a mailed written check or through direct deposit to a PayPal account.
19. SlugBooks
SlugBooks is an online textbook price comparison platform that specializes in helping people get the best possible deals on buying and/or renting textbooks. They compile textbook prices from all of the most popular and reputable sellers, including Amazon, eBay, and Chegg.
SlugBooks also offers a marketplace that is tailored to help people with used textbooks sell them for some extra cash! They are partnered with a variety of textbook buyback websites and direct-to-consumer textbook marketplaces, which allows them to provide competitive prices for your books.
To get started, visit the SlugBooks website and navigate to the "Sell Textbooks" page. There you will find a search bar, as well as some useful online textbooks selling tips and information. Enter the ISBNs of the books you would like to sell and receive a quote based on up-to-date online price comparisons.
When an offer has been accepted, sellers will then need to package and ship the purchased textbooks following the purchaser's guidelines and instructions. When the package has been received, and items have been confirmed, funds are sent out by way of the payment processors that they use (typically written check or PayPal deposit).
20. Knetbooks
Knetbooks is an online platform that is designed mainly to function as a textbook rental website that provides access to a massive inventory of educational textbooks and offers huge savings. They specialize in rentals only and do not facilitate the buying and/or selling of textbooks.
However, they do offer a textbook buyback service for people who are looking to bring in some extra cash in exchange for their used books. To do this, visit the Knetbooks website and find the "sell textbooks" tab at the very bottom of the page. It will redirect you to their textbook buyback website sellbackbooks.com.
From here, you can input the ISBN number(s) of the items you would like to sell and see if they are in demand. If they are, you will receive a quote for the books that is good for seven days. When accepted, you will be provided with a buyback mailing slip that can be attached to your package.
When your items have been received and Knetbooks has evaluated their condition and approved the order, you will be sent a check in the mail with your payment.
✎ Editor's Note
Knetbooks reserves the right to destroy any books that are deemed not up to the standards agreed upon, as stated in their policy. Books that are deemed to be potentially inauthentic will be sent to the publisher for verification before payment is processed.
21. Uloop
Uloop is one of the more unique platforms we have in our list of the best places to sell your textbooks in 2022. They have built a general marketplace that caters to virtually everything involved in the post-secondary college experience.
Their marketplace is broken down into categories — each of which is specific to a particular product or service that can be offered. Categories range from things like student housing, college internships, and opportunities to study abroad to buying textbooks and support with college loans.
Uloop also offers a textbook-selling service powered by TextSurf, which can be found by navigating to the "sell textbooks" tab on their website. Sellers can enter the ISBN of their textbook(s) and choose to accept or decline the quote provided for any of your items that are in demand.
Once an offer has been accepted and the order has been shipped, sellers receive payment by way of a mailed check or PayPal deposit.
22. Amazon
Amazon has become the single largest online marketplace in the world that hosts millions of third-party sellers. Amazon offers two different ways that people can sell their textbooks for some extra cash:
Textbook Buyback
Sellers trade their textbooks directly to Amazon
Amazon provides a single offer that is non-negotiable
If the offer is accepted, funds are paid out via an Amazon gift card
Independent Seller
Register with Amazon as an independent seller
Create and publish your own listings for your textbooks on Amazon
While you do control pricing with this method, you are also responsible for marketing
Payments made in cash from online buyers to independent sellers through Amazon (they take a percentage of the sale price)
The seller must cover shipping fees
23. Barnes & Noble
Barnes & Noble is one of the world's largest online book-selling platforms. They offer a textbook buyback service that people can use to get some extra cash for their new or used textbooks.
To get started, enter the ISBN number(s) of the textbook(s) you are looking to sell into their system. If there is demand for your books, you will receive a cash offer for them. If you decide to accept the offer, you will be provided with shipping labels that cover the cost for you to ship your package.
One thing that is important to note is the fact that Barnes & Noble has a policy that requires sellers to have a minimum of $10 in textbook value before they can proceed with a sell order.
24. eBay
eBay is the biggest and most well-known online auction platform in the world, with well over 130 million active users.
eBay provides a marketplace for people to list items of virtually any kind, from textbooks and school supplies to clothing, furniture, and car parts. Along with its many other offerings.
In order to start selling on eBay, you need to register as a seller and create an account in order to start listing your items. Once you are all set up, create listings for all of your books and then proceed to publish them.
You will set a reserve price (the minimum price that the item can sell at) and then set a time limit for your auction. Buyers can bid on your items in an auction-style setting where the highest bidder takes the item after the allotted auction time is up.
Once an item has been sold and the transaction clears, funds will be paid directly to the checking account that you have linked from your bank. All of the selling fees and other costs that eBay charges are automatically deducted from the total, and the proceeds are then paid to the seller.
25. TextbookBuyer.com
TextbookBuyer.com is another website that offers textbook-selling services to people looking for a way to get rid of their old books and make some extra cash. Upon visiting the website, you can see that it is quite outdated in terms of aesthetics, flow, and style.
However, it is still quite easy to use — simply input the ISBN of your book(s) and hit the "Sell Used Textbooks" button. If they are currently purchasing your specific textbook, you will be offered a quoted price. Once you have created a minimum $10 selling order, package your books, attach the shipping label, and send it off.
Once your books have arrived and been processed, the order is confirmed, and payment is made by way of a mailed check to your address, which is typically sent out within a day of confirmation.
---
Best Places To Sell Your Textbooks Locally
Selling your textbooks locally is another great way to get that extra cash for your used books.
Finding buyers that are in your area eliminates the need to deal with packaging, shipping, and online payment processes. Instead, drop your books off, meet buyers at a neutral location or have them pick the books up directly from you.
Here are the best platforms that you should use to sell your textbooks locally.
26. Facebook Marketplace
Facebook Marketplace is known as one of the most popular online marketplaces used by people of all ages. It provides a safe way for people to buy and sell items using a platform that hosts millions of active users every month.
In order to get started selling your textbooks on Facebook Marketplace, you simply need to have an active Facebook account. Visit the marketplace tab through Facebook and select "Selling." From here, you can develop your listing by creating a title and description of your book, uploading photos, and adding important search meta tags.
One thing to remember is that all monetary transactions are handled by the participating parties and are not mediated by Facebook. This also means that Facebook does not take a cut or charge any fees, which sweetens your bottom line.
27. Craigslist
Craigslist is an American classified advertisements platform that provides a place for everyday people to market their products and/or services. Craigslist has different sections dedicated to things like housing, vehicles, and even a job classifieds section — so you can bet that there is a place for your textbooks to sell.
With more than 250 million website visitors each month, Craigslist provides access to a massive American customer base for sellers to take advantage of. Simply create listings using your textbook title and a short description, add a few photos and publish.
It is important to note that Craigslist does not have any substantial security, fraud, or scam prevention measures in place, so sellers should be careful when arranging sales.
28. Nextdoor
Nextdoor is an American platform that operates a hyperlocal social networking service for neighborhoods. Think of it like Facebook Marketplace but dedicated to neighborhoods. The main difference between Facebook and Nextdoor is the fact that Nextdoor prides itself on neighborhood safety and security.
Nextdoor is a great place to buy and sell items to your neighbors, including textbooks. Keep in mind that Nextdoor selling experience heavily depends on where you live.
One pro tip for selling textbooks on Nextdoor is to reach an even broader local audience. For that, use the "broader local area" feature to cast a wider net.
---
Tips To Make The Most Money Selling Textbooks
Now that we have highlighted some of the best places to sell your textbooks and make that ever-important extra cash choose the service(s) that work best for you, and you're ready to start selling.
Here are a few important tips to keep in mind that will help you make the most money selling your textbooks and do it efficiently.
Pick the Right Season
Choosing the right time to list your textbooks is one of the most crucial tips I can give to anyone looking to get rid of their old books quickly.
When are students going to be looking to buy their textbooks? Well, most will probably start textbook shopping a few weeks before the start of their semester. Others may wait until the last minute or even look to grab their books during the first week of school.
Regardless, your sweet spot is going to be a few weeks before the start of a semester, all the way until the end of the first or second week of school. This is when students will be looking to save some money and pick up second-hand textbooks online.
I recommend planning to list your textbooks at the start of the school semester — in most cases, this is going to be in August and early January. This way, you will be getting a lot more traffic to your listings and have a much better chance of finding a buyer for your textbooks.
Sell Them Quickly
Selling your textbooks in a timely manner is definitely something you should be doing in order to maximize profits. We discussed earlier how new editions of scholarly textbooks are often being published every year or two as new information and teaching strategies emerge.
Professors and instructors are often going to request that their students purchase the newest editions of the course textbook, which makes older versions less desirable, less valuable, and harder to sell.
As a result, selling your textbooks as soon as possible after you are done using them should be high on your priority list. Once the semester is over, get your textbooks listed and offer them up as soon as possible. This way, students taking that same course next semester are likely going to be looking to purchase the exact same edition!
This isn't to say that you shouldn't try to list and sell older textbooks, however your customer pool will likely be a lot smaller, and you probably won't get as much value as you would have to sell them earlier.
Keep Them in Good Condition
Like any other physical product that you want to sell, it is always going to be important to keep your textbooks in the best possible condition. Textbooks that are not cared for properly can end up with torn, crumpled, or stained pages, broken bindings, missing sections, and other wear and tear caused by a disregard for condition.
Textbooks that are not in good condition will often be looked over by potential customers on marketplace-style textbook-selling platforms. Textbook buyback companies will often either heavily reduce the originally quoted value of your textbooks or send them back if they are in poor condition.
Do yourself a favor and take good care of your textbooks. Put them away safely on a shelf when you aren't using them instead of leaving them jammed in a backpack, and avoid spilling your coffee on the pages during those late-night study sessions.
Take Good Photos
It may seem simple, but taking excellent photos of your textbooks will help you sell them faster and for more than you will with poor-quality photos. Buyers are more inclined to make a purchase when the advertising photos are done well and present a product that is clean and complete.
Find a neutral background so that your textbooks are the star of the photos; stay away from bright-colored backgrounds or ones with excessive patterning. Set up good lighting, whether it is a spot by a window that catches lots of natural light or a ring light arrangement in the corner of a room. Proper lighting will help you come out with high-quality photos.
Make sure that you take relevant photos that display all of the important aspects of the textbook. Take a clear picture of the front and back covers, as well as a picture of the spine (especially if it includes an important title or edition information). Include close-ups of the ISBN and other identifying features that the textbook has printed on it.
Compare Prices
My last, and arguably one of the most important tips to help you make the most money selling your textbooks, is ALWAYS to compare prices.
When selling your textbooks directly to buyers on different marketplace platforms like Facebook Marketplace or eBay, you will need to check listings of the same textbook and see what they are being sold at. Buyers on these platforms will actively check the same listings in order to see where they can get the best deal. You need to be competitive with your pricing if you want your books to sell, so make sure you are comparing prices and listing your items accordingly.
If you choose to sell your textbooks to a buyback organization, you will also definitely want to be keeping track of comparable prices before accepting any of the offers that they put up for your books. Some of these buyback platforms will do the work for you and provide a list of offers from different buyers online, giving you the opportunity to pick the best one.
BookFinder.com is a good example of a buyback service that has a built-in system that scans the internet for buyers who have offers to purchase specific textbooks.
---
A Word of Warning When Selling Textbooks
Before we get into wrapping up this article, I wanted to extend a quick word of warning about selling or purchasing used textbooks in today's day and age.
With the world turning heavily towards digital products and services, there have been changes to the way that educational institutions deliver their curriculums, in specific the style and functionality of their course textbooks.
It is becoming increasingly common for textbooks to come with digital extras or some sort of virtual add-on. These include things like access codes to online class portals, digital homework and review material, and software or other online tools.
Typically, digital access codes to supplemental textbook material are for one-time use, which means that once they are used by the initial textbook owner, they will no longer work for subsequent owners.
These extras are frequently limited to a single use and therefore will not be functional when passed along if used already. Most of the time, these virtual add-ons will be used by the original owner of the textbook. As a result, there are textbook buyers who will not buy books that have had their digital access or other online add-on features used by the original owner.
In some cases, individual used textbook buyers may not be aware of the single-use digital features that come with a textbook and will be in for an unpleasant surprise when they need to access an online portal for their class but realize the access code in their second-hand textbook has already been used.
When you are selling your used textbooks, it is important to be aware of the status and functionality of any digital extras that are attached to your books. Sellers should always strive to conduct business with honesty and integrity — I am a firm believer in karma.
---
Final Thoughts
Textbooks are expensive, and alongside all of the other steadily rising costs that come with post-secondary education, it can really take a toll financially. Students and their families are often looking for ways to offset the financial burden of a college education, and the buying/selling of used textbooks has become one that is simple and effective.
In this article, I have highlighted the best places to sell textbooks and make some extra money today and how each one works. From our most popular online marketplaces like eBay and Facebook Marketplace to a variety of textbook buyback services — there are a variety of ways to turn those old textbooks into extra income.
I hope this article has provided the information and guidance that you came looking for. Best of luck with all of your textbook-selling endeavors.
Get our free Side Hustle Handbook with the best strategies to multiply your income sources today.
Plus our best money tips delivered straight to your inbox.

Rhys is an online content writer & editor, student of decentralized finance and amateur botanist. He loves playing video games with his friends, learning new songs on the piano, and spending time in the sun with his dog Levi.