12 Best Stock Screeners of 2023: Free and Paid
Stock screeners are an excellent resource for investors that want to pick their own stocks. Here are our top free and paid picks.

Reviewed By

Vanja Petrovic

Even though there is a lot of literature out there to help investors in picking the best stocks based on the study of financial metrics, historical performance, and other variables, the truth is that it is often hard to find a place to start in a market that offers thousands of alternatives.
Stock screeners have emerged as a potential solution to that problem. They allow investors to filter this vast universe of securities by defining certain criteria they would like their stocks to meet. This helps to narrow down the selection to a more manageable list that they can further analyze to take their picks.
In the following article, we'll provide a selection of the best stock screeners that we think offer the best features, filtering variables, and interface so you can start using them to pick the most promising securities out there.
TL;DR
---
Best Stock Screeners
We will summarize the main functions and features offered by each of the candidates within this list along with the cost of using them — if any — to help you pick the one that suits your needs the most.
1. TC2000: Best for Advanced Charting & Screening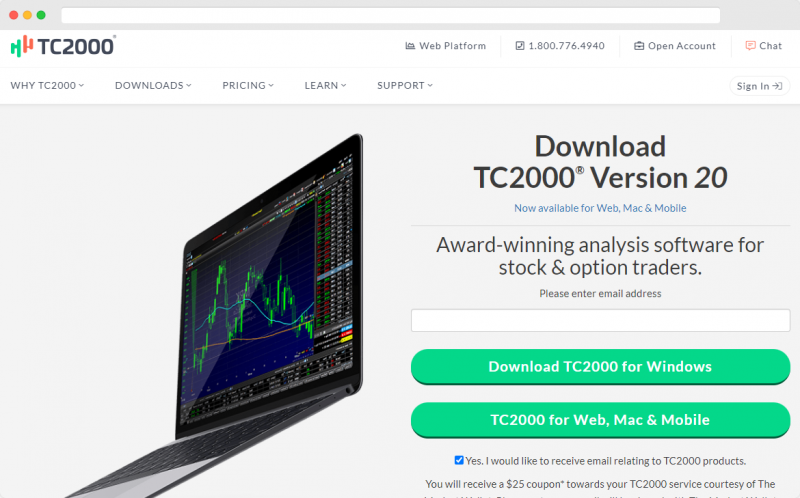 TC2000 is an award-winning user-friendly trading interface that offers a wide range of features for active traders and investors including, among others, a stock screener.
The goal of TC2000 is to provide investors with real-time data for a vast range of stocks, indexes, exchange-traded funds (ETFs), and other instruments including fundamental data, charting tools, options chains, and other cool features that can be accessed for a monthly subscription.
The software can be accessed via your computer or phone by using the firm's proprietary trading interface, which is available for Mac, Android, and Windows devices. Additionally, there is also a web-based version available for those who have limited storage space on their computers.
Filtering criteria for the stock screener include fundamental variables like profitability, solvency, and liquidity ratios along with technical variables such as market capitalization, daily moving averages, and trading volumes.
Pros
All-in-one trading interface
Easy to use screener with all of the traditional metrics investors commonly use to filter stocks
Users can set up as many paper trading accounts as they want
Vast portfolio of charting tools
Built-in options trading features including strategies, chains, and visual scenario modeling
Cons
The basic monthly subscription is quite limited while the premium alternatives are a bit expensive.
Trading stocks with this provider directly generates a $4.95 commission per trade for stocks and ETFs.
Pricing
The basic subscription for TC 2000, the Silver package, costs $9.99 per month but only allows the user to access the charting tool and trading interface.
Meanwhile, the premium packages – Gold and Platinum – cost $29.99 and $89.89 per month respectively and give users access to all of the advanced features including the stock screener.
2. Finviz: Best for Visualizing Market Data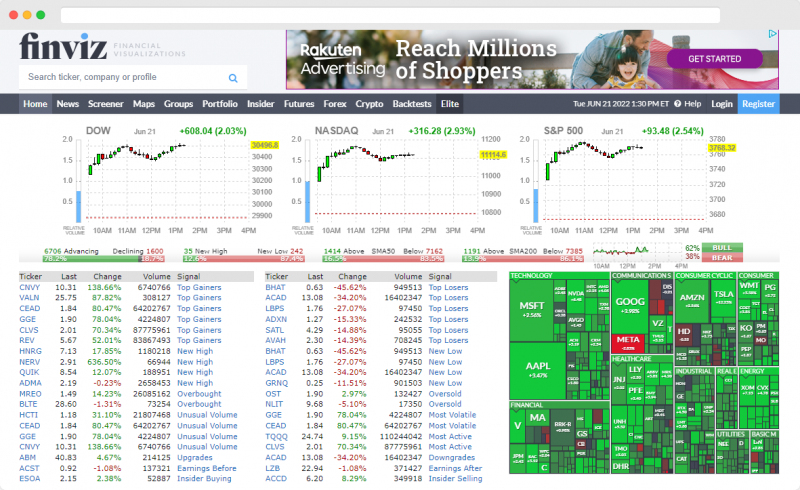 Finviz is a freemium financial data service that offers, among other things, an advanced stock screening and charting tool for those seeking to analyze stocks in depth.
The service is used by a large number of institutions and financial professionals and one of the most attractive things about it is that the free version gives you just enough access to get by if you are a retail investor seeking to short-list the number of companies you would like to further analyze based on predefined criteria.
Finviz's screener lets you filter stocks by descriptive, fundamental, and technical variables and the filtering criteria include average daily volumes, sector, industry, country, profit margins, and historical growth, among many others.
Meanwhile, the premium version of the service – known as the Elite package – gives investors the chance to perform backtests on their strategies based on a set of technical guidelines and it also expands the scope and length of the screener.
Pros
User-friendly web-based interface for screening stocks
Ample selection of filtering criteria including fundamental and technical variables
It is possible to save multiple screening presets.
The list of screened stocks can be customized to fulfill the investors' preferences.
The monthly subscription is competitive based on the wide range of features offered by this provider.
Cons
The data is delayed by three to five minutes on the free version of the services.
Statements only go as far as three years back in the free version.
Pricing
The premium version of Finviz costs $39.50 per month or $24.96 per month if you pay an entire year upfront. Subscriptions can be canceled at any time.
3. TradingView: Best for International Investors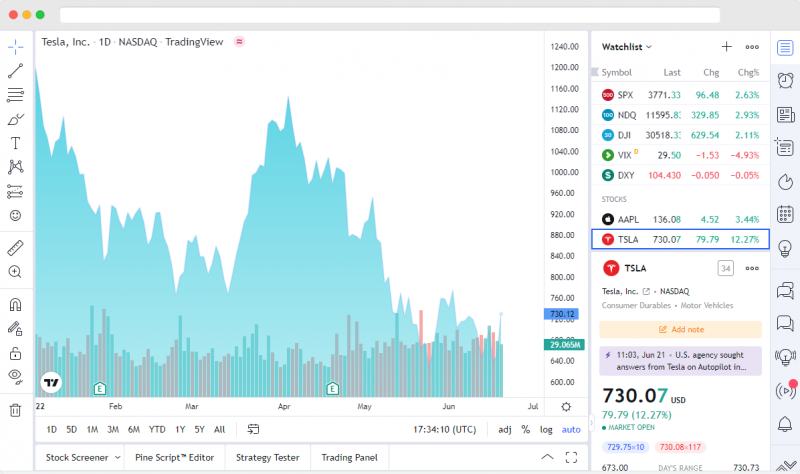 TradingView is a social trading platform that serves more than 15 million traders from around the world by providing top-notch charting tools, screeners covering three different markets, financial and market data, and the possibility of sharing your thoughts with a big community of investors and traders.
Even though its charting tool is what has made this platform so popular among traders, its stock screener has lots to offer although the interface is not the most user-friendly.
With TradingView's stock screener, investors can filter thousands of stocks by using both fundamental and technical criteria going from the most basic financial ratios to advanced technical readings.
One of the best things about TradingView is that most of its features can be accessed for free. However, for those who prefer to take things to another level, the premium versions of the service are very affordable for those who are active participants in the stock market. Read our full TradingView review to learn more.
Pros
Web-based and desktop platforms available for both Mac and Windows devices
Wide range of markets covered including foreign stocks
It is possible to connect the TradingView interface to your brokerage firm to execute trades on.
You can share your ideas with the community to get feedback.
Competitive pricing
Cons
The filtering window of the stock screener is a bit uncomfortable to navigate.
Pricing
Most of the features offered by TradingView are free but the premium versions let you access more advanced tools. Additionally, the free version includes ads.
The Pro version costs $14.95 per month and lets you add up to five indicators per chart while analyzing two instruments per window. This version also lets you add volume profile indicators and create advanced watchlists. You can also set a limited number of alerts for the instruments you would like to track.
Finally, the Pro+ package costs $29.95 per month while the Premium version costs $59.95 per month. As you move higher in the subscription brackets, the number of indicators, alerts, charts in a single layout, and other features are increased.
4. Trade Ideas: Best for AI-Powered Technical Analysis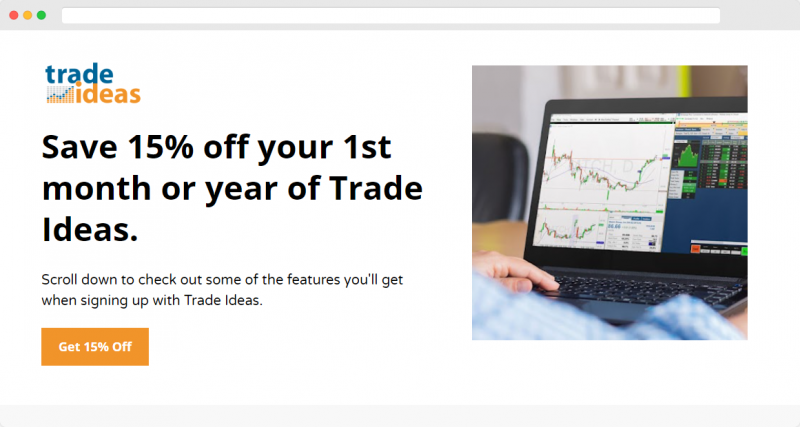 Trade Ideas was launched in 2013 to support the activities of traders around the world as the retail self-directed trading movement continued to grow on the back of zero-commission brokerage services.
Trade Ideas has been featured on the Inc. 5000 Fastest-Growing Privately Held Companies in the US list due to the insightful service they currently provide to thousands of investors around the world.
This service offers both data and information as they guide traders through carefully devised plans conceived to increase their odds of success when operating with any given instrument.
Among the many features that this platform offers, you'll find a stock screener, a trading simulator, a backtesting tool, and the classic charting tools you'll see with most providers. Meanwhile, the platform can also be connected with that of Interactive Brokers and other brokerage firms to perform trades directly from the interface.
The stock screening tool can be accessed for free but some features are limited and can only be enjoyed by registered users. Read our full Trade Ideas review to learn more.
Pros
AI-powered trading tool that offers more than just raw data
Live trading simulations, scenario modeling, and other advanced tools
Well-packed stock screener that includes fundamental and technical filtering criteria
Cons
Trade Ideas is quite expensive compared to its peers. However, some of its AI-powered advanced features are not available at any other place.
Pricing
The Standard package offered by Trade Ideas costs $118 per month and includes access to the service's real-time simulated and live trading rooms along with a limited number of simultaneous charts.
Meanwhile, the Premium package costs $228 per month and includes other advanced features including an AI-powered virtual trading analyst, entry and exit signals for all instruments, a backtesting tool, and a risk assessment feature.
5. Stock Rover: Best for Long-Term Investors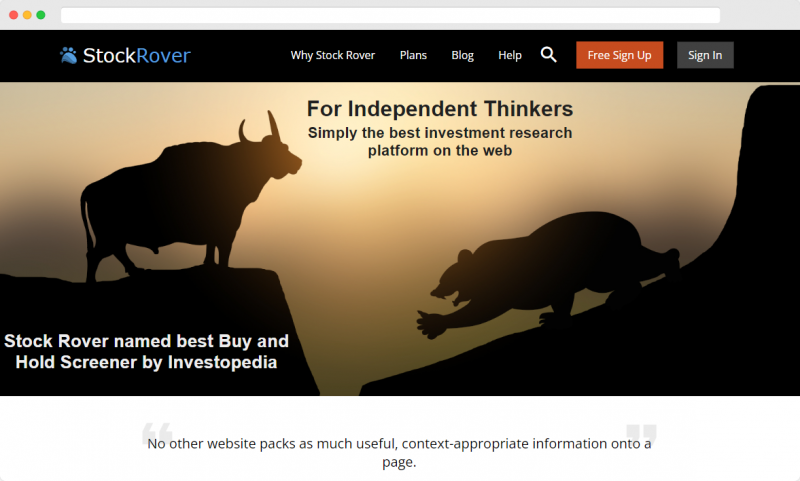 Stock Rover is a powerful freemium investment research platform that provides access to multiple fundamental and technical analysis tools including an industry-leading stock screener — a feature that has made Rover very popular among investors.
With Stock Rover, users can do more than just use the traditional filtering criteria, which consists of financial and technical ratios, as the platform has made available multiple screening strategies following the most popular investing methodologies such as dividend, growth, and momentum investing.
In total, Rover offers 130 different pre-built screeners and supports more than 500 different financial metrics for filtering purposes. Additionally, they have incorporated certain unique screening methods for exchange-traded funds (ETF) and also strategies that qualify stocks based on the investment criteria followed by top investors such as Benjamin Graham and Peter Lynch. Read our full Stock Rover review to learn more.
Pros
The free version of the service should suffice the needs of beginner investors.
More than 8,500 stocks, 4,000 ETF, and 40,000 funds are covered by the platform.
Financial data goes back from three to 10 years depending on the plan.
Premium users can export the data to an MS Excel file.
Advanced screening and filtering options
Investors can perform backtests on their screening criteria to see how it would have performed in past years.
Competitive pricing for premium packages
Cons
Foreign stocks are not covered by this provider.
Pricing
Even though some of the features offered by Stock Rover can be accessed for free, this provider also offers paid packages that further expand the scope and reach of the data provided.
The Essentials plan costs $7.99 per month and offers 260 financial metrics applied to five years of data. This package also provides access to portfolio management tools, the possibility of connecting your brokerage account, and setting up alerts for the stocks you follow.
The Premium package costs $17.99 per month and adds an extra 90 financial metrics while expanding historical data to 10 years. Additionally, it provides access to ETF screening tools, more advanced charting tools, and detailed portfolio analytics.
Finally, the Premium Plus package costs $27.99 per month and adds another 300 financial metrics along with 180 more ETF screening metrics. Additionally, users can create custom metrics by using the data provided by Rover.
6. Atom Finance: Best for Portfolio Tracking
Atom Finance aims to close the gap between the data available for individual investors and that made available to institutions. Their goal is to allow retail investors to perform in-depth analyses of thousands of securities to select the most promising investments out there.
Atom was created by financial professionals to serve both individual investors and independent professionally managed investment funds, helping them in saving thousands of dollars in expensive terminals.
Among the many features included in the Atom Finance platform, users will find an incredible stock screener that will allow them to filter stocks by using traditional financial metrics.
Additionally, the platform expands the user's research and analysis capacity by providing further information on the stocks they have short-listed while also giving them access to historical financial data, analysts' reports, SEC filings, and the possibility of downloading the data to an MS Excel file. Read our full Atom Finance review to learn more.
Pros
Powerful all-in-one Bloomberg-like research tool
User-friendly stock screener with multiple filtering variables
Affordable monthly subscription for premium users
Access to a chat feature on which you can discuss your investment ideas with other people in the community
Web-based and mobile versions available
Cons
Limited filtering criteria
Pricing
Atom Finance only offers a Basic (free) and a Premium package. The stock screener can be accessed with the free version but the Premium package will also include explanations to major changes in the price of an individual security, analyst commentaries, equity research reports, and price target updates. Meanwhile, certain features are also limited in the free version.
The Premium package is free for 7 days and costs $6.99 after that.
7. Zacks Investment Research: Best for Data-Driven Investors
Zacks is considered a long-standing pillar of the investment community and is probably the go-to portal for thousands of investors when researching earnings previews, market sentiment indicators, and analysts' takes.
Zacks provides research reports and insightful data on stocks, funds, ETFs, options, and many other financial instruments while also offering screening tools.
The stock screener specifically is available for free and it supports dozens of filtering variables including Zack's rankings and third-party scores. Additionally, investors can screen stocks by using earnings data such as estimates, revisions, and surprises along with the traditional financial metrics supported by most other stock screeners out there.
Pros
Industry-leading web-based research platform
Wide range of financial instruments covered
User-friendly stock screener that incorporates both traditional and non-traditional metrics for filtering purposes
Most features can be accessed for free
Insightful information on earnings reports – both historical and forecasted
Mobile app available for both Android and iOS devices
Cons
Premium packages are a bit expensive compared to rivals
Pricing
Zacks offers three different packages for its users:
Zacks Premium includes access to equity research reports, a premium stock screener, and Zack's #1 Rank List of the best stocks according to the company's research team. This package costs $249 per year and a 12-month subscription has to be paid in advance.
Zacks Investor Collection is a bundled service that includes access to all of the features offered by the Premium package along with further in-depth data for ETF investors and exclusive reports drafted by Zacks' in-house team of professional analysts. This package costs $59 per month.
Zacks Ultimate gives the user access to virtually every piece of information available within the platform including advanced investment strategies and top picks like the Zacks Top 10 Stocks and the Zacks Confidential report.
8. Yahoo! Finance: Best for Stock Alerts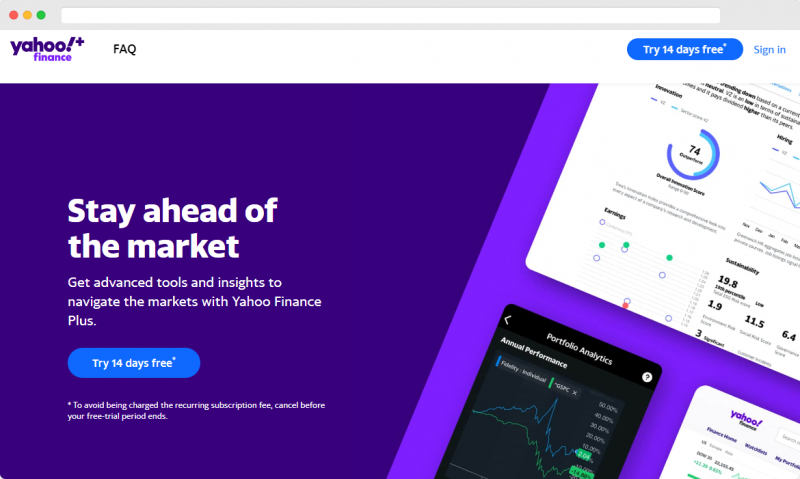 Yahoo Finance is a popular financial data provider that covers a wide range of instruments including stocks, bonds, commodities, and cryptocurrencies. It also provides a top-notch news service that covers the most relevant developments in the financial markets.
Yahoo Finance has created stock screeners for multiple financial assets as well, with its free equity screener being one of the most easily accessible for retail investors nowadays.
The screener lets you filter both US-listed and foreign stocks and some of the filtering criteria include fundamental and technical data. Meanwhile, your favorite filters can be saved for future searches.
Pros
Free stock screening tool
Decent number of filters to pick from
Presets can be saved for future searches
Foreign issues are supported
Cons
Performance metrics go back only a year in the free version
The number of filtering variables is fairly limited compared to other providers.
Pricing
Most of the services and data provided by Yahoo Finance can be accessed for free. However, the company has created two premium packages including the Lite package, which costs $25 per month and gives the user access to a summary of daily trade ideas, enhanced alerts, live chat support, and educational resources.
Additionally, the Essential package – the most advanced one offered by YF – costs $35 per month and adds a Daily Market Digest newsletter, historical financial data for stocks and other instruments going back many years, and the possibility of exporting such data to CSV files.
9. TD Ameritrade: Best for Fundamental and Technical Analysis
TD Ameritrade is a well-known online broker that serves over 11 million investors in the United States while serving as custodian for over $1 trillion in assets from its customers.
Among the many research tools made available by TD, the company offers a stock screener that can be accessed by both clients and outsiders. Aside from supporting traditional fundamental and technical metrics, TD also adds sentiment indicators while allowing investors to filter stocks by index, exchange, sector, and market cap.
It is important to note that certain filtering criteria are only available to TD clients.
Pros
User-friendly web-based screener
Wide range of fundamental and technical filtering criteria
Other screeners are also available for ETFs and mutual funds.
Cons
Limited filtering for investors who are not TD clients
Pricing
TD Ameritrade's stock screener can be used for free and is available on the company's official website.
10. Finbox: Best for Historical Financial Data
Finbox is a financial data provider that was built by two former investment bankers who understand the value of having adequately sorted information that you can go through while trying to understand a business' strategy and outlook.
This provider gives users access to comprehensive financial models that include discounted cash flow (DCF) models and comparable analysis while users can also screen the type of companies they would like to pay attention to by using its proprietary stock screening tool.
Finbox's stock screener is powered by data from S&P Global and covers stocks listed in and outside the United States while letting users apply both traditional and advanced filtering criteria that include historical and forecasted performance.
Pros
Advanced stock screener accompanied by in-depth financial models for thousands of companies
Ample selection of screening filters for both free and paid users
Affordable pricing
Cons
Financial models are built by algorithms and are subject to overly simplified approaches and assumptions
Most of the filtering criteria are only available for paid users
Access to analysis for foreign stocks is charged separately
Pricing
Finbox offers free features but the most insightful data is only available to paid users. The Starter package starts at $10 per month while the monthly subscription increases if foreign exchanges are included.
Meanwhile, the Professional package supports all regions and includes fair value estimates for all stocks and the possibility of downloading financial models and templates. This package costs $66 per month.
11. StockFetcher: Best for Experienced Traders
StockFetcher is a pure-play stock screener that allows users to build a wide range of customized screening presets using a combination of technical and fundamental filtering criteria.
In contrast to other screeners in this list, the filtering criteria with StockFetcher is defined by using text phrases that indicate the parameters for the search. An example of this would be typing "Show stocks where RSI is higher than 50".
Although that sounds a bit complicated, StockFetcher makes it easier for users by providing a comprehensive User Guide through which they can learn the ins and outs of this search methodology and language.
Pros
Easy to use coding whiteboard to perform searches
Ample database comprised of thousands of stocks
Entirely free
Incredible tool for traders who follow an indicator-based system
Cons
Requires a bit of programming knowledge to understand the basics of how to phrase queries
Pricing
StockFetcher offers two subscription packages. The Standard package costs $8.95 per month and allows the user to save up to 100 different filters while keeping a total of 100 watchlists.
Meanwhile, the Advanced package increases the number of saved filters to 250 and the same goes for the number of watchlists. Additionally, the firm provides advanced filtering support to users signing up for this package.
12. WallStreetZen: Best for Part-Time Traders
WallStreetZen is a stock research platform built to handle the entire workflow of fundamental investors.
This website was built with you in mind: the serious, part-time investor with a full-time job. As such, they've automated, aggregated, and interpreted all of the most relevant financial data so you can make better investing decisions, faster.
Among its most popular features (others include Top Analysts and Zen Score), WallStreetZen's Stock Screener is a truly differentiated product.
Unlike other screeners, WSZ's can filter based on whatever quantitative or qualitative criteria you find most important. Along with filtering on specific metrics, this screener allows you to set Pass/Fail, High/Medium/Low, and Min/Max checks.
If you don't know where to start, you can head to Stock Ideas for a library of pre-built screeners. Read our full WallStreetZen review to learn more.
Best of all: It's completely free to use.
Pros
Numerous screening categories, including both fundamental and technical factors
Built-in, automated due diligence checks
Extremely user-friendly interface
For Premium users, Screener setups are save-able and export-able
It's 100% free
Cons
It (like the site in general) is definitely tailored towards long-term, fundamental investors
At this time, WallStreetZen only covers NYSE- and NASDAQ-listed stocks
Pricing
The Screener itself is completely free to use, though investors looking to save their screener setups, export their results, and view the 2 Premium Stock Ideas presets will want to upgrade to Premium.
After a 14-day trial, Premium costs just $12.50/month (when billed annually).
---
Best Stocks Screeners FAQs
If this is your first time with stock screeners, we understand you may have some questions about what they are and how they work. Here are a few answers to the most frequently asked questions we get on this topic.
What Is a Stock Screener?
A stock screener is a tool that allows you to identify stocks that share certain characteristics by establishing predefined filters. With a stock screener, you can narrow down the universe of stocks available on multiple exchanges and markets around the world to a small number based on your investment methodology and stock-picking criteria.
What to Look for in a Stock Screener?
The first thing to look for in a stock screener is coverage. If you invest only in US-listed stocks, you'll probably find any stock screener suitable on that particular front. However, if you invest in foreign issues, you should pick a stock screener that also covers foreign exchanges.
On the other hand, the most important element of all is the number of variables and filters you can use to build your lists. A stock screener with only a handful of indicators might not make the cut for most professional investors. Additionally, depending on whether you are a trader or a long-term investor, you should pick your screener accordingly.
Certain stock screeners are designed with technical analysts in mind, while others provide more filtering options for fundamental analysis.
Finally, the cost of using a stock screener is also important. There are many free options out there – including the ones in this list – that will allow you to screen stocks for free while offering a decent number of filtering variables. On the other hand, if your investing or trading methodology involves using non-traditional data, you will probably have to pay for a premium membership.
A decent stock screener should provide stock metrics such as:
Stock exchange
Industry and sector
Market cap
Dividend yield
Price
Trading volume
Volatility
PE ratio
Current ratio
Debt-to-equity
Return on equity
PEG ratio
How Do You Use a Stock Screener?
Before you start pounding the filters, you should first come up with a list of what it is that you look for on an investable stock. You could perhaps focus on fundamental analysis variables like P/E ratios, debt-to-equity ratios, historical sales growth, or profit margins or you might be more interested in narrowing down your selection of stocks based on technical variables like moving averages or momentum oscillators.
Once you have that list, you can now start to filter your stocks accordingly. At this point, you'll probably figure out which screener suits your needs the most in terms of the number of filters available.
Finally, you can use your short-listed candidates to perform an in-depth analysis of each of them before you decide which one deserves your money.
Are Stock Screeners Worth It?
Paying to use a stock screener with so many free options out there is a decision that depends on the kind of data that you need to short-list your candidates. If you are a beginner, you'll probably find the free screeners we have mentioned in this list as more than enough to suit your needs.
On the other hand, if you follow an advanced system to trade stocks, you'll probably find it valuable to pay for a premium membership.
---
Final Thoughts
Stock screeners are very useful to retail investors and they have certainly narrowed the gap between institutional players and the "little guy". However, a stock screener by itself doesn't do much unless the criteria you use to filter your stocks is good enough to come up with potential winners.
Therefore, you should invest time in studying the best investment methodologies out there to make the most out of these systems by tracking and selecting the best stocks based on a time-tested and profitable system.
Up Next