BillTrim Review 2023: Features, Pros, and Cons
Many or all of the products featured on this page are from our sponsors who compensate us. This may influence which products we write about and where and how the product appears on a page. However, this does not influence our evaluations. Our opinions are our own. Here is a list of our partners and here is how we make money.
---
The information provided on this page is for educational purposes only. The Modest Wallet is a financial publisher that does not offer any personal financial advice or advocate the purchase or sale of any security or investment for any specific individual.
The average American family of 2 is expected to spend $5,640 per month on bills this year, according to Zippia. This includes paying for basic necessities like internet, electricity, rent, and water as well as non-essential (but highly-desired) expenses like streaming subscriptions, cable, meal services, and pest control. 
With so many bills and expenses to take care of, it comes as no surprise that the average American struggles to make payments on time and keep track of bill rates. And the concept of consistently calling to renegotiate your bills so you're guaranteed the best prices? Forget about it.
Unfortunately, however, if you aren't renegotiating your own bills consistently, you're missing out on tons of savings. Luckily, there are options aside from putting extra pressure on yourself and expensing unnecessary time and effort.
Today, services like BillTrim can contact your bill companies in your place, effectively negotiating your bills so you can save money without spending hours on hold. Additionally, certain services will also help you organize and pay your bills through a single convenient dashboard so you never miss another payment. 
This BillTrim review will help you understand how the BillTrim platform functions, the pros and cons of using it, and what alternatives are available if you decide it isn't for you.
Bottom Line: BillTrim is a service that helps people lower their monthly bills by negotiating their bills. Beyond bill negotiation, they also offer other features like bill analysis monitoring and, bill reminders and automatic payments.
| | |
| --- | --- |
| Pricing | |
| Features | |
| Customer service | |
| User experience | |
| Security | |
| Value for money | |
---
What is BillTrim?
BillTrim is an all-in-one bill management service that helps you better manage your finances. It does this by providing you with tools and assistance in several facets of money management. Currently, BillTrim can: 
Organize and keep track of your bills
Automatically negotiate better rates on your behalf
Cancel certain subscriptions you no longer use
Pay your bills on the due dates you set whenever you link a bank account to the site
Send reminders about upcoming due dates so you can better plan for expenses
Review your bills twice yearly to keep your costs as low as possible
Additionally, unlike other bill management platforms, they don't charge a fee for every bill they save you money on. Instead, you're charged a one-time fee of $99 to receive lifetime access to their services. 
BillTrim is a great alternative to calling companies and trying to negotiate bills yourself with no experience in doing so. Instead, a representative will call on your behalf and work to get discounts you wouldn't otherwise have received.
---
How Does BillTrim Work?
The way BillTrim works is simple. Once you sign up to the platform and pay the $99, one-time fee, you'll receive lifetime access to everything the platform has to offer. And while it won't help with variable expenses like your grocery bill or gasoline costs, it has a great track record as a bill negotiation service. 
When you first sign up with the platform, BillTrim will spend some time gathering all of your information. During this process, you'll need to link your bank account and billing accounts so BillTrim can automatically pay your bills on the due dates you've set.
Additionally, once you've submitted your bills, BillTrim will work to negotiate with the internet, phone, natural gas, and other service providers to lower your bills and save you money. Besides using experienced representatives to get you discounts, BillTrim also analyses what other users pay for similar services to make sure you never pay more than market value for them. 
BillTrim works with tons of companies, too. In addition to being able to request rate reductions for services like phone, cable, satellite TV, internet, electricity, and water, they can also help save you money on subscriptions like streaming services or music as well. They'll even work with auto insurance providers, which is something most bill negotiation services won't do.
---
How to Sign Up to BillTrim
Signing up with BillTrim is a simple, guided process that usually only takes a few minutes.
Step 1: Go to BillTrim
To get started creating your BillTrim account, begin by going BillTrim.com. You can access the sign-up portal by either clicking "Get Started" at the top of the page or by clicking the "Sign Up" button on the navigation bar. If you're on mobile, you can find the navigation bar by clicking the three bars in the upper right-hand corner.
Step 2: Create a BillTrim Account
Once you've clicked one of the "Sign Up" buttons, you'll be asked for some basic information. Included in what you'll be asked to provide are your first name, last name, phone number, and email address. Make sure that both your phone number and email address are valid, as they are where you'll receive reminders about bills and other important updates. 
Additionally, once you provide your phone number, BillTrim will text you a security code to confirm its validity.
After you've confirmed your phone number, you'll also be asked for your zip code. This will help BillTrim find popular billers in your area to compare your current prices with.
Step 3: Select Your Bills
The next step in the sign-up process is to select your billers so BillTrim knows who they'll be working with. One by one, you'll be asked to select your biller from a provided list. If you don't have a bill in that category, you can select the "I don't have this bill" option located near the bottom of the screen. 
In order, the billing providers you'll be asked about your cellphone company, cable company, internet company, home phone, home insurance, auto insurance, home security, and electricity. 
After you've gone through and selected your billers, BillTrim will have you review their consumer promise. On the next screen, BillTrim will announce that they charge $150 per year. Don't worry, though; you won't have to pay for that. Below the announcement, you'll see a list of discounts that total up to $150. This just means you won't have to pay anything yearly so long as you perform the required actions. 
Specifically, you can lower the $150 per year price by $20 if you link at least 3 bills. You can lower it by another $80 if you connect your bank to pay bills via Billtrim, and then lower it by another $50 if you invite two friends to use their services. After you've performed all these tasks, your yearly fee will be reduced to $0.
Step 4: Link Your Bank Accounts
As part of the requirement for having no yearly fee, you'll need to link your bank accounts to BillTrim's website. To do this, BillTrim uses a secure service called Plaid. Once you click "Connect Bank," you'll be asked to confirm that your account is at least 2 months old and keeps a minimum balance of $1,000 at all times. 
To connect your bank account, select your institution from the list provided. Note, however, that some smaller banks may not be compatible with Plaid. If you can't find your institution from the list, you can scroll all the way to the bottom of the pop-up and select "Link with account numbers." 
If you are able to find your institution on the list, you'll be required to authenticate your bank account information. Plaid will redirect you to your bank institution's website where you'll need to put in your online account credentials.
The next few screens will ask you about your bank accounts, let you know which ones BillTrim needs access to, and you'll be able to select which one you want your bills paid from. Check the box that asks you to give BillTrim permission to pay your bills from that account, and you're all set.
Step 5: Link Your Bills for Negotiation
The next step in the sign-up process is to link your bills. For each bill connected to the site, it will be automatically negotiated twice per year to keep your rates low.
To link your bill(s), start by clicking on the bill you want to start with. You'll be given a list comprised of the bills you selected in step 3. Click on each one you want to connect, enter your username and password for the service provider's site, and wait for BillTrim to verify.
Upon verification, you'll also be asked to select a good time for BillTrim to negotiate your bills. Select a time when you're free, as you'll have to forward the verification texts from your billers during that time. Finally, complete the bill linking step by reviewing and agreeing to BillTrim's terms and conditions.
Step 6: Invite Friends (Optional)
As the last step in the process, you'll be asked to invite 2 friends to the platform. You can choose to complete this step at the time of sign-up, or you can click "do later" to skip it for now.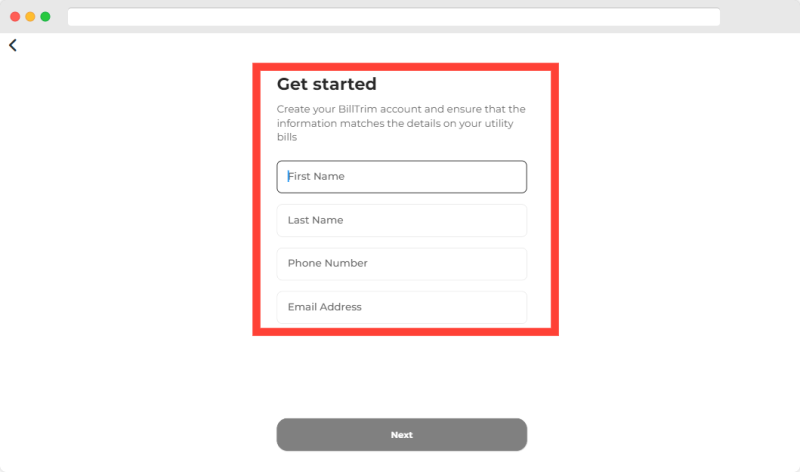 ---
BillTrim Features
As an all-in-one bill management and negotiation tool, BillTrim has a ton of features geared toward saving you money and helping you manage your recurring expenses.
Pricing
$99 lifetime subscription (refundable if you don't save $300 in your first year)
Features
Bill Negotiation, Bill Analysis & Monitoring, Bill Reminders, Automatic Payments, Referral Program, and more
Supported Services
Cable, internet, home security, electricity, insurance, and more
Trustpilot
4.9/5.0
Better Business Bureau
A Rating
Mobile Apps
iOS and Android
Promotion
None
Bill Negotiation
Net Worth Tracking
Free Plan Available
Support
Help center, phone: 713-240-7404 and email:

[email protected]
Bill Analysis and Monitoring
So long as you keep your bills linked to the site, BillTrim will automatically monitor and analyze them so you know every time there's an increase. Whenever your service provider increases your bill, you receive a notification via email so you know the exact dollar amount of the increase and the charge code attached to it. 
Bill Negotiation
BillTrim's most notable feature is its bill negotiation services. The site/app works with most major bill providers like cable, internet, utility, phone, etc. The first time you link a bill, Billtrim's negotiators will automatically begin working with your provider to try and lower your costs. And as long as you keep that bill linked to the site, it will be automatically renegotiated twice annually to ensure you're never paying more than you need to.
It's also worth noting that this service appears to be largely successful. According to Trustpilot, approximately 96% of the 1,664 customer reviews rate the experience with BillTrim's bill negotiation at 5 stars. Another 3 percent rate it at 4 stars, and less than 1 percent of customers rate the service at 3 stars or less.
Bill Reminders
Another standout feature BillTrim offers is its bill reminders. When you link a bill to Billtrim, they're able to access your service provider's account and can see when your bill due dates are set for. Using their convenient dashboard, you can track all your bill due dates in one place and the system will send you automatic reminders any time a payment is coming up. Not only does this help you avoid paying late fees, but it also helps your credit score in the long run by establishing a favorable payment history. 
Automatic Payments
Whenever you sign up, BillTrim asks you to link your bank account. If you agree, you'll be able to use BillTrim's services without a yearly fee. Once you've connected your accounts, BillTrim will begin to automatically withdraw money to pay your bills on the pre-selected date.
Over time, these automatic payments help save you time and money by taking the responsibility of manual payment off your shoulders and ensuring you don't incur any late fees.
BillTrim Card
In order to automatically pay your bills, BillTrim makes use of a digital debit card. The way it works is simple:
Whenever BillTrim sees a payment due date approaching, they will automatically take the money from your linked bank account and deposit it onto your digital card. Once the money reflects in the BillTrim card balance, the system will send that money to your service provider and your bill will be marked as paid. 
It is important to note, however, that this card does not function as a typical debit card does. You won't have direct access to any funds through the card, and you won't be able to make day-to-day purchases with it. Instead, it will be reserved as a key part of the automatic bill payment system. 
Referral Program
As part of the requirements for not charging you a yearly fee, you'll need to agree to refer two people to BillTrim's site. You can do this at the time you sign up, or you can wait until a later time.
If you choose to refer friends at a later time, you can obtain your referral code by logging into your BillTrim dashboard and going to your account page. Underneath your personal information, you'll find a yellow box with a button in it that says "Invite Now." Click this button to copy your referral code, and anyone who signs up from your link will be automatically credited to your account. 
Mobile App
The BillTrim mobile app makes it easy to see all of your bills, payments, and upcoming due dates in one spot. It functions (and looks) the same as the website, but it makes managing your bills and savings convenient for on-the-go situations.
The BillTrim mobile app is available for Android devices via the Google Play Store and can also be downloaded to iOS devices via the Apple Store. 
BillTrim Pricing
Currently, BillTrim has a simple, one-time price of $99 as listed on their website. You'll be required to pay this before you can reap any of the savings BillTrim provides as a result of bill negotiation.
Additionally, BillTrim advertises a $150 yearly fee during sign-up, but you can easily decrease the yearly payment to zero by performing the necessary actions. Namely, you'll need to link your bank account, add three bills for negotiation, and invite two friends to the site. Do these three things and you won't pay a cent past the initial $99 fee. 
It should also be noted that the $99 fee comes with a money-back guarantee. If BillTrim isn't able to save you more than $300 in your first year, you'll be refunded what you paid and you'll still have lifetime access to BillTrim's services.
---
BillTrim Ease of Use
BillTrim is designed with simplicity in mind, and both its app and website dashboard reflects this. Using their convenient, one-stop dashboard, you can effortlessly link bills, track payments, and view your savings. Regardless of whether you're tech-savvy or new to navigating service software, figuring out how to navigate BillTrim's layout should be a breeze. 
---
BillTrim Security
BillTrim uses bank-level, 256-bit encryption to protect your financial information from hackers and data breaches. This is the same type of encryption banks are required to use and is considered the gold standard for protecting information in the financial sector. 
Furthermore, BillTrim connects to your bank account using a program called Plaid. Plaid is a trusted bank connection software that is currently used by thousands of software providers worldwide. In fact, as an intermediary site that communicates sensitive information between your bank and service providers like BillTrim, Plaid is frequently touted as one of the most preferred methods of transmitting financial information.
---
BillTrim Customer Support
Customer support is an area where BillTrim excels. Unlike many other bill management services, BillTrim does not charge for "premium support." Instead, all customer queries are handled with a similar amount of urgency and in the order they are received. 
From the moment you put a ticket in, you'll be assigned a representative and should receive the first answer to your query within 24 hours (this timeline is extended on the weekends). The average time for a first response is much less than this, however, and many people will receive an initial answer within about 3 hours. Depending on the time of day, however, you may wait for even less time. I received a response within just 30 minutes from the time the ticket was submitted. 
That said, it can be difficult to submit a ticket if you don't know what you're looking for. Here are the best ways we found to contact BillTrim's customer support:
Talk to the chatbot: On both the website and the app, your account page will have a small box at the bottom that says "Start Chat." Click on the button to open a tab with a support bot. On the new tab, click the button that says "Send us a message." 
Doing this will open a screen that allows you to send messages to the chatbot. If you have a basic inquiry about how the site works, this bot will be able to answer your question when you follow the proper prompts. If you have an issue that can't be solved via chatbot (wanting to cancel your account, for example), you'll have to start your conversation with the bot and wait until an option to contact support pops up. When it does, select it and you'll be able to start your ticket. 
Keep in mind, however, that BillTrim's online support is only available from 10:00 AM to 7:00 PM EST, Monday through Friday. If you contact them outside these hours, you'll have to wait until they're back online to receive a response.
Email or Phone Number: These methods of contacting support aren't readily available anywhere on the site or app, but you can also talk to BillTrim support by emailing them ([email protected]) or calling their phone number (713-240-7404).
---
BillTrim Pros Explained
One-time fee covers a lifetime of service: As long as you perform the actions required by BillTrim at sign-up, you won't have to pay any monthly or yearly fees to continue using their services. After you pay the one-time fee of $99, you'll have unlimited lifetime access.
Track and pay your bills in one convenient location: BillTrim's one-stop dashboard makes it easy to find everything you need to know about your bills. With just a couple of clicks, you can find your upcoming due dates, total savings, current negotiations, bill payment options, and more. 
Excellent record of customer satisfaction: Currently, BillTrim has a 4.98 rating on Trustpilot with over 96% of customers rating it five out of five stars. 
All customers have a money-back guarantee: BillTrim offers all of its customers their money back if their negotiation experts aren't able to save you more than $300 a year on the first three bills you register. Additionally, even if you get your money back, you'll still have lifetime access to their services.
Your bills will be constantly monitored for price increases: Any time your bill prices increase, BillTrim will alert you with the exact dollar amount increase and the charge code accompanying it. Whenever this happens, you can choose to have BillTrim renegotiate and try to lower the bill back down.
All bills are renegotiated twice per calendar year: Even if your bills don't increase over time, BillTrim's experts will automatically renegotiate for you twice per year. This helps ensure you're never paying more than market value for services, and you won't have to worry that you're overpaying.
---
BillTrim Cons Explained
Some people may consider the upfront fee to be too high: $99 is a lot to pay at once, and for some people, it may be too much. Especially when you consider you may not see $99 worth of savings for several months, it can become a major deterrent for people looking to have their bills negotiated.
No budgeting tools are included: Unlike similar services like Rocket Money or Trim, BillTrim doesn't offer any budgeting tools to help you better balance your finances. For people who need help managing their money, this can be a major turn-off. 
Customer support availability is limited: While you can usually connect with customer support and have queries resolved quickly, BillTrim does have a hard cut-off for when their representatives are available. Currently, customer service will only respond between 10:00 AM and 7:00 PM EST, Monday through Friday. If you attempt to reach them outside of these hours, you'll have to wait until they're available again for a response.
There's little ongoing incentive to get you discounts: Because you only pay a one-time fee of $99 and not a percentage of your savings (like you would with Rocket Money or Trim), there's less incentive for BillTrim's representatives to work hard to get you those discounts. 
---
BillTrim Alternatives
If anything in this article has turned you off of using BillTrim to manage and negotiate your bills, understand that it is certainly not the only option you have. Here are a few other companies that may better suit your bill negotiation needs:
BillTrim vs. Rocket Money
Rocket Money is perhaps the most famous "all-in-one" finance app on the market right now. In addition to providing the same type of bill negotiation services as BillTrim, Rocket Money also helps you budget, track your expenses, cancel subscriptions, and more. As such, if you're looking for a service that's more comprehensive than BillTrim, then Rocket Money is a great bet. 
Overall, Rocket Money doesn't have many notable cons. The app and website both provide thorough financial services, customer service is great, and it's easy to use. That said, there is quite a substantial pricing difference between BillTrim and Rocket Money.
Where BillTrim only charges a one-time fee of $99 for lifetime access to all their services, the same type of access on Rocket Money is only available if you pay a monthly fee and a bill negotiation fee (about 40% of your annual savings) each time you receive the service. Read our full Rocket Money review to learn more.
BillTrim vs. Trim
Trim is a service that is incredibly similar to Rocket Money in terms of having more features than BillTrim. Truth be told, the only major difference between Trim and Rocket Money is the bill negotiation pricing. 
Where Rocket Money charges anywhere between 30% and 60% of your estimated savings for the year, Trim only charges 15%. That's quite a significant difference when you look at having multiple bills negotiated. Read our full Trim review to learn more.
| | | | |
| --- | --- | --- | --- |
| | | | |
| Our Rating | | | |
| Pricing | $99 lifetime subscription (refundable if you don't save $300 in your first year) | Free and Premium ($99 per year | Free and Premium (between $3 to $12 per month) |
| Trustpilot Rating | 4.9/5.0 | 4.2/5.0 | 4.7/5.0 |
| BBB Rating | A | A- | B |
| Mobile Apps | iOS and Android | None | iOS and Android |
| Promotion | None | None | None |
| Verdict | Best for pricing | Best for bill negotiation | Best for overall financial monitoring |
| | | | |
---
Who is BillTrim Best For?
BillTrim is an excellent resource for people who need a simpler way to track and pay their bills while also passively saving money. Unlike services like Rocket Money or Billshark, BillTrim will continuously renegotiate your bills to make sure you're always saving as much as possible. 
They may not do anything you couldn't do on your own (and for free), but if you aren't confident in your ability to negotiate or don't have the time, the $99 fee could be well worth the investment. 
---
BillTrim FAQ
Below are answers to the most-asked questions regarding BillTrim and how it works.
How Does BillTrim Make Money? 
BillTrim makes its money by charging customers a single, up-front fee of $99. However, if BillTrim is unable to save you more than $300 in your first year of use, the company will refund the entire $99 fee and you'll still be able to use their services. 
Is BillTrim Free?
BillTrim does not have any free features at this time. It is a paid service that charges a single, up-front fee of $99. However, there are no recurring monthly fees or additional charges for using the service. Once you pay the initial fee, you'll be able to use all of BillTrim's services forever. 
Is BillTrim Safe? 
Although you have to provide BillTrim with your bank information in order to take advantage of their services, all of your information is kept under lock and proverbial key. Much like other finance apps, BillTrim uses bank-level 256-bit SSL encryption. This is widely considered to be the gold standard for financial service providers and is the same type of security used by most banks. 
How Does BillTrim Use My Data? 
According to BillTrim's privacy pledge, any data collected is used only for the specific purpose stated when you provide it. In order to use it for any other purpose they must obtain your written consent.
Additionally, they state that they only retain personal information for as long as is necessary to perform the services they provide. They also protect your data using bank-level 256-bit encryption. They also pledge never to sell your personal or financial information to third parties and comply with all relevant regulations such as the General Data Protection Regulation (GDPR) and the California Consumer Privacy Act (CCPA).
In the same privacy pledge, however, BillTrim does state that they may allow certain third-party companies to help track user behavior in order to better tailor their advertisements. However, the information collected is based on tracking user behavior on the site and does not include sensitive personal information. 
How Much Money Can I Save With BillTrim? 
According to their website, BillTrim claims it helps users save an average of $900 per year on bills. You may save more or less than this amount depending on your personal expense situation.
How much you'll save will depend on factors such as the types of bills you submit for negotiation, how many bills you submit, and what service providers you have. 
Additionally, you can also save money with BillTrim in ways not related to bill renegotiation. By using their bill payment dashboard, you can avoid late fees and upcharges resulting from missed due dates. You're also protected from unexpected price increases by BillTrim's proactive bill monitoring system.
With all these factors taken into consideration, there's no reliable way to predict how much money you can save. Rest assured, though, if BillTrim isn't able to save you more than $300 in your first year, you'll be refunded the entire $99 membership fee. 
Why Does BillTrim Need Access to My Bank Accounts? 
Because one of BillTrim's primary offerings is that they help you pay bills automatically, they'll need access to your bank accounts. By linking your bank account to the platform, you're enabling BillTrim to withdraw the appropriate amount of funds when your bill is due and load them onto your digital BillTrim card. By doing this for you automatically, BillTrim makes sure your bills are paid on time without you having to manually make those payments. 
Pricing: $99 lifetime subscription (refundable if you don't save $300 in your first year)
Features: Bill Negotiation, Bill Analysis & Monitoring, Bill Reminders, Automatic Payments, Referral Program, and more
Supported Services: Cable, internet, home security, electricity, insurance, and more
---
Final Thoughts
All in all, BillTrim is a useful tool for people who:
Often find themselves forgetting about due dates and paying bills late
Want lower bills without having to renegotiate themselves
Just want a simple way to track their bills and save money at the same time
If you fit into any (or all) of these categories, you'll likely find BillTrim to be a crucial service. For a one-time fee of $99, the company will negotiate your bills, coordinate with credit card companies, and discuss prices will other businesses to lower your monthly payments. They will also monitor your bill accounts and automatically renegotiate them twice per year to keep your expenses as low as possible. Finally, they'll pay your bills automatically if you want them to so you don't have to make manual payments every month. 
And while they don't do anything you couldn't do on your own, it can be a huge help to those who struggle to balance their time. And while the $99 fee may seem a little high for an up-front cost, the company promises a money-back guarantee. That is, they'll return the money to you if they can't save you more than $300 in the first year.
Part of improving your money management skills is knowing how to make the most of what you have. By using BillTrim, you can avoid late fees and rising costs with almost no direct effort. With the money-back guarantee, there's almost no risk in seeing how much they can save you.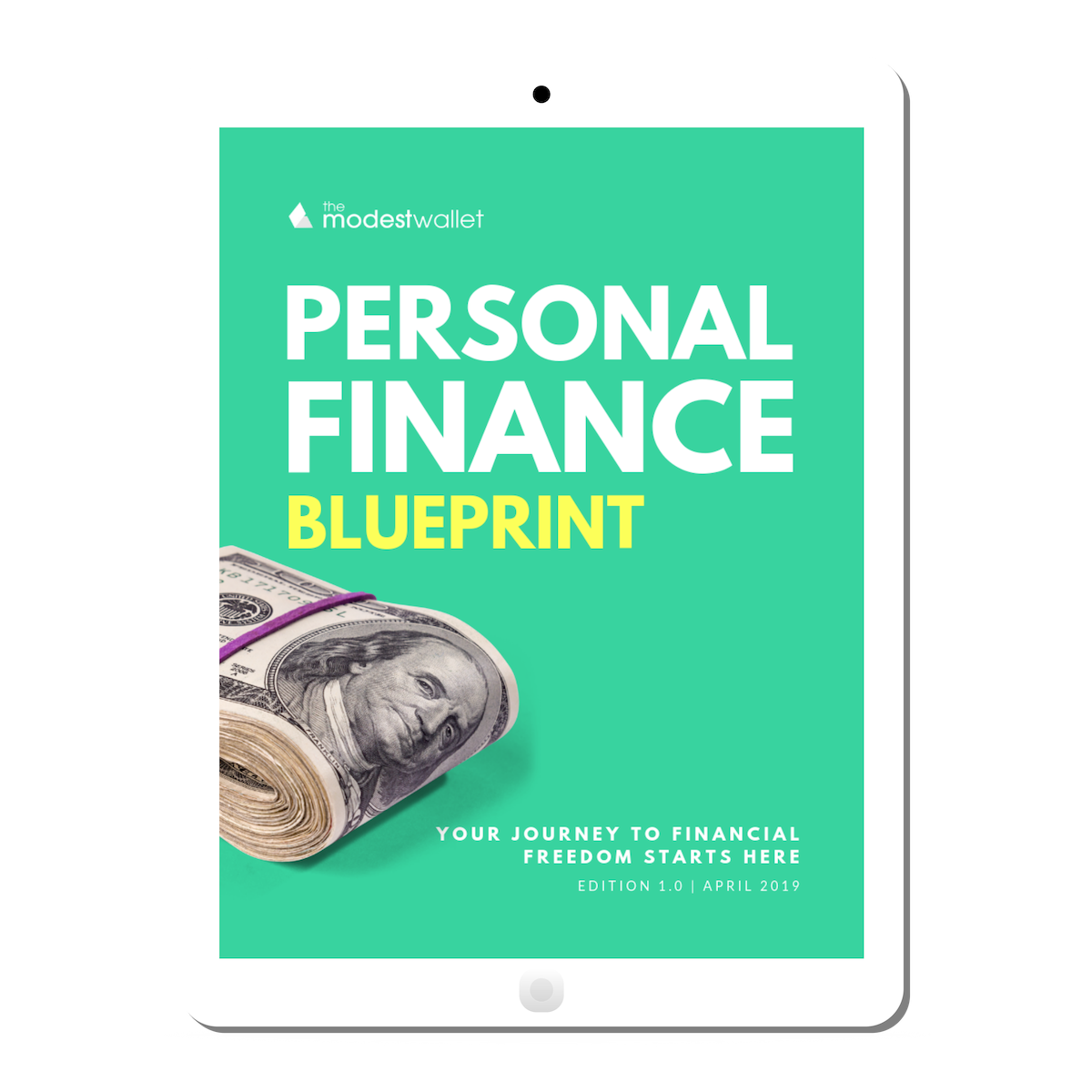 Get our free Personal Finance Blueprint to learn everything you need to know to build wealth.
Plus our best money tips delivered straight to your inbox.

Christa is a skilled researcher and serial entrepreneur. Her passion lies in providing people like you with ways to become financially independent without breaking the bank in the process. Currently, she's tested and perfected over 37 unique side hustles and brings that information to you through articles like these.