Binance vs. Coinbase 2023: Which Crypto Exchange Is Best?
Many or all of the products featured on this page are from our sponsors who compensate us. This may influence which products we write about and where and how the product appears on a page. However, this does not influence our evaluations. Our opinions are our own. Here is a list of our partners and here is how we make money.
---
The information provided on this page is for educational purposes only. The Modest Wallet is a financial publisher that does not offer any personal financial advice or advocate the purchase or sale of any security or investment for any specific individual.
Trading crypto? You need a reliable exchange. Although there are dozens of exchanges to choose from, Binance and Coinbase stand out among the pack for their exceptional features and powerful platforms.
Deciding which of these two exchanges is right for you isn't easy, so we're here to help. In this Binance vs. Coinbase comparison, we'll discuss the advantages and disadvantages of each platform. That way, you can determine which exchange is best for your investing style.
| | | |
| --- | --- | --- |
| | | |
| Our Rating | | |
| Fees | 0.02% to 0.10% purchase and trading fees, 3.0% to 4.5% for debit card purchases, or $15 per U.S. wire transfer | 0.50% per trade, 3.99% for debit/credit card purchases, and 1.49% for Coinbase wallet or bank account purchases |
| Supported Cryptocurrencies | 50+ | 50+ |
| Apps | Mobile (iOS and Android) | Mobile (iOS and Android) |
| Promotions | None | $5 worth of free BTC |
| Buy (Deposit Method) | Credit or debit card and bank transfer | Bank transfer, debit card and PayPal |
| Sell (Withdrawal Method) | Bank transfer | Bank transfer |
| Verdict | An advanced trading platform and exchange with low fees and a number of supported crypto assets | User-friendly exchange with excellent liquidity and extensive directory of crypto assets |
| | | |
Overview Binance vs. Coinbase
Binance and Coinbase are two high-powered crypto exchanges. Let's take a look at the background of each company:
About Binance
Binance is the world's largest crypto exchange in terms of its total trading volume. It was founded in 2017 by software developer Changpeng Zhao in China, but it has since moved its headquarters overseas.
In 2020, the company also launched a trading platform for US residents called Binance.US. Although Binance.US has slightly different features than the original Binance exchange, both platforms offer a low-cost and powerful way to trade crypto. Read our full Binance review to learn more.
About Coinbase
Boasting over 56 million users in more than 100 countries and 49 US states, Coinbase is one of the biggest names in crypto. The company was founded in 2012 in the US but it is now a remote-first exchange.
Coinbase made history in 2021 when it became the first major exchange to be publicly traded. Over the years, Coinbase has also solidified itself as a popular option for investors who want a convenient, intuitive exchange that offers a slew of other crypto-focused features. Read our full Coinbase review to learn more.
Binance vs. Coinbase: Main Features
Although some exchanges are simply places to buy and sell crypto, Coinbase and Binance boast additional features for account holders to enjoy. Here's what to expect if you sign up for an account.
| | | |
| --- | --- | --- |
| | | |
| Cryptocurrency Supported | 50+ (Including BTC, ETH, BNB, BUSD, AXS, DOT, DOGE, ADA, XRP, MATIC) | 50+ (Including BTC, ETH, LTC, ALGO, ADA, DAS, DOGE, DOT, MATIC, UNI) |
| Fiat currency supported | 19 fiat currencies including USD, AUD, HKD, EUR, GBP, and INR | USD, GBP, EUR |
| FDIC Insured | Yes (U.S. Dollars) | Yes (U.S. Dollars) |
| Digital Wallet | | |
| Social / Copy Trading | | |
| Margin Trading | | |
| Interest Accounts | | |
| Crypto-backed Loans | | |
Binance
Binance's primary purpose is to help you trade crypto. It's available in most countries around the world, as well as in 43 US states.
For US residents, the firm has a dedicated platform called Binance.US that features two trading terminals. Its Basic platform supports market, limit, and stop-limit orders on more than 50 coins. This platform also gives basic spot prices and price trends for various coins. It also supports recurring buys so you can take advantage of dollar-cost averaging on crypto.
More experienced traders can use the Binance.US Advanced terminal, which provides additional order types and powerful charting tools. Alternatively, if you want to place a very large trade (minimum $10,000 value), you can do so on the Binance OTC Trading Portal. This service has no transaction fee, so it's ideal for transactions off the open exchange.
Two other Binance.US features of note include staking and Binance Coin. With Binance.US, you can stake supported coins from your account and earn rewards of up to 10%.
Meanwhile, Binance Coin is the native token of the Binance exchange. You can use your Binance Coin balance to pay exchange fees. Doing so gets you a 25% discount on your fees with the firm, so it's fairly popular among frequent traders.
Main Features Overview
Binance.US Trading – Two trading terminals for intermediate and advanced crypto investors
OTC Trading – An option for traders that want to make large transactions off the open exchange
Recurring Buys – This allows you to establish automatic crypto purchases to help grow your portfolio
Binance.US Staking – A simplified way to earn rewards on staked coins in your account
Binance Coin – The native token of the Binance exchange, which lets you earn discounts on your exchange fees
Coinbase
Just like Binance, Coinbase was originally established as a crypto trading platform. With the company, you can place trades on two platforms: Coinbase and Coinbase Pro.
The basic platform provides an intuitive interface where you can place market orders for any supported crypto. You can also establish recurring buys, which are automatic crypto purchases, on a daily, weekly, or monthly basis.
Many experienced traders opt to use Coinbase Pro, which is the company's advanced exchange. Coinbase Pro supports additional features, like customizable charts and advanced order types.
With Coinbase, you can also stake a limited number of cryptocurrencies and earn rewards. As an added bonus, Coinbase has a unique feature called Coinbase Earn where you can accrue free crypto just for watching educational videos.
Last but not least, the company supports Coinbase Card. This is a Visa debit card that lets you make purchases at retailers using your chosen crypto balance. The card also lets you earn up to 4% back in crypto whenever you make a purchase.
Main Features Overview
Coinbase Pro – Coinbase's enhanced trading terminal for experienced crypto investors
Recurring Buys – This lets you set up automatic crypto purchases regularly.
Coinbase Card – The company's debit card, which lets you pay with crypto on a daily basis
Coinbase Earn – A fun and free way to earn crypto rewards for watching videos
Coinbase Staking – An option for investors that want to stake coins from their Coinbase wallet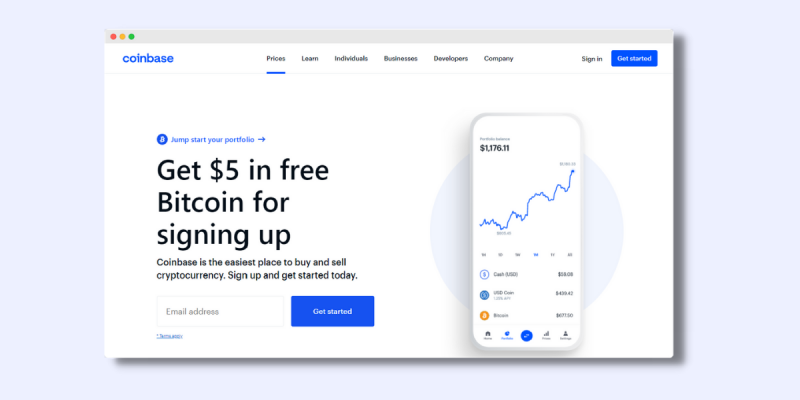 Binance vs. Coinbase: Cryptocurrencies Supported
A crypto exchange is only useful to you if it offers the coins that you want to trade. So, here's a look at the cryptocurrencies supported by Binance and Coinbase:
Binance
Account holders on the Binance.US platform have access to over 50 cryptocurrencies, including:
Additionally, like the global Binance.com platform, Binance.US supports Binance Coin (BNB).
Coinbase
Like Binance, Coinbase currently offers more than 50 cryptocurrencies for US-based account holders. These include:
However, Coinbase does not support Binance Coin, which is Binance's native token.
Binance vs. Coinbase: Wallet
Both Binance and Coinbase offer hosted hot wallets and personal hot wallets to all account holders. These are the features and drawbacks to using the wallets on either exchange.
Binance
Binance account holders get automatic access to a hosted hot wallet. This is where your funds are stored if you leave them on the exchange.
For traders that want control over their private keys and account security, Binance offers a separate wallet called the Trust Wallet. The Trust Wallet is an independent app that you can download and use as a store of your digital assets.
Although the primary purpose of the Trust Wallet is asset storage, it also offers additional features, such as in-wallet staking. Additionally, you can purchase crypto through the wallet with your credit card, though this comes with high fees.
Coinbase
Coinbase gives all account holders a free hosted hot wallet. Your funds and digital assets are automatically deposited in this hot wallet if you do not remove your assets off the exchange.
If you want more control over your crypto, Coinbase offers the Coinbase Wallet. This wallet is also available to everyone via the Coinbase Wallet app. It is technically a separate wallet that you have full control over.
Coinbase Wallet is also primarily a crypto storage system, but you can also use it to store NFTs. With this wallet, you can stake certain coins and trade more than 500 assets on DEXes (decentralized exchanges).
Binance vs. Coinbase: Security
If you're going to trade crypto, you need to know that your exchange will protect your assets. These are some important security features you can expect at Binance and Coinbase.
Binance
To help protect consumer assets, Binance uses various advanced security features. This includes two-factor authentication, as well as address whitelisting.
However, Binance does not currently offer any insurance on digital assets. Crypto holdings also aren't FDIC-insured. But any US dollar funds in your Binance.US account up to $250,000 are FDIC-insured.
Coinbase
Coinbase uses multiple strategies to protect account holder assets. This includes offline asset storage, as well as AES-256 encryption and paper backups.
Additionally, US dollar funds in Coinbase accounts are FDIC-insured up to $250,000. Coinbase also maintains private insurance on customer crypto assets to help reimburse account holders in the case of theft.
Binance vs. Coinbase: Customer Support
Customer support is an essential part of any crypto exchange. These are the customer support services you can expect from Coinbase and Binance.
Binance
Binance's customer support is fairly limited. The company has online help pages, but their help portal isn't as extensive as you might find elsewhere.
For questions specific to your account, you need to submit a ticket to the Binance.US customer support team. The company does not currently have phone-based support in the US and it can take a few days to get a response from Binance about your account.
Coinbase
Customer support at Coinbase is primarily conducted through the firm's online help pages. You can navigate through the help pages or use the chatbot to find answers to most questions.
If you have a specific concern about your account, Coinbase offers email-based customer support. Issues with the Coinbase card can be handled over the phone, but there is no phone-based support for general account questions.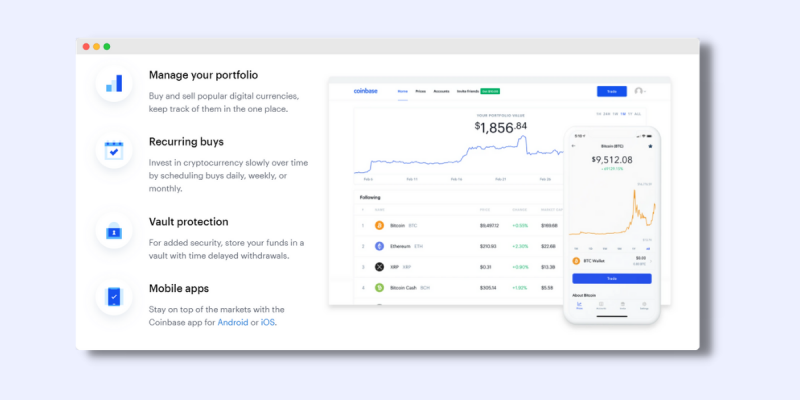 Binance vs. Coinbase: Fees
Nobody likes paying fees, but they're standard at most crypto exchanges. These are the most important fees to be aware of before you start trading with Coinbase or Binance.
| | | |
| --- | --- | --- |
| | | |
| Trading Amount | Maximum order amount varies by currency | Maximum order amount varies by payment method |
| Trading Fees | 0.02% to 0.10% purchase and trading fees | 0.50% per trade + transaction fee ($0.99 – $2.99) |
| Bank Account | Free outside of the U.S. | 1.49% |
| Debit/Credit Card | 3.0% to 4.5% | 3.99% |
| Instant Card Withdrawal | N/A | Up to 1.5% of any transaction and a minimum fee of $0.55 |
| ACH Transfer | Free | Free |
| Wire Transfer | $15 for U.S. customers | $10 ($25 outgoing) |
| PayPal | N/A | 2.50% |
Binance
Binance.US took a decidedly straightforward approach to its fee schedule.
For Instant Buys and Sells, all transactions have a 0.5% fee. For trades placed on the Basic and Advanced platforms, you'll pay a fee using a maker/taker fee structure. The fees for this service start at 0.10% and decrease if you have a large trading volume or a high Binance Coin (BNB) balance.
Binance also lets you pay your fees in BNB. The firm gives you a 25% discount on your fees if you pay with BNB that's held in your account.
| 30-Day Volume (USD) | BNB Balance | Maker/Taker Fee |
| --- | --- | --- |
| Up to 50,000 | ≥ 0 BNB | 0.1000% / 0.1000% |
| ≥ 50,000 | ≥ 50 BNB | 0.0900% / 0.0900% |
| ≥ 100,000 | ≥ 100 BNB | 0.0800% / 0.0900% |
| ≥ 500,000 | ≥ 200 BNB | 0.0700% / 0.0800% |
| ≥ 1,000,000 | ≥ 400 BNB | 0.0500% / 0.0700% |
| ≥ 5,000,000 | ≥ 800 BNB | 0.0400% / 0.0600% |
| ≥ 10,000,000 | ≥ 1500 BNB | 0.0000% / 0.0600% |
| ≥ 25,000,000 | ≥ 2500 BNB | 0.0000% / 0.0500% |
| ≥ 100,000,000 | ≥ 4000 BNB | 0.0000% / 0.0400% |
| ≥ 250,000,000 | ≥ 6000 BNB | 0.0000% / 0.0300% |
| ≥ 500,000,000 | ≥ 6000 BNB | 0.0000% / 0.0200% |
But do note that Binance.US charges other fees for its services. This includes deposit fees of up to 4.5% for debit card transactions, though ACH deposits are free. Finally, Binance charges withdrawal fees for some digital assets. These fees vary from coin to coin, so verify your expected costs before you withdraw assets.
| Service | Fees |
| --- | --- |
| Bank Account | Free outside the U.S. |
| Wallet | N/A |
| Debit & Credit Cards | 3% to 4.5% |
| ACH Transfer | Free |
| Domestic Wire Transfer (USD) | $15 |
| International Wire Transfer (USD) | $35 |
| Purchases & Trades | 0.02% to 0.1% |
| Instant Buy/Sell | 0.50% |
Coinbase
Coinbase's fee schedule is notoriously complex. Fees differ between the firm's standard trading terminal and Coinbase Pro. All Coinbase Pro transactions use a maker/taker fee schedule that maxes out at 0.50%.
| Total Trade Amount | Fee |
| --- | --- |
| Less than $10 | $0.99 |
| $10-25 | $1.49 |
| $25-50 | $1.99 |
| $50-100 | $2.99 |
Meanwhile, standard Coinbase platform trades are all charged a base spread fee of 0.50% of the order total. On top of this, you'll pay a flat rate of $0.99 to $2.99 for transactions under $200. Transactions over $200 are charged an additional variable fee of 1.49%.
| Pricing Tier | Taker Fee | Maker Fee |
| --- | --- | --- |
| Less than $10K | 0.50% | 0.50% |
| $10K – $50K | 0.35% | 0.35% |
| $50K – $100K | 0.25% | 0.15% |
| $100K – $1M | 0.20% | 0.10% |
| $1M – $10M | 0.18% | 0.08% |
| $10M – $50M | 0.15% | 0.05% |
| $50M – $100M | 0.10% | 0.00% |
| $100M – $300M | 0.07% | 0.00% |
| $300M – $500M | 0.06% | 0.00% |
| $500M – $1B | 0.05% | 0.00% |
| > $1B | 0.04% | 0.00% |
The only other major fees of note at Coinbase are its deposit fees. These include fees of $10 for wire transfers and 2.5% for PayPal deposits. However, there is no fee for ACH transfers with the firm. Additionally, Coinbase doesn't charge withdrawal fees.
| Payment Method | Fee |
| --- | --- |
| Bank Account | 1.49% |
| Coinbase USD Wallet | 1.49% |
| Credit/Debit Card | 3.99% |
| ACH Transfer | Free |
| Wire Transfer | $10 ($25 outgoing) |
Binance vs. Coinbase: Platform and App
An exchange's web-based platforms and mobile apps are an important part of your trading experience. Here's what Binance and Coinbase offer.
Binance
Binance account holders can view their portfolios and place trades online or on a mobile device. The company has two web-based trading terminals (Basic and Advanced) for investors to choose from. These trading terminals are more complex than what you'd find elsewhere.
The firm also has a handful of mobile apps for traders to choose from. Binance's personal hot wallet, Trust Wallet, is available for most mobile devices and is highly rated for its usability.
Additionally, the exchange has a dedicated app for US investors called Binance.US. The app gets relatively high ratings though it is more complex than Coinbase's standard app. But it also supports advanced order types, giving you more trading power on your mobile device.
Coinbase
Coinbase offers multiple apps for its customers. The standard Coinbase app supports the standard Coinbase trading terminal and Coinbase Earn. It is very intuitive and user-friendly, so it's popular among new traders.
The company also offers the Coinbase Pro app, which supports advanced order types and charting features. This app is also highly rated, but it does not offer all the features that you can get on the web-based Coinbase Pro platform.
The Coinbase Wallet and Coinbase Card both have separate apps. Coinbase Wallet's interface is clean and easy to navigate.
The Coinbase Card app is relatively new, so the company is still working out some user experience issues with it. However, if the firm's other platforms are any indication, we expect the Coinbase Card app to be user-friendly soon.
Binance vs. Coinbase: What We Like (Pros)
Binance and Coinbase are two popular exchanges in the world. These are the major advantages of trading on either platform:
Binance
Low transaction fees on all trades
Dedicated exchange for US residents
Offers more than 50 supported coins
Provides access to the highly-rated Trust Wallet
Advanced trading platforms with real-time market data
Free ACH deposits
Option to establish recurring buys
Coinbase
Intuitive platform and interface
Easy to use for new investors
Option to earn free crypto from watching videos
Coinbase Pro trading terminal offered to all account holders
Supports recurring buys
Access to the Coinbase Wallet
Features a crypto-backed debit card for daily purchases
Limited support for crypto staking
Binance vs. Coinbase: What We Don't Like (Cons)
Even the best exchange in the world has some not-so-great features. Here are some key drawbacks of both Coinbase and Binance:
Binance
Both trading terminals are fairly complex for new investors
Limited customer support options
Doesn't offer services in seveb US states
Relatively few features offered on Binance.US
Coinbase
Complex fee structure
High fees for most trades and transactions
Phone-based support only available for Coinbase Card issues
No OTC trading desk
Who Is Binance For?
Binance is a good choice for investors that want a powerful exchange without high fees. The company's fees are lower than what you'd find at Coinbase, so it's a solid choice if you've dabbled in crypto before but want to trade more while minimizing costs.
But, Binance's user interface isn't as friendly as Coinbase's, so it's best for more experienced traders. The firm's US platform also isn't as feature-rich as its global website, which means it's better for people who simply want to buy and sell crypto.
Account Minimum: $10 per trade
Fees: 0.02% to 0.10% purchase and trading fees
Promotion: None
Who Is Coinbase For?
Coinbase is a go-to option for new and experienced crypto investors. Although the firm charges high fees, many find that it's worth the added expense due to the platform's ease of use.
Additionally, Coinbase's wide range of features means that it's a nice option for people who want to do more than just trade crypto. The company's Coinbase Earn and Coinbase Card features make it a worthy choice for investors that want to make the most of their digital assets.

FAQ Binance vs. Coinbase
Here are our answers to some of your most commonly asked questions about Binance and Coinbase:
Is Binance Better Than Coinbase?
Binance and Coinbase are two powerful exchanges that are designed for different types of investors. Therefore, one is not necessarily better than the other. For advanced traders that want to cut costs, Binance is a solid option. Alternatively, Coinbase is ideal for investors that are okay with paying extra for convenience.
Is Binance Cheaper Than Coinbase?
Binance is cheaper than Coinbase. With Binance, trading fees are 0.50% or less while Coinbase's fees can be upward of 1.49% and Coinbase Pro's fees max out at 0.50%. This makes trading on Binance generally much cheaper than investing on Coinbase.
Why Is Binance Banned in the US?
Technically, Binance isn't banned in the US. but the company launched a US-specific exchange called Binance.US in 2020 to avoid regulatory issues. Therefore, US residents can't trade on the firm's original exchange, but they have access to Binance.US.
Is It Safe to Keep Crypto on Binance?
Since Binance is a reputable crypto exchange, there's nothing inherently more dangerous about keeping your assets on Binance than there is about keeping them on another exchange. However, the best place to keep your crypto is usually in a cold wallet.
Final Thoughts
If this Binance vs. Coinbase head-to-head match-up showed us anything, it's that both of these firms are powerful forces to be reckoned with in the crypto world. Both Binance and Coinbase offer many benefits to traders, whether that's low exchange fees or extra crypto-focused features.
What's important is that you find the best exchange for your needs. If you're crypto-curious or someone that prizes convenience, Coinbase might be the better option. On the other hand, Binance is worth considering if you're comfortable around crypto and want to keep expenses to a minimum. Happy trading!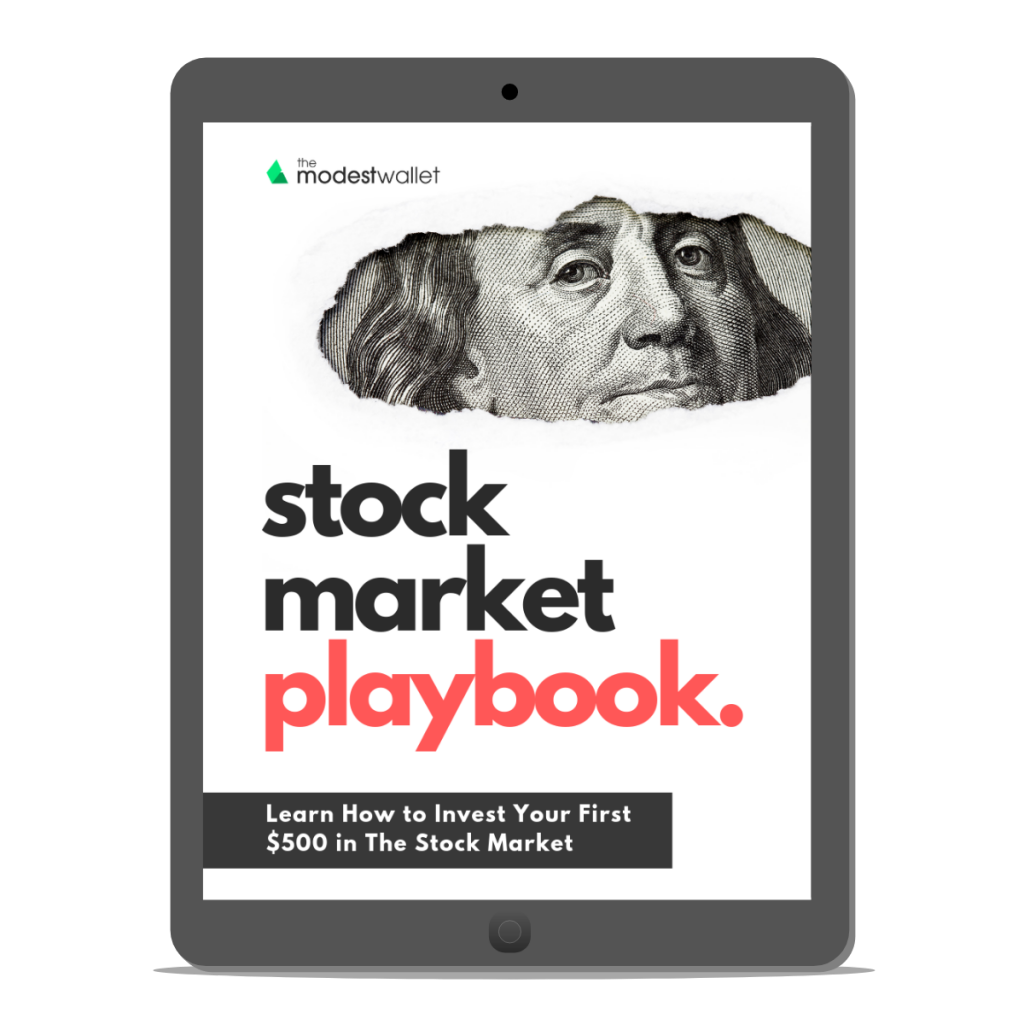 Get our free Stock Market Playbook to learn how to invest your first $500 in the stock market.
Plus our best money tips delivered straight to your inbox.

Gaby is a freelance writer and self-employed business owner with a personal interest in all things finance-related. She has a passion for educating others on how to make the most of their money and loves writing about everything from taxes to crypto.