Bingo Cash Review 2023: Win Cash Prizes for Playing Bingo
Many or all of the products featured on this page are from our sponsors who compensate us. This may influence which products we write about and where and how the product appears on a page. However, this does not influence our evaluations. Our opinions are our own. Here is a list of our partners and here is how we make money.
---
The information provided on this page is for educational purposes only. The Modest Wallet is a financial publisher that does not offer any personal financial advice or advocate the purchase or sale of any security or investment for any specific individual.
Many are wary of game apps that claim to allow their users to win real cash and prizes, and we understand how gimmicky they sound. Whoever you are, it's hard to deny that simply playing a game to win cash and prizes is tempting, to say the least. We are here to ensure the legitimacy of playing Bingo Cash and cover the ins and outs so you can start winning like a pro in no time.
If you're looking for ways to earn some extra cash playing games online, make sure you check out our games for money guide to learn more about all your options.
Quick Summary: Bingo Cash is a game app that allows users to enter free and cash tournaments for a chance to win real money prizes. The app is developed by Papaya Gaming, creators of other popular games.
---
What Is Bingo Cash?
Like many other popular games, such as Solitaire Cash, 21 Cash, and Bubble Cash, Bingo Cash is a game powered by popular mobile app developer Papaya Gaming, a gaming company based out of Tel Aviv, Israel. Upon downloading the app on your iOS or Android device (available through the Galaxy Store), you can begin playing two-minute matches immediately to earn cash and prizes.
Bingo Cash acts like any other game of bingo. Once you start a game, you are matched with an opponent at a similar skill level to ensure fair gameplay. Then, as you play and win games, you earn points that can be redeemed for cash and prizes. The best part is that you can also win daily rewards regardless of if you win or lose, so your cash and prizes tend to add up quickly.
The game is 100% free to download and play. You will be provided with a generated avatar and username, which you are free to change at any time if you wish. With that said, it is also recommended that you create an account sooner rather than later to save your progress.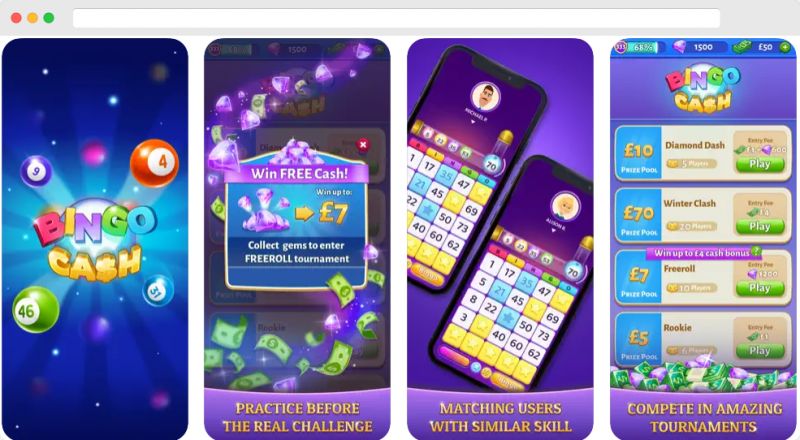 ---
How Does Bingo Cash Work?
Bingo Cash encompasses the same concept of – you guessed it – a game of bingo. You are matched with someone of similar skill level, each given game cards, and embark on a game of chance. You each have 13 possible chances of getting five in a row to equate a bingo, and you can have multiple bingos in one two-minute game to maximize your chances of winning.
After downloading onto your device, you are shown a brief tutorial on how to play before you can start playing for real. Even after the tutorial, Bingo Cash continues to provide tips and tricks along your bingo journey.
Once a number is shown on the screen, you have to look for the called number on your board "Tap it to Daub it." Daub numbers in one or more of these ways to get Bingo. You can win with horizontal lines, vertical lines, diagonal lines, and four corners. Once you get a bingo, you have to hit the button to get your score. The faster you Daub, the more your Booster Bar will charge. These are the available boosters.
Wild Daub: Daub any number
Pick-A-Ball: Get the ball your need
Double Score: X2 points in 10 seconds
Bonus Time: Enjoy 10 more seconds
In terms of scores, Bingo Cash will display your score for each round played, and the various metrics used to calculate your score are as follows:
Daubs: Selecting the correct number on our board when displayed on the screen
Bingos: Completing a bingo and clicking the bingo button
Multi Bingos: Completing multiple bingos in a single game
Double Score: Using a double score booster to earn points during the allotted time
Penalties: Selecting an incorrect number or making an incorrect move
---
Bingo Cash Requirements for Playing
Though Bingo Cash is for anyone that enjoys playing a good game of bingo, there are some restrictions in regards to cash prizes to keep in mind:
Age Restrictions
You must be 18 or older to participate in cash tournaments. Bingo Cash is considered a gambling game and is not meant for minors. However, if your intention is to play for pleasure and not to win, Bingo Cash can be enjoyed by anyone that knows how to play!
Where to Play
You can play Bingo Cash from anywhere in the world that allows it. That said, the following states do not allow ANY users to play for cash or participate in cash tournaments.
Arizona
Arkansas
Iowa
Louisiana
Delaware
South Carolina
Papaya Gaming reserves the right to track your location to ensure you are not playing in a legally restricted area. Disabling your in-game location services may result in being denied access to the game.
---
Bingo Cash Sign Up Process
Bingo Cash is easy to play and even easier to get started. Simply download the game to your iPad, iPhone, or Android device. You will be automatically assigned an avatar and username upon opening the game, which you are free to change later if you wish.
Once your username and avatar have been established, Bingo Cash walks you through a short tutorial to show you how the game is played and how to win. Afterward, you are free to play however you'd like, and the app will even give you additional tips and tricks along the way.
---
Bingo Cash Features
Apart from being a fun way to play bingo and win cash and prizes, Bingo Cash has a variety of features to further enhance gameplay. Here are some of the highlighted ones for this Bingo Cash review.
Free Practice Rounds
After the tutorial, you will have the opportunity to participate in free practice rounds to not only become familiar with the game but also to get accurately matched with another player of the same skill level.
Cash Tournaments
The utmost appeal of games such as Bingo Cash is the fact that users can win real money! Enter yourself in a variety of cash tournaments for a chance to win. Keep in mind that for best results, it is recommended that you contribute some of your own money to participate.
Multiplayer Tournament
Further, increase your chances of winning by participating in multiplayer tournaments. These games are like cash tournaments but involve multiple players. The more opponents you have, the more you win against them all!
Daily Gifts and Bonuses
Everyone has seen games where you get gifts and bonuses for every day you sign in to the app. Bingo Cash is no exception to this concept. Be sure to login to the app and play daily to claim any freebies you are awarded.
Ad-Free Games
Papaya Gaming games are always ad-free for a seamless gaming experience. Unlike other fast-paced casino games, the creators believe that ads not only slow down the game but ruin the overall experience for their users. This means you will never have to worry about getting interrupted by annoying repetitive ads while playing Bingo Cash.
---
Ways to Win with Bingo Cash
There are many ways to win with Bingo Cash. Not only are there many fun tournaments to try your hand at, but there are many things to win, as well. Here are a couple of examples that we've highlighted in this Bingo Cash review.
Cash Prizes
It is no secret that Bingo Cash rewards cash prizes to whoever wins a cash tournament game. This is by far the most sought-after way to win. Keep in mind that contributing your own money, whether $5 or $20, will give you the best (and most realistic) chance of winning cash prizes.
Earn Gems
Gems are another in-game currency along with other rewards. You can use gems to redeem prizes and bonus cash!
---
How Much Can You Make Playing Bingo Cash?
Let's set one thing straight: Bingo Cash is not a way to get rich quickly. To be frank, do not expect to make very much while playing. However, that is not to say you will not make any money at all. Just look at these users who consistently say you can win at least $20 in the beginning.
Perhaps the easiest way to make money on Bingo Cash is by inviting friends to play. You will get $15 for every friend that joins and deposits money to play. Further, you can also redeem bonus cash for collecting trophies!
---
Bingo Cash Fees
Bingo Cash is completely free to play and enjoy. When it comes to playing for cash, though, you need to contribute your own money to play and need at least $2 worth of earnings to withdraw to your PayPal account. International fees may apply and vary depending on which country you are playing from.
---
Bingo Cash Pros
Ad-free gameplay
Fun way to win real cash and prizes
Easy to play interface and provides a tutorial with tips and tricks throughout
Free practice rounds to sharpen your skills or play for pleasure
Do not have to contribute high amounts of money to win cash and prizes
Easy to withdraw and redeem earnings
---
Bingo Cash Cons
This is not a get-rich-quick type of game or a sustainable way to supplement income.
You must gamble your own money for an opportunity to win cash.
Some say the features are lacking compared to other bingo games.
There have been speculations on the legitimacy of players on the other side. Some think they are bots.
---
Bingo Cash Alternatives
If Bingo Cash doesn't sound right for you, here are a couple of alternatives that you might like better. Better yet, play them all at once to maximize your winnings.
Solitaire Cube
Solitaire Cube is also a game app to win cash and prizes, except instead of bingo, the game is solitaire. This game is great for those that are better at solitaire than bingo, and you can still win real money and prizes while being matched with players that meet your skill level. This game is powered by Skillz.
Blackout Bingo
Blackout Bingo is another bingo-based game, but some users like it more due to its flashy concept. Follow Chelsea, the in-game mascot, around various popular destinations while playing a game of bingo. This game is powered by Skillz and has more features, visually appealing graphics, and ways to earn real cash and prizes. Read our full Blackout Bingo review to learn more.
| | | | |
| --- | --- | --- | --- |
| | | | |
| Our Rating | | | |
| Game Name | Bingo Cash | Blackout Bingo | Solitaire Cube |
| Developer | Papaya Gaming | Big Run Studios | Tether Studios |
| Platforms | iOS and Android | iOS and Android | iOS and Android |
| Highlight | Ability to receive daily gifts and bonuses | Games only take about 2 minutes to play | Games can be played one on one or in tournament mode |
| Best For | People that like playing Bingo | People that like playing Bingo | People that like playing Solitaire |
| | | | |
---
Who Is Bingo Cash Best For?
Bingo Cash is best for anyone that meets the requirements above that either loves bingo or is looking for a fun way to use their free time. The game is also intended for players that don't mind engaging in a little friendly competition for a chance to win some extra pocket change here and there.
We feel it is important to mention that the Bingo Cash cash tournaments are not intended not only for players under the age of 18 years old but also for those with a gambling addiction. Above everything else, please play responsibly!
---
Bingo Cash Review FAQs
We've found some of the most frequently asked questions regarding Bingo Cash – here are our answers.
Is Bingo Cash Legitimate?
Yes, Bingo Cash is a legitimate game trusted by millions that allows you to win real cash and prizes just for playing. As with any gambling game out there, though, you must be willing to contribute some of your own money if you intend to win anything substantial.
How Much Does Bingo Cash Cost?
Bingo Cash is completely free to play and enjoy. However, depositing your own money is required to participate in cash tournaments. Certain withdrawal fees may apply depending on where you are in the world.
Is Bingo Cash Safe?
Bingo Cash is safe to play and not at all a scam. With that said, be wary of anyone that reaches out to you claiming to be the game developer, and never give your bank details to anyone. All Papaya Gaming games make deposits and provide withdrawals through PayPal, which is a trusted platform for exchanging funds. 
Do Bingo Cash Points Expire?
Bingo Cash points never expire. You can even stockpile them to redeem larger prizes and bonus cash! Just be sure to register an account on the Papaya Gaming platform so you can save your points and progress.
What Is the Minimum Age to Play Bingo Cash?
You must be at least 18 years old to participate in cash tournaments and other events within the game. However, you can play at any age for recreation and not to win.
Can You Really Win Money With Bingo Cash?
Yes, you can really win money with Bingo Cash. Just don't expect to win the lottery or supplement your income while playing! Overall, Bingo Cash is a fun way to make some extra spending money on the side if you wish, but it won't help you earn a living.
Do I Have to Pay Taxes on My Bingo Cash Earnings?
If you win more than $600 in the game, you will be sent a W2 and 1099 to pay taxes on when the time comes. Anything less than $600 will not be subject to a tax pay.
Will I Be Matched With a Player at My Same Level with Bingo Cash?
Yes. To ensure fair gameplay, you will be accurately matched with another player that meets your exact (or similar) skill level. To assess your skill level, the game presents you with free practice rounds.
What Is the Difference Between Gambling and Playing Bingo Cash?
The only difference is that Bingo Cash is gambling in the form of an app. In all other aspects, there is no drastic difference between the two.
Features: Earn extra cash playing bingo online
Available: iOS and Android
Developer: Papaya Gaming
Best For: People that enjoy playing bingo games
---
Final Thoughts
This Bingo Cash review was based on a number of factors and was intended to provide an easy-to-read, bias-free summarization of the game. We highlighted the game's most notable features, ensured its legitimacy, studied user feedback, and compiled a list of the most frequently asked questions.
Overall, Bingo Cash is a legitimate and free game that is easy to learn for most users. The variety of ways to win and its socially competitive nature make it highly addictive. Whether you are looking for a fun and relaxing way to spend your free time or would like a relatively low-risk way to try your hand at gambling, Bingo Cash is great for you!
Get our free Side Hustle Handbook with the best strategies to multiply your income sources today.
Plus our best money tips delivered straight to your inbox.

Christa is a skilled researcher and serial entrepreneur. Her passion lies in providing people like you with ways to become financially independent without breaking the bank in the process. Currently, she's tested and perfected over 37 unique side hustles and brings that information to you through articles like these.