Bitcoin IRA Review 2023: Retire Thanks to Crypto
Many or all of the products featured on this page are from our sponsors who compensate us. This may influence which products we write about and where and how the product appears on a page. However, this does not influence our evaluations. Our opinions are our own. Here is a list of our partners and here is how we make money.
---
The information provided on this page is for educational purposes only. The Modest Wallet is a financial publisher that does not offer any personal financial advice or advocate the purchase or sale of any security or investment for any specific individual.
Wish you could save for retirement using crypto? With Bitcoin IRA, you can!
Bitcoin IRA is a platform that provides a convenient way for you to build your retirement savings using the power of crypto. However, is Bitcoin IRA the best platform for your needs?
In this Bitcoin IRA review, we'll take a closer look at how the company stacks up against the competition. In the end, you'll have all the information you need to make a smart decision with your hard-earned money.
Quick Summary: Bitcoin IRA is an online platform that allows users to invest in cryptocurrencies using their IRA. Beyond crypto, they also offer a way to invest in gold with IRAs and 401(k) accounts.
Promotion: None
What Is Bitcoin IRA?
Bitcoin IRA is a cryptocurrency platform run by Alternative IRA Services (AIS) that specializes in digital asset retirement accounts. The California-based company was the first full-service platform for self-directed investors that want to hold cryptocurrencies in their IRAs.
Since its 2015 launch, Bitcoin IRA has become one of the leaders in digital asset-based retirement planning. The company lets individual investors buy cryptocurrencies inside a tax-advantaged retirement account.
While it is not an exchange or custodian, Bitcoin IRA facilitates transfers between investors and BitGo Trust Company. BitGo Trust processes your trades and provides both custodial services and insurance for assets held in your Bitcoin IRA.
How Does Bitcoin IRA Work?
To use Bitcoin IRA, you first have to create and fund an account. Here's what you need to know.
Getting Started
Before investing with Bitcoin IRA, you need to verify your eligibility for an account. Bitcoin IRAs are available to US citizens and residents over the age of 18. As of the time of writing, Bitcoin IRA offers accounts in all 50 states.
However, since the firm is US-regulated, you need to provide some personal information and documentation before you can invest. This includes:
Full name
Date of birth
Social Security Number
Phone number and email address
Physical address
US Driver's License or government-issued ID
To rollover your existing IRA or 401(k) into a Bitcoin IRA, you also need a copy of your most recent statement from your current IRA custodian, such as Fidelity.
Opening an Account
Opening a Bitcoin IRA is a straightforward process. However, if you want to transfer funds from an existing IRA, there are a few additional steps involved.
To start, go to the Bitcoin IRA website and click the button to sign up. This will prompt you to enter your personal information and take a photo of your ID for identity verification.
Next, you'll input information about your current IRA or 401(k). Then, you'll upload a photo of your most recent statement. Doing so initiates the transfer of your funds from your current IRA to your Bitcoin IRA. Note that it can take up to two weeks to transfer funds and establish your account.
However, the account opening process listed above is for people who want to transfer funds from an existing IRA. If you want to establish a new account and fund it with a checking or savings account, you'll do so through Bitcoin IRA's Saver IRA platform. The process for this is similar, but it involves connecting a bank account rather than initiating an IRA rollover.
Funding Options
When you establish a standard Bitcoin IRA, your initial funding source will be your existing IRA. However, if you open a Saver IRA, your initial funding source is a linked bank account.
After your initial deposit, your only option for funding your account is a bank transfer. Due to current IRS regulations, you can only fund an IRA with US dollars, so crypto transfers are not allowed.
Cryptocurrencies Supported
In addition to Bitcoin (BTC), Bitcoin IRA supports a number of cryptocurrencies (over 60 cryptocurrencies) including:
Bitcoin IRA Features
Bitcoin IRA is a feature-rich platform designed for the retirement-focused investor. Here's what you can look forward to if you open an account:
| | |
| --- | --- |
| Minimum Investment | $3,000 |
| Account Fees | Platform fee: 1.5% to 12.5% and Transaction fees: 5% on buys / 1% on sells (**Other fees apply) |
| Supported cryptocurrencies | Over 60 cryptocurrencies including Bitcoin, Ethereum, Ripple, Litecoin, Stellar Lumens, Zcash, Bitcoin Cash, Ethereum Classic and Digital Gold |
| Interest-Earning Accounts | Up to 6% |
| Assets Available | Cryptocurrencies, Cash and Gold |
| Account Types | Self-Directed IRA (Traditional or Roth) |
| Promotions | None |
| Mobile App | iOS and Android |
| Support | Phone (+1 866-374-1530) and Email ([email protected]) |
Bitcoin IRA
The Bitcoin IRA is the firm's flagship feature. This account is the same as a Traditional IRA account, but it lets you invest in crypto, rather than stocks.
How it works is simple: You first open and fund an account. Then, you can place trades for any of the platform's supported coins. The coins are then held in your account until retirement.
Note that, just like any IRA, Bitcoin IRAs are subject to annual contribution limits and withdrawal restrictions. However, you may get a tax deduction on your IRA contributions.
Bitcoin Roth IRA
In addition to the classic Bitcoin IRA, the company also offers a Bitcoin Roth IRA. This account offers all the same features as the standard Bitcoin IRA (technically a Traditional IRA), but in a Roth format.
The primary difference is that contributions to a standard Bitcoin IRA are tax-deductible now, but you'll pay taxes on your distributions in retirement. Bitcoin Roth IRAs offer no tax breaks now, though you get tax-free distributions after you retire.
The process for opening a Bitcoin Roth IRA is the same as opening a regular IRA, you just have to indicate that you'd like a Roth account.
Saver IRA
The third kind of retirement account that Bitcoin IRA offers is called a Saver IRA. This account is just like the classic Bitcoin IRA.
However, instead of funding it with rollover contributions from your existing IRA or 401(k), you can start a Saver IRA with a bank transfer of $100 or more. Then, you can establish recurring contributions to your Saver IRA so that you can build your portfolio over time.
Earn Interest on Crypto
Bitcoin IRA lets investors earn up to 6% interest on their crypto assets. The firm currently offers interest on Bitcoin, Ethereum, and US dollars.
To earn interest, you need a minimum balance of $10,000 in your Bitcoin IRA. There is a $100 fee to opt-in to the interest-earning program, which is run in partnership with Genesis Global.
Funds in the program earn interest that accrues daily. Interest is paid monthly into your Bitcoin IRA. Note that you can withdraw your funds from the program at any time. However, there is a $100 withdrawal fee.
Low-Cost Gold Investing
While most of Bitcoin IRA's focus is on crypto investing, the firm also offers low-cost, real-time gold investing.
In fact, Bitcoin IRA lets you buy physical gold with funds in your account. When you purchase gold on the platform, you become the owner of gold that's stored in secure Brink's bullion vaults.
Your gold is held in your account where it can grow in value until you retire. This makes it one of the most affordable ways to invest in gold, especially when compared to what you'd find at a traditional brokerage.
Mobile App
With Bitcoin IRA, you can stay up to date on your portfolio's performance with the firm's iOS and Android mobile app.
On the app, you can check your account balance, place real-time trades, and access advanced charting tools. The app is also highly rated among investors because it provides a user-friendly interface that makes viewing your account's performance as easy as can be.
Bitcoin IRA Pricing & Fees
Bitcoin IRA's overall fee structure is complex and you need to contact the company directly for an up-to-date fee schedule.
Currently, Bitcoin IRA charges a $240 annual fee and a 0.05% monthly wallet holding fee. There's also a minimum investment of $3,000 in order to open a Bitcoin IRA and a $100 minimum for a Saver IRA.
When you first establish an account, you'll pay a fee of 7.5% to 12.5% based on your initial investment amount, with higher account balances paying lower fees. These fees are front-loaded and are paid up front.
Additionally, Bitcoin IRA charges a 1% fee on sell orders and a 5% fee on buy orders. You'll also pay a $75 fee to roll over an existing IRA or 401(k) to a Bitcoin IRA.
Platform Fees
| Investment Amount | 5 Year Hold | Total |
| --- | --- | --- |
| $50 to $49,900 | 2.5% | 12.5% |
| $50,000 to $99,900 | 2% | 10% |
| $100,000 or more | 1.5% | 7.5% |
Custodial Fees
| | |
| --- | --- |
| Custodial Setup Fee | $0 |
| Annual Account Fees | $240 |
| Wallet Holding Fee | 0.05% |
| Transaction Fee (Buy/Sell) | 1% |
| Re-registration/Transfer Out Fee | $75 |
Bitcoin IRA Security & Insurance
For added security, Bitcoin IRA works with custodial service BitGo Trust to store investor assets. The company uses 256 bit encrypted SSL, industry-leading digital wallets, and offline storage to protect investor funds.
Bitcoin IRA has $100 million in custody insurance from Lloyd's of London. Furthermore, Bitcoin IRA stores all gold purchased on its platform in Brink's bullion vault facility. BitGo Trust also provides insurance for gold held in Bitcoin IRA accounts.
Bitcoin IRA Customer Support
If you have a question about your account, Bitcoin IRA offers chat and phone-based support. The company's chat system can also direct you to help pages with the answer that you're looking for.
However, Bitcoin IRA's online help pages are slim on information, particularly about some of the company's newest features. Nevertheless, few crypto firms offer phone-based support, so this is an asset for Bitcoin IRA investors.
Bitcoin IRA Pros
Available in all 50 US states
Supports traditional and Roth accounts
Access to low-cost gold investing
Opportunity to earn interest on coins
Can roll over funds from existing IRA or 401(k)s
First-time IRA available with low account minimum
Can establish recurring deposits
Highly rated mobile app
Phone and chat support
Bitcoin IRA Cons
High trading and account fees
Low fee transparency
Limited customer service
Few supported coins
High account minimums
Hidden fees for interest-bearing accounts
Slow account setup
Bitcoin IRA Alternatives
Not sure that Bitcoin IRA is right for you? Here are some great alternatives to check out:
BitIRA
BitIRA is a crypto-based retirement investing platform. The company offers Traditional and Roth IRAs where you can invest in nine cryptocurrencies.
Additionally, BitIRA lets you hold stocks and other conventional investment vehicles in your account if you roll over an old IRA or 401(k). The company even provides full custodial services and insurance for your account.
However, note that the company has high fees and a $5,000 minimum investment. Plus, BitIRA charges fees on a per-account basis, so you need to contact the company directly for more information. Read our full BitIRA review to learn more.
iTrustCapital
iTrustCapital is a popular, relatively low-cost choice for crypto-savvy retirement investors. The firm lets investors choose between a Traditional, Roth, and SEP IRA.
With iTrustCapital, you can trade more than 20 cryptocurrencies plus gold and silver. The company has some of the lowest trading fees in the crypto IRA industry. iTrustCapital also partners with Coinbase custodial services and insurance.
Nevertheless, like all crypto IRAs, iTrustCapital charges decently high fees. The firm also doesn't offer any interest-bearing accounts. But if you want cost savings and access to a wider range of crypto assets, iTrustCapital is worth considering.
| | | | |
| --- | --- | --- | --- |
| | | | |
| Our Rating | | | |
| Fees | Platform fees: 1.5% to 12.5% and Transaction Fees: 1% (sells) / 5% (buys) | Account setup fee: $50, annual maintenance fee: $195, 0.05% storage fee | Account fee: $29.99 per month and 1% crypto trade fee |
| Account Minimum | $3,000 | $5,000 | $2,500 |
| Promotion | None | None | None |
| Cryptocurrencies Offered | Bitcoin (BTC), Bitcoin Cash (BCH), Ethereum (ETH), Ethereum Classic (ETC), Litecoin (LTC), Ripple (XRP), Stellar (XLM), Zcash (ZEC) | Bitcoin (BTC), Bitcoin Cash (BCH), Bitcoin SV (BSV), Ethereum (ETH), Ethereum Classic (ETC), Litecoin (LTC), Stellar (XLM), Zcash (ZEC) | Bitcoin (BTC), Bitcoin Cash (BCH), Cardano (ADA), Chainlink (LINK), Compound (COMP), Ethereum (ETH), EOS (EOS), Litecoin (LTC), and more |
| IRAs Offered | Yes | Yes | Yes |
| | | | |
Bitcoin IRA is a powerful platform for investors that want a convenient way to hold crypto in a retirement account.
Additionally, Bitcoin IRA makes buying gold easy, so it's a popular choice if you want a low-cost way to invest in precious metals. The company's interest-earning accounts also provide passive income for savings-focused crypto investors.
Who Is Bitcoin IRA For?
However, all of these features come with hefty fees. So, Bitcoin IRA is best for traders that are okay with paying more for convenience when diversifying their retirement portfolio.
Bitcoin IRA FAQ
Here are our answers to some of your most commonly asked questions about Bitcoin IRA.
Is Bitcoin IRA Legit?
Bitcoin IRA is a legitimate crypto investing platform. The company has a custodian, BitGo Trust, and it is registered with the US Department of the Treasury's Financial Crimes Enforcement Network.
Can I Invest in Bitcoin and Ethereum with an IRA or 401(k)?
Most IRAs and 401(k)s don't allow you to invest in crypto. However, you can rollover your existing IRA or 401(k) to a Bitcoin IRA, which will allow you to invest in Bitcoin and Ethereum. Alternatively, you can establish a new Bitcoin IRA account and start investing in crypto right away.
Is My Crypto Safe with Bitcoin IRA?
Bitcoin IRA uses high-end security and a custodian, BitGo Trust, to protect your crypto. But there is always a risk of theft from hackers when you give your private keys to a company. Nevertheless, Bitcoin IRA offers $100 million in custody insurance to cover you in the case of a security breach.
What Is the Advantage of Trading Bitcoin in an IRA?
The primary advantage of trading Bitcoin in an IRA is the potential for tax deductions or future tax-free withdrawals. Contributions to a traditional IRA are generally tax-deductible while any withdrawals you make from a Roth IRA in retirement are tax-free. So, investing in Bitcoin in an IRA can have major tax benefits.
Account Minimum: $3,000
Fees: 5% on buys, 1% on sell (**see the full list of fees above)
Promotion: None
Final Thoughts
Saving for retirement is an important part of any long-term financial strategy. With Bitcoin IRA, you can save for your golden years by investing in cryptocurrencies.
Bitcoin IRA has become a popular choice for US investors due to its sleek mobile platform, user-friendly interface, interest-bearing accounts, and quality asset insurance. However, the company has high fees and its overall fee transparency can leave some investors wanting.
At the end of the day, what's important is that you end up with the right crypto-focused IRA for your needs. Whether that's with Bitcoin IRA, iTrustCapital, or another platform altogether, we hope this article helped you decide where to invest your money.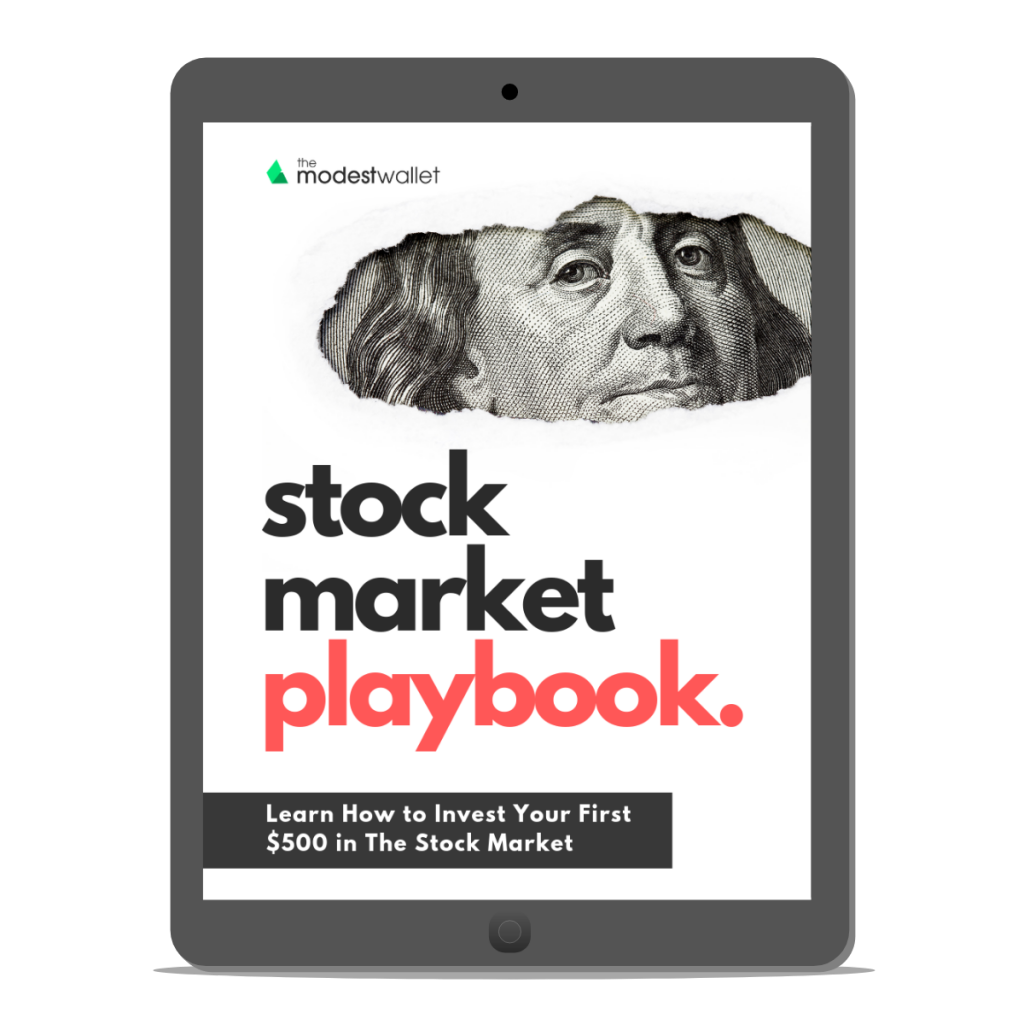 Get our free Stock Market Playbook to learn how to invest your first $500 in the stock market.
Plus our best money tips delivered straight to your inbox.

Gaby is a freelance writer and self-employed business owner with a personal interest in all things finance-related. She has a passion for educating others on how to make the most of their money and loves writing about everything from taxes to crypto.