Many or all of the products featured on this page are from our sponsors who compensate us. This may influence which products we write about and where and how the product appears on a page. However, this does not influence our evaluations. Our opinions are our own. Here is a list of our partners and here is how we make money.
The information provided on this page is for educational purposes only. The Modest Wallet is a financial publisher that does not offer any personal financial advice or advocate the purchase or sale of any security or investment for any specific individual.
Blackout Bingo (formerly known as Blackout Blitz) is an engaging game that can be enjoyed on your iPhone, iPad, or Android. Its popularity stems from giving players the ability to earn cash and redeemable prizes through playing free and paid bingo games, as well as participating in tournaments.
Understandably, many people are wary of games that claim to dish out real money and prizes just for playing. So the question is, is Blackout Bingo all it's cracked up to be? Let's find out in this all-inclusive Blackout Bingo review.
Quick Summary: Blackout Bingo is a game app that allows users to enter free and cash tournaments for a chance to win real money prizes. The app is developed by Big Run Studios Inc and supported by Skillz, an online mobile multiplayer video game competition platform.
---
What Is Blackout Bingo?
Blackout Bingo is a skill-based game created by Big Run Studios and is socially powered by Skillz. The game is currently listed at No. 3 in the casino game category and has thousands of positive ratings. Centered around a fictional character called Chelsea, the game gets its visual appeal by featuring popular travel destinations such as NYC, Mexico, and Paris.
Upon creating a free Skillz account, Blackout Bingo allows players to play for real money and prizes through many game modes. Game modes range from practice rounds and head-to-head play to events. Whatever mode you choose to play in, you will be matched with other players that are at the same level as you to ensure fair gameplay.
There is an in-game currency known as Z coins, and they can be used not only to redeem Ticketz for gift cards and cash but also to enter whatever game mode you choose. Real money may be deposited to use for gameplay at your own discretion, but it is not necessary.
Ticketz are harder to earn without using your real money, however. If hitting the jackpot is not what you are after, Blackout Bingo is still a perfectly entertaining game without contributing your own funds.
---
How Does Blackout Bingo Work?
Signing up to play Blackout Bingo is easy. Simply make a Skillz account to save your progress and create a name and avatar to represent yourself. From there, you will be presented with a practice game so you can get a feel for how the game is played. Each game of Blackout Bingo lasts two minutes, making it a perfect pass-the-time game.
This goes without saying, but Blackout Bingo is played like a regular game of Bingo, just through an app. For every three matches you get on each game, you get what's called a Daub. Daubs act as a free move for anywhere on the board. The objective is to get as many matches and Daubs per game as you can to eventually result in a bingo.
---
Blackout Bingo Requirements for Playing
We aim to be transparent with this Blackout Bingo review. So, with that in mind, you should note that the game is, unfortunately, not for everyone. Here are some requirements you should know before downloading and playing:
Age Requirements
The app store recommends that players be at least 17 or older to play Blackout Bingo. However, there is no age limit to play the game if you are using it for entertainment purposes only. In order to redeem cash, you must be old enough to have a Paypal account, which is 18 years old.
Available Locations
If you are not playing for money, you can play Blackout Bingo from anywhere in the world. However, there are certain US states that don't allow gambling games unless it is for virtual currency.
States That Are Not Eligible for Cash Prizes
The following states in the US do not allow the redemption of cash through gambling games such as Blackout Bingo:
Arizona
Arkansas
Connecticut
Delaware
Louisiana
Montana
South Carolina
South Dakota
Tennessee
This is based on the Skillz Terms of Service. In order to determine if players are in a restricted state, Skillz reserves the right to use GPS tracking to locate your device. If you turn off location services, you may not be allowed access to the game.
Eligibility
Anyone who is 18 and older and meets the requirements above may participate in Blackout Bingo.
---
Blackout Bingo Sign-Up Process
As mentioned before, signing up to play Blackout Bingo is a seamless process. Here is a step-by-step guide.
Download the app on your IOS or Android device.

Once downloaded, open the app to choose an avatar and create a screen name.

Get a feel for how the game is played as well as the rules by playing a practice game. The practice game also serves as a way for the game to assess your level so you can be fairly matched with another player after practicing.

Before playing any more matches, get a feel for the navigation menu until you are able to select "Save Account" under the "My Account" tab. This is important to save your progress. Simply enter your date of birth along with additional information such as your email. Eventually, you will be prompted to verify your email.

Once everything is entered and verified, you will finally be able to select different game modes to compete and participate in tournament events.
---
Blackout Bingo Features
There are many features that make Blackout Bingo a fun game, and the game's popularity shows for it. Here are some highlighted ones.
Free Practice Tournaments
Though considered a gambling game, there are many ways to play Blackout Bingo that make it incredibly low risk. One example of this is the free practice tournaments. Practice tournaments are a great way to improve your skills should you ever want to play for money or prizes.
Boosts
Boosts serve to enhance your gameplay and give you the opportunity to earn more rewards for Ticketz. Some examples of different boosts are the Golden Ball for an extra bingo placement, Extra Time boosts for 10 more seconds of gameplay, and the 2x boost for doubling your points in a 10-second timespan.
Leagues
Leagues are for those who want to play for real cash and prizes. Most people join leagues after playing multiple practice tournaments or other cash game modes because they have enough Ticketz saved up to cover the entry fees. This means there is no out-of-pocket cost, and players win guaranteed prizes.
Loyalty Tiers
Frequent players benefit from loyalty tiers. The more you play, the more bonus Ticketz you earn, ranging from two to six times more per match. They are redeemable for all of the games you win for the next calendar month and ultimately result in winning prizes in a shorter time frame.
Ad-Free Games
One of the best features of Blackout Bingo is that there are no ads in the game. Unlike other fast-paced casino games, the creators believe that ads not only slow down the game but also ruin the overall experience for their users.
Ways to Win With Blackout Bingo
Winnings widely depend on what you contribute to the game. Free gameplay prizes are going to differ from cash-based prizes. For free gameplay, you can expect to win virtual currency or medals quicker than Ticketz. Here is what you can expect to win when playing with real money.
Cash Prizes
There are many ways to go about earning cash in Blackout Bingo. One of the easiest is using a referral link. Every time someone signs up and makes a deposit using your link, you get $20.
Like many things in life though, you have to pay to win. It is unlikely you will win "big" if you do not contribute any of your own money. With that being said, Blackout Bingo does not require a large contribution. For example, you may only have to pay 60 cents to win $1 or $3 for $8.
These amounts are small, but the creators love to reward their loyal players. With enough practice, these amounts add up! You can also win big by participating in their limited-time cash pools events. The amounts can get up to as much as $3,000 for a $5 entry fee, for example.
Skillz Ticketz
Ticketz can be used to redeem various prizes and bonus cash. You can earn $1 per 20,000 ticketz and $100 per 1.25 million ticketz. Just like cash, the fastest way to get ticketz is by contributing your own money to participate in matches and tournaments.
Prizes
Like a game at a carnival, you also need Ticketz to redeem prizes, and the same deal explained above applies. Prizes can be as simple as a t-shirt or as trendy as a solar-powered phone charger.
---
How Much Can You Make Playing Blackout Bingo?
As you might have noticed, Blackout Bingo is not something to quit your day job for. If you genuinely enjoy playing bingo and don't mind gambling some pocket change every once in a while, then Blackout Bingo can be a great way to earn some extra spending money. If you get really good through practice rounds and are consistent, you might just win big!
Though the payouts are normally not anything to write home about, Skillz has reported over $60 million worth of winnings to their 30 million players since their launch.
---
Blackout Bingo Fees
Blackout Bingo is completely free to play, with the exception of playing for cash and prizes, but there are some fees to be wary of. Withdrawals are subject to a $1.50 processing fee for withdrawals $10 and under. Further, if your account becomes inactive for six months, you will be charged $2 per month for each month you do not enter a tournament.
---
Blackout Bingo Pros
An easy and fun way to spend free time and possibly make extra money on the side
Helpful Skillz support team in case of any issues
Does not require users to contribute high amounts of money to win cash and prizes
Free practice rounds and play multiple times per day
Easy to withdraw and redeem earnings
---
Blackout Bingo Cons
Asks users to pay to win cash and prizes
Requires a significant time investment to win anything substantial
There have been speculations on the legitimacy of players on the other side. Some think they are bots.
---
Blackout Bingo Alternatives
Though Blackout Bingo is one of the most popular casino games, there are similar games that are just as fun and could even be considered better. Let's take a look at how they compare to this Blackout Bingo review.
Bingo Cash
Bingo Cash is another bingo game powered by Skillz. Because of this, the concept is fairly similar. The difference between the two is that many find Bingo Cash more rookie-friendly. The app provides tips and tricks to help players along and starts off with a helpful tutorial. Read our full Bingo Cash review to learn more.
Bingo Clash
Bingo Clash is also a similar concept to Blackout Bingo, with the art being its biggest difference. If the animations in games are important to you, consider checking out this alternative. The best part is that this game is also ad-free and provides easy withdrawal methods. Read our full Bingo Clash review to learn more.
| | Blackout Bingo | Bingo Cash | Bingo Clash |
| --- | --- | --- | --- |
| Our Rating | | | |
| Game Name | Blackout Bingo | Bingo Cash | Bingo Clash |
| Developer | Big Run Studios | Papaya Gaming | Aviagames |
| Platforms | iOS and Android | iOS and Android | iOS and Android |
| Highlight | Games only take about 2 minutes to play | Ability to receive daily gifts and bonuses | No ads, uninterrupted gaming experience |
| Best For | People that like playing Bingo | People that like playing Bingo | People that like playing Bingo |
| | | | |
---
Who Is Blackout Bingo Best for?
Blackout Bingo is best for anyone that meets the requirements: 18 years old or older and lives in a gambling-legalized state (if planning on winning cash). Most of all, Blackout Bingo is best for people that love to play bingo. Ideal for phone gamers, the game is guaranteed to be engaging, competitive, and fun!
Because Blackout Bingo is considered a gambling game, it is important to mention that this game is not for those with gambling addictions. Please play responsibly.
---
Blackout Bingo Review FAQs
We've found some of the most frequently asked questions with regard to Blackout Bingo, and here are our answers:
Is Blackout Bingo Legitimate?

It is safe to say that Blackout Bingo is 100% legitimate. You can download the game for free and play for money and cool items. However, that is not to say that the money is free. If you want to engage in cash and prize-winning games, you will have to contribute some of your own money to the game. This is the case for any gambling game in person or online.
How Much Does Blackout Bingo Cost?

Blackout Bingo is free to play for recreational purposes. However, if you want to win cash and prizes, you will have to contribute funds. Further, withdrawals under $10 are subject to a $1.50 processing fee, and $2 per month will be charged for more than six months of inactivity. Aside from these exceptions, there is no upfront cost to play Blackout Bingo.
Is Blackout Bingo Safe?

Yes, Blackout Bingo is a safe and reputable game. In fact, the game has awarded its 30 million players $60 million since its launch. With that being said, it is always wise to play responsibly and never trust anyone outside of the game with your financial information. 
Do Blackout Bingo Points Expire?

No, they do not expire. Some players even stockpile points to redeem higher-end prizes and gain free entry into cash games.
What Is the Minimum Age to Play Blackout Bingo?

According to the Apple App Store, you must be 17 or older to play Blackout Bingo. However, in order to earn cash through the game, you must be at least 18 or older. There is also nothing on record to suggest that those under 17 years old would not be able to play for entertainment.
What Are Ticketz in Blackout Bingo?

Ticketz are a type of currency used in the game to redeem prizes and bonus cash. You can earn Ticketz by trading them for points you win in practice rounds.
Can You Really Win Money With Blackout Bingo?

Yes, The rate at which you win money and prizes depends entirely on your contribution to the game. If you want to try to win without depositing any of your own funds, the journey to winning cash and prizes is much slower than if you were to gamble actively. It's difficult and requires patience, but it is not impossible.
Do I Have to Pay Taxes on My Blackout Bingo Earnings?

If you win more than $600 in the game, you will be sent a W2 and 1099 to pay taxes on when the time comes. Anything less than $600 will not be subject to a tax pay.
How Much Are Ticketz Worth?

For cash redemption, Ticketz convert to the following:

– 20,000 Ticketz = $1
– 35,000 Ticketz = $2
– 80,000 Ticketz = $5
– 150,000 Ticketz = $10
– 280,000 Ticketz = $20
– 1,250,000 Ticketz = $100

For prize redemption:

– 140,000 Ticketz = a Skillz T-shirt
– 160,000 Ticketz = a Skillz phone case
– 200,000 Ticketz = a Skillz mug
– 460,000 Ticketz = phone camera lenses
– 500,000 Ticketz = AYL portable speaker
– 860,000 Ticketz = USB solar phone charger
Will I Be Matched With a Player at My Same Level As Blackout Bingo?

Yes, as your skill level grows, you will be accurately matched with someone at that same level. This is to ensure fairness between games so no one person is significantly more experienced than the other.
What Is the Difference Between Gambling and Playing Blackout Bingo?

The only difference is that Blackout Bingo is gambling in the form of an app. In all other aspects, there is no drastic difference between the two. 
---
Final Thoughts
This Blackout Bingo review was based on a number of factors and was intended to provide a detailed yet easy-to-understand summarization of the game. We structured an outline of the game's most prominent features, ensured the legitimacy, studied user feedback through a variety of sources, and compiled a list of the most frequently asked questions.
Overall, Blackout Bingo is a legitimate and free game that is easy to learn for most users. The beautiful graphics, the variety of ways to win, and its overall socially competitive nature make it highly addictive! Whether you are looking for a fun and relaxing way to spend your free time or would like a relatively low-risk way to try your hand at gambling, Blackout Bingo is great for you.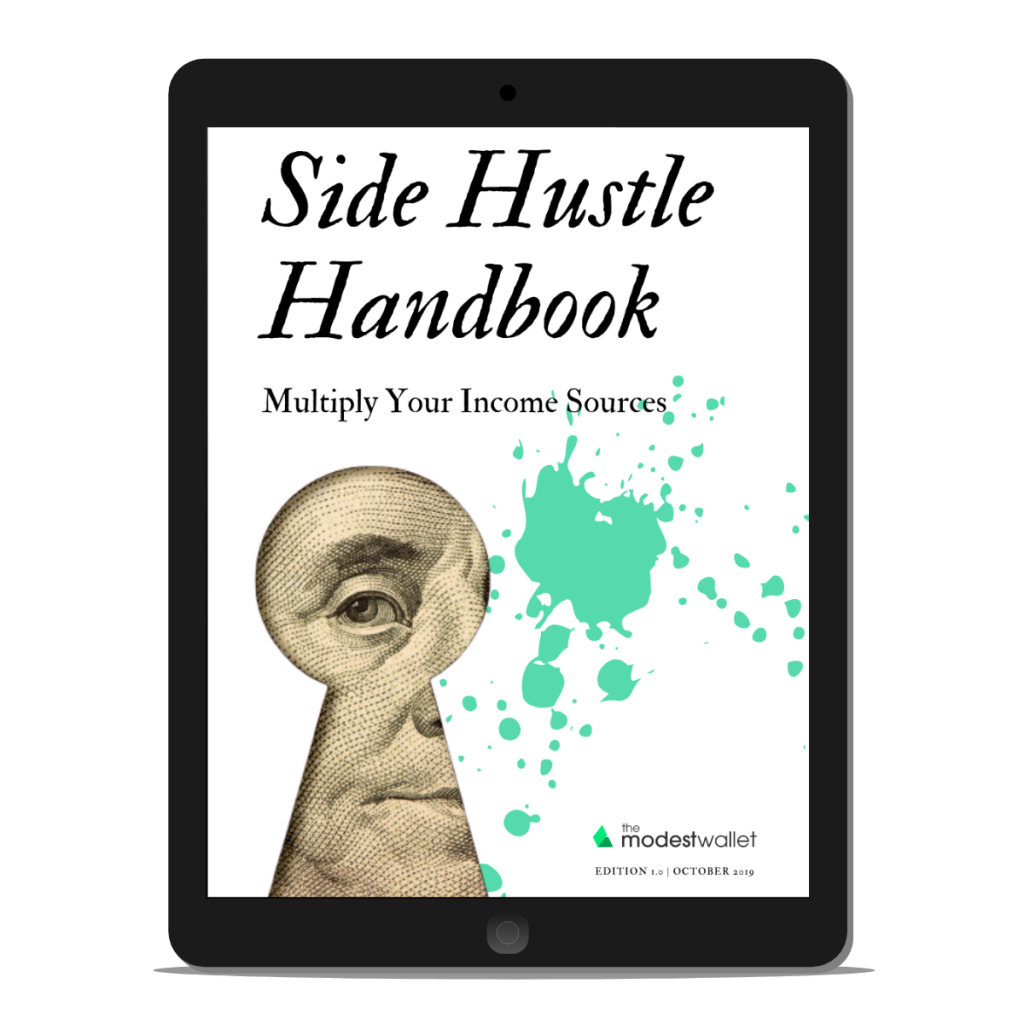 Get our free Side Hustle Handbook with the best strategies to multiply your income sources today.
Plus our best money tips delivered straight to your inbox.

Christa is a skilled researcher and serial entrepreneur. Her passion lies in providing people like you with ways to become financially independent without breaking the bank in the process. Currently, she's tested and perfected over 37 unique side hustles and brings that information to you through articles like these.