Branded Surveys Review 2023: A Survey Site to Make Extra Cash
Many or all of the products featured on this page are from our sponsors who compensate us. This may influence which products we write about and where and how the product appears on a page. However, this does not influence our evaluations. Our opinions are our own. Here is a list of our partners and here is how we make money.
---
The information provided on this page is for educational purposes only. The Modest Wallet is a financial publisher that does not offer any personal financial advice or advocate the purchase or sale of any security or investment for any specific individual.
One of the easiest things you can get paid for is your opinion. And with new advances in technology and business innovation, there are more ways than ever to cash in on your personal thoughts. Today, one of the most popular ways to do this is using paid survey sites.
With these types of sites, no expertise or degree is required to make those easy earnings. All you need is an account, access to the internet, and a few free minutes.
Much of the craze for these paid survey sites comes from the fact that you're both able to get paid for your opinion and influence product and service creation to better fit yourself and other like-minded individuals. There's no shortage of platforms you can use, either. There are tons of popular survey-for-cash sites out there to choose from, such as Branded Surveys.
Branded Surveys offers plenty of surveys to earn cash using nothing more than your spare time. From paid surveys to daily polls, here's everything you need to know about padding your bank account using Branded Surveys' site and mobile app.

Bottom Line: Branded Surveys is an online survey site that rewards users with points for completing surveys online. Points can be exchanged for cash, gift cards, or pre-paid virtual credit cards. The minimum threshold for cashing out your points is 500 ($5).
| | |
| --- | --- |
| Survey opportunities | |
| Survey quality | |
| Earnings potential | |
| Redemption options | |
| Redemption threshold | |
| Ease of use | |
| Security | |
---
What Is Branded Surveys?
Branded Surveys is a popular surveys-for-cash site founded in 2012 by Dynata LLC. The company was originally known as MintVine but changed its name to Branded Surveys in 2017. Branded Surveys is a website that offers to pay people to complete consumer and opinion surveys that help companies and firms gauge public sentiment about specific issues, products, or industries.
Branded Surveys partners with Fortune 500 companies to do this market research, so you can rest assured that your feedback will have an impact on the products and services we all use on a daily basis.
Branded Surveys is part of a constellation of services that offer a similar product. Sites like MyPoints, Swagbucks, and Survey Junkie all offer users the opportunity to take surveys in exchange for money. (We'll also talk about those services for you a bit later in the article.)
Among the current features Branded Surveys provides to help users earn money are:
Surveys
Polls
The Branded Elite Program
Survey and Poll Streaks
Referral Program
Local Deals
Sign Up Bonus
Leaderboard Rewards
Promo Codes
Mobile Apps
The site also operates on a points-based system. For every task you complete, you'll earn a set amount of points. Each point is equal to a specified dollar amount. Once you earn the required minimum for cashing out, you'll then be able to deposit your balance into your bank account.
Branded Surveys can also be used across multiple platforms, including via web and mobile apps.
What sets Branded Surveys apart from other online survey sites is the company's sole focus on surveys — and its slightly higher payout ratios. To date, Branded Surveys has over 3,000,000 active users, a Trustpilot rating of 4.2/5, and they have paid out over $37,000,000 to its community since 2012.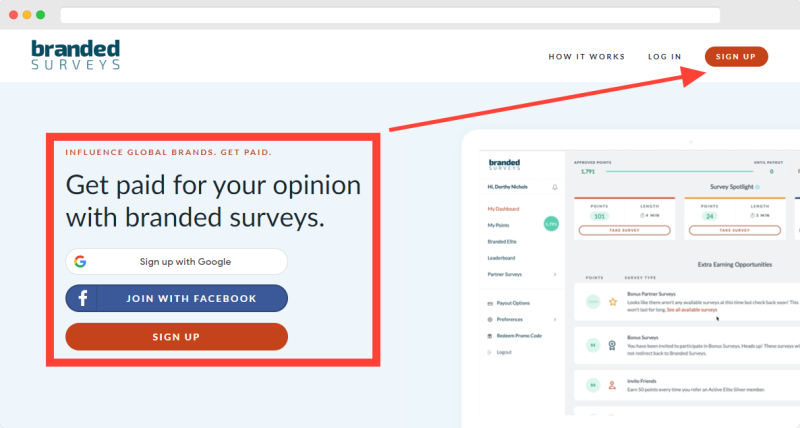 >> Read Also: 20+ Ways to Get Paid to Drive (Make Up to $25/hr)
---
How Does Branded Surveys Work?
When companies want to roll out a new product or service, they typically reach out to market research platforms to help them connect with their target consumer audience. This helps them make informed and appropriate decisions about key product features, service additions, pricing, and more. And because so much information is needed from consumers, one of the best ways to accumulate it is through surveys.
Once a company has decided what information it needs, it can then send that information to sites like Branded Surveys to help them conduct the necessary market research. As such, each time you share your opinion through a survey on the site, you're helping create a more informed marketplace.
It doesn't stop there, though. Branded Surveys also provides other unique ways to make cash, such as through daily polls and on-site streaks. As you perform these tasks, points are credited to your account balance. Then, once you reach a total of 500 points (equal to $5), you can choose your preferred cashout method and start spending your hard-earned dollars.
Before you can take advantage of the many earning opportunities, though, it's crucial to have a well-rounded understanding of how the platform works. And while Branded Surveys boasts a simple, user-friendly interface, there are still a few things you should know before you get started.
Requirements to Open a Branded Surveys Account
Any website that pays users cash is bound to have a set of requirements that must be met before a user is eligible to create an account. Branded Surveys is no exception to this rule; however, they do have fewer requirements than most survey sites on the web.
The first prerequisite you should be aware of is the minimum user age. Like most other paid survey sites, Branded Surveys does require you to be 17 years or older to create your own account. However, individuals between the age of 13 and 17 may participate in surveys that specifically ask for minors' opinions so long as they are using their parent or guardian's account. The minor must also have said guardian's permission to do so.
Furthermore, account holders must be individuals who reside in either the United States, Canada, or the UK. Citizens from other countries are prohibited from accessing the site. You must also not already have an account registered in your name. If you end up getting caught with more than one Branded Surveys account, they reserve the right to suspend or terminate both accounts. If this happens, you'll lose all the points you have accumulated, and you won't be able to recover those lost funds.
Finally, the last requirement to create a Branded Surveys account is one you probably expected: you'll need to read and agree to the website's Terms of Service and Privacy Policy. You won't be allowed to sign up for an account without completing this step.
---
How to Sign Up For Branded Surveys
If you meet all of the prerequisites above, then congratulations! You're eligible to create a Branded Surveys account. Here's what that process looks like, step by step:
Step 1: Go to Branded Surveys
Naturally, the first step to creating an account is to go to their website. You can trigger the sign-up process either through their home page at surveys.gobranded.com, or you can go directly to their sign up page.
Step 2: Create an Account
Once you're on their sign-up page, you'll be able to begin the account creation process. First, you'll be asked to provide an email and a password which you'll use as your login credentials from here on out. Once you've done that, you'll be taken to Branded Surveys' main hub.
This is where you'll find and take surveys in the future, vote in polls, invite friends via referral code, and more. You'll receive 50 points just for signing up, and you'll be able to earn more as you complete the rest of your profile.
Step 3: Complete Your Profile
The next step in the process is to begin completing your Branded Surveys' profile. One of the primary steps you'll have to take in this process is to confirm your email account. You're likely familiar with this process from signing up with other sites, but if you aren't, it basically just involves checking your email for a confirmation email. Click on the link in the email you received, and your account will be confirmed.
From here, you'll also be prompted to fill out an on-site profile. You can begin this section by clicking on the first survey on your dashboard. This survey will be worth an additional 50 points and will take about five minutes to complete.
You'll want to make sure you read and answer these questions as honestly and accurately as possible. The information you provide here will be used in the future to match you with survey opportunities, so providing inaccurate information can skew your chances of getting matched with surveys you qualify for.
Because this initial profile survey is designed to match your basic information to survey opportunities, you'll be asked questions about your lifestyle and living situation. For example, you'll need to input your annual income, college education, heritage, and more.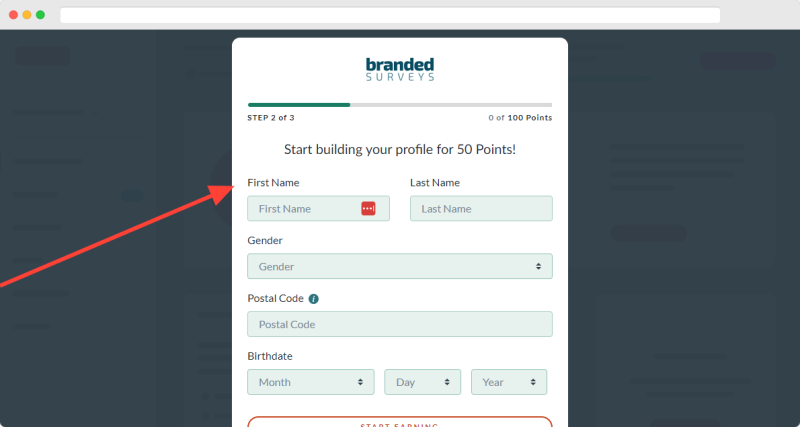 Step 4: Start Participating and Collecting Points
Once you've completed your profile, you're ready to start taking surveys and using Branded Surveys' other features to accumulate points. Finding new surveys is simple, as well. Since the site constantly refreshes your dashboard to show you the best opportunities, you'll almost always be able to find a suitable option for your time.
Step 5: Redeem Your Points
Once you reach a total of 500 points accumulated, you'll have the option to cash out. Keep in mind, though, that 500 points are only equal to about $5.00. As such, you may not want to cash out as soon as you reach your minimum threshold since it can take up to a few weeks to receive your payout.
However, once you do decide to initiate your payout, the site makes it pretty simple. On the left side of your dashboard, you'll see an option labeled "My Payouts." Click this to be redirected to the payment page.
Once there, you'll want to choose your payout method before redeeming your points. You can change this method at any time, but any point redemption you trigger will automatically default to whatever your current choice is.
With Branded Surveys, you have a few different options for cash redemption. The first is to direct deposit your balance into your bank account. This can take several days but usually can be done with minimal fees.
Aside from that, you can also choose to collect your cash via PayPal transfer or Visa e-gift card. Both of these are delivered within a day or so, with the former being subject to fees depending on where you live and what type of account you have.
---
Branded Surveys Features
While Branded Surveys is primarily a survey-for-cash site, the various other features they provide make it easy to earn more points (and, ultimately, money) than you would get from surveys alone. Here are the best ways to earn points on Branded Surveys
| | |
| --- | --- |
| Ways To Earn Money | Paid surveys, daily polls, the Branded Elite Program, survey and poll streaks, referral program, local deals, leaderboard rewards, and more. |
| Minimum Payout | 500 points (500 points = $5) |
| Payment Options | PayPal cash, Branded Pay, or Prepaid Visa gift card |
| Payment Processing Time | 1 to 5 business days (*depends on payment option) |
| Avg. Payout Per Survey | $0.50 to $5.00 |
| Trustpilot | 4.2/5.0 (over 76,000 reviews) |
| Better Business Bureau | N/A |
| Platforms | Web, Android, and iOS |
| Promotion | $1 welcome bonus (*new accounts) |
| Minimum Age Requirement | 16+ |
| Availability | U.S., Canada, and the U.K. |
| Support | Contact form and help center |
Paid Surveys
Given their name and what they're known for, it comes as no surprise that the top way to earn points on Branded Surveys is by participating in the surveys they provide.
Based on the information you provide when you sign up, you'll be sent daily surveys that you qualify for according to your demographics. This helps you avoid spending fifteen minutes or more on a task just to find out you don't qualify for it, as some other survey sites tend to do.
Furthermore, both survey topics and payment vary, so you'll have plenty of options to choose between. This also allows you to avoid any survey topics that you aren't fond up, such as those involving politics, specific products, etc.
You'll also be able to view the rewards for each survey before you begin completing it. In order to take a survey, you'll have to click a button right below the available point rewards and time estimation. Use this knowledge to optimize your time better and get the most money for the least amount of work.
Most of the surveys you'll find will pay anywhere from 5 points to a few hundred. With each point worth about a cent, this doesn't seem like much, but it does stack up quickly if you're paying attention to the individual rewards. Each survey can also take between 5 minutes and one hour, so you'll often see higher rewards associated with longer time estimations. This is not always the case, though.
Daily Polls
Another way to earn points on Branded Surveys is to take daily polls. These polls will pop up on your home page dashboard below your suggested survey opportunities. You'll usually only see one daily poll per twenty-four-hour period, though, and they are usually only worth a small number of points (5 for bronze members, 7 for silver, and 10 for gold). Because of this, they aren't great for earning a large amount at once, but they do provide a great way to accumulate points over time by simply clicking a button.
Partner Surveys
Partner surveys are just like normal surveys in that they provide you points for answering questions. However, research firms pay extra to have you answer the questions included in these, and Branded Surveys passes that increase earning opportunities on to you. This means that you'll often find these partner surveys to provide higher rewards for shorter surveys.
You can find partner surveys on the side navigation bar underneath your dashboard and points tabs. However, you won't see the option to click on the link until you reach at least bronze status in the Branded Elite program (explained below).
These surveys are much more limited than the normal ones, though. Branded Surveys sends them to you based on the demographic questions you answered for your profile, so you'll only be able to participate in the ones you're pre-qualified for. Because of this, most people only receive one or two per day. But with earnings that usually don't fall below 100 points per survey, they're definitely worth the time it takes to complete them.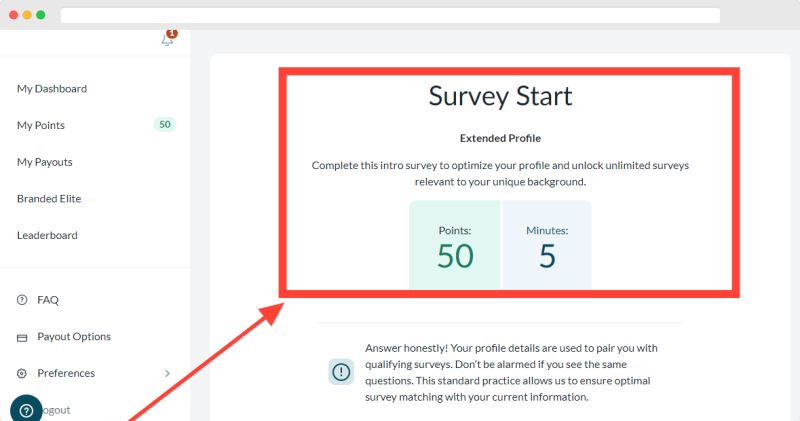 Branded Elite Program
The Branded Elite program was implemented by Branded Surveys to increase your earning potential based on how often you use their site. This program is completely unique to Branded's site, and you'll be hard-pressed to find anything similar on competitor sites.
What's even better is that, despite how it sounds, the Branded Elite program is completely free.
The way this program works is simple: you earn weekly bonuses based on your level of activity. Depending on how many surveys you complete in a week, your account will be ranked in either the bronze, silver, or gold tier. What types of bonuses you receive will depend on which tier you're placed in for that time frame.
To rank as bronze, you'll need to have completed more than 2 surveys in a month's time. Once you do this, you'll be awarded the bronze badge. The real rewards, however, kick in when you perform more than 12 surveys per week. Do this, and you'll get a 5% bonus on all eligible points received that week.
The next tier you can move into is silver. To obtain this badge, you'll need to complete a total of 10 surveys per month. That's a little less than 3 surveys per week, which is an easy feat to accomplish.
By far, the biggest pro to having the silver badge is that your cashout requests are instantly approved. Past that, you also get a 10% point bonus when you do 12+ surveys per week, a 12% bonus for more than 20 surveys per week, and a 14% bonus when you do more than 30. Needless to say, this opens up a new avenue for passively earning points toward your cash goals.
Finally, there's the gold tier. To earn the gold badge, you must complete more than 25 surveys per month. This works out to a little less than one survey per day, which is still very achievable if you find yourself with plenty of free time. The gold-tier rewards also make it well worth the effort.
Similar to the silver tier, gold awards you a certain percentage of bonus points when you complete more than 12, 20, and 30 surveys per week. However, that percentage goes up with this rank to 15%, 17%, and 19%, respectively. As such, if you become an avid survey taker, you're definitely well-rewarded for your loyalty.
>> Read Also: 30 Easy Ways to Make $1,000 Fast (Legally)
Survey Streak
Another activity-based benefit Branded Surveys provides is its survey streak program. This is a feature available to silver and gold members exclusively and allows you to earn up to 300 additional points by taking a specified number of surveys per week.
The rewards for each tier are as follows:
Silver: By taking 10 surveys within 7 days, you can earn an additional 100 points, or you can take 30 surveys within 7 days to earn 150 extra points.
Gold: Gold members can take 10 surveys within 7 days to earn an extra 200 points or 300 additional points if they complete 30 surveys within that time frame.
Poll Streak
Similar to survey streaks, poll streaks are available to you based on your current Branded Elite rewards tier. Polls are located at the bottom of your dashboard and are normally worth 5, 7, or 10 points per day, depending on your Branded Elite tier. You can expect them to be quick, as they almost never exceed one question.
Poll streaks are obtained when you answer a poll every day for 10 days in a row. By doing this, bronze members will be rewarded 25 bonus points, silver members will get 50 bonus points, and gold members are given a whopping 100 poll streak bonus points.
Referral Program
Like most platforms nowadays, referring friends and family members to sign up with Branded Surveys is highly rewarded. Keep in mind, though, that this is also a feature reserved for silver and gold members.
For silver tier members, you can send out referral links and receive an additional 50 points credited to your account the first time the individuals reach the silver tier themselves. There's no cap on the number of times you can refer people to receive your rewards, either. So long as you have people to refer, you can continue to earn your bonus points.
Moving on, gold members can receive similar rewards by performing the same actions. As is expected, though, the referral value is higher for gold badge holders. By referring others, gold members will receive 100 bonus points each time they first reach the silver tier. This makes the Branded Surveys referral program incredibly valuable for silver and gold members alike.
Local Deals
Local deals are savings from local businesses you'll find on your dashboard that function similarly to coupons. These deals are area specific and usually come from large retailers like Kroger, Walmart, or Target. By taking advantage of them, you can get discounts on items from your local participating stores.
Keep in mind, though, that individuals in some areas won't be eligible for these deals. This is most common in smaller, more rural areas. If local deals are available to you, though, they're a great asset to take advantage of.
Random Winner
Another great way to earn points on Branded Surveys is through their Random Winner program. With this program, every survey you complete functions as an entry into this random lottery. The more surveys you take, the more entries that are submitted on your behalf. However, you must be a silver or gold member to participate.
Random Winner drawings are done every day, week, and month. For the daily drawings, the winner receives 50 bonus points credited to their account. The weekly draw pays 500 points (a $5 value), and the monthly draw pays out a massive 1,000 points (a $10 value).
If you're lucky enough to win one of these drawings, you'll be notified both through email and your dashboard, and the points will be automatically added to your balance shortly thereafter.
Branded Leaderboard
If you're a competitive person, the Branded Leaderboard is a great way to earn a little extra on top of everything else.
The leaderboard tracks three tiers:
Daily top 50: For the daily top 50, each member in this category will receive 50 bonus points for that day. This means if you manage to stay in the daily top 50 for multiple days in a row, you're earning 50 bonus points for each day you stay on the leaderboard.
Weekly top 50: For the weekly top 50, 200 points are rewarded to those on the leaderboard at the end of the week. The final results are pulled every Sunday, so you'll need to be on the leaderboard at this time to receive those bonus points.
Monthly top 20: The monthly top 20 survey takers are pulled on the last day of every month and are awarded 300 bonus points for their efforts. If you're on this leaderboard, you'll be notified the day after the results are pulled, and the points will be credited on that day as well.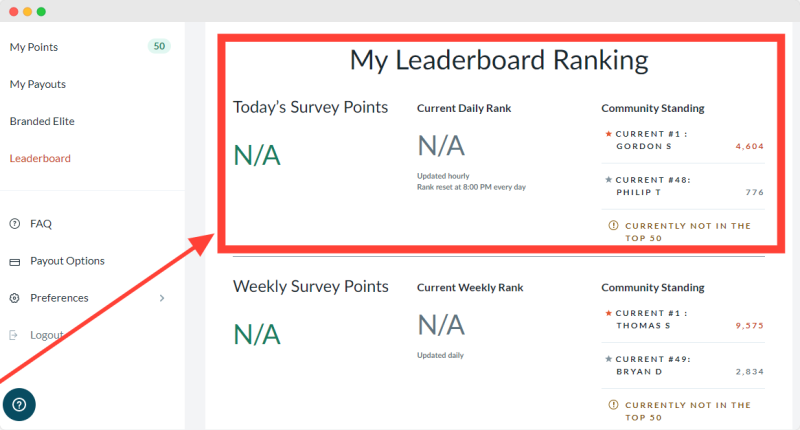 Sign Up Bonus
Many survey sites nowadays offer sign-up incentives when you first create an account on their site. These range anywhere from a few cents to several dollars, depending on what site you use. Branded Surveys is no exception.
Whenever you sign up with Branded, you'll immediately receive 50 points (equivalent to $0.50) once you complete the process and confirm your email. You can then continue the registration process by completing your extended profile demographics to receive an additional 50 points. Lastly, you can acquire 5 final bonus points by finishing up a few more profile questions located under the "Extra Earning Opportunities" header.
Promo Code
Though it doesn't happen often, Branded Surveys will occasionally roll out promo codes for contest entries or bonus points that you can redeem. You can plug these codes into your account and receive free points in return.
Most often, these promo codes are part of special deals or are given out through Branded Surveys' various social media accounts, so make sure you're checking them often.
Mobile Apps (iOS and Android)
The Branded Surveys mobile app was just released recently in 2023 and is currently available for iOS and Android devices. And although you won't be rewarded in points for downloading the mobile app, there are still plenty of benefits for doing so.
First, the app has the same user interface as their website but with better mobile functionality. This makes it easier to take surveys on the go and really utilize those free moments throughout the day.
Here are a few of the best features you can take advantage of when you download the Branded Surveys mobile app:
Rather than receive emails when a new survey is available to you, you can opt to get push notifications directly on your smartphone. All you have to do is tap on them, and you'll be taken directly to the app and the survey in question.
The app is available on both the Apple Store and the Google Play Store, which makes it compatible with most current smartphones.
It enables you to take advantage of those moments when you truly can't do anything else. For example, standing in line at the grocery store can now be turned into a money-making opportunity.
---
Understanding Branded Surveys' Rewards System
The Branded Surveys rewards system is based on tiers and badges. As previously explained, there are three tiers: bronze, silver, and gold. As you move up the tiers, you'll earn more points for each activity that you complete. Additionally, you'll be able to access more point-earning activities, like referral bonuses and survey streaks.
The Branded Surveys rewards system serves a couple of functions. First, it incentivizes you to continue using the service. It's much easier to keep coming back when you're motivated to upgrade to the next tier or badge.
Second, it rewards people who use the site regularly by offering them even more points for additional activities. For that reason, users will see their point totals rapidly increase as they move their way up the ladder toward the gold badge. In other words, it's a lot easier to earn lots of points as a gold member than as a bronze member.
>> Read Also: 50+ Ways to Make Money in College (All Legit)
---
For each survey you take or action performed on the site, you'll receive a specified amount of points. The current redemption rate for one point is one cent.
Once you've performed enough actions on the site to reach the minimum redemption amount of 500 points, you'll be able to cash out using any of the various methods Branded Surveys provides. Here is an overview of those methods:
Bank Transfer
The most recommended and efficient cashout option available is the bank transfer option. When you set this as your cashout preference, any points in your account will be automatically sent to the bank account on file. However, there is an extra step involved in this process if you aren't a silver or gold Branded Elite member.
For members who are bronze and below, you'll have to go through an "approval" period before the money is sent to you. This period consists of having a member of Branded's staff review and approve your request for funds to make sure it's legitimate. In most cases, your request will be approved within just a few days, and you'll receive your money within a week or two.
PayPal
If you want to cash out but don't want to wait through bank processing times, PayPal is an excellent option. Furthermore, if you want a system where you can get your payout almost instantly (so long as you're a silver or gold member and don't have to wait through processing times), PayPal can help with that.
With PayPal, certain banks are eligible for instant payout with only a very small fee. Usually, you can expect this fee to be about 1.75%, with a maximum of $25. Essentially, so long as you're a silver or gold Branded Elite member and have this Paypal feature available to you, you can receive your funds the same day without incurring a ton of fees.
With all this in mind, it isn't hard to imagine why PayPal is the most popular cashout option.
Gift Card
If you don't have a bank or PayPal account (or don't want to use one), you're in luck. Branded Surveys also has a gift card option that allows you to convert your points to gift card cash toward your favorite brands. This makes it easy to indulge in your favorite stores without feeling guilty about your spending.
With this option, though, it is important to be aware that they don't allow gift cards for all brands. Instead, you'll have a pre-set selection to choose from, and you'll have to use one of those. Luckily, however, there are plenty of participating brands, so you shouldn't find yourself unable to find a suitable gift card for yourself.
Some of the most popular gift cards include:
Adidas
Air BnB
Apple
Amazon.com
Barnes and Noble
Bath and Body Works
Best Buy
Chili's
Chipotle
Google Play
Grub Hub
Krispy Kreme
Kroger
There are tons of others, as well. These represent the most popular options among Branded Surveys' users.
Charity
If you're feeling philanthropic, Branded Surveys also offers to convert your points to cash and send it to charities on your behalf. To take advantage of this option, all you have to do is choose one of the charity options provided to you and set it as your default payment option. Once you've done that, your money will automatically be sent to that organization every time you cash out.
---
How Does Branded Surveys Make Money?
Most sites that offer to pay you real money for small, insignificant tasks are something to be wary of. Because of this, it's natural to wonder how Branded Surveys is able to pay you for your time and where they get their money from.
In simple terms, Branded Surveys is a market research site that connects consumers to brands who want their opinion. These brands are willing to pay to have their survey pushed out so they can efficiently and effectively improve their products and services. In this case, Branded Surveys is the firm they've hired to help them accomplish that goal.
---
Is Branded Surveys Legit?
Branded Surveys is a legitimate, survey-for-money site that currently has a 4.2 out of 5 stars rating on Trustpilot and is comprised of over 75,000 individual consumer reviews. In other words, Branded Surveys is a completely legitimate site and is not a scam.
Furthermore, Branded Surveys has been accredited with the Better Business Bureau for over 10 years, though its rating is currently listed as "NA." This isn't necessarily a negative or positive rating; it simply means the BBB has not yet given them a rating. This happens for many reasons, many of which are factors the business has no power over.
For these reasons, it's safe to say Branded Surveys is not a scam.
---
How Much Money Can You Make on Branded Surveys?
Once you reach the $5 payout minimum, any earnings you make on Branded Surveys can be cashed out to your bank account, given to you via digital gift card, sent to charities on your behalf, or transferred to your PayPal. How quickly you get to that minimum payout, however, depends entirely on how much effort you're willing to dedicate to the site.
For example, someone who only uses the site a few hours per week and only fills out a few regular surveys from their dashboard during that time probably won't find themselves making much. Someone like that could expect anywhere from $5 to $10 per week but not much more.
On the other hand, if you pick and choose the highest earning surveys, participate in daily polls, compete for a spot on the leaderboard, and are a generally active account holder, you'll set yourself up to earn much more. To accomplish all of the extra tasks to earn those bonus points and drive your earnings up, however, you'll need to dedicate more than just a few hours per week to doing so. A good rule of thumb to use is that you can earn about $5 for every two hours you contribute.
Keep in mind, though, that estimation does not include unusual events like winning a drawing or finding a promo code. You may be able to earn more than that, or you may earn less. It all depends on what surveys make their way onto your dashboard and which ones you qualify for.
---
Branded Surveys Ease of Use
In terms of user experience, Branded Surveys' website can be a tossup. The dashboard home page has a simple setup that makes it easy to navigate around and find what you need. The additional earning opportunities are conveniently labeled as well, which makes it easy to maximize your earnings right out of the gate instead of spending several hours trying to learn your way around.
Compared to other survey sites with multiple ways to earn, Branded Surveys' UI definitely outperforms most others. This, combined with the fact that they have tutorials and tips to help walk you through every step of utilizing your account, definitely earns them a 5 out of 5 in terms of ease of use.
---
Branded Surveys Security
After closely reviewing Branded Surveys' terms of use, privacy policy, and other legal documentation, it's safe to say this company doesn't cut corners when it comes to protecting your personal information. Security is one of the things Branded's parent company (Dynata LLC) prides itself on, and it shows.
The site itself is set up with a firewall to protect any data they need to host on the site from unauthorized access or destruction. This is information like your age, name, and address, which are required for your account. In the event, the firewall fails and something does happen, Branded Surveys will alert you immediately and help you take action to protect your information.
If you have any concerns about your security on the site, you can read through the easily accessed privacy policy on your own or contact a member of their service team for more information.
---
Branded Surveys Customer Support
Speaking of support, let's tackle the topic of Branded Survey's customer support team. The site itself has a clearly labeled FAQ page which can be accessed from your site panel any time you're on the site. If you aren't able to find what you need through this link, you can also utilize the FAQ page to send a customer service request through the button in the upper right-hand corner.
Most inquiries are answered within 24 hours of the initial submission, and this can be further streamlined by attaching as much information about your issues as possible to the request form.
---
Branded Surveys Pros Explained
After thoroughly reviewing what the site has to offer, these are the most notable pros of using Branded Surveys to earn cash:
Surveys routinely pay more than other sites: Compared to other sites, the surveys you're offered are worth more per minute of your time. This makes it easier to maximize your earnings without having to try to qualify for dozens of surveys per day.
There are multiple ways to redeem points: As previously mentioned, Branded Surveys users can choose to cash out using whichever method is most convenient to them. This includes bank transfers, Paypal deposits, gift cards, and charitable donations.
Users have a massive selection of gift cards available for payment: For those who choose to cash out using the gift card options, there are plenty of choices available to you. Whether you want a gift card for groceries, dining out, shopping, or something else, there's an excellent chance you'll find a card for the brand you want.
Your earnings increase with time and activity: Because of Branded's Elite program, more activity and effort on the site can result in your earnings rising exponentially. Depending on whether you're a bronze, silver, or gold member, you could see bonuses as high as 19% per week.
The website is user-friendly: When taking their competitors into account, Branded Surveys has perhaps the most user-friendly site currently available. Everything is located on a convenient dashboard, and the clear labeling and tip boxes create an easy-to-navigate experience.
---
Branded Surveys Cons Explained
Even the best sites have their downfalls. Here are the cons of using Branded Surveys that you should be aware of before you sign up:
Some users experience payout issues: Nearly every survey site on the web has users that complain of having difficulty receiving funds, and Branded Surveys is no exception. In fact, this is the most frequent complaint posted to their Better Business Bureau page. Luckily, the site also has a history of working to resolve these complaints, which is also documented on their BBB page.
It can be difficult to qualify for surveys: Because surveys are worth more, they fill up quickly. To help combat this, Branded has been forced to implement strict prescreening for their surveys, which can make it difficult to qualify for them.
Some Paypal transfers can take up to 3 weeks: If you have a Paypal account that is new or hasn't been verified yet, it makes take a little longer to see those requested funds land in your account. That said, most Paypal transfers are completed within a week (with many happening the same day).
---
Branded Surveys Alternatives
If you want to sign up with a survey-for-cash site but aren't sure if Branded Surveys is the right option for you, then don't worry. There are plenty of other trustworthy sites on the web for you to explore, so don't shy away from shopping around before you make your final decision.
Branded Surveys vs. InboxDollars
Where Branded Surveys is built around maximizing the money you can make from taking surveys, InboxDollars helps you generate money by giving you plenty of ways to earn. For example, you're able to earn by playing games, scratching virtual tickets, reading emails, and more.
If you think you might get bored with the survey-only aspect of Branded Surveys, InboxDollars is a great alternative. Just keep in mind that InboxDollars is only available to residents of the United States. Read our full InboxDollars review to learn more.
Branded Surveys vs. Swagbucks
Swagbucks is one of the most popular survey sites on the web and for good reason. They have an excellent user interface and plenty of ways to earn, just like InboxDollars. However, where InboxDollars requires a $15 minimum for cashing out, Swagbucks allows you to cash out with only 500 points—just like Branded Surveys.
It is important to know, however, there is a massive caveat to using Swagbucks. Unlike Branded Surveys, users aren't able to request direct bank transfers for payout. This can be easily circumvented, though, by cashing out to your PayPal account and then depositing the funds to your bank. Read our full Swagbucks review to learn more.
Branded Surveys vs. Survey Junkie
Survey Junkie is a very simple, survey-oriented site that is very similar to Branded Surveys. They allow cashouts at only $5, provide gift card options for redeeming your funds, and emphasize survey quality over quantity. However, Survey Junkie is sometimes preferred more because the surveys tend to be easier to qualify for.
Unfortunately, though, they don't have any bank transfer options for payout either. The only way to receive your money is via PayPal or gift cards. But with plenty of gift cards to choose from, including those from Amazon, Walmart, and Target, this doesn't prove to be too much of an issue.
Survey Junkie is also the alternative most similar to Branded Surveys, so if you're looking for a second, similar site to double up on earnings, signing up with SJ is a great way to do that. Read our full Survey Junkie review to learn more.
| | | | |
| --- | --- | --- | --- |
| | | | |
| Our Rating | | | |
| Avg. Payout Per Survey | $0.50 to $5.00 | $0.50 to $2.00 | $0.50 to $5.00 |
| Payment Method | PayPal, Visa Prepaid Card, or Gift Card | PayPal or Gift Card | Online surveys, video surveys, and more |
| Sign Up Bonus | $1.00 welcome bonus | $5.00 welcome bonus | $5.00 welcome bonus |
| Minimum To Cash Out | 500 points (500 points = $5) | $1 for gift cards, $25 for PayPal cash | $30 |
| Highlight | Online surveys | Multiple ways to earn money | Online surveys, video surveys and more |
| | | | |
---
Who is Branded Surveys Best For?
While Branded Surveys might not be right for everyone, it can be an excellent side hustle for many. Those who will get the most utility out of it include people who are limited in their means to earn a regular income, individuals with irregular time commitments, or people who want to earn a couple of extra bucks for leisurely spending.
Be aware, though: Branded Surveys shouldn't be used to replace a full-time income. The surveys offered to pay higher than average, but you won't be able to make enough to quit your job and become a digital nomad. That said, if you're looking for a few extra dollars here and there, it's definitely worth giving the site a try.
Avg. Payout Per survey: $0.50 to $5.00
Payment Method: PayPal, Visa Prepaid Card, or Gift Card
Sign Up Bonus: $1 welcome bonus
Min. Cash-Out Amount: 500 points (500 points = $5)
Min. Age Requirement: 16+ years
Availability: USA, Canada and UK
Trustpilot Rating: 4.3/5.0
---
Branded Surveys FAQ
We regularly get a ton of questions about Branded Surveys. Here are just a couple of the most common ones.
What are the age requirements to sign up for Branded Surveys? 
Branded Surveys is among the most lenient when it comes to age and other requirements for using their platform. Like other survey-for-cash sites, Branded Surveys requires its users to be at least 17 years of age. However, they also allow you to use the site if you're between 13 and 17 years of age and are using your parent's account. This is only acceptable if the survey in question requires a minor's opinion.
Does Branded Surveys pay cash? 
Branded Surveys has multiple options for cashing out, including ACH bank transfers and PayPal transfers. Other ways to cashout include gift cards and charitable donations. 
Is Branded Surveys available outside the US? 
Branded Surveys can be used in certain countries outside the US, including Canada and the United Kingdom. Branded Surveys is not available to individuals who reside outside of these territories.
What is the minimum amount to cash out for Branded Surveys? 
In order to cash out on Branded Surveys, you must have at least 500 points in your account. This equates to about $5, as each point is worth around one cent. 
Is Branded Surveys legit? 
Yes, Branded Surveys is a legitimate, surveys-for-cash site that pays out regular cash payments to its users. The company is accredited by the Better Business Bureau and has been established for over ten years as of writing. 
How much are Branded Surveys' points worth? 
As of now, each point is worth one cent in US dollars. This means every 100 points is $1, and makes it easy to understand exactly how much money you've made quickly. 
Do Branded Surveys' points expire? 
As of right now, there is nothing in Branded Surveys' Terms of Use that suggests your points will expire on a set date or after a specific length of inactivity. However, this is subject to change in the future if and when the company deems it appropriate.
How do you get paid with Branded Surveys?
Users of Branded Surveys choose how they get paid. While most will likely opt for the PayPal transfer, some users might prefer the gift cards offered by the company. Amazon is one of the options Branded Surveys offers, which is almost as good as cash.
You should know that if you choose to be paid via PayPal transfer, it could take as long as three weeks to receive your money. Gift cards tend to come much quicker, with users reporting that they typically arrive within about two days.
You also have the option to get paid via their Branded Pay which connects directly to your bank account. This payment method is fast and can take between 1 to 2 business days. 
How much money can I make with Branded Surveys?
We mentioned earlier that you shouldn't expect to get rich quickly with Branded Surveys, and we stand by that. On balance, if you log in for an hour a day while you're watching Netflix, you can expect to earn a few bucks a day. If you're a fast reader and respond to surveys quickly, you could earn over $100 in a typical month.
How does Branded Surveys make money?
Branded Surveys makes money by collecting a fee or commission from the companies trying to get data on their products or on an issue. So, for example, if Company X wants to know what people think about its latest widget, they'll hire Branded Surveys to send out surveys to eligible users. Company X will pay Branded Surveys a fee for that service, and Branded Surveys will give you a small cut of their commission.
---
Final Thoughts
For those who often find themselves with spare time and an Internet connection, Branded Surveys represent an excellent opportunity to make a little extra cash outside of your day job. Their simple, organized dashboard makes it easy to quickly learn your way around and find what you're looking for—namely, all the different ways you can earn cash.
Before you get started, though, it's important to understand that the site won't pay enough to replace a full-time income. If you're diligent about checking your account and take advantage of all the extra ways to get bonus points, you'll still only find yourself earning around a maximum of $200 a month.
If you are someone who doesn't mind putting in the time, though, Branded Surveys is an excellent way to earn extra money toward your hobbies or to expedite your financial goals.
Up Next
Get our free Side Hustle Handbook with the best strategies to multiply your income sources today.
Plus our best money tips delivered straight to your inbox.

Christa is a skilled researcher and serial entrepreneur. Her passion lies in providing people like you with ways to become financially independent without breaking the bank in the process. Currently, she's tested and perfected over 37 unique side hustles and brings that information to you through articles like these.