Buying vs Leasing a Car: Which One is The Right One For You
Many or all of the products featured on this page are from our sponsors who compensate us. This may influence which products we write about and where and how the product appears on a page. However, this does not influence our evaluations. Our opinions are our own. Here is a list of our partners and here is how we make money.
---
The information provided on this page is for educational purposes only. The Modest Wallet is a financial publisher that does not offer any personal financial advice or advocate the purchase or sale of any security or investment for any specific individual.
A car is a major investment which is why it is important that you take your sweet time and think about all the possible options.
Buying a car is not only a lifestyle but also a financial decision. The truth is that most people do not have enough money to buy a new car. They either opt for a used vehicle or decide to lease a car.
But, is it really a wise financial decision? Let's find out:
Should I Buy or Lease a Car?
You will have to answer a few questions in order to reach a decision.
Most people only consider their financial standing when they make such a decision. While your financial situation can be a major motivator in deciding whether to buy or lease a car, it's not the only deciding factor.
Lease vs Buy Analysis
Here are a few questions you should answer to decide the right solution:
Question 1: How Much Do You Drive Your Car?
This factor is important because lease contracts do mention the distance as well. The average contract covers 36,000 miles for a period of three years, which equals to 12,000 miles per year.
You will have to pay a small fee for each additional mile covered if you go above the designated number. While the extra amount is not much – 20 cents per mile – it can quickly add up if you take a lot of long trips.
For example, a round trip from Toronto to Orrawa would add about 900 miles. If you take multiple such trips during the lease period then you may have to pay heavy fees in the name of extra charges.
In such a situation, it would be wiser to buy a car than to lease it.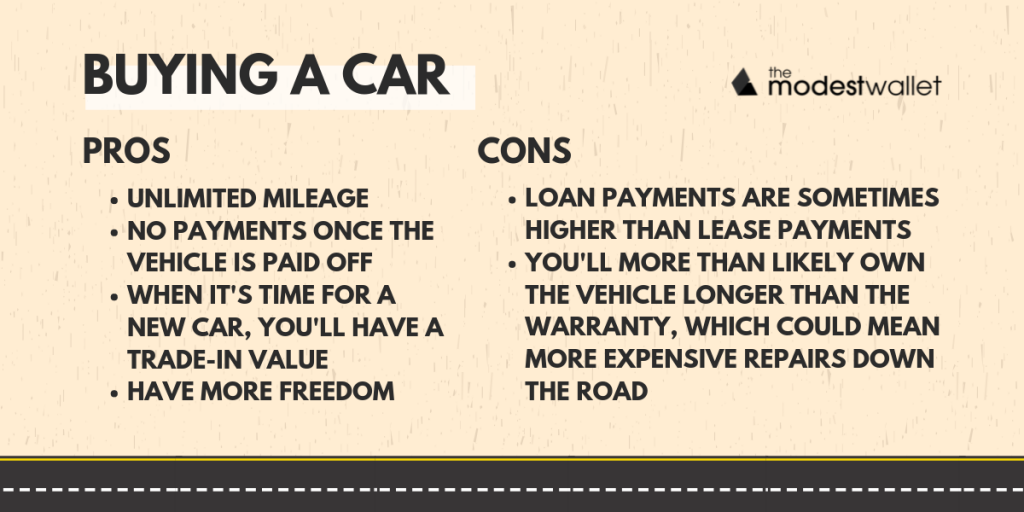 See Also: 21 Fast, Proven and Effective Ways to Save Money
Question 2: Is Your Car Clean?
If you are not a careful driver or if your friends and family members enjoy sipping cola in the back of the car then expect to pay a heavy sum in the name of repairs and cleaning.
Most lease contracts allow for small wear and tear but major problems can turn out to be costly.
Question 3: Will You Use the Car for Business Trips?
It might be a good option to lease a car if you intend to use it for business purposes. In such a scenario, the lease would be considered an expense and you'd be allowed to write off your payments as a deduction.
Yes, there are tax benefits of leasing a car vs buying a car. Get in touch with a professional to know more about the tax benefits of leasing a car vs buying a car.
Question 4: What's Your Credit Score?
Leasing can be a good option if you are low on cash. You can use the money elsewhere and lease the car if you have good credit.
You might be eligible to start a lease without paying a down payment. Plus, your monthly payments will also be a lot lower compared to the payments you will have to make if you choose to buy a car.
Question 5: Are You a Car Enthusiast?
If you are a car enthusiast and love to drive the latest model then it is best to lease a car as you will be able to get a new one after a few years of use.
It will be cheaper than flipping cars since automobiles do not typically appreciate in value.
So Lease or Buy?
Now that you know leasing vs buying a car pros and cons, it will be easier to make the decision.
There is no clear cut answer though.
The right option depends on where you stand.
Think about why you want to buy a car, what kind of payments you can afford to make.
Let's talk about leasing vs buying a car pros and cons in detail now: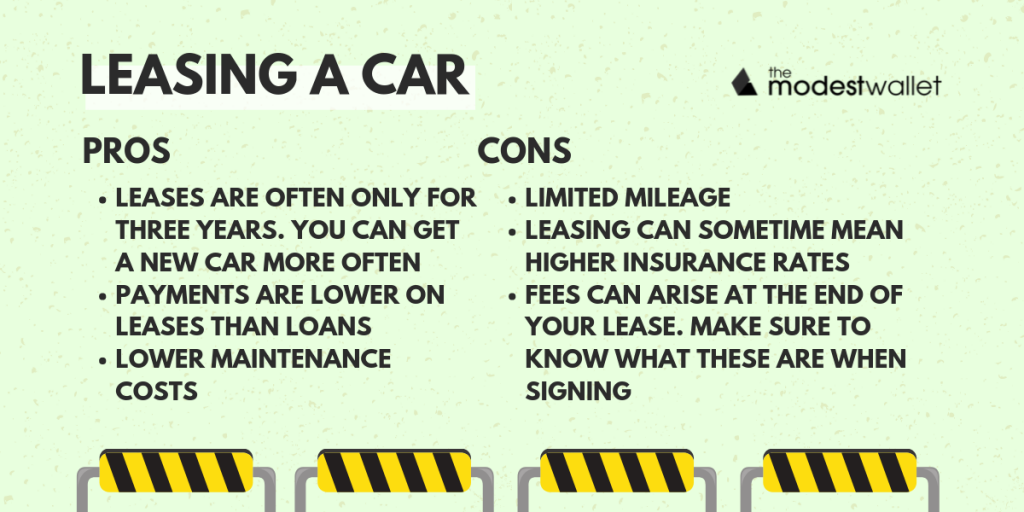 See Also: How to Pay Off Debt Fast: A Step by Step Guide
Leases are Tempting – Leasing a Car Pros and Cons
Leasing is quite tempting due to lower payments. You will get to own the vehicle for a short period of time – three years in most cases – and then move to a new vehicle without having to worry about trading in.
This is a major concern because new cars lose value very quickly. Most people keep their car for a long period of time. The vehicle isn't of much value by the time you decide to swap it.
As a result, you will not be able to generate enough cash to buy a similar or better vehicle and you'll have to add a lot more money to afford a new car.
Leasing allows you to own a new car without having to make heavy down payments or monthly payments. However, not all is well. Leases can be bad as well since there are pros to leasing a car.
As mentioned earlier, almost all lease contracts come with mileage limitations. You will get penalized if you go above the set amount. The penalty can be between five to 20 cents but can add up pretty quickly.
As a result, you may end up spending more money on your car than you originally intended to.
Moreover, it is important to consider how you intend to use the car. If you want to travel longer distances then choose a leasing contract that offers you more flexibility. However, you will have to pay more upfront fees to get more mileage.
Buying is Generally Better – Buying a Car Pros and Cons
There are no two opinions on that! Buying a car is overall better than leasing a car because you will be the owner of a vehicle.
It's largely about choosing the right car and working with a dealer who meets your requirements. Some dealers offer 0% financing which can be the difference-maker. Plus, if you intend to own the car for a long period of time then you should not even consider leasing.
A major benefit of buying over leasing a car is the financial ease. Car payments will eventually end. It may take a few years, but once you have paid in full, you will not have to worry about making regular payments. However, such is not the case with leasing where you will have to continue to make payments until you turn in the vehicle
Also, when you lease a car, you will not have anything at the end of the period. You will hand over the car to the owner and will have to start your search again. Whereas, when you buy a car, you will have a vehicle by your side at the end of the period.
Leasing vs Buying – An Example
Still confused about which option to go for? Consider this example.
Let's say you choose a new car. It can be yours after making a $1,999 down payment. You will then have to pay lease payments, $199 per month, for a period of 36 months with a 35,000-mile limit.
What does it mean? It means you must:
Have at least $1,999 in cash to make the down payment.
Be able to pay $199 per month to ensure you are never late on payments.
Not go over 35,000 miles during the period, otherwise, you'll have to pay penalties.
All in all, the car will cost you $9,163 for a period of three years. This equals to $3,054 per year. You decide to lease a car on these terms for a period of 6 years. At the end of the 6 year period, you would have paid a total of $18,326 but not own the car.
Let's now talk about buying. You search the market and find the same car with a price tag of $20,840. You decide to opt for financing.
You pay $1,999 down and choose to finance the car at 2.5% interest payable in 48 months.
This means you will have to pay $412.88 per month. This is more than the monthly amount you were paying when you opted to lease a car. At the expiry of the four year period, you would have paid a total of $21,817 to own the car.
Over a period of six years, the car would cost you $3,636 per year.
Now compare the two:
Leasing: $3,054 per year
Buying: $3,636 per year
There is a difference of about $600 per year.
On paper, leasing looks like a cheaper option because you will be saving $600 per month. But is it really the better option?
Consider what you'll be left with at the end of the 6 year period.
Leasing: Nothing. You will not have a car anymore.
Buying: You will still have the car!
You will now have the following three options:
Lease another car or buy your used car.
Continue to use your current car.
Trade your used car for a new one.
The average age of all cars on the road is about 11 years. Now that you have driven it for 6 years, you have the option to drive it for 5 more years or sell it. Based on estimates, it will fetch about 50% of the value, so at the end of the day, you will get paid about $10,000 for the car.
Now, if you subtract the amount ($600) you paid extra per year to own the car, buying would still turn out to be a cheaper option… about $7,500 cheaper!
See Also: Planning Cheap Family Vacations: How to Travel On A Budget
So, It Means I Should Always Buy and Not Lease
While buying is a better option in more cases, leasing may make more sense if you intend to use the car for business.
You will be able to deduct the cost as an expense and enjoy the tax benefits of leasing a car vs buying a car. The savings can be more than the amount you'd save if you choose to buy a car.
Leasing can also be a better option if you intend to replace the car every few years.
Buying vs Leasing a Car: FAQ
If you still have questions about buying vs leasing a car, then check out this FAQ section:
Which car should I buy or lease?
Nobody can answer that but you.
Consider your own requirements and choose a vehicle that fits you the best.
Make sure to pick one that's reliable, affordable, and able to accommodate all your needs.
How can I find the best car leasing company?
There are a number of providers out there. While most companies offer the same rate, they may differ in terms of customer support and other such factors.
For example, one company may be stringent about what it considers 'regular wear and tear' while the other maybe a little more lenient.
Shop around to find the right deal.
How can I find the right financing deal?
Shop around.
It is best to first talk to your bank or financial organizations you have experience working with as they may be able to offer you a better deal.
Can I lease a car for a month?
No, a lease term has to be at least 24 months.
Who will have to pay for repairs if I lease a car?
It depends on your lease agreement.
If it's a new car, the manufacturer's warranty will have you covered. However, if it's an older car then make sure to check the agreement as some agreements may cover maintenance while some may not.
Can I purchase my leased car?
Yes, you can.
Most agreements will allow you to purchase your leased car but it will be beneficial only if the vehicle's residual value is less than its market value.
Final Thoughts
In the end, consider your circumstances. Both buying and leasing have their own benefits. What works for you depends on your personal requirements.
Nonetheless, whichever option you choose, make sure to calculate the total cost and go for an option you can afford.
For example, buying may be cheaper in the long-run but you will get in trouble if you fail to meet the required monthly payments.

Ricardo is an entrepreneur, investor and personal finance nerd who enjoys spending time with his family and friends, travelling and helping others achieve their financial goals. Ricardo has been quoted as a personal finance expert in several online publications including Healthline, Bankrate, GOBankingRates, MSN Money, Yahoo Finance, U.S. News & World Report, Forbes and USA Today.