20 Best Cash Back Apps Worth Your Time in 2023
Many or all of the products featured on this page are from our sponsors who compensate us. This may influence which products we write about and where and how the product appears on a page. However, this does not influence our evaluations. Our opinions are our own. Here is a list of our partners and here is how we make money.
---
The information provided on this page is for educational purposes only. The Modest Wallet is a financial publisher that does not offer any personal financial advice or advocate the purchase or sale of any security or investment for any specific individual.
Cash back apps can be one of the best ways to make sure you're making the most out of every cent you spend to buy everyday items like groceries and clothing. But the world of options available to consumers can get confusing and overwhelming. Continue reading below to find reviews of our favorite cash back apps, along with tips and tricks on how to use our chosen apps effectively.
20 Cash Back Apps Worth Checking Out
If you are looking for the best deals when shopping online, then cash back apps are a must, because they make saving money fun. Here is our top list of the best cash back apps to get money back on the things you buy every day.
Swagbucks
Swagbucks is more than a cash back site. They offer to pay users in exchange for taking surveys, watching videos, playing games, receiving emails, completing daily goals, and signing up for various subscriptions.
But with respect to the cash back portion of their site, the functionality is really straightforward. You can access their online portal and click on any of the participating retailers you find there. There's a wide variety of outlets you can access, and the list changes periodically. Once you click on the retailer, you're taken to their site. Any purchases you make will earn you cash back in the form of Swagbucks.
Swagbucks can be redeemed for gift cards or cash into your PayPal account. For obvious reasons, we prefer cash!
Pros
There are a bunch of different ways to earn points beyond the cash back feature.
No limit on how much you can make on a daily basis.
Cons
Some of the site's services can get a little spammy and sketchy, so make sure you install malware protection before you try out any of Swagbucks' other services.
You might forget to click through the site's online portal when shopping at a participating retailer.
You can learn more about it in our Swagbucks Review.
See Also: 25 Frugal Living Tips That Will Save You Thousands
Drop
The Drop app should appeal to anyone who heavily prefers a relatively small number of brands. Its unique structure rewards shoppers loyal to a single company or a small group of companies.
After installing Drop on your phone, creating a profile, and linking a credit or debit card, you'll be taken to a screen to choose your five favorite brands. While Drop doesn't partner with every brand under the sun, the company does offer a very healthy selection to choose from.
Every time you shop at one of the store or restaurant brands you've selected, you'll be rewarded with points. Different brands offer different rates of point accumulation. Once you've earned at least 5,000 points, you'll be eligible to redeem those points for gift cards; 5,000 points will earn you a $5.00 gift card from your choice of a selection of retailers (including Amazon).
The app also allows you to take advantage of bonus offers. Various retailers and restaurants will post special events and rewards (not just the ones you've chosen as favorites). For example, spending x amount on a single purchase at retailer y will reward you with a large number of points. These bonus offers can be lucrative, so check the app occasionally to see what's available. Read our full Drop App review to learn more.
Pros
The "favorites" approach to selecting retailers will resonate with brand-loyal shoppers.
Some popular brands offer very high rates of point accumulation.
Points can be redeemed for Amazon gift cards. (That's almost as good as cash!)
Cons
Linking a credit card to Drop can mean that you won't be able to link it to competitor apps (like Dosh, for example).
If you shop at a wide variety of stores, the "favorites" approach may not appeal to you.
There are no cash redemptions for points; only gift cards are available.
Dosh
Dosh is a great little cash back app that functions in ways similar to Drop. But there are some key differences. After creating a profile and linking a credit or debit card to the app, you're free to earn points. Instead of picking your favorite retailers as you would with Drop, however, you're simply free to shop wherever you like. If the retailer or restaurant you frequent happens to use the Dosh rewards system, you'll earn points. The rate at which you earn points will depend on the specific retailer or restaurant you visit. You'll also earn cash back for referring others to the service.
When you've earned at least $25.00 in cash back rewards, you can redeem the amount for cash, or donate it to charity (which is a nice touch).
If a retailer or restaurant doesn't use the Dosh app, you won't get any points when you shop there. While this may sound like a downside, it may actually be an opportunity. Dosh allows you to refer businesses to them and collect 20% of the fees they earn for a period of two years.
Additionally, Dosh has recently expanded its collection of partners. Even hotels are getting in the game (some of whom offer up to 40% cash back on nights booked and purchased through the app).
Pros
You can exchange points for cash (and not just gift cards).
The friend referral bonus can be a great way to earn cash back.
If you find a business that wants to participate in Dosh, you'll receive 20% of their fees for two years.
Cons
Some reviewers have complained that there are relatively few retailers and restaurants participating in the Dosh rewards system (as of this writing).
You can learn more about it in our Dosh Review.
See Also: 13 Legit Ways to Get Free Cable TV (and Cheap Alternatives)
Ibotta
Ibotta is an easy-to-use cash back app that works at a huge number of stores and retailers around the US. The premise is the same as with other cash back apps. Download the app and create a profile. Once that's done, you can earn points in multiple ways.
You can shop in-store at participating brands (like Target) and upload pictures of your receipts. You can click on the in-app offers and shop online. You can link a loyalty card and automatically earn points when you use the loyalty card (and earn loyalty points at the same time)! Finally, you can even pay with the app itself at participating stores by scanning the Ibotta barcode during your purchase (where available).
Ibotta offers a ton of different ways to increase your point total. You can join a team to earn bonuses for completing certain point goals. You can access signup bonuses. You can even refer friends to Ibotta and get points every time one of them signs up.
Finally, all of your cash back is redeemed in the form of money in your PayPal account. No gift cards here! You can also check out our full Ibotta review to learn more.
Pros
A ton of different ways to earn points
Get points for referring your friends
Double up on points by linking and using loyalty cards.
Cons
It can be difficult to get a person on the phone if you need to talk to a human for customer service.
Retailers who use the Ibotta Pay feature can be difficult to find in some areas.
Ibotta is currently offering an amazing sign up bonus for new accounts opened. After you download the app, you will receive a $20 welcome bonus just for using the app.
Rakuten
Rakuten is a famous affiliate marketing brand that you're probably familiar with from their television ads for their cash back app.
Rakuten provides multiple ways to earn varying percentages of cash back from partner retailers when you shop through their service. They provide an online portal through which you can access retailers. You can also get a Chrome extension for your desktop or laptop computer (you can install it on all the other major web browsers, too). And of course, there's an app for your phone.
To use the phone app in-store, just link your credit card and activate an offer you find on the app. Then, when you buy your item(s), the app will see the purchase on your payment card and reward you with cash back.
You'll earn cash back from Rakuten at a rate that depends on the retailer. Some stores and restaurants offer better rates than others. The rates can go up to 40% (which is an impressive rate of return for stuff you were going to buy anyway).
Rakuten pays out its rewards in the form of money to your PayPal account, which is nice. However, you should be aware that they only pay out once per quarter, so you'll need to be patient while you await your rewards.
Pros
The browser extension makes it really easy to earn points when shopping online.
Some of the cash back rates are impressively high on Rakuten.
Rewards are paid out to your PayPal account (which beats gift cards).
Cons
When buying in-store or online, you need to remember to activate the offer you want to take advantage of before you buy. (It can be easy to forget to do this — even with their reminders — if you're distracted).
You can learn more about it in our Rakuten Review.
Rakuten is currently offering an amazing sign up bonus for new accounts opened. When you sign up, you will receive a $10 welcome bonus.
See Also: 15 Smart Financial Goals Everyone Should Have in 2020
Paribus
Many online retailers will offer you a rebate if you buy an item and its price goes down shortly after you purchase it. The problem is that most consumers don't have the inclination to monitor the prices of the items they buy after prices change, so a price drop often goes unnoticed. That's where Paribus comes in.
Paribus, recently acquired by Capital One, tracks your online shopping and sends you alerts when the item you've bought drops in price a short time after your purchase. In some cases, Paribus will automatically send an email requesting a partial refund. In other cases, you'll have to send the email yourself.
You will have to grant Paribus access to both your purchase history and your email accounts. Since the company is now owned by Capital One, it can be expected that they have the technical know-how to keep your information safe. However, some potential users might still be concerned about the privacy implications of opening up access to their email accounts.
Pros
A great way to save on purchases on top of other cash back strategies
Paribus's automatic refund requests work with a wide variety of retailers.
Cons
Some people may be uncomfortable allowing an app to access their email accounts.
SavingStar
SavingStar is a grocery-focused cash back app that partners with all of the major US grocery chains, like Walmart, CVS, Kroger, Target, and Walgreens. It works by linking with your loyalty cards and scans them for purchases from each participating chain.
SavingStar regularly has special offers that you can click on and activate before you go shopping. It also offers "Always On" discounts at participating retailers that provide you with points in your SavingStar account, no matter when you shop.
Once you've accumulated $20 into your SavingStar cash back account you can redeem it into your PayPal account, in the form of gift cards, or as a donation to charity. It's up to you.
Pros
Offers "Always On" cash back at all major grocery chains in the United States
Links with your loyalty cards to make the app super easy to use
Cons
You may occasionally forget to check the app for the periodic additional bonuses and rewards that SavingStar makes available.
BeFrugal
BeFrugal is very similar to Rakuten (discussed above). After creating an account with them, you head to their site, click through to a participating retailer (the list of which includes Amazon), and make your purchases. You'll receive cash back into your account immediately., And once you hit your account minimum of $25, you can redeem your cash back rewards for money in your PayPal account, or gift cards.
Like Rakuten, you can take advantage of a browser extension that automatically tracks your eligible in-browser purchases and adds them to your cash back account. This is a great option for those folks who tend to forget to access their favorite online stores through the BeFrugal portal.
BeFrugal also offers a mobile app, which carries the added bonus of offering in-store coupons for you to use while you're shopping at a brick and mortar store. Otherwise, it works very similarly to the desktop and laptop-accessible version of the service.
Finally, BeFrugal offers different rates of cash back for different stores. So always be sure to check whether the store you intend to shop at is one of the over 5,000 brands BeFrugal partners with (and what their cash back rate is)!
Pros
Super easy to use
Over 5,000 brands are available through BeFrugal.
The mobile app offers in-store coupons for those who prefer shopping in retail stores to shopping online.
Cons
Some users may not be comfortable with the privacy implications of a purchase-tracking browser extension.
Befrugal is currently offering an amazing sign up bonus for new accounts opened. When you sign up, you will receive a $10 welcome bonus.
See Also: What Are Dave Ramsey's Baby Steps, and Do They Work?
Receipt Hog
Receipt Hog allows you to upload digital photos of store receipts from participating retailers in exchange for different kinds of rewards. The structure can get a little bit complicated, so we'll explain.
After signing up for an account at Receipt Hog and creating a profile, you can begin uploading receipts. Receipts expire after two weeks, though, so make sure you don't wait too long.
Depending on where the receipt is from, you'll either earn coins, spins, or sweepstakes entries. Sweepstakes entries qualify you for participation in weekly contests that award prize money and other rewards. "Spins" are chances to win rewards and money from their in-app game (similar to a video lottery terminal at a casino). "Coins" can be redeemed for real money deposited into your PayPal account.
Pros
This app is a lot of fun to use
Receipt Hog can be used on top of a cash back app like Ibotta, Rakuten, or GoFrugal to double up on rewards.
Cons
Only coins can actually be exchanged for real money, so many of your rewards (spins and sweepstakes entries) may not be worth much.
Shopkick
Shopkick is a cool app that goes beyond rewarding you for purchases. Shopkick also offers rewards in exchange for activities like walking into a participating store and scanning a barcode of an item on the shelf. Of course, while Shopkick does reward some non-transactional activities, Shopkick saves the majority of its rewards for people who actually buy things.
You can link a credit card to the app, and you'll receive points (called "Kicks") for buying items at participating retailers. You'll also be rewarded for uploading pictures of your receipts after you've shopped at participating retailers.
Generally, we recommend using all of Shopkick's features in order to maximize the Kicks you earn. So, for example, if you're going to buy something from a store that has partnered with Shopkick, go on the app first and see if you can be rewarded for going in the shop and scanning items. If you do those things first, then buy your stuff with a linked card and upload a picture of your receipt. Watch a Shopkick video while you're at it. You'll see your points add up in no time.
Kicks can be redeemed for gift cards (starting at $5).
Pros
Offers a bunch of fun rewards for doing things other than buying stuff
Provides a wide variety of rewarding activities
Cons
You'll still need to spend a lot to get a substantial amount of Kicks.
Honey
Honey is the little app that could. Starting out as a small coupon-searching application, Honey was recently acquired by PayPal for a whopping $4B. And it's easy to see why PayPal was willing to shell out so much for the app.
Honey is a browser extension and application that automatically searches the internet for any active coupons or deals available for the items in your online shopping carts. (You'd be amazed how often there's a great deal or rebate available somewhere that you're not aware of.)
At some online stores (including Amazon), Honey also shows you a price history of the item you're looking at. You can also earn points by using Honey, called Honey Gold, which you can redeem for gift cards at participating retailers.
Of course, there are a few downsides. Amazon recently recommended that people uninstall Honey because of privacy concerns. (Some people have commented that Amazon might actually be more concerned about the hit to its bottom line when everyone starts using coupons.)
Pros
Can help you find great deals you wouldn't otherwise know about
Honey Gold is a great way to earn gift cards on top of the usual coupon-based savings.
The integration with PayPal will likely mean even greater benefits to users of both services.
Cons
As with any purchase-tracking software, there are privacy issues and concerns to consider.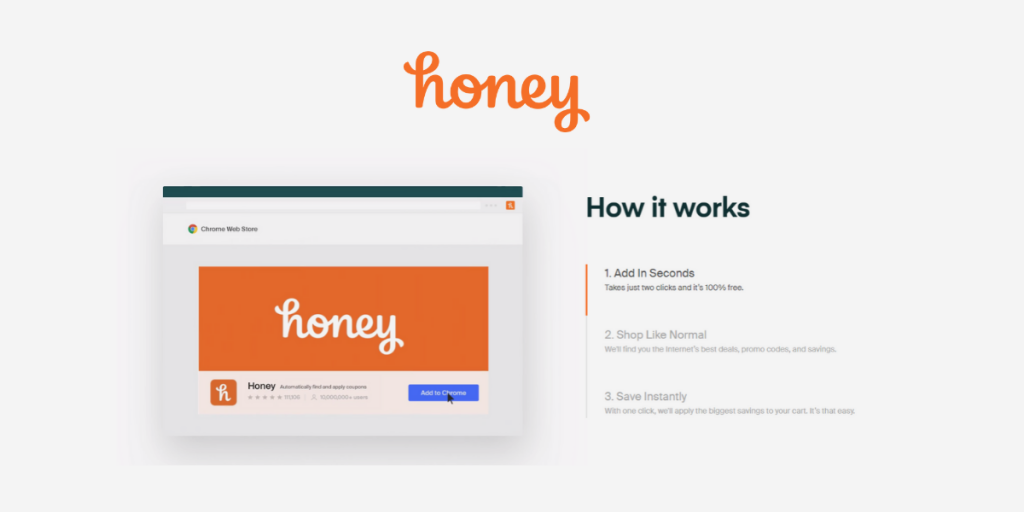 See Also: How to Get Rich The Right Way: A Legitimate Strategy
MyPoints
MyPoints is very similar to Swagbucks (which we referred to earlier in this review article). You can earn points in a huge number of ways, including:
Watching videos
Taking surveys
Playing games
Using the Yahoo!-powered search bar
Receiving marketing emails
Referring other people to the program
But, given the title of this article, what you're most likely interested in is the cash back feature. Basically, by shopping at online retailers after clicking through the MyPoints portal, you'll earn points that you can redeem for money sent to your PayPal account, or gift cards.
If you find that you're liable to forget to access your favorite online shop through the MyPoints portal, you can use the browser extension MyPoints offers, called "Score," to automatically track your purchases. Different retailers offer different rates of cash back. The app also offers in-store coupons at participating stores. Finally, MyPoints offers "Daily Deals" that highlight the best offers they have available that day. Read our full MyPoints review to learn more.
Pros
There are a bunch of different ways to earn points on the site.
The browser extension makes it impossible to forget to activate MyPoints rewards when you're shopping online.
Cons
Like Swagbucks, some of the features on the site are a little spammy, so use caution.
MyPoints is currently offering an amazing sign up bonus for new accounts opened. When you sign up, you will receive a $10 welcome bonus.
Checkout 51
Checkout 51 is an online couponing app. After you create a profile with the service (which you can access on your computer or on your phone), you'll activate offers for particular products and items. When you buy an item (be sure to buy the exact same item that's listed on the offer) and then scan the receipt, you'll receive your cash back into your Checkout 51 account. When your account hits a minimum of $20, you may redeem the amount in the form of a deposit to your PayPal account or a check mailed to your address.
Pros
Unlike Ibotta, this app is available in the US and Canada..
This app has some great grocery-focused offers.
Cons
If you buy online, you need to wait to receive an itemized packing slip to claim your cash back.
Capital One Shopping
Disclosure – Capital One Shopping compensates us when you get the Capital One Shopping extension using the links provided.
Capital One Shopping is similar to Honey. It works primarily as a browser extension that alerts you when an item you're shopping for online is available for a better price somewhere else on the internet. It will also inform you if there are promo or coupon codes available for the item you're considering.
Capital One Shopping also lets users know about special offers and deals that are only available for a limited time. You'll accumulate rewards as Capital One Shopping credits, which you can redeem for gift cards to your favorite retailers.
The browser extension also allows you to sign up for price drop alerts that tell you when an item you've viewed online has fallen in price. This can be a great feature when you're shopping for a deal that isn't quite available yet.
Pros
The browser extension makes using Capital One Shopping absolutely painless.
Available for multiple browsers (i.e. Google Chrome, Mozilla Firefox, Microsoft Edge and Safari)
Cons
As with Honey, some people may be concerned about the privacy implications of using purchase-tracking software on their computers.
You can learn more about it in our Capital One Shopping Review.
See Also: 13 Legitimate Ways to Earn Discounted and Free Gas
Fetch Rewards
Fetch Rewards is another grocery store receipt-scanning app like Receipt Hog. You just sign up with the app, go to the store, make a purchase, upload your receipt, and voila, there's cash back in your account.
Fetch Rewards has special deals and offers you can activate before you go shopping, as well as deals with participating retailers that increase the points you get for each receipt scan.
You can redeem your rewards points for gift cards at a variety of retailers (including Amazon) or for donations to charity.
Finally, to boost your point-earning potential, consider referring as many friends as possible to this service. You'll get additional cash back every time you successfully do so. Read our full Fetch Rewards review to learn more.
Pros
Receipt-scanning apps like this work great in conjunction with couponing apps and cash back credit cards.
Fetch Rewards can be used in addition to other receipt-scanning apps like Receipt Hog.
Cons
Fetch Rewards is very similar to Ibotta, and some people may not want to use both.
Pei
Pei is an extremely straightforward cash back app. You just download it, link your debit and/or credit cards, and start shopping at supported partner stores.
There are no receipts to take pictures of or special offers to download. If you use a linked card at a supported retailer or restaurant, you'll get cash back. It's that simple.
One of the really cool things about Pei is that it offers to pay you in Bitcoin. Once you've reached $15 worth of cash back points, you can elect to be paid in the cryptocurrency. Of course, you can also choose to be paid in gift card or cash in the form of a Paypal deposit, but Bitcoin is a nice touch. They're even promising to add new cryptocurrencies in the future, so keep your eyes peeled.
One downside is that, if you choose to be paid by way of Paypal deposit, the app currently supports only US dollars. If you happen to use a different currency in Paypal, you're out of luck (for now.)
Pros
Extremely simple to use. Just link your debit and credit cards and go shopping!
You can choose to be paid in Bitcoin.
Cons
If you'd like to be paid in a currency other than USD you'll have to go elsewhere for now.
TopCashback
As far as we know, TopCashback is the only cash back app to give 100% of its commissions to its users. Instead of taking a cut of what it earns from retailers, TopCashback offers the occasional "Zero Cashback" link to a product, for which it will keep the entirety of its commission. This is how TopCashback earns a profit.
Zero Cashback links notwithstanding, TopCashback offers some of the best rates in this industry, with cash back rates of up to 8% at some retailers. It also offers additional bonuses when you elect to be paid in gift cards rather than a Paypal deposit. This means that you can choose an Amazon gift card and get an additional 3-5% reward bump.
Finally, TopCashback has a network of over 4000 participating retailers, so you should always be able to find somewhere to shop.
Pros
Users don't share their commissions with TopCashback. They get to keep it all in the form of cashback.
You receive additional bonuses when you elect to be paid in the form of gift cards.
Cons
There's no way to redeem or earn rewards in-store, so you'll have to make all your purchases with this app online.
Groupon+
Groupon+ is a cash back program offered by the famous Groupon company. Instead of showing a coupon at the establishment you're shopping in, as you would with a regular Groupon, Groupon+ allows you to simply claim an offer you see in the app and then use your enrolled credit card at the retailer or restaurant. You'll see the cash back on your credit card statement.
Unlike some other cash back apps and services, Groupon cash back often clocks in at a hefty 15-30%. That's significantly more than any other cashback service.
One of the great things about using Groupon+, as opposed to a traditional Groupon coupon, is that there's none of the hassle of using a coupon. You don't have to wait for the person you give the coupon to to go get a manager or wait while the store processes it. You simply claim the offer on the app beforehand and use your credit card at the establishment. No muss, no fuss.
Pros
Super easy to use. Just claim your offer and use the credit card you enrolled in the program with to pay for your product.
Substantial cash back amounts. We're talking up to 30% cashback when you use Groupon+.
Cons
You'll need to consistently scan the app for offers you want to take advantage of in order to see relevant cashback offers.
Trunow
Trunow is an app that will do several things for you. First, it'll help you find the cheapest gas in your area. Second, it offers in-store discounts on small items like drinks or snacks you purchase at gas stations. Finally, and most importantly, it offers 2% cash back on fuel that you buy at a participating gas station. Even non-participating locations offer 1% cashback.
You should be aware that, if you elect to be paid for your rewards in the form of a Paypal deposit, Trunow will cut your payment in half. In other words, that 2% cash back becomes 1% unless you choose to be paid in gift cards.
There's a couple of other ways to earn small amounts of points on the app. For example, you'll get bonuses for updating gas prices at gas stations near you.
The cash back isn't automatic upon purchase, however. You'll need to scan a picture of your receipt with the app and send it in in order to get credit for the purchase. This isn't a big deal but, if you're used to one of the "no-hassle" apps on this list, it can get a bit annoying.
Pros
This is a great way to earn cashback on a necessary purchase that's never on sale
Cons
You'll need to scan a picture of the receipt in order to get cashback.
You only get half of your rewards if you choose to be paid via Paypal deposit.
Freebird
Freebird is a genius little app that offers you cashback when you take Uber or Lyft rides to participating restaurants and bars. Like most other cash back apps, you can choose to be paid your rewards in Paypal deposits. However, you may choose to redeem those points for free Uber and Lyft rides when you're not headed to a restaurant or bar.
Even if you're not headed to a restaurant or bar, Freebird will give you 250 points for every ride you take that you order through the Freebird app.
Finally, Freebird offers referral promos for successfully referring a friend to the app. You'll receive $5 every time you successfully refer someone to the app.
Pros
There's no fee to sign up for the app. It's free to use!
If you don't know what you want to do one evening, the app can give you great ideas for where to go and who's offering cashback that night.
Cons
If you're not headed to a restaurant or bar and don't qualify for the additional cashback, you'll only get about $0.50 of cashback per trip.
Top Tips to Maximize Rewards
We've got a couple of hacks and tips to share when it comes to making use of any of these cash back strategies and apps. All of these techniques will help you maximize the rewards you receive.
Stack rewards
Our most important advice is to stack your rewards — meaning that you should always take advantage of more than one cash back strategy at a time. For example, when buying groceries, you should use a credit card with a cash back option, a store loyalty card, a cash back app like Ibotta or Rakuten, and a receipt-scanning app like Receipt Hog. That way, you get four levels of rewards, rather than just one. The points can really add up!
Take advantage of special offers
If you add a special offer to the mix of strategies we mentioned in the previous tip, you'll really be in the money. Many of the cash back apps we talk about in this list have special daily offers (or something similar). Use those offers to get extra savings on what you buy.
Only buy in exchange for rewards
To the extent possible, don't buy anything unless you're getting some form of cash back or rewards. Almost everything you need can be purchased in a way that nets you some form of rewards or points. Don't pass up opportunities for cash back (especially for large purchases) for convenience's sake.
Don't buy things you wouldn't have bought anyway
Even though it's fun to earn points and rewards, always remember not to buy more than you were going to buy anyway. If you end up spending too much, it won't matter how many rewards you earn.
Final Thoughts
We love all of the apps and strategies we've mentioned in this article. They're a fantastic way to make sure you're getting the most out of every dollar you spend. If you combine the use of these programs with the advice you'll find on the rest of The Modest Wallet, you'll see your financial situation improve rapidly.

Ricardo is an entrepreneur, investor and personal finance nerd who enjoys spending time with his family and friends, travelling and helping others achieve their financial goals. Ricardo has been quoted as a personal finance expert in several online publications including Healthline, Bankrate, GOBankingRates, MSN Money, Yahoo Finance, U.S. News & World Report, Forbes and USA Today.