Charles Schwab Review 2023: A Robust Broker & Asset Manager
Many or all of the products featured on this page are from our sponsors who compensate us. This may influence which products we write about and where and how the product appears on a page. However, this does not influence our evaluations. Our opinions are our own. Here is a list of our partners and here is how we make money.
---
The information provided on this page is for educational purposes only. The Modest Wallet is a financial publisher that does not offer any personal financial advice or advocate the purchase or sale of any security or investment for any specific individual.
If you want to invest, you need a reliable brokerage firm to help you place trades and manage your assets. With so many different brokerage firms and trading platforms out there to choose from, however, it can be difficult to know which one is right for you.
For investors that want a robust, time-tested broker to help them beat the market, one platform stands out above the rest: Charles Schwab.
Boasting more than half a century of experience and trillions of dollars in client assets to their name, Schwab is a go-to for new and experienced investors, alike. Nevertheless, is Schwab the right online brokerage for your investing style?
In this Charles Schwab review, we'll discuss the nitty-gritty details of this trading platform so you can determine how to best invest your money.

on Charles Schwab's website
Quick Summary: Charles Schwab is a brokerage firm and asset manager offering its client a wide range of products and services. Charles Schwab caters to active traders, passive investors, and also people looking for investment advice and portfolio management.
Promotion: None
What Is Charles Schwab?
Charles Schwab is one of the world's largest online brokerage and asset managers in the world. Headquartered in Westlake, Texas, Schwab provides brokerage services for clients around the globe.
As an online brokerage, much of Schwab's business is conducted online through their comprehensive website. However, the company also has more than 300 branches distributed around the United States, which makes them unique in the rapidly digitizing world of asset management.
In 2020, the company also completed the acquisition of TD Ameritrade. So, traders with Schwab and TD Ameritrade now have enhanced access to resources from both brokerages, as TD Ameritrade will retain its name and platform for the foreseeable future.
See Also: 12 Best Online Brokers for Stock Trading
How Does Charles Schwab Work?
As a brokerage, one of Charles Schwab's main businesses is facilitating trades between individual investors (that's you!) and various stock, bond, and other financial markets.
Like other online brokerages, such as Fidelity and Vanguard, Schwab allows eligible investors to open an account and place trades. Here's a breakdown of how the company works in real life:
Investing Account Types
With Schwab, investors have a whole slew of different account options to choose from. These are some of their most popular:
Schwab One Brokerage Account – The company's classic taxable brokerage account, Schwab One is your go-to choice for general investing and trading.
Global Brokerage Account – Perfect for internationally-minded investors, Schwab's Global Brokerage Account gives you access to securities in 12 foreign markets.
Traditional IRA – If you want tax breaks now and tax-deferred growth on your retirement income, a Schwab Traditional IRA is a solid choice.
Roth IRA – A type of individual retirement account that allows you to invest in securities and receive tax-free distributions upon retirement.
Rollover IRA – If you have an old employer-sponsored retirement plan (e.g., 401k), you can use a Rollover IRA to maintain its tax-deferred status and grow your investments.
Custodial IRA – A tax-deferred retirement plan for minors that is managed by a parent or guardian until they turn 18.
Automated & Managed Portfolios – An ideal choice for hands-off investors, Schwab offers an assortment of Intelligent Portfolios and wealth management services to help you reach any financial goal.
Schwab One Trust Account – Similar to the Schwab One Brokerage Accounts, trusts allow you to invest and manage your funds on behalf of one or multiple trustees.
529 Plan – A tax-advantaged investment fund to pay for future education expenses, 529s allow you to invest your money and give the gift of education to any beneficiary.
In addition to this fantastic array of individual retirement and brokerage accounts, Charles Schwab also offers a host of small business retirement plans, like individual 401(k)s, SEP-IRAs, and SIMPLE IRAs. However, these have more complicated opening and account maintenance requirements, so speak to a Schwab representative if you're interested in a small business account.
Opening an Account
Opening an account with Charles Schwab is generally a straight-forward process. Nearly all of their brokerage and individual retirement accounts have an online application system, which allows US residents over the age of 18 to open an account in less than 10 minutes.
To open an account online with Schwab, you'll need your social security number and other personal information, including your employer's name and address (if applicable). Most brokerage and retirement accounts are approved within a few minutes of completing the application, after which you can transfer funds and start investing.
Unfortunately, opening an account with Schwab is fairly difficult if you are an international investor due to US regulations. If you are not a US resident, you will want to visit the company's international website and speak with a representative that can help you understand your options.
See Also: 7 Best Micro-Investing Apps
Charles Schwab Features
Charles Schwab is a feature-packed brokerage that's designed to help investors make the most of any market. Here are the perks you can expect with a Schwab account:
| | |
| --- | --- |
| Minimum Investment | $0 |
| Stock & ETF Fees | $0 |
| Options Fees | $0 per trade + ($0.65 per contract) |
| Mutual Funds Fees | $0 per trade (Schwab Mutual Fund OneSource®) and $49.95 (All other mutual funds) |
| Inactivity Fee | $0 |
| Withdrawal Fee | $0 |
| Account Types | Individual Taxable, Joint, Traditional IRA, Roth IRA, Rollover IRA, SEP IRA, SIMPLE IRA, Solo 401(k), Custodial, Coverdell, 529 and Trust |
| Platform | Web-based, Mobile (iOS / Android) and WatchOS |
| Account Funding | Bank transfer |
| Paper Trading | |
| SIPC Protection | |
| Banking Services | |
| Support | Branch, Live Chat, Phone and Email |
Commission-Free Trading (ETFs and Stocks)
When you open an account with Charles Schwab, you get access to commission-free trading on all ETFs and stocks on US markets.
The only exceptions to this rule are if you want to invest in international markets or if you place a broker-assisted trade. Broker-assisted trades cost $25 each while international commissions vary from market to market.
Options Trading
You can trade options online with Schwab for a per-contract fee of just $0.65. Furthermore, the company provides options traders with access to their Idea Hub platform, which helps you canvas the market for potential trade ideas. Meanwhile, their Trade & Profitability Calculator allows you to more easily assess risk and reward before placing an options trade.
Mutual Funds Investing
At Schwab, you have access to more than 9,000 mutual funds from dozens of fund families. Your account provides access to all of Schwab's funds, many of which are no-load, no-transaction-fee funds with low expense ratios.
Plus, the company has a dedicated Mutual Fund Screener tool to help you find the right fund to meet your financial goals.
Fixed Income, Bonds, and CDs
If you're on the lookout for a lower-risk investment, Schwab offers a great assortment of bonds and CDs. Most new bond and CD purchases have no commission fees and the company offers relatively low fees on secondary market trades.
Account owners with the company have access to their CD OneSource platform for more detailed guidance on fixed-income investments. Furthermore, Schwab gives all account owners access to Fixed Income Specialists who offer unbiased, commission-free guidance to help you choose the investment strategy that's right for you.
Futures Investing
Schwab allows investors to engage in futures trading on their StreetSmart Central platform. Although you can't trade futures or futures options on StreetSmart Edge nor the website, the company does allow for free broker-assisted futures trades.
You can also trade Micro E-minis with Schwab, which is an ideal way for investors with less capital to gain exposure to major US indexes.
See Also: 12 Best Robo-Advisors: Automate Your Investments
Retirement & IRA Accounts
Like most major brokerages, Charles Schwab offers several different retirement accounts. Most of the brokerage's accounts are individual retirement accounts (IRAs), which nearly any US resident can open.
They also offer no-fee traditional, Roth, rollover, inherited, and custodial IRAs, all of which offer access to their entire collection of investment products.
Moreover, small business owners can also access the company's small business retirement plans. These include Individual 401(k)s, SEP-IRAs, SIMPLE IRAs, Business 401(k)s, and Personal Defined Benefit Plans.
Additionally, most of the brokerage's IRAs are eligible for their Intelligent Portfolios management service, which is ideal for hands-off investors.
StreetSmart Edge (Trading Platform)
StreetSmart Edge is Schwab's flagship desktop trading platform. It includes more or less everything that an active trader would need in a relatively intuitive format. While StreetSmart Edge isn't as high-tech as the platforms at TradeStation or TD Ameritrade, it's a good overall choice for stock, ETF, and options trades.
It's also worth noting that Schwab has plans to provide their account holders with access to TD Ameritrade's thinkorswim platform in the near future. As the two companies merged in 2020, it's expected that many of TD Ameritrade's trading platforms and resources will become available to Schwab account holders over the coming years.
Fractional Shares (Stock Slices)
With Schwab, you can buy and sell fractional shares using their Stock Slices feature. Fractional shares with the brokerage start at as little as $5 and you can buy them without paying a commission fee.
That being said, as the writing of this article, Schwab only allows fractional shares trading for stocks on the S&P 500 and you can only buy shares of up to 30 companies in a single transaction.
Socially Responsible Investing (SRI)
For investors who want to ensure that their investments align with their values, Schwab offers socially responsible investing (SRI) tools. The company has a list of over 500 mutual funds and over 80 ETFs for you to choose from that meet their SRI standards.
If you prefer a managed account, Schwab also has several managed SRI accounts to choose from that you can discuss with one of their financial consultants.
See Also: 12 Best Investment Apps: For Beginners & Pros
Margin Lending
Margins trading at Charles Schwab is available to anyone with at least $2,000 in cash or securities. Traders can borrow against 50% of their account balance and they pay a variable margin rate based on the value of their total assets. Their margin rates vary from 6.575% to 8.325%, which is more or less the industry average.
Automated Investing (Schwab Intelligent Portfolio)
If you'd rather take a hands-off approach to investing, Schwab's Intelligent Portfolios are worthy of your consideration. These automated and self-adjusting portfolios are automatically re-balanced according to your financial goals and risk profile.
Most brokerage and IRA accounts with a minimum balance of $5,000 are eligible for Schwab Intelligent Portfolio. There are no advisory fees or commissions on regular Intelligent Portfolios. However, Premium Intelligent Portfolios with assets of more than $25,000 have a one-time planning fee of $300 and a $30/month advisory fee.
Schwab Private Client
Perfect for folks who want a more comprehensive and hands-off approach to investing, Schwab Private Client is a sophisticated wealth management solution. With Schwab Private Client, you get a team of professional wealth strategists and advisors who put together an individualized portfolio for you, based on your financial goals.
To invest in Schwab Private Client, you need a minimum investment of $1 million and you should expect to pay an annual fee of around 0.80%. For investors with assets of less than $1 million, Schwab's Intelligent Portfolios may be the better choice.
Education & Research Tools
All Schwab account holders have access to the brokerage's educational resources. These include live trading insights, on-demand trading education, and professional market commentary with Schwab Live Daily. Account holders can also set up a personally curated learning curriculum on the company's website based on their unique goals and trading interests.
Customer Service & Support
All investors with Schwab have access to a 24/7 customer service phone line and an online chat system for issues relating to their accounts. The company also has 24/7 phone lines for most of its services, with the exception of futures, options, fixed income, and global investing services, which have limited hours.
Charles Schwab Pricing & Fees
If you're going to open an investment account, you want to be sure that your future financial growth won't be hampered by excessive fees. So, here's what you need to know about Schwab's pricing and fees structure:
Account Fees
Schwab does not charge an opening or maintenance fee on any of their brokerage or retirement accounts, except for advisory fees for some of their managed portfolios.
That being said, like most brokerages, Schwab does have fees for certain transactions, like wire transfers. However, these fees are standard throughout pretty much all financial institutions.
See Also: How Do I Start Investing in The Stock Market
Stock & ETF Trades
All online stock and ETF trades at Schwab are commission-free, so you can buy and sell securities on US markets at no extra cost. For broker-assisted trades, however, you can expect a $25 surcharge. Furthermore, international trades have various commission pricing structures based on the market you're investing in.
Options & Futures
There is no commission fee for online options trades, though you will need to pay a $0.65 fee per contract. Broker-assisted options trades also have no commission and a $0.65 contract fee, plus a $25 surcharge.
Futures and futures options trades have a $1.50 fee per contract, whether executed online or with broker assistance.
Mutual Funds
With Schwab, you have access to thousands of mutual funds from your account. Additionally, the company maintains a list of about 175 no-load, no-transaction-fee funds on their OneSource Select List.
If you buy or sell funds on the OneSource Select List, there is no commission fee. The only exception to this is if you place a broker-assisted trade, in which case a $25 surcharge applies.
However, all other mutual fund trades with Schwab do incur a commission fee that can be as high as $49.95, depending on the fund.
Bonds & CDs
If you want to buy new CDs or domestic bonds with Schwab, there is no commission fee added to your trade. However, purchasing a bond or CD on the secondary market incurs a fee of $1 per bond, with a $10 minimum and $250 maximum fee charge per trade.
Margins Trading
If you're interested in trading on a margin with Schwab, your margin rate will depend on your account balance. As of 2021, their margin rates vary from as low as 6.575% for accounts over $250,000 to as high as 8.325% for accounts with up to $25,000 in assets.
This places Schwab's margin rates at about average for the industry, except for accounts with lower balances, where the rate is relatively high.
Charles Schwab Security
As one of the world's largest brokerages, Charles Schwab takes investor security and safety very seriously. They have a Security Guarantee, which provides 100% of coverage for any losses should an unauthorized person gain access to your retirement or brokerage account.
Furthermore, Schwab uses multi-layer encryption, automated alerts, and a rigorous identity verification process to stop fraudulent activity on your account. All assets held with the company in investment accounts are protected by the SIPC (up to $500,000) and are also insured by Lloyd's of London up to $1.1 million per investor.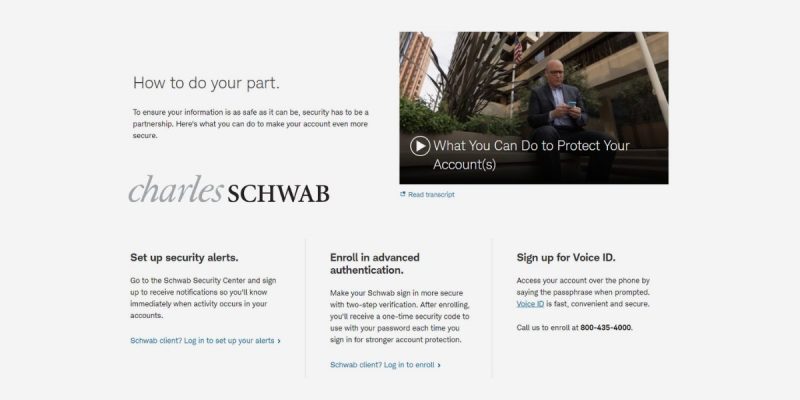 See Also: Investing for Beginners: How to Start Investing the Right Way
Charles Schwab Pros
Large selection of account types for US investors
Commission-free stock and ETF trades
No account opening or maintenance fees
Some Schwab Intelligent Portfolios have no advisory or commission fees
Impressive list of different investment products
Allows for fractional shares trading
Multiple robust trading platforms to choose from
Most accounts have no minimum balance requirements
24/7 phone and online chat customer support
Charles Schwab Cons
Limited account options for international investors
Very high fees for most mutual fund investments
High margin rates for accounts with lower balances
No cryptocurrency or forex investing
Website trading platform has limited research tools
Charles Schwab Alternatives
Not sure if Charles Schwab is the right brokerage for you? Here are two other major brokerages for you to consider:
Fidelity
Alongside Schwab, Fidelity is one of the largest and most reputable online brokerages in the business. Like Schwab, Fidelity offers a wide variety of different account types, as well as commission-free trades on stocks and ETFs.
While Fidelity and Schwab are quite similar, Fidelity does offer lower fees when it comes to wire transfers, which is important to some investors. Additionally, although many investors prefer to place trades, Fidelity has slightly higher broker-assisted trade fees than Schwab.
That being said, while Schwab does technically offer a larger list of investment products than Fidelity, Fidelity's selection of no-transaction-fee and no-load mutual funds is hard to beat. Plus, Fidelity has a long list of mutual funds that have no minimum investment as well as some no-fee ETFs.
Finally, while both Fidelity and Schwab are very similar, many newer investors prefer Fidelity's slightly more comprehensive research and educational tools.
Check out our full Fidelity review to learn more.
TD Ameritrade
Although Charles Schwab and TD Ameritrade are technically part of the same company, there are some features that you can get with TD that aren't available with Schwab accounts.
With TD Ameritrade, you get access to commission-free stock, ETF, and options trades. Furthermore, there are no account minimums as well as no commission on no-transaction-fee mutual funds.
What differentiates TD Ameritrade, however, is that they allow for forex trading. Plus, they plan to offer crypto trading in the near future. TD Ameritrade also has a proprietary platform, called thinkorswim, which is one of the most popular trading platforms for experienced investors.
Overall, the differences between TD and Schwab are quite small, especially after their recent merger. But, if you're particularly interested in crypto, forex, or the thinkorswim platform, TD Ameritrade might be the better choice.
Read our full TD Ameritrade review to learn more.
Minimum Investment
$0
Fees
$0
Promotions
Stock and ETF Trades
$0/trade
Options Trades
$0 + ($0.65/contract)
Investor Protection
$500,000 (securities up to $500,000, cash up to $250,000)
Minimum Investment
$0
Fees
$0
Promotions
Stock and ETF Trades
$0
Options Trades
$0 + ($0.65/contract)
Investor Protection
$500,000 (securities up to $500,000, cash up to $250,000)
Minimum Investment
$0
Fees
$0
Promotions
Stock and ETF Trades
$0/trade
Options Trades
$0 + ($0.65/contract)
Investor Protection
$500,000 (securities up to $500,000, cash up to $250,000)
Who Is Charles Schwab Best For?
Charles Schwab is the ideal choice for traders that want a lot of features from their online brokerage without racking up hefty fees. With their wide range of different self- and professionally-managed account types, most new and experienced investors can find something for them at Schwab.
However, if you're looking to invest in cryptocurrency or forex, or if you want highly-detailed tools for day trading, you might be better off with a platform that caters to more active traders. Alternatively, if you're not a US resident, Schwab's international account offerings fall short, especially when compared to internationally-friendly brokerages like Zacks Trade.
Charles Schwab FAQ
We have found some of the most frequently asked questions around the web with regards to Charles Schwab; here are our answers.
Is Charles Schwab a Good Company?
Charles Schwab is a reputable brokerage firm with more than 50 years in the business. They are a popular choice for investors of all backgrounds, thanks to their great selection of investment products and services.
Is Charles Schwab Good for Beginners?
Overall, Charles Schwab is a pretty good trading platform for new investors. The company's robust investment tools and educational materials make them a nice choice for eager new traders that want to learn more about investing.
Furthermore, Schwab's large list of investment products means that there's room to grow and diversify your investments as you gain more experience.
Is Charles Schwab Safe?
Charles Schwab is one of the world's most reputable asset managers and brokerages. They use cutting-edge technology to protect your investments from bad actors. Additionally, Schwab is a member of the SIPC and is insured by Lloyd's of London, both of which protect your assets if the brokerage were to fail.
However, investing is inherently risky, and it is possible to lose money while trading, whether that's with Schwab or another brokerage.
Does Charles Schwab Have a Monthly Fee?
Charles Schwab does not charge a monthly fee for their investment accounts, including brokerage accounts and IRAs. However, like all brokerages, Schwab has other fees associated with certain transactions and investment types that are worth considering when opening an account. 
Final Thoughts
At the end of the day, Charles Schwab is a robust, full-service online brokerage that caters to investors of all experience levels. With their commission-free stock and ETF trades, as well as their vast selection of investment products, account types, and trading platforms, there's something for everyone to love at Schwab.
Up Next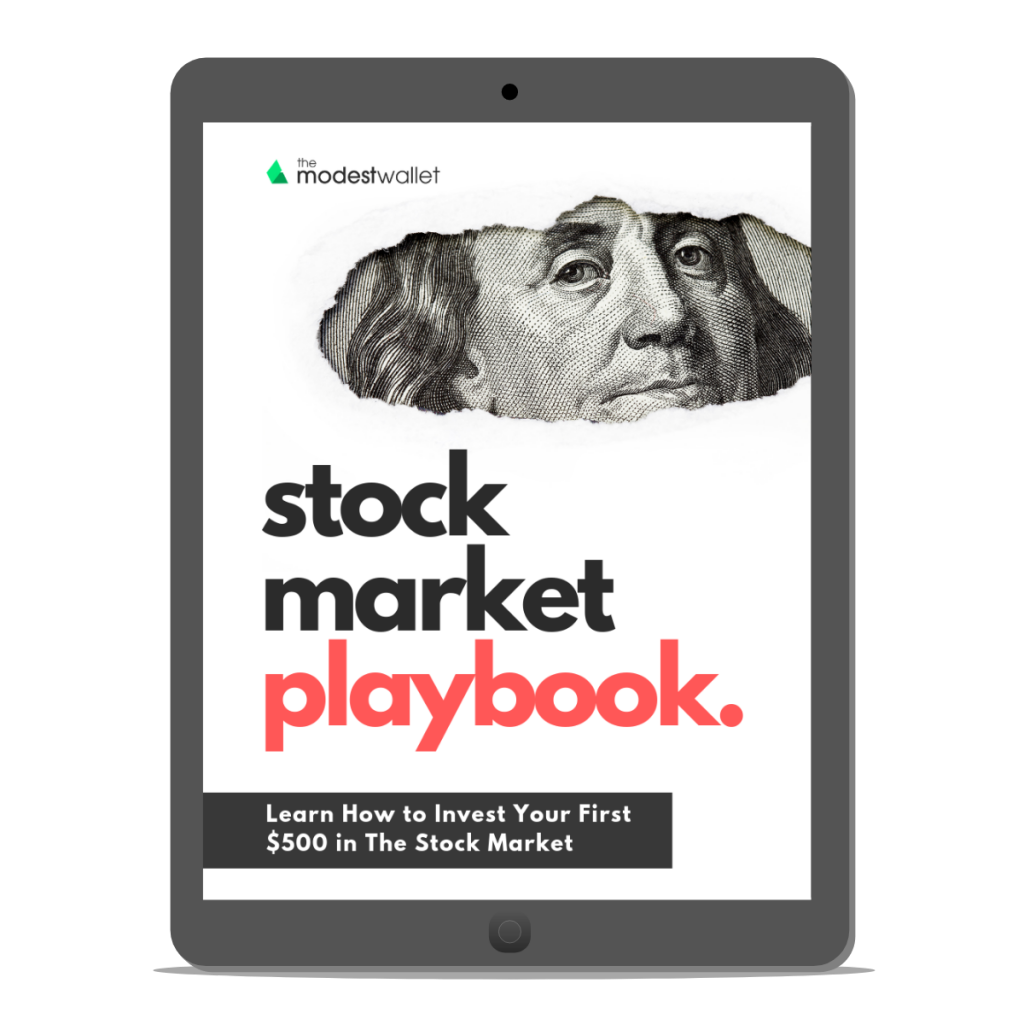 Get our free Stock Market Playbook to learn how to invest your first $500 in the stock market.
Plus our best money tips delivered straight to your inbox.

Gaby is a freelance writer and self-employed business owner with a personal interest in all things finance-related. She has a passion for educating others on how to make the most of their money and loves writing about everything from taxes to crypto.