Many or all of the products featured on this page are from our sponsors who compensate us. This may influence which products we write about and where and how the product appears on a page. However, this does not influence our evaluations. Our opinions are our own. Here is a list of our partners and here is how we make money.
The information provided on this page is for educational purposes only. The Modest Wallet is a financial publisher that does not offer any personal financial advice or advocate the purchase or sale of any security or investment for any specific individual.
If you're looking to invest in crypto, you'll need a cryptocurrency exchange (preferred) or an online broker that supports crypto to get started. With so many different crypto exchanges to choose from, however, selecting the perfect option for your needs isn't always easy. That's where Coinbase comes into the picture.
As one of the largest crypto exchanges in the world, Coinbase is a popular choice for new and experienced crypto investors, alike. But, is it truly the best exchange for you?
In this Coinbase review, we'll do a deep dive into all of the exchange's features, fees, pros, and cons. We'll clue you in to how it all works, and provide you with insight into whether Coinbase is the exchange you need to start investing in crypto.

Quick Summary: Coinbase is the largest cryptocurrency exchange platform in the United States by trading volume. Coinbase is a fully regulated and licensed exchange operating in all states, except Hawaii.  
---
What Is Coinbase?
Coinbase is an online, remote-first cryptocurrency exchange. The company launched in 2012 and it has since set up operations in more than 100 countries, making it one of the world's largest crypto exchanges.
As a crypto exchange, Coinbase allows anyone to quickly buy, sell, and convert cryptocurrencies with relative ease. Since its founding, the firm has also expanded its offerings to include an online crypto wallet as well as a professional-level crypto trading platform called Coinbase Pro.
---
How Does Coinbase Work?
Although it's a cryptocurrency exchange, Coinbase is designed to operate much like your standard online brokerage, but with a twist: You can only buy and sell crypto, not bonds, stocks, ETFs, mutual funds, or other marketable securities.
To use Coinbase, you'll first need to determine your eligibility for the platform and create an account before you can start trading crypto. Here's how it all works:
Getting Started
If you want to buy and sell cryptocurrency on Coinbase, you'll need to create an account. But, before you even do that, you'll need to organize your documents and have a few pieces of information at the ready.
Coinbase is currently available to people aged 18 or over in more than 100 countries, including the US and Canada. To open an account, you'll need:
A government-issued photo ID (with your address and date of birth)
Your Social Security Number (for US residents)
A smartphone that can receive SMS text messages (for two-step authentication)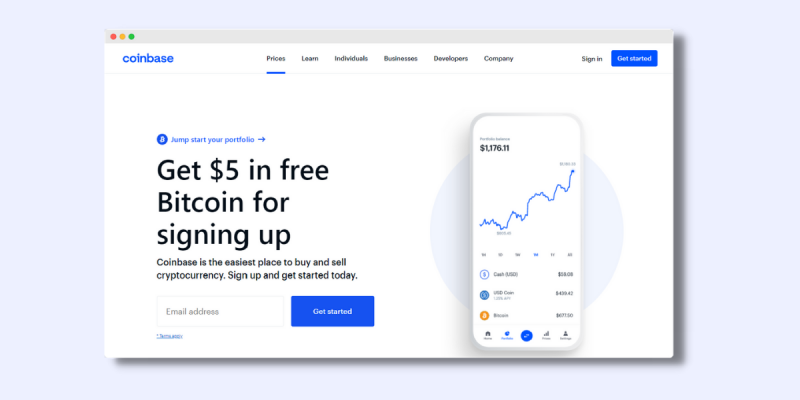 Opening an Account
As soon as you have your documents in order, you can create an account online or in the Coinbase mobile app.
The platform will first ask you to enter your personal information. You'll then verify your email address and phone number for security purposes.
Next, you'll verify your identity with Coinbase by uploading a photo of your photo ID (note that this step can take up to 48 hours). Finally, you'll link a payment method to your account using Plaid and then you can start trading crypto.
---
Cryptocurrencies Available on Coinbase
As with many aspects of Coinbase, figuring out which cryptocurrencies are supported by the platform is tricky.
Users in different countries have varying access to cryptocurrencies on the platform. Furthermore, account holders in some regions can't trade certain currencies; rather, they can only send and receive funds.
With that in mind, Coinbase currently supports more than 50 currencies for US customers. Some of the major cryptocurrencies that you have access on Coinbase include:
We should mention that, while Coinbase does have an impressive list of supported cryptocurrencies, it does not currently support some popular currencies, such as Polkadot (DOT) and Binance Coin (BNB).
---
Coinbase Features
Coinbase is a feature-packed cryptocurrency exchange. In this section, we'll take a look at some of the platform's main features so you can determine if it's right for you.
| | |
| --- | --- |
| Minimum Trade | $2 |
| Trading Fees | 0.5% spread fee and a flat / variable fee (see fee section for details) |
| Number of Cryptocurrencies | 56 |
| Supported Cryptocurrencies | AAVE, ALGO, ATOM, BAL, BAND, BAT, BCH, BNT, BSV, BTC, CGLD, COMP, CVC, DAI, DASH, DOGE, DNT, EOS, ETC, ETH, FIL, GRT, GNT, KNC, LINK, LOOM, LRC, LTC, MANA, MKR, NMR, NU, OMG, OXT, REN, REP, SNX, USDC, UMA, UNI, WBTC, XLM, XRP, XTZ, YFI, ZEC, ZRX |
| Supported Countries | 100+ including USA, Canada and France |
| Maximum Daily Buying Limit | $25,000 |
| Platform | Web-based and Mobile (iOS / Android) |
| Promotion | $5 worth of free BTC |
| Account Types | Taxable |
| Support | Phone and Email |
Crypto Trading
The flagship feature of Coinbase is its crypto trading platform. This platform is very similar to that of any online brokerage and Coinbase crafted its trading interface to be as user-friendly as possible.
To place trades on Coinbase, you'll simply identify the crypto you want to buy or sell and your payment method. Then, you'll enter the total amount of crypto you want to trade and press confirm.
If you purchase crypto with Coinbase, it will be held for you in a secure location until you choose to sell it. Alternatively, you can transfer your crypto to your Coinbase Wallet or you can transfer it to any other hot or cold wallet that you might have. It's as straightforward as that.
Coinbase Pro
Coinbase's standard trading platform is designed with simplicity in mind. But, if you want advanced charting tools or order types, you'll want to upgrade your account to Coinbase Pro.
Coinbase Pro is an advanced exchange where users can get access to powerful trading tools like real-time charting and the ability to place stop and limit orders.
The Coinbase Pro platform also has a different fee structure (more on that in a bit). This fee structure is generally more affordable than the regular Coinbase fee structure, but using Coinbase Pro can be complicated and overwhelming for new traders.
That being said, you can upgrade your Coinbase account to Coinbase Pro at any time for no fee. So, some folks decide to start with the regular Coinbase account and then upgrade to Pro after they gain more crypto trading experience.
Coinbase Wallet
When you trade crypto with Coinbase or Coinbase Pro, your crypto is held for you by the firm in offline wallets that are stored in secure locations around the globe. But, if you want the ability to control your crypto and private keys, you'll need a dedicated crypto wallet.
Thankfully, Coinbase offers a wallet for anyone to use called Coinbase Wallet. You'll need to establish a Coinbase Wallet separately and then link it to your trading account with Coinbase to place trades.
Coinbase Wallet is free to use and you can also transfer your funds to and from other wallets at any time. But, you'll be solely responsible for the management of your crypto if you choose to use it.
Coinbase Earn
To help you learn more about crypto, Coinbase offers a rewards program called Coinbase Earn. With this program, you can watch short videos on different cryptocurrencies and earn free crypto for your efforts.
To earn your free crypto, you'll need to watch videos and take quizzes to demonstrate your knowledge. For example, if you watch three minutes of informational videos on Celo (CGLD), you might earn about $3 worth of Celo for your time.
Once you complete the videos and answer the quiz questions correctly, your free crypto will then be deposited in your account for you to keep or trade.
Coinbase Card
While many crypto exchanges only allow you to buy and sell crypto, Coinbase also allows you to use it for daily purchases using a Coinbase Card.
The Coinbase Card is a Visa debit card that you can use for regular payments. You can decide which crypto to use for your purchases in the Coinbase Card app and then track your spending along the way. The card also offers extra rewards on certain purchases, which you can learn more about in the app.
Recurring Buys
If you're interested in setting up automatic crypto investments, Coinbase allows you to establish "recurring buys."
You can establish a recurring buy for nearly any cryptocurrency on the platform, allowing you to purchase a pre-set amount of crypto regularly. For example, you can set up a recurring purchase for $50 worth of Bitcoin every week to help you grow your balance over time.
Do note that setting up a recurring buy requires that you make a purchase at the time of set up. So, if you want to set up a recurring buy for $100 of Litecoin every month, Coinbase will process your first purchase immediately and schedule your next purchase for one month later.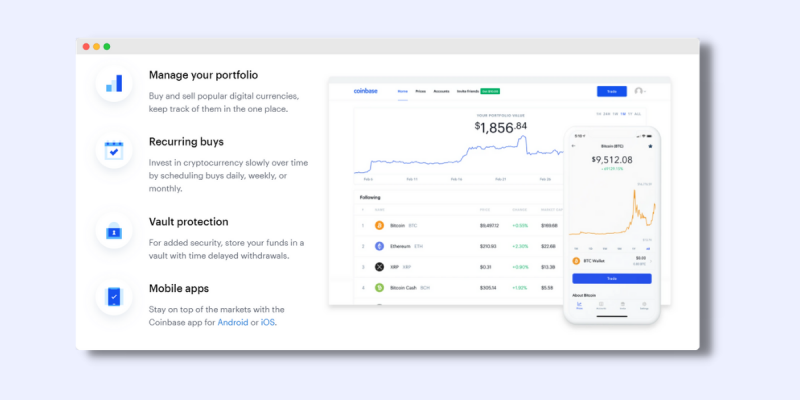 Coinbase Mobile App
Although Coinbase is available on the web, many users access the platform through the mobile app.
There are different apps for each of the platform's features, including Coinbase Pro, Coinbase Wallet, and Coinbase Card, and you'll need to download each one individually if you want to use those features. But, all of the apps come highly rated on the Google Play Store and Apple App Store because they provide an intuitive way to buy and sell crypto.
---
Coinbase Pricing & Fees
If there's one aspect of Coinbase that doesn't quite impress, it's the company's complex fee structure.
Since Coinbase's pricing structure depends on your region, we'll focus specifically on costs for US account holders. However, the fees you'll pay depend on if you're using Coinbase or Coinbase Pro. Here's what you need to know.
Coinbase Fees
Coinbase's standard platform charges two fees per transaction, the first of which is a spread fee of about 0.50% of the order total.
The second fee is the greater of either a flat-fee transaction charge or a variable fee. The variable fee for US accounts is between 1.49% and 3.99% of the transaction total, based on your payment method.
Meanwhile, the flat-fee charge varies from $0.99 to $2.99 per order. In particular, you'll pay the following fees for different transaction amounts:
| Total Trade Amount | Fee |
| --- | --- |
| Less than $10 | $0.99 |
| $10 - 25 | $1.49 |
| $25 - $50 | $1.99 |
| $50 - $200 | $2.99 |
Since even the lowest variable fee of 1.49% works out to more than the flat fee for transactions valued at more than $200, any transactions worth more than this will be charged the variable fee.
In addition to trading fees, Coinbase charges a 2.5% fee for PayPal deposits and a $10 fee for incoming wire transfers. However, ACH transfers are free and there is no cost to open an account. Here are some fees that apply in the United States:
| Payment Method | Fee |
| --- | --- |
| Bank Account | 1.49% |
| Coinbase USD Wallet | 1.49% |
| Credit/Debit Card | 3.99% |
| ACH Transfer | Free |
| Wire Transfer | $10 ($25 outgoing) |
Coinbase Pro Fees
With Coinbase Pro, the firm uses what's called a "maker-taker" fee structure. In this structure, a maker is someone that buys or sells crypto in an order that isn't carried out immediately, such as through a limit order. Meanwhile, people who buy or sell crypto instantly, such as through a market order, are called takers. In general, takers pay higher fees than makers.
Coinbase Pro's maker-taker fee structure charges different fees based on your account balance before the order is placed.
The total taker fees vary from 0.50% to 0.04% of the order value, with lower balance accounts paying more. Meanwhile, maker fees vary from 0.50% to 0.00% of the order value with balances over $50 million paying nothing in fees.
| Pricing Tier | Taker Fee | Maker Fee |
| --- | --- | --- |
| Less than $10K | 0.50% | 0.50% |
| $10K - $50K | 0.35% | 0.35% |
| $50K - $100K | 0.25% | 0.15% |
| $100K - $1M | 0.20% | 0.10% |
| $1M - $10M | 0.18% | 0.08% |
| $10M - $50M | 0.15% | 0.05% |
| $50M - $100M | 0.10% | 0.00% |
| $100M - $300M | 0.07% | 0.00% |
| $300M - $500M | 0.06% | 0.00% |
| $500M - $1B | 0.05% | 0.00% |
| > $1B | 0.04% | 0.00% |
---
Coinbase Security & Insurance
For many cryptocurrency investors, security is a chief concern. Luckily, reputable exchanges, like Coinbase, take steps to protect your crypto. So, here's an overview of the firm's security and insurance practices that you should know about before you invest:
Security
Coinbase stores approximately 98% of its customer's funds offline in safe deposit boxes and secure vaults around the world. This helps lower the risk of online hacking and physical theft by removing funds from the internet and storing them in a variety of geographic locations.
Coinbase also uses drives with AES-256 encryption, paper backups, and two-step verification to help prevent fraud. We should note, however, that Coinbase maintains control of your private keys unless you transfer your funds out of the platform and into your personal crypto wallet.
Insurance
If you are a US customer with a cash balance stored in your Coinbase account, then it is FDIC-insured up to $250,000 per individual if the firm fails.
For non-US customers, cash funds are maintained in custodial accounts that are held separately from all other accounts for safekeeping, though they are not all FDIC-insured. Regardless, Coinbase also maintains its private insurance to cover the loss of any customer funds in the event of a security breach.
---
Coinbase Customer Support
As far as customer support goes, Coinbase has a detailed online help platform where you can get answers to many common questions. The online help platform also has a chatbot that can help direct you to answers to common questions in a matter of seconds.
If you need more personalized guidance, Coinbase also has an email-based customer support service that all account holders can access and a phone line for Coinbase Card issues. However, Coinbase does not currently have a customer support phone line that you can contact for general questions or concerns.
We should mention, though, that you can call Coinbase directly to immediately lock your account if you think that it has been compromised. So, while the company's lack of phone-based customer support isn't ideal for some account holders, you can get quick help in a security-related emergency.
---
Coinbase Pros
Available to residents of more than 100 countries
Great selection of crypto available
Options to earn rewards & free crypto
Includes access to a free online wallet
Ability to upgrade to Coinbase Pro for free
Easy-to-use interface for new traders
Great access to educational resources
Offers a Visa debit card for making purchases with crypto
---
Coinbase Cons
Pricing and fees structure is very complicated
Photo ID verification required for account set-up
High costs for crypto trading, especially for smaller transactions
Limited control over your private keys with the platform
Not all crypto assets are available for trading in all countries
Limited customer service options
---
Coinbase Alternatives
Not sure that Coinbase is the right crypto exchange for you? Here are two Coinbase alternatives to consider before you sign up for an account:
Kraken
Alongside Coinbase, Kraken is one of the best-known crypto exchanges on the market today. However, unlike Coinbase, it's more targeted toward advanced traders that want to take advantage of a wider range of trading tools and features.
With Kraken, traders get access to a slew of trading features, like advanced charting tools. The platform also supports a slightly larger list of cryptocurrencies than Coinbase, though you can find the most popular crypto, like Bitcoin and Litecoin, on both platforms.
What sets Kraken apart from Coinbase for advanced traders, however, is that it supports margins trading. While margins trading on crypto isn't for everyone, it might be a nice choice for some investors.
Plus, Kraken has substantially lower fees than Coinbase and slightly lower fees than Coinbase Pro. So, while it's not great for new crypto traders, its enhanced functionality is nice for more experienced investors. Read our full Kraken review to learn more.
Gemini
Founded by the Winklevoss twins of Facebook fame, Gemini is a relatively new exchange that's become popular among traders that want a simplified way to buy and sell crypto.
Account-holders with Gemini have access to both a simplified exchange and a more sophisticated platform that offers advanced charting tools. Gemini also makes it easy for account holders to earn interest on their crypto assets, and they now offer a credit card that lets you earn crypto rewards.
Like Coinbase, Gemini's fee structure is complex and somewhat difficult to understand. However, Gemini's fees are fairly comparable to Coinbase, so neither exchange has a true edge in that regard.
What's more, Gemini also offers hot and cold crypto wallets for account holders to choose from, both of which come with optional insurance and improved customer support. So, Gemini is a solid option for crypto traders that want many of Coinbases' features but with a bit more functionality in terms of security. Read our full Gemini review to learn more.
Our Rating

Trading Fees

Up to 0.50%

Up to 0.26%

Up to 1.49%

Supported Cryptocurrencies

56+

50+

40+

Apps

Mobile (iOS and Android)

Mobile (iOS and Android)

Mobile (iOS and Android)

Promotions

$5 worth of free BTC

None

Get $10 worth of BTC (*after buying or selling $100)

Margin Trading
Compare Coinbase
Find out how Coinbase stacks up against the competition.
---
Who is Coinbase Best For?
Due to its ease of use, Coinbase is an ideal crypto exchange for new cryptocurrency investors or anyone that prizes simplicity in their financial life. Furthermore, Coinbase's plethora of features, including dozens of supported cryptocurrencies, access to a Visa debit card, high-tech security, and the ability to earn free crypto, set it apart from other exchanges.
Plus, the fact that the company also makes it easy for you to upgrade to a sophisticated crypto exchange platform (Coinbase Pro), also means it's a nice choice for people who want to become more active crypto investors.
That being said, Coinbase's high fees and complex pricing structure aren't great for folks that want to keep expenses to a minimum. But if you want a crypto exchange that's easy to use and that offers a decent array of features for advanced traders, then Coinbase just might be what you're looking for.
---
Coinbase FAQ
Here are our answers to some of your most commonly asked questions about Coinbase:
Is Coinbase Safe?
Although there is an inherent financial risk to trading cryptocurrency, Coinbase is known as one of the most secure exchanges and online wallets in the industry. The company's security systems are top-notch and they keep the vast majority of customer funds in offline storage to prevent hackers from accessing your crypto.
Is Coinbase a Good Exchange to Buy Bitcoin On?
Coinbase is a good exchange to buy Bitcoin if you're looking for a quick and simple place to purchase crypto. However, the company does charge some hefty fees for smaller purchases, so this is something to consider before you sign up for an account.
Is Coinbase Good for Privacy?
Like most fintech companies, Coinbase does gather a decent amount of personal information, including scans of your photo ID, which is a privacy concern for some traders. However, much of this information is required by government authorities and Coinbase does state that they do not sell your identifiable data without your consent.
---
Final Thoughts
In the world of crypto exchanges, Coinbase is an industry leader. The platform's sleek interface, user-friendly features, and ample educational tools make it a popular choice for new crypto investors while Coinbase Pro is also a nice option for advanced traders.
Of course, Coinbase's fee structure is a bit complex and their customer support options are limited, so that's something to keep in mind when selecting a crypto exchange. But if convenience is your top priority, Coinbase is one crypto exchange that's hard to beat.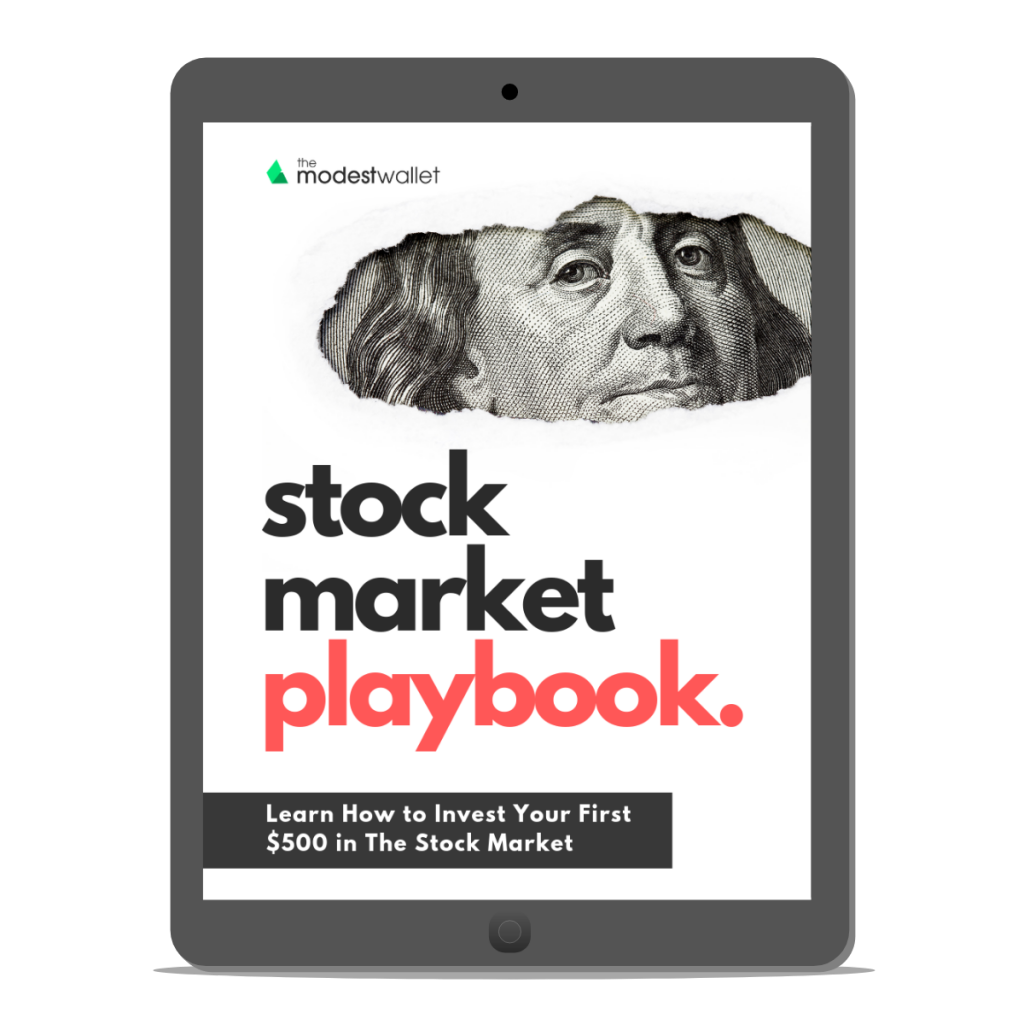 Get our free Stock Market Playbook to learn how to invest your first $500 in the stock market.
Plus our best money tips delivered straight to your inbox.

Gaby is a freelance writer and self-employed business owner with a personal interest in all things finance-related. She has a passion for educating others on how to make the most of their money and loves writing about everything from taxes to crypto.