CrowdStreet vs. Fundrise 2023: Which Platform Is Best?
Many or all of the products featured on this page are from our sponsors who compensate us. This may influence which products we write about and where and how the product appears on a page. However, this does not influence our evaluations. Our opinions are our own. Here is a list of our partners and here is how we make money.
---
The information provided on this page is for educational purposes only. The Modest Wallet is a financial publisher that does not offer any personal financial advice or advocate the purchase or sale of any security or investment for any specific individual.
When you want to invest in individual investment properties, it is natural to be intimidated by the money required to do so. Fortunately, there is a solution. Real estate crowdfunding platforms like CrowdStreet and Fundrise make it convenient and easy to invest in real estate.
But which is better, CrowdStreet or Fundrise? Based on your financial situation and the amount you want to invest, one might be a better fit than the other. Fundrise requires a minimum investment of $10 while CrowdStreet requires $25,000. Fundrise has a 0.15% annual advisory fee and 0.85% management fee while CrowdStreet has none. Fundrise allows you to invest in eFunds and REITs while CrowdStreet offers REITs, custom portfolios, and individual properties.
Let's dig deeper and see which is a better choice.
| | | |
| --- | --- | --- |
| | | |
| Our Rating | | |
| In A Nutshell | CrowdStreet is an online platform allowing accredited investors access to commercial real estate investment opportunities. Investors are able to diversify their portfolios across several projects and geographic markets. | Fundrise is an online real estate platform that allows investors access to a portfolio filled with dozens of real estate projects — each one carefully handpicked and proactively developed with the goal of growing their net worth. |
| Our Review | Full CrowdStreet Review | Full Fundrise Review |
| | | |
---
CrowdStreet vs. Fundrise: Overview
CrowdStreet and Fundrise cater to different types of investors. Here is a brief overview of each.
About CrowdStreet
CrowdStreet is a real estate investment platform that focuses on commercial properties and is geared towards accredited investors who have a high income and net worth. It has been around since 2013 and worked on more than 488 projects. The platform will have five to fifteen different commercial projects at any given time. It also has non-traded REITs. You can invest in funds, individual projects, and custom portfolios. Read our full CrowdStreet review to learn more.
About Fundrise
Fundrise is a real estate investing platform accessible to a wide range of investors, including those who do not have a high net worth. Established in 2012, the platform has invested more than $4 billion in real estate. It specializes in eFunds and eREITs. These are proprietary investments that are not publicly traded. You can start investing in real estate with Fundrise for as low as $10. Read our full Fundrise review to learn more.
---
CrowdStreet vs. Fundrise: How Do They Work?
Even though both platforms offer similar products and services, it's worth exploring how they differ from each other.
CrowdStreet
CrowdStreet is the largest commercial real estate marketplace and is open only to accredited investors. If you want to invest through CrowdStreet, you need to have an annual income exceeding $200,000 (or $300,000 for joint income), and a net worth exceeding $1 million, excluding a primary residence.
The platform allows you to invest in real estate properties which is similar to investing in a stock. So, if you have $250,000, you can build a commercial investment portfolio based on your goals and needs.
Fundrise
A real estate investment platform, Fundrise provides investors access to proprietary real estate investment trusts (eREITs) as well as eFunds which are not available publicly. If you meet the basic investment requirement, which is as low as $10, you can invest through Fundrise.
Fundrise has an investment offering of residential and commercial real estate properties. There are five tiers and every tier will have a minimum investment amount and will carry different services. Here are the five account tiers:
Starter: This is the most basic account level and only requires $10 in opening investment. It will provide diversification through the Flagship Fund and will allow you to set the automatic investment of $10 or more each month. There will be automatic reinvestment of dividends and it offers access to penalty-free redemption opportunities.
Basic: At the second level is the Basic plan which has all the features of the Starter plan and an option to set investment goals and invest through an IRA. You will have to make the lowest investment of $1,000 where you also get access to their Fundrise IPO.
Core: Core will require an investment amount of $5,000 and you get the opportunity to customize the investment based on your goals like income, balanced returns, or growth. It also allows diversification across different funds and an opportunity to invest in any open eREITs. With each person you refer, six months of your advisory fees will be waived.
Advanced: The Advanced tier will start at $10,000 and you get all the Basic and Core account perks. You can also invest in the Fundrise eFund and the plus plans. With each referral, you can enjoy a nine-month waiver in advisory fees.
Premium: The top tier account is the premium account, which needs a minimum investment of $100,000 and will provide access to the offerings only available for accredited investors. You will get priority access to an investment team and with each person you refer, an entire year of advisory fees will be waived.
---
CrowdStreet vs. Fundrise: Main Features
Both of the platforms have different approaches and offers, which makes them unique. Here's a summary of their features.
| | | |
| --- | --- | --- |
| | | |
| Minimum Investment | $25,000 | $10 (Starter Portfolio), $1,000 (Basic Plan), $5,000 (Core Plan), $10,000 (Advanced Account Level), $100,000 (Premium Account Level) |
| Account Fees | 0.50% to 2.5% (Funds); Project Fees Vary | 0.85% (Asset Management Fee) and 0.15% (Advisory Fee) |
| Offering Types | Debt, Equity and Preferred Equity | Debt, Equity and Preferred Equity |
| Property Types | Commercial Real Estate (CRE) | Commercial Real Estate (CRE), Residential and Single Family |
| Advertised Returns | 11.8% to 20.2% (Average returns) | 10.1% (Average returns) |
| Distributions | Varies by Project | Varies by project |
| Time Commitment | 2-10 years | 5+ years |
| Promotions | None | Advisor Fee Waived (*12 months) |
| Secondary Market | | |
| Accreditation Required | | |
| Self-Directed IRA | | |
| 1031 Exchange | | |
| Best For | Accredited investors looking to diversify their portfolio | Investors looking for a low-cost entry into real estate investing |
| | | |
CrowdStreet
CrowdStreet comes with great features out of the box from the types of deals they offer to their vetting process.
Vetting Process
There is a three-step vetting process with CrowdStreet. Each property sponsor will have to go through this process before the property is listed on the platform. CrowdStreet will dig deeper into the background and track record of the developer. They will evaluate each property to ensure consistency and finally, they will review the terms of the offer to make sure the criteria are met.
Individual Property Investment
You can browse deals on the CrowdStreet Marketplace and invest directly in individual projects. It remains a passive investing experience because the project is managed by the sponsor. You can invest in office, retail, and apartment complexes which will allow you to diversify the portfolio as they are across different geographic locations. You also get access to documents on the property that you can take a look into before investing.
Fund Investing
If you do not want to invest in a single property, you can consider a real estate fund. This will help diversify the investment across different properties at a time and you will not have to spend the time building a portfolio. CrowdStreet allows you to invest in single sponsor and CrowdStreet funds.
Single sponsor funds: The single sponsor fund is led by individual real estate firms that specialize in a specific asset class or region.
CrowdStreet funds: The fund is managed by the team of real estate professionals at CrowdStreet and they follow their proprietary process to give you access to the deal flow from the different sponsors.
Managed Portfolios
You can also invest in a portfolio tailored to your financial situation. The Advisory Service Team will help you invest keeping your goals in mind and will build a customized portfolio for you. Once you agree to the strategy, the team of advisors will invest in the deals on your behalf. But for this service, you need a starting balance of at least $250,000 and the fees will depend on the size of your investment.
Different Types of Deals
You can invest in four different types of deals as mentioned below:
Opportunistic deals: This has the highest risk and highest returns. It has little or no cash flow and complicated business plans. The highest return in the deals was 88.4% and the lowest return was -66.2%, while the average return was 11.8%.
Value-added deals: This deal will increase your cash flow and make improvements with time. It is also a very common risk profile. The highest return in the deals was 42.8% and the lowest was a complete loss while the average was 20.2%.
Core-Plus deals: The Core-plus deals are high-quality properties that provide regular monthly cash flows for maintenance and lower cash flows for investors. The highest return was 19.7% while the average was 12.6% and the lowest was 7.5%.
Core deals: If you want a stable cash flow, core deals are a safe bet. They are situated in the top markets but there is no performance data available for them.
Educational Resources
CrowdStreet offers a range of educational resources to investors. You can read about the investment and understand the Marketplace well. Additionally, you have access to StreetBeats which are videos where sponsors, investors, and leaders talk about the market.
Fundrise
Like CrowdStreet, Fundrise has a lot of features and things worth noting like their low investment minimums and dividend reinvestment program.
Low Investment Minimums
If you want to be a part of a real estate investing platform for an amount as low as $10, Fundrise is a good choice. You can start investing with only a handful of dollars and be a part of the real estate industry. There is no requirement to be an accredited investor to invest through Fundrise.
Self-Directed IRA Accounts
Through Fundrise, you can invest in the traditional and Roth IRAs held at the Millennium Trust Company. It is an ideal investment for retirement but there is an annual fee of $125 over and above the standard fees.
Dividend Reinvestment
Through dividend reinvestment, you can grow your wealth and Fundrise has a Dividend Reinvestment Program that will allow you to reinvest dividends automatically at no extra cost.
Fundrise IPO
Fundrise has an internet Public Offering where you can buy shares of Fundrise's parent company as an early-stage investor in the growth of the company. The shares cannot be publicly traded and there are no costs associated with them, but the minimum investment amount is $1,000.
Goal-Based Investing
With the Basic account level and upwards, you can plan a long-term investment like a large purchase or even retirement. There is a goal tracker you can use to see if they are on track and it will also give recommendations on the steps you must take to achieve the goals.
eFunds and eREITs
With Fundrise, you can invest in 18 types of eFunds and eREITs which aren't publicly traded funds. The offerings are growth, income, income and growth, and balance-focused. These funds invest in different projects at a given time and you get access to the details of every project the fund includes like timeline, projected returns, investment size as well as market analysis.
Redemption
Since you cannot sell the shares of eFunds or eREIT you are investing in, Fundrise has a redemption program where you can sell the shares back to the company. You will have to pay fees for this service and they range anywhere between 0% to 3% of the share price. If you redeem within the introductory 90-day period, there is no fee. Fundrise can suspend the redemption at any time.
Different Portfolio Levels
There are five different account levels with features that will open as you grow the investment. They all come at the same advisory fee and will give access to auto-invest, dividend reinvestment, and registered products.
User-Friendly Platform
It is easy and simple to set up an account with Fundrise. There is a dashboard that streamlines the investment process and makes it more transparent and simpler.
Get Access to Private Funds
With the Premium account level, you also get access to the private funds that become available periodically.
Build a Portfolio in Real Estate Without Being a Landlord
You can get started for as low as $10 and build a real estate portfolio without being a landlord. It will also help diversify the portfolio.
---
CrowdStreet vs. Fundrise: Investment Options
Despite being in the same industry, both of the platforms cater to different audiences and have different investment options.
CrowdStreet
With CrowdStreet, you only get to invest in commercial real estate.
Fundrise
Fundrise allows you to invest in commercial real estate, residential and single-family properties.
---
Crowdstreet vs. Fundrise: Returns
Investors are always concerned about returns and though there is no guarantee on the same, we have past figures and historical performance to judge the platform's ability to make money.
CrowdStreet
All of us want to make money from an investment but real estate platforms do not give any guarantees on returns. But, CrowdStreet does provide historical performance figures to give an idea to the investors. You can compare the returns for the risk profiles tracked in real estate starting from opportunistic, value-add, core-plus, and core.
CrowdStreet has an internal rate of return of 17.1%, which is based on the future cash flow expectation over the holding period.
The equity multiple is 1.39X, which is the total cash distribution from the investment divided by the equity invested.
The holding period is 2.3 years, which is the amount of time between the sale and purchase of a deal.
CrowdStreet had the lowest return (95.8% loss), average return (14.2%), and highest return (91.9% gain) on the realized deals.
Fundrise
Like CrowdStreet, Fundrise does not guarantee any returns and the past performance also does not promise future returns. But we can take a look at the average annualized returns for the past few years to understand the track record of Fundrise.
2021: 22.99%
2020: 7.31%
2019: 9.16%
2018: 8.81%
2017: 10.63%
---
Crowdstreet vs. Fundrise: Fees & Commissions
Here's an overview of the fees you will pay on the platform.
CrowdStreet
CrowdStreet has high minimum investment criteria of $25,000 but there are no fees to use the platform. There are fees related to the specific projects and they vary. If you invest in one of the CrowdStreet funds, the fees will range from 0.5% to 2.5% of the investment amount on an annual basis.
Fundrise
Fundrise will charge several fees as listed below:
Annual asset management fee: 0.85%
Annual advisory fee: 0.15%
Annual fee of $125 for IRA investing
You do not have to pay any sales commission or transaction fees. But there could be a fee for additional development in case of a specific project.
---
Crowdstreet vs. Fundrise: Platform and App
There is fierce competition in the industry which has led the platforms to build user-friendly interfaces and apps. Here's what's available for you.
CrowdStreet
CrowdStreet does not have a mobile app and only offers a website. The website functionality is great and it is easy to use.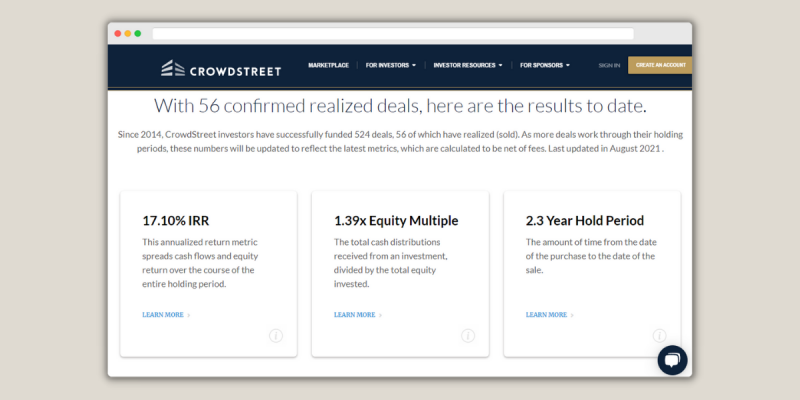 Fundrise
Fundrise has an easy-to-use website and a user-friendly mobile app. The platform is simple and straightforward with a quick and hassle-free signup process.
---
CrowdStreet vs. Fundrise: Customer Support
If you ever need to contact the team for assistance, here's how you will be able to do so.
CrowdStreet
It is easy to reach CrowdStreet customer service through email, phone, chatbot, or the contact form. You can get 24/7 assistance through chatbot but the support team will only be available from Monday to Friday during business hours.
Fundrise
Fundrise does not have an easy way to get in touch with the team unless you are a premium account-level member. They get priority support and a chance to schedule a call. The investors from the other four account levels have limited services in terms of contacting the team. You can send an email or contact the team through the contact form on the website but the response may take time. There is no number to speak to the team members.
---
CrowdStreet vs. Fundrise: What We Like (Pros)
Here are the best features of both of the platforms.
CrowdStreet
Zero management fees
Get access to individual real estate deals
Many account options to choose from
Vetted projects
Investor resources
Site transparency
Fundrise
Different plans ideal for all types of investors
Access to a diverse portfolio
Low minimum investment
Access to proprietary funds
With more investment, you get access to more features
Invest in real estate without being a landlord
Simple and transparent process
---
CrowdStreet vs. Fundrise: What We Don't Like (Cons)
Both the platforms are great but they do have some drawbacks.
CrowdStreet
You can only invest in commercial properties
The investment requirement is high
Highly illiquid
Only open to accredited investors
Fundrise
Annual fees as high as 1% of the portfolio
Smaller investors get limited features
No option to invest in individual properties
Highly illiquid
No guarantee about redemptions
---
Who Is CrowdStreet For?
CrowdStreet is a traditional option and requires you to be an accredited investor. Hence, you need to have a high income and net worth to invest. This makes the platform suitable for accredited investors, those who want to expand their portfolio, and high net-worth individuals.
Minimum Investment: $25,000
Fees: 0.50% to 2.5% (funds), project fees vary
Promotion: None
Who Is Fundrise For?
Fundrise is for beginners. It is for those who do not have a huge net worth or income and want to start an investment for as low as $10. This has opened the doors to those who may not have a high net worth and have not been able to afford to invest in real estate in the past. It is ideal for new real estate investors and those who want to try out the market.

---
FAQs About CrowdStreet vs. Fundrise
We've found some of the most frequently asked questions with regards to CrowdStreet and Fundrise, here are our answers.
Do I Need to be an Accredited Investor to Invest with CrowdStreet or Fundrise?
To join CrowdStreet, you need to be an accredited investor. You must have a net worth of at least $1 million excluding your primary residence and you should earn at least $200,000 annually ($300,000 for joint income). CrowdStreet will require you to verify your status before you can join. On the other hand, accredited and non-accredited investors alike can sign up to Fundrise.
Which Platform Is Better: CrowdStreet or Fundrise?
No platform can be better than the other for all types of investors. You must understand the eligibility requirement, financial goals, fund availability, and personal preferences before you choose a platform. If you want to invest in single-family rental properties, Fundrise is an ideal platform. If you want to invest in office buildings, either platform can work for you.
Which Platform Is Better for Beginners, CrowdStreet or Fundrise?
If you are getting started in real estate investment and wondering how to go about it, you can consider a platform that provides you with the right investment opportunities. As a beginner, Fundrise is a great platform as it does not require you to be an accredited investor. So you do not need to worry about your income or net worth. However, it will not offer individual properties.
---
Final Thoughts
Both these platforms are great for those keen on investing in real estate. So you need to know your goals and financial situation to decide the right fit for you. If you are a beginner, CrowdStreet will not be an option because of the accredited investor requirement. If you are a new investor and have a lower net worth, you can use Fundrise.
If you have the net worth and qualify for both platforms, you need to consider the investment options you are interested in. If you want individual deals and funds, use CrowdStreet. However, if you want the diversification of a REIT, then Fundrise will be a good choice. Again, another factor is the cost. You will pay more for Fundrise because of the management and advisory fees.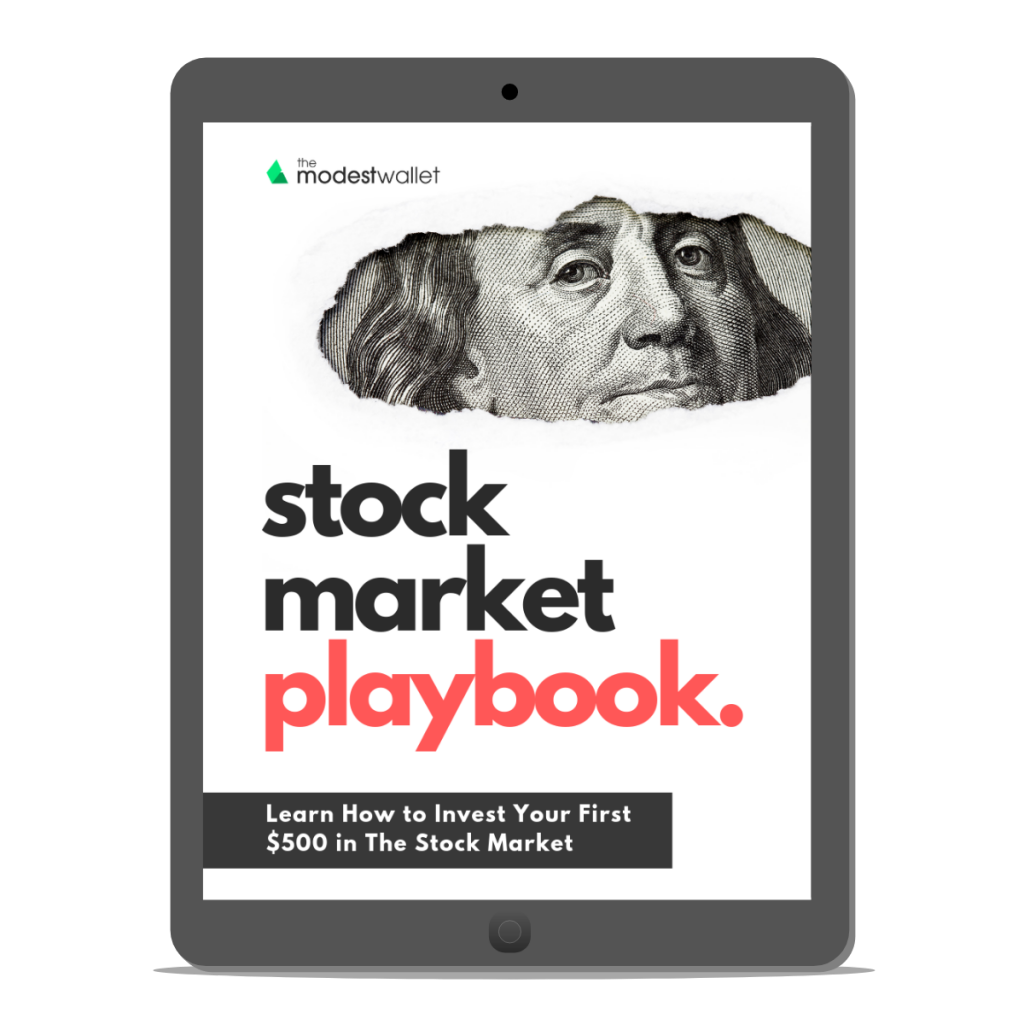 Get our free Stock Market Playbook to learn how to invest your first $500 in the stock market.
Plus our best money tips delivered straight to your inbox.

Vandita Jadeja is a chartered accountant and a personal finance expert. She has experience in marketing and content creation. Her work has been featured in Forbes Advisor, Business Insider, Joy Wallet, and InvestorPlace. She loves dogs, books, and mountains.