21 Best Data Entry Jobs From Home in 2023
Many or all of the products featured on this page are from our sponsors who compensate us. This may influence which products we write about and where and how the product appears on a page. However, this does not influence our evaluations. Our opinions are our own. Here is a list of our partners and here is how we make money.
---
The information provided on this page is for educational purposes only. The Modest Wallet is a financial publisher that does not offer any personal financial advice or advocate the purchase or sale of any security or investment for any specific individual.
In recent years, work-from-home jobs have become the new normal instead of just an occasional exception. About 58.6% of the American workforce is currently working remotely. It's not surprising, either, considering how many millions of people are able to work at a greater capacity when allowed to do so from home.
What once started as the occasional office work from your PC has evolved into an entire culture full of freelancers, digital nomads, contract labor, and remote employees.
You don't have to be particularly skilled to work from home, either. One of the most common work-from-home industries is data entry- a field that is entry friendly and requires little to no education or experience. There are over 151,644 data entry clerks currently employed in the United States.
If you're looking for data entry jobs from home, this article has everything you need. We will cover the best platforms to find jobs on, skills you may need, and even alternatives to data entry you may not have considered.
---
What Are Data Entry Jobs?
Data entry jobs are exactly what they sound like: jobs where you get paid to enter data into a program using your computer or laptop.
Although you may find a lot of companies in this article that offer data entry jobs, however, the term in question means different things to different businesses. Where one place might consider data entry to be pulling data from one spreadsheet and entering it into another (essentially copying and pasting), another might require you to take numbers, plug them into a formula, and input the result as your job.
In general, though, all data entry jobs will involve these two things:
Being provided with raw data from sources like web forms, surveys, or paper records
Entering that data (or a version of it) into a new source, like spreadsheets or company software
The data you get can be just about anything— from names and birthdays to industry-specific codes (such as in healthcare).
It also (usually) doesn't require excessive mental engagement. Your employer will mostly be looking for repetition, speed, and accuracy.
---
Best Platforms to Find Data Entry Work
Finding data entry work can feel difficult if you don't know where to look. This is mostly because you don't know who to trust, what the pay looks like, or what hours are expected of you. In fact, a quick search of "data entry jobs near me" will return hundreds of thousands of results.
So, instead, use this article as a baseline. Take the things you read here and use them to narrow down your options from hundreds to a good two or three.
1. FlexJobs
FlexJobs is a job board where companies and individuals can post odd jobs they don't want to assign to their regular employees. Often, this includes data entry positions.
What's better is that FlexJobs' leads are researched by human employees before they are allowed to be posted. This means most scams are filtered out before they get to you. Because of this service, though, you'll need to pay a monthly subscription fee to use the platform.
You should also keep in mind that some jobs will be one-off, and others will be semi-permanent/hire-on. It's up to you to read the specifics and make sure you apply to the ones that best suit your needs.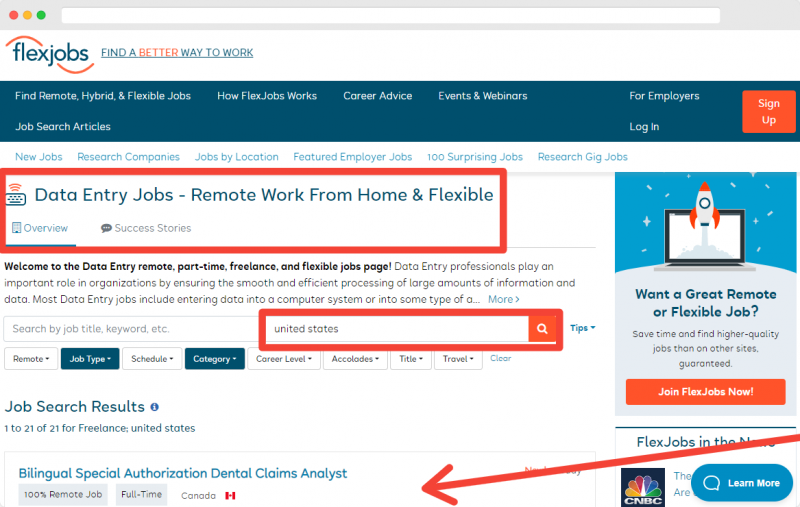 2. Upwork
Upwork is a freelancing platform where you can search for individual assignments posted by businesses and individuals. It's free to use, intuitive, and simple to get jobs.
All you need to do is sign up, search for data entry jobs in the search bar, and apply to the ones that stick out to you.
The jobs you come across can be one-offs, or you might be lucky enough to find an ongoing assignment.
Data entry specialists on Upwork can earn between $10 to $20 per hour. However, there are definitely opportunities to earn more depending on the scope of the project and your experience.
3. Fiverr
Fiverr is another freelancing platform that lets freelancers set up profiles and sell their services. However, it is set up a little differently than most other sites.
Rather than being a buyer-to-seller platform (like Upwork or FlexJobs), Fiverr is seller-to-buyer. In other words, you set up a profile and the services you offer. Your buyers will go through the list of offerings that match what they need and sometimes see and select yours.
Additionally, the Fiverr gigs you create will have pre-set prices you determine, starting at $5 (hence the name) and ranging all the way up to $20,000. You set your own hourly rate, but the general average pay is $50 per project (for about 10 hours of work). Ultimately your earnings will depend on your skillset and scope of services.
Because of this unique set-up, you'll want to put special emphasis on describing your skills, qualifications and making yourself stand out amongst the competition.
Fiverr is free to sign up and use, and since buyers message you first, it's a great way to automate getting assignments.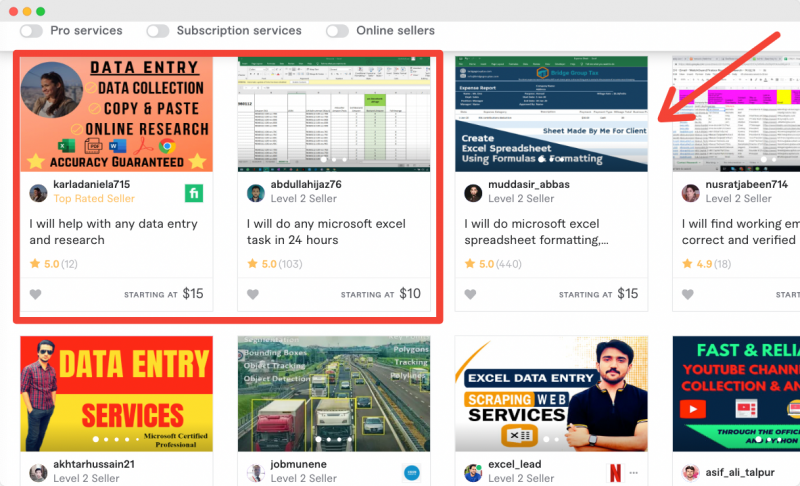 4. Indeed
Indeed is touted as a site where companies can publish job ads to scout for new talent. Most people use the site to find local jobs where they can send their resumes. However, Indeed also has a massive selection of remote data entry jobs for you to choose from.
With Indeed, all you need to do to get started is sign up and upload your resume. Then, anytime you find a job you want, you can use the one-click-apply feature. This helps you apply to tons of data entry jobs in a short amount of time, further increasing your odds of getting an assignment.
According to Indeed, on average, data entry professionals earn about $17.45 per hour in the United States. This rate will vary depending on your location, experience, and scope of services.
5. Glassdoor
Glassdoor is another job site like Indeed where companies post their available positions, and individuals like yourself can search for and apply to them. In fact, most companies that post to indeed will also crosspost to Glassdoor for maximum exposure.
However, some businesses will prefer one to the other, so you're likely to find jobs on Glassdoor that aren't on Indeed and vice versa. So, if you want to get the most out of your job search, you're best off searching on both of these sites instead of one or the other.
Glassdoor reports that, on average, data entry specialists earn between $18 to $22 per hour in the United States or $37,000 per year. Again, these salary and hourly rates will vary depending on a number of factors, including location, experience, and complexity of tasks.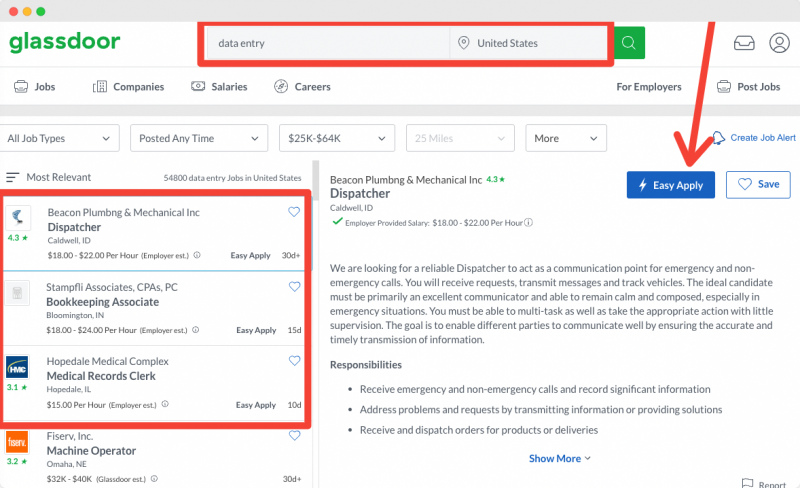 6. Virtual Vocations
Virtual Vocations is similar to FlexJobs in that you can find posted assignments and bid for them. However, dissimilar to FlexJobs, Virtual Vocations is free to use (on a limited basis).
With the limited membership, you'll receive a list of jobs in your niche every day to look through and choose from. If you want more than just that list, you'll have to pay for a premium membership.
With the premium membership, you get more than extra jobs to apply to, as well. You also get to customize your profile to attract more gigs and take online courses to showcase your skills.
You will be able to find remote data entry jobs ranging anywhere between $18 to $25 per hour.
7. SimplyHired
SimplyHired is a job search engine that takes results from around the web and compiles them into one place. In other words, jobs don't necessarily post to SimplyHired directly. Instead, they take job postings from across the web and list them in their custom search engine.
For example, when you search for data entry jobs, you may see results from Indeed, Glassdoor, or even small third-party sites. Because of this, the average pay per hour listed above is more of an industry average than a site average. You could be asked to accept as little as minimum wage or as much as $60 per hour. It all depends on the companies you choose to send your resume to.
On average, you will be able to find remote data entry jobs on SimplyHired ranging between $18 to $30 per hour, depending on your location and other variables.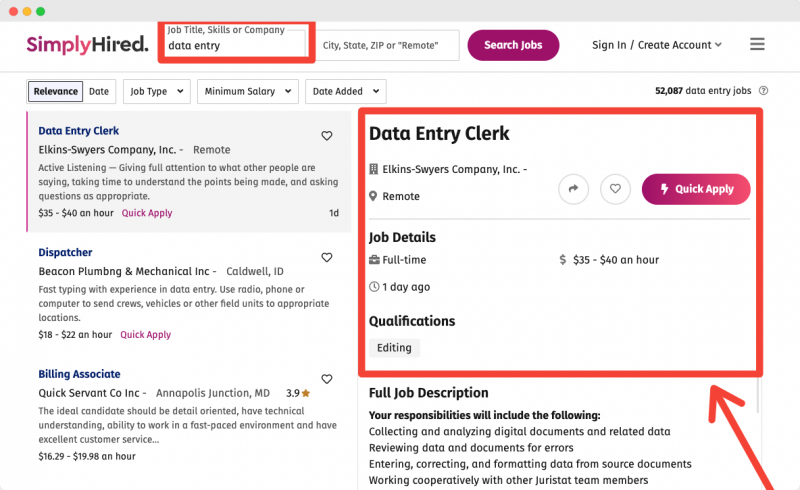 8. ZipRecruiter
ZipRecruiter is rated as the number one job site in the US for discovering new opportunities. They have a wide selection of jobs to choose from, including a massive compilation of data entry-based opportunities.
Most of the jobs on ZipRecruiter are career-based, so if you're looking for more one-off jobs, this site might not be for you.
According to ZipRecruiter, data entry specialists, on average, earn around $20 per hour in the United States.
9. We Work Remotely
We Work Remotely is a job site that posts exclusively remote jobs. This is especially great because you won't have your job search clouded by data entry jobs that are non-remote.
Additionally, recruiters that are most on this site pay $299 per job posting, so the odds of finding spam or scams on this site are exceedingly low.
We have seen data entry job opportunities ranging from $15 to $20 per hour on We Work Remotely.
---
Best Micro Task Platforms to Find Data Entry Jobs
For those who are unfamiliar, micro-tasks are jobs that are one-time and don't take much time to complete. These are popular choices for those who want tasks they can complete whenever they have a free moment or who have unpredictable schedules.
10. Clickworker
Clickworker is a popular crowdsourcing platform looking for workers to perform small, one-time tasks. Most of the tasks on the platform are data entry as well, such as filling out forms and transcribing audio files. This means that Clickworker is going to be one of the easiest places to find microtask opportunities.
Getting started is easy, as well. Once you sign up, you'll be asked to complete an assessment. Your performance on this test dictates the number, type, and difficulty of assignments you'll be given. Naturally, the higher you score, the higher pay you'll be eligible for.
On average, hourly rates for data entry jobs in Clickworker are around $10.50 per hour.
11. Microworkers
Microworkers is another site that offers a variety of data entry jobs, among others. Additionally, many of the tasks on Microworkers pay more than other micro-task-based platforms.
However, it can be frustrating for some people because you are only paid for approved work. Because this opens the door for scams to take advantage of workers, you'll be shown a percentage of how many assignments have been approved versus denied to help you keep yourself safe.
The average hourly rate for data entry jobs is around $20 per hour on Microworks.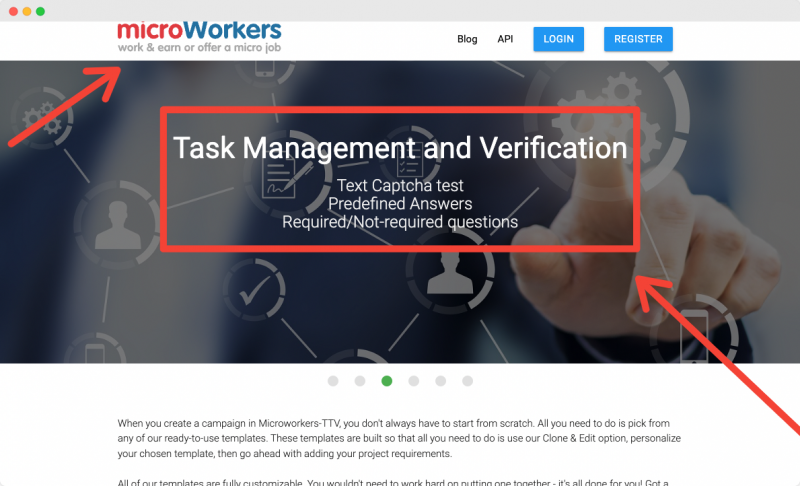 12. Amazon MTurk
Amazon Mechanical Turk (or Amazon Mturk) is Amazon's version of a microtask job platform. Essentially, Mturk matches remote workers like yourself with people who need small tasks completed.
You should keep in mind, though, that Mturk is a relatively new platform and isn't as polished as many others currently in operation. For example, some of the data entry tasks take a long time to complete (greater than 2 hours) and pay very little. In fact, many jobs on Mturk pay below the US minimum wage.
Furthermore, the jobs on Mturk are not filtered for scams (contrary to platforms like FlexJobs), so you have to be selective about the tasks you take on. It's also possible to receive no pay for a contract if the buyer says they aren't completely satisfied with the work.
In essence, if you're using Amazon Mturk, exercise caution when choosing your assignments. On average, Amazon MTurk workers earn around $12 per hour doing data entry work.
---
Best Data Entry Transcription Jobs
Transcription is a sub-category of data entry that involves taking auditory or visual files and transferring the spoken content into a written file.
Despite there being a lot of overlap between transcription and data entry, some people don't consider the former to be a subcategory of the latter. However, they both require the same basic skills: computer literacy, word processing, and quick typing.
13. Scribie
Compared to other transcription platforms, Scribie has a relatively low payout at an average of $8 per hour. However, this doesn't mean you should take advantage of what it offers.
If you're new to transcription and looking to get started, Scribie can be an excellent place to train and get used to the industry. Additionally, because the pay is low, they're more forgiving of mistakes than other platforms.
Scribie works by taking people who sign up and putting them on a waiting list until there is a slot available for them. Once there is, you'll be prompted to take a test to evaluate your skill. If you pass, you'll be given a list of assignments to choose from. If you fail, you'll receive a report on where you went wrong and have the opportunity to retake it up to ten times.
After choosing your assignment, you must complete it within 2 hours, and you will be scored based on your accuracy. The higher your score, the more preferred your profile will be. Over time, this means getting better, higher-paying assignments.
After some time of consistently producing high-quality work, you can also apply to be promoted to "reviewer" status. This will upgrade your pay range even further.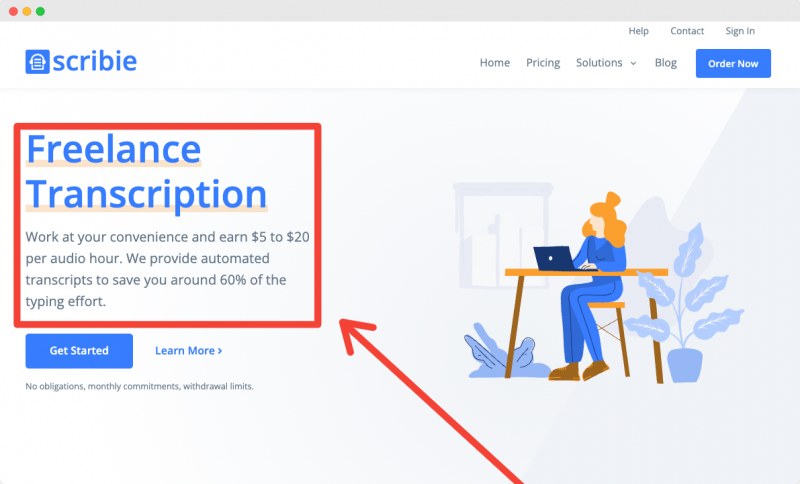 14. Accutran Global
Accutran Global is a platform that mostly hires for transcription services but will occasionally have regular data entry jobs as well. However, you should be aware that they only hire workers from the UK and Canada, which disqualifies a large majority of people.
If you do live in one of these two locations, though, you'll need to score well on their online assessment before you're allowed to work for them. This means scoring a minimum of 70 WPM (words per minute) on a typing test, among other things.
Furthermore, if you do well with the work you're given and prove yourself to be reliable, you could potentially be offered a position in a different department where pay is higher. This usually means moving on from transcription to something more intellectually stimulating while maintaining your remote status. On average, transcriptionists make around $15 per hour.
15. Kendall Creek Communications
Kendall Creek Communications specializes in legal transcription and is one of the most avid employers of remote workers in the continental US. They sport a massive list of clients (including several government agencies), so they don't usually have a shortage of work. This makes them more preferred than many other agencies on this list.
They also don't have typical "employees" and instead hire individuals as contract workers. As such, the hiring process may look a little different than what you're used to. You also will receive a 1099 tax form instead of a W-2.
However, be careful that you are only applying on their official website. Some scammers across the web will pretend to be them and ask for sensitive information. On average, transcriptionists make around $12 per hour with Kendall Creek Communications.
16. GoTranscript
GoTranscript offers transcription jobs, as well as captioning, subtitling, and translating opportunities in tons of languages.
To sign up and be eligible to work with them, though, you must pass their online assessment with a minimum score of 95%. If you're able to do that, you'll move on to complete training and certification before you're hired.
Depending on your skill level, you can expect to earn anywhere between $18 to $23 per hour on GoTranscript.
17. Rev
Rev is another freelance website where individuals and companies post jobs they need done but don't want to hire employees for. Oftentimes, this includes transcription work.
They work much the same as Upwork in terms of their sign-up process and getting jobs. You should note, though, that the average hourly rate listed above applies to only the transcriptionist jobs; other industries on the platform may pay much more per hour or much less.
Depending on your skill level, you can expect to earn anywhere around $10.40 per hour on Rev.
---
Other Data Entry Job Opportunities
There are also other data entry job opportunities that do not necessarily fall within the categories mentioned before, but they are still worth considering.
18. Axion Data Services
Axion Data Services is one of the biggest companies for well-paying data entry jobs. As is to be expected, though, this means positions with them are in high demand. They don't release new positions very often, either, but it's always a good idea to get registered on the off chance they select you for one. This required paying a small fee, but it is well worth it if you're able to secure a job with them.
It should be noted that Axion Data Services is not an entry-level data entry company. In order to register with them, you must have 2-3 years of experience and a minimum typing speed of 50 WPM. You also have to pass a background check.
Once you are accepted to a position, Axion Data Services will essentially act as your data entry broker. Companies seeking out quality contract work will connect with them, and they will pass those opportunities on to you. On average, you can expect to earn around $18.50 per hour at Axion Data Services.
19. Sigtrack
Sigtrack is a company dedicated to processing voter registration forms and petition signatures. As you might expect, working with them involves tasks related to one or both of these things. For example, you might be assigned to cross-reference data and figure out which signatures on a petition are from voters and enter those into a spreadsheet.
Due to the nature of this work, though, you must be a United States citizen to participate in most jobs. You can expect to earn around $13 per hour at Sigtrack.
20. Capital Typing
Capital Typing is a massive virtual office that provides VA (virtual assistant) services like data entry, transcription, translation, and secretarial duties.
As far as data entry goes, working for Captial Typing will be completing jobs like data extraction and research, database development, direct mail, and general marketing.
To apply, all you need to do is go to their website and apply. If they are interested in proceeding with your application, an interviewer will call you and set up a Skype appointment to see if you're a good fit.
Additionally, if you produce quality work, you've got a good chance of being promoted to a better position later on. You can expect to earn around $10 per hour at Capital Typing.
21. Working Solutions
Working Solutions is a call center that offers a ton of work-from-home careers, including data entry positions.
Like many other entries on this list, Working Solutions requires you to pass their online assessments before you are eligible to work with them. After passing the test, it can take up to two weeks for your application to be approved. Once you have confirmation they've accepted it, though, you'll be able to be chosen for various programs.
US residents should be aware, though, that Working Solutions does not do business in California, New York, Pennsylvania, or Washington. It does do business in other countries as well.
Lastly, Working Solutions requires you to pay for your own background check. They are a legitimate community, though, and this is common practice for many remote hiring locations. You can expect to earn around $15 per hour at Working Solutions.
---
Skills Required for Data Entry Jobs
Data entry is considered a low-skill job, but that doesn't mean there aren't still skills you should have if you expect to succeed. We've already discussed a few, like quick typing and computer proficiency, but there are still a few you should know about:
Computer Skills
As you may have guessed, the top skill you should have for data entry jobs is computer skills. This includes having a high typing speed to input large amounts of data in short amounts of time. Most companies hiring for data entry will expect you to be able to type at least 40 to 50 words per minute.
Past that, you'll also be expected to be familiar with a variety of computer software programs. Most often, this will involve word processors and spreadsheets like Microsoft Word, Excel, or Google Sheets.
You may also be expected to develop skills quickly as you learn the company's custom software. In most cases, you'll need to be proficient and have basic familiarity with company software in as little as a week or two.
There are other computer-related skills you'll need to have as well, such as being comfortable with input devices like keyboards, mice, printers, etc.
Communication Skills
If you want to be as successful as possible at data entry, you should start developing your written and verbal communication skills now. No matter how good they are currently, you'll always benefit from strengthening them. By doing so, you'll be eligible (and often preferred) for higher-paying jobs.
This is because, as a data entry specialist, your work relies on accuracy. You need to be able to minimize spelling and grammar mistakes, especially when inputting data.
Additionally, having good communication skills will help you interact with your supervisors, ace interviews, and wow customers.
Organizational Skills
As a data entry specialist, you are expected to cram as much work as possible into as short a time frame as you can. As such, both organizational and time management skills are an absolute must.
Having good organization skills helps you prioritize and block out your time to achieve your daily goals efficiently. And, of course, having both quick turnarounds and high accuracy helps you get better, higher-paid jobs.
Examples of organizational skills that will help you in the data entry field are:
Being able to stick to deadlines and create a schedule
Breaking your work down into manageable goals
Using your planning skills to stay on track
Maintaining a tidy workspace
Typing Skills
We've mentioned it time and time again, but we really can't emphasize enough how important it is to have good typing skills. Because of this, we've given it its own category beyond having general computer skills.
As mentioned, most companies expect you to be able to type 40 to 50 words per minute just to qualify for a job with them. However, most highly paid-jobs will require upwards of 70 words per minute. Essentially, the faster you can type, the more opportunities that will be available to you.
Not only that but you'll be expected to maintain those typing speeds reliably while also keeping errors to a minimum.
If you aren't quite at that speed yet, don't worry. You'll get faster the more jobs you take, of course, but you can also build your skills by using typing practice websites like keybr.com. Some practice websites make typing into fun games as well, like nitrotype.com.
---
Alternatives to Data Entry Work From Home
Data entry work is a convenient option if you're looking for remote work, but it isn't for everyone. If you've tried data entry and it isn't for you (or don't think it's right for you after reading this article), there are always alternatives for you to try.
Freelance Writing
Freelance writing is perfect for those who want the convenience of a remote job but don't think data entry would be stimulating enough for them. For those unaware, freelancing is a common practice where, instead of working for a company, you obtain clients on your own and set your own prices.
Freelance writing is a great alternative because of its versatility. For people who want to specialize in one area (such as blog writing), you can focus on building just that skill. For others who find themselves bored by doing the same thing over and over again, there are tons of subcategories of freelance writing you can add to your portfolio. Some of these include:
Blog writing
Product descriptions
Press releases
Newspaper writing
Web copy
Technical writing
Instructional writing
Ghostwriting for books
This is just a small sample of the many freelance writing opportunities that are out there.
Additionally, much like freelance data entry, the amount you can make per hour (or even per year) is virtually unlimited. It is, however, much easier to charge higher prices for freelance writing work than for data entry because it is considered to be a more in-demand skill.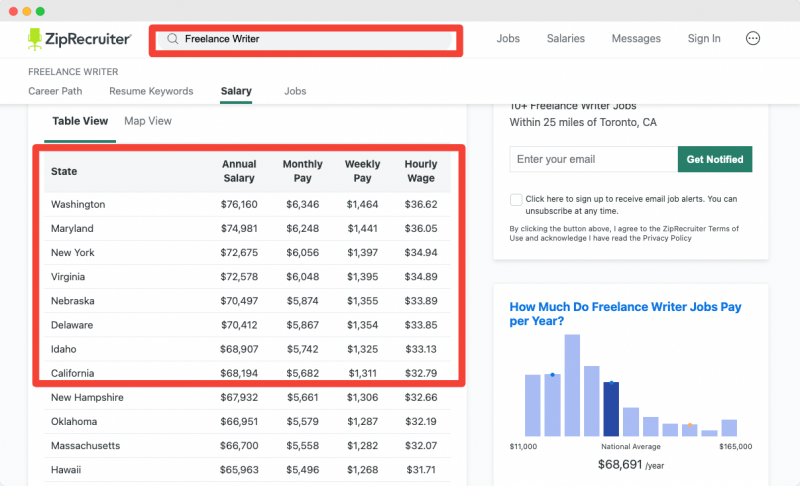 Proofreading
Proofreading is sometimes considered to be a subset of freelance writing (if you're doing it freelance). However, it is generally less difficult and takes less time. As such, you can get more assignments done in a shorter amount of time.
Proofreading can be done through a company or freelance, depending on your preference. It is a good alternative for those who want more stimulation than they would get with data entry and have a penchant for grammar and English mechanics.
Examples of things you might be asked to proofread include
Essays
Books
News articles
Blog posts
Technical writings
Instructionals
Web copy
Press releases
Product descriptions
Essentially, anything that can be written down can be proofread. And if it can be proofread, you can be hired to proofread it.
If you choose to do proofreading by first getting hired by a company, you can expect to make an average of $20 per hour, according to Payscale. However, companies usually prefer higher education when hiring proofreaders.
If you choose to proofread as a freelancer, you have a lot more freedom. You don't need any prior education, you can charge your own prices, and you can still work remotely. As such, your hourly rate is uncapped.
Virtual Assistant
Virtual assistants are remote-only employees who offer administrative support to individuals and companies requiring it. They do tasks that are typically expected of executive assistants, including but not limited to:
Scheduling appointments
Making phone calls
Arranging travel
Taking notes at virtual meetings
Reading and replying to emails
Organizing calendars
Usually, VAs are independent contractors, meaning they are mostly outsourced or freelance. That said, some companies do hire their virtual assistants as full-time employees.
As a virtual assistant, as with all freelance work, you can choose your own prices. That said, you can generally expect to make anywhere from as low as $7.25 an hour all the way up to $100+ per hour. On average, virtual assistants earn $25 per hour in the United States, according to Indeed.
Bookkeeping
Bookkeepers are responsible for keeping accurate, up-to-date financial information about the business employing them.
Oftentimes, the reports bookkeepers generate are sent to business owners and managers to help them make more informed decisions. However, because of their familiarity with the business's financial state, some bookkeepers are also involved in strategy development.
The two largest tasks you'll be responsible for as a bookkeeper are data entry and bank reconciliation. Essentially, you'll be inputting information into record-keeping software and checking bank statements against financial reports to confirm accuracy.
As a bookkeeper, it'll be up to your client/employer whether working remotely is an option or not. If you do work remotely, you'll likely be required to do periodic virtual meetings with them. Education requirements also vary, with some companies requiring none at all and others requiring a Bachelor's degree.
Depending on several factors (such as whether you're freelance, how much experience you have, how much education you have, etc.), your expected pay range can vary greatly. In general, bookkeepers make a minimum of $13 per hour and a maximum of $60 per hour. On average, bookkeepers earn $20 per hour in the United States, according to Salary.com.
---
How to Avoid Data Entry Scams
As remote data entry jobs skyrocket in popularity, scammers are taking advantage of the craze and creating new ways to farm your sensitive information and hard-earned money. It's not uncommon to come across data entry scams, but it is easy to stay safe so long as you know what to look for.
One of the biggest scams in the data entry industry involves asking you to pay money to secure a job. This can come in the form of them asking you to pay an "application fee" or asking you to pay for equipment they will later send in the mail. They may also ask you to pay to take an assessment, send them money to receive a certification, etc. And while there are some companies that do this are legitimate, it isn't worth it to take that risk.
That said, it is a very common practice to ask potential contractors/employees to pay for a background check. So long as this fee doesn't exceed $50, it shouldn't have any effect on whether you think they are legitimate or not.
Another common type of scam to watch out for are scams that involve sending you money. With these scams, they may ask you to perform a job and then tell you they will pay you by sending a check.
They'll then inform you they are sending more than what you are asking to be paid and ask that you send the overage back to them or to a third party. These checks usually bounce, leaving you with the bounced check fee and leaving them with the money you sent them.
All in all, if you think something doesn't feel right, it probably isn't. Data entry jobs are common and not difficult to find, so if you have to sacrifice an opportunity or two to avoid a potential scam, don't hesitate to do so.
---
FAQ Data Entry Jobs
We've found some of the most frequently asked questions regarding data entry jobs, and here are our answers.
How Much Can I Make as a Data Entry Specialist? 
There's no real minimum or maximum to what you can make as a data entry specialist. If you work slowly or don't take many assignments, you could average as low as $1 per hour. On the other hand, if you choose to freelance and acquire clients on your own, you can charge as much as you want per hour—even $100 per if you want (though you might not get as many clients at that price).
Most data entry specialists that work for or contract with a company, though, average between $10 to $30 per hour. 
Can I Work From Home as a Data Entry Specialist? 
Yes, in fact, just as many data entry specialists work from home as work in the office. Most companies won't even ask to monitor your work habits so long as you're delivering accurate, quality work. 
What Experience Do I Need to Offer Data Entry Services? 
No experience is required to offer data entry services in most cases. For platforms like Fiverr and Upwork, where you seek out your own clients, you aren't required to have any experience. However, your services will be chosen over your colleagues more often as you gain more experience.
You should also note that companies that don't offer entry-level positions (like Axion) will have their own requirements for data entry experience. Those usually consist of having been employed in the industry for a minimum amount of time (most often a year or two). These jobs will generally pay more than the average data entry position. 
What Education Do I Need as a Data Entry Specialist? 
The type of education you need as a data entry specialist depends on where you're getting work from. If you work for a company like Working Solutions, for example, they will usually require you to have at least a high school diploma or equivalent.
However, if you decide to seek out your own clients and become a freelancer, you don't technically even need that. This is because it will be up to you whether you disclose your education to your clients. However, having a degree in something like computer science could help you get better, higher-paying jobs.
---
Final Thoughts
The internet has been a boon to data entry workers. No longer chained to a specific desk, online data entry clerks can work with a huge number of clients from all over the world on their own schedule. If you choose to enter this field, you'll see a wide variety of opportunities.
Up Next
Get our free Side Hustle Handbook with the best strategies to multiply your income sources today.
Plus our best money tips delivered straight to your inbox.

Christa is a skilled researcher and serial entrepreneur. Her passion lies in providing people like you with ways to become financially independent without breaking the bank in the process. Currently, she's tested and perfected over 37 unique side hustles and brings that information to you through articles like these.