DiversyFund vs. Fundrise 2023: Which Platform Is Best?
Diversyfund and Fundrise are two popular real estate investment platforms making it easier for retail investors to get into real estate.

Reviewed By

Vanja Petrovic

Many or all of the products featured on this page are from our sponsors who compensate us. This may influence which products we write about and where and how the product appears on a page. However, this does not influence our evaluations. Our opinions are our own. Here is a list of our partners and here is how we make money.
---
The information provided on this page is for educational purposes only. The Modest Wallet is a financial publisher that does not offer any personal financial advice or advocate the purchase or sale of any security or investment for any specific individual.
If you want to invest in real estate, you have several options: you can buy a property and become a landlord, invest in publicly-traded REITs, or join crowdfunding platforms and invest in real estate deals there.
Crowdfunding real estate platforms are one of the best ways for beginner investors to get into real estate and benefit from this asset class.
This review will compare two of the most popular crowdfunding platforms, DiversyFund and Fundrise, both of which make it easy for investors to participate in the real estate market. While DiversyFund launched its offering in 2019, Fundrise started in 2015 and is one of the bigger fish in the pond.
We will look at their main features, investment options, and key differences. Moreover, you will get information on the pros, cons, fees, and which one is right for you.
| | | |
| --- | --- | --- |
| | | |
| Our Rating | | |
| In A Nutshell | DiversyFund is a real estate investment platform where users (accredited and non-accredited investors) can get access to commercial real estate deals with as little as $500. | Fundrise is an online real estate platform that allows investors access to a portfolio filled with dozens of real estate projects — each one carefully handpicked and proactively developed with the goal of growing their net worth. |
| Our Review | Full DiversyFund Review | Full Fundrise Review |
| | | |
DiversyFund vs. Fundrise: Overview
DiversyFund and Fundrise operate in the emerging real estate crowdfunding space. They aim to level the playing field for retail investors. However, while both use similar investment vehicles, their approaches and execution differ.
About DiversyFund
DiversyFund is a relatively new online crowdfunding investment platform specializing in acquiring undervalued real estate and renovating it to increase cash flows. The platform is open to accredited and non-accredited investors alike.
They currently offer one public non-traded real estate investment trust that targets value-add multi-family property around the country. Investors need only $500 as a minimum investment to buy shares of this REIT. Learn more about the platform in our DiversyFund review.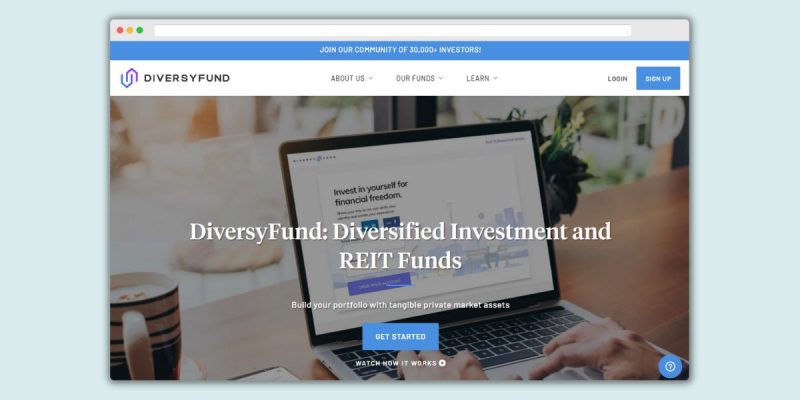 About Fundrise
In contrast, Fundrise is one of the largest crowdfunding platforms in the real estate niche. They welcome all investors and provide institutional-level investments at very low minimums. On Fundrise, investors can deploy their capital into diversified low-cost portfolios and don't have to pick their own REIT. Fundrise does all the heavy lifting for you.
Five Account levels offer different features and target different investors. The Starter level is perfect for beginners as it only requires a $10 investment, while the other account levels offer more advanced investment options at higher investment minimums. Read more about the company in our Fundrise review.
DiversyFund vs. Fundrise: Requirements
Both platforms are open to all investors and require less than $1,000 to start. There is no need to be an accredited investor, which would otherwise require a net worth of $1 million or an annual income of $200,000 for the last two years.
Who Can Invest with DiversyFund?
All accredited and non-accredited investors who plan to invest with DiversyFund must be at least 18 years old. They also need a social security number and a residential address in the United States. Moreover, only U.S. citizens, permanent residents, and special visa holders will be able to invest in the REIT.
Who Can Invest with Fundrise?
Any U.S. citizen or permanent resident older than 18 years residing in the United States can invest with Fundrise. U.S. territories are excluded due to tax implications. International investors with a U.S.-based entity can open an account as long as the entity has a US tax ID number and files and pays taxes in the country.
DiversyFund vs. Fundrise: Main Features
Although there are similarities between DiversyFund and Fundrise, they differ enormously in their features. Look at our comparison below to determine which platform has the features you are looking for.
| | | |
| --- | --- | --- |
| | | |
| Minimum Investment | $500 | $10 (Starter Portfolio), $1,000 (Basic Plan), $5,000 (Core Plan), $10,000 (Advanced Account Level), $100,000 (Premium Account Level) |
| Account Fees | 6.00% to 8.00% of soft and hard costs (Developer fees) and 1.00% of sale price (Disposition of property) | 0.85% (Asset Management Fee) and 0.15% (Advisory Fee) |
| Offering Types | Private Real Estate Investment Trusts (REITs) | Debt, Equity and Preferred Equity |
| Property Types | Commercial Real Estate (CRE) | Commercial Real Estate (CRE), Residential and Single Family |
| Advertised Returns | 7% to 18% (Average returns) | 10.1% (Average returns) |
| Distributions | None (dividends automatically reinvested) | Varies by project |
| Time Commitment | 5+ years | 5+ years |
| Promotions | None | Advisor Fee Waived (*12 months) |
| Secondary Market | | |
| Accreditation Required | | |
| Self-Directed IRA | | |
| 1031 Exchange | | |
| Best For | Non-accredited investors looking to diversify their portfolio | Investors looking for a low-cost entry into real estate investing |
| | | |
DiversyFund
DiversyFund launched its first Growth REIT in 2019 with an investment minimum of $2,500. A few months later, the SEC agreed to lower the amount to $500, which was an important step. Currently, investors can participate in the second Growth REIT that follows the same strategy as the first one. Unfortunately, with only three properties at the moment, the trust isn't diversified and is much riskier than what Fundrise offers.
Note that income investors may not be pleased with how DiversyFund handles cash distributions. Although dividends occur monthly, investors won't find them in their bank account because they directly reinvest them to finance improvements. However, investors who want to benefit from the compound effect may be happy about it.
You also have the chance to set up recurring deposits every time you invest. This practice ensures that you won't forget about funding your investments. The company even enables you to select the exact date when your monthly investment should happen.
DiversyFund also created a section with educational resources. There, you will find a little blog covering topics like advanced investing, investing 101, personal finance, and real estate. News and updates and a founder's forum are available as well.
Main features overview:
Growth REIT: The second version of the company's only investable real estate investment trust
Dividend-reinvestment: All occurring monthly payments will be automatically reinvested as part of DiversyFund's compound interest strategy.
Monthly deposits: Never forget a monthly investment with this setting.
Educational resources: With its Learning section, the platform wants to educate beginner and current investors.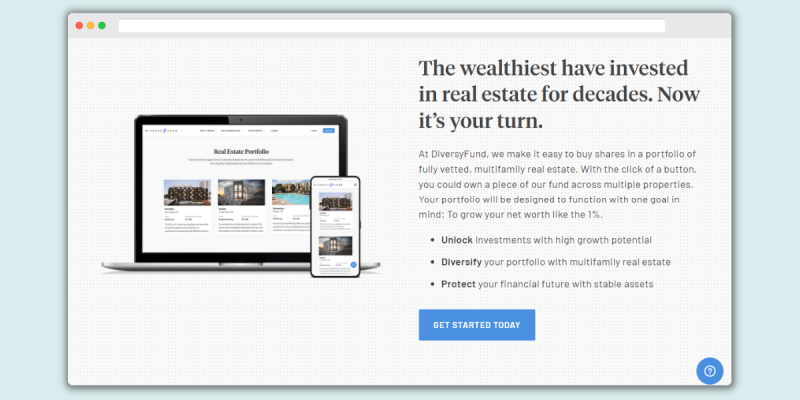 Fundrise
Compared to DiversyFund, Fundrise has plenty of bells and whistles. At the platform's core are five distinct account levels that cater to different investors through distinct features:
Starter: The simplest plan with the lowest minimum ($10). Get access to a DRIP and grow your wealth through the auto-invest function. You also have penalty-free redemption options every quarter.
Basic: This account level includes every Starter feature. It allows you to create investor Goals and invest via IRA Accounts (Traditional or Roth IRA). You also get access to the Fundrise iPO mentioned earlier. All you need is $1,000.
Core: From this level on, and with $5,000, investors can use customized portfolio strategies (income, growth, or balanced). They can also invest in more diversified portfolios and access Fundrise's eREITs.
Advanced: With a $10,000 investment, investors can use the company's Plus plans which are more sophisticated real estate strategies that evolve over time. They can now also allocate directly to specific funds.
Premium: At the premium level, you may invest in unique offerings designed for accredited investors. Investors with at least $100,000 can participate in private equity funds, which have the potential for superior performance.
Main features overview:
Account levels: Fundrise investors can choose from five different account levels depending on where they currently stand in their real estate career.
Low investment minimums: Investors need just $10 to get started on the platform. That is nothing compared to other platforms. Even the Basic and Core account levels have reasonable initial investment requirements.
DRIP: The platform's dividend reinvestment program allows you to automatically reinvest dividends at no extra cost.
Self-directed IRA: Traditional and Roth IRAs are supported, which is great for retirement investors.
Fundrise iPO: You can buy shares of Fundrise's parent company through the internet Public Offering. The minimum investment is $1,000.
Goal-based investing: Investors can use a goal tracker to see how they are doing with their investment goals. This is a great feature if you are planning a big purchase in the future.
eREITs and eFunds: Through Fundrise, investors also get access to sophisticated, private, unregistered real estate offerings.
Share redemption program: While share redemptions are subject to penalty, you get your initial investment back if you redeem Introductory Shares within 90 days.
DiversyFund vs. Fundrise: Investment Options
DiversyFund and Fundrise both acquire and manage real estate properties on your behalf. While DiversyFund offers investors one REIT, Fundrise allows investors to invest in entire real estate portfolios.
DiversyFund
DiversyFund's Growth REIT is a public non-traded real estate trust that consists of three properties in three markets. The REIT targets multi-family apartment buildings with at least 100 units per complex. Still, the REIT can also hold smaller properties for many years if they show the potential to appreciate and generate returns between 10% and 20%.
Fundrise
With Fundrise, your funds always end up in fully diversified and professionally managed real estate portfolios. The underlying assets include debt investments, private equity funds, commercial properties, residential complexes, and many more. Once you have decided on your account level, Fundrise invests according to your investment goals.
As you upgrade your account, you get access to eREITs similar to DiversyFund's Growth REIT, very sophisticated strategies, and periodically available specialized equity funds. You can also buy shares from Fundrise itself.
DiversyFund vs. Fundrise: Account Types
Both platforms deliver a similar bouquet of options to their investors when it comes to the supported account types. However, retirement investors will make their pick right away.
DiversyFund
If you want to invest with DiversyFund, you have various options. Unfortunately, retirement accounts aren't supported yet.
Individual accounts
Joint accounts
Entity accounts
Trust accounts
Fundrise
Fundrise also supports a bunch of account types and caters to many needs. However, custodial and 401(k) accounts are not supported. Still, the following account types allow you to invest on Fundrise:
Individual accounts
Joint accounts
Entity accounts
Trust accounts
IRAs
DiversyFund vs. Fundrise: Performance
Real estate has performed exceptionally well in the past. Therefore, looking at a platform's current performance can be an excellent indicator of what to expect when investing.
DiversyFund
Before being open to retail investors, DiversyFund generated annual returns of 18% (2017) and 17.3% (2018). However, the products that were previously offered that generated these returns don't exist anymore. The plan for their REIT products is now to generate a 7% return for their investors. We do know, however, that investors saw a dividend yield of 5% by the end of 2019.
Fundrise
Compared to DiversyFund, Fundrise has had an established track record since its launch and an average annual return of 10.1%, with positive returns every year. Keep in mind, though, that real estate returns can fluctuate as well. For example, in 2021, Fundrise achieved a return of 22.99% compared to a 7.31% return in 2020.
2021: 22.99%
2020: 7.31%
2019: 9.16%
2018: 8.81%
2017: 10.63%
DiversyFund vs. Fundrise: Fees & Pricing
One of the similarities of both companies in this review is their pricing structure. Nonetheless, one is the clear winner.
DiversyFund
While investors didn't have to pay broker or management fees with the first REIT, the second Growth REIT now carries a 2% annual asset management fee.
As DiversyFund is also the developer for every property, they charge the REIT a developer fee between 2% and 8%. Acquisition fees can go up as high as 4% and financing fees will be 1% of the loan amount.
The company is also entitled to a catchup fee once the 7% return threshold for investors is reached. They also keep 35% of the remaining profits and give 65% to their investors.
Fundrise
All investors have to pay is 1% in fees per year. A total of 0.85% will go towards an asset management fee and 0.15% towards an advisory fee. However, the advisory fee can be waived if investors invite people to join the platform.
DiversyFund vs. Fundrise: What We Like (Pros)
Looking at both platforms in detail, here are some things we like about them.
DiversyFund
$500 investment minimum
Access to real estate for non-accredited investors
Educational resources are available
Easy-to-use platform
Monthly deposits
Fundrise
Investors need just $10
Non-accredited investors can participate
Five account levels to choose from
Self-directed IRA investing
Auto-investing
Share redemption program
Only 1% in annual fees
A dividend reinvestment plan is available
Solid track record
Access to private eREITS and eFunds as well as sophisticated strategies
DiversyFund vs. Fundrise: What We Don't Like (Cons)
However, there are also things we don't like too much that we have to address as well:
DiversyFund
No share redemption program
No chance to withdraw any cash distributions
High fees for investors even if they occur on the REIT level
Very little diversification with just three properties
No retirement accounts are supported
Fundrise
Private eREITs and eFunds are highly illiquid investments
No standalone deals are available
Advanced feature already required $10,000 minimum investment
Customer support is hard to reach
Early withdrawal penalties
DiversyFund vs. Fundrise: Security
Fundrise and DiversyFund both take care of their investors' data with different security measurements. The overall goal is to keep investors and their investments safe and secure.
DiversyFund
DiversyFund protects your data with bank-level standards such as 256-bit encryption. They also state that they are committed to protecting investors' data and not sharing it with third parties.
One example is the third-party service provider Plaid, which the company uses to link your bank account. Only parties that help provide the company's service have access to the necessary data.
Fundrise
Fundrise uses bank-level security measures and AES encryption to avoid hacks or attacks on the platform. Moreover, every connection from and to Fundrise is encrypted and secured via HTTPS and TLS. Besides, all its data is split across data centers and Amazon Web Services provides another security layer.
Furthermore, investors can enable two-factor authentication, face unlock, and fingerprint authentication when using Fundrise.
DiversyFund vs. Fundrise: Customer Support
Both platforms provide somewhat limited customer service. This is a pity because good customer service should not be skimped on.
DiversyFund
The best way to contact DiversyFund is by emailing their customer relations team or reaching out via social media. The available chat on the website is just a limited bot which is not too helpful. In addition, the company can't handle large volumes of calls, so scheduling a call is your best option if you want to talk to someone. Unfortunately, customer reviews state that they had issues reaching the support team either way.
Fundrise
Suppose you aren't a Premium account member who gets priority support and can schedule calls. In that case, it can be tough to reach the customer support team. Your best option is to contact Fundrise via email or the website's contact form. The average response time is about one to two business days.
DiversyFund vs. Fundrise: Platform and App
DiversyFund and Fundrise both offer a desktop platform and a mobile app. They offer great functionality and are very user-friendly.
DiversyFund
The DiversyFund platform is straightforward to use. Whether you use the web interface or the mobile app, you'll enjoy the same features. You can invest in the same assets and track your account balance.
Fundrise
Fundrise provides investors with a streamlined dashboard that makes investing simpler and more transparent. There is also a mobile app where investors can easily manage their investment from wherever they are and get the same functions as on the web browser.
DiversyFund vs. Fundrise: Key Differences
While both focus on investing in real estate properties through funds, there are substantial differences that you should care about. These differences will help you decide on the right platform for you.
The most obvious difference is in the number of features. DiversyFund only offers one handful of features that are nearly all available at Fundrise as well. In contrast, Fundrise provides you with five account levels, diversified portfolios consisting of multiple types of real estate, three investment strategies, private eREITs and eFunds, IRA investing, and more.
Another aspect is the fees both platforms charge. Investors on Fundrise pay up to 1% in fees. That's it. On DiversyFund, there are asset management fees, developer fees, acquisition fees, catchup return fees, and financing fees.
Ultimately, they are two different types of investment. DiversyFund acquires apartment buildings, renovates them, increases the rent, and aims to sell them at a profit five years later. Fundrise invests in commercial complexes and residential properties and creates diversified portfolios.
Who Is DiversyFund For?
DiversyFund is perfect for all real estate investors who don't want to research properties themselves but prefer one simple real estate investment. It is also suitable for investors with small account balances due to its low minimum investment. If you don't need your money for five or more years because you can't access it at all, you should consider the platform.
Minimum Investment: $500
Fees: No management fees; other fees may apply (see above)
Promotion: None
Who Is Fundrise For?
If you want an established track record, room to grow as an investor, advanced real estate strategies, diversification, and various investment options, then Fundrise is for you. With an investment minimum of just $10, it is perfect for any real estate investor. And if you want to have the safety net of a share redemption program, Fundrise might be the better choice.
Final Thoughts
DiversyFund and Fundrise both offer investors the opportunity to participate in the real estate market with investments of less than $1,000. They also welcome non-accredited investors who are often excluded from crowdfunding real estate investment platforms.
DiversyFund focuses more on capital appreciation and reinvested distributions, while Fundrise gives you flexibility with an optional DRIP and a share redemption program. Plus, Fundrise offers much more features and investment options and provides better diversification. Also, their fees are lower than DiversyFund's many fees that significantly reduce the returns for investors.
On paper, Fundrise looks like the clear winner and probably is the better platform to get started with. In the end, however, it comes down to personal preference and what's important to you.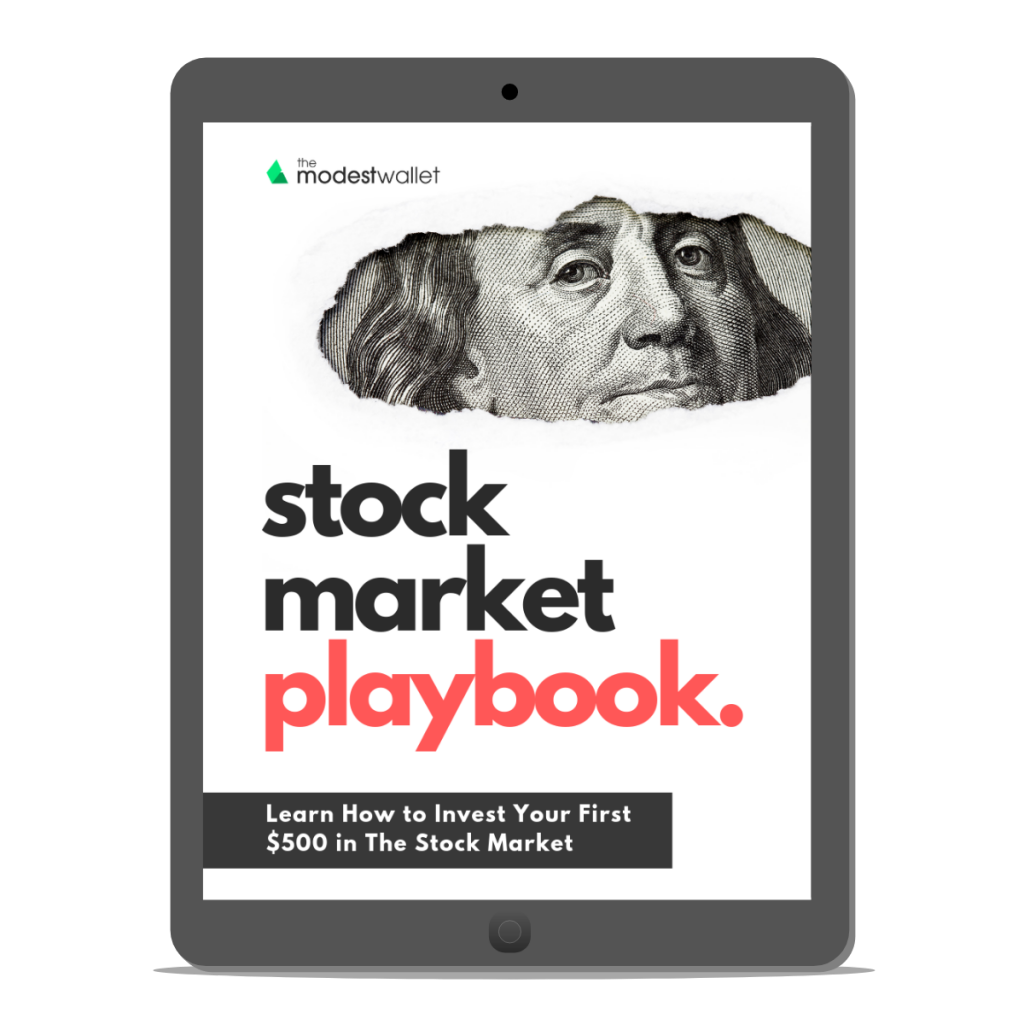 Get our free Stock Market Playbook to learn how to invest your first $500 in the stock market.
Plus our best money tips delivered straight to your inbox.

Carsten is a Freelance Copywriter with a personal interest in money management and investing. Besides taking care of his investments, he loves traveling, reading books, and working out (calisthenics & yoga).