Many or all of the products featured on this page are from our sponsors who compensate us. This may influence which products we write about and where and how the product appears on a page. However, this does not influence our evaluations. Our opinions are our own. Here is a list of our partners and here is how we make money.
The information provided on this page is for educational purposes only. The Modest Wallet is a financial publisher that does not offer any personal financial advice or advocate the purchase or sale of any security or investment for any specific individual.
Wish there was one app where you could invest in stocks and crypto at the same time? With Domain Money, you can!
Domain Money is an up-and-coming investing app that lets you build a portfolio of both traditional and digital assets. It also offers managed portfolios, a crypto rewards credit card, and a slew of other features to help you make the most of your investments.
In this Domain Money review, we're going to take a closer look at what the company has to offer. We'll discuss all the app's features, fees, and limitations so you can decide if it's worth opening an account.
on Domain Money's website
Quick Summary: Domain Money is a stock and crypto investment platform that allows users to self-direct trade or select pre-built portfolios. The platform aims to make it easier for users to invest across asset classes.
---
What Is Domain Money?
Domain Money is an investing platform that supports stock, ETF, and crypto trades. It also provides a number of managed portfolios for people with more passive investing styles.
The company was founded in 2021 by a team of highly experienced executives from the financial industry, including Adam Dell, who was the head of product for Marcus at Goldman Sachs. Its goal is to help investors build their wealth through an array of self-directed and actively managed accounts that offer exposure to the broader financial markets.
---
How Does Domain Money Work?
To use Domain Money, you first have to download the app to your mobile device and follow the prompts to create an account. Once you do so, you can link your bank account to transfer funds to your Domain Money portfolio or deposit certain cryptocurrencies. Note that there's a $5 minimum on all funds transfers to your account.
As soon as your account is funded, you can purchase stocks, ETFs, and crypto through a self-managed brokerage account. You can also invest in Domain Money's managed portfolios if you prefer a more hands-off approach to your finances. After you invest, you can monitor your account and place trades in the Domain Money app at any time.
Investing Account Types
Right now, Domain Money only supports individual taxable brokerage accounts. The company doesn't currently allow you to open a joint account and it doesn't offer any tax-advantaged retirement accounts, like IRAs (individual retirement accounts).
Opening an Account
Opening an account with Domain Money is fairly straightforward as the app will walk you through all the steps you need to complete to get started. However, to open an account, you need to be a US resident over the age of 18.
As part of the account opening process, you need to provide your:
Full name
Date of birth
Social Security Number
Physical address
Phone number
Employment information
Source of funds information
Additionally, you may be required to submit a copy of your government-issued ID as part of the onboarding process with Domain Money.
---
Domain Money Features
Account-holders with Domain Money get access to a slew of investing-related features. Here's what you can look forward to if you sign up.
| | |
| --- | --- |
| Minimum Investment | Trading: $5 and Portfolios: $100 to $500 (varies by portfolio) |
| Fees | Portfolios: 1% annual management fee, Stock & ETFs: $0 per trade and Crypto: 1.49% transaction fee |
| Investment Types | Stocks, ETFs and Cryptocurrency |
| Recurring Orders | Automated (daily, weekly, bi-weekly, or monthly basis) |
| Account Types | Taxable |
| Cryptocurrencies Available | 47+ including BTC, ETH, AAVE, BCH, COMP, LTC MANA and more |
| Lock-Up | None |
| SIPC Insurance | Up to $500K |
| Promotion | None |
| Fractional Shares | |
| Automatic Rebalancing | |
| External Wallet Transfers | |
| Mobile Apps | Apple iOS |
| Support | In-App message and Email (support@domainmoney.com) |
Trade Crypto
One of the main features of Domain Money is its crypto trading terminal where you can buy and sell over 45 different cryptocurrencies.
Domain Money lets you place both market and limit orders for all the cryptocurrencies supported on the platform. However, there's a $5 minimum on crypto trades placed through Domain Money.
Trade Stocks & ETFs
In addition to crypto trading, Domain Money offers stock and ETF trades for US-listed equities.
As is the case with crypto, there's a $5 minimum order on all stock and ETF trades in the Domain Money app. However, the company lets you place market and limit orders on stocks and ETFs. You can also buy fractional shares of most securities on the platform.
Domain Edge
Domain Edge is one of many managed portfolios (called "strategies") offered by Domain Money. The goal of Domain Edge is to give investors exposure to high-performing cryptocurrencies that have a potential for long-term growth.
Since Domain Edge is a managed portfolio, the exact assets that it invests in can vary. For the most part, the Edge strategy invests in 10 to 20 different cryptocurrencies. There's currently a $100 minimum investment for the Edge strategy plus a 1% annual management fee.
Domain Metaverse
Domain Metaverse is another one of the company's managed portfolio strategies that investors can buy into. Domain Metaverse portfolios consist of a mix of stocks and cryptocurrencies that are directly related to the growing metaverse industry.
This portfolio usually contains 10–20 stocks and 10–20 cryptocurrencies that rebalance as needed. Its currency annual management fee is 1% and the company has a $500 minimum investment for the Domain Metaverse strategy.
Domain Balanced
With Domain Balanced, investors can opt into a managed portfolio that seeks to accrue long-term growth. This portfolio has a target asset allocation of 50% stocks and 50% cryptocurrencies. Most of the stocks are mid-and large-cap US equities while the cryptocurrencies are chosen for their growth potential.
To get started with Domain Balanced, you need to invest a minimum of $500. There's also a 1% annual management fee for all assets held in this portfolio.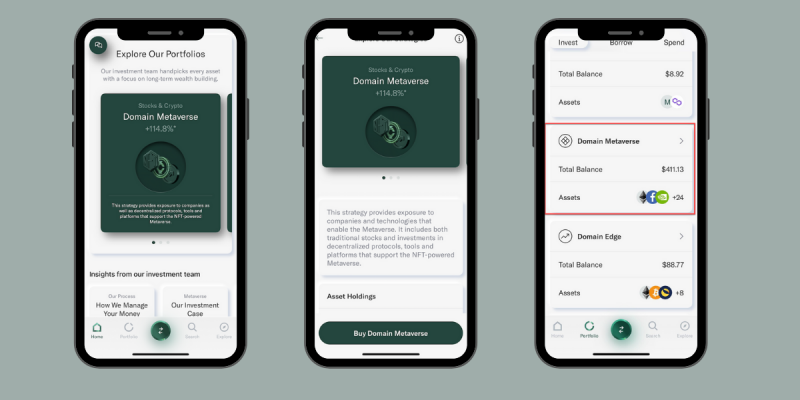 Domain Access
The company's final managed portfolio is called Domain Access and it has a target portfolio allocation of 20% crypto and 80% stocks. The selection criteria for assets in Domain Access is generally similar to that of Domain Balanced, but there's more of an emphasis on stocks and less on crypto to mitigate the risk of digital assets.
Like other Domain Money strategies, Domain Access has a 1% management fee. There's also a $500 minimum account balance for all new investors.
Crypto Rewards Credit Card
Domain Money is in the process of launching a crypto rewards credit card that customers can use to earn free crypto on all of their daily purchases.
The credit card currently isn't widely available, but anyone with a Domain Money account can sign up for the card's waitlist. We don't yet know the specifics of how the rewards will work with the company's credit card, but we know that the card will be issued by WebBank and that you'll be able to manage it from within your Domain Money app.
Domain Money Borrow
One of Domain Moneys' newest features is its Borrow program. The program is still in beta and hasn't been released to all users yet.
However, the goal of the Borrow program is to let investors use up to 40% of their portfolio as collateral for a loan provided by WebBank. These loans have a 7% interest rate but no origination fees. The idea is that using your portfolio as collateral eliminates the need to sell your assets when you need cash so you can avoid a potential taxable event.
Keep in mind that there are risks associated with crypto and securities-backed loans, especially if your assets lose value before you pay off your debt. Consult with a financial advisor for guidance about your specific financial situation.
Portfolio Overview
To help you keep tabs on your investment performance, Domain Money offers a nifty portfolio overview tool.
You can access this tool in your Domain Money app just by navigating to the 'Portfolio' tab. Here, you can see your total net contributions, lifetime returns, current asset allocation, active managed portfolios, recurring trades, and transaction history.
Domain Money Signals
Signals is a unique feature from Domain Money that makes it easier for you to quickly get up-to-date information about the world's financial markets.
Domain Money currently offers three key Signals that you can use to identify potential investments. These are:
Social Sentiment – The Social Sentiment indicator targets assets that have the largest increase in week-over-week positive sentiment on social media. In other words, it measures an increase in positive outlook about a specific asset.
Trading Activity – The Trading Activity indicator shows you which assets on Domain Money have the largest increase in trading volume over the preceding two days.
Project Development – The Project Development indicator identifies an asset that has had the largest week-over-week growth in its development. The idea is that projects with a lot of developer interest, particularly in the cryptosphere, may be more likely to succeed in the long term.
Remember that Signals are not advice to buy or sell assets. Rather, they're designed to help you quickly identify potential investment opportunities so you can do your own research.
Recurring Buys
To help you build your portfolio over time, Domain Money offers a recurring buy function. With this feature, you can set up automatic purchases of cryptocurrencies, stocks, or ETFs with the push of a button. You can also set up recurring deposits into Domain's managed portfolios.
As is the case with all trades on the platform, recurring buys have a $5 minimum trade value. But you can choose between daily, weekly, bi-weekly, and monthly recurring buys to help you take advantage of the power of dollar-cost averaging.
Watchlist & Asset Comparison
Keeping track of all your potential investments can be challenging, so Domain Money offers a helpful watchlist and asset comparison tool.
You can add any asset on Domain Money to your watchlists, which provides you with an easy way to keep tabs on the price action of dozens of cryptocurrencies and securities. Additionally, the company's compare tool lets you compare up to four assets side by side on price and social sentiment charts so it's easier for you to find your next investment opportunity.
Mobile App
As of the time of writing, Domain Money is only available on its iOS mobile app. The app itself is highly rated and many investors find that it has a sleek, user-friendly interface. On the app, you can manage your portfolio, place trades, and do market research.
Domain Money doesn't currently offer an Android app or a web-based trading platform. But it hopes to release both a web platform and an app on the Google Play store in the near future.
---
Domain Money Fees
Investors with Domain Money get access to a relatively low-fee platform. There are no monthly or annual account fees for self-directed investors, though there's a 1% account management fee for managed portfolios with Domain Money.
As far as trading fees go, Domain Money doesn't charge investors to buy and sell stocks and ETFs. For crypto, the company charges a 1.49% fee on all trades.
Other than these limited trading and managed portfolio fees, there aren't many other charges involved with investing through Domain Money. Do keep in mind that the company will charge variable network fees for crypto withdrawals once this feature is live, but this is a fairly standard fee across crypto investing platforms.
---
Domain Money Security
Domain Money is a security-focused platform that uses a number of high-end features to protect your account. The entire platform is secured using end-to-end AES-256 encryption. It also uses an innovative passwordless authentication system that makes it difficult for bad actors to gain access to your funds.
Furthermore, Domain Money users have up to $500,000 in SIPC insurance on securities and $250,000 in FDIC insurance on cash held in their accounts.
The company also has an unspecified amount of insurance from Gemini, Domain Money's custodian, on crypto assets. The bulk of crypto held by client accounts on the platform is also placed in offline, air-gapped cold storage for safekeeping.
---
Domain Money Customer Service
If you have a concern about your Domain Money account, you can get answers to most common questions on the company's detailed online help pages. Additionally, Domain Money offers email and live chat-based support for account-related concerns.
---
Domain Money Pros
Very user-friendly app with a streamlined interface
Low account trading minimums ($5 per trade)
Commission-free stock and ETF trades
Offers managed portfolios that invest in stocks and crypto
Reasonable account management fees (1%) for managed portfolios
Provides proprietary market analysis metrics called Signals
Opportunity for a crypto rewards credit card and portfolio-backed loans
Innovative security systems and good insurance coverage for client assets
---
Domain Money Cons
Market research and technical analysis tools are limited
Crypto trading fees are a bit high when compared to major exchanges
Only supports deposits of select cryptocurrencies
New company with limited track record
Doesn't currently have an Android or web-based app
---
Domain Money Alternatives
Not sure that Domain Money is the right investing app for you? Here are two Domain Money alternatives to consider instead.
Titan
Titan is an investment platform that offers managed portfolio accounts. With Titan, anyone can open a fully managed portfolio that invests in around 20 stocks that the company has identified as having a high potential for future growth.
One of the main benefits of Titan is its simplified fee structure. You only need $100 to open an account and the company charges $5 per month in management fees for accounts with balances of less than $10,000. Accounts over $10,000 are charged a 1% management fee, which is competitive for an actively managed portfolio.
The drawback to Titan when compared to Domain Money is that it only invests in a relatively small number of stocks. This provides a large potential for growth but also a high risk of loss. Additionally, Titan doesn't offer self-directed trading. But if you want help diversifying your portfolio and you're willing to accept some risk, Titan is worth considering. Read our full Titan review to learn more.
Betterment
Betterment is one of the US's best-known money management and investment companies. Its primary feature is its wide array of robo-advisor accounts that let you diversify your portfolio while also investing in ETFs that reflect your values or financial goals.
When compared to Domain Money, one of the key advantages of Betterment is that it lets you open individual and joint taxable brokerage accounts as well as a number of different tax-advantaged IRAs. Betterment also has very low management fees (0.25% to 0.40%) and you can get started with as little as $1.
However, Betterment only includes ETFs in its portfolios, so it's not the go-to if you want crypto exposure. The company also doesn't offer any self-directed trading, which means that you'll have to look elsewhere if you want to trade individual equities. That said, if a quality, low-cost robo-advisor is what you seek, Betterment is a solid option. Read our full Betterment review to learn more.
| | Domain Money | Titan | Betterment |
| --- | --- | --- | --- |
| Our Rating | | | |
| Fees | Portfolios: 1% annual management fee, Stock & ETFs: $0 per trade and Crypto: 1.49% transaction fee | $5 per month (balance less than $10,000) or 1% annual fee (balances greater than $10,000). Other fund specific fees apply (i.e. manager fee) | 0.25% Annual Fee (Digital) and 0.40% Annual Fee (Premium) |
| Account Minimum | Trading: $5 and Portfolios: $100 to $500 (varies by portfolio) | $100 (Titan strategies), $500 (ARK Venture fund), $2,000 (Private Credit fund) and $1,000 (Real Estate fund) | $0 |
| Promotion | None | None | Up to 1 year free (*for qualified deposits) |
| Highlight | Invest in crypto, ETFs and stocks from one single app | Fractional share and hedge-fund-like features | A powerful robo advisor with tax efficient strategies |
| Best For | Beginner investors | Beginner investors | Beginner investors |
| | | | |
---
Who Is Domain Money For?
Domain Money was designed for investors who want a simple and convenient way to buy and sell stocks, ETFs, and cryptocurrencies, all in one place. The company's sleek user interface and intuitive design make it a great choice for new investors and anyone that needs a no-nonsense platform for placing trades.
Additionally, Domain Money's array of cost-effective managed portfolios makes it a nice option for hands-off investors that want a simple way to gain exposure to both crypto and traditional assets.
That said, Domain Money's simple platform means that it's not ideal for advanced investors that want high-end technical analysis tools or the ability to place advanced order types. The firm's crypto trading fees are also a bit higher than what you'd get at an exchange like Coinbase Pro, so it's best for people who are willing to pay a bit more for convenience.
---
Domain Money FAQs
Here are our answers to some of your most commonly asked questions about Domain Money.
Is Domain Money Legit?
Domain Money is a legitimate company that offers crypto and equities investing. The company was founded by a group of very experienced financial professionals, including the former head of product for Marcus at Goldman Sachs. Domain Money is also a registered investment advisor with the SEC, and it works with reputable custodians to offer self-directed investing services.
How Do I Transfer Crypto out of Domain Money?
There's currently no way to transfer crypto out of your Domain Money account. However, the company is working to allow crypto withdrawals in the near future. In the meantime, you can sell your crypto for US dollars and then withdraw that money to an external bank account.
Can I Deposit Crypto to Domain Money?
You can deposit supported cryptocurrencies in your Domain Money account. To deposit crypto, you need to go to the Domain Money app, navigate to your trading dashboard and click the "Deposit Crypto" button on your chosen cryptocurrency. This will provide you with the wallet address you need to send crypto to your Domain Money account.
---
Final Thoughts
Domain Money might be a relatively new addition to the rapidly growing world of investing apps, but it's quickly made a name for itself as far as user-friendliness and functionality go.
The company's easy-to-use crypto and stock trading platform is an excellent option for new investors, and its collection of managed portfolios is well worth checking out for anyone that prefers to take a hands-off approach to investing.
Of course, more advanced traders might find that Domain Money's simplified trading interface and its lack of extensive market analysis tools leave them wanting. The company's crypto trading fees are also a bit higher than what you'd find at a major exchange.
But if you're a new trader or you want the help of a managed portfolio for your stock and crypto investing, there's a lot to love about Domain Money.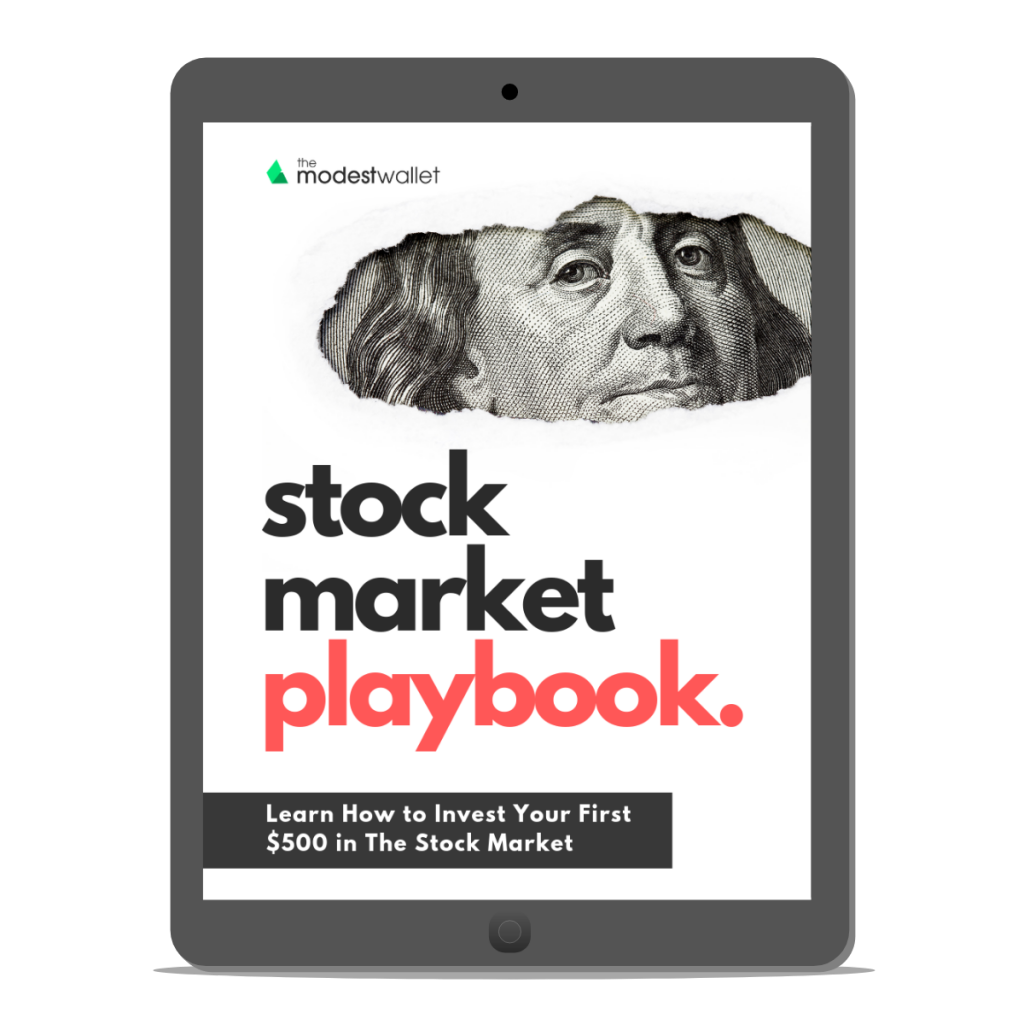 Get our free Stock Market Playbook to learn how to invest your first $500 in the stock market.
Plus our best money tips delivered straight to your inbox.

Gaby is a freelance writer and self-employed business owner with a personal interest in all things finance-related. She has a passion for educating others on how to make the most of their money and loves writing about everything from taxes to crypto.