Dosh Review 2023: Cash Back Rewards at Your Fingertips
Many or all of the products featured on this page are from our sponsors who compensate us. This may influence which products we write about and where and how the product appears on a page. However, this does not influence our evaluations. Our opinions are our own. Here is a list of our partners and here is how we make money.
---
The information provided on this page is for educational purposes only. The Modest Wallet is a financial publisher that does not offer any personal financial advice or advocate the purchase or sale of any security or investment for any specific individual.
Cash back rewards have been around for a long time in the form of in-store loyalty programs and credit cards. The way they work is simple: Every time you make a qualifying purchase, you get a small amount of the total value back.
Dosh takes this concept and modernizes it by letting users connect their cards to an app to collect cash back rewards. The benefit is that you can easily earn extra money on your purchases at a variety of shops — without being confined to a specific card. This earning potential makes Dosh one of the most popular cash back apps around.
In this article, we'll look at everything you need to know to maximize your earnings with Dosh.
What is Dosh?
Dosh is a cash back app that pays you whenever you make a purchase with a linked card at a partner retailer. The app works with most credit and debit cards, and It automatically calculates your cash back and deposits it into your digital wallet. It is a super-easy way to earn some extra money.
The usefulness of a cash back app is based on the retailers it partners with. The good news for those interested in Dosh is that the app works with thousands of stores and restaurants, including big names such as Sam's Club, Dunkin' Donuts, and Forever 21. You can check out more of Dosh's available partners by downloading the app. Cash back amounts will vary depending on the store, but the percentage can go as high as 10%.
Dosh users can also get paid by booking hotels or shopping online through the app, and referring their friends and family to the service.
See Also: 25 Frugal Living Tips That Will Save You Thousands
How Does Dosh Work?
Dosh earns money through affiliate marketing. The app has a large customer base, so partner retailers hope that some of Dosh's users will visit their stores.
Whenever a Dosh user purchases from a retail partner using a connected card, the store pays Dosh a percentage of the total value. Dosh then passes some of this money onto the user in the form of cash back.
It's a win-win situation for everyone involved.
Here are some of the major participating Dosh merchants we have found.
Sally Beauty: Cash Back 11.2%
Drizly: Cash Back 11.2%
Jiffy Lube: Cash Back 10.8%
Fit Bit: Cash Back 7.5%
Walgreens: Cash Back 6%
Ray-Ban: Cash Back 6%
Overstock: Cash Back 5.2%
Sam's Club: Cash Back 5.2%
Nike: 4.5% Cash Back
Home Depot: 3.8% Cash Back
Staples: 3.8% Cash Back
Walmart: 3.0% Cash Back
Holiday Inn: $20 Cash Back (Rate Varies)
The Westin: $20 Cash Back (Rate Varies)
Hyatt: $20 Cash Back (Rate Varies)
Keep in mind that merchants change their rewards on a regular basis.
How to Make Money with Dosh
Making money with Dosh is easy. Once you're set-up, you don't need to do anything other than pay for things you need or want using your linked card. Following are the steps you have to take to begin earning with Dosh.
Download the Dosh app. You can find it at the App Store or on Google Play. Once you've installed the app, you can sign up for an account. (It should be noted that the app is only available for download on mobile phones.)
Link your credit and debit cards from within the app. You can link more than one card to ensure all your purchases are covered. The service works best with credit cards. If you link a debit card, you'll need to swipe the card as if it were a credit card when making a purchase, or Dosh will miss the transaction.
Find participating retailers. The next step is to find shops that have partnered with Dosh. The app has a search feature that lets you search for retailers by Zip Code or city. Each store is shown on a map alongside the percentage of the total sale you can get back.
You can also get cash back when shopping online. To find mobile or online offers, just head to the relevant section within the app to see what is available. (Important: To use one of the deals listed, you must click through the app. If you go straight to the online store, you won't receive cash back).
Start shopping. Every time you make a qualifying purchase, Dosh will notify you to let you know it has tracked the transaction. The payment will initially be listed as pending, but it will be completed once your credit card company processes it. This can take up to 10 days for in-store purchases, and up to 90 days for online purchases. You can keep track of your activity from within the Dosh app.
Cash out when your balance hits $25. Dosh lets you deposit your cash back to your bank account, PayPal account, or you can donate it to charity.
See Also: Capital One Shopping Review: The Best Way to Save Money Shopping Online
Understanding Dosh Rewards System
Dosh gives users cash back every time they make a purchase at a qualifying retailer. The amount of cash back received varies depending on the shop.
Here are some examples (as of this writing): At the upper end of the scale, Domino's provides 8% cash back; in the middle, Sephora gives 5%; on the lower end, Old Navy gives 3%. You can check the exact amount you will receive from the retailer you want to shop with in the Dosh app before you make a purchase.
Other retailers will give you a set amount of money for each purchase. For example, Apple Music currently gives $9 cash back on individual subscriptions.
Be aware that there may be conditions you have to adhere to when buying, so be sure to check the small print before making a purchase if getting cash back is especially important to you.
It's also possible to book hotels with Dosh. When you do, the app tells you how much you'll receive during the booking process.
A final way to earn money is through referrals. The app pays out $5 for every person who signs up to the app via your recommendation. If you have friends or family members who don't already use Dosh, this could be a profitable way to earn some extra cash.
Pro Tips to Make the Most Money
You can actually earn money with Dosh without doing anything other than setting your cards up and withdrawing money when you reach the withdrawal limit. If you'd rather maximize your earnings, try some of these pro tips.
Use Your Linked Card for Every Purchase
The easiest way to make more money is to use your linked credit and debit cards as much as possible. Try to avoid using cash or unlinked cards to ensure that every cent you spend goes towards your earnings.
Search for Partner Retailers
You can maximize revenue by using the app's search feature whenever you want to buy something — It will allow you to find participating retailers and show you which stores offer the most money.
Invite Your Friends
Take advantage of the refer-a-friend feature to get bonus cash. Dosh is a genuinely useful service (so it may be easier than you think to convince people to sign up).
Don't Forget About Online
Dosh also partners with several online stores. To receive cash back when shopping online, you need to click on the link within the app before making a purchase.
Stack Your Rewards
Some credit cards and retailers make it possible to use Dosh alongside your existing rewards programs or coupons. Stacking rewards like this can result in higher savings.
How Do You Get Paid?
Getting paid with Dosh is easy. All the cash that you earn is stored in your Dosh wallet. Once you reach $25 in earnings, you can send this money to your bank account, PayPal account, Venmo, or you can donate it to a charity. You can easily request payment from within the app.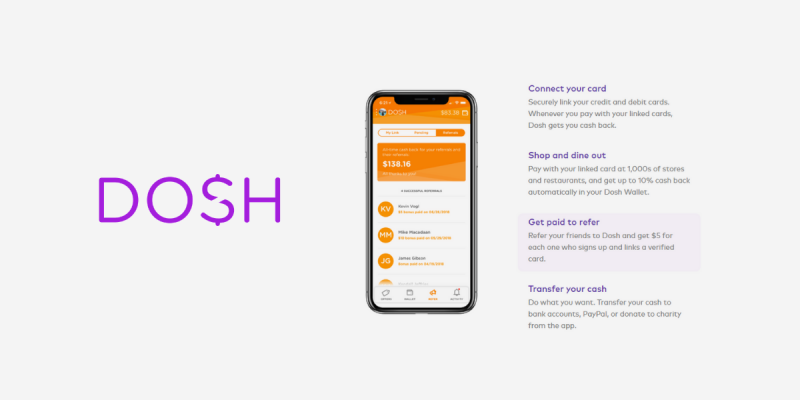 See Also: 13 Legit Ways to Get Free Cable TV (and Cheap Alternatives)
Is Dosh Legit?
Most of us know the saying, "If something sounds too good to be true, it probably is". A company that promises to give you money for nothing sounds like it could fit that definition.
The good news is that Dosh is a well-trusted company. In 2019, TechCrunch reported that the app had 3 million card-linked subscribers and that it had partnered with over 150,000 retailers, including major names like Nike, Walgreens, and Walmart.
If that's not enough to convince you, the app also has a four-and-a-half-star rating on both the App Store and Google Play. This comes from over 147,000 ratings across both app marketplaces.
Dosh takes significant steps to keep its customers safe. It uses 256-bit encryption to protect your information from hackers. While no form of encryption is completely foolproof, this is about as good as it gets, and is the same level used by banks.
The app also uses multi-factor and two-factor authentication to protect you from hackers. Even if someone gains access to your username and password, they will be unable to sign in to your account without the right multi-factor information.
Additionally, the way the app doesn't actually store any credit or debit card information. Instead, this information is kept safe by Braintree. Braintree is a PayPal service, which suggests it can be trusted.
The final point is that Dosh doesn't sell any personally identifiable information to third parties.
How Much Money Can I Make with Dosh?
You can make a lot of money with Dosh. In fact, it is possible to get hundreds or even thousands of dollars back from the service. To get these big payouts, you need to spend a lot of money.
Things to Consider 'Pros and Cons'
Here are a few things to consider before getting started:
Pros
Easy to use, set-and-forget system
Get paid in cash, into your bank, PayPal, or Venmo account
High number of retail partners
Cons
You need to spend money to make money
It's less useful if your area doesn't have many partner shops
No option to scan receipts
Who is Dosh Best For?
Dosh is good for anyone who regularly uses credit cards to make payments. It is especially useful if you live in an area with lots of participating retailers. If the shops you already use are Dosh partners, you won't have to do anything other than sign up to the app and connect your cards to start making money.
Who Should Avoid Dosh?
Avoid Dosh if you prefer using cash. You also won't get much benefit if you don't shop at the stores Dosh partners with and you don't want to switch.
While Dosh is a good way to earn cash back, you only earn money when you spend money. If you worry that you will not be able to control your spending, then Dosh may not be for you.
See Also: 15 Smart Financial Goals Everyone Should Have
Dosh Alternatives
Here are some of the best cash back reward apps on the internet. Each one has its pros and cons, but for the most part they are all great.
Rakuten
Rakuten has a long history of offering cash back on purchases. It specializes in online sales, and has partnerships with many retailers. You can also link your credit or debit card for offline shopping. Rakuten even offers its own credit card.
Here is our full Rakuten review.
Ibotta
Instead of linking a credit card to get cash back, Ibotta lets you link your loyalty card or use your smartphone to scan the receipt of qualifying purchases. This makes it a good option if you don't use a credit card but still want to earn cash back. Ibotta offers a $20 welcome bonus for using the app.
Check out our full Ibotta review to learn more.
Drop
Drop is another app that lets you link your card and earn points. Or you can shop online via the app. Points earned on Drop can't be used as cash. Instead, you spend them at popular retailers such as Amazon, Netflix, and Starbucks.
Shopkick
Shopkick is a cash back app that provides multiple ways to earn. You can get cash back by making purchases with a linked card, by submitting a receipt, or by shopping online through the platform. You can also earn money by scanning the barcodes of select products, watching videos, or even simply walking into a chosen store.
Swagbucks
Swagbucks lets you earn cash back on your online shopping. However, this is just a small part of the overall Swagbucks experience. Users can also earn points by filling out surveys or watching online videos. With Swagbucks, you can trade points for vouchers or PayPal cash.
Here is our full Swagbucks review.
Final Thoughts
Dosh is a great way to earn cash back on your purchases. Once you are set up, you don't have to do anything to earn, other than use your card.
The site has a high number of partner retailers, including many popular brands. If you shop at any of these stores, then signing up for Dosh is a no-brainer.
People who might have reservations about using Dosh are those that don't usually use cards or those that shop at other places that Dosh hasn't partnered with. If this is you, you'll have to consider whether the chance of earning cash back is worth adjusting your shopping or payment habits.

Ricardo is an entrepreneur, investor and personal finance nerd who enjoys spending time with his family and friends, travelling and helping others achieve their financial goals. Ricardo has been quoted as a personal finance expert in several online publications including Healthline, Bankrate, GOBankingRates, MSN Money, Yahoo Finance, U.S. News & World Report, Forbes and USA Today.