Flipping Cars: A Complete Guide For Beginners
Many or all of the products featured on this page are from our sponsors who compensate us. This may influence which products we write about and where and how the product appears on a page. However, this does not influence our evaluations. Our opinions are our own. Here is a list of our partners and here is how we make money.
---
The information provided on this page is for educational purposes only. The Modest Wallet is a financial publisher that does not offer any personal financial advice or advocate the purchase or sale of any security or investment for any specific individual.
The past few years have seen the world change in many ways, including the way that people build their careers, find work, and create income to live comfortably.
There has been a significant change that shows a large majority of working-class people taking on side hustles and other projects in order to start bringing in supplemental income. Through my own experiences, I have noticed that many have turned to the art of "flipping" items as their side hustle of choice.
From furniture and home goods to hardware, tools, and even vehicles — there are opportunities to make some extra cash all over the place. Flipping can be incredibly lucrative if you have the right knowledge and information, that is.
In this article, I will be focusing on the art of flipping cars and providing a complete beginner's guide to help those that are relatively new to the hustle.
---
What Is Car Flipping?
Car flipping refers to the process of buying a used or second-hand car and then turning around and selling it for a profit. This turn-around process will often involve making improvements to the vehicle (mechanical or cosmetic) in order to help increase the value, but not always.
In most cases, flipping cars does not involve an official dealership and is done privately between buyer and seller. The timeline for a car flip will usually be a shorter period of time unless the flipper is planning to do time-consuming upgrades or other work before selling.
Flipping cars effectively can bring in huge profits, as the higher price points and price variability of vehicles inherently boost potential profit margins. That said, the risk-reward level is quite high, which means that failure can lead to substantial losses.
Going in with the right knowledge can help give you the best chance at success and minimize the risks you take — and that's where I come in.
---
Flipping vs. Reselling Cars
The terms flipping and reselling are generally used synonymously to describe the act of buying something and then selling it for a profit.
There are a few small differences that some may notice in terms of the process and the ultimate goal. Reselling vehicles typically refers more to the act of simply selling a car you have in order to free up funds for whatever reason and often does not involve an extensive process.
Flipping requires a lot more involvement from the seller, from pre-purchase market research to restoration and upgrades. Flipping is often going to be very hands-on, and the goal is to bring in as much profit as possible.
---
How To Flip Cars
I have said it before, and I'll say it again — having the right knowledge will be a huge part of having success flipping cars. Diving in blind can end up doing some real financial damage.
So, let's get into the meat and potatoes of how to flip cars. Your journey starts here.
Step 1: Understand How Car Flipping Works
One thing to remember about the art of flipping cars is that it is a bit more complicated than flipping furniture or name-brand sneakers.
Vehicles are highly technical products that are accompanied by a competitive market and are subject to certain laws and regulations when being traded.
Legal Implication Of Flipping Cars
In regards to the laws imposed on the act of flipping cars, most American states have a set limit of cars an individual can sell within a calendar year. These limitations are in place to ensure that consistent sellers receive a dealer's license and are abiding by all associated regulations.
Some of the limitations for specific states include the following:
Alabama: 4
California: 5
Colorado: 2
Florida: 2
Georgia: 0
Indiana: 11
New York: 4
Texas: 4
There are a select few states that do not have a specified limit (some regulations may still apply). These include
Montana
New Jersey
North Dakota
It is important to abide by the laws associated with your specific state as a reseller in order to ensure that you do not run into any legal issues down the road.
You should also use your knowledge of these laws to identify and avoid any sellers you encounter that may be engaging in shady practices. These sellers are often fully aware of their law-breaking ways, which obviously indicates that they may not be the most honest business people.
Understanding The Costs Associated With Car Flipping
Gathering a solid understanding of the costs that are associated with car flipping is going to be important for your success. Consider how much of an investment you can make without risking your entire life savings, and use that number to help make smart purchasing decisions.
It is also important to keep in mind what kind of investment will be required after the initial purchase of the vehicle. If you can simply flip it as is without so much as a paint job, awesome.
However, if you plan to have some cosmetic work done to boost the value or maybe even do some mechanical tweaks/upgrades, factor these costs into your initial purchase budget. Ending up taking a big loss on a flip because you didn't evaluate the associated costs properly hurts — always leave yourself some room in case things don't go as planned.
Let's say, for example, you have a $10,000 total budget and have allocated $2,500 of it to pay for post-purchase vehicle upgrades. I wouldn't buy a vehicle for $7,500, leaving zero wiggle room. Instead, I would look to find a vehicle in the $3,500 to $6,000 range — leaving you at least $1,500 in extra budget space.
Understand The Used Car Market
The next aspect you need to focus on before jumping into the car flipping game is to familiarize yourself with the used car market in your specific area. The market value of used cars will often fluctuate from state to state, depending on a variety of factors.
It is imperative that car flippers educate themselves in regard to the current value of used vehicles and how that will influence their purchasing and pricing decisions. The key to having success flipping cars is to find ones that are undervalued and use your knowledge of the market (e.g., competitive price ranges, popular makes, quality marketplaces, etc.) to sell them for a nice profit.
Do some research and maybe even consider compiling all of your data in a document and/or spreadsheet so that you can refer back to it when needed and add to it as you gain experience and markets change.
Step 2: What To Look For On A Car To Flip
Now that you have gathered some preliminary knowledge and information regarding the ins and outs of flipping cars, from state laws to market research — it's time to start thinking about what kind of cars you are going to flip for profit!
There are certain features and qualities that flippers need to keep in mind when browsing for potential vehicle purchases. Diving into a purchase before getting all of the right info is, in some cases, a recipe for disaster.
Here are a few things you should always look for when buying a car to flip.
Low Mileage
When it comes to buying and selling used cars, mileage will always be one of the first things in question. The number of miles that a vehicle has recorded is a direct indicator of how much the car has been driven and, as a result, how much wear and tear has been imposed on the engine and other parts.
Car buyers will almost always be more inclined to buy a vehicle with low mileage, as this means it has been driven less and speaks to the relative newness of the vehicle and the quality of which it functions. Fewer miles typically mean a car will be less likely to have issues and require an investment to have repairs done or order new parts.
As a result, low mileage should be one of the first things you are looking for in a car that you want to flip. Buyers will often base their purchasing decisions on a car's mileage, not to mention the fact that low mileage will justify a higher price tag and therefore help boost your profit margin.
Healthy History Report
Another very important aspect to consider when purchasing a used vehicle to flip, or for any reason for that matter, is the history and health of the car.
A vehicle history report is a document that provides information pertaining to a vehicle's driving history. It includes everything from ownership and registry information to accident reports, maintenance documentation, and any active financial issues. Vehicle history reports can be obtained when purchasing a used car — and ALWAYS should be.
Get the VIN (vehicle identification number) from the current owner and use that to run a report using one of many online platforms (e.g., CarFax, AutoCheck, etc.). Go over everything and make sure that the car you are looking to buy has a healthy history report before you move forward with the purchase.
This will not only serve to ensure that you are purchasing a quality vehicle that is properly registered and paid for but also help avoid running into unforeseen issues that could come to light after the purchase has been made.
High Demand
The ability to sell any product or service will ultimately boil down to its demand among consumers. This is a universal rule that, of course, applies to the buying and selling of vehicles — if there is no demand for a certain model or style of car, you should steer clear.
There are a variety of reasons a vehicle could be in high demand. Examples of these include
Novelty: New cars, styles or models will typically experience a significant popularity spike after they have been rolled out to the public and advertised through various networks.
This increase in demand is something that can be taken advantage of, as car flippers who can offer a "like new" vehicle at used car pricing that beats the dealership price will likely make a quick sale.
Rarity: Rarity is naturally something that attracts buyers to a certain car. Typically these are collectors or individuals who have an affinity for a specific car or model.
Rarity has everything to do with supply and demand. Cars are considered rare when there is a high demand that is met by a very limited supply. Lots of prospective buyers, but very few cars.
If you happen to come across a car you think may be rare, do some research to confirm your suspicions and check recent selling values. When dealing with rare cars, it is important to work quickly before another buyer steps up — rare cars don't come around often!
Step 3: Find An Undervalued Car To Flip
The name of the game when it comes to being successful in flipping cars is the profit margin. Buy cars that you can turn around and sell for a healthy profit — there is no point investing all of that time and money for peanuts.
Experienced car flippers will ALWAYS be looking to buy cars that are undervalued based on current market price comparisons. This doesn't mean that you should go out and buy that broken-down chevy sitting outside the gas station with a for sale sign.
There are platforms designed specifically to help people buy and sell used cars. Some of the best, in my opinion, include the following.
Public Auctions
Public auctions, also sometimes known as government auctions, are auctions that are held on behalf of the government to sell property that is either owned by the government or is being sold under their authority.
These auctions include everything from surplus government equipment, police-confiscated property deemed eligible for sale, abandoned property left in the hands of the government, and more. Items are sold to the public in an auction-style bidding format, where the highest bidder will take the item.
The great thing about public auctions is that the items up for sale are often being offered at prices that are well below current market values. They are great places for car flippers to find used vehicles in good condition that are waiting to be flipped!
There are public auto auctions dedicated to the auctioning of used cars that flippers can attend to shop around. Police auctions or other government auctions will also sometimes have used cars available, from old police cruisers and city vehicles to utility trucks and vans.
Keep an eye out for advertisements for public auctions near you. There are also a number of online auction-style marketplaces that have a section for used cars — check out GovDeals for a place to start.
Craigslist
Craigslist is one of the most popular online marketplace platforms in the United States. With over 250 million reported monthly visitors, it hosts a massive range of products and services from sellers all over the world.
Craigslist has a "cars and trucks" section that will use your location to show you advertisements for used vehicles in your area and surrounding areas. Simply browse the marketplace once a week and look for cars that have the potential to be a good flip.
When you find one that you want to look into, contact the seller through their desired channel (e.g., email, text, etc.) and initiate a conversation. Make sure you ask all of your questions that weren't answered by the ad and get all of the important vehicle information.
If you end up deciding that you want to go through with your purchase, make sure you don't make any offers out of the gate. My advice is always to ask the seller what the best price they can do is. This way, the pressure is on them to either stand firm on the price they advertised or fold and give you their real "bottom line" price.
When they respond, you should always try at least one counteroffer that cuts the price 5 – 10% in your favor — sometimes, all it takes is a little bit of haggling. With that being said, don't cross the line of outright insulting them with a lowball offer — act within reason.
eBay Motors
eBay Motors is a vehicle-specific division of eBays online platform that provides an online marketplace that is dedicated to the buying and selling of used cars. Naturally, this is a great place for car flippers to find their next profit project.
Buyers can visit eBay motors and take advantage of their state-of-the-art automobile search engine to discover and purchase used cars. Start by simply using the drop-down menus to do more of a general make or model search straight from the homepage. You can also choose to refine your search a little bit by using the advanced search filters and narrowing it down to your liking.
When you have found something you would like to purchase, simply place a bid during the item's active auction time. Enter your maximum bid amount in the "Place Bid" box found at the bottom of the listing. eBay will then automatically place bids for you up to the maximum amount you defined.
Whoever has the highest bid when the auction time has elapsed will get the vehicle.
✎ Editor's Note
Sellers will usually have set a "reserve price" on their item, which is the lowest price that the seller is willing to accept. If the highest bid at the end of the auction does not meet or exceed this number, the seller reserves the right not to sell the car.
Newspaper Classifieds
Newspaper classifieds are advertisements typically placed in a newspaper or magazine for the purpose of buying or selling a product or advertising a job. They are called classifieds because they are grouped into categories or "classes" that define them (e.g., "services – plumbing" or "for sale – vehicles").
Newspaper classified ads are a great way to browse for and purchase undervalued used cars that are in your area. They can be found both in your local town and/or city newspaper, as well as online at one of many free classified ad platforms.
Look for something like "for sale – vehicles" as the section title, and then enjoy browsing all of the used cars up for sale. When you find something you are interested in, contact the seller with the information provided in the ad.
Again, always do all the necessary due diligence before making any used car purchases, and don't forget to do some bargaining when appropriate to get the best possible price.
Check out this online classifieds website to get yourself started.
Facebook Marketplace
Facebook Marketplace is one of the biggest and most widely-recognized online marketplaces in the world. With over 1 billion active users, it is hard to argue that there is a bigger and more accessible marketplace anywhere else.
Facebook Marketplace is like a general store — you can find everything from cars, trucks, and motorcycles to art, furniture, video games, electronics, and everything in between. It is a location-based platform that allows buyers to search their designated area for whatever they are looking to purchase.
Car flippers should definitely be keeping an eye on Facebook Marketplace, as the vehicles that sell are often going for well under market value. Sellers are motivated and typically look to get their hands on cash with a quick turnaround, which brings even more opportunity to grab something that will produce a nice turnaround profit.
I would recommend checking in once every few days to see if there are any new listings, as the quality vehicles that are undervalued will get scooped up quickly. When you do find something you like, act quickly, but always do your research and cover all your bases before making a purchase.
Local Listings
Local listings are listings that get added to listing directory sites with a business profile and contact information included. This provides a great way for people to discover and connect with businesses in and around their area that have the right products and expertise.
This is a great way for car flippers to find used car dealerships and other businesses that have used cars for sale in their area. Once you have looked into what is available in your area, you can visit the locations with the vehicle(s) you are interested in.
Once you have decided on a purchase and confirmed that everything looks good in regard to the vehicle's health and history, bargain with the dealer for the best possible price!
Examples of some popular listing directory websites include Yelp, Yellow Pages, and eLocal.
Family, Friends, and Acquaintances
Another good way to source undervalued used cars that can be flipped for a healthy profit is to leverage your own personal network — friends, family, co-workers, acquaintances, etc.
It could be your best friend looking to get rid of their old Volkswagen and get an upgrade, or a cousin who needs some extra cash and is looking to sell their current vehicle. If you are looking for used cars, they could very well be sitting right under your nose.
Bring it up in conversation and let people know that you are in the market for a used car. They could very well help find you a good flip.
Step 4: Carry Out Due Diligence Prior To Buying The Car
As we have touched on a few times already, due diligence is an incredibly important part of the used car purchasing process. Due diligence involves carrying out the necessary steps to ensure that your purchase will be both safe for you financially and safe in the eyes of the law.
Let's highlight some of the most important steps to take before purchasing a used vehicle.
Interior Inspection
Inspecting the interior of a vehicle should always be one of your first steps. This includes everything from the dashboard, console, and glove compartment, to the interior door panels, floor mats, and seat covers.
Check on the state of everything in terms of the level of wear and tear, as well as relative cleanliness and upkeep. This will help indicate the level of care that was put into maintaining the vehicle and give you a chance to catch any major issues that weren't disclosed.
It is important not to be overly critical of a car's interior, as many issues can be resolved with minimal investment, which can actually help you boost profit. Don't let small things deter you from buying a vehicle that checks all of the other boxes.
Things like minor stains or scuffs on the seats and/or other interior fabrics, dirty floor mats, excessive dust build-ups, or other relatively insignificant issues can be dealt with.
With this being said, it is important to stay away from more serious interior issues that you may stumble upon when buying a used car.
Some of the major issues to look out for include:
Excessive staining and/or wear and tear on seats and upholstery
Cracked or otherwise broken dashboard
Broken nav screen, radio, or other problems with electronics
Dangerous mold or mildew build-ups
Unpleasant odors that stick (e.g., tobacco smoke, pet odors, etc.)
Exterior Inspection
The exterior inspection of a potential used car purchase is going to be important as well. Give the car a thorough look over, and make sure to ask any questions you may have while inspecting.
Exterior inspections of a used car should cover the following at the very least:
Body
Check the body of the car for scratches, dents, paint chips, scuffs, and general overall condition. Take a closer look at the paint job for any obvious touchup spots or inconsistencies that could indicate a larger problem.
Take a close look at the hood, front and back bumpers, all of the quarter panels, doors, and wheel wells to find any areas that could be damaged but not be overtly obvious.
Take a flashlight and check out the undercarriage of the car, as well as the bottom edges of all the body paneling that is facing the ground. Any signs of rust can be a big problem, and any major damage to undercarriage parts is a warning sign as well.
Glass
Inspect all of the glass found on the exterior of the car. This includes all of the windows, front windshield, back windshield, rearview mirrors, and sunroof/moonroof if there is one.
Look for cracks or chips of any sort in the glass, as even the smallest ones can spread and become dangerous and expensive.
You should also keep an eye out for any areas in the car's glass that have discoloration or "windshield haze". Also, keep an eye out for any areas that have been amateur fixed or patched.
Tires & rims
Always take a good look at the condition that the current set of tires is in before moving ahead with a purchase. Evaluate the wear and tear on the tire tread, and keep an eye out for any obvious curb scrapes or other damage on the tires.
Inspect the rims themselves as well. Look for any cracking, wearing, fretting, corrosion (e.g., rust, etc.), fretting, or other damage.
Windshield wipers
Check all of the windshield wipers on the car, both the wiper structure itself as well as the condition of the wiper blades.
Check both the front windshield wipers and the back windshield wiper(s) if applicable.
Windshield wipers are easily replaceable and relatively inexpensive. Don't let a bad set of wipers deter you from purchasing a good vehicle, but maybe get a few bucks off the selling price for replacement costs.
Under The Hood Inspection
Under-the-hood inspections are one of the most important steps in the process of buying a used car. They include everything from brakes and belts to fluids and hoses.
Here is a bare minimum list of what to include in your under-the-hood inspection.
Engine Oil
Unless you are dealing with a newer vehicle that has an electronic oil monitor, you will be able to manually check the engine oil by using the traditional dipstick method.
With the engine off, pop the hood of the car and find the oil dipstick that will be attached to the engine by the dipstick tube.
Remove the dipstick and wipe all of the oil off. Re-insert the dipstick and make sure that it is pushed all the way back in.
Remove the dipstick again and this time take a close look at where the oil line stops on the dipstick.
There will be some sort of indicator on the dipstick that tells you what the minimum oil level should be. If the oil line is below this minimum mark, it needs to be replenished.
✎ Editor's Note
To have accurate results, it is important to do an engine oil check with the vehicle on a level surface and not on any kind of incline/decline.
Transmission Fluid
Park your vehicle on a level surface and turn the engine on. Transmission fluids must be under normal operating conditions to get accurate results, so the engine needs to run while you check the levels.
Locate the dipstick dedicated to the transmission fluid and remove it. Wipe any fluid off of the stick and place it back into the reservoir, pushing it all the way in.
Remove the dipstick and check the fluid level in relation to the indicators that define the minimum and maximum. If the fluid line is not above the minimum indicator level, the transmission fluid needs to be replenished.
Radiator & Radiator Hose
Inspect the vehicle's radiator for any exterior cracks, leaks, or other structural damage. Check the fins for any clogs or obstructions that could lead to bigger issues.
Keep an eye out for any signs of previous damage and repairs. You can check the radiator's fill neck for indicators of a blown gasket.
Check the radiator hoses for any leaks, deterioration, or unwanted hardening. Do a tactile test by giving the hoses a firm squeeze.
Hoses should feel nice and firm and maintain a stiff, rigid structure. Hoses that are completely solid or feel almost "crunchy" when squeezed are most likely showing signs of age-related deterioration.
Belts
There are two main belt types that vehicle owners should be familiar with — timing belts and serpentine belts. Inspect these before purchasing any used vehicle to check their condition.
Start by looking for any cracks, splits, fraying, or other structural damage on the top cover of the belts.
Look for "glazing" on the sides of the belts. This will cause the belts to slip, break or overheat, which will cause the engine to stall.
Serpentine belts should be twisted and flipped over during inspection to look for any layers that are cracking, separating, or have missing pieces on the underside.
Brakes
It is possible to check on a vehicle's brakes without needing to remove the wheels or other parts. There are a couple of easy ways to check on the condition of the brakes.
Start with a visual inspection to see if the brake pads need to be changed. Take a look inside the wheel well and locate the brake caliper (metal piece found on the brake disc). The brake pad is inside the caliper — if it is less than ¼ – ½ of an inch thick, it most likely will need to be replaced in the near future.
You can also test the condition of the brakes by doing a simple test drive while listening to the brakes while testing them. If you hear any sort of grinding, squeaking, or other abnormal noises when coming to a stop, this indicates the need for a replacement.
Brake Fluid
Brake fluid is responsible for helping to amplify the force created when you press down on the brake pedal and transfer it into pressure applied to the car's brakes.
Check the vehicle's brake fluid by first locating the brake master cylinder reservoir (typically found somewhere at the rear of the engine compartment).
Most newer vehicles will have a transparent reservoir with an indicator that marks the "full" line. Older vehicles (80s and older) will need to have the cap popped off of the reservoir in order to check brake fluid levels.
Battery
There are a few different ways to check on the condition of a used car's battery. They will all require some sort of measurement tool or device.
You can use a voltmeter to check the voltage output of the car's battery. A battery in good condition will put out a reading of somewhere between 12.4 and 12.8 volts. Anything lower than that indicates that the battery needs to be charged.
You can try a power probe as well to get a voltage reading. The process is a little bit different, but you are still looking for an end voltage reading above 12.4 volts.
Run A VIN Check
A VIN, or "Vehicle Identification Number," is made up of 17 characters (letters and numbers) that are used to identify a specific vehicle.
Every single registered vehicle has its own unique VIN that will display the car's specifications, manufacturer, unique features, warranty claims, insurance coverage, and more.
It is always a good idea to run a VIN check on a used car before you buy it. You should be looking for things like registration and insurance status, warranty or financing issues, legal status, etc.
The car's VIN can be found by referring to the dashboard on the driver's side of the vehicle. It is strategically placed in order to be easily viewable from the outside of the vehicle, looking inwards where the windshield meets the interior dashboard.
Buyers can run a free VIN report by using the National Insurance Crime Bureau search engine or visiting the United States Department of Transportation's website.
Step 5: Buy The Car You Want To Flip
Now that you have all of the important preliminary car flipping knowledge, you are ready to start looking for cars to flip.
Let's talk about actually making the purchase, what that entails, and how to make the best financial decisions from an educated standpoint.
Set A Buying Budget
When you have decided on a used vehicle that you want to buy, and it has passed all of your initial checks and inspections, you should start by setting a buying budget.
Your buying budget should be a price range that defines how much money you are willing to spend on the vehicle. The bottom of the range should be a target bargain price that you could achieve in an ideal world — while the top should be the absolute most you are willing to pay for the vehicle.
This will help to ensure that you are not spending beyond your limits and putting yourself in danger of incurring a large amount of unforeseen debt. A buying budget will also help you to calculate your potential profit margins on different flips accurately.
Assess The Fair Market Value
The FMV, or fair market value is a term that refers to the value of an asset based on the current state of the open market and the influences that open market activity will have on the value.
The fair market value is intentionally different from other similar terms like appraised market value because it takes certain important factors into consideration.
Assessing the fair market value of the vehicle you are looking to purchase is an important step in the used car buying process. You can do so using any number of online valuation platforms, including:
Shift
Shift is an online used car platform that helps people discover and purchase high-quality used cars at great prices.
They offer a "sell my car" function that allows people to get an idea of what their car is worth on the current open market.
Simply enter the car's VIN number or make/model and answer a few questions about condition. The search engine will then cross-reference this info with real-time market data and provide an offer based on the calculated fair market value.
AutoNation
AutoNation is an American automotive retailer that sells both new and used vehicles. They help connect buyers with car dealerships in their area and also provide a way for sellers to get quotes for their pre-owned cars.
Getting a valuation on a car can be done by visiting their "sell my car" page. Enter the license plate or VIN of the vehicle, and then proceed to describe the physical condition of the vehicle or provide photos.
You will then receive a certified offer within 30 minutes of submitting your quote request. Use this valuation to help assess the fair market value of the car you are looking to purchase.
Kelley Blue Book
Kelley Blue Book is one of the most trusted guides for vehicle pricing in North America. It provides fair market valuations on vehicles for parties looking to both buy and sell.
The platform's proprietary algorithm is designed to analyze price data, as well as current economic conditions, industry progress, historical trends, and other important factors.
Enter the 17-character VIN of the vehicle you are looking to purchase and provide some additional information to find out what it is worth today.
Edmunds
Edmunds is another online platform that is designed specifically to help people buy and sell their cars by providing a variety of tools. That tool chest includes an appraisal tool that allows users to get an idea of what a car is worth.
Simply enter the make/model, VIN, or license plate of the vehicle in question, and you will receive an accurate market valuation. This will provide a reference point for your offer to the seller.
CarFax
CarFax is one of the world's most well-recognized providers of vehicle history and market valuations.
They claim to have the most comprehensive vehicle history database available in North America and leverage their abundance of data to give buyers and sellers accurate fair market valuations on their vehicles.
Enter the VIN or license plate of the vehicle you are interested in, and CarFax will use its vehicle history reporting and analysis of current market trends to provide an approximate price.
Negotiate a Final Price
You now have all of the information you need to make a fair and educated offer to the seller. As I mentioned a few times previously, you should always be prepared to try and negotiate with the seller in order to get the best possible price — but do this within reason.
I recommend leading with the question "what is the absolute best price you can do?". This puts the ball in their court and pressures them to tell you what their real bottom line is — which 9 times out of 10 will not be the listed price.
In the event of an online auction, obviously, you won't be able to do any negotiating to lower the purchase price of the vehicle. Instead, you will need to engage in a bidding war with whoever else has their eye on it.
These auctions can be both online or in-person and can sometimes provide incredibly undervalued prices on quality used vehicles, so keep an eye out!
Get Your Paperwork in Order
Once you have pulled the trigger and purchased the vehicle you are planning to flip, you should be getting all of the necessary paperwork in order. This ensures that all of the legal implications of the sale are covered and the transaction can proceed smoothly.
The bill of sale is going to be one of the most important pieces of documentation involved in the purchase of a used vehicle. These provide a record of the transaction, and serve as a receipt.
Bills of sale will include identifying information about both the buying and selling parties, any conditional agreement clauses, the purchase price, and the date of the transfer.
Bills of sale are required for the sale of cars in 16 American states. They include
Alabama
Arkansas
Colorado
Connecticut
Hawaii
Idaho
Maine
Nebraska
New York
Ohio
Rhode Island
South Dakota
Vermont
Washington
West Virginia
Wyoming
Step 6: Repair or Fix The Car You Want To Flip
Congratulations on your successful purchase! Now that you have gotten your hands on that new flip project, you can dive into the process of getting it ready for sale.
In some cases, flippers are able to simply flip the vehicle they have purchased without doing anything to it. Most of the time, however, there will be some sort of work to be done in terms of repairs or restorations before relisting for sale.
Diagnose Any Car Problems
Your first step will be to diagnose any car problems that may exist so that you can make a plan for getting them resolved and getting your vehicle ready for resale.
You may have already identified some issues upon your initial inspection of the vehicle before purchasing, but it is crucial to have another thorough look-over to catch anything you may have missed.
Issues can include mechanical issues, electrical issues, or cosmetic issues. Let's talk a bit about each of these main areas of concern.
Critical Mechanical Issues
Mechanical issues involve any of the vehicle's mechanical hardware and the functions that they carry out. This includes, but is not limited to, some of the following issues:
Faulty Brakes: Faulty brakes are incredibly dangerous and are responsible for thousands of accidents every year. The braking system of a vehicle consists of a number of hydraulic components, pads, and calipers and is governed by brake fluid.
Suspension & Alignment Issues: The suspension system of a vehicle includes parts like struts, ball joints, shocks, control arms, and bushings. Together they are responsible for supporting and effectively displacing the weight of a vehicle in order to provide a smooth driving experience. When these parts begin to fail, the suspension and alignment functions of a vehicle will be quick to follow.
Critical Electrical Issues
Electrical issues can be any problem that is related to the electrical parts of a vehicle. This can involve anything from the headlights and tail lights not working properly, to navigation system malfunctions, battery problems, or ignition issues. Some indicators of electrical issues include:
Headlights are flickering or appear dim
Engine won't start or crank properly
The battery is having issues
Cosmetic Issues
Cosmetic issues refer to any sort of damage or problems that have no real impact on the structure or function of a vehicle. They are not as critical to the functioning of a vehicle or its relative level of safety, but will still significantly affect the selling price. Typical cosmetic issues include
Scratches, dents, or chips to the body
Cracked or chipped windshield
Faded or blemished paint job
Rust or other corrosion on the body
Set A Repair Budget
Now that you have identified any issues that you need to have fixed in order to prepare your vehicle for resale, you should be setting a repair budget and sticking to it.
Your repair budget should have been factored into your initial budget for purchasing the used car you plan to flip. The repair costs need to be added to the purchase price of the car in order to accurately calculate your expenses and ensure that there is a healthy profit margin.
Take into consideration the repairs or other work that needs to be done on your vehicle, and create a reasonable budget that you can meet without putting yourself in excessive debt. Your budget should include some room for unforeseen expenses, so keep that in mind when deciding on a number.
Target Profit Margin
Your target profit margin is going to define how much money you want to make on one single car flipping project. It is important to set realistic expectations for your profit margin while at the same time aiming for a healthy profit.
Your profit margin will depend largely on the initial price of the car. For example, a car you invest $30,000 into and then sell for $42,000 will net you $12,000.
On the other hand, a car that you invest $1,500 into and sell for $2,200 nets you $700 in profit — the point here is dollar value profit will depend heavily on the price bracket that the vehicle falls into.
Instead, I like to work with percentages and follow the rule of thumb that car flippers should be looking to make at least 25% on their sale. This means that when you invest $2000 into a flip, you should be looking to make AT LEAST $500 in profit.
Fix Yourself or Go To a Repair Shop
When you have identified any vehicle issues that need to be repaired, it is now time to decide whether you can fix them yourself or should opt instead to take it to a repair shop.
Some of the more straightforward repairs can definitely be done yourself, including things like changing oil or coolant, replacing headlight fuses, replacing windshield wipers, changing tires, and others.
Repair shops charge based on labor hours worked, and industry standards see auto repair hours being billed at upwards of $50 an hour. Avoid racking up these labor costs by doing some of the simple but time-consuming repairs on your own.
When it comes to more complicated repairs that deal with specialized vehicle parts or systems, I recommend having these done by a certified professional at a repair shop.
These include things like:
Brake repairs or replacements
Alignment & suspension repairs
Engine work of any kind
Airbag & other safety part servicing
Clutch and/or transmission repairs or replacements
If you have the knowledge and expertise to take on some of the more specialized repairs, this can definitely help minimize your repair budget and maximize potential profit margins.
With this being said, it is always better to leave this work to a professional if you are not 100% confident in your ability to do the repairs properly. Safety should ALWAYS come before everything else when repairing and reselling vehicles.
Step 7: Sell The Car You Want To Flip
By now, you have successfully completed all of the necessary repairs and restorations needed to get your vehicle ready to be sold.
Our final step in this journey is to put your vehicle on the market with a compelling listing that will attract buyers and help you get what you deserve for your hard work!
Price Your Car Appropriately
Pricing your vehicle appropriately is something we have discussed periodically throughout this guide. In order to make sure that you are profiting on your car flipping project, it is important to put the right price tag on it.
Consider the total amount that you have invested in the vehicle — this includes both the purchase price (including any potential shipping or transportation costs), as well as the investment made into any repairs or restorations.
With this number in mind, consider the profit margin that you have set out to achieve and factor that into the final price you are going to list the vehicle at. If you are aiming for a 40% profit on the flip, add that to your total investment and find your listing price.
Before setting it into stone, you should always consider the fair market value of your vehicle relative to its condition. If the FMV is significantly lower than the listing price you want to go with, it may be a good idea to consider adjusting the price in order to stay competitive.
Get A Professional Inspection Done
Sellers should consider having a professional inspection done before moving forward with selling a vehicle.
This can be done by getting a pre-purchase car inspection done by a licensed mechanic or auto technician. They will give the vehicle a thorough inspection to determine whether or not it is safe to operate and, therefore, safe to sell.
Pre-purchase car inspections will typically cost, on average, somewhere between $150 and $200 to have done. This will help cover all of your bases legally and is definitely something to consider before listing and selling any used car.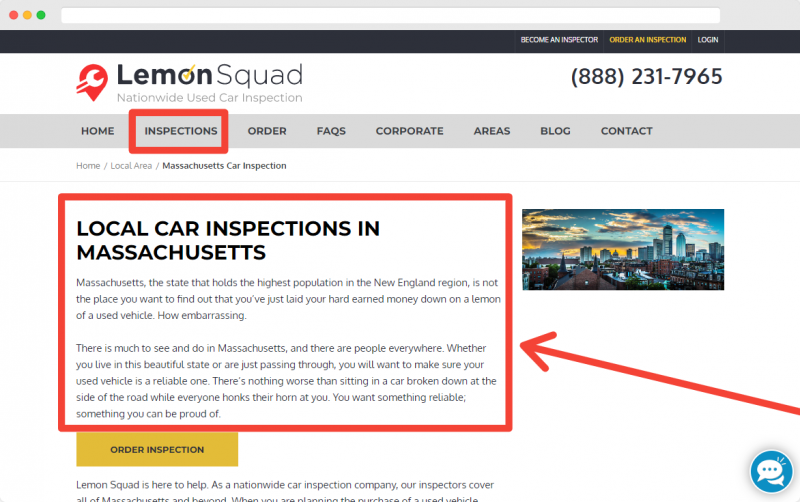 Get It Cleaned Inside and Out
This one may seem obvious, but you would be surprised how many people list their cars for sale without giving them a proper cleaning. Needless to say, this will not help the vehicle sell quickly and will only serve to bring the value down.
Give your vehicle a thorough cleaning, both inside and out.
Interior cleaning jobs include
Clean all of the seats and upholstery. If there is excessive grime and/or staining, consider using a material-safe steam cleaner.
Wipe down the dashboard, console, door panels, and any other surfaces that can collect dust and dirt for a nice clean shine.
Empty out the glove box, center console, and any other compartments. Wipe them all down and make them look as unused as possible.
Remove all of the floor mats and give them a thorough cleaning (e.g., vacuum, scrub, hose, etc.). Proceed to clean the vehicle floor as well.
Wash the interior windows to remove any streaks, smudges, or other grime.
Exterior cleaning jobs include:
Give all of the surfaces a good wash with soap and water to get that layer of dirt and grime off of the body.
You can go a step further and do some waxing and buffing to give the paint job that extra element of glimmer and shine.
Give the rims/hubcaps a thorough cleaning. Use degreasing soap and hot water, and make sure to get into all of the crevices to clean out the grime.
Clean all of the exterior glass (e.g., front and back windshields, windows, headlight glass, etc.). Use an auto-specific glass cleaner.
If you would like to have a professional do interior and exterior detailing of your vehicle, that is an option, however, costs can run upwards of $300, depending on the condition.
Create a Compelling Listing For Your Car
The next step in the selling process is to create a compelling listing for your vehicle that will serve to catch the eye of prospective buyers and entice them to inquire about a purchase.
The used car marketplace is often quite a competitive scene, so it is important that you do your best to ensure your listing stands out by taking the right steps.
Here are a few tips for building a quality listing:
Provide an accurate description that accentuates the desirable features of the car. Mention updates or extras that you have done that add value.
Take high-quality photos that make the vehicle look great and display the best features of the vehicle.
Use proper English and do your best to write a description that includes adjectives and other descriptive elements that entice buyers.
Create a title that uses keywords that are accurate and commonly searched to increase your listing's visibility and reach on search engines.
Places to Sell a Car Online
There are more online used car marketplace platforms than you can count, thanks to an industry that has only been gaining popularity. Some will be more reputable and more effective than others.
In the following section, I will highlight some of the best places to sell a used car online.
CarMax
CarMax is one of the largest retailers of pre-owned vehicles in North America, with an inventory size of well over 50,000 vehicles.
CarMax is open to buying cars and negotiating trade-in offers. Sellers can take their vehicle to a CarMax location to have it evaluated.
CarGurus
CarGurus is an online vehicle shopping platform that provides a marketplace for car dealers and individual sellers to post-sale listings. Users can browse thousands of listings from different retailers and local sellers.
In order to sell a vehicle on CarGurus, there is a base fee of $4.95 for each listing. Listings are valid for 30 days, however, they can be renewed with no additional cost incurred.
Sellers can also opt to pay $19.99 for a "featured listing" that will receive priority positioning on the marketplace and garner more views.
The CarGurus "CarOffer" system is designed to buy used vehicles directly from sellers in 36 different states using instant price bids pulled from a network of car dealers. Cash offers are non-negotiable and active for 7 days or 250 extra miles on the vehicle.
They do not have physical locations but will arrange to pick up the vehicle from your location at no charge.
Peddle
Peddle is a completely free vehicle purchasing service platform that specializes in purchasing vehicles directly from individual sellers. They offer a fast, convenient purchase process that will get you to cash faster than any private listing.
Peddle is willing to take vehicles of any condition, which most dealers won't. To get started, simply fill out an online form that details the vehicle, and Peddle will provide you with a quote.
If you accept their quote, they will need to first run an inspection before picking up and purchasing your car.
Sellers can choose to accept the initial cash offer directly from Peddle, or opt to go ahead and list their vehicle on a national buyer network that is maintained by Peddle and aim to get more for it.
GivemetheVIN
GivemetheVIN is another one of our favorite options for selling your used vehicles online. They provide a service that buys vehicles directly from individual sellers. Get an offer on anything from new and used vehicles to damaged, salvaged, recreational or commercial vehicles.
To get started, submit your vehicle's 17-character VIN or license plate number alongside all of the usual important information (e.g., mileage, condition, financing info, etc.). They will send you an email with an offer range within minutes of submission.
If you are interested, a prospective buyer will reach out to inquire about more details. You will then need to upload photos of the interior, exterior, and under the hood of the vehicle, as well as provide descriptions of any issues or damage.
The buyer will then get back to you with a precise offer that is negotiable but is only good for 24 hours. Once a price has been agreed upon, GMTV will provide a sales contract that both parties sign. They will then arrange to pick up the vehicle within 10 days, and you will receive a check with your payment immediately.
Carvana
Carvana is a used car retailer that is online only. They hold an inventory of over 25,000 cars at one time, many of which feature a relatively low mileage.
Caravana also offers to buy vehicles outright from sellers and accepts trade-ins in certain cases as well. To start selling, you will need to provide your vehicle's VIN or license plate number, as well as a fill out a condition questionnaire and some other information
Carvana will make a cash offer up front that is strictly non-negotiable. It is valid for 7 days from the day the offer is made. When an offer is accepted, the seller must bring the vehicle to a Caravana location for an on-site inspection.
Once the vehicle has been inspected, and all other important information has been confirmed, Carvana will provide payment by way of a written check for the agreed upon amount.
Vroom
Vroom is another awesome online used car dealership platform. One thing that sets them apart is the fact that they offer to help buyers pre-qualify for loans on vehicles they purchase on their platform.
Vroom also offers a place to sell used cars online. They offer to buy cars outright from prospective sellers, and will also accept trade-ins. To get started, provide the VIN of the vehicle you are looking to sell, as well as the mileage, relative condition, and other information.
When an offer has been accepted, sellers that are located in an area that Carvana serves locally can simply have the car picked up. If not, sellers must drive to meet a Carvana representative in the nearest servable area.
Algo
Algo is an online platform that was launched in 2016 with the purpose of purchasing used vehicles directly from individual sellers over the internet. They currently purchase upwards of 2,000 vehicles monthly that are resold at their dealership or by auction.
Selling your car to Algo is as simple as visiting their website, providing the vehicle's 17-character VIN, mileage reading, and other info, as well as a description of its condition. Sellers will then receive an instant quote with the estimated value of the vehicle.
An Algo representative will typically contact you within a few hours to discuss the vehicle and arrange an inspection that can be done virtually by way of a video call. After the inspection, Algo will contact the seller with a final decision, as they may not be interested in proceeding with a purchase. If you receive an offer, it is good for 24 hours.
Accepted offers are followed by a scheduled pickup by an Algo representative from your location or at a site of your choosing. Sellers will receive a written check for the full amount upon arrival.
Places To Sell a Car Locally
If you are looking to sell your car locally instead of online, or would like to take advantage of both avenues and increase your chances of finding a buyer quickly, I have a couple of recommendations.
Facebook Marketplace
Facebook Marketplace is well known for its massive customer base and ability to help buyers and sellers connect both locally and internationally.
Used car flippers who are looking to sell their car locally can take advantage of Facebook Marketplace's simple and easy-to-use listing system. Take a collection of high-quality photos that will catch the eye of potential buyers, and supplement those with a compelling description of the vehicle that entices further inquiry.
Choose a title that is short and direct but still uses all of the important keywords that you think used car buyers are searching for. Put these things together, and voila.
Publish your listing and wait for replies. You can adjust the description, title, location, and/or price whenever you want.
Craigslist
Craigslist is an American-made classified advertisements website that is divided into specialized sections or categories that cater to different areas of interest. From vehicles and housing to clothes, collectibles, and even jobs — Craigslist has it all.
Make a vehicle-specific listing, similar to the way you would on any other marketplace platform, and publish it to be seen by anyone surfing the "vehicles" section of Craigslist. The platform is location-based, which means that your listing will be targeted to users that are in and around your area.
Close The Deal
Wait for replies and negotiate with potential buyers to get the best value for your used vehicle. You will definitely get a few low-ballers, but it is important to stand your ground and stick to the profit margins you set out to achieve!
When a sale is made, and the deal has been closed, you can have the buyer pick the car up from your location or arrange a meeting elsewhere.
Car flippers will typically secure payment via PayPal, direct deposit, e-transfer, written check, or cash. Be sure to do this before you hand over the keys.
---
Best Tips For Flipping Cars
Flipping cars is something that you will become more successful at as you gain experience and learn about the industry. Here are a few of the best tips for flipping cars!
Negotiate When Buying A Car To Flip
Negotiating should always be a priority when buying a car you plan to flip. Never simply accept the asking price and jump into the purchasing phase unless there are multiple offers and you want to act quickly to secure the vehicle.
I like to handle negotiations simply by leading a conversation with something like "what is the best possible price that you can do?". This way, you put the pressure on the seller to either give you a better price than the list price or hold firm. From there, you can evaluate the situation and make a counteroffer.
It doesn't hurt to see how good of a deal you can get, so always ask.
Keep An Eye On The Repair Budget
You should always have a firm repair plan when purchasing a used car to flip. Keep a close eye on this budget and do your best to stick to it.
Car repairs can become very expensive and add up incredibly quickly. If things start getting out of hand, it is important to recognize when it is time to abandon a project and cut your losses.
✎ Editor's Note
Safety should always come first. Never take shortcuts or sell vehicles that are not safe to operate. It is better to scrap a vehicle than put another person in danger.
Take Great Photos
Taking high-quality photos for your online listing is one of the best tips I can give you.
Potential buyers scrolling used car listings will be more inclined to click on listings that feature great photos of the vehicle for sale. The feature photo is the first point of contact, so make sure it shines.
Some photo-taking tips include:
Set up good lighting
Find angles that accentuate desirable features
Use a quality camera
Create Compelling Listings & Descriptions
It is important to back your high-quality photos up with a compelling description of the vehicle that is clear, concise, and direct.
Write a description that highlights the vehicle's best features and gives the reader all of the important info that buyers need. Use proper English and keep the description short and sweet — readers will appreciate an easy read that answers all of their questions.
Use keywords in your listing title that describe your vehicle accurately and will be commonly searched to increase view potential.
---
Pros of Car Flipping As A Side Hustle
Some of the pros of car flipping as a side hustle include the following:
Large profit potential: In comparison to other flipping hustles, the potential earnings for car flippers is significantly larger.
Make your own schedule: You choose when you want to spend time on your flips. Do it as more of a hobby or take it more seriously — the choice is always yours.
Learning skills: You will naturally be learning new skills and developing your knowledge as you gain experience flipping cars. These skills and your knowledge will stay with you for life.
---
Cons of Car Flipping as a Side Hustle
Some of the cons of car flipping as a side hustle include the following:
Financial risk: Flipping cars is inherently more of a financial risk, as purchasing a used vehicle and doing repairs can run into the 5 and 6 figures. Projects that go sour can lead to substantial losses.
Requires space: Car flippers need to have the space to store their vehicle while they do any repairs or restorations and wait for it to sell. If you don't have a garage or driveway space, holding costs can be substantial for external storage.
Stress: Flipping cars can be a stress-inducing side hustle. With the investment of significant funds, and the expensive nature of car repairs and restorations, the process can become very stressful.
---
FAQ on Car Flipping
Here are the answers to some of the most frequently asked questions on car flipping.
Do I Need A Dealer's License To Flip Cars?
Depending on the number of cars you plan to flip per year, as well as what state you live in, you may need a dealer's license to flip cars legally.
Some states have no regulations, while others allow a specific number of personal vehicle transactions before a dealer's license is required.
Is Car Flipping A Good Side Hustle?
Yes, car flipping is an excellent side hustle that has the potential to generate substantial income. With that being said, there are risks involved that car flippers should be aware of before taking on projects.
How Much Money Do I Need To Flip Cars?
For beginners who are looking to get into the business of flipping cars, I would recommend starting with a budget of $1500 to $2000. This includes the cost of purchasing the vehicle as well as the repair budget.
Is Car Flipping Profitable?
Car flipping can be very profitable, with some experienced flippers reporting profits of more than $50,000 a year. However, earnings can be limited by the need to acquire a dealer's license in some states.
How Much Should I Sell My Fixed Car For?
Determining a listing price for your used vehicle will depend on a variety of factors. Consider the vehicle's fair market value, which can be determined by using platforms like Shift, CarFax, and AutoNation.
How Much Should I Spend On The Car I Want To Flip?
How much you should spend on the car you want to flip will depend on the budget you have set for yourself (purchase price + repair costs) and your target profit margin.
Stick to your purchasing budget to avoid putting yourself in danger of losing more money than you are prepared to lose.
What Is The Best Place To Sell Used Cars?
In today's digital age, the best place to sell used cars is by using any number of online dealer platforms and marketplaces that help connect buyers with sellers every day.
In this article, we have highlighted a collection of some of the best places to sell used cars.
What Cars Are Best For Flipping?
Some of the best cars to flip include economy cars (e.g., inexpensive, fuel-efficient, etc.), classic cars (e.g., 50s, 60s, etc.), pick-up trucks, and SUVs.
If you have a little bit more money to spend, you can look into flipping sports cars, as the profit margins on a good sports car flip can be significant if done right.
---
Final Thoughts
Side-hustle culture is becoming more widely recognized as more people learn how to make extra cash to boost their income.
In this beginner's guide for flipping cars, I have provided a step-by-step process that you can follow to get your car flipping side hustle started and have success.
From understanding the fair market value and how to properly value your car to purchasing, budgeting, negotiating, and everything in between — we covered it all.
I hope you have found all of the information and guidance that you came for. Thanks for reading, and good luck flipping.
Up Next
Get our free Side Hustle Handbook with the best strategies to multiply your income sources today.
Plus our best money tips delivered straight to your inbox.

Rhys is an online content writer & editor, student of decentralized finance and amateur botanist. He loves playing video games with his friends, learning new songs on the piano, and spending time in the sun with his dog Levi.