Many or all of the products featured on this page are from our sponsors who compensate us. This may influence which products we write about and where and how the product appears on a page. However, this does not influence our evaluations. Our opinions are our own. Here is a list of our partners and here is how we make money.
The information provided on this page is for educational purposes only. The Modest Wallet is a financial publisher that does not offer any personal financial advice or advocate the purchase or sale of any security or investment for any specific individual.
The perfect side hustle is like the perfect beer: hard to find, but irreplaceable when you've discovered it. Side hustles come in all shapes and sizes. From doing paid online surveys to starting a blog to selling your textbooks, there's a universe of options when it comes to supplementing your income. One of the cleverest and most niche ideas is to buy, restore, and flip furniture for a profit.
As our consumerism has turned increasingly towards single-use, disposable items, people are letting go of quality pieces of furniture with plenty of life left — Some of them may just need some TLC. Read on for practical advice on how to flip furniture for profit!
How Do People Make Money Flipping Furniture?
The premise is simple. You look for undervalued furniture that people or second-hand stores are selling or giving away, buy it, spruce it up with some know-how and elbow grease, and sell it to the highest bidder.
See Also: 10 Services That Help You Make Money Driving (Or Renting Out Your Car)
Is Flipping Furniture Profitable?
Yes, flipping furniture is profitable. But there is a caveat. It's not profitable for everyone. Hobbyists, in particular, may find that they've paid insufficient attention to the fundamentals of the business and that their profits are slim to nonexistent once their time is factored in.
I'm calling out hobbyists in particular because they are most likely to really enjoy the restoration process. They may spend inordinate amounts of time perfecting a piece because the work appeals to them, and choose not to focus on efficiency and decisions that allow for additional work and greater income.
The potential for extra hours per piece aside, furniture restoration is a profitable business, largely because of the way second-hand furniture is typically bought and sold. Usually, the original owners of a used piece of furniture will sell it at a significant discount prior to a move, or because of another life event.
Buyers are often charities and secondhand stores that price items well below market value (you can find desks at many Goodwill stores for $10 or less, as an example). Once your restoration-related value increase is factored in, you can frequently sell a used piece of furniture for multiples of what you paid for it.
Is Furniture Flipping a Scalable Side Hustle?
Furniture restoration is a difficult venture to grow. Much of profitability depends on the ability to spot bargains, efficiently spruce up old pieces, and effectively market to buyers. The lack of automation in the art can also make it difficult to find more hours to take on additional work beyond a certain point. And hiring employees isn't a viable option without a steady volume of work at a full-time level (though if you're particularly talented and you can market effectively, furniture flipping can become full-time work — but that's beyond the scope of this article).
The relative lack of scalability is a downside that many people who enjoy furniture restoration are willing to accept. The fact that the business is difficult to scale means that competition is reasonable, and you're unlikely to be muscled out of the market by a new platform or fierce rival.
The opportunity to become skilled at bargain-spotting, restoration, and product marketing also allows for significant gains as you become more proficient. You'll have an edge over those just starting out.
Why Is Flipping Furniture a Good Side Hustle?
There are a few other attractors to this side hustle. While profits are greater as you gain expertise in the various aspects of restoring and reselling used furniture, the opportunity to make money is immediately clear.
The flexibility offered by this gig is also a huge bonus. There are no set hours, no time requirements, and the product does not expire. You can work at your own pace and schedule.
The barriers to entry are virtually nil. You can start with a single, inexpensive piece and a few tools and supplies. All told, start-up costs should be, at most, a few hundred dollars. While you can invest more than that if you like, we'd advise that you keep your initial investment as low as possible to ensure profitability on your first few attempts.
In terms of growth, any relationships you form with regular buyers and sellers can be turned into regular contracts and monetized. While we can't say that the sky's the limit with furniture restoration, the limit is certainly high.
Pro Tip: If you're looking to learn more about how to turn this side hustle into a full-blown business, we highly recommend you to take a look at the Flipping University course by Rob and Melissa over at Flea Market Flipper. The first year flipping full time, they were able to make over $133,000 in sales.
How to Get Started Flipping Furniture
Because a successful business in this space requires unique, specific knowledge and expertise, we recommend starting off slow and steady. Find one or two pieces, fix them up as best you can, and sell them for as much money as you can. Then, do it all over again. Learn from each transaction — learn what sorts of pieces are easiest to restore, what pieces sell best, and what types of furniture are easiest to find in order to maximize profit. What Type of Furniture Should You Look For?
While the answer to this depends on the facilities and resources available to you, there are some general tips that work for everyone.
First and foremost, it's important to emphasize that when you're just starting out, stick to inexpensive pieces. There's no sense in buying an antique armoire if you've never restored furniture before. It's better to hone your craft on simpler and cheaper pieces.
Second, you may have better luck with real wood (as opposed to pressboard) and metal furniture. Wood and metal hold up better to reworking, and solid pieces constructed with these materials can increase in value as they're restored. (However, it's important to note that with the increase in factory-made pieces, solid wood furniture has become harder to find.)
Third, the furniture should not be so difficult to restore that an increase in value is only achieved after dozens of hours of labor. Look for high-return products with easy-to-fix flaws. Scuff marks, missing feet, and wobbly legs are all great candidates for simple fixes and quick turnarounds.
Where Can You Find Furniture to Flip?
Re-sellable furniture can be found in dozens of places, but a few common channels can make picking up pieces and selling them easier.
Put the word out on Facebook, Instagram, Snapchat, and WhatsApp that you're looking to buy old furniture at a bargain. People will often respond — especially if you offer to pick up pieces for free. (In many cases, you can even convince the seller to part with the item at no cost if you offer free pick-up.)
Keep an eye on online marketplaces for local goods. Facebook Marketplace, Craigslist, Kijiji, eBay, and similar sites can be excellent sources of furniture. Keep in mind that you're likely going to need to buy locally and pick up the products yourself in order to maintain your profit margins. (Shipping furniture is expensive.)
Check out your local second-hand and charity outlets. These places are a goldmine of barely used and hardly scuffed furniture, offered at a fraction of the original price.
Ways You Can Restore Furniture
There are a few standard fixes for common problems that crop up with second-hand furniture. The most common is a new paint job — for scuffs, or to update an outdated piece. New paint or varnish can work wonders on an older chair or dresser.
Believe it or not, some fixes are as simple as replacing or even just tightening screws and fasteners. Many wobbly chair legs or shaky cabinet feet can be repaired this way.
Of course, not all jobs will be this simple. You may have to match and replace parts or recreate wooden parts for dressers and beds. As you gain expertise, you'll come to know what fixes are simple, and what jobs are best left to others.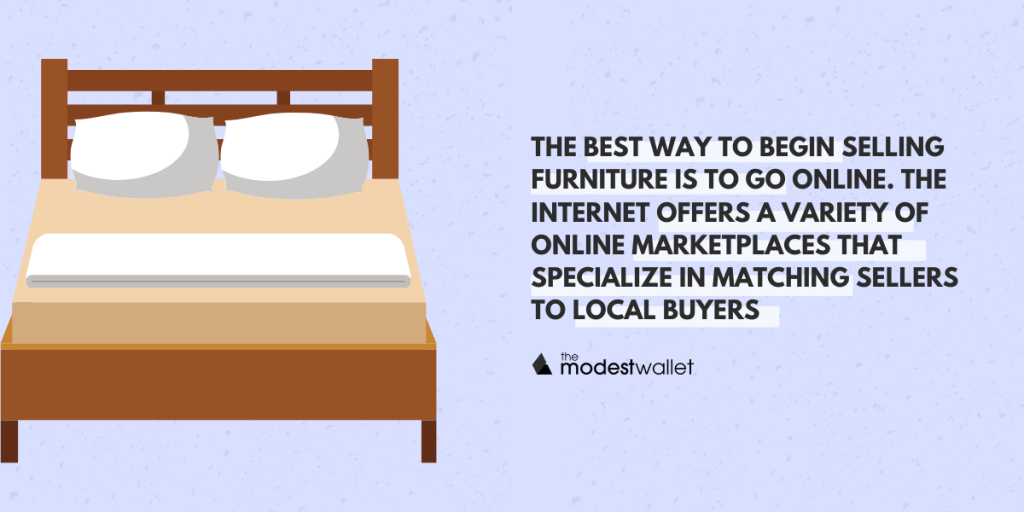 See Also: How to Become a Virtual Assistant: Get Paid to Work From Home
The Best Places to Sell Furniture Online
The best way to begin selling furniture is to go online. The internet offers a variety of online marketplaces that specialize in matching sellers to local buyers.
AptDeco
AptDeco is a service available in New York City, Long Island, New York North, Connecticut, New Jersey, and Philadelphia. It's like Craigslist or OfferUp, but AptDeco charges substantially higher fees in exchange for more services to make selling easier. AptDeco will handle delivery, returns, item inspection, and will even help you with pricing.
Bonanza
Bonanza is an online platform that connects sellers and buyers. Sellers can post items for free, and you only pay a fee to the platform when an item sells. Keep in mind that your buyer may not be local, so you'll need to sort out a shipping solution.
OfferUp
OfferUp is an online marketplace designed to connect buyers with local sellers of goods. Unlike other similar marketplaces, OfferUp allows you to make payments within their app to ship items to your buyers. OfferUp strongly encourages meeting your buyers in person.
Etsy
Etsy is an online marketplace dedicated to showcasing people's homemade and unique wares. It's a popular platform for those who make and sell all kinds of creative items, from furniture to jewelry to crafts, games, home decor, and more. Etsy can be a great market for your lovingly restored furniture.
Facebook Marketplace
Facebook Marketplace is like a classified service, and it's available in connection to the Facebook platform. With a user base of over two billion, you won't lack for potential buyers. You can post items for sale for free, or you can use Facebook Ads to promote your items and get more eyes on your furniture.
Chairish
Chairish is a fantastic marketplace for unique and one-of-a-kind decor and furnishings. It's like Etsy, but it's specific to the decor and furnishing niche. It's tailor-made for a furniture restorer, especially if your work has an idiosyncratic or distinctive quality.
eBay
Everyone knows eBay. It's the massive online auction site where you can buy almost anything. Just post your item for sale, set a reserve price (the lowest price a seller will accept for an auctioned item), and wait for customers to bid on your furniture.
Craigslist
Craigslist is the original online marketplace for local goods. Founded in 1995, Craigslist has categories for anything you could hope to find. It's been used by millions of people, and it's a great choice for people trying to unload furniture online.
Shopify
Shopify is a premium online shopping platform. You can use this what-you-see-is-what-you-get marketplace to create your own shop for all your restored furniture. (We only recommend going this route if you have a significant number of pieces to sell on a regular basis.)
See Also: How to Become a Social Media Manager: Get Paid to Work From Home
How to Maximize Earnings Flipping Furniture
There is not secret sauce when it come to flipping furniture, however you can make the most of it by following these simple tips.
Reasonably Priced
Just like when you want to flip a house, you need to find a good deal on the furniture you want to flip. This is very important if you want to make the most of your flipping efforts.
Think about all the time and money you're putting into restoring that piece of furniture, so you need to be able to add value so you can increase the selling price.
There are lots of places where you can find really inexpensive pieces of furniture. It's all about looking in the right places
Keep an Eye on Supplies
So you bought a price of furniture at a reasonable price, the next step is to use good restoring material and supplies but at a lower cost. In other words, don't spend too much on your supplies as they will erode your profit.
We know you want to use the best of the best for when restoring furniture, but there is a time and a place for everything. However, you need to watch what you buy and where you buy your supplies.
You may want to consider going to wholesalers or buy supplies in bulk for a good price, even if you're not going to need them for a while. Buy at a discount and stock up!
Keep and eye out on garage or yard sales as you can find good deals here as well.
Take Good Photos
A photo is worth more than a thousand words, especially when you are selling online. Good quality photos will make your newly restored furniture stand out and sell quicker.
Make sure you take different photos showing details and different angles. The more photos the merrier. Also, ensure your photos are high-definition and not cropped as this is definitely a turn off for buyers.
Your furniture should be the focus of the photo, not your cat or 100-year-old lamp on the background. Natural lighting is always ideal to take great photos!
You don't need a fancy camera to take good photos. It's all about the lighting and composition. Your phone camera should be good.
Great Descriptions
Be as descriptive as possible with your ad. Make sure you include relevant details like dimensions, colors, weight, materials, etc.
The more details you include in your description the better. People want to know everything about the product without physically seeing it.
Offer Shipping
This is a big one. People pay for convenience so offering shipping is a huge bonus and will definitely differentiate you from other sellers.
Offering "shipping" is not as complex as it sounds. If you were able to move your furniture around when you were restoring it, chances are you will easily be able to ship it without needing any fancy tools or equipment.
Final Thoughts
There's great potential built into this rewarding side hustle if you have the skills and the interest to take on furniture flipping. We'll leave you with a few key takeaways from the article:
You can earn money flipping furniture, even if you only have a few hours per week to spare.
The idea behind furniture flipping is simple: Find undervalued, used furniture, restore it, and sell it at a premium.
Develop the knowledge and expertise required to identify bargain furniture, quickly restore it to its full potential, and market it effectively.
Scaling the business beyond a one-person operation can be difficult, but it is doable if you find yourself with substantial work.
Pay attention to developing relationships with regular buyers and sellers to grow your business.
Getting started is extremely easy. Just grab a few supplies and head over to your nearest second-hand or charity outlet for your first project.
Many online marketplaces facilitate local and nationwide furniture sales. Choose the one that's best for your niche, and start promoting your work!
The good thing about flipping furniture is that you can do it to make extra money on the side or to turn into a full-blown business. It's all up to you.
Up Next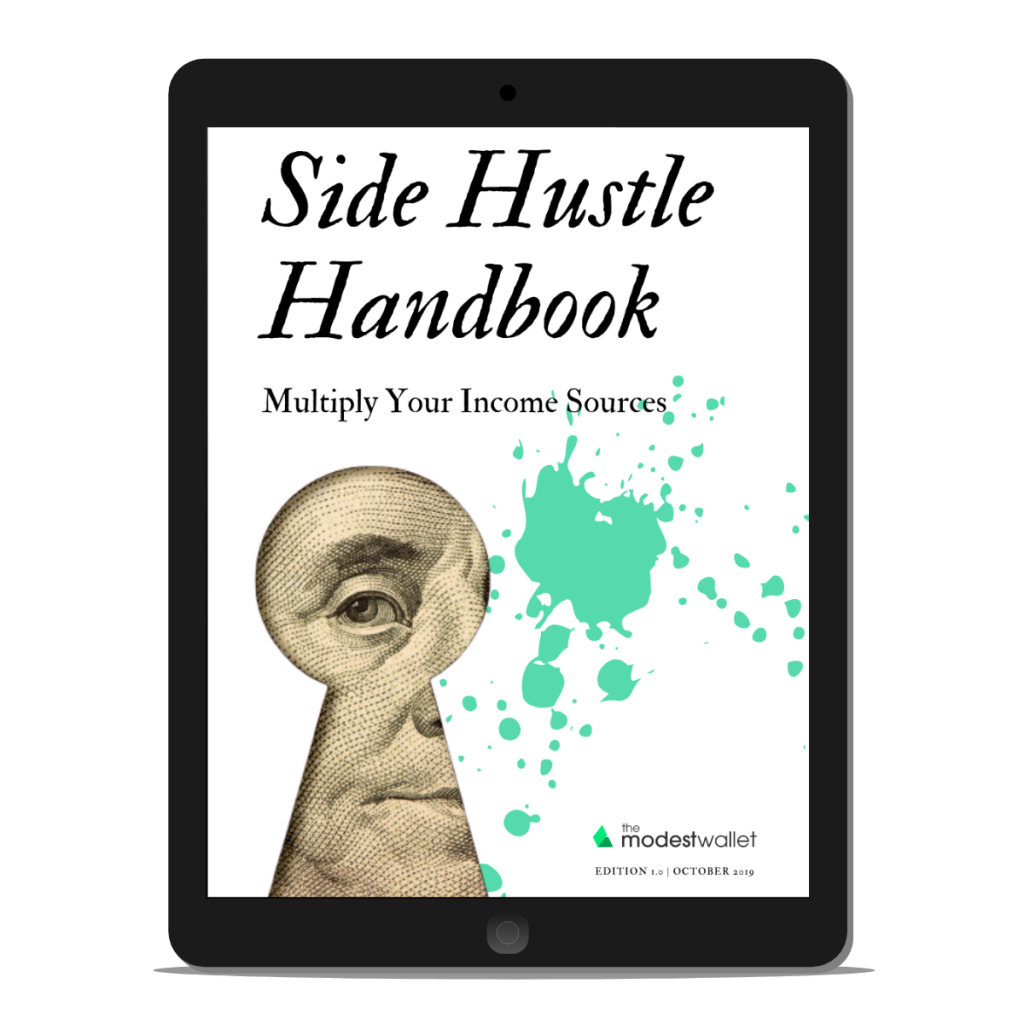 Get our free Side Hustle Handbook with the best strategies to multiply your income sources today.
Plus our best money tips delivered straight to your inbox.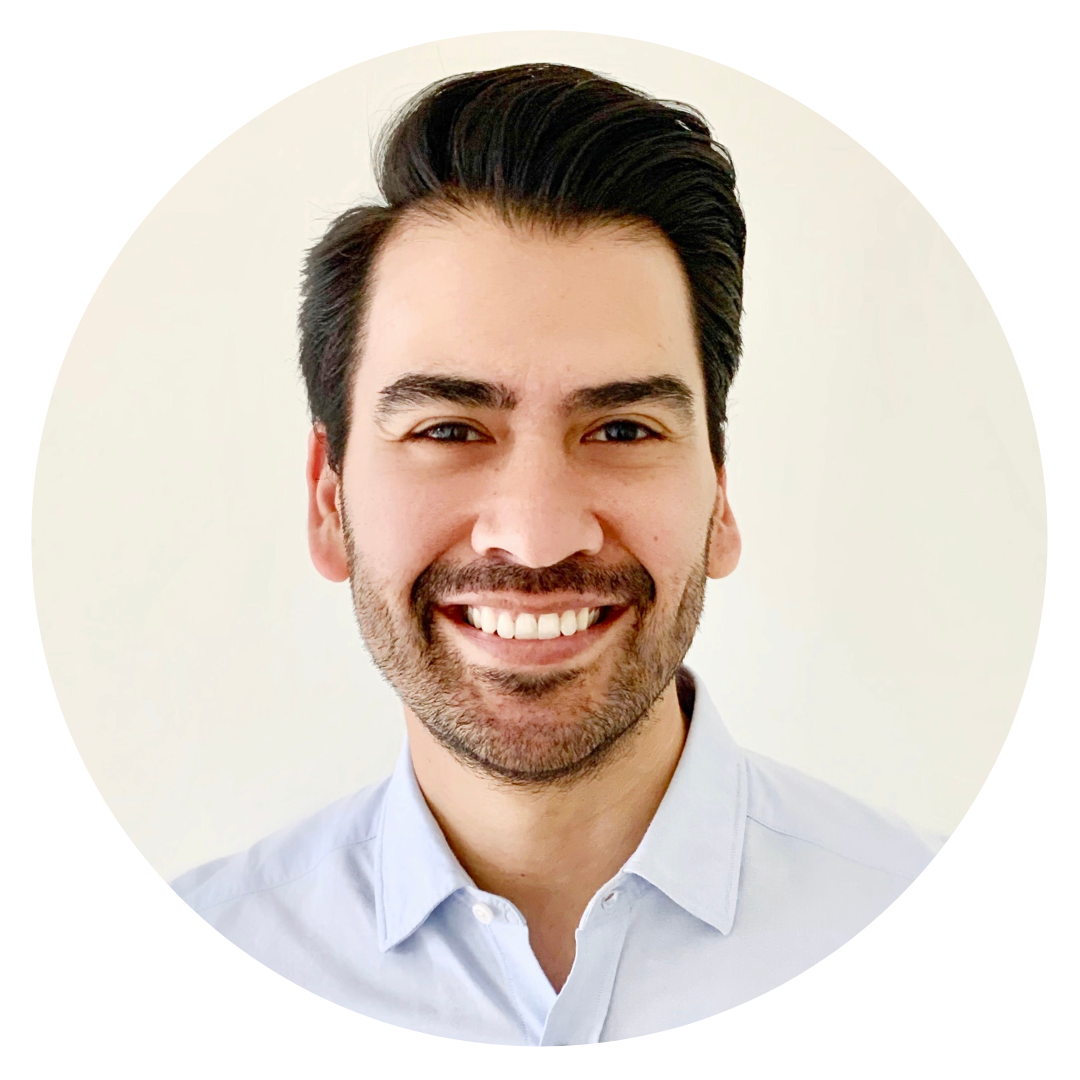 Ricardo is an entrepreneur, investor and personal finance nerd who enjoys spending time with his family and friends, travelling and helping others achieve their financial goals. Ricardo has been quoted as a personal finance expert in several online publications including Healthline, Bankrate, GOBankingRates, MSN Money, Yahoo Finance, U.S. News & World Report, Forbes and USA Today.