Many or all of the products featured on this page are from our sponsors who compensate us. This may influence which products we write about and where and how the product appears on a page. However, this does not influence our evaluations. Our opinions are our own. Here is a list of our partners and here is how we make money.
The information provided on this page is for educational purposes only. The Modest Wallet is a financial publisher that does not offer any personal financial advice or advocate the purchase or sale of any security or investment for any specific individual.
With its huge range of products, lightning-fast shipping, and amazing deals, Amazon is undoubtedly the king of online retailers. So it goes without saying that an Amazon gift card is almost as good as cash. Read on to learn how to get free Amazon gift cards.
There are a lot of places you can go online to get your hands on Amazon gift cards. From survey sites to shopping apps to Amazon itself, opportunities abound to claim Amazon gift cards. But where should you go first? And which websites offer the most bang for your buck? Read on below to find out.
Best Ways to Get Free Amazon Gift Cards
There are tons of ways to get free amazon gift cards online, from completing online surveys to rewards and cash back program, we are certain there is something here for you!
Get Free Amazon Gift Cards with Online Surveys
Online surveys offer some of the best opportunities to land yourself some amazing Amazon gift cards. Basically, online survey sites ask you to take surveys about your consumer habits. In exchange, they offer rewards points that can be traded in for Amazon rewards. It's a pretty great deal.
Swagbucks
Yes, Swagbucks offers Amazon gift cards in exchange for completed surveys. But that's not all they offer. The site is fully featured, with a lot of opportunities to earn what they (unsurprisingly) call "Swagbucks." These Swagbucks are what you trade-in for your rewards, including Amazon gift cards.
There are multiple opportunities to earn Swagbucks. You can:
Shop – Swagbucks offers links to many popular online retailers, including Walmart and Macy's. If you do your shopping from their provided link, you earn Swagbucks.
Trade-in Program – You can earn Swagbucks by trading in your old cell phone or video games (which definitely beats just throwing them in the trash).
Special Offers – Swagbucks offers points in exchange for engaging in special offers, like signing up as a user on a third-party site. It's a great way to earn Swagbucks for something you were going to do anyway.
Watching Videos – Swagbucks offers you points in exchange for watching videos (ads) on the site. If you don't feel like responding to surveys, you can watch a few videos and keep earning Swagbucks.
Polls – You can also earn Swagbucks by answering short poll questions. (These usually consist of just one question.) Polls are a super-fast way to get closer to earning an Amazon gift card.
Referrals – You can refer friends to Swagbucks and subsequently earn a lot of points (upwards of 1,000 points per friend who signs up). This is a great way to quickly increase your Swagbucks.
Swagbucks has received some criticism from users. Some people say it's difficult to find surveys they qualify for. Demographics are a key criteria, and if your demographics don't fit a survey's requirements, you won't be eligible. (For example, if you currently work in retail, there's a good chance you won't receive a lot of opportunities.)
You may also find that you spend quite a bit of time on the site with relatively few Swagbucks to show for it. Although there are definitely rewards to be earned, you'll need to put in some effort to get them.
Learn more in our Swagbucks Review.
Survey Junkie
Survey Junkie is a straightforward survey site. You can complete surveys in exchange for points, which you can redeem for Amazon gift cards. You can earn points until you've reached the $10 threshold, at which point you have the option to redeem the points for Amazon gift cards.
There are a handful of other ways to make money on the site as well:
Install the Pulse browser extension – This browser extension monitors your web activity in exchange for points. It's a likely non-starter for privacy advocates, but it's an option for those who don't mind if their browser activities are monitored.
Refer friends – As with Swagbucks, you can earn quite a few points for successfully referring friends to the service.
The same criticisms of Swagbucks apply to Survey Junkie. These surveys won't net you a tremendous amount of money. And again, if you're not in an ideal demographic for surveys, you won't get the opportunity to complete many surveys each month. This will limit the amount of Amazon gift cards you can redeem.
Learn more in our Survey Junkie Review.
See Also: 42 Legitimate Ways to Make Money From Home in 2020
Opinion Outpost
Opinion Outpost is a straightforward survey site. What sets it apart is relatively high payout amounts and high qualification rates for surveys. It accomplishes the latter by asking a lot of questions about your demographics and requesting personal info and then using that information to offer more suitable surveys. This reduces the rejection rate and increases the chances that you'll be selected to complete a survey. However, the rejection rate may still be high.
Read our full Opinion Outpost review to learn more.
LifePoints
LifePoints is an Android and iOS app used primarily for surveys; users complete surveys in exchange for LifePoints currency. LifePoints are then exchanged for money or gift cards to a variety of retailers (including Amazon). LifePoints has a couple of unique features that are worth mentioning:
Boosters – You can complete occasional "Booster" tasks in order to increase your rewards points by a set percentage. For example, completing your profile, turning on geolocation (described below), or completing a daily challenge can all boost your rewards points.
Geolocation – You can earn additional points by allowing LifePoints to track your location. Further, you'll qualify for more surveys that are only available to people who have visited or currently are in a certain location.
Apart from that, the usual survey site criticisms apply. Low earning potential and survey eligibility for some demographics will create problems for some users. Check out our full LifePoints review to learn more.
PrizeRebel
Yet another online survey site, PrizeRebel offers rewards points in exchange for a variety of activities. PrizeRebel also provides access to an innovative levelling system. Users can move through Bronze, Silver, Gold, Platinum, and Diamond levels in order to earn perks and bonuses that will increase their earnings and grant them access to new conveniences and features of the site.
In addition to taking surveys, PrizeRebel allows users to earn points by:
Watching Videos – If you get tired of taking surveys, why not take a break and watch a couple of videos? You'll keep earning points, and you can just sit back and let the movie play.
Playing Games – Do you prefer games to videos? You can opt to play certain online games in exchange for points.
Shopping Online – If you complete a purchase through the PrizeRebel online shopping portal (which provides access to a number of major retailers), you'll qualify for additional points. It's very similar to earning cash back on purchases with a cash back credit card.
Referring Friends – If you know of anyone who might enjoy the PrizeRebel service, refer them! You'll earn major points for every successful referral you make. (In fact, this can be one of the best ways to earn points.)
Finally, one of the nicest features of PrizeRebel is that you're able to cash out your points in exchange for Amazon gift cards at the $2 mark. Unlike many other survey services that require you to earn $10, $20, or even $30 before you can cash out, PrizeRebel gives you access to your Amazon gift cards almost immediately.
InboxDollars
InboxDollars provides a variety of ways to earn points, and you can exchange those points for Amazon gift cards. You'll need to earn a total of $30 worth of InboxDollars in order to get access to your rewards points, so be prepared to sink a fair amount of time into this site. For most people, it will take a little while to earn $30 worth of InboxDollars.
The signup bonus of $5 (that's real dollars, not InboxDollars) will help you reach that $30. Apart from the signup bonus and completing surveys, you can earn InboxDollars in multiple ways:
Receiving Emails – Simply receiving emails from InboxDollars earns you points. Just sign up to receive emails, and you're awarded points for every email that you open in your inbox. If you'd like, you can unsubscribe from the emails immediately after you start receiving them.
Free Offers – Free offers give you points in exchange for performing simple tasks, like downloading a free app.
Paid Offers – Paid offers give you points in exchange for performing a task that costs you money. For example, you might buy a product from a retailer and get points, in addition to what you've bought. It can be a great way to earn points for buying things you normally would. (Just be sure not to buy things solely for the points — you'll likely spend more than you earn in points.) "Scratch-and-Win" – For every paid email you receive, you earn progress towards a "Scratch-and-Win" game of chance. If you win, you'll get major points!
Apart from these features, the usual criticisms of survey sites also apply to InboxDollars. The site may offer surveys you're not demographically qualified for, and it's hard to make any significant money in a reasonable amount of time (but that may vary depending on the demographic you fit into).
Check out our InboxDollars review to learn more.
Harris Poll
Harris Poll is strictly an online survey site. Unlike some of the previously mentioned options, Harris Poll doesn't offer any additional ways to earn rewards points online. But Harris Poll does give you rewards points in exchange for completing surveys. With Harris Poll, you might be asked to conduct surveys on topics other than your consumer habits (for example, you might be asked questions about religion and ethical behaviours).
Their payout threshold is $10, which you can then redeem for Amazon gift cards. The same criticisms of other survey sites apply here. It's difficult to find surveys you qualify for, and the reward amounts can be small at times.
See Also: 12 Online Data Entry Jobs: Get Paid to Work from Home
iPoll
iPoll is another survey site. It's been around, in one form or another, since 2008. They claim to have paid out over $24 million in rewards, so they know what they're doing when it comes to the survey-rewards game.
iPoll offers a couple of ways to boost your rewards earnings. They include:
Badges – Badges are like game achievements. You receive them after hitting certain milestones, like completing 10 surveys or filling out your profile. The early ones are worth about $0.50 each.
Missions – Missions are a little more interesting. You need to have geolocation turned on for them to work. Depending on where you live, you'll receive real-world tasks to complete — tasks like going to a certain store or restaurant and taking a picture of a specific product. After you've completed the mission, you'll be asked to complete a survey about your experience. Doing this will earn you around $5-$15.
iPoll's missions set this survey provider apart from the pack. Unfortunately, missions are only offered in certain areas and for certain demographics, so it may be difficult to qualify for them.
Get Gift Cards Directly From Amazon
Amazon itself offers a couple of services that allow you to access hundreds of dollars in Amazon gift cards. They are relatively hassle-free, and offer an excellent alternative or supplement to survey sites.
Amazon Coupons
Amazon offers a variety of coupons every month that award Amazon gift cards in exchange for the use of the coupon. These offers are no-brainers if you're going to be buying the product tied to the coupon at Amazon. Simply do a search for "Amazon coupons" before you buy your product on Amazon and click on the eligible offers you're interested in. You'll be awarded Amazon gift cards just for buying something you planned on buying anyway.
Amazon Trade-In
Amazon allows customers to trade-in eligible used items in very good condition for Amazon gift cards. Books, electronics, Amazon devices, and video games are just some of the items that qualify for their trade-in program.
Just create an Amazon Trade-In account and ship your item (at no cost to you) with the pre-printed Amazon shipping label they provide. After your item arrives at the Amazon processing facility, you'll be notified by email if your item has been accepted or rejected. If it's rejected, it's shipped back to you (again, at Amazon's expense). But if it's accepted, you are credited with Amazon gift cards.
Items must be in as-new condition and be de-registered and disconnected from any cloud services prior to sending them to Amazon. Amazon provides instructions on how to do this on their website. (Only items listed on the Amazon Trade-In website are eligible for trade-ins, so don't send them the custom-knitted sweater your grandmother gave you for Christmas.)
Amazon Mturk
Amazon Mechanical Turk allows you to complete various "Human Intelligence Tasks" (HITs) listed by "requesters." The tasks can be as simple as, say, identifying pictures of hot dogs vs. pictures of "not hot dogs." Or, they can require users to fill out surveys or questionnaires.
The amounts paid for the completion of HITs are set by the requester, and users can select which HITs they will complete and which they won't.
The site has been criticized for the low level of pay offered in exchange for most HITs. However, Amazon Mechanical Turk was never really meant as a replacement for a full-time job. It can be a nice way to supplement your income if you're otherwise employed.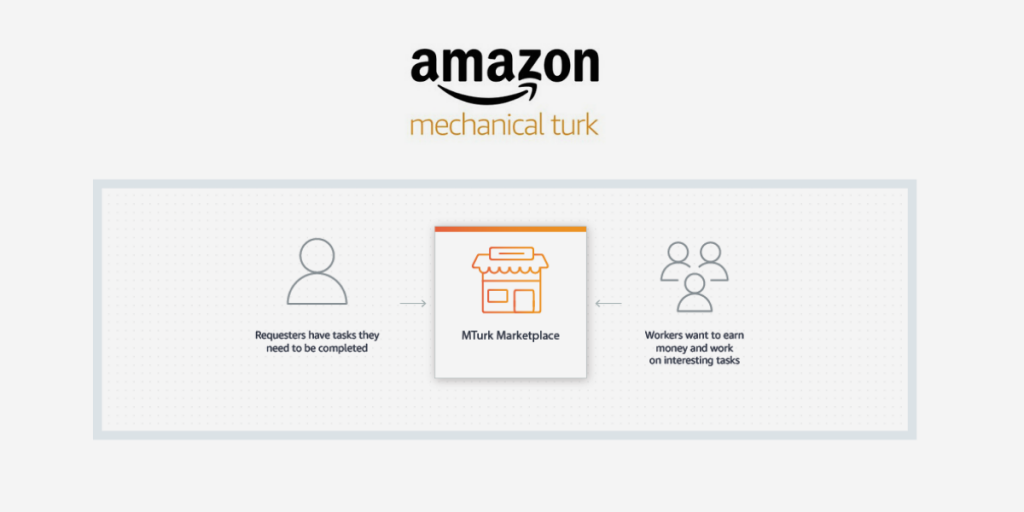 See Also: 20 Best Places to Sell Textbooks to Make Some Extra Cash
Websites that Pay You With Amazon Gift Cards
Similar to online survey sites, these websites award various user activities with Amazon gift cards. While they won't replace a full-time job, they are a nice way to collect enough Amazon rewards to send out as gifts at the end of the year. (Or you can reward yourself with something fun every now and again.)
MyPoints
MyPoints, recently purchased by Swagbucks (reviewed above), offers a wide variety of ways to earn points. These points can be exchanged for Amazon gift cards (or other forms of payment, including cash via PayPal). The activities you can complete on this site really do run the gamut. They include:
Taking surveys – Like dedicated survey sites, you can complete surveys on MyPoints in exchange for rewards points. Just be aware that you may not qualify for a lot of surveys, and you won't earn very many points for each survey you complete.
Watching videos – Sit back, watch some videos, and earn points. It's incredibly easy.
Playing games – Are videos too boring? Play a couple of games and watch the points slowly roll in.
Online shopping – Shop via the MyPoints portal and earn points for every dollar you spend at participating retailers. They've got a huge number of popular stores to choose from, including Best Buy, eBay, Office Depot, and Old Navy.
Searching – You can use the Yahoo!-powered search engine available on MyPoints for additional user rewards.
Couponing – MyPoints offers a number of coupons you can print and use at your local stores. For coupon you use, you'll receive points to redeem for Amazon gift cards.
Receiving emails – You can sign up to get promotional emails. For every email you receive and open, you'll get more rewards points.
Referring friends – This is one of the best ways to earn points. For every person you refer who signs up for the site, you'll earn more free rewards.
Using the browser extension – Called "Score," the MyPoints browser extension keeps track of your online shopping and automatically adds rewards points whenever you shop at a participating retailer.
Daily deals – Every day, there are new promoted bargains available on the site. If you take advantage of them, you'll receive bonus points to grow your balance even faster.
Happily, you'll be eligible to trade in your rewards points for Amazon gift cards at just $5. This means there's no waiting for months while you accumulate enough points for trade-in.
There's also a mobile application for both Android and iOS. Read our full MyPoints review to learn more.
Lucktastic
Lucktastic provides its users access to free online "lottery" tickets that award cash and tokens. Cash is exactly what it sounds like, and winning tickets are redeemable for both real money and Amazon gift cards. Tokens can be redeemed for participation in sweepstakes, and virtual draws that promise cash and prizes to the lucky few who win.
How much money you make with Lucktastic and how many tokens you earn will all depend on (as the name suggests) your luck. Some people will earn nothing. Most people will earn a few bucks here and there. A lucky few will earn substantial amounts of money. Apparently, one lucky person from Las Vegas (fittingly enough) won $1 million playing at Lucktastic.
CashCrate
As of this writing, CashCrate no longer offers its own rewards programs. Instead, it now links to other ways of making money online. CashCrate is effectively now only a collection of links, so it only gets a mention in this article and doesn't qualify for a review.
Slidejoy
Slidejoy is a free application that gives you points in exchange for providing them the use of your phone real estate (namely your lock screen). In addition, you can complete surveys and various other tasks inside of the app itself to boost your points earnings.
This is about as passive as income gets. You activate the app and let it sit on your lock screen. Then, whenever you want to use your phone, you just swipe right to unlock it. Users report that they earn about $30 per year if they don't take advantage of the additional point-earning features available inside of the app. Not bad for doing nothing but glancing at your screen for a few seconds.
Shopping Apps that Give Amazon Gift Cards
The following shopping apps are basically free cash back arrangements. In exchange for using their app whenever you shop (which is usually made easier with a browser extension), you'll get cash back on every eligible purchase you make.
Honey
Honey (acquired by PayPal, as of this writing) is an online shopping browser extension that works at hundreds of major retailers, including Amazon. It provides value to its users in a number of ways, including:
Honey Price History – At participating retailers, Honey will show the price history of an item via a special icon.
Honey Price Drop Alerts – When you shop with a participating retailer, Honey provides a button next to an item that, when pressed, will alert you if the price of the item will drop in the near future.
Honey Deal Search – Whenever you add an item to an online shopping cart with the browser extension enabled, Honey will scour the internet for better deals or coupons that can lower the price or show you a better deal on what you're buying.
In addition to all of the features mentioned above, using Honey gives you points in the form of "Honey Gold." Honey Gold can be exchanged for a variety of rewards points (which can be exchanged for Amazon gift cards).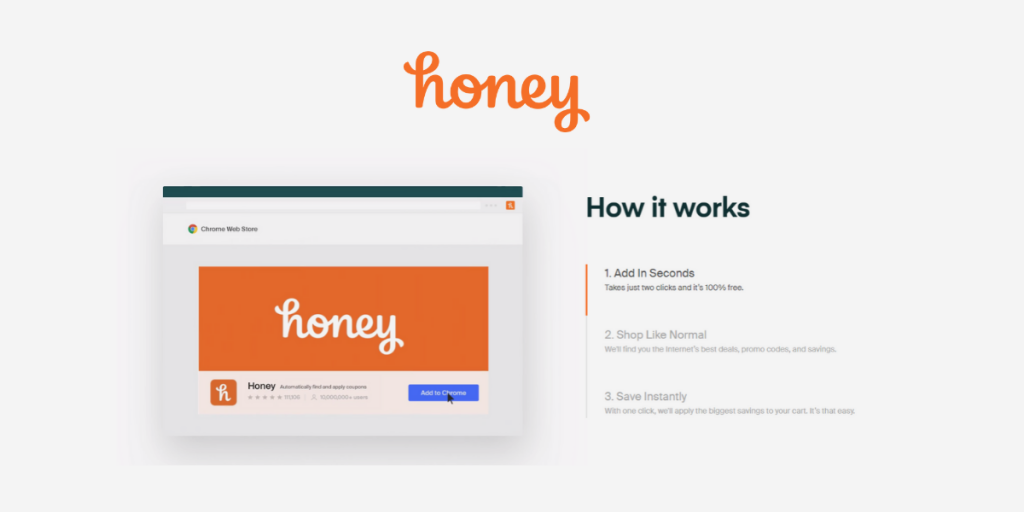 See Also: 48 Legitimate Ways to Get Free Money, Fast and Easy
Ibotta
Ibotta (pronounced "I bought a") offers you multiple ways to earn cash back on purchases you've already planned to make (or might make anyway).
Offers – Offers allow you to complete small tasks (like answering a question, for example) in order to qualify for the cashback offer on qualifying items from qualifying stores.
Submit a receipt – By clicking "Redeem" in the app, you can submit a photo of a receipt you just received from shopping in-store, and get cash back in the app for qualifying items.
Link a loyalty card – By linking your store loyalty card from participating retailers to the app, you'll automatically get cash back from purchases at those stores.
Shop online – Shopping online through the Ibotta app will automatically qualify you for cash back.
Read our full Ibotta review to learn more.
Shopkick
Shopkick is a cash back shopping app that rewards people with a currency called "kicks" for a number of different behaviors:
Entering a store – You'll need geolocation turned on to enable this feature. If it is turned on, you'll get points just for walking into certain qualifying stores.
Scanning an in-store item – You don't even need to buy the item. Just scan it with your phone, and you'll get credit.
Scanning a receipt – If the receipt contains qualifying items, you'll get kicks.
Linking a loyalty card – Linking a loyalty card to the app will award you kicks, even if you don't use the card.
Using a linked loyalty card – This will get you more kicks than just linking the card.
Visiting online shops – Just visit an online shop and get some kicks. There's no need to buy.
Watching videos in the app – The app provides videos to watch in exchange for kicks if you'd like to earn your points more passively.
Referring a friend – This will get you a lot of kicks.
Kicks can be exchanged for Amazon gift cards (as well as other kinds of gift cards) in denominations as low as $10.
Rakuten
Rakuten is yet another cash back shopping app that allows you to stack your credit card rewards points, Rakuten cash back, and coupons to get truly impressive savings on the products you were going to buy anyway.
Rakuten allows you to link your credit cards to the app so it can automatically detect in-store purchases of qualifying items when you shop at participating brick-and-mortar locations. When you're shopping online, you can also use a browser extension to automatically detect online purchases that qualify for cash back.
Rakuten pays out once per quarter, but only if you've racked up at least $5 worth of cash back rewards. When they're ready to send you your quarterly rebate total, you have the option of accepting the rebate in the form of an electronic gift card. (An Amazon e-gift card may or may not be available, but there are plenty of other great retailers to choose from). . You can also accept your rebate via PayPal or a "Big Fat Check" (paper check).
Learn more in our Rakuten Review.
Mobee
Mobee is a cash back shopping app with a twist: it lets you shop as a mystery shopper. Mystery shoppers are people who use a store's services and then report back on their experiences.
Mobee sends its users on "missions" — some of which involve making purchases (which you'll be reimbursed for). During missions, you'll be asked to visit a store, buy a product, or use a service. Afterward, you'll complete a survey on your experience.
If you choose to be a Mobee secret shopper, you'll be rewarded with points, which you can exchange for Amazon gift cards (as well as gift cards from other retailers).
Mobee users have different mission opportunities depending on the city they live in — so, for example, a New Yorker will likely have more missions to choose from than someone from a rural area. That being said, there are a surprising number of missions available in more remote locations.
Drop
The Drop app allows you to link a credit or debit card to it, choose five of your favorite retailers or restaurant chains, and get paid in cash back rewards whenever you shop with those five brands. (You'll also have access to bonus offers provided by retailers and restaurants outside of your five favorites.)
You can earn a maximum of 5,000 points per day, which equates to $5.00. Redeeming the points involves exchanging them for an Amazon gift card (or other rewards) when your total hits at least 5,000 points. Read our full Drop review to learn more.
Dosh
Dosh is similar to the Drop app, without the five-retailer limit. You'll earn cash back at a variety of rates (depending on the retailer or restaurant) when you shop at specific stores or locations. Instead of Amazon gift cards, you can exchange your points for cold, hard cash via PayPal or bank account.
Points are earned by linking a qualifying credit card and making a purchase. (It's important to note that the card can't be linked to any competing apps.) The app takes care of the rest of the process.
As a nice bonus, you can choose to donate your credits to charity rather than keep them yourself.
Some users report that store options are limited in more remote locations. As with many of the options on this list, residents of large cities will fare better than individuals in rural areas. Check out our full Dosh review to learn more.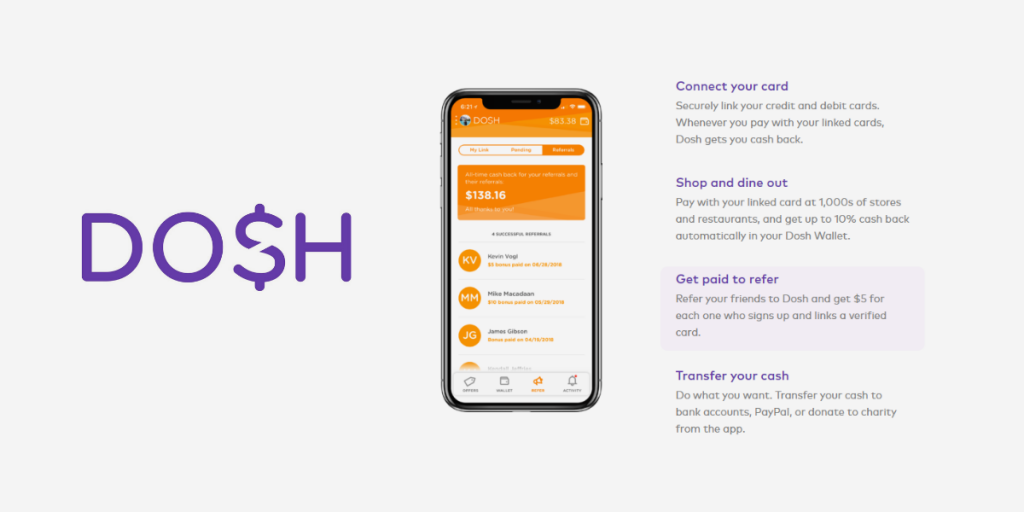 See Also: How to Make Money Flipping Furniture: A Home-Based Side Hustle
Receipt Hog
Receipt Hog is a cash back app that gives you points in exchange for photos of your shopping receipts. You can redeem your points for Amazon gift cards. (One caveat: You won't earn points for any receipts that are more than two weeks old.)
Receipt Hog also allows you to earn in other ways:
Coins – You receive coins by shopping at participating stores and retailers. Coins can be used for "Hog Slots" which is a virtual slot machine that awards trips, money, and more coins!
Spins – Receipts from non-qualifying stores will get you free spins on the Hog Slots "machine."
Sweepstakes entries – Uploaded receipts grant you entries into sweepstakes to win some truly great prizes.
Leveling up – You can "level up" in the app by participating regularly and get access to cool new features and bonuses.
Earn Amazon Gift Cards by Playing Games and Watching Videos
There are a handful of other services online that will give you Amazon gift cards in exchange for points. I'll quickly summarize them here before moving on to our FAQ. Check out our articles on how to get paid to play games and how to get paid to watch videos for more ideas.
AppNana
AppNana exchanges points (redeemable for Amazon gift cards) when you download and install various apps on your phone or tablet.
Appdown
Appdown, like Appnana, rewards you with points in exchange for downloading and using apps.
Bananatic
Bananatic is primarily a "Get Paid To Play" app. You play games in exchange for points (called "bananas" on this service) which can be traded for Amazon gift cards. In addition, you can perform the following actions to be rewarded with bananas:
Refer friends
Watch videos
Add to the Bananapedia – The Bananapedia is Bananatic's online resource center. Writing for it gives you bananas.
Utilize paid offers
Shop online
Leveling Up
(We've already explained what all of these options consist of for the other services, so we won't waste your time describing them again.)
Free Amazon Gift Cards FAQ
We've found some of the most frequently asked questions with regards to getting free Amazon gift cards, here are our answers.
What is the Easiest Way to Get Free Amazon Gift Cards?
Surveys. Surveys. Surveys. These are by far the easiest way to get free Amazon gift cards. While the pay-per-hour isn't fantastic, if you fit into the right demographic, you should qualify for a fair amount of easy-to-answer questionnaires. Regardless of the survey service you choose, if you stick with it, you'll have more Amazon gift cards than you know what to do with by the end of the year. You can learn more about paid online surveys here.
How Can I Identify Free Amazon Gift Card Scams?
Beware of any service that sounds too good to be true. If it's offering to earn you hundreds of dollars per hour or day, it's likely a scam.
Similarly, watch out for any service that hasn't been in existence very long. Most of the companies listed above have long histories of satisfied clients and millions in payouts. They can be trusted.
Do a quick Google search. Odds are, you found this website using Google. Do the same for any service you're considering signing up for. If most of the online reviews are negative and the word "scam" is mentioned more than a few times, run for the hills.
How Much Money Can I Get From Free Amazon Gift Cards?
You'll likely earn between $2 and $10 per hour, depending on the service(s) you utilize. Keep in mind that this number can go up or down depending on how efficient you are in the use of these apps and platforms, what demographic you fall into, and how you shop.
All things considered, you're not going to quit your day job. But if you want to sign up for some services that will have you swimming in Amazon gift cards that you can use as Christmas presents at the end of the year, these companies might just be for you.
Final Thoughts
Earning free Amazon gift cards online isn't as easy as some say it is, but it certainly isn't impossible. Lots of services offer reasonably simple ways to exchange your time and information for Amazon rewards. If nothing else, they're worth a try.
Up Next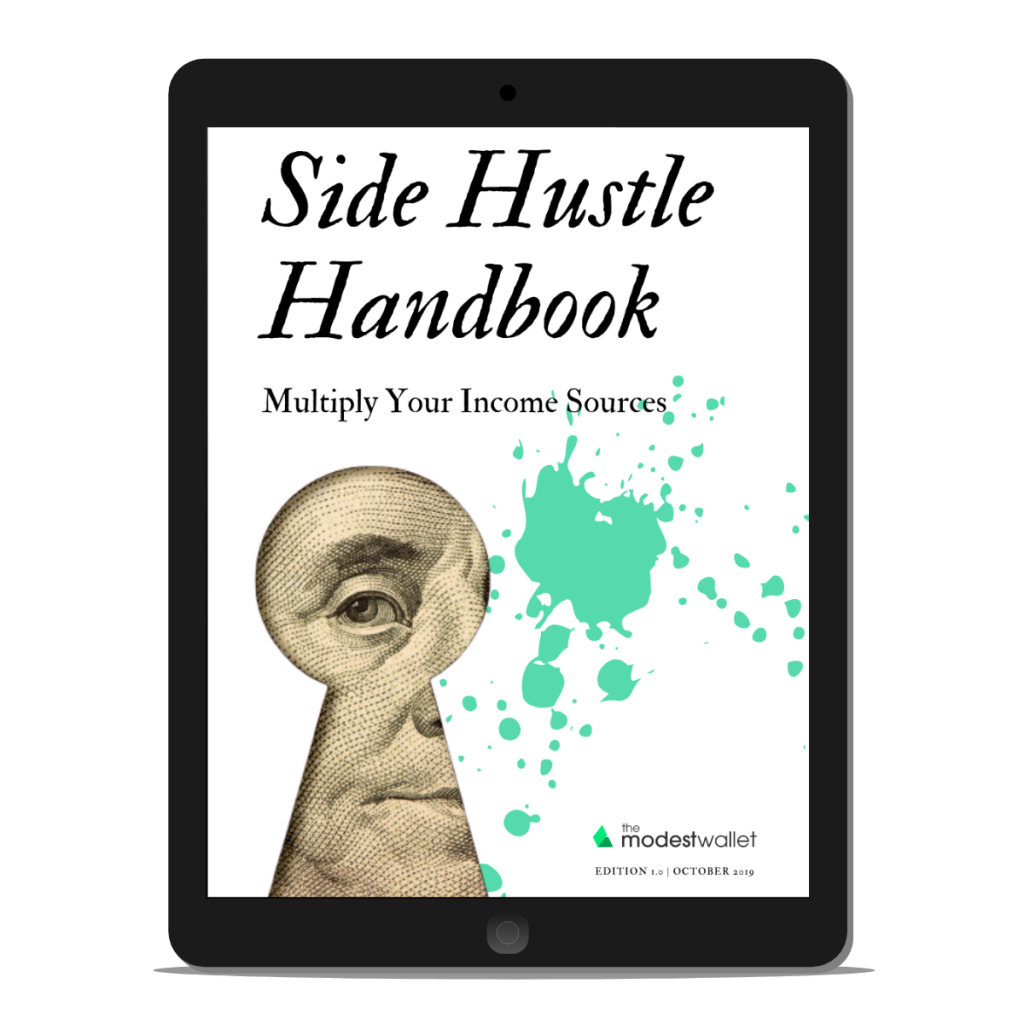 Get our free Side Hustle Handbook with the best strategies to multiply your income sources today.
Plus our best money tips delivered straight to your inbox.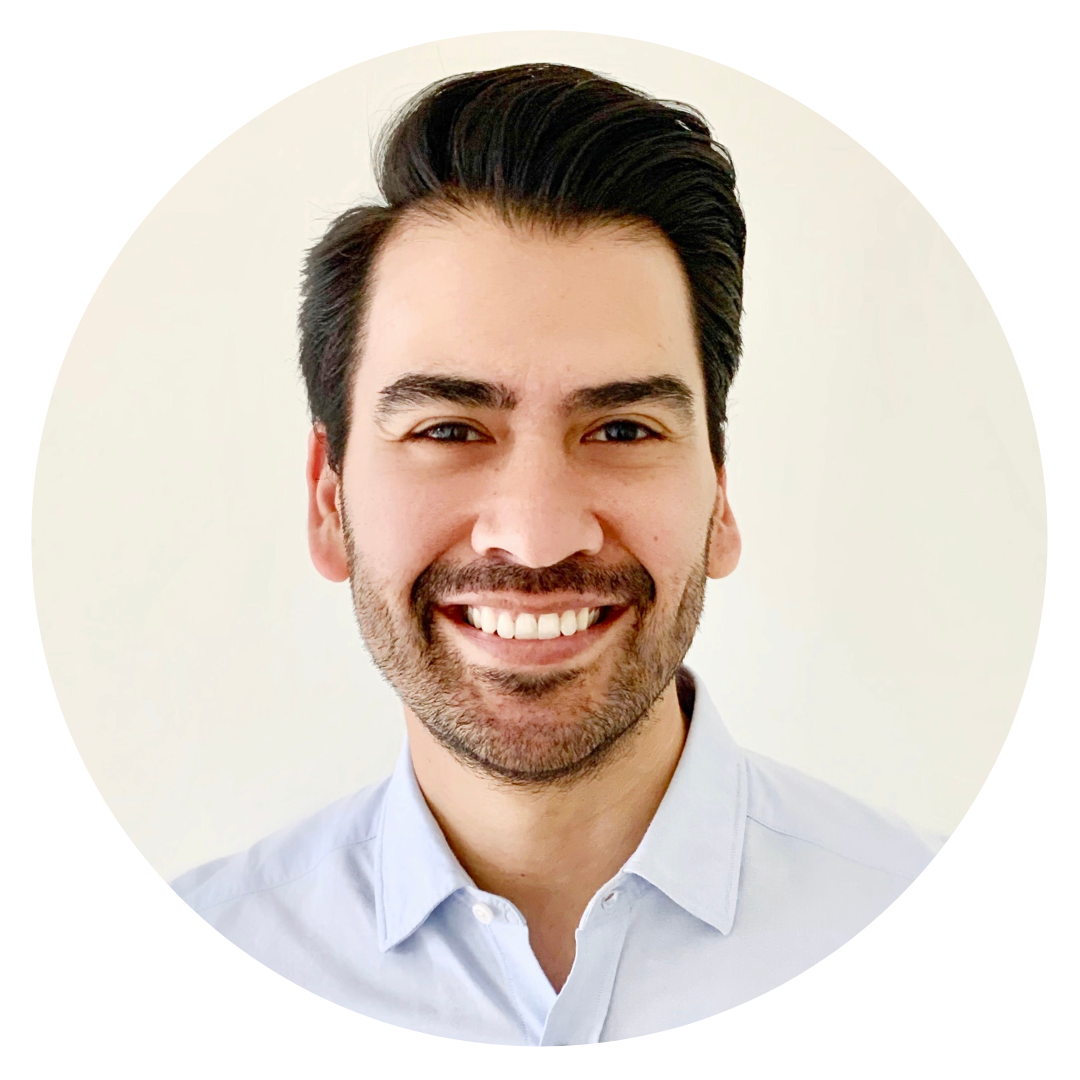 Ricardo is an entrepreneur, investor and personal finance nerd who enjoys spending time with his family and friends, travelling and helping others achieve their financial goals. Ricardo has been quoted as a personal finance expert in several online publications including Healthline, Bankrate, GOBankingRates, MSN Money, Yahoo Finance, U.S. News & World Report, Forbes and USA Today.