22 Legitimate Ways to Earn Free Gift Cards in 2023
Many or all of the products featured on this page are from our sponsors who compensate us. This may influence which products we write about and where and how the product appears on a page. However, this does not influence our evaluations. Our opinions are our own. Here is a list of our partners and here is how we make money.
---
The information provided on this page is for educational purposes only. The Modest Wallet is a financial publisher that does not offer any personal financial advice or advocate the purchase or sale of any security or investment for any specific individual.
Don't you love free gift cards?
Whether you're receiving them for holidays, a birthday, or even just a "thinking of you" present, gift cards represent a guilt-free pass to buy whatever you want. New clothes, books, spa days, shopping trips — anything you'd normally talk yourself out of buying is fair game as far as your gift card is concerned.
Unfortunately, gift cards aren't given out year-round; they're usually saved for particular occasions as a last resort when your friends and family members aren't sure what to get you. The only other option is buying them yourself (and what would be the point of that?)
Lucky for you, the internet exists. And with more opportunities than ever to make money online, it only makes sense that free gift cards would be on that list.
What's more? All you need to take advantage of these opportunities is the know-how and a computer.
---
1. Take Paid Online Surveys
One of the most common ways to earn free gift cards is by taking online surveys.
The process for each survey is different, but usually, it consists of signing up to the platform hosting the survey(s), going through the survey process, collecting points for each one you complete, and then redeeming those points for your free gift card.
This option is perfect for you if you often find yourself with free time during a commute or have a habit of scrolling while your favorite show is on a commercial break.
Keep in mind, however, that not all surveys will be available to you. Many are restricted to specific demographic groups, so you'll have to qualify before you can take them. The reward payouts are also often low, so you'll need to do several before you have enough points to hit your gift card goal.
Branded Surveys
Branded Surveys is a site that conducts surveys on behalf of other companies. The results of these surveys are passed along to the sponsoring company, where they are used to improve products and services.
Upon signing up for Branded Surveys, 100 bonus points will be deposited into your account. You'll then have the option to cash out once you complete enough to earn 500 total points (which we don't recommend quite yet) or complete surveys to amass more.
The reason we don't recommend cashing out your points immediately is because of the scale used for gift card conversion. You get bonus dollars as your points balance climbs, so it's in your best interest to save them up until you need to use them.
You can expect each survey to be worth between 50 and 500 points, and each point is worth exactly 1 cent. This makes it easy to estimate the dollar value of each survey before you complete it. Read our full Branded Surveys review to learn more.
Survey Junkie
Arguably the most trusted source of online surveys that pay out real cash, Survey Junkie has amassed a user base of nearly 20 million people in its less than ten years of existence. Similar to Branded Surveys, Survey Junkie also connects individuals looking for extra cash with companies needing real market research.
Using Survey Junkie is as easy as clicking the signup button on their main web page. You can choose to create an account or continue with your email. Once you do that, you'll be asked a few questions about your gender, general location, and age.
Then, you'll be taken to the home screen, where you'll instantly receive an initial 25-point bonus. You'll also be able to claim 50 additional bonus points once you complete your profile.
Once you've completed enough surveys to amass 500 points ($5), you can choose to cash out in any way that you'd like. If you're looking for gift cards, though, you'll have a selection of over 100 to choose from. Read our full Survey Junkie review to learn more.
LifePoints
Unlike the previous two survey sites, LifePoints operates on a different scale when it comes to point conversion. With this company, 550 points are equivalent to a $5 gift card. This means that each point is valued at a little less than a penny, making it less effective than Survey Junkie or Branded Surveys.
Keep in mind, though, that earning points through LifePoints is easier and more versatile than other sites. For example, LifePoints allows you to not only earn points through completing surveys but also through tracking daily behaviors, daily challenges, product testing, and weekly drawings.
A major downside you should keep in mind with this site is that your points do expire. They generally last about three years but can be taken away sooner if you aren't an active user. Plus, the actual value of your LifePoints isn't stable and is subject to change at any time.
Finally, whenever you choose to withdraw your LifePoints, you have several gift card options to choose from. However, gift card redemption only works in increments of 550, and the lowest value is only available in Amazon gift cards. So, you'll have to wait until you reach 1,100 points to be eligible for any others. Read our full LifePoints review to learn more.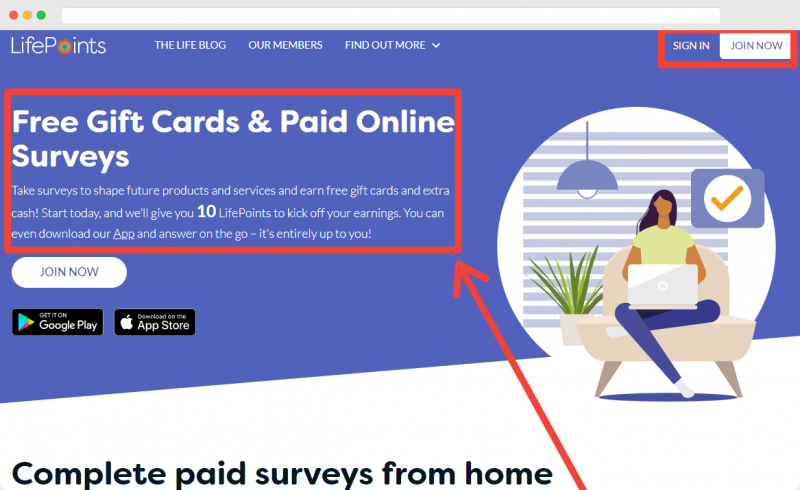 Other Paid Online Survey Sites to earn Gift Cards
The three companies we've listed above are by far the most trusted and popular for earning free gift cards. But they aren't the only ones you can use.
If you find that none of the above fit your vision or expectations, we encourage you to check out some of these other trusted survey sites:
---
2. Shop and Earn Points
In the digital age, shopping online is all but a necessity for daily life. Through online shopping platforms like Amazon, Walmart, and Target, we gain access to products beyond just what we can find in the store.
Luckily, shopping online doesn't have to be something that just drains your money. It can put some back in your pocket, too.
How?
By using certain rewards programs and browser extensions, you can earn points for your purchases over time which can then be redeemed as gift cards. There are many options for earning these credits.
Capital One Shopping
Consumers like yourself can earn Capital One Shopping credits with no credit card account necessary. The program works off a browser extension that automatically scans for deals and offers when you shop online. Over time, using these deals provides you with points (called credits) that can be redeemed for gift cards.
A major pro of this program is that it is extremely simple to use. You install the browser extension and then shop normally. Any time a deal is detected, you'll see a pop-up with the corresponding rewards offer. Click to activate it, and you'll receive not only a discount on your order but also a certain percentage of cashback credits based on the amount you spend.
Additionally, if you do have a Capital One credit card, you can earn more credits when you link it and use it at a participating store. You can expect your points to load onto your account within seven days of purchase. Read our full Capital One Shopping review to learn more.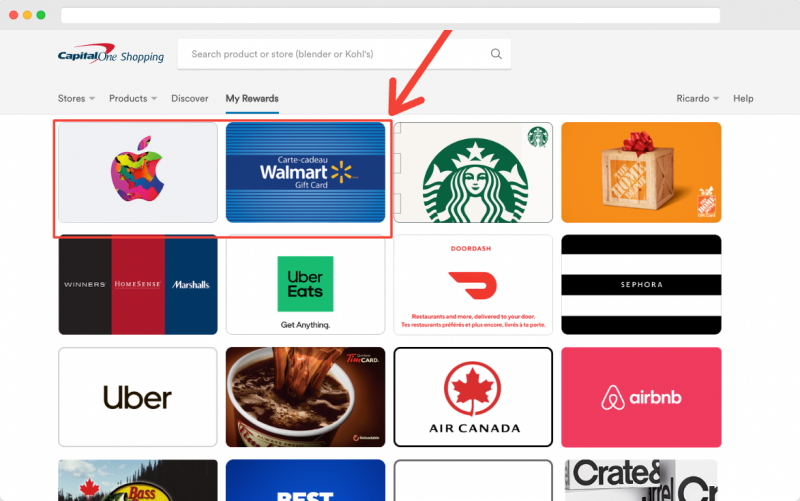 Rakuten
Rakuten is a platform that receives a commission when it refers customers like you to different retailers. They then share that commission with you in the form of cashback and gift cards.
To use Rakuten, sign up for an account and shop using their website or app, or shop normally with their browser extension installed. You also receive a $10 Welcome Bonus when you sign up to help you get started. Read our full Rakuten review to learn more.
Honey
As far as money-saving browser extensions go, Honey is probably the one you've heard the most about.
Honey is an extension designed by Paypal to help you find coupons, deals, and cashback offers as you shop online. Similar to other browser extensions, you are awarded points (called Gold) when you use it. Once you have enough gold, you can exchange it for gift cards to thousands of online or in-person retailers.
The best way to get gold from Honey, however, is by using their referral system. For every person you refer, you receive 500 gold, equal to $5. Once you get to 1,000 gold, you can cash out for a $10 gift card.
Other Platforms to Shop and Earn Points for Gift Cards
Similar to survey platforms, there are a number of cashback platforms to earn free gift cards beyond Capital One Shopping, Rakuten and Honey.
TopCashback: This is a free-to-use program that allows you to get cashback on purchases outside of normal retail stores. Earn from booking hotel rooms, flights, and car rentals in addition to over 4,400 retailers.
BeFrugal: This site offers an astronomic, up to 40% cash back rate at over 5,000 stores. You'll earn a free $10 bonus on signing up, and BeFrugal will automatically track your shopping and offer cash back wherever it is applicable.
Shopkick: Shopkick is an app you can download from either the Google Play store or Apple's App Store. Simply shop your normal retailers through their app and earn points (called Kicks) that you can exchange for gift cards.
---
3. Perform Tasks Online
Sometimes, the best way to earn those free gift cards is just to do whatever companies need you to do. These tried and true methods can be anything from watching videos to searching the web. They can also take as little a minute for just a few cents or be a few hours for several dollars.
The number of companies that offer tasks in exchange for gift cards is astronomical, and the internet is flooded with them. That said, here are the ones we consider to be most worth your time:
Swagbucks
This site provides many different ways to earn Swagbucks, which can then be exchanged for free gift cards or even PayPal cash.
To take advantage of its offers, you can use the Swagbucks app on your cellphone or tablet to check for current cashback offers. Select the retailer you'd like to shop with from their list, and you'll be redirected to their site. Then, a percentage of what you spend will be sent to you via your Swagbucks balance. Read our full Swagbucks review to learn more.
MyPoints
Perhaps the most established one-off task sites in the industry, MyPoints utilizes an app-based platform to award you points for each task you successfully select and complete. These tasks are wide and varied, including:
Online shopping
Reading emails or visiting websites
Playing games
Watching videos
Completing surveys
Using the app is simple, as well. All you need to do is sign up, browse the tasks available to you, select the ones that pique your interest, and click through the provided link to complete them. Once you're finished, you'll automatically be awarded the point amount in the task description. Read our full MyPoints review to learn more.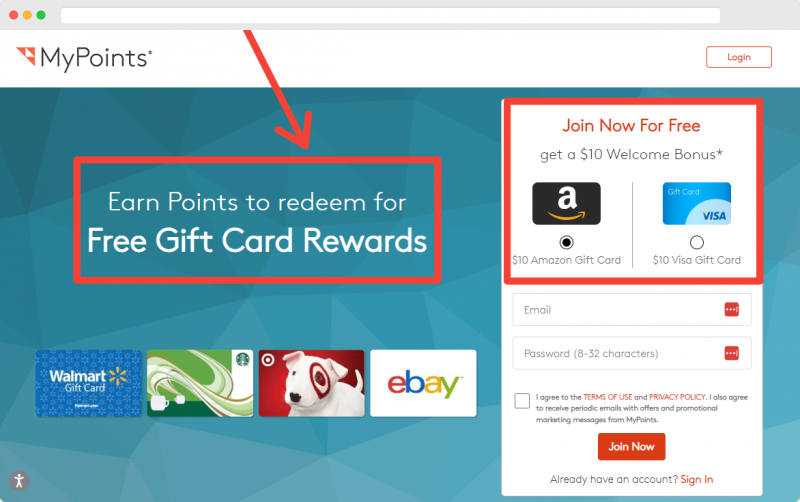 InboxDollars
With this app, users can open emails, take suggested surveys, and play games in exchange for cash and gift cards. InboxDollars, however, sets itself apart in that your time translates directly to dollars rather than being converted into points and then dollars. This makes it much easier to understand exactly how much you're earning.
To use the app, simply sign up and select the tasks you're interested in. You'll automatically be awarded the dollars when you're finished. Read our full InboxDollars review to learn more.
Other Platforms To Perform Tasks Online For Gift Cards
As we mentioned, there are tons of platforms you can use to perform tasks and earn gift cards or points toward gift cards. So many so, in fact, that it would be impossible to list all of them.
With that said, here are some other options for you to explore if none of the above appeal to you:
FeaturePoints: This is a rewards app that pays users for completing tasks like surveys, online shopping, and app testing. They also provide opportunities to win instant scratch-off contests and have an excellent referral program — 50% of every point your referees earn for life.
GrabPoints: Similar to FeaturePoints, GrabPoints is dedicated to providing users ways to earn gift cards with tasks like downloading apps, completing surveys, and more. Advertisers pay GrabPoints to help increase their engagement, so most tasks will be geared toward interacting with or visiting certain online platforms.
InstaGC: InstaGC allows you to earn points for watching videos, completing surveys, and making purchases. Instead of an app, however, they use a mobile version of their website to connect you with offers. Simply go to the web address, and the page you need with load automatically.
Drop: Drop is great because, in addition to offering points for basics like shopping and surveys, the app also has a built-in games page that allows you to play without having to download tons of other apps. And as long as your card is linked to the Drop app, you'll earn 1,000 free points every month.
---
4. Scan Your Receipts
We're all guilty of cramming receipts into every nook and cranny in our cars, wallets, and sometimes even our homes. But what if there was something else you could be doing with them?
Many companies offer free gift cards for exchanging for scanning certain numbers of receipts, or receipts with certain products on them. Use the following sites and platforms to rack up those rewards and exchange them for gift cards to your favorite stores:
Fetch Rewards
Fetch Rewards makes it extremely simple to earn points toward your gift card exchange. They partner with brands like Walmart, Target, and Xbox to turn your everyday purchases into cashback savings.
To earn, download the Fetch Rewards app, continue making the same purchases you make every day, and scan those receipts. Over time, your points from each purchase will build up, and you'll be able to exchange them for gift cards!
Ibotta
Ibotta is an app geared specifically toward grocery shopping. Not only do they provide points for specific purchases, but they also have monthly goals you can shoot for to earn additional points.
To earn money, check Ibotta before you make your next shopping trip. Clip the "coupons" they offer, and purchase those products in-store. Then, scan your receipt into the app to reap your rewards. Read our full Ibotta review to learn more.
ReceiptPal
Like Ibotta and Fetch Rewards, ReceiptPal helps you earn gift cards using your spare receipts. You can use your cell phone to snap pictures of them, or you can link your Amazon account to automatically track your purchases. Then, when you redeem your points for gift cards, you're automatically entered into weekly sweepstakes for cash prizes each time.
---
5. Gift Card Exchanges
Sometimes, we receive gift cards we don't really want to places we never go, and there's not much we can do about it.
Well, except for exchanging them.
Gift card exchanges exist to allow you to trade out those gift cards you didn't want in the first place for one you'll actually go to. For example, if you get a gift card to Mcdonald's but don't eat fast food, you could exchange it for a gift card to Target.
Gift Card Granny
Gift Card Granny is a place where you can both exchange unwanted gift cards for wanted ones and earn points when you buy normal gift cards as well. You'll earn points for each one that you buy, and you'll also earn 5 points per day when you read their daily newsletter.
Raise
Rather than trading your existing gift cards for others, Raise allows you to exchange the gift card you have for cash. Once you earn money from doing this, what you do next is up to you– you can keep the money you have or buy gift cards to other places at discounted prices.
For example, selling a card for $50 and then buying a card that's a $75 value for that same $50 gives you a net gain of $25.
CardCash
CardCash buys your gift cards for less than their face value and resells them at a discount to others. To make the most out of this platform, you can also trade in your gift cards directly for the ones you want and increase the value by up to 11%.
---
6. Get Referral Bonuses
One of the most powerful tools most companies have in their advertisement arsenal is word-of-mouth. Because of this, referral programs are always golden opportunities to earn those free gift cards. If this is something you're interested in, we recommend checking out the following companies:
---
7. Trade-In Programs
Trade-in programs allow you to take old items and equipment you don't use anymore and exchange them for cash, gift cards, or credit toward new items.
---
8. Win Gift Cards With Giveaways
Another tactic companies use to generate more interest and engagement with their business is to run giveaways. These giveaways can be found anywhere, from newspaper ads to company web pages. Though, you're most likely to find them on social media pages.
The most popular social media platforms to find giveaways are Facebook, Twitter, Instagram, and Reddit. Reddit, in particular, makes it easy to find them by posting giveaway-related opportunities under specific threads. To get started finding giveaways on Reddit, we recommend the following subreddits:
---
9. Play Games for Gift Cards
There are tons of websites and apps out there that allow you to play games and earn points that can be exchanged for items, cash, and free gift cards. With these, the process is generally the same: you choose the game offers you want to complete (for example, reach level 15 in Clash Royale) and give the app access to track your progress.
Once you reach that goal, your reward will be automatically available on your account.
Mistplay
Perhaps the most well-known app that rewards gameplay with gift cards is Mistplay. This app partners with tons of mobile games so that you get rewards based on your natural progress– there's no need to work toward specific goals. Simply play the games you like and get rewarded for it.
Lucktastic
Lucktastic is much more digital-scratcher-based than gameplay based. With this app, you get to play your scratcher for free and have a chance to win real prizes like gift cards. All you have to aim for is three matching symbols to get your rewards. Currently, this app is only available on IOS.
AppStation
When you download AppStation, you're given a list of participating games to choose from. Pick your favorite, play it, and earn coins as you do. These coins can then be redeemed for your favorite gift cards such as Paypal, Amazon, and Groupon.
AppNana
AppNana allows you to play tons of games and win points you can use toward gift cards and app store purchases. Some of the gift cards you're eligible for with AppNana are Amazon, iTunes, Google Play, and Xbox.
---
10. Watch Videos and Earn Gift Cards
A great passive way to earn free gift cards is to watch videos that offer rewards. You can do it easily in your spare time, like while you're cleaning, watching TV, or lounging on the couch. Luckily, plenty of apps exist for this exact purpose.
iRazoo
iRazoo has plenty of ways to earn points you can exchange for gift cards, but the biggest one is by watching ads and videos. You score free cash and gift cards by completing tasks from the list of objectives they provide.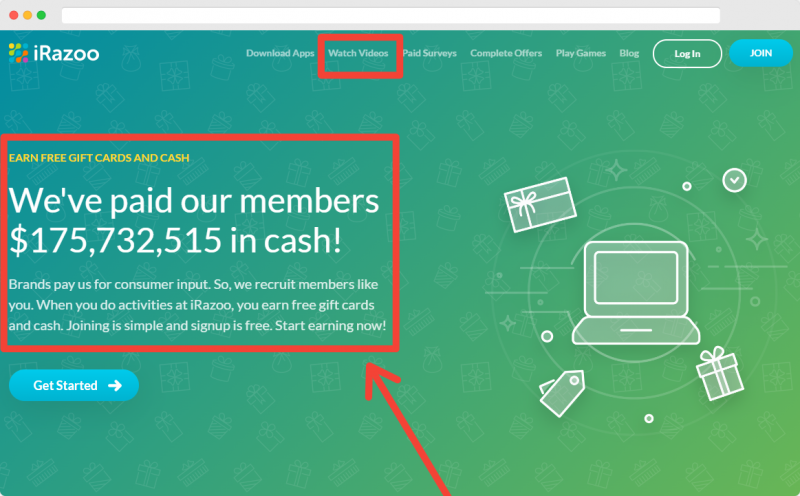 Earnably
Rather than giving you their own objectives, Earnably employs what's called an offer wall. On this wall, all the brands they partner with are listed, and you can click on each one to see the offers available for that brand. Each task also lists the estimated amount of time it will take to complete and the points you'll receive when you're finished. Redeem your points for gift cards to places like Paypal, Facebook, Domino's, Best Buy, and more.
AdWallet
With AdWallet, most of what you're doing is (unsurprisingly) watching ads. Because of this, each interaction only takes a few minutes and can be worth up to $3. So, if you watch 5, 6-minutes ads in an hour worth $3 apiece, you could be earning $15 in gift card funds in an hour.
---
Certain platforms will pay you for sharing the data from your cell phone, tablets, and computers. Essentially, the data you provide is used in researching demographics for things like product marketing and consumer behavior.
A major company that provides this opportunity is Neilsen Research. With Nielson, you have the opportunity to earn points and gift cards and are entered into a $10,000 monthly sweepstakes every month you have their software active on your device.
---
Health and fitness companies love to know what you're doing so they can better gear their products and marketing toward their potential consumers. So much so, in fact, that they're willing to pay for the information they need.
Similar to sharing your data for gift cards, sharing your health and fitness habits involves sharing your data through the use of software and apps that track your habits. Data that is collected usually includes things like walking, general exercise, sleeping, water consumption, weight, etc.
A great platform to check out for this opportunity is Evidation, but if you don't like that one, you can also check out Sweatcoin.
---
13. Monetize Your Lockscreen
Much of what's in this article requires some form of an active effort in order to earn the points you need for your gift cards. Monetizing your lock screen is not one of those; it's actually one of the most passive-earning opportunities out there.
To monetize your lock screen, download apps like Mode or Airfind Corp's Make Money and Earn Cash Rewards app. Past that, you just need to go through the sign-up process, enable the required permissions, and let the app do the rest of the work. You'll get paid for the amount of time you leave it active, so if you leave it active indefinitely… well, you'll have plenty of points to use toward free gift cards.
---
14. Donate Blood or Plasma
Donating blood and plasma is a great, no-nonsense way to earn gift cards for your favorite stores. All you have to do is show up, get poked with a needle, and wait an hour or so while they take your donation. Then, you're given your gift card before you leave (usually a Visa Prepaid card).
Donating blood is usually quicker and more painless, but you'll make much less doing it (around $10-$50 per donation, depending on your area). Plasma is a little more painful, and the needle is bigger, but you also get a larger payout. In fact, some donation centers offer up to $1,000 your first month of donating plasma.
---
15. Perform Micro Tasks
Similar to performing general online tasks, micro-tasks are easy to complete and usually involve active involvement. Unlike general online tasks, however, micro-tasks are more work-oriented. For example, Mturk by Amazon is set up to provide you (the user) with small tasks that organizations would rather not have their employees do.
Usually, this is because the tasks are small and menial, and employee time could better be spent elsewhere. Luckily, however, this means that it gets passed to you as an opportunity to earn free gift cards.
While you usually don't get paid enough through these tasks to make a full-time income, they are excellent for earning a bit on the side for extra spending at your favorite stores.
---
16. Change Your Default Browser
Something we usually don't consider as an earning opportunity is the browser application we use. In particular, Microsoft is currently running a promotion that allows users of their browsers to earn gift cards just for using them.
To get started, all you have to do is sign up for Microsoft Rewards and select offers to complete from your dashboard. Your opportunities usually involve doing things like shopping on the Microsoft Store, browsing on Microsoft Edge, playing on Xbox, or searching with Bing through the Windows search box on your computer. Once you finish those offers, you can then use the points you earn for gift cards at many of your favorite stores.
---
17. Eat in Certain Restaurants
Certain restaurants offer rewards when you're a loyal, recurring customer. Usually, to earn these bonus gift cards, you have to purchase a few upfront. If you're planning on visiting those restaurants yourself, however, you can purchase a gift card ahead of time yourself and earn those rewards for practically nothing.
Applebee's
As part of an end-of-year special, Applebee's is offering a deal where buying $50 worth of gift cards will get you a bonus $10 gift card free. This offer expires on New Year's Day of 2023, so you've got plenty of time to make those dinner plans and claim your bonus. Your bonus card, however, will expire on February 26th, 2023 so you'll need to use it quickly.
Golden Corral
Similar to Applebee's, Golden Corral is also offering an end-of-year special that earns you a $10 bonus gift card for the purchase of a $50 gift card. This offer does last a little longer and doesn't expire until January 8th, 2023, but the cards are only valid until February 19th.
Taco Bell
A national favorite, Taco Bell is currently offering two free Nacho Fries when you purchase a $20 or more gift card from them. This odder is redeemable until December 21, 2022, and is limited to one offer redeemed per day.
Logan's Roadhouse
Logan's is offered the typical $10 bonus card for a $50 gift card purchase. However, their rules are a little more strict. In addition to the December 31st offer expiry date and the February 13th, 2023 bonus card expiry date, only one bonus card can be redeemed per visit.
Matchbox
Matchbox Restaurants takes it one step further with a two-tiered gift card offer approach. You can earn a $10 bonus card for a $50 gift card purchase, or you can earn a $25 bonus card for a $100 gift card purchase. The expiry date for this offer isn't currently listed on Matchbox's website, but we do know the bonus cards don't expire until July 31, 2023.
---
18. Use Credit Card Points
Credit cards represent excellent opportunities to earn free gift cards for the purchases you already make every day. For people who love to save money and earn rewards with no active effort, this is a great way to go.
Many cash-back credit cards will allow you to exchange your points for things like bill credits, special offers, and– you guessed it– gift cards.
The process is simple, as well. All you need to do is log into your credit card account and navigate to your cashback tab to exchange your points for gift cards.
---
19. Change Your Prescription Provider
Some pharmacies will offer customers gift cards when they switch from a previous provider to use their pharmacy services instead.
A great example of this is CVS's Extracare program. When you sign up, you can earn up to $50 in pharmacy and health rewards for doing things you'd normally do. Things like filling prescriptions and getting flu shots, for example.
---
20. Return Gifts for Gift Cards
With the holidays fast approaching, many of us are bound to receive at least one or two gifts that we either don't really want or don't need. Luckily, these gifts represent an opportunity to gift a few of those free gift cards we've been chasing in this article.
Many stores will require a receipt to be brought back when trying to exchange items for cash, but that number is vastly decreased when you ask for a gift card instead– after all, they want you to spend money with them.
---
21. Ask for Gift Cards
Another great idea with the holidays coming up, sometimes the best way to get the gift cards you want is to ask for them. In other words, instead of drafting up a Christmas or birthday list, make a list of your favorite stores and ask for gift cards instead.
---
22. Giveaways
This method is a little less reliable than the others on the list, as you are leaving your free gift cards up to chance instead of earning them in some way, but it requires so little effort that we have to recommend it anyway.
Instagram is a great place to get started with gift card giveaways as you can search for them directly using hashtags. Even better, the platform recently made it possible for you to follow hashtags, so you can curate a feed full of freebies, and get notified when a new one becomes available.
To get you started, here are a few hashtags we recommend:
Freebie
FreebieFriday
Giveaway
Sweepstakes
Contest
---
FAQ on How to Get Free Gift Cards
Still have questions? Check out the answers to the most frequently asked questions about earning free gift cards below:
Why Do Companies Offer Free Gift Cards? 
Companies offer free gift cards usually as a way to bring in new customers or attract the attention of old customers who haven't shopped there in a while. In giving away the cards, they hope to renew interest and maintain relevancy in a highly competitive market. 
Do Gift Card Balances Expire?
Almost all gift card balances expire. When this happens is up to the company that provides the card, and it can usually be anywhere from a month after the card is issued to five years later. 
How Many Gift Cards Can I Earn?

There's almost no limit to the number of gift cards you can earn as long as you aren't continuously pursuing gift cards from the same company. Usually, offers directly through a company instead of a third-party app (like Mistplay or Earnably) have limits on the number of cards you can receive. If you are going through a third-party app, though, your options are much less limited. 
Are Free Gift Cards Electronic or Physical?
Free gift cards can be both physical and electronic, depending on how you receive them. For example, using your credit card points to get a gift card will usually result in a digital gift card, but trading electronics in (in-person, at least) will generally result in a physical card. 
How Can I Get Free Xbox Gift Cards?
There are tons of ways to get free Xbox gift cards. Many of the opportunities listed in this article result in being able to earn and redeem Xbox gift cards, like Survey Junkie, InboxDollars, and PrizeRebel. If you're after an Xbox gift card specifically, be sure to check whether it is available before taking the time to sign up. 
How Can I Get Free Amazon Gift Cards?
Similar to Xbox gift cards, Amazon gift cards can be gotten from just about any opportunity listed. 
How Can I Get Free Walmart Gift Cards?
Get free Walmart gift cards using the opportunities listed here, including passive earning opportunities like watching videos with AdWallet or simply trading in your used electronics. If you're interested in Walmart gift cards specifically, you can visit the website for the platform in question and check that those types of cards are available before getting started. 
---
Final Thoughts
Shopping can be a great stress reliever and fun pastime, but it doesn't come without guilt. Earning free gift cards completely eliminates that feeling, enabling you to loosen up a truly enjoy yourself.
What's even better? You can pick and choose from these programs to find what's right for you, earning only the gift cards that complement your interests.
So, what are you waiting for? Get out there and earn some you-time.
Get our free Side Hustle Handbook with the best strategies to multiply your income sources today.
Plus our best money tips delivered straight to your inbox.

Christa is a skilled researcher and serial entrepreneur. Her passion lies in providing people like you with ways to become financially independent without breaking the bank in the process. Currently, she's tested and perfected over 37 unique side hustles and brings that information to you through articles like these.