Many or all of the products featured on this page are from our sponsors who compensate us. This may influence which products we write about and where and how the product appears on a page. However, this does not influence our evaluations. Our opinions are our own. Here is a list of our partners and here is how we make money.
The information provided on this page is for educational purposes only. The Modest Wallet is a financial publisher that does not offer any personal financial advice or advocate the purchase or sale of any security or investment for any specific individual.
Nothing in this world is free, right? Not true! If you have some spare time and an internet connection, you could be collecting free money for things you already do, like shopping, managing your finances, eating out, and more!
If you'd like to find out how you can take advantage of these opportunities for yourself, keep reading, and we will show you the best ways to cash in.
Legit Ideas to Get Free Money
There are literally a ton of legitimate ways to get free money, so we have grouped these ideas in different categories depending on what you need to do to get that sweet free cash.
Give Your Opinion For Cash
Lots of companies are looking to pay you for sharing your opinion on a variety of products and services. Your opinion is actually very valuable to companies focused on improving the quality and usefulness of the products and services they offer.
There are lots of platforms that will pay you for your time and feedback, and it's easy to get started. Also, check out our best paid online survey sites article to learn more.
Survey Junkie
Survey Junkie is one of the most popular paid survey sites, attracting over 10 million users since its launch, so you can feel confident that you will be rewarded for any surveys you complete on the site.
What really sets Survey Junkie apart from a lot of other paid survey platforms is the way that it utilizes the profiles of its users to more efficiently pair them with appropriate survey opportunities.
You can start earning immediately, and you only need to earn points equal to $10 before you redeem points for cash, gift cards, or prepaid Visas. Check out our full Survey Junkie review for more details.
Swagbucks
Swagbucks is one of the best-known survey platforms. Since its launch in 2008, the platform has paid out more than $300 million in cash, gift cards, and prizes. The platform owes its popularity to the wide variety of earning methods it provides, which includes paid surveys, as well as earning points for watching videos, shopping, and searching online.
Swagbucks is available through apps for both Android and iOS, as well as on the Web. The platform gives users access to surveys seeking opinions on everything from the products people use daily to advertisements that individuals may or may have not seen, and much more.
There are always new survey opportunities being added (as well as other opportunities to earn points for cash), so check in regularly. You can also check out our full Swagbucks review to learn more.
See Also: How to Make Money Flipping Furniture: A Home-Based Side Hustle
MyPoints
MyPoints is one of the original online money-making platforms, launching way back in 1996. Like Swagbucks, MyPoints offers its users a variety of ways to earn free money — one of the most popular being giving you the opportunity to complete surveys.
Again, there's not much to set MyPoints apart from similar competitors, but the platform does offer one of the lowest withdrawal thresholds. Users only need to earn $3 before they can be paid in gift cards, travel rewards, or by direct deposit to PayPal. This low threshold is made even better by the $10 welcome bonus offered to new users after they complete their first five surveys.
Read our full MyPoints review to learn more.
InboxDollars
InboxDollars is another site similar to Swagbucks and MyPoints, offering users multiple ways to earn — including reading emails, playing games, watching videos, and of course, completing surveys.
The company has paid out more than $57 million to its users, making it another great source of free income or gift cards. (The only real drawback is that InboxDollars requires its users to earn at least $30 before they can withdraw their funds.) The cool thing is that you get a $5 bonus when you join.
You can checkout our InboxDollars review to learn more about the different ways you can make money.
Vindale Research
Vindale Research is just like any of the other paid survey platforms on this list, but with a small twist: the surveys you take through Vindale are all from mainstream companies that you already know and love. This means that the opinions you give could directly affect the brands and products you use every day. (And you are getting paid!)
Vindale will give you $1 just for signing up!
Read our full Vindale Research review to learn more.
Google Opinion Rewards
Google Opinion Rewards is an app available on iOS and Android that pays its users between $0.10 and $0.25 for completing surveys related to their products and services.
The payout might seem low, but each survey is only a few short questions that can easily be answered in a matter of seconds. Credits earned will be applied to your associated Google account until you've earned $2 or more, at which point you can withdraw your funds through PayPal.
Get Paid to Get In Shape
Nearly everyone would like to improve their health and fitness levels, but sticking to diets and exercise routines is hard work, especially when you are just starting out. If a little extra motivation is just what you need to achieve your goals, then these next few apps are for you.
You can also check our article on the best ways to get paid to walk for more ideas.
Sweatcoin
Sweatcoin is an app that keeps track of the walking (and running) you do outdoors. For every 1,000 steps you track with the app, you will earn just short of one Sweatcoin (the app's digital currency).
Withdrawal thresholds vary between method and reward type, but once you have accumulated enough Sweatcoins, you can redeem them for rewards and gift cards from Amazon, or withdraw your balance through Paypal.
HealthyWage
HealthyWage allows you to name your price and bet that you will achieve your weight loss goals. Users enter in how many pounds they are looking to lose, and how long they think it will take in months, along with their gender, height, current weight, waist circumference; then, they enter the amount they want to wager into a calculator on the HealthyWage website, where they'll view discover the potential return on their wager if they meet their goal.
Users who fail to make the progress they want within the parameters they've established will forfeit the money they put down — and the money they lose is put towards funding prizes for those who succeed.
Users have reported significant prizes and payouts for the app, with as much as $10,000 offered as a reward for some users' goals.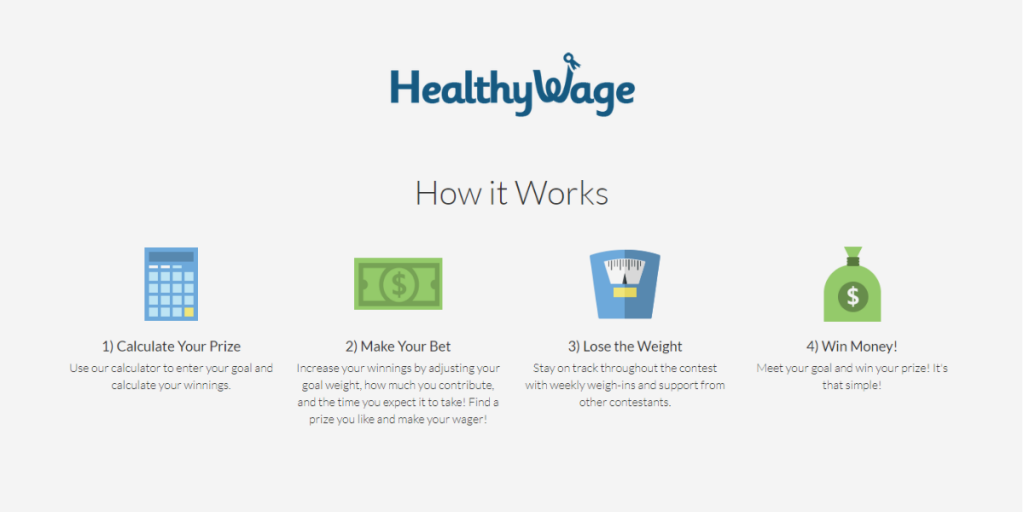 See Also: 10 Services That Help You Make Money Driving (Or Renting Out Your Car)
DietBet
DietBet is similar to HealthyWage. Users place a bet on their ability to meet their weight loss goals, and if they're successful, they are rewarded with an increased payout. However, DietBet's system only offers two preset group options for participation rather than offering the custom solo plans and betting of HealthyWage.
The preset options on DietBet are called "games," and users' bets go into a collective pot for their group. If they fail to meet their goal, their money is forfeited to the pot, and it is split evenly between the winning members of the group.
The group aspect may add a bit of competition to meeting weight loss goals, and those who benefit from additional accountability and motivation may find this system very useful.
Earn While You Shop
If you are already someone who shops online, why not start making money at the same time? There are tons of apps and websites that offer cash back on purchases made through their platforms while you shop at major retailers you already know, love, and frequent.
Rakuten
You have probably already heard of Rakuten. (The platform previously operated for several years under the name Ebates.) Rakuten is a shopping platform that lets you earn cash back on purchases you make online through any of their partnered retailers, which include brands like Amazon, Walmart, Target, Sephora, and many, many more.
Next time you need to buy something online, visit the Rakuten website first to plan your shopping — an item you were planning to buy from one retailer may be available from another that's offering a higher cash back bonus.
Standard returns run anywhere from 1% to 10% cash back. Rakuten also runs promos at different times of the year (especially at peak sales times). And they offer additional promotions with specific retailers throughout the year. Retailer-specific promotions may offer up to double the retailers' standard cash back percentage.
By installing the Rakuten browser extension (a.k.a. the "Rakuten Cash Back Button") on all your web browsers (Chrome, Safari, Firefox, Edge), you can receive alerts on potential savings automatically as you browse online, so you'll never miss a great deal.
If you are new to Rakuten, you'll be given a $10 cash back bonus after your first purchase of $25 or more when you open an account. Rakuten holds the savings you accumulate for about two months at a time; you'll receive an alert when the funds are ready for release, and you can opt to receive a paper check by mail or instantly accept an e-gift card from a list of participating retailers.
Go check out our Rakuten review to learn more.
Ibotta
Ibotta is a different kind of cash back shopping app. Instead of offering you a percentage of purchases you make through their app or website, they will refund you for the products you buy offline when you scan your receipts.
All you need to do is sign in and pick out what you are planning to buy on the app before you shop. Then, scan your receipt after you've finished and you'll earn free money in the form of cash back, simple as that!
Creating a new account on Ibotta will get you $10 as a sign-up bonus after you scan the receipts from your first shopping trip. Ibotta has the most comprehensive payment options, giving users the choice of withdrawing their earnings to Venmo or PayPal, or accepting a gift card from one of their many partnered brands including, iTunes, Uber, Sephora, Target, Walmart, and many more. (Note that you need to accumulate $20 in rewards before you can receive payment.)
Read our full Ibotta review to learn more.
See Also: How to Legitimately Get Free Gift Cards: Fast and Easy
Dosh
Dosh is a cash back app that will pay you between 2% and 5% cash back on the total value of the purchases you make at any of their supported retailers, including CVS, Mattress Firm, Mobil, and lots more. All you need to do is link a credit or debit card to start getting paid (everything is processed automatically when you link your preferred card to your Dosh account). If you're new to Dosh and you choose to link a credit card to your account, Dosh will give you a $5 bonus, with no purchase required.
Go check out our Dosh review to learn more.
Drop
Drop is a cash back app for both credit and debit card users that is available on iOS and Android. Enter the details of your most used card or cards into the app, and select your five favorite vendors from the long list of vendors that have partnered with Drop.
After you've done this, you will earn cash back in the form of points equivalent to the amount of money you've spent at Drop's specified retailers. (As of this writing, 1,000 points equals one dollar.) Users can redeem points for gift cards or cash withdrawal, with withdrawal minimums varying by brand of gift card or cash withdrawal method.
One more note: Drop offers new users a $5 bonus just for signing up with the platform and linking a credit or debit card.
Paribus
Paribus will give you free money in the form of cash back. The platform is completely free to use, and it operates by scanning the email addresses you link to your account (the service searches your inbox(es) for email confirmations of purchases and receipts). If Paribus finds a receipt for a purchase made at one of the more than 25 companies the platform has partnered with, Paribus will monitor the price of the item you purchased. If the price of a purchased item drops, Paribus will seek a refund for the difference in price on your behalf, putting your hard-earned money back into your pocket.
Sign Up with Investing Apps and Cash In
When you think investing, you think money — but did you know you can earn a little free money just for signing up with an investing app? It's true — many investment and finance apps offer new users a welcome bonus with no strings attached!
If you're interested in investing, the following investment apps are a great way to give it a try. They let you dip a toe into investment waters with a minimal amount of money (like the signup bonuses they offer). The top micro-investing apps are:
Acorns
Acorns is an investing service that automates the investment process, monitoring your spending across your credit and debit cards and rounding your purchases up to the nearest dollar. The extra cents on each dollar are then invested into a variety of stocks, bonds, and other types of investment vehicles.
To make a good thing even better, Acorns is offering to add $5 to new investment accounts just for signing up and linking a payment option, no purchase required. As with all other investments through Acorns, your $5 bonus will automatically be invested, allowing you to grow it into something much more substantial. (The service is also offering referral bonuses — see the Acorns website for details.)
Check out our Acorns review to learn more about this service.
Stash
Stash is another great option for hesitant first-time investors. Like Acorns, Stash is an automated investing platform that offers a diverse assortment of investments recommended by professional fund managers — including ETFs, stocks, mutual funds, and more. The automated platform makes investment decisions based on the risk level you are comfortable with.
As a bonus, signing up for a new account with Stash and linking a debit or credit card will net you $5 to invest, with no purchase required.
Read our full Stash review to learn more.
Stockpile
If you are feeling a little more adventurous, Stockpile may be right for you. Stockpile doesn't invest your money on your behalf, but it does make investing simple and accessible to its users.
Through Stockpile, you can invest in your choice of ETFs, stocks, and fractional shares in some of the world's most popular companies, including Apple, Netflix, and others.
The platform has no account minimums, no management fees, and only charges $0.99 per trade.
Robinhood
Robinhood is a unique trading platform that offers its users access to unlimited commission-free trades on stocks, funds, options, gold, and cryptocurrencies.
Signing up for a new account with Robinhood will get you their welcome bonus of one free share of stock of the company's choosing (valued at up to $200). As of this writing, you can keep the share or sell it after two trading days. The same bonus is available when you refer a friend who opens and funds a new account.
Check out our Robinhood review to learn more about it.
Webull
Webull is another great zero-commission online broker where you can trade your favorite stocks, ETFs and options. They have a really good trading mobile and web trading platforms.
When you sign up with them you are automatically eligible to get 1 free stock valued between $2.5 to $250. However, if you deposit $100 into your account, you will receive a second stock valued between $12 to $1,400.
Go to our Webull review to learn more about this broker.
Open a New Bank Account and Get Paid
Thanks to the overcrowded and competitive financial space, many banks and financial institutions now offer cash bonuses as an incentive to secure new customers. You can earn as much as $350 just for opening a new account.
Chase Bank
Chase Bank offers one of the most generous welcome bonuses, paying new customers as much as $350 when they open a new Chase Total Checking account and Chase Savings account.
Opening a Chase Total Checking account and setting up direct deposit will net you $200 of the available welcome bonus. To get the remaining $150, you'll need to open a new Chase Savings account, deposit a total of $10,000 within the first 20 days, and maintain the balance for 90 days.
If you are unable to make the deposit requirements, don't worry! You can still take advantage of the checking account bonus — and that's $200 of free money just for opening an account.
PNC
If you don't need a checking and savings account, PNC might be a better fit for you. PNC will pay as much as $300 to customers who open a new checking account with the bank, with no deposits or account minimums required.
Sell Your Stuff
One of the easiest ways to generate some free money for yourself is to sell the things you no longer need, want, or use around your home.
To make the process easier, there are a number of specialized resale websites for everything from old tech and books to last season's wardrobe, so you can secure a fair price for your items from genuinely interested buyers.
Getting started is easy. All you need to do is sign up and start listing on a site to be on your way to free money and clean closets.
Gazelle
Gazelle is the place for you if you want to offload your old phone or tablet without a lot of waiting and haggling. Provide your item's condition, and they'll present a fixed price offer. Then, wait for the shipping materials to arrive, and send your device off. If it matches your description, you'll receive payment (check, Amazon gift card, or PayPal) within about 7-10 business days.
Read our full Gazelle review to learn more.
See Also: How to Become a Virtual Assistant: Get Paid to Work From Home
Bookscouter
Bookscouter is a resale app that provides its users with access to vendors who want to buy your old textbooks and will pay you a fair price.
The app utilizes your camera to scan the ISBN barcodes, quickly and easily finding your textbook in the system, and displaying a list of prices you can choose from.
While you won't be making more than you paid for your books, you may be able to recoup a significant portion of your initial investment. You may be able to get similar prices selling your textbooks elsewhere, but Bookscouter does the work for you, in one convenient place.
eBay
Everyone knows eBay. It was one of the first online resale websites and remains one of the largest and best-known platforms around.
eBay is a platform that allows its users to list and sell almost anything to an international audience. This can be a huge advantage if you have a lot of things in different categories to sell, saving you the time and effort of managing multiple accounts and listings over multiple platforms.
Decluttr
Decluttr is another fixed-price resale platform like Gazelle, but with a wider focus that includes cell phones, tech, CDs, DVDs, games, and books. Decluttr sets the price based on inventory and the condition of your items. If you are happy with the price they give you, simply ship it at no cost to you and you will be paid by direct deposit, PayPal or check after they receive your shipment.
Check out our full Decluttr review to learn more.
Poshmark
Poshmark is a platform that facilitates the buying and selling of new and gently used fashion, shoes and jewelry. The platform mostly caters to women's fashion with a focus on high-end and designer brands, though users can list whatever they like.
Once a purchase is made, Poshmark collects the money from the buyer immediately and holds the funds in escrow until the item has been received and the buyer has approved the condition of the item, providing a secure buying and selling experience for everyone involved.
ThredUP
ThredUP, like Poshmark, is another platform focused on the resale of good condition, secondhand clothing — including designer labels.
Everything on the platform is verified to be authentic and is in like-new resale condition, so only the most gently used high-quality clothing will be accepted.
The site offers its users up to 90% off of the retail prices of the items they sell, so you can also save money if you need to replace key pieces in your closet.
See Also: How to Make $500 a Month with Paid Online Surveys: Is it Legit?
Use a Cash Back Credit Card
Using a cash back credit card with a good rate is a simple way to generate a little free money, but these types of cards should only be used by those who pay their balance in full each month, or any earnings will be lost to interest fees.
The following are our recommendations for the best cash back credit cards available right now.
Chase Freedom
The Chase Freedom credit card offers one of the best cash back rates available, and also has one of the most generous welcome offers. Spending $500 within the first three months after opening an account will get you a $150 welcome bonus.
After you have earned the bonus, you can use the card for your essentials — It offers a cash back rate of 5% on categories that change each quarter. Previous cash back categories have included groceries, gas, and travel, which makes it easy to rack up rewards.
Chase Sapphire Preferred
If you are a credit card power user with higher personal or business expenses, you might be happier opting for the Chase Sapphire Preferred card.
The card offers a welcome bonus of 60,000 Chase Ultimate rewards points, or between $600 and $900 (according to the value range of the points). But along with significantly bigger bonus comes a much higher minimum spend ($4,000 within three months of becoming a cardholder).
On top of the signup bonus, cardholders will be given two points for every dollar spent on dining and travel expenses and one point per dollar in every other category.
Chase offers a few ways to redeem points — either in the form of cash, gift cards, and statement credits.
Chase isn't the only bank to offer cash back credit cards with great rates and welcome offers. Here are a few more of our top picks:
Capital One Savor
Sign up for a new Capital One Savor card and earn $300 as a welcome bonus after you spend $3,000 on the card within the first 3 months. (Editor's note: After the first year, the card has an annual fee of $95.)
The DiscoverIT Card
Opening a DiscoverIT credit card will get you double the cash back rate on all purchases made in the first year, 1% back on all purchases, and 5% back on rotating categories each quarter.
Wells Fargo Cash Wise
The Wells Fargo Cash Wise credit card offers new cardholders a welcome bonus of $150 when they spend $500 or more within the first three months following account opening.
Get Paid to Take Control of Your Finances
What if you could get paid for doing the things you need to do, like taking control of your finances? Well, it turns out there are quite a few apps and platforms that can help you budget and plan for your future. Here are a few we recommend:
Qapital
Qapital is an alternative bank, by its own definition. It operates differently by placing the personal financial goals of its users at the core of what they offer and combining behavioural psychology and financial education to grow savings for users.
The company has helped millions of people since its launch in 2012, with users saving an average of $5,000.
Digit
Digit is a platform designed to help users accumulate savings, bit by bit. Digit connects with your accounts and analyzes them to better understand your spending habits and determines an amount to transfer from your accounts into the app.
The app charges users $2.99 per month to use their service, but it does provide a number of useful features, including allowing users to interact with the service via text message. Users will also receive a 1% annualized Savings Bonus for each three-month period that they use the app.
If you sign up, you can also earn $5 for every friend you refer to Digit.
See Also: Instacart Shopper: Make Money Grocery Shopping for Others
Trim
Trim is an app that helps save its users money by finding and cancelling unused or forgotten subscription services. The app is free to use, even if you use it to cancel a service. But if you take advantage of its bill negotiation services, the company will take a 33% cut of the money you save.
Learn more about this service in our Trim review.
Truebill
Truebill is another app dedicated to helping its users cut costs and save money by eliminating unnecessary services and expenses. The app connects to your financial accounts and searches for bills and recurring charges (even those on a unique schedule).
From there, users are able to view their feed of bills and subscriptions and can choose to have the app cancel subscriptions or attempt to secure a lower price. Since it launched back in 2015, the app has helped users save an average of $96 per year. Read our full Truebill review to learn more!
Billshark
Billshark is another type of bill reduction app, but unlike Truebill and Trim, it doesn't focus on subscriptions. Instead, the app puts both consumers and businesses in charge of their monthly expenses across a wide number of areas, including TV, wireless, internet, satellite TV, and home security.
Simply upload your photo to the app and let the company's team of "sharks" negotiate the lower rate you deserve on your monthly bills. Customers regularly report saving 25% or more after using the service, which is money straight into the bank.
Check out our Billshark review to learn more.
Collect On Your Unpaid Debts
Has a bank, telecom provider, utility company, or other company ever owed you money, and you were unsure how to collect? After a period of time, many companies will send any uncollected money they owe to the government to hold until people request it. Currently, treasuries in the US alone hold more than $43 billion in unclaimed funds.
Locating and collecting this money isn't straightforward. Luckily there are a number of services that will do the work for you.
Unclaimed Tax Return Money
If you have ever failed to collect on an income tax refund owed to you, you can check the status of your payment through the IRS or the United States federal government.
If anything comes up and the payment you were meant to receive was never deposited to your account, you can request a check or direct deposit.
Credit Karma
In 2018, the credit-monitoring platform Credit Karma launched a portal through which users can enter their personal information and discover any money owed to them by financial institutions and service providers (including phone companies and utility providers).
MissingMoney
MissingMoney.com will help you track down a variety of unclaimed assets you may be owed, including cash and property. The platform is free to use, and it searches all of the unclaimed property databases across the U.S. at once to help you ensure you aren't missing out on anything you may be owed.
Trade Your Junk Mail for Money
Small Business Knowledge Center
The Small Business Knowledge Center is willing to pay you to send in your junk mail (both physical and digital) for research purposes. Users can expect to earn as much as $20 every six to 10 weeks, which is pretty good just for offloading unwanted spam mail.
Drive Your Car for Cash
If you have a car and a valid driver's license, you could be earning money. You probably already know about ridesharing, but there are plenty of ways you can monetize your vehicle.
Wrapify
Wrapify is an online marketing platform that wants to pay drivers like you to wrap your car in an advertisement and drive it around.
You can preview and select the brand you want to represent. Check the website for rates and requirements, such as minimum driving distance per day.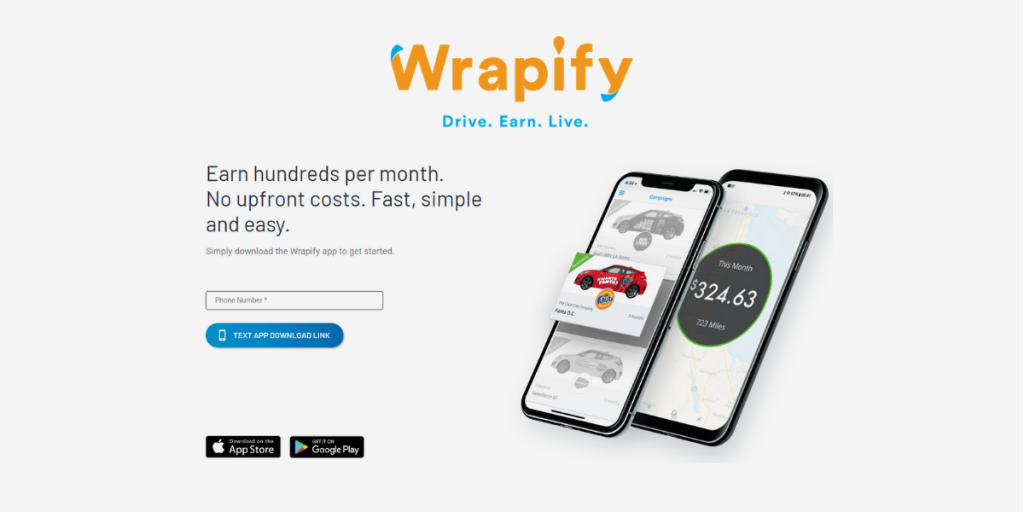 See Also: How to Become a Social Media Manager: Get Paid to Work From Home
Getaround
If you own your vehicle and it is in good condition, you can use GetAround to rent out your car any time it's not in use.
All vehicles listed on Getaround are insured for $1,000,000 and have complimentary 24/7 roadside assistance, so both you and your renters are protected.
Users can expect to make hundreds or thousands of dollars annually through the app, depending on the make, model, and year of their vehicle and how often it's listed for rental.
Lyft
Thanks to the ever-growing popularity of ridesharing apps, it's possible to make a decent side income driving with Lyft or one of its competitors.
To qualify, you'll need to be at least 21 years old, with a year of driving experience. You'll need a car from 2007 or later, and you'll also need to pass a background check.
Sign-on bonuses for new drivers vary; check the Lyft website for details.
Other Unique Ideas to Get Free Money
If you are still looking for ways to turn a little of your time into free money, there are plenty of other unique and interesting methods available. The following are a few more you may not have considered.
Take advantage of 401(K) matching at Your Job
Many employers offer to match the 401(K) contributions that you make towards your retirement savings. Taking advantage of 401(K) contribution matching is one of the easiest ways to earn free money, and it sets you up for retirement.
Donate Blood
Donating blood is a selfless and incredibly important thing to do — but did you know you can get paid for it? Donation centers are always in need of plasma, and they will pay for your blood donation in order to extract the plasma.
The rates paid and the frequency at which you are allowed to donate blood varies by state and country, but users generally report earning between $20 to $50 for their donations.
Earn While You Eat with Seated
Seated is a restaurant booking app that wants to pay you for eating out. Simply sign up, connect a major credit card, and make your first reservation to start earning right away.
Users will receive a gift card for Amazon, Starbucks, or Lyft at the end of any meal booked through Seated, with a value equivalent to the cost of the meal. The average gift card from Seated has a minimum value of $7.
New users who sign up through a referral link will receive a bonus $10 Lyft gift card after their first reservation.
See Also: Simple Steps to Become a Freelance Writer: How to Get Paid To Write
Upload Your Photos For Use As Stock Photography
If you enjoy photography, you could be bringing in some free money by sharing the photos you take, especially If you have high-quality photos that could be used as stock photos.
The stock photography market is huge and is always in need of new people to meet the demand for new material across thousands of subjects and scenarios. If you have photography skills, all you need to participate is a decent smartphone or a digital camera.
A single day's worth of quality stock photography can quickly amount to notable passive income. There is no limit to the amount of work you can share — and therefore, there's no limit on your earning potential.
Make Money Watching Videos Online
Viggle is a platform that will pay you for the time you spend watching sponsored videos on any of your devices. Each video you watch will earn you points, which you can redeem for gift cards and other rewards. Download the app to get started.
Final Thoughts
As you can see, thanks to the internet, there are no limits to the ways that you can make free money. Using the suggestions on this list, you could easily make a few hundred dollars over a couple of days just claiming signup bonuses, so why not cash in?
Up Next

Ricardo is an entrepreneur, investor and personal finance nerd who enjoys spending time with his family and friends, travelling and helping others achieve their financial goals. Ricardo has been quoted as a personal finance expert in several online publications including Healthline, Bankrate, GOBankingRates, MSN Money, Yahoo Finance, U.S. News & World Report, Forbes and USA Today.