Furniture Flipping: A Complete Guide For Beginners
Many or all of the products featured on this page are from our sponsors who compensate us. This may influence which products we write about and where and how the product appears on a page. However, this does not influence our evaluations. Our opinions are our own. Here is a list of our partners and here is how we make money.
---
The information provided on this page is for educational purposes only. The Modest Wallet is a financial publisher that does not offer any personal financial advice or advocate the purchase or sale of any security or investment for any specific individual.
Does the idea of flipping furniture to make some extra cash sound appealing to you?
Finding quality pieces of furniture, restoring them, and then reselling them for a nice profit is a side hustle that has been steadily growing in popularity. People are making great money and having a lot of fun doing it.
In this article, I will be providing a complete furniture-flipping guide for beginners. From the first step to the final sale, read on to find out everything you need to know to start flipping furniture yourself.
What Is Furniture Flipping?
Furniture flipping is often confused with DIY furniture building/selling. However, there are obvious differences, and flipping can actually be a lot more of a simple and profitable process.
Instead of building your furniture from different materials, furniture flipping involves finding old or used pieces of furniture and implementing tools/strategies to restore and flip them for a profit.
---
How To Flip Furniture
Next, we dive into a step-by-step process that highlights the most important parts of the furniture flipping process.
We will cover everything from what kind of pieces to look out for and where to find them to restoration tools and strategy tips and recommendations for where to sell your finished products. Read on to get started on your furniture-flipping journey.
Step 1: Decide On A Furniture Piece To Flip
Your first step will be to consider what kind of furniture you are going to track down, purchase, restore and resell in the following steps. It is important to understand what to look for in a piece of furniture that you plan to flip.
Certain materials will be easier to work with and restore than others, while materials will also factor into customer demand and the value of your item. It is also important to consider things like notable features, age, condition, and others.
What To Look For in a Piece Of Furniture
Here are some of the key aspects to look out for in a piece of furniture you plan to flip.
Solid Wood
One of your first indications that a piece of furniture would be a good option for a potential flip is when it is made of solid wood — lumber that has been milled directly from trees (not engineered wood — plywood, fiberboard, etc.)
Solid wood is significantly more durable than engineered wood and is easy for flippers to restore/refinish into something beautiful. The organic grain patterns and unique knots also provide a level of natural beauty that manufactured wood furniture simply doesn't.
All of these factors mean that your solid wood pieces will be more desirable and more valuable and, in turn, will bring more customers your way.
How to identify solid wood:
Weight (solid wood is dense and heavy)
Appearance (asymmetrical grain patterns and knots indicate solid wood)
Texture (textured surfaces that seem unnatural indicate engineered wood)
Condition (real wood rarely flakes or cracks — different from paint or veneer flaking or peeling)
Dovetail Joints
Another big thing that seasoned furniture flippers will look for when scouting out new pieces is the style and quality of the furniture's joints. The joinery work of a piece will give you a good indication of the craftsmanship quality and is often something that customers will pay top dollar for.
Dovetail joints are a prime example of something to keep your eye out for when hunting for quality furniture. They are known for the interlocking series of "tails" that creates the joint and provide incredible tensile strength and overall durability.
Found in everything from drawers and shelves to some guitars and violins, dovetail joints are a sign of great woodworking skill and craftsmanship and will definitely boost the value of a nice piece of furniture.
Age
As backward a concept as it may seem, older furniture made in previous eras is often going to be of higher quality than a lot of the new-age furniture that has been mass-produced using cheap materials.
On top of this inherent superior quality, some of the older or "vintage" furniture pieces will offer unique features or qualities that customers are looking for. This could be anything from ornate design details to a carpentry method that was only practiced during a certain era.
The age of an item often indicates superior quality and durability, while antique qualities and the inherent rarity of older furniture provide the potential for huge profits. Select vintage pieces have been seen selling for 5 and even 6 figures.
Well Kept
One of the more obvious things to look out for would be the overall condition of an item and its different parts. You should be able to tell with a brief inspection whether or not the previous owner took good care of it.
It is important to find furniture that is well-kept or is at least in a salvageable condition. You don't want to be spending 4 hours to restore an end table that may only fetch you $50. It doesn't have to be in perfect condition. Restoration is where money can be made but stay away from excessively damaged or worn pieces.
Some indicators to stay away from include:
Excessive water damage or rotten wood
Wood that has signs of insect damage (i.e., boreholes from carpenter ants, bark beetles, wood borers, etc.)
Excessive mechanical damage (i.e., large cracks, missing pieces, etc.)
Furniture To Avoid
Now that we have covered some of the more important things to look for on your furniture hunts let's take the other angle and talk about what kind of furniture you should avoid.
Particle board, also known as a variety of fiberboard, is a type of engineered wood that is made from wood chips and some sort of synthetic resin or binding agent. It is often used when a stronger, more durable wood material is not required for a project.
Low-Quality Joint Construction
Pay attention to the type and quality of the joint construction when scouting a piece of furniture you want to restore and flip.
Furniture that has wood joined together by staples, nails, or thin glue is something to definitely avoid. This indicates cheap, corner-cutting construction and a general disregard for quality craftsmanship — these pieces were not built to last.
What you do want to see is well-constructed joints that feature screws or dowels instead and are built using dovetail joints and other durable woodworking joints that indicate quality.
Particle Board Furniture
Particle board is lightweight but also very flimsy and weak, which makes it something to avoid when looking for quality furniture to flip.
It is used in a lot of mass-produced furniture for its inexpensiveness and ability to sweeten the company's bottom line (IKEA is a perfect example).
Some particle board used on interior drawer panels or other small, insignificant aspects of a piece is fine, but avoid furniture that is largely made up of particle board or another fiberboard.
Ornate Furniture
Ornate furniture describes pieces that have been elaborately decorated/ornamented with complicated designs or features.
It is best to stay away from excessively ornate furniture for the most part, as these pieces will typically be hard to restore and refinish for a nice quick flip.
Another problem with this kind of furniture is that it will often be hard to sell, especially when furniture that is simple and undecorated is on trend.
Plastic
Plastic is an obvious material to stay away from when buying furniture to flip. Most plastics are cheap, flimsy, and will generally not have much longevity, especially if they are exposed to the elements.
Flipping plastic furniture is also simply not going to be very profitable, if at all. Plastic furniture is made to be sold cheaply, so reselling it just logically does not make much sense.
Broken Furniture
Broken furniture is an obvious one to avoid, especially if the damage is excessive to the point of needing excessive restoration and extra materials. This will cost you both time and money.
With that being said, if you have the woodworking and repair skills/tools and you find yourself a nice piece that is broken but fixable, why not give it a go?
Warped & Wobbly
Furniture that is warped and/or wobbly is good to stay away from. This usually indicates either low-quality craftsmanship, poor care & maintenance, or a mix of both.
Check furniture for warped pieces on drawers, panels, and other sections. If the piece is wobbly and it doesn't seem to be any easy fix, it may be better to leave it behind.
Good Types Of Furniture For Flipping Purposes
There are certain types of furniture that will be easier to restore and flip, are in higher demand than other pieces, or just simply do well in a reselling environment.
Dressers
Dressers are one of the most common bedroom items you will find in basically any household. They are essentially a low-sitting chest of drawers that is used primarily to store clothing.
These are among the most sold furniture pieces on any marketplace and are definitely something to look out for.
Baby Furniture
Baby furniture is another good type of furniture to look out for. This includes cribs, nursing/rocking chairs, dressers, high chairs, bassinets, and a variety of others.
Baby furniture is almost always going to be in demand, and people are almost always looking to save some money on resale baby furniture instead of paying top dollar at a retail store
Coffee Tables
Coffee tables are another incredibly popular household item that you will likely find in almost every home, regardless of size. Coffee tables are low-sitting tables designed to serve as the centerpiece for sitting areas where loungers can place their food and drinks.
You will definitely run into a fair amount of coffee tables on your furniture hunts, so keep an eye out for any pieces that are made of nice solid wood.
Coffee tables are typically easy to restore and refinish with a fresh coat of brand-new paint and maybe some new hardware.
Dining Tables
Dining tables are another piece of furniture you should be actively searching for while on your furniture flipping item hunts. These are tables that typically serve as a place where formal meals are eaten – they can accommodate groups of diners.
Dining tables are a great choice for furniture flipping. They are always in demand and are often built with more quality craftsmanship than other smaller, less integral household pieces.
Buffets
Buffet tables, also known as sideboard buffets, are long pieces of furniture, typically about hip height, that are usually found in a dining room.
Buffet tables store and display items, and as their name suggests, they are often used as an extra surface for displaying and serving food!
Buffet tables are not as common as some of the other items we highlighted, but when you do find one that is quality, don't hesitate to grab it. The right buyer will pay top dollar for a nice buffet table that has been restored and refinished with care.
China Cabinets
China cabinets are pieces of furniture that have been designed to store and display porcelain or other quality ceramics (often referred to as china).
These cabinets will almost always have a glass front and/or sides as they are meant to have their contents observed and appreciated.
Quality china cabinets that are intact and in good condition are highly sought after in many cases and can bring in a healthy profit if restored nicely.
Chairs
Chairs are another one of the more obvious furniture flips, as they are present in almost every household space. However, it is important not to just go pick up any old chair that you come across.
Find chairs that are well-built and will not require excessive time and materials to restore.
Try not to buy single chairs unless it is a rocking chair or another unique single piece — customers will typically be looking to buy sets of chairs (2 or more), so look for matching sets when possible.
Storage Chests
Storage chests are rectangular-shaped boxes with four solid walls and usually a hinged or removable lid. They are used as space savers to store items, and can display items if they are designed with a flat top.
Storage chests are a little bit more of a rare find than some of your more popular furniture items (e.g., dressers, coffee tables, etc.), which also means that the demand for them is steady.
Look for chests that are made of solid wood and have a good lid. Don't be afraid of worn or lightly damaged items that can be restored. You would be surprised what fresh paint and some new hardware can do for aesthetic appeal.
Step 2: Pick Up The Furniture Piece To Flip
You may be thinking to yourself — well, great, I know what to look for, but where am I supposed to go looking for good furniture to flip?
There are a variety of really great places, both online and in-person, that furniture flippers can visit to track down and pick up furniture and also compare prices on similar pieces.
Facebook Marketplace
Facebook Marketplace is, in my opinion, one of the most powerful tools that furniture flippers should be taking advantage of. With over 1 billion active marketplace users, it offers one of the largest customer bases on earth.
Simply set your location and start browsing for furniture by using keywords to refine your search based on what you want to find. You can be as general "furniture" or as specific as something like a "red oak coffee table."
Facebook Marketplace provides a wide variety of furniture, especially if you are willing to expand your search area and make trips for great pieces.
Garage & Yard Sales
Garage & yard sales are going to be one of your best in-person furniture-hunting options. Oftentimes people are looking to make a quick buck selling some of their old or inherited furniture, and as a result, may not realize the potential value of some pieces.
Keep an eye out for signs while you are driving around town, and check online for posts that advertise garage & yard sales. These are awesome places to find quality furniture for a bargain.
Craigslist
Craigslist is another good online platform to use for tracking down good furniture to flip. It is one of the largest classified advertisement platforms in the world that features specific sections that are dedicated to things like housing, jobs, and items for sale.
Take a look at the furniture for sale listings on Craigslist once or twice a week, and keep your eye out for pieces that are made with quality material and are in good condition.
Estate Sales
Estate sales are sales and/or auction events that are held to get rid of all or a substantial portion
of the items owned by someone who has recently passed away or must liquidate their property. They are meant to expedite the selling process, and as a result, there is potential for some great deals.
These events are usually organized by a professional who holds the sale on behalf of the family members. They can occur over the span of a few hours or multiple days. Look for estate sale ads on platforms like Craigslist and Facebook, and dedicated estate sale websites.
Thrift Stores
Thrift stores are retail locations that are dedicated to selling secondhand clothes, home goods, and other items, sometimes with charitable intentions.
These thrift shops are a great place to go looking for good pieces of furniture that can be restored and resold. You will often find awesome deals on items, as thrift stores typically will price things with the intention of a quick sale.
OfferUp
OfferUp is one of the largest mobile marketplace applications currently in operation — it is known as a hybrid between Craigslist and eBay. There are thousands of furniture pieces for sale on OfferUp at any given time — definitely a great place to hunt.
Users can list and sell their personal items to a massive customer base for free. However, the platform does take a cut of each item sold.
Buyers are not charged anything for their purchases using the OfferUp platform. However, they are required to cover any shipping costs incurred.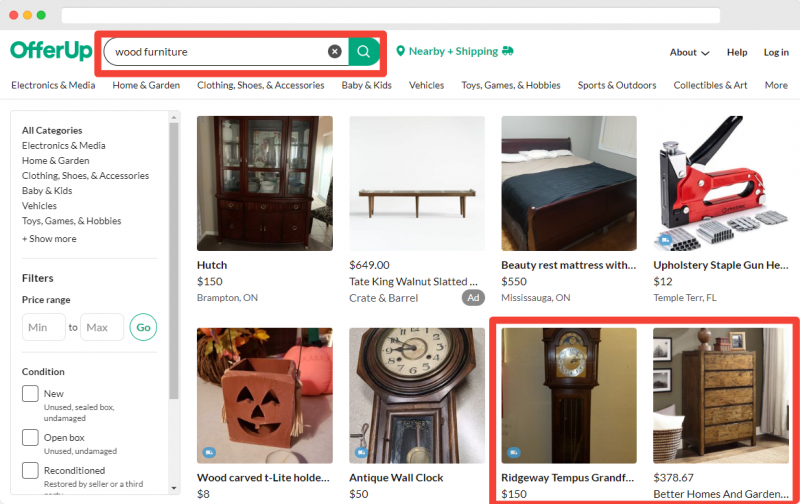 Family & Friends
Your family and friends are another potential great source of flippable furniture. Talk to them about your furniture flipping business and inquire as to whether they have any pieces they would be willing to sell to you.
Your own network will often be the easiest and cheapest way to find furniture that you can restore and sell for a healthy profit. Maybe they are getting a new dining table and want to get rid of their old one, or maybe they are emptying an old storage locker and have a couple of nice end tables they want to get rid of!
Moving Companies
This one is often overlooked by furniture flippers, but can end up being incredibly lucrative.
Moving companies will often have an inventory of furniture that was damaged by movers during different moving jobs, which they ended up having to keep as owners did not want it back. These pieces need to be sold to offset their cost and will often be sold for cheap.
As a result, furniture flippers who take the initiative to visit these company shops can find great deals on lightly damaged or unwanted furniture that can be easily restored.
Step 3: Restore & Finish Your Furniture Piece
The next step in the process, once you have some furniture inventory, is to restore your pieces to the point that they are ready to photograph, list, and sell.
In this section, I will highlight some of the most important furniture flipping supplies, as well as provide a breakdown of the general furniture restoration method.
Flipping Furniture Supplies
Some of the crucial furniture flipping supplies, materials, and equipment include:
Surface Prep Cleaners
Surface cleaners are necessary for restoring all of your furniture's surfaces (e.g., tabletops, drawer faces, cabinet faces, hardware, etc.).
Clean surfaces indicate good condition and careful upkeep, which will attract customers and boost sales.
It is important to choose a cleaner that will not damage the wood and/or other materials used in the construction of your furniture. Make sure you read all labeling and look for an indication that the chemicals used are safe for cleaning wood surfaces.
I recommend Savogran TSP heavy-duty cleaner for your surface cleaning needs.
Sanding Supplies
Sanding is an important part of the restoration process as it helps new coats of paint stick and set into the wood nicely.
Sanding tools include things like sanding sponges, sanding blocks, and sanding sheets, as well as electric wood sanders (e.g., belt, orbital, disc, and finishing sanders).
The extent of your sanding tool arsenal will depend on your situation (i.e., type of furniture, size, inventory volume, etc.).
Gloves
Gloves are a necessary safety item for all of your furniture restoration work, regardless of how minimal the task may seem.
Protect your hands from wear and tear and potential injury by grabbing a good set of work gloves that are thick but still allow you to maintain dexterity and sufficient movement.
Misc Tools
It is also important to have a collection of some of your common miscellaneous tools at your disposal — these will come in handy more than you may think.
Misc tools include things like hammers, screwdrivers, hand drills, wrench sets, pliers, rubber mallets, etc.
Paintbrushes
Applying a fresh coat of paint will be a big part of many restoration projects, and to do this properly, you will need a good set of furniture paintbrushes.
It is important to have a variety of brush types for different aspects of the process. For example, angled brushes are good for getting a clean edge and covering angled corners; flat brushes are better for detail work.
I recommend checking out Amazon for a range of different paint brushes at competitive prices.
Paint Pail Liners
Paint pail liners are super useful when your restoration projects involve painting. These liners make it much easier to facilitate quick color changes and make clean-up a breeze.
If you don't already have a paint pail, you can purchase a paint pail with a set of liners as a combo pack. Amazon has some great products to get you started.
Paint Primer
Paint primer is crucial for achieving a nice clean paint job on your restored furniture.
Primer acts as a base coat that becomes the foundation for your finish coats, ensuring that they adhere well to surfaces and come out looking great.
Check out Country Chic's Clear Bonding Primer for furniture & decor — a perfect option for beginners with no harsh smells or chemicals and low VOC production for an eco-friendly touch.
Paint
Some of the best types of paint to use on your wood furniture are:
Latex: Latex paint is one of the more affordable options, and will give your furniture that fresh new look you want. It is known as one of the easiest types of paint to use and is perfect for quick jobs. One thing to note is that lower-quality latex paints may need multiple coats to cover your surfaces nicely, while higher-quality latex will cover better.
Enamel: Enamel is a thicker type of acrylic paint that will apply thick and harden into a beautiful finish coat without the need for a sealer or other top coat. Enamel is good to use on furniture that is going to be taking on regular wear and tear and/or will be used outdoors and needs to be weather-protected.
Chalk: Chalk paint is another good option for painting wood furniture if you are looking for a chalky, almost pastel-like finish on your pieces. Chalk paint can be painted directly onto most surfaces without needing to sand or apply primer as a preliminary step. It is generally going to be more expensive than some of your other furniture paint options.
Latex Paint Additive
If you end up choosing to use latex paint to restore your furniture, you may want to consider including a latex paint additive in your mixture.
Latex paint additives are designed to help improve paint flow and decrease the visibility of brush strokes and unevenness when paint sets. They also will help to reduce the effects that weather and use have on paint coatings.
Wood Cleaners
Wood cleaners are water-based solutions that are designed to help gently clean wooden surfaces and maintain their appearance.
They can be safely used on all types of wooden surfaces, both new and old. Suitable for lightweight cleaning jobs as well as heavy dirt and grime.
Restoring Your Furniture Piece
Now that you have all the tools and materials that you need, it's time to dive into the fun stuff.
Let's go through the step-by-step process of restoring your furniture pieces.
Prep & Clean Surfaces
Start by cleaning and prepping the surfaces of your piece. Use a wood cleaner to get rid of any dirt and grime — make sure to check all of the undersides, nooks, and crannies.
You may need to prep your surface for a refinish by stripping off old varnish or old coats of paint to reveal the original wood surface.
Sand Surfaces
Your next step will be to gather up your sanding tools and give your piece a nice thorough sanding on all of the surfaces that you plan to paint.
Use smaller sanding sponges, sheets, and blocks for smaller surfaces and areas that are hard to reach. If you are dealing with larger surfaces that are easy to access and are dealing with a high volume of pieces, investing in an electric sanger might be a good idea.
Prime Surfaces
Now that your furniture has been cleaned up and nicely sanded, the next step is to apply a base coat of primer.
Primer is liquidy, a water-based liquid that is meant to create a foundation that your finish coat will stick to nicely. This will help eliminate the need for excessive
Not all situations call for primer. Some types of paint are made to be "self-priming" in order to skip the priming step, while some surfaces may not need a coat of primer.
Paint Surfaces
Now comes the fun part. Your next step is to choose a color and type of paint and give your furniture that fresh coat of paint that will help it stand out.
Some of the important factors to consider when choosing your paint include:
Type of surface(s) you will be painting
Cost of paint vs. potential profit on the sale
Accessibility
Desired aesthetic (e.g., matte, shiny, pastel, etc.)
Once you have purchased paint, grab your paintbrushes and dive in.
Use quality paintbrushes for your finish coats. Cheap brushes will shed bristles, cover unevenly and waste time — the exception is your priming brush.
Patience is key. This applies to your brush technique creating nice, even stroke lines, as well as allowing enough drying time in between coats. Don't be impatient with paint; take your time.
Paint in one direction and try to avoid re-brushing the same area multiple times — go for even strokes. If you make a mistake, don't try to fix it while the paint is wet, as you will likely make it worse. Wait until it has dried, give it a quick sand, and then fix it.
Consider additives like Floetrol to improve paint flow and promote even covering, as well as reduce the effects of weather and wear on coatings.
Seal Surfaces
Sealing your furniture's surfaces when you have finished painting is a great way to protect the finish coat. Sealers will dry with a harder, more durable finish than paint and serve to keep damaging moisture out.
Sealers can also provide a glass-like aesthetic to surfaces that many associate with high-end furniture — not to mention the fact that these sealed surfaces are extra easy to wipe clean.
Cure Surfaces
Paint curing refers to the process of your paint hardening and transitioning from a liquid state to a solid state. Drying occurs first, evaporating water present in the paint, followed by curing into a hardened paint layer.
Curing will occur on its own, but there are some curing methods that can be used to expedite the process (e.g., convection curing, infrared curing, etc.).
Step 4: Take Photos of Your Finished Furniture Piece
You have now successfully restored your furniture to a sale-ready state. The next step is to take some stellar photos of your pieces that you will be used to create a listing in step 5.
The quality of your listing photos will have a significant impact on sales — these are what customers will ultimately be referencing to make their purchasing decisions.
Some good tips for furniture photo-taking include
Cleaning: Make sure your piece has been dusted and cleaned well, furniture that is dirty will often be overlooked.
Lighting: Proper lighting will help to highlight certain features of your piece and give the photo an appealing aesthetic. Take your photos using good natural sunlight or set up an area with artificial lighting.
Display everything: Make sure that you take photos from as many angles as possible. Shoot the top, bottom, front, and sides, and be sure to throw in some close-ups of important features like hardware (e.g., knobs, handles, etc.) and any notable details.
Background: The background of your photos influence the overall appeal of the shot. I recommend finding a nice white or off-white wall to set up in front of (wrinkly white sheets do not look good — this is a common misconception).
You may also choose to stage your furniture with context (in its natural environment) when you take your photographs. For example, set up the coffee table you are selling in your own living room with a nice centerpiece and a stack of coasters.
Step 5: Create a Listing and Sell Your Furniture Piece
Now that you have taken all of the photos you need, it's time to create your listing, publish it, and sell your furniture.
Places to Sell Refurbished Furniture
The places where you can sell furniture for the most amount of money would be similar to the places you will use for buying or finding furniture to flip.
Facebook Marketplace
Facebook Marketplace is, in my opinion, one of the absolute best platforms for furniture flippers to sell their pieces quickly, and at competitive prices.
With over 1 billion active users, it provides the largest online customer base in the world. Listing items is easy, and you can create as many as you like.
Craigslist
Craigslist is another great online platform that furniture flippers can use for free to sell their pieces. It sees over 250 million visits per month and is super easy to use.
Craigslist is a classified advertisements website that has sections devoted to everything from selling furniture and home goods to job ads and services.
OfferUp
OfferUp is a mobile-focused C2C (customer-to-customer) marketplace that furniture flippers can use to list and sell their furniture.
It does have an emphasis on in-person transactions, whereas other platforms are designed to facilitate the shipping of projects from the seller to the buyer.
AptDeco
AptDeco is a peer-to-peer managed online marketplace for people to buy and sell quality used furniture.
One thing that sets AptDeco apart from the rest is the fact that this platform is designed specifically for users to buy and sell used furniture. If you are looking for a dedicated furniture marketplace, AptDeco is your platform.
eBay
eBay is one of the oldest and most established online shopping platforms in the world, launched back in 1995. It generated over $10 billion in revenue in 2021, showing a 5.8% increase year over year.
The customer-to-customer selling model, alongside the auction-style bidding function that is built into their platform, allows sellers to attract numerous potential buyers and maximize profits.
Etsy
Last but not least is Etsy, a global online eCommerce marketplace that is geared towards artists and crafters selling their products. It boasts over 90 million active buyers in 200+ countries.
The fact that it is primarily used for vintage items, handmade goods, and different types of art makes it the perfect place to list your furniture.
Chairish
Chairish is a fantastic marketplace for unique and one-of-a-kind decor and furnishings. It's like Etsy, but it's specific to the decor and furnishing niche. It's tailor-made for a furniture restorer, especially if your work has an idiosyncratic or distinctive quality.
Payments are issued via PayPal following the delivery of your piece and the 48-hour return period. Users can confirm that payment is being processed when an item shows as 'Delivered' in the 'My Sold Items' portion of their dashboards.
Create a Compelling Listing For Your Refurbished Furniture
Your next step is to create a compelling, well-written listing for your newly restored furniture piece. The listing copy alongside the photos you took in step 4 will work together to draw customers in and get your pieces sold.
Your listing will mainly consist of a description of the furniture being sold. It should answer any questions a prospective buyer may have. These include:
Type of item (i.e., dresser, coffee table, etc.)
Color (i.e., black, white, black/gray, etc.)
Dimensions (i.e., length, width, height & other relevant measurements)
Weight (i.e., if applicable/important)
Condition (i.e., brand new, good condition, gently used, etc.)
Material (i.e., oak, pine, cherry, birch, etc.)
Notable features (i.e., designs, hardware, special features, etc.)
Your listing's title is arguably even more important than the description itself. The title is what will largely determine where your listing will show up in search results — this is where you want to include your main search keywords.
Use clear, commonly used words that describe your piece accurately, but leave out smaller details. For example, "Solid Oak Sectioned Storage Chest" is a great title that includes a good set of highly searched keywords.
Pricing your items
Here are a few of my best tips for pricing your restored furniture:
Calculate Investment
Rule of thumb for pricing your furniture — calculate your investment (the price of purchase + price of materials for restoration), and then list the piece for AT LEAST double that amount.
You should also consider the amount of time you invested in the restoration of your piece and factor that into the listing price.
Compare Similar Items
Find the same or similar items that are in relatively the same condition as your piece of furniture, and make a note of how much they are listed for. This is a good place to start.
Keep in mind that your location, as well as the relative demand for that item in your location, will sometimes influence the value of the item.
Consider Shipping/Delivery Costs
If you are planning to ship or deliver your item, you should be factoring the shipping cost or cost of delivery (gas + time) into the listing price.
Step 6: Negotiate With The Buyer & Profit
Once you have piqued the interest of a buyer and they have reached out, you will typically either be met with an offer to purchase your piece for the listed price, or they will offer a lower price and start a negotiation.
In the event of a negotiation, it is important to have a bottom-line lowest price that you would be willing to accept in mind. This should be a last resort price, but still, something that will see you making a few bucks or at least breaking even on the project.
It is important to be polite and professional while negotiating with customers while at the same time remaining firm and decisive.
One tip I can provide is to list your item at an initial price that is maybe a little bit higher than the price you really want (within reason). This way, when customers come to you with an alternate offer, it may not be too far off your desired price, and you could very well make a counteroffer that gets you exactly what you want.
---
Best Tips For Furniture Flipping
Here is a collection of some of the best tips in general for furniture flippers looking to make some extra money on the side!
Negotiate When Buying a Piece of Furniture To Flip
In order to maximize your profits, it is important to negotiate for the best possible price you can get when buying a piece that you want to restore and flip.
Sellers will almost always be willing to budge on their listed price, but will not make that known to prospective buyers. Always ask for a better price to test the seller's bottom line; it could mean an even more profitable flip for you.
Keep an Eye on the Supplies
When purchasing your supplies (e.g., paint, paintbrushes, tools, etc.), it is important to get quality products that will help make restoration easy and effective.
With that being said, you also don't want to overspend on brand names or unnecessary items (expensive doesn't always mean quality) — find a happy medium!
Take Great Photos
Spend some time taking a complete set of high-quality photos of your finished pieces. Photos will often be what sets you apart from other similar items, so make sure that yours are clear, aesthetically appealing, and show all aspects of the piece.
Your photos are ultimately what your customers will use to make their final decisions, so make sure they are great.
Create Compelling Listings & Descriptions
Your listings and listing descriptions need to intrigue shoppers and then serve to further sell your item once they visit the listing.
Your listing should be where you include all of your details (e.g., dimensions, weight, etc.) and also where you highlight all of the notable features and details. Use the listing description as your chance to really make your item shine and entice potential customers.
Offer Shipping as a Bonus
Depending on your location and situation, you may be able to consider offering furniture shipping included in the price of your items.
This is a great way to incentivize customers to purchase from you instead of another seller who is offering the same or similar items without free shipping.
---
Pros of Furniture Flipping as a Side Hustle
Extra cash: Furniture flipping is a great way to bring in some extra cash, and with experience, flippers can end up generating substantial profits.
Create your own schedule: You choose when you want to go furniture hunting, dive into a restoration project, take photos, and list your items. The schedule is up to you.
Learn new skills: The furniture flipping business will force you to learn new skills. From painting and basic carpentry, to sales and online marketing skills — there is so much to learn.
Scalability: Flipping furniture as a side hustle has the potential to turn into a full-time gig if you have a solid business plan.
---
Cons of Furniture Flipping as a Side Hustle
Initial investment: In order to flip furniture, you are going to have to invest some cash upfront to buy your pieces. Quality furniture, even when it is used, can still be quite expensive.
Location affects earning potential: People who live in a rural area or less densely populated town do not have access to the large customer base that others living in a large city do. Some locations may also simply not have a furniture flipping scene that is as active as others.As a result, earning potential may be limited depending on your location, especially if you are only selling locally.
No guarantee: There is no guarantee that the furniture you purchase, restore, and the list is going to find a happy home. There is always the possibility that things just won't sell.
---
FAQ on Furniture Flipping
To wrap things up, let's highlight some of the frequently asked questions that aspiring furniture flippers have.
Is Furniture Flipping a Good Side Hustle?
Furniture flipping is definitely a good side hustle. It does not require any formal training or excessively specialized skills and can end up bringing in some good money.
How Much Money Do I Need to Flip Furniture?
You don't need a huge amount of money to start flipping furniture. Start with $100, find one or two good pieces, and flip them for a small profit.
Rinse and repeat this process until you have built up a larger investment fund — this way, you can minimize risk and gather enough money to start buying bigger pieces with more profit potential.
Is Furniture Flipping Profitable?
Absolutely. Furniture flipping can be a very profitable side hustle, however earning potential will depend largely on how much time you can invest.
How Much Should I Sell My Refurbished Furniture For?
Price your furniture based on your investment of both money as well as time. You want to be aiming to double your investment AT LEAST on each flip.
It is also important to consider your location and the relative demand for furniture in the area, as well as find similar items listed by other sellers and use their prices as a reference point.
How Much Should I Spend on the Furniture I Want to Flip?
Furniture flippers should start out with a max spend of around $100 for a piece. Negotiate with the seller to get the best possible price and maximize profit potential.
If you find a piece that is especially rare or guarantees a profitable flip, you can justify spending more, but be cautious!
What is the Best Place to Sell Refurbished Furniture?
Some of the best pieces of furniture to flip include dressers, coffee tables, end tables, storage chests, dining tables, chairs, and certain types of baby furniture. Keep an eye out for these items while hunting.
---
Final Thoughts
Furniture flipping can be incredibly lucrative and has become one of the more popular side hustles that people are diving into. Not only is it a good source of extra income, but it is also actually a form of upcycling, which is a great way to contribute to the conservation of our environment.
In this complete guide for beginners, I have provided a step-by-step process that will help you launch and build a successful furniture flipping business.
Thanks for reading, and good luck flipping.

Rhys is an online content writer & editor, student of decentralized finance and amateur botanist. He loves playing video games with his friends, learning new songs on the piano, and spending time in the sun with his dog Levi.