Many or all of the products featured on this page are from our sponsors who compensate us. This may influence which products we write about and where and how the product appears on a page. However, this does not influence our evaluations. Our opinions are our own. Here is a list of our partners and here is how we make money.
The information provided on this page is for educational purposes only. The Modest Wallet is a financial publisher that does not offer any personal financial advice or advocate the purchase or sale of any security or investment for any specific individual.
Freelance writing can be a lucrative side hustle, I have been working as a writer for over 15 years and started my career with a reputed magazine but soon moved to freelancing to make a little more money on the side.
Within a few months, I was making enough money to quit my job and work as a full-time freelance writer. A lot of people I meet often ask me how I started my career and what they need to do to become a freelance writer.
In this article, I'll tell you all that you need to know in order to be a freelance writer.
Why Turn to Freelancing?
Freelancing gave me amazing flexibility. The ease of working at my own pace from the comfort of my house is unmatched. This is one of the major reasons why more and more people are jumping the bandwagon.
Let's have a look at these mind-blowing freelancing stats:
About 35% of the US population freelanced in 2008. This is up 7 percent compared to the figures reported in 2013. In comparison, non-freelancers grew by only 2 percent during the same period.
Young generation appears to be more interested in freelancing – 37 percent of freelancers are millennials.
Big organizations are now also hiring freelancers. About 50 percent of all US jobs are remote work compatible. However, only about 7 percent of companies in the US are flexible enough to hire freelancers. This is a low number since 80 percent of workers want to have the ability to work from home.
Companies prefer to work with freelance writers. Businesses spent about $195.58 billion on content marketing in 2016 and the number is expected to reach $412.88 by 2021.
It's obvious that freelancing is a huge industry. So how do you become a part of it? Here's the guide:
Learn How to Write Before You Start
They say writing comes naturally but it's far from the truth. Writing is a skill that can be acquired and improved with the right education and training.
If you have no experience writing for the internet then it is best to gain some before you try your luck. You can study online or enroll yourself in a crash course to learn more about the field.
You must be well-aware of the terms used in the industry. These include SEO, blogs, articles, web pages, PR, etc. Different materials have different requirements. You will not be able to leave a good impression on clients if you are not aware of such terms.
Hence, take out some time to learn to write first. We highly recommend you check out the Earn More Writing course by Holly Johnson if you are serious about freelance writing. Holly makes over $200,000 per year writing for people.
Narrow Your Focus
Writing is a vast field. You can take on creative gigs such as novels or journalistic writing including news pieces. Even academic writing is an option if you're interested in writing essays and thesis.
Don't be a jack of all trades and try to narrow your focus. This will make you look professional.
Find out what you do best. Blog writing and fiction writing, for example, are as different as chalk and cheese. It may be difficult to master both, hence, concentrate on one niche and work on building your reputation.
Find a Platform for Jobs
There are different ways to find your first freelancing gig. You can work for a company as a full-time writer or search online for short-term jobs.
About 73 percent of freelancers find work through online marketplaces followed by referrals (33 percent) and social media platforms (15 percent). Only 14% of freelancers opt for networking platforms like Linked In.
Professional Facebook pages and recruitment firms also do not rank very high – 9 percent and 7 percent respectively.
Hence, it is best to turn to online marketplaces. We'll discuss the top three freelancing platforms in detail now.
See Also: 24 Best Stay at Home Mom Jobs That Pay Well
Best Websites for Freelancers
Let's have a look:
Upwork: Best for International Users
UpWork was founded in 2015 when two of the biggest freelancing companies, oDesk and Elance, merged together. Now a publicly-traded firm, UpWork is a great platform for content writers looking for work.
It is home to a huge number of clients – over five million – but the competition is tough due to a high number of freelancers – about twelve million.
You can find different jobs in the field of writing including copywriting, press releases, etc. The platform is perfect for international writers willing to write in a local language. You will be able to find gigs in Spanish, Turkish, Arabic, Hindi, etc.
While registration is free, you will need to purchase Connects to bid on a job. Each Connect costs $0.15 and you will need between two to ten connects to bid on a job.
Also, getting your profile accepted, especially as a writer, can be tough if you do not have good skills.
| | |
| --- | --- |
| Pros | Cons |
| Perfect for international freelancers | No free membership |
| A huge number of clients | Competition is stiff |
| Great customer support | May take a while to build a strong portfolio |
| Excellent messaging tool | Costly – starting at 20% commission |
Fiverr: Best for Beginners
Fiverr is one of the biggest platforms when it comes to freelancers. With over 14 million users, it can be a great pick for writers looking for freelance work.
Founded in 2010, this publicly-traded company welcomes writers from all around the world. Unlike UpWork, Fiverr is more about offering your services than bidding for projects.
Fiverr charges a 20% fee but unlike UpWork, you do not have to spend on Connects to bid. You only have to post your skills and wait for potential clients to get in touch with you.
| | |
| --- | --- |
| Pros | Cons |
| A huge number of projects | Most clients are not willing to pay a lot |
| Clients can pay tips | Can be difficult to find your first gig without marketing |
| The platform is easy to join for everyone | The interface is a bit messy |
| Works on all devices including mobile devices | Payments can take a while to release – up to 14 days |
Freelancer: Best for Professionals
With over 20 million users, Freelancer offers the largest number of buyers.
The platform is quite easy to use and offers a variety of writing-related jobs. Some of its amazing features include milestone payments, no-cost chat, invoicing, custom offers, and time tracker.
The cheapest package is available for as low as $0.99 per month. Some more expensive packages, such as the professional package that goes for $29.95 per month, come with a 30-day trial.
A unique thing about Freelancer is that the fee structure changes from job to job. However, the minimum fee is $5 or 10%, whichever is greater.
| | |
| --- | --- |
| Pros | Cons |
| Excellent custom support including phone and online help | No free package |
| Works on all devices including mobile devices | The identity verification process is very complicated |
| Multiple membership plans including free trials | Payments can take a while to release |
| A huge number of jobs are available | The fee structure can be confusing |
These were three of the best online platforms to look for freelance work. Some other reliable options include PeoplePerHour and Guru.
Which Platform Should I Use?
Your overall experience will largely depend on which platform you choose. It is best to compare all the options and pick one that suits you the best. Moreover, you may also consider joining multiple platforms at the same time since different sites offer different gigs.
Here are a few things to consider when selecting an option:
Fee Structure: Some marketplaces charge a monthly fee, some only charge commission on jobs, and some charge both.
Nature of Clients and Jobs: Make sure to stick to a platform that offers the kind of jobs you are interested in. Guru, for example, is said to be suitable for Indian freelancers, whereas Freelancer is said to be the best for US freelancers.
Payments: Some platforms will keep your money for weeks. The delay can be very cumbersome for some workers, hence pay attention to this option.
Customer Support: This option is very important since you will be dealing with the staff every now and then. Hence, work with a company that's professional and quick to respond to your queries.
Can I Find Work Elsewhere?
Yes, you can apply for full-time jobs advertised online and in newspapers. Also, you may ask friends for referrals and search social media for available gigs.
However, a lot of people shy away from working independently due to the risks involved. Since most clients do not pay in advance, there's always the risk of being robbed.
It's not very uncommon for clients to run away without paying. Some even reject work for no reason. Such is not the case with freelancing platforms as they offer more security.
Cold Pitching May Work as Well
Cold pitching includes contacting bloggers and companies to offer your services. Websites and content marketing companies are always looking for reliable writers.
Create a compelling pitch and include your background information including your education and experience. Tell them how you can help their company. Make sure to include your achievements and add links to similar work.
You can even create a template that you can customize to reach more people.
What Are the Benefits of Working with Freelancing Sites?
Freelancing platforms offer a higher level of security. Some of the perks include:
More Work: There are thousands of jobs to choose from. You will not have much of a difficulty in finding what you need.
Guaranteed Payments: Since most freelancing gigs include escrow payments, you will not have to worry about the client running away with your money.
Profile Building: Freelancing platforms allow clients to leave feedback which appears on your profile. This feedback can help you win more clients, allowing you to build an impressive online presence.
Dispute Resolution: Most freelancing sites offer dispute resolution if you get into an argument with the client. This is a great feature because payment is guaranteed if you have met all your requirements.
Hourly and Fixed Jobs: You can choose between hourly and fixed jobs, allowing you to work at your own pace without worrying about money.
See Also: 15 Online Jobs to Bring an Extra $2,000 Every Month
How to Make an Impressive Freelancing Profile?
Most clients will judge you based on your profile. This is why it is important to make a kickass profile since this will be your 'first impression'.
Here are some tips:
Follow all the guidelines. UpWork, for example, is known to reject profiles that do not follow all the requirements. Hence, be careful about this point.
Highlight what you can do and have done by quoting your past projects. You can also add links to your work in the portfolio section.
Always be honest. Do not use a fake name, photo, or address. This is very important as freelancing work is based on trust. Plus, you may be asked to verify your identity later on, which you will not be able to do if you have used fake details.
Include your education and experience history. Also, mention relevant certifications if you have any.
Do not forget to add career milestones.
If the platform offers skill tests then make sure to take 'em as the results may appear on your profile.
Always read the description to ensure it flows well and there are no typos. You can't expect to win writing gigs with typos in your description.
Be friendly and approachable.
What Information Will I Have to Provide?
Based on the platform you are on, you may be asked to provide the following information:
Your full name.
Your profile picture.
Your address.
EIN or SSN if you are a US person.
A verified bank account or another mode of payment.
Identity documents including proof of address.
Your phone number.
Company details if you have a business account.
Remember that your account may be rejected or closed if you decline to submit the required information. Such information is requested to make the marketplace safe and reliable.
In most cases, an identity verified batch will appear on your profile if you have submitted all the required documents. Such batches help build trust among clients and are more likely to win you jobs.
Can I Use my Pen Name?
It is common for writers to write under a pen name. If you have been using a pseudonym for a while then it's understandable why you would like to join the platform under the same name. However, that may not be the best option since most platforms require that you use your legal name when making a profile.
However, you have the option to get a DBA certificate which you can submit to prove you own the name.
How to Start Bidding for Writing Projects?
Use the search tool to search for projects according to your requirements. Read the description clearly and make sure it meets your requirements.
Since you will get a limited number of bids, it is important to bid for projects that you are more likely to win. Hence, make sure to search for jobs that match your skills.
Some clients are very specific about their requirements, for example: they want freelancers from a specific region. Do not apply for projects that are not fit for you.
I Don't Know How to Write a Kickass Proposal
Writing an impressive proposal is the most important yet the most difficult part of freelancing. Here are some tips:
Answer all the questions the client has asked in the description.
Add links to relevant examples to help the client know more about your skills.
Write a personalized response and stay away from copy-pasted proposals.
Be friendly, direct, and approachable.
Make sure to mention how much you will charge for a gig. Do not leave the cost vague.
Be clear about the timeline. Tell the client by when you'd be able to complete the job.
Ask questions if you have any. This will make the client know you are interested in the job.
Be direct and leave a CTA – ask the client to get back to you.
Make sure to mention similar jobs you have completed and how they helped the company.
Include additional perks of working with you such as multiple revisions, etc.
Proofread the content and make sure there are no typos.
The job of the proposal is to tell the client why you are better than other options. Hence, include all that you think is necessary but make sure to keep the proposal short and crisp.
How Can I Build an Impressive Work History?
There are only two ways to build an impressive work history:
Take on more jobs
Receive positive feedback
The more jobs you have, the more trustworthy you are. Hence, start bidding and make sure to leave feedback and ask for positive feedback so that you can have a good score.
Other than this, work on building an online presence so that potential clients can find you when they look for you.
This can be done by publishing articles under your own name.
It's best to apply for guest posting gigs. They do not always pay but they can be very helpful in building your repute. Get in touch with websites that accept guest blogs and pitch your ideas.
Choosing a Client: Red Flags
Do not work with a client who:
Asks you to work outside of the platform.
Does not provide complete details regarding the job.
Is known to have a bad reputation. You can judge this by going through the feedback left by other freelancers.
Does not have a verified payment method.
Asks for free work in the name of samples.
See Also: 30 Best Part-Time Jobs to Boost Your Income
Shall I Buy a Paid Membership Package?
Based on the platform, it may be a good idea to invest in a paid package. For example, professional packages offered by Freelancer.com are quite impressive. They offer you more bids and quicker withdrawals.
Similarly, UpWork's Freelancer Plus program is brilliant. It gives you information regarding other bids. You can use this information to come up with a personalized bid to improve your chances of winning the gig.
Can I Get my Own Website to Find Work?
Yes, you can. However, it can be very difficult to run and manage a website. It might be a good idea only if you have the skills to build and manage the site on your own or you already have a good online presence and you're sure potential clients would be interested in hiring you
Remember that building your own website can turn out to be costly. You might have to hire a team to design the site including integrating the payment tool. You can use 2Checkout and PayPal as they are trusted names.
Plus, you may have to hire people to respond to orders and queries. Also, SEO will have to be taken care of.
However, there are benefits of having your own site. You will not be at the mercy of third-party sites. Plus, the cost will be minimal in the long-run since you will not be paying heavy fees to the platforms.
Many freelancers have started businesses by building their own sites that bring them a huge amount of money every month. It may, however, be a while before your site begins to generate enough revenue as building reputation can take quite some time.
Note: Keep Improving and Revising Your Profile
Learning is a process that never stops. Continue to gain more skills and improve your abilities. Challenge yourself and try working for multiple sites to gain more exposure.
Also, update your profile from time to time to reflect the changes in your skills and abilities. You may also consider changing your rate once you gain enough experience.
How Much Can I Earn By Freelancing Online?
When it comes to freelancing, the sky's the limit. According to Glassdoor, freelance writers make about $42,120 per year writing 15,000 words per month. However, this is the average figure. Some successful freelancers make over $100,000 writing the same amount of words.
This is in line with what full-time writers make, according to the Bureau of Labor Statistics. The money you make will depend on a number of factors including:
Your Niche: Some niches pay more than others. For example, financial writers earn $86,140, a little more than technical writers who make $70,930 on an average.
Number of Words: Since most freelancing jobs pay based on the number of words, your overall salary will largely depend on how much you write. Most inexperienced writers make about $5/100 words and the average word count is 2000 words per day. If you work five days a week, you will make $500 per week. However, if you can increase the word count to 3,000 words per week, you'll be making $750 per week which equals to about $3000 per month.
The Platform: Since some major platforms take a huge chunk of your earnings, your overall revenue can take a hit based on how you find work. UpWork, for example, will pay you only about $2,400 if you make $3,000. Plus, membership fees and other such charges are additional.
Experience: The more experience you have, the more money you can make. In fact, some experienced writers charge $500 for a 500-word article. They can make more than $10,000 per month just by working a few hours per week.
The key lies in patience. I only averaged $500 for the first few months but within a year I was making $3000 per month, more than what my office job paid me.
If you continue to put your best foot forward, you will soon be making a lot of money.
See Also: 40 Unique Ideas to Make Money Online
How Much Should I Charge for My Services?
Based on the platform you use, you will have to choose between two options:
A Fixed Rate: This can be difficult to choose as a fixed rate means the final payment for completing the job. This includes research, writing, editing, revisions, etc. Some articles can take more time than others. Hence, make sure to finalize a fixed rate after looking at the facts.
An Hourly Rate: This includes charging for the hours you put in. This might be a good option if you are not sure about how many hours it will take to complete a gig. Most writers charge between $20 and $30 but you can charge more or less based on your skills. It takes most writers about 2 hours to create a 500-word article, which equals to about $50.
For writers, an hourly rate is the best option. This way you will get paid even if the client sends two or more rounds of revisions.
You will not have to worry about wasted time since you'd be getting paid for your time. However, most contracts guarantee a limited number of hours and you will be required to log hours by using the dedicated tool provided by the platform in order to receive payment.
See Also: 90 Quick Ways to Make Extra Money
You May Need More Skills to Be Successful
Writers do not only need to write. They are often required to take care of SEO, images, etc.
You must make sure to gain all other relevant skills or hire an assistant to take care of such minor tasks to ensure you can provide unmatched services to your clients.
Moreover, feel free to advertise such additional services when you bid for projects. They can help you win more projects. Plus, you may also charge more for additional services. For example, clients can pay more for an extra round of revisions on Fiverr.
Networking Can Help
Networking can be very important when it comes to freelancing.
I needed the help of a friend in order to find my first gig. He redirected a client to me and then there was no stopping back.
Networking will allow you to build a chain. Plus, you can use these connections if you ever decide to start your own business.
Remember: You'd be Ghostwriting
Unless you're lucky, most articles that you write will be published under someone else's name. This is the ugly truth of the freelance writing industry, especially if you are working on a platform like UpWork.
This is known as ghostwriting and it is considered perfectly acceptable in this field.
However, if you want to get credit for your work, then it is important that you are clear about it from the get go. It may be a good idea to mention your requirements in your profile as well.
Five Mistakes to Avoid
Make sure to never make these mistakes if you really want to make your presence felt in the world of freelance writing:
Not Asking for Feedback: Always ask for feedback and leave honest feedback. Clients are more likely to leave feedback when you nicely ask for it.
Lying and Faking Information: Do not lie about your identity or skills. You will eventually get caught.
Violating Policies: Freelancing platforms are infamous for closing accounts due to policy violations. Hence, be careful.
Choosing the Wrong Client: Do not work with a client who appears unreliable. If you're working outside of a freelancing platform then ask for at least 50% in advance or use third-party escrow services.
Not Being Clear About Your Terms and Conditions: Be clear about the terms and conditions including revisions, payments, etc. Clients are known to be unfair when it comes to revisions. Some even request rewriting due to a change of mind. Make sure to discuss all such factors in advance.
Final Thoughts
Waste no time and sign up for an account today and start bidding for jobs. I suggest that you start with lower paying jobs, if you do not already have an impressive portfolio, and build a solid profile before aiming for higher paying jobs.
Competition is tough. You need to give clients more reasons to hire you. According to reports, price is the first factor most buyers pay attention to when hiring a freelance writer. Hence, be careful about your bid.
Most clients advertise their budget when they post a job. However, some clients are willing to negotiate or pay more if you can prove your worth.
It may be a good idea to offer a trial article at a lower rate to convince the client you deserve to be paid more. This trick almost always work.
Up Next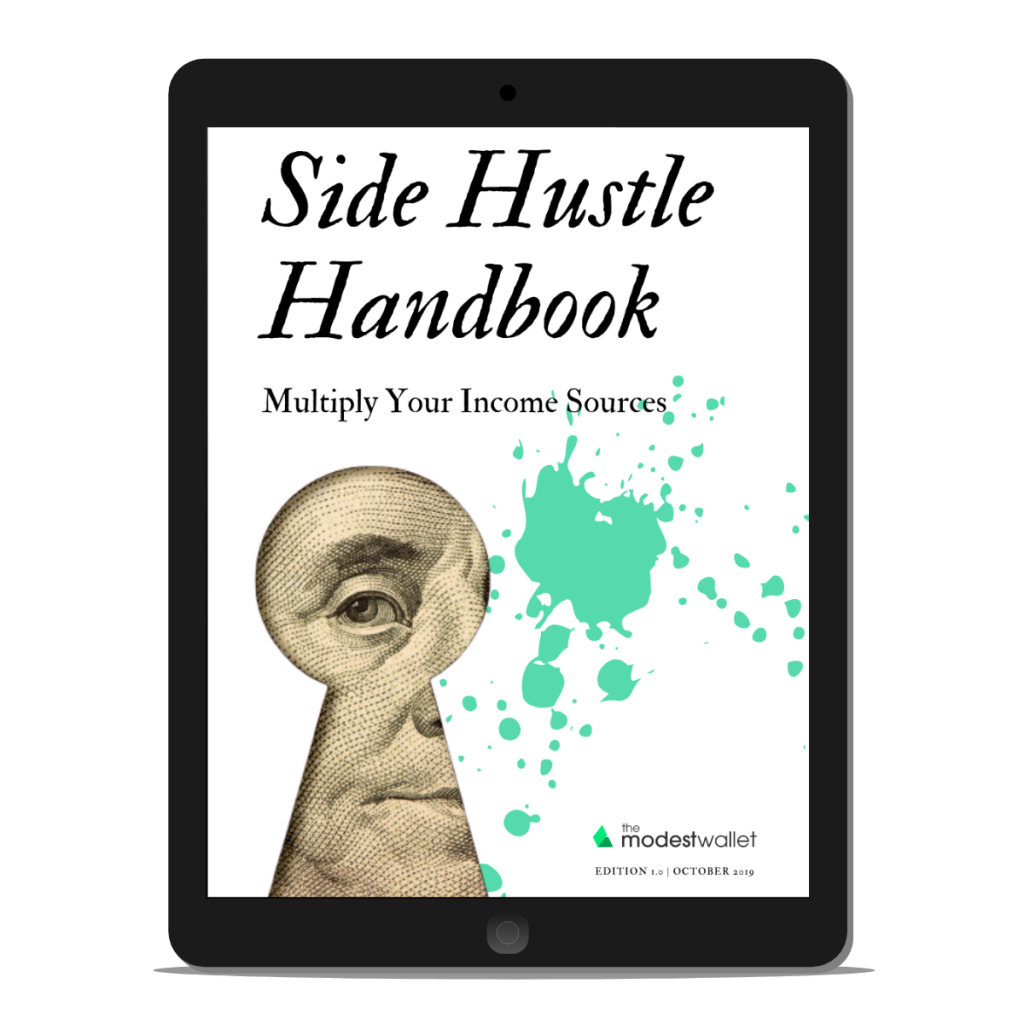 Get our free Side Hustle Handbook with the best strategies to multiply your income sources today.
Plus our best money tips delivered straight to your inbox.
Moe is a fun loving guy with a degree in business. He uses his secrets to make and save money and likes to workout, travel, and read in his free time.