How to Become a Virtual Assistant in 2023: A Step-By-Step Guide
Many or all of the products featured on this page are from our sponsors who compensate us. This may influence which products we write about and where and how the product appears on a page. However, this does not influence our evaluations. Our opinions are our own. Here is a list of our partners and here is how we make money.
---
The information provided on this page is for educational purposes only. The Modest Wallet is a financial publisher that does not offer any personal financial advice or advocate the purchase or sale of any security or investment for any specific individual.
Finding a side hustle, creating another stream of income, or maybe even diving into a new career is something that more people are taking on these days.
Finding new ways to earn money by using skills that are applicable to today's economy will open up so many opportunities.
One of the more accessible positions that people who may not have any formal education or professional training can excel in is a virtual assistant (VA). Reports show that hiring a virtual assistant can save up to 78% in operating costs compared to a salaried employee. This is one of the reasons why virtual assistant opportunities are on the rise.
In this guide, I will walk you through everything involved with becoming a virtual assistant today, as well as the best resources out there to help you get started.
---
What Is A Virtual Assistant?
Virtual assistants are independent contractors who provide administrative, managerial, and other important business services to clients.
Virtual assistants can choose to provide services that are unique to specific industries, software/tools, or a certain aspect of business management. Other VAs who have a variety of expertise will typically offer a range of services for clients to choose from.
---
Who Hires Virtual Assistants?
A number of online entrepreneurs, small businesses, solopreneurs, or busy professionals need remote help to handle tasks for which they might just not have enough hours in the day.
While they have the option to hire more employees to work from an office, it may not always be feasible since it would require more resources which translates to higher costs. Hence, businesses prefer to work with virtual agents.
Big companies usually do not typically hire virtual assistants, despite the fact that they are now working with freelancers. However, a large number of small companies and startups do work with freelancers for the following reasons:
Cost Saving: One of the biggest benefits of working with virtual assistants is the cost. Companies do not have to spend money on insurance, perks, etc., and thus it helps them save money. It is also beneficial for employees as they do not have to spend money on travel; thus, they take home a larger paycheque. Working with virtual assistants also removes the need to dedicate office space to an employee.
Time-Saving: Companies hire virtual assistants to fasten the pace and get more done. It helps them save time as they do not have to go through the process of posting ads and calling individuals for an interview. The process can be completed online, and a hiring decision can be made much more quickly.
Easy Management: Businesses can hire assistants quickly to complete big projects. With more employees to handle work, businesses can grow and increase profits without having to deal with many challenges.
Access To Better Talent: It can be difficult to find talented individuals due to a growing scarcity of talent, especially in some parts of the world. Canada, for example, imports human resources from all around the world due to a lack of skilled labor. This process can be lengthy and costly. Working with virtual assistants solves this problem. You can access a larger pool of individuals, no matter where they are.
The advantages for people of hiring a virtual assistant are clear. There's no lack of jobs or work, hence it may be a good idea to become a virtual assistant.
---
What Does a Virtual Assistant Do?
The scope of work that virtual assistants typically have the capability to handle can range from general administrative work and data entry to social media management, project management, and lead generation.
Let's do a quick overview of some of the more common jobs that virtual assistants do for their clients and what they entail.
General Administrative Work
General administrative work for a virtual assistant will typically consist of things like responding to emails, answering phone calls, scheduling meetings and organizing calendars, and making travel bookings/accommodations.
Data Entry
Data entry work for virtual assistants will typically involve tasks like transferring data into digital format, compiling and sorting documents for data entry, reviewing data for accuracy, maintaining records, and performing routine data backups.
File and Document Management
Virtual assistants' file and document management work includes storing and organizing important documents (e.g., PDFs, spreadsheets, powerpoints, etc.), creating presentations, managing drop boxes and file sharing locations, and updating versions.
Email Management
Email management tasks for virtual assistants typically consist of cleaning up inboxes by sorting through and deleting/archiving emails, updating and maintaining contact lists, drafting emails to be sent out, setting up alerts and filters to streamline the email process, and responding to emails as needed.
Lead Generation
Lead generation work for virtual assistants can encompass a number of tasks, including things like lead research and data collection, lead acquisition through different platforms (e.g., LinkedIn, LeadPages, etc.), contacting prospects, and following up with established leads.
Social Media Management
Social media management work for a virtual assistant would typically include doing things like creating and managing content posting schedules for maximum impact, engaging with audiences (e.g., responding to comments, answering direct messages, etc.), managing activity on multiple accounts, and updating account settings/information as needed.
Social Media Marketing
Social media marketing work as a virtual assistant will be more focused on tasks that are directly related to reaching customers, converting sales, or other money-generating activities. These include things like creating ad content, establishing brand deals and collaborations, and working with SMM software.
Project Management Tasks
Project management work for virtual assistants will encompass a number of different jobs, including managing budgets, planning and supervising projects, coordinating a team, and providing progress reports.
Bookkeeping
Bookkeeping work for virtual assistants will consist of important tasks like preparing balance sheets, putting together P&L reports, preparing and sending invoices, dealing with bill payments, and filing/submitting tax reports.
Transcription Work
Transcription work for a virtual assistant is going to generally consist of tasks that involve converting recorded and/or live audio files into digital text format. This includes things like podcasts, interviews, recorded meetings, and video calls.
Website Management
Website management as a virtual assistant will typically involve a wide variety of tasks that depend on the client's needs and the extent of the website itself. Some of these tasks include things like updating website content, dealing with support technicians for upkeep, performing SEO tasks, and analyzing/reporting website statistics (e.g., traffic, demographic, conversions, etc.).
Video Editing
Virtual assistants offering video editing services will do things like basic video editing for quality and color, trimming longer videos and choosing highlights, inserting subtitles, creating transitions, and a variety of other important tasks.
Customer Support
Customer support virtual assistants will be fulfilling a lot of the typical duties of a customer service/support agent. This includes things like providing technical support, managing customer queries, receiving and dealing with complaints, responding to emails, and managing website chatbots.
Content Marketing
Virtual assistants who are providing their clients with content marketing services will be doing work that involves creating and sharing content in a way that engages current audiences, attracts new ones, and ultimately promotes brand awareness. Tasks would include writing and posting blogs, creating and delivering video content, and strategically publishing website content.
Processing Orders & Refunds For eCommerce
Virtual assistants who are hired to help with eCommerce businesses will be handling a variety of aspects of online selling. They will typically be tasked with doing things like processing and managing active orders, updating inventory, and handling the refund process for customers who are requesting refunds.
Editing & Proofreading
Editing and proofreading services offered as a virtual assistant will include tasks like basic spelling and grammar spot checks, proofreading, edits for style and voice, line edits for clarity and flow, and structural edits (e.g., titles, headings, etc.)
Graphic Design
Graphic design is a term that encompasses a wide variety of potential tasks. Virtual assistants who offer graphic design services will be doing things like designing logos and other branding tools, creating infographics and images for social media posts, designing UI (user interface) elements for websites, and much more.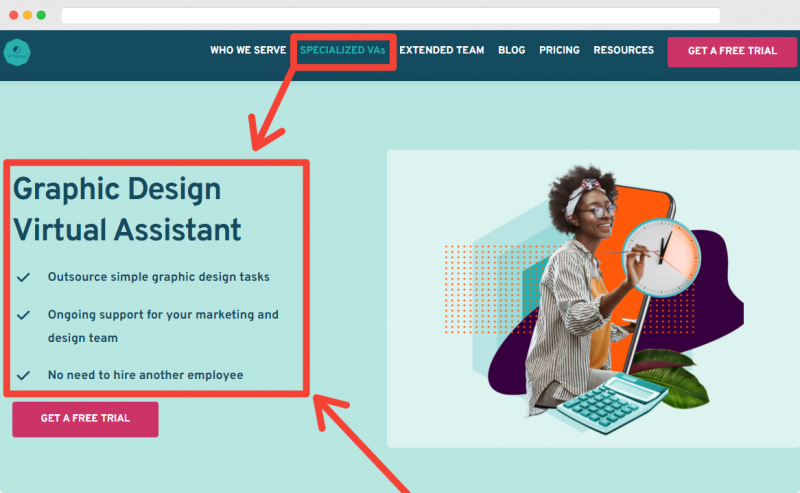 Billing & Invoicing
Virtual assistants who are offering billing and invoicing services to their clients will have task lists that consist of things like creating and sending invoices to clients, following up on unpaid debts, tracking and managing invoices, and general business account maintenance.
Outreach & Public Relations
Virtual assistants can also offer services geared towards public relations outreach and exposure for a business. This kind of work will mainly involve reaching out to influencers, media outlets, journalists, and bloggers for the purpose of increasing brand awareness through different channels (e.g., newspapers, online blogs, television, social media, etc.).
Calendar Management
Calendar management as a virtual assistant will involve a number of different managerial tasks that include things like scheduling appointments, integrating and synchronizing different calendar apps, rescheduling and adjusting appointments as needed, and organizing to-do lists.
Travel Management
Virtual assistants who provide travel management services will be doing a variety of travel-related tasks for their clients that include things like booking flights and hotels, arranging transportation to and from airports, hotels, and destinations, and coordinating travel schedules for clients.
---
How to Become A Virtual Assistant
Now that we have talked a little bit about what a virtual assistant actually is and what their job will typically involve, let's get into the nitty-gritty.
Next, I will walk you through a step-by-step process that highlights important things to consider on your journey to becoming a virtual assistant.
Step 1: Develop The Necessary Skills
Virtual assistants need to develop a number of necessary skills in order to provide high-quality services and build a successful business.
There are so many awesome resources available online for people who would like to develop or refine the skills that are geared toward becoming a great virtual assistant.
For people who are looking to dive right into the virtual assistant gig and get their business up and running quickly, I recommend checking out Gina Horkey's Fully Booked VA course, formerly known as "30 Days or Less to Virtual Assistant Success".
This course offers students valuable information and guidance that will help get them started on the right foot and set them up for success. Fully booked VA takes all of the most important aspects of launching a VA business and packs them into a simple, three-step recipe — Start, Build, Scale. Definitely, something to consider!
Other great online resources for acquiring the necessary skills to become a virtual assistant include platforms like Coursera, Udemy, Skillshare, and Canva (mostly graphic design). These platforms all offer a variety of courses geared towards virtual assistance and related skills.
Having said that, there are four main skills that a good virtual assistant should have.
Computer Proficiency Skills
Computer proficiency skills can be anything from basic typing and document styling skills to the coding and programming of applications. Virtual assistants don't need any extensive computer skills but should be experienced with things like:
Proficiency with calendar, timekeeping, and file management software
Good understanding of how to use word processing and data entry software (e.g., Google Docs, Microsoft Word, Microsoft Excel, etc.)
Good research and web surfing knowledge
Basic typing skills (e.g., words per minute, shortcuts, etc.)
Communication Skills
Communication skills refer to written communication, verbal communication, and visual communication, as well as the ability to listen to and understand information.
Virtual assistants need to have great communication skills in order to be effective and efficient and provide their clients with exceptional service.
Emailing, messaging on team apps like Microsoft Teams, voice calls, and video calls on platforms like Zoom or Skype will all be important communication channels to master.
Furthermore, virtual assistants need to be good listeners who can receive information, instructions, and requests from clients and understand them clearly.
Organizational Skills
Organizational skills encompass everything from time management and planning to physical organization and digital organization of documents, ideas, and workflows.
Virtual assistants need to have exceptional organizational skills in order to maintain order and ensure that their clients can do the same with their business.
Time Management Skills
Time management skills, in specific, will ultimately be one of the most important parts of how a virtual assistant operates their business successfully.
Being able to manage their own time properly is crucial in order for them to properly manage their client's time. Things like daily planners and agendas, time blocking, setting up good routines, and re-evaluating schedules when needed will all be a big part of this.
With more clients comes more of a need to ensure that their time is being managed properly in accordance with their workload.
There are so many awesome resources available online for people who would like to develop or refine the skills that are geared toward becoming a great virtual assistant.
Step 2: Define The Services You'd Like To Offer
The next step on your journey to becoming a virtual assistant is deciding which services you would like to offer. Defining your set of services is an important preliminary action to take before moving into the rest of the process.
It is important to consider which virtual assistant services are currently in high demand and, therefore, will have a higher number of job opportunities. Strategically choosing your services in order to align with what most businesses are looking for will be an important part of creating a profitable VA business.
This may depend on the specific niche in which you are working as a virtual assistant. Be sure to do some of your own research in order to really nail down a plan and set yourself up for success.
Some of the VA services that are in high demand right now and what they entail include:
General Administrative Support
Booking appointments, meetings, calls, etc.
Monitoring and responding to voicemails
Managing calendars/schedules
Drafting emails (internal & external)
Preparing presentations, compiling info/data
Email Management
Receiving and drafting responses to emails
Marking emails in regards to priority (e.g., high, medium-low, low, etc.)
Unsubscribing from unwanted email lists
Managing spam and junk folders (e.g., create filters, manually organize)
Archiving important emails for future reference
Lead Generation
Make outgoing calls to generate new business leads
Contact warm leads to follow up and develop the relationship
Create email marketing campaigns
Track, maintain and update current leads using CRM software
Conduct customer and demographic research
Customer Support
Answering customer support phone calls and helping/directing them
Handling customer queries sent in by email
Manage chatbots on company websites/apps
Proactive support outreach to customers
Collecting and analyzing feedback
Document & File Management
Organizing digital files and documents
Managing document-sharing software (e.g., Dropbox, Google Drive, etc.)
Capturing/digitizing important documents and storing them
Retrieve and deliver documents/files upon client request
Social Media Management
Help with planning and executing social media marketing campaigns
Create content or outsource creation to other parties (e.g., images, graphics, videos, etc.)
Create and implement posting schedules on different platforms
Engage with consumers on different platforms (e.g., answer comments, respond to direct messages, etc.)
Analyze statistics and take action accordingly (e.g., reach, engagement, follows, etc.)
Step 3: Get The Right Virtual Assistant Tools
Setting yourself up with the right collection of tools, both hardware, and software, is going to be absolutely crucial to your success as a virtual assistant.
From the basic necessities like a computer/laptop, a desk/office setup, and a stable internet connection to helpful software and online tools that will make your job easier — putting all of this together is the next step on our journey.
Let's highlight some of the most popular tools for virtual assistants.
Laptop/Desktop
If you are planning to be somewhat of a nomad while working as a VA, having a laptop will be the best choice to make traveling with your office setup a breeze.
If you are planning to work from one spot and would like more flexibility in terms of the size and extent of your office setup (monitors, accessories, desk space, etc.), then a desktop setup is likely your best option.
When purchasing your laptop or desktop, there is no need to break the bank on something expensive that has top-of-the-line parts like a gaming PC. Instead, make sure you buy a computer that has the following:
RAM: At least 8 GB of RAM
RAM will partially dictate how much work your computer can do at once.
VAs will tend to have multiple applications running and browser tabs open at the same time – having adequate RAM will help ensure smooth operating.
CPU: Intel i5 processor or equivalent hardware (or higher)
Your computer's processor is what will dictate processing power, or in other words, how fast it can complete tasks.
VAs will want to be sure that their computer has a decent processor in order to increase efficiency and eliminate the likelihood of crashes or other issues.
Storage: SSD instead of HDD
Computer storage will either be SSD (solid-state drive) or HDD (hard disk drive). HDD is a technology of the past, while new SSD technology provides a number of advantages.
Solid-state drives are inherently faster, require less power, and are built to be shock-resistant. This translates into faster loading times and data retrieval, faster data transfer and copying, increased bandwidth, and more resistance to mechanical damage and file corruption.
Time Management Software
Time management software is going to be extremely helpful for virtual assistants of any kind. Using your time effectively and staying ahead of your workload is crucial.
Some of the best time management applications to consider include:
Clockify: This tool provides time tracking and timesheet creation capabilities to track work hours across multiple projects/clients.
Toggl: Toggl is a time-tracking application that tracks hours and activity across any number of projects and provides insights into optimizing time efficiency and workflow.
Time Doctor: Time Doctor is another app that helps to promote productivity and find inefficiencies in workflows while tracking hours and activity on different programs.
Project Management Software
Project management software will be a big part of keeping track of multiple projects and staying on top of tasks that are relevant to each one in specific. Virtual assistants should lean on tools to help manage their workload and promote efficiency.
Some of the best project management applications to consider include:
Asana: This program is designed to make task and project management a breeze. It allows people to manage their projects in an organized space, stay up to date on tasks and streamline their workflow from project to project.
Monday.com: Monday.com is another great project management platform that will help keep everything on your business's to-do list in one spot. If you end up expanding and hiring a team, Monday offers a great way to communicate with team members, share files, and much more.
Trello: Trello is a third option for virtual assistants for all of their task-tracking and management needs. This platform offers a simple, easy-to-use workflow system at a great price.
File Management Software
File management software is going to be another incredibly impactful tool in a virtual assistant's arsenal. Documents need to be stored, tracked, converted, updated and shared – file management software has been designed to help do just that.
Some of the best file management tools available online include:
Dropbox: Dropbox is a file hosting or "cloud storage" service that provides a cloud-based infrastructure for people to store their files safely and securely while allowing them to be delivered and/or shared with ease.
Google Drive: Google Drive is one of the most popular file management systems in the world. It allows users to store and sync files of any kind across multiple devices (PCs, tablets, mobile devices, etc.). It integrates all other Google services, including Google Docs, Gmail, Google Analytics, and Google Chrome.
Scheduling Software
Scheduling software is a great way for virtual assistants to build and manage their client's schedules, as well as build and manage their own business' schedule.
Some of the best scheduling tools include:
Doodle: Doodle is an online scheduling tool that is used by over 30 million people worldwide. It offers an all-in-one scheduling platform that gives users the ability to schedule and synchronize their calendars with others, send calendar invites to meeting participants, take polls for meeting time preferences, and more.
Calendly: Calendly is another great option for all of your virtual assistant scheduling needs. Calendly offers a simple and easy-to-use interface for users to automate their scheduling processes to save time and create a steady meeting workflow for their business.
Step 4: Define Your Compensation or Rate
The next step is to define the rate at which you will charge your clients for payment. This will involve considering both the value of your time, as well as how you will go about charging your clients depending on the situation.
The following statistics are provided by Indeed and based on salary information submitted to Indeed by virtual assistant employees and users and collected from job posts on Indeed in the past 36 months.
Per Hour: $20.88/hour
Per Day: $216.00/day
Per Week: $1,151.00/week
Per Year: $62,898/year
Earning potential for virtual assistants will vary based on a number of factors, including experience, location, industry, niche expertise, and the specific client/project.
In terms of how to price your services, there are 4 main ways that virtual assistants typically charge for their services.
Hourly Rate
Charging based on an hourly rate is one of the more common compensation methods used by VAs. You will be invoicing your clients based on the number of hours that you work weekly, bi-weekly, monthly – whatever pay period is agreed upon beforehand.
You will be tracking your own hours and will, in some cases, need to provide details regarding work completed during each working session (depending on your agreement with the client).
I recommend using Toggl for simple, straightforward, personal-use time tracking or Time Doctor for more extensive team-based time tracking.
Hourly pricing is good for:
Ongoing projects that do not have a clearly defined parameter
Projects that are subject to changes/reworks etc.
Projects that are hard to scope out in terms of the total price
Hourly pricing is not so good for:
Projects that provide high value to the client with no commission/benefits paid to you
Charging for the quality of your work as well as your time
VAs who complete projects quickly and efficiently (hourly pricing punishes efficiency)
Projects where your expertise and experience should influence compensation
Project-Based
Virtual assistants can also choose to charge clients from a project-based standpoint. This method will typically involve a one-time, or installment-style payment that is made initially and/or during and after the project has been completed.
In a project-based business dealing, the client and the virtual assistant will need to have an open discussion prior to any work being done that outlines the parameters of the project and determines a price for the entire project accordingly.
These agreements will often include a number of intermittent deliverables that need to be met throughout the course of the project's completion. Communication and clarity are very important when creating project-based compensation agreements so that both parties are on the same page.
Per-project pricing is good for:
Projects that are clearly defined and structured beforehand
Projects that are easy to price based on their deliverables
Per-project pricing is not so good for:
Projects that are not clearly defined beforehand
Projects that are subject to unforeseen changes/revisions
Projects that are tough to price accurately beforehand
Task-Based
Task-based compensation is similar to project-based compensation in that a price for work is agreed upon beforehand. The difference is that task-based pricing refers to smaller tasks completed throughout the course of a project or job, instead of a price for its entirety.
VAs will come to an agreement with their client on a fixed price per task paid out upon completion of each task.
Task-based pricing is good for:
Small projects or deliverables that are simple & straightforward
VAs/clients who want to avoid time-tracking and hourly invoicing
Larger projects with multiple intermittent deliverables
Task-based pricing is not so good for:
Projects with tasks that are complex and require research time etc.
Tasks that are relatively undefined/subject to change
Retainer
Retainers are sums of money paid in advance to secure services and access to these services when required for a predetermined period of time.
Virtual assistants can choose to charge their clients on a retainer basis, which would typically entail payments on a weekly or monthly basis that include a set number of working hours.
For example, if a VA has an hourly rate of $20/hour and their client would like to retain them for 25 hours in a given month, they would pay a retainer fee of $500 for the month of work hours.
The client can then request services for up to 25 billable work hours whenever needed within that month. The VA will deliver services immediately or on a schedule that has been previously agreed upon.
In the event that the 25 retained hours are exceeded, this will typically be billed and paid in addition to the original 25 hours paid for. It is important to discuss this situation while coming to the initial retainer agreement.
Step 5: Develop a Portfolio of Work
At this point, you may be thinking our next step is to hit the pavement and start finding clients and getting to work. Not quite yet, but we are almost there.
Before you get into the nitty gritty of client acquisition, it is important to develop a portfolio of work that will directly contribute to your success going forward.
A portfolio of work is typically virtual (e.g., website, landing page, PowerPoint presentation, etc.) and has the goal of demonstrating your skills, experience, and expertise as a virtual assistant. It should present content that showcases your best work and helps to build credibility for your services.
Here is a list of some things a VA could include in their portfolio of work:
Examples of graphic design work for graphic design VAs
Screenshots of published blog posts for blogging VAs
Highlight photos of a website build for web dev VAs
Testimonials from satisfied clients
Statistics (revenue generated, clients served, etc.)
Some people may have little to no work experience and, as a result, will not really have anything to put in their work portfolio. If this is you, don't worry. There are workarounds to this issue.
I suggest creating something called mock work for a mock client. This essentially means that you will make up a client and project that relates to your chosen niche, complete the work as if it was a real client, and use that as a working example for your portfolio.
This will not only give you work experience and portfolio content, but it will also allow you to tailor your content to suit the industry that you are looking to work in!
Check out this great example of a tech virtual assistant online portfolio.
There are so many awesome tools online that have been designed specifically to help users create portfolios that are easy to build, effective, and memorable.
Some of the best portfolio-building tools I suggest checking out include:
Behance: Behance is one of the more popular online portfolio-building platforms currently in operation. It has been designed to allow users to post as much content as they would like to and has been designed for any number of creative professions. Behance also features a built-in community of like-minded professionals that allows users to network and communicate with others on the way to building a great portfolio.
Crevado: Crevado is another awesome tool that virtual assistants can use to build their custom portfolio website that can be viewed on desktops, smartphones, tablets, and other devices responsively. Crevado offers a number of intuitive design features that allow users to add everything from images and videos to PDFs and other documents.
Step 6: Find Clients and Work
Now that you have developed skills, defined your services and rates, compiled tools, and built a portfolio of work, you are ready to start finding clients.
There are a number of different avenues virtual assistants can take to get themselves out there, offer their services, find clients and create success!
In this section, we will be going over some of the best ways virtual assistants can find clients for their business.
Employment Websites
A great way for virtual assistants to start their client acquisition journey is by leveraging the power of employment websites. These are online platforms designed specifically to help connect prospective workers with employers who are looking to hire.
Employment websites, also known as job search websites, are the modern-day equivalent of classified ads. They provide a place for job listings of any kind (remote, local, telecommute, etc.) to be housed and delivered to prospective workers anywhere in the world.
In today's digital age, job search websites are one of the best and most efficient ways to search for and find dozens of great work opportunities.
Some of the best employment websites that you should definitely consider checking out include:
Create a Profile on a Freelance Platform
Freelance marketing platforms are another powerful tool that VAs should take advantage of when starting their business and looking for new clients.
Freelancers can sign-up, create a profile, build a service advertisement, and start finding clients! These platforms provide a massive base of customers who are looking to hire gig-working freelancers for any number of projects in hundreds of different niches.
One thing to remember is that freelance marketing platforms have a built-in system that handles all of the payment and service delivery aspects of a deal between freelancer and client, which provides an element of security and protection for both parties.
However, this also means that they reserve the right to take a certain portion of your earnings on each project you complete (basically acting as a middleman).
Some of the best freelance platforms for virtual assistants to consider include:
Fiverr: The world's largest freelance marketplace. Fiverr offers a variety of tools and guidance, but it takes a 20% service fee from seller earnings on each project.
Upwork: With more than 12 million registered freelancers and 5 million clients, Upwork is one of the most popular freelance marketplaces in the world. Upwork takes 20% service fee on client billings of $500 or less, 10% service fee on client billings from $500.01 to $10,000, or 5% service fee on client billings of $10,000.01 or more.
Facebook Groups
Facebook is one of the most popular social media platforms in the world that hosts well over 2.5 billion active users. This massive user base provides incredible opportunities for business owners to network, make professional connections and find new clients.
One of Facebook's many awesome features is its "Groups" section. These groups provide a place for people with shared interests to communicate about the topic(s) of their choosing. Groups can be created for anything, including hiring freelancers for work.
Some of the best Facebook groups geared towards both finding VA work and providing industry guidance include:
Local Business
Finding VA work through businesses local to you is another good avenue to consider. This can be anything from a locally owned coffee shop or tanning salon, an online eCommerce business based out of your area, or the smaller-scale law firm down the street.
Find out what local businesses could benefit from your services, put together an offer or "pitch" depending on the situation and then reach out to them via email, social media, or an in-person visit.
Examples of VA services that local businesses could benefit from include:
Social media management for a coffee shop's Instagram and Twitter accounts
File & document management for a local law firm
Customer support for a local eCommerce business
Cold Email Outreach
Another client acquisition strategy that VAs can consider is called cold email outreach.
This strategy is essentially made up of two different steps. The first and most important is to build or gain access to a list of potential clients and their contact information, namely an email address.
The second step is to write up one or two email templates that are written with the intent of offering your virtual assistant services. Once you have your template, you can simply add the client name as you send out each individual email.
This method can be tedious but also extremely effective.
Social Media
Social media is another great way for virtual assistants to find work, grow their network, and find connections that will lead to more business.
Platforms like Instagram and Twitter provide a way for VAs to build an online presence for their business and reach out to businesses directly in search of collaborations.
Start by searching for accounts that are delivering relevant VA content and demonstrate knowledge and expertise of the space. Consuming this content will help you strategize and execute on finding clients.
One of the best ways to hunt down business on social media is by using the "direct message" feature to your advantage. Hop in the DMs with a short, eloquently worded message that highlights your expertise and includes an introductory offer of services – definitely worth a shot!
Family and Friends
Leveraging your own personal network of family and friends will always be a great way to find work and get your business off the ground.
Let your personal network know that you are going into business as a virtual assistant, and highlight the services that you plan to offer. They will keep you in mind and refer you to their own networks when the need arises.
You should also make an effort to expand your network by socializing both in person and online. Many times business will come up naturally in conversation, and before you know it, you've just landed a new client!
Virtual Assistant Sites
Virtual assistant websites are dedicated to virtual assistant services and provide a good place for VAs to find work.
Some of the best sites for VA work opportunities include:
Step 7: Become a Virtual Assistant Specialist
Once you have successfully established, secured clients, and gained experience with different jobs and industries, you can take another step and look into specialization.
When you choose to specialize as a virtual assistant, you are essentially choosing what many would call a "niche," which is a specialized aspect of the market for a specific product or service.
Examples of VA niches include:
Social media management specialist
Customer support specialist
Calendar management specialist
Website management specialist
The power of specializing your services can be important for scaling your business and earning more. Virtual assistants can justify charging higher rates as specialized contractors with select expertise and experience in a given field.
On top of earning potential, declaring a specialty will also build authority and credibility among current clients and potential clients or referrals that come your way.
"The riches are in the niches" is a saying that definitely holds some truth!
---
Pros of Becoming a Virtual Assistant
There are a number of reasons why to consider becoming a virtual assistant, but here are the main ones.
Choose your schedule
One of the best parts of working as a virtual assistant is the ability to choose your own schedule and dictate when you are going to work.
If weekend evenings are a better time for you to get work done, you can adjust your schedule accordingly. If things change, you are free to switch it up.
Work remotely
Another benefit that VAs enjoy is the fact that they can basically work from wherever they want.
Equipped with the right tools (laptop, smartphone, tablet, etc.), you can take your work to the local coffee shop, to the cottage, or on vacation in Mexico.
Choose your work
Virtual assistants will have the freedom to choose what kind of work they want to do by defining their services.
They also have the ability to change their services and redirect their focus as they so choose, which opens up room for flexibility and growth.
---
Cons of Becoming a Virtual Assistant
Not everything is sunshine and rainbows; there are a few drawbacks to becoming a virtual assistant.
Finding Clients
One of the hardest parts of starting a business as a virtual assistant will inevitably be the hustle of finding and securing clients.
It can be difficult to secure consistent, long-term work that can provide a reliable source of income, whereas a salary-paying job guarantees a steady paycheck.
Separating work & home life
Another struggle that virtual assistants can run into is learning how to properly separate work life from home life.
It can be quite difficult to keep your mind focused and really carve out dedicated work time when you are in your home environment. Distractions are everywhere and threaten the efficiency of your business.
---
FAQ on How to Become a Virtual Assistant
Here are the answers to some of the frequently asked VA questions.
How Much Do Virtual Assistants Make?
The average reported income for a virtual assistant is $20.88 per hour. Rates can range anywhere from $10 to upwards of $50 per hour, depending on location, experience, and industry.
What Skills Do I Need to Start as a Virtual Assistant?
Some of the most important VA skills to develop include communication skills, time management skills, computer proficiency skills, and organizational skills.
How Much Can I Charge as a Virtual Assistant?
How much you can justify charging as a virtual assistant will depend on a number of factors, including your own experience, expertise, and skill set, as well as where you are located and the rates that other VAs in your niche/industry are charging their clients.
Should I Charge a Flat Fee or Hourly Rate as a Virtual Assistant?
Whether you decide to charge a flat fee or an hourly rate as a virtual assistant will depend mainly on the client themself as well as the type of project(s) involved.
Can I Become a Virtual Assistant Without A Degree?
You do not need a degree or any other professional credentials in order to become a virtual assistant. It can definitely be helpful to attain certain certifications and skills, but there are no educational requirements.
Do I Have to Pay Taxes as a Virtual Assistant?
Yes, virtual assistants who are generating revenue are considered small business owners and are required to pay taxes on earnings accordingly.
How Do I Get Paid for My Work as a Virtual Assistant?
VAs will either choose how they would like to be paid or will have to discuss payment methods with their client/employer when the time comes.
Typically, virtual assistants will take payments via a payment service (e.g., PayPal, Wise, etc.), a direct bank transfer, or a written cheque that is mailed to them.
---
Final Thoughts
In this comprehensive, step-by-step guide to becoming a successful virtual assistant, I have walked you through everything from defining your services, establishing your rates, and getting the right tools to building a portfolio of work and finding clients.
Taking on a side hustle or making a full-fledged career change is something that people are seriously considering nowadays more than ever.
I hope that the knowledge and information I have provided will help you on your journey to building a successful VA business.
Get our free Side Hustle Handbook with the best strategies to multiply your income sources today.
Plus our best money tips delivered straight to your inbox.

Rhys is an online content writer & editor, student of decentralized finance and amateur botanist. He loves playing video games with his friends, learning new songs on the piano, and spending time in the sun with his dog Levi.