How to Make a Budget You Can Actually Stick To: A Step by Step Guide
Many or all of the products featured on this page are from our sponsors who compensate us. This may influence which products we write about and where and how the product appears on a page. However, this does not influence our evaluations. Our opinions are our own. Here is a list of our partners and here is how we make money.
---
The information provided on this page is for educational purposes only. The Modest Wallet is a financial publisher that does not offer any personal financial advice or advocate the purchase or sale of any security or investment for any specific individual.
At some point in your life, you might find yourself trapped in a financial mess. This is when you'd realize the importance of learning how to budget.
A budget is a word that is often overlooked by people. In fact, only 8 in 10 Americans use a budget. It's important to keep your finance life well balanced and budgeting can help a great deal.
Do you think Warren Buffett or Bill Gates could have achieved such success without proper budgeting? No! Budgeting won't just help you get out of a hole — it can also help you acquire financial wealth. And yes, it can help you do that even if you have a modest salary or income.
What is a Budget?
In simple words, a budget is a strategy that helps a person or a family highlight their income and expenses over a defined period of time, typically a month. It's designed to understand and decide how and where the money should be allocated.
A budget can also help differentiate between luxuries and necessities so you can spend your money more efficiently. It is prepared in the form of a financial document, and it should be viewed as a tool to help you achieve your financial goals.
Why Have a Budget?
Budgeting is all about devising a strategy to spend your income in the best way possible. A lot can go wrong if you do not live your life on a pre-planned budget (for the most part).
Budgeting is important because it will help keep track of money. Without it, your hard-earned money would disappear in no time. People that have a realistic budget are less likely to live paycheck to paycheck or struggle with their finance.
Apart from that, it gives you control over your money and helps you focus on your financial goals in the long run.
So, without much ado, let's have a look at how to make a budget you can stick to.
See Also: How to Pay Off Debt Fast: A Step By Step Guide
Have a Budget Goal
The main purpose of creating a budget is to understand your financial horizon. However, that's not enough. You must have other goals as well.
Before you you get started, you should define your goals and what you are looking to achieve financially. Your long term money goals will have an impact on the choices you make while preparing your budget. Some financial goals examples include:
To save $10,000 in 12 months
To visit Europe with the family next Summer
Save money to start investing
Save to buy a home
Save for retirement
Get out of debt
Reduce overspending
Avoid spending money you don't have
Stop living paycheck to paycheck
Having goals will help you decide how much you want to save and where you wish to spend.
Remember that your budget is not only about where you spend but also about where you want to spend.
Set up Priorities for Your Budget
As mentioned above, a budget needs to be updated according to your ever-changing financial goals and lifestyle. Here are a few things you should keep in mind before you start preparing your budget.
Emergency Fund
Your emergency fund should contain at least four months' of expenses. Period. This should be your first priority because you can never be sure of what the future holds.
The amount you save after paying your 'necessary' bills should go to your emergency fund. You can move to the next step once you have saved enough.
Pay Off Consumer Debt and Loans
Do not get us wrong here, making minimum monthly payments should be a priority. Never be late on your debt payments. But, if you have money left after making your minimum debt payments and contributing to your emergency fund, then you should consider paying off your debt altogether.
Contribute to your Retirement Plans
You should start your retirement planning as quickly as possible. You may have the option to choose from various programs including some for retirees.
If you do not want to put your money in a 401(k) account, then you can invest your money elsewhere with the intention to have enough by the time you retire.
Automate Savings
You cannot make future plans, increase your wealth, and improve your living standards without saving money. If you struggle to save money then consider automating savings. This will make it easier to manage your money and reach your savings goal.
Most of us have a difficult time setting aside money for a retirement fund or savings account. Automating your savings will ensure a specific amount of money goes to your savings account every month.
However, you need to be careful about the amount you decide to save since saving too much may lead to a financial mess and not saving enough may cause you to live paycheck to paycheck.
Note: How much you save depends on how much you earn and spend. For some people, 5% is enough, for others 20%.
See Also: How to Retire Early: A Simple and Detailed Step by Step Guide
Gather Your Financial Statements
The first step is to gather all relevant financial statements to help you assess how much is coming in and how much is going out. These include bank statements, utility bills, investment accounts, mortgage bills, etc. The more information you can gather the better as your budget will get closer to your financial reality.
Determine Your Income
Every budget starts by penning down the total net income (after-tax) you get to take home. Add up all possible sources of income you receive. This can be divided into two:
Fixed Income: Your fixed income is the salary you receive at the end of the month for providing services. It can be your fixed share for an investment, monthly fixed salary, business income, monthly rent, and any other fixed profits you receive.
Variable Income: This income varies and depends on factors such as your performance. It includes bonuses, returns from investments, profit from side hustles, interest income, tips, etc. Since you can't be sure of how much you'll make in bonus, this will go into the variable income column.
When you have noted down all the sources of income, add them up. This is the total net income that you need to create a realistic budget.
Determine Your Expenses
Now is time to write down all your expenses. Your budget sheet should have three columns for your expenses:
Fixed: The expenses that need to be paid no matter what are fixed expenses. These include mortgage, insurance, school fees, rent, etc. You do not control these bills and not paying these expenses can lead to trouble.
Variable: These expenses involve items and expenses that you can control. Examples include grocery shopping, clothing, etc. There's room to reduce these expenditures.
Discretionary: These expenses are not necessary and can wait. These include luxury shopping, holidays, etc. It is best to save for these expenses and avoid them until you have enough in your savings account.
Creating these three categories will help you manage a budget properly. You will know where you have a bit of flexibility and which expenses you can drop if you are low on money.
Find Your Favorite Budgeting Method
There are several budgeting methods available to you. Each one of them has its pros and cons, so we have outlined the three most popular budgeting methods so you can decide which one is right for you.
50/30/20 Budgeting Method
The 50/30/20 budgeting method was popularized by senator Elizabeth Warren. It emphasizes to divide up your after-tax income according to this rule:
50% to Needs
Half of your budget should be allocated to your needs. A need is defined as an expense that you cannot do without. Some examples are:
Food
Rent
Mortgage Payments
School Fee
Utility Bills
Since they make up the largest chunk of your expenses, it's best to devote about 50% of your income to needs. But, what if the 50% is not enough?
The best option is to take steps to reduce your needs. It may sound like a difficult task but it's quite possible. For example, you cannot go down to eating once a day but you can cut down on foods that are costly. Instead of beef, opt for plant-based proteins that are more affordable. This change alone can help you save a few dollars per week.
Budgeting is about living within your means. You should save money wherever you can. In fact, take steps to reduce expenses even if the 50% you set aside is enough to meet your needs.
See Also: 25 Frugal Living Tips That Will Save You Thousands
30% to Wants
This is the part that most people find difficult, especially since it can be hard to differentiate between wants and needs. In simple words, a want is something you can live without but you should still make some space for it as eradicating your wants can leave you sad and depressed.
Food is a need but eating out isn't a necessity. If your budget doesn't allow eating out, then you can either reduce your trips to restaurants or go to more affordable restaurants.
Gifts for your friends and trips to the movie theatre also fall into this category. About 30% is considered enough because you can control how much you spend on wants.
If your financial condition is poor then you can reduce this category even more.
20% to Savings / Debt Reduction / Retirement
Despite the low share, this is a very important part of your budget. The remaining 20% can be used for a variety of purposes:
To get rid of debt quickly. If you have debt, then you can use this money to pay down your outstanding loans. That is if making early payments offers an advantage.
If you are low on savings, then you can save this amount in your emergency fund to fall back on in case things go haywire in the future.
You can invest this money to prepare for the future.
Consider reducing this category only if you have enough money in your savings account, no debt, and decent savings for your retirement.
No budgeting method is perfect, and the 50/30/20 budgeting method is not exception.
Pros:
The method is very simple to follow
It can be effective in reducing fixed costs
It is easy to stick to since you can make changes to the plan
Cons:
It can be difficult to differentiate between needs and wants
Envelope System
This method involves stuffing and marking envelopes for each category. This budgeting method is very effective for people that regularly overspend and need more discipline to stick to a budget.
Let's say your budget says to only spend $50 this week on dining out. The best way to stick to this budget is to put $50 in an envelope and take it when you dine out. This way you will only spend $50 even if you're itching to buy more.
This budgeting method is a bit difficult to follow but it will keep your expenses under control. However, it will work only if you spend cash. Hence, leave your credit card at home.
The best way to use this method is to pick categories that you have difficulties with. In addition to envelopes, you may also use small accordion folders.
Pros:
It is easy to stick to this method
It helps you stay loyal to your budget
You're guaranteed to not miss payments
Reduces wastage and can help save money
Cons:
It can be difficult to get your entire family on board
You will have to withdraw cash to stuff envelopes
There will be no credit card rewards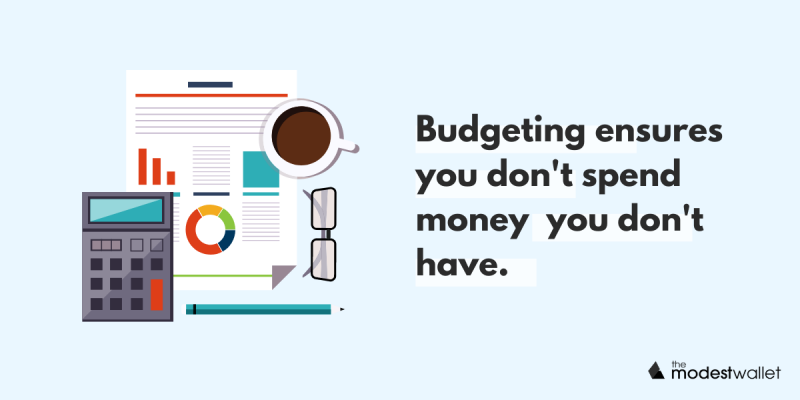 See Also: How to Pay Off Student Loans Faster Than Ever
Zero-Based Budgeting Method
Zero-based budgeting is a simple budgeting method where your total net income minus your total expenses equal zero. Every dollar has a job to do every single month.
Let's say your total net income is $3,500 a month and your total expenses for the month are $3,000. This means you have to allocate the remaining $500 to an "expense" or "savings goal". You may decide to contribute $200 to your emergency fund, put $100 towards paying down your credit card debt, and put $200 in your retirement account. You must keep allocating money to a savings goal or expense until the difference between your income and expenses equals zero.
Pros:
Prevents you from overspending

You can cu

stomize your categories every period

Gives you full control over money flowing in and out
Cons:
Can be very time-consuming
Decide How You'll Track Your Money
For most people, it is easy to keep track of the money that they earn. They get a paycheck at the end of the month. However, it can be a bit difficult to track expenses. But, it's important since your budget will not be of much value if it doesn't include correct figures.
Merely making a budget at the start of the year or month is not enough. It needs to be updated from time to time and that may not be possible unless you track it.
You will not know when or how you overspent if you do not keep track of your expenses. Similarly, you will not know how much you can afford to spend if you do not keep track of your earnings.
Hence, tracking is one of the most important aspects of budgeting. Here's how to handle it:
Use Pen and Pencil
The traditional way of tracking your expenses is to use a pen and pencil. It may sound tiring but a large number of people still use this method.
We suggest that you buy a notebook or diary to track the flow of cash. You can also include reference numbers in a column so that it is easy to refer to a specific expense.
The best way to manage this tracking technique is to keep the pen and notebook at a designated place so that you never miss out on noting expenses. Most people prefer to do it at the end of the day so that they do not miss anything.
Make sure to write carefully so that it is easy to read. This technique can be effective for people who do not deal with a lot of expenses.
Pros:
Is quite simple
You do not have to depend on another device
Less costly since you do not have to pay for an app or software
Cons:
Use Spreadsheets
It may be a good idea to use a tool like Excel or Google Sheets to get the job done. Both, Microsoft Excel and Google Sheets are easy to use and work on mobile devices as well. Plus, there are formulas you can use to quickly add figures and get results.
With Excel or Google Sheets, you can keep all your information in a single file that can even be shared thanks to GoogleDrive, which supports spreadsheets.
You can customize spreadsheets according to your needs and review them from time to time. Plus, some even offer strong collaboration options. While Excel and Google Sheets are the most popular choices, you can also opt for other platforms offering spreadsheets.
One look at the spreadsheet will tell you the current situation of your budget including expenses, income, etc. You can make columns and rows to add expenses as they occur.
Pros:
Very easy to learn and manage
Work on both mobile devices and computers
You can take out prints
Cons:
You will need to sit in front of a computer or mobile to make changes
If you want to take your spreadsheet game to the next level, try using apps like Tiller Money. Tiller automatically imports daily spending, account balances, and transactions into Google Sheets and Microsoft Excel. The service combines the automation of an app with the flexibility and control of a spreadsheet.
Use Budgeting Apps
It is not uncommon to use a mobile app to track expenses. Since most of us always carry a mobile phone, it gets easier to track expenses just as they occur. There are a huge number of mobile budgeting apps designed for this purpose, including some paid and free options.
Some apps offer basic features but some may offer add-ons such as the ability to take pictures of receipts. One of the best budgeting apps is Empower as it allows you to track your net worth and spending over time. Other good budgeting apps include You Need a Budget, Mint, Wally, and GoodBudget.
Some of these apps may even send alerts or reminders when you're close to overspending. Plus, some even offer the option to link to your bank account and ensure you never miss out on payments.
We suggest that you opt for a web-based app so that you do not end up losing your data.
Pros:
You can do more with some apps
Some apps may offer benefits including access to special offers and discounts
Very easy to keep an eye on income and expenses
You will not have to perform manual calculations
Cons:
Some good apps can be very costly
You may lose data if the app crashes or you lose your phone
Total Your Income and Expenses
The next step is to subtract all your expenses from your total net income. If your income is greater than your expenses, then you're off to the races. You can allocate your disposable income to other areas of your budget like saving for retirement, paying off debt or investing.
On the other hand, if your expenses are greater than your income, it means you have some tweaking to do. Take a look at your variable expenses and find areas to cut.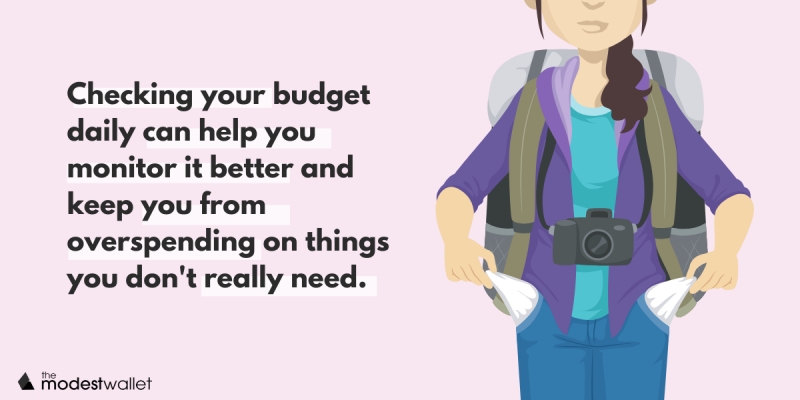 See Also: Buying vs Leasing a Car: Which One is The Right One For You
Evaluate & Make Adjustments
Your budget is not a document etched in stone, and it's definitely not for you to set it and forget it. It can and should be reviewed from time to time.
Make a new budget if you see or expect a change in your income. If you earn more, know where you want to allocate your money. It's important to be financially responsible.
Similarly, if your expenses increase, then take the necessary steps to increase your income or reduce your expenses from other categories to balance things out. Your budget will help you determine where you're spending most of your money and from where you can adjust it.
Remember: What gets measured, gets improved!
How to Stick to a Budget?
Creating a budget is one thing, but sticking to it is a completely different ballgame. You will face numerous challenges at the beginning. You may fail to keep track of income and expenses or forget to record important expenses.
Do not let such issues get to you you. Follow these simple tips to stick to your budget.
Tag in a Partner
You can do with a helping hand. It can be your spouse, child or family member. Work with someone who understands budgeting and is willing to help.
You should ideally choose a partner who is interested in saving. If the other person is a spender then you may end up having issues with each other. Having someone to keep you accountable can go a long way.
Try to Keep it Entertaining or Rewarding
Budgeting does not have to be a boring job. Plan it nicely — go out to the park and do your calculations there, or promise to yourself to only watch your favorite show after you are done.
This will push you to put your best foot forward and motivate you to stick to a budget.
Have Everyone on the Same Page
A budget is hardly about one person — it's about the whole family. You should explain to your family why it is important to stick to a budget.
Everyone must work together to save and reduce expenses. There will be disagreements if not everyone is on board with the budget, hence it may be a good idea to discuss your plan with others before you finalize it.
Use Credit Cards to a Minimum
A lot of people prefer to pay with credit cards rather than cash. This habit can leave you broke and force you to deviate from your budget.
Stop relying on plastic money. It may even be a good idea to get rid of your credit card altogether — why pay fees when you have other alternatives?
The Importance of Sticking to a Budget
Budgeting is not a mandatory chore but a choice. No one will force you to make a budget. However, it's in your own benefit as it would allow you to live a life free of financial woes.
A budget can help you know where you stand financially and what you need to do to reach your goal. You may even need it if you wish to apply for a loan, etc.
Plus, a budget can motivate you to work harder. It gives you a clear picture of what needs to change. The roadmap can help you do better to achieve your goals as they will begin to look possible.
It may be hard to save $10,000 to buy a new car, but if you plan to save $10 per day, you will have $10,000 in less than three years. It's easier to save $10 per day than it is to save $10,000.
It may, however, be difficult to ensure you do not end up spending this money on other expenses. You will need discipline to stick to your goal.
See Also: Why Am I Poor? Simple Hacks to Stop Being Broke
Final Thoughts
Budgeting appears intimidating and reading the wrong tips on the internet will not simplify it for you. But, you have to start somewhere.
Get moving today and make things happen. Budgeting isn't only about keeping up with your monthly expenses. It's about improving your financial situation.

Ricardo is an entrepreneur, investor and personal finance nerd who enjoys spending time with his family and friends, travelling and helping others achieve their financial goals. Ricardo has been quoted as a personal finance expert in several online publications including Healthline, Bankrate, GOBankingRates, MSN Money, Yahoo Finance, U.S. News & World Report, Forbes and USA Today.