How to Buy Bitcoin: A Step-by-Step Guide [2023 Update]
Many or all of the products featured on this page are from our sponsors who compensate us. This may influence which products we write about and where and how the product appears on a page. However, this does not influence our evaluations. Our opinions are our own. Here is a list of our partners and here is how we make money.
---
The information provided on this page is for educational purposes only. The Modest Wallet is a financial publisher that does not offer any personal financial advice or advocate the purchase or sale of any security or investment for any specific individual.
If there is one asset class in particular that has seen above-average growth year after year recently, it's Bitcoin.
This highly speculative digital currency went from 52-week lows of $5,000 in March 2020 to more than $64,000 in April 2021. Bitcoin has appreciated in value by more than 29,000% since its inception.
If you're looking to invest in crypto-assets and wondering how to buy Bitcoin, this step-by-step guide will tell you everything you need to know. If you are new to investing, make sure you check out our how to start investing guide to help you get started.
Not only do we discuss the many ways in which you can buy Bitcoin, but we also go into what you need to consider in terms of choosing an exchange, payments, storage, and more.
---
How to Buy Bitcoin
If you're looking to buy Bitcoin, but don't quite know where to start, consider taking the same path most investors do. Start by deciding where to buy Bitcoin. Next, make a payment and then store the funds in a private wallet.
If you are planning to pay for your Bitcoin with a bank account or debit/credit card, make sure that you have a government-issued ID to hand — as per KYC and anti-money laundering laws.
Note: Irrespective of how you decide to buy Bitcoin, it is crucial to note that cryptocurrencies are not covered by the Securities Investor Protection Corporation (SIPC).
Step 1: Decide Where to Buy Bitcoin
In a time not so long ago, the process of buying Bitcoin was overly cumbersome. Fast forward to 2023, and getting your hand on this innovative digital asset has never been easier.
To point you in the right direction, this section of our guide on how to buy Bitcoin will discuss the many ways in which you can make a cryptocurrency purchase.
Cryptocurrency Exchanges (Recommended Option)
Perhaps one of the most common ways of buying Bitcoin is to use a cryptocurrency exchange. These are platforms that allow you to buy, sell, and trade a full selection of digital currencies.
In many cases, you do need to tread with caution, as the cryptocurrency exchange scene is largely dominated by unregulated providers. This is problematic from a risk-management perspective, as you can never be 100% sure that your funds are safe.
There are, however, several key players in the Bitcoin exchange space.
At the forefront is Coinbase, which acts as both an exchange and a broker. This popular US-based platform allows you to buy Bitcoin with a debit card or bank transfer, making the process super-easy for first-timers.
With that said, Coinbase is on the high side when it comes to fees. For example, you'll pay a trading commission of 1.49%. If opting for a direct debit card Bitcoin purchase, the cost balloons to 3.99%.
An additional option that you might want to consider is Binance, which charges just 0.10% in trading fees. If, however, you need to buy Bitcoin with a debit card, Binance will charge you 4.5%. ACH transfers will cost you nothing, so this is arguably the better option.
Other commonly used cryptocurrency exchanges to buy from Bitcoin include:
In terms of how the Bitcoin investment process works when using a cryptocurrency exchange, check out what follows:
Open an account with your chosen cryptocurrency exchange;
Deposit funds in US dollars so you don't have to verify your identity by uploading a copy of your government-issued ID;
Once verified, make a deposit via ACH, bank wire, or a debit card; and
Proceed to buy Bitcoin at an exchange.
In most cases, your chosen cryptocurrency exchange will give you the option of withdrawing your Bitcoin to a private wallet. More on Bitcoin storage later.
Bitcoin ATMs
If you're wondering how to buy Bitcoin via a cryptocurrency ATM, the process is very straightforward. There are thousands of terminals scattered across the US, so you're bound to have an ATM within distance.
You can buy Bitcoin from a crypto ATM as follows:
Head over to CoinAtmRadar.com to find your nearest Bitcoin ATM;
Once you've made it to the nearest one, follow the on-screen instructions to begin the process;
You will be asked to enter the amount of Bitcoin you wish to purchase;
The ATM will tell you how much Bitcoin you will get for your money, including all applicable fees;
If you are happy with the rates and fees, enter the exact amount of dollars you wish to spend into the ATM; and
In most cases, the ATM will then print a receipt that contains details of how to claim your newly-purchased Bitcoin.
Although Bitcoin ATMs might sound convenient, there is a major drawback. You'll often find that terminals charge well over 10% in fees when you factor in commissions and mark-ups.
Traditional Online Broker
The next option that you have at your disposal is traditional online brokers. The likes of Robinhood, SoFi Invest, and Tradestation now allow you to buy Bitcoin with the click of a button.
This illustrates that demand in the US for cryptocurrencies is only getting stronger. There are both pros and cons to using an online broker, however.
These are some of the pros:
Many traditional brokers in the US allow you to buy Bitcoin commission-free
You can easily deposit funds with a bank account and oftentimes, a debit card
Traditional online brokers in the US are heavily regulated
You don't need to withdraw your coins out to a private wallet, as the broker retains control of your funds
These are some of the cons:
Although possibly beneficial for newbies, traditional brokers rarely give you the option of transferring your Bitcoin out to a private wallet
This means that you don't control your Bitcoin
Rather, you are only speculating on the value of Bitcoin increasing
P2P Exchanges
Another way that you can buy Bitcoin online is via a P2P (Peer-to-Peer) exchange. As the name implies, you will be buying Bitcoin on a P2P basis, meaning that you'll be cutting out the need for a third-party actor.
The process works as follows:
You join a P2P exchange like LocalBitcoins or Bisq;
You enter your requirements in terms of the purchase amount and desired payment method (for example, you might want to buy $500 worth of Bitcoin via ACH);
You choose a seller that can meet your requirements;
The seller is required to deposit $500 worth of Bitcoin into the P2P exchange;
Then, you need to transfer $500 into the seller's bank account, ensuring you include the reference number provided;
You then mark the transfer as complete; and
Finally, the seller will check that the funds have arrived and then release the Bitcoin from the P2P escrow.
As per the above, the Bitcoin will then be available in your P2P exchange account. You can then withdraw the funds to a private wallet for added safety.
Take note, P2P exchanges operate in an unregulated ecosystem. Although you have the protection of the escrow system, inexperienced users have been known to get scammed.
Ultimately, if you do opt for a P2P exchange, make sure you avoid face-to-face meetings or untraceable payment methods like Western Union and MoneyGram.
Note: P2P Exchanges can be cheap, private, secure and offer good resistance against transaction censorship, however since a lot of these exchanges are not regulated, try to stick to the ones you know and have a positive reputation.
Step 2: Connect Your Chosen Exchange to a Payment Method
Although we have discussed several ways of how to buy Bitcoin, we would suggest sticking with an exchange. Not only is this the easiest and often the most cost-effective way of doing things — but you'll be able to use an everyday payment method, too.
As we discussed earlier, the likes of Coinbase and Kraken, and many others allow you to fund your account via ACH or bank wire.
To do this, you will first need to open an account and go through the verification process. In most cases, Coinbase can validate your documents automatically via its in-house fintech system.
This means that you can proceed to make a deposit in minutes. Either way, your chosen cryptocurrency exchange will provide you with the account details that you need to transfer the funds into.
The most important thing is that you include the reference number provided by the exchange – as this will ensure the provider can match the deposit to your account.
In terms of how long it takes for a bank transfer to be credited by your chosen exchange, this can vary depending on the provider. For example, Coinbase notes that ACH deposits can take three to five working days to clear.
With this in mind, you might instead decide to use a debit card. In doing so, you can buy Bitcoin instantly. On the flip side, providers like Coinbase and Binance will charge you 3.99% and 4.5% for the pleasure.
Other methods that some cryptocurrency exchanges accept include credit cards and even e-wallets like Paypal. Regarding the former, this is best avoided for two key reasons;
Firstly, credit card providers often deem cryptocurrency exchange/broker deposits as a 'cash advance'. Not only does this mean you'll be hit with a cash advance fee (usually 3-5%), but the interest kicks in straight away.
Secondly, by using a credit card to buy Bitcoin, you could end up in debt. After all, Bitcoin could just as easily take a turn in the wrong direction. If it does, you'll still need to pay back the full amount to the credit card provider, potentially with interest.
Step 3: Place an Order to Buy Bitcoin
There are two ways that Bitcoin purchasing orders are processed by exchanges depending on your chosen payment method.
If, for example, you decide to use Coinbase or Binance and you opt for a debit card payment, it will be processed as a direct purchase. This means that you will be buying Bitcoin instantly at the current market rate, resulting in fewer fees.
On the other hand, if you decide to deposit funds with ACH or a bank wire, you normally need to wait for the exchange to process the transaction. You will only be able to place an order after the exchange processes your transaction.
The key fields that you need to fill in are usually the following:
Market or Limit Order
If you want to buy Bitcoin instantly at the current market rate, opt for a market order. The exchange will execute your position instantly at the best available price.
If you select a limit order, you can choose the price at which your Bitcoin purchase is executed. For example, Bitcoin might be priced at $33,000, but you don't want to make a purchase until it drops to $32,000. Your limit order will only be executed if Bitcoin drops to your selected price. In this example, that's $32,000. The limit order will remain pending until this happens, or you manually cancel it.
Stake
You will need to specify the amount of Bitcoin that you wish to buy from your chosen exchange.
The good news is that you can simply enter this in US dollars, and the exchange will tell you how much Bitcoin you will get based on current market prices.
In some cases, the exchange will have a minimum investment amount in place, so be sure to check this out.
Risk Management
If you are planning to buy Bitcoin on a short-term basis, then you might decide to set up a couple of risk-management orders.
For example, Binance allows you to create a stop-loss order. This enables you to cash out your Bitcoin trade if its value drops by a certain amount. For example, you might want to exit your position if Bitcoin drops by 10%.
Additionally, it's also worth deploying a take-profit order if you want to automatically lock in your gains. For example, you might want to collect your profits if Bitcoin increases by 20%.
If, however, you are planning to buy Bitcoin as a long-term investment, you don't need to worry about these risk-management orders. After all, you'll be better off withdrawing the coins to a private wallet to keep them safe and secure.
Step 4: Safely Store Your Bitcoin
Once you have bought Bitcoin with your chosen exchange – whether that's on a direct basis via your debit card or through a manual bank transfer — it's then time to think about storage.
In the vast majority of cases, your Bitcoin funds will initially be held in your exchange web wallet. Although you have access to this wallet, the cryptocurrency exchange holds the private keys.
This means that they have full control over your funds. If the worst happened and the exchange is hacked, there is every chance that your Bitcoin will be stolen by the perpetrators.
With this in mind, it's best to withdraw your Bitcoin to a private wallet. In doing so, you will be 100% in control of your Bitcoin.
Before we explain what your options are, there are a few key points that you need to be aware of:
Unlike traditional money, Bitcoin is kept in a digital wallet that gets you direct access to the blockchain
Each wallet has a public address, which is like a bank account number
When you want to send Bitcoin to your private wallet, you need to enter your public address
All Bitcoin wallets come with private keys, too; this is like the password you enter when you access your online bank account
If somebody gets hold of your private keys, they can access your Bitcoin wallet
This is why you need to keep your private keys and wallet passwords safe and secure
There are generally two methods in which you can store your Bitcoin in a private wallet, which we elaborate on in more detail below.
Note: Keeping you Bitcoin in a cryptocurrency exchange is not a good idea as they are more vulnerable for hacking. Make sure you securely transfer your Bitcoin to a private wallet you control.
Hot Wallet
Hot wallets are the most convenient way of storing Bitcoin. They come in the form of a mobile app, desktop software, or a web wallet. We would suggest discounting the web wallet option. Once again, this is because you won't have control of your private keys.
If opting for a desktop wallet, you will have several additional safeguards that you can use to keep your Bitcoin secure. However, you will need to have access to your desktop device whenever you wish to access your wallet.
Some of the best options on the market at present include Wasabi and Electrum.
Wasabi is a non-custodial wallet, which means you retain full control of your private keys. The wallet is also compatible with TOR and available for Mac, Windows, and Linux.
If you're looking for a more user-friendly desktop wallet, Electrum is worth considering. The wallet is really easy on the eye and allows you to keep tabs on how your Bitcoin investment is performing in dollars and cents.
If your main priority is convenience, then you might be better off going with a mobile wallet. They come in the form of an iOS or Android app that allows you to access your Bitcoin wallet at any given time.
Mobile wallet users can scan a Bitcoin wallet code with their phone's camera. This lowers the risk of sending funds to the wrong address.
BlueWallet is a good option when it comes to safety. Its safeguards include multi-sig vaults, real-time notifications of incoming and outgoing transactions, and full control over your private keys.
Another good option is Blockstream Green, which is ideal for beginners. It comes with enforced two-factor authentication (2FA), so you'll need to confirm key account transactions with a secondary device.
>> Read Also: Hot Wallet vs. Cold Wallet
Cold Wallet
If you are looking to buy a sizable amount of Bitcoin, we would suggest that you only use a cold wallet. They are hardware devices and are by far the most secure way of keeping your funds safe.
Crucially, cold wallets are never connected to live servers – other than when you wish to transfer funds. This makes it near-impossible for somebody to hack the wallet remotely.
The two key players in the cold wallet space are Ledger Nano X/S and Trezor Model T. Both of these wallets require you to physically enter a PIN to transfer funds.
There is also an innovative 'time lock' feature that covers you in the event the device is lost or stolen. This feature doubles the amount of time a person has to wait when an incorrect PIN is entered. In turn, it gives you enough time to recover your wallet remotely by using the passcode that you wrote down when you set the device up.
Another good option to consider is Coldcard Wallet, which offers an air-gap safety net. You are given the option to keep the wallet offline at all times, essentially removing all threats of viruses and hackers.
---
FAQ How to Buy Bitcoin
Here are some of the most frequently asked questions that we get about how to buy Bitcoin.
Are Bitcoin Exchanges Legal?
Bitcoin exchanges are legal in the US, but regulation is still very much in a grey area. With that said, exchanges must still comply with anti-money laundering regulations when offering fiat-based cryptocurrency purchases. This means that the exchange must verify your identity before you can buy Bitcoin with a bank account or debit/credit card. 
Is Buying Bitcoin Safe?
Buying Bitcoin online is safe as long as you use a trusted exchange or broker. There are hundreds of platforms offering Bitcoin, many of which are unlicensed. So always tread with caution.
What Is the Difference Between a Bitcoin Wallet and an Exchange?
A Bitcoin wallet is where you will store your digital coins. It comes in various forms, including mobile, desktop, web, and hardware wallets. An exchange is where you can buy Bitcoin, most often with a bank account or debit/credit card.  
Can I Keep My Bitcoin on an Exchange?
Yes, with the odd exception (like Coinmama), cryptocurrency exchanges allow you to keep your Bitcoin on the platform. However, this isn't recommended, as your Bitcoin will be at risk if the exchange encounters a third-party hack. 
---
Final Thoughts
Buying Bitcoin from the comfort of your home has never been easier.
When using a trusted exchange that complies with all relevant regulations, all you need to do is open an account, upload some form of ID, and deposit funds with a debit/credit card or bank account.
Then, it's just a matter of buying Bitcoin and withdrawing the funds to a private wallet of your choosing.
Ultimately, just make sure that you understand the risks that come with buying Bitcoin before you take the plunge.
Up Next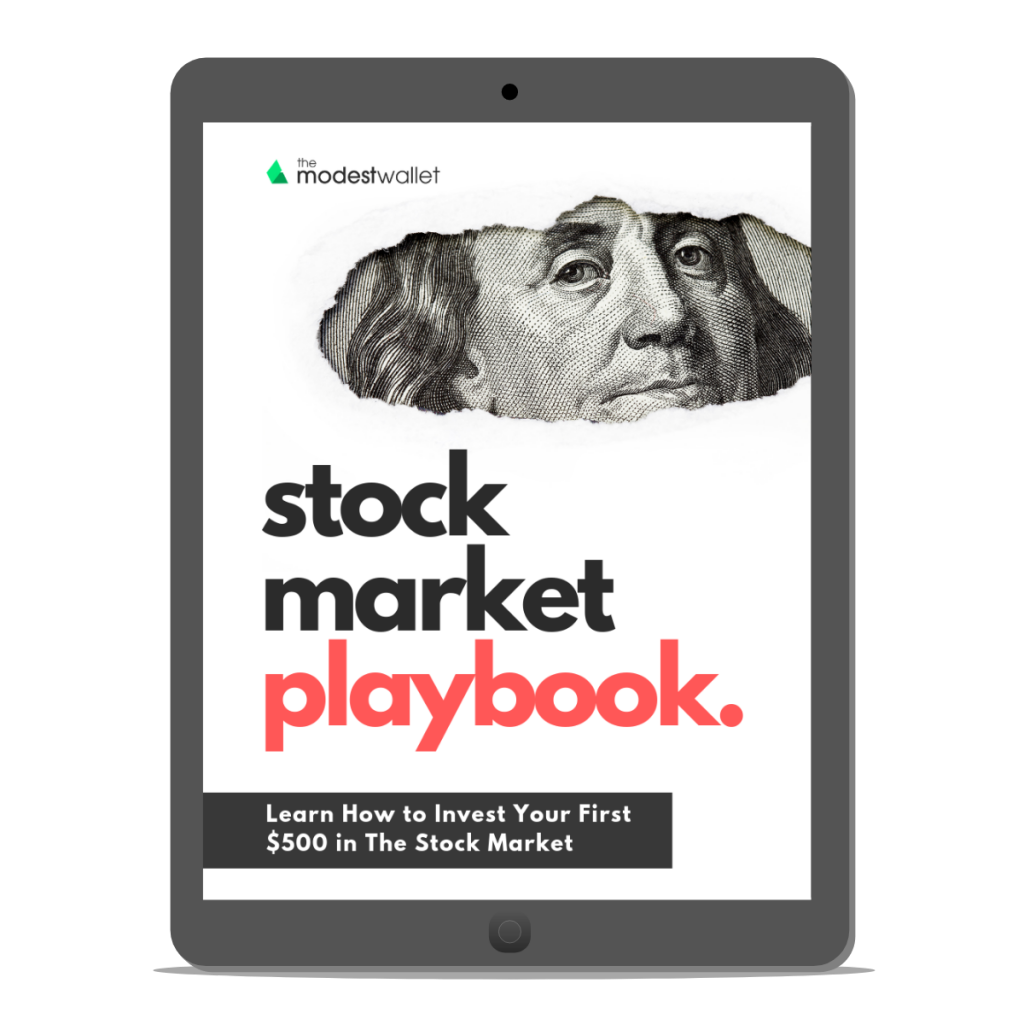 Get our free Stock Market Playbook to learn how to invest your first $500 in the stock market.
Plus our best money tips delivered straight to your inbox.

Kane is a highly-skilled researcher and writer with expertise in finance, trading, and cryptocurrencies. Academically,  Kane holds a Bachelor's Degree in Finance, a Master's Degree in Financial Crime, and he is currently engaged in a Doctorate. He is passionate about researching the money laundering threats of the virtual economy — notably, cryptocurrencies and blockchain technology.