14 Ways to Invest $100 in 2023
Many or all of the products featured on this page are from our sponsors who compensate us. This may influence which products we write about and where and how the product appears on a page. However, this does not influence our evaluations. Our opinions are our own. Here is a list of our partners and here is how we make money.
---
The information provided on this page is for educational purposes only. The Modest Wallet is a financial publisher that does not offer any personal financial advice or advocate the purchase or sale of any security or investment for any specific individual.
Do you have $100 to spare? Awesome! That means that you can start investing.
While we often think of investors as people on Wall Street who have gobs of extra money lying around, the reality is that you can start investing with as much or as little money as you'd like.
If you have $100, you're in the perfect place to start putting your money to work for you.
Although investing your first hundred bucks can feel like sailing into uncharted waters, we're here to help you out. In this article, we'll show you how to invest $100 with relative ease.
Up next, we'll discuss 14 different ways to invest your money and offer some guidance into which investments are better to avoid. That way, you can feel confident in your new investing strategy.
14 Ways to Invest $100
Investing your first $100 can seem daunting, but there are plenty of great ways to put your money to good use. From starting a retirement fund to making your first stock trades, here are 14 ideas for how to invest 100 dollars:
1. Pay off Consumer Debt
Okay, we get it; paying off debt might not seem like investing.
But, if you're accumulating 22% interest on your credit card balance, then you're going to do more good for yourself by paying off that debt than by investing in the stock market.
If you owe $1,000 on your credit cards and you're only making minimum payments, you're going to spend the better part of a decade paying that off. Soon enough, you'll just be paying the interest on your debt rather than the original money you spent on your card—yikes!
Moral of the story? Paying off your consumer debt should be at the forefront of your investing strategy. Once your debt is paid off, then you're ready to think about investing in the stock market.
See Also: How to Invest in ETFs: A Step-by-Step Guide
2. Start an Emergency Fund
As with paying off debt, putting money in a savings account might not seem like investing. But, having enough money in the bank to cover at least three to nine months of expenses in an emergency is investing—it's just investing in yourself rather than in stocks.
Indeed, not having money set aside in an emergency fund could be problematic in the event of, well, an emergency.
According to the Federal Reserve, four in 10 Americans don't have enough savings to pay for a $400 emergency expense. As a result, a lot of people get caught in a cycle of consumer debt where they have to resort to high-interest credit cards to pay for unexpected events.
The solution to this issue is to have an emergency fund ready to go at all times.
If you have $100 to spare, putting that money into a high-interest savings account at Axos Bank, Discover Bank, or Synchrony Bank is an ideal FDIC-insured investment. You never know, that $100 investment now could make a big difference down the line.
3. Invest with a Micro Investing App
We know what you're thinking: If I'm on a tight budget, can I afford to invest?
While investing has traditionally been the realm of the wealthy, with the advent of micro-investing apps like Acorns, Qapital, and Digit, anyone can invest with just a few dollars.
Here's how it works: If you have $100, you can start an account with any one of these micro-investing apps, which will then create a portfolio that's tailored to your needs. Then, you can set up automatic investments to your account to help grow your assets over the long term.
Now, even if you can't commit to investing $100 every month, micro-investing apps like Acorns and Digit still make it possible for you to invest regularly.
That's because most of them allow you to activate a "round-ups" feature that automatically invests spare change from any purchases that you make with your debit card. Alternatively, some apps, like Qapital, also allow you to set up automatic investments whenever you perform a certain activity, like hitting a fitness goal on your Fitbit.
As a result, you can use your $100 to kickstart your investing strategy using a micro-investing app.
If you're new to buying stocks, it's often best to start by building a solid portfolio of shares in large, reputable companies.
However, buying a single share in some of these blue-chip companies, like Amazon and Google, can cost you hundreds, if not thousands, of dollars. That reality can be pretty disheartening to new investors, especially when the cost of a single share is more than you have to invest.
Thankfully, there's a solution to this problem, namely fractional shares investing.
With brokerages like Public.com and SoFi Invest, you can purchase fractions of a single share.
For example, if you want to buy shares of five different companies but you can't afford to buy all five shares outright, you can invest $20 in each company using fractional shares investing. Later on, if you have more money to invest, you can either choose to buy more slices of your existing stocks or you can invest in other companies.
Therefore, buying fractional shares can be a great, effective way to invest your $100, all while diversifying your portfolio in the process. If you can't buy the whole pizza, get a nice slice.
See Also: How to Invest in Mutual Funds: A Step-by-Step Guide
5. Invest in Index Funds Through ETFs
Buying stocks can be a fantastic investment strategy, but it's also a risky business. If you're new to investing or you're still learning the ins and outs of market analysis, figuring out precisely which stocks to pick can seem overwhelming. As a result, investing in index funds through ETFs is often a solid choice.
ETFs, or exchange-traded funds, are a type of investment vehicle that bundles together different assets, like stocks and bonds. You can then buy shares of an ETF through a brokerage, like M1 Finance, just like you would buy shares of a stock.
The difference is that a share of an ETF provides more inherent diversification than a share of a single stock. Since any given ETF is composed of dozens of different underlying assets, you can effectively purchase exposure to a wider range of industries than you would if you bought a single stock.
Furthermore, some ETFs are designed to track market indexes, like the S&P 500. These ETFs are called index funds and they can be a low-cost way to gain exposure to the bulk of the stock market.
Of course, shares of ETFs can get pricey, too, just like stocks. That's why investing with a brokerage like M1 Finance that allows you to buy fractional ETF shares is helpful. Doing so can help you diversify your portfolio using ETFs with relative ease.
6. Invest with a Robo-Advisor
Investing in stocks and ETFs often requires a lot of research and analysis if you want to see good returns on your money. So, if you don't have a lot of free time to spend on research, you might feel like investing is a bit more than you can handle.
The good news is that you can invest your $100 without the need for market research. By opening an account with a robo-advisor, you can put your investments on auto-pilot while you go about your day-to-day life.
If you're new to investing with a robo-advisor, a brokerage like Betterment might be a solid option. As one of the pioneers in robo-advising, Betterment is an industry leader when it comes to low-cost investing.
You can open an account with the firm with as little as $1, so you can immediately start putting your money to work. Then, you'll provide Betterment with some information on your financial goals and risk tolerance so that the brokerage can create a portfolio that's best for your needs.
After your account is all set up, you can sit back and relax as Betterment manages your funds for you. It's as simple as that.
See Also: How to Buy Bitcoin: A Step-by-Step Guide
7. Invest in Your 401(k)
Does your employer offer a 401(k) retirement plan? Consider yourself lucky. A 401(k) retirement plan is an incredibly powerful savings tool, so it should be high on your list of ways to invest your $100.
That's because any dollar you contribute to your plan (up to the annual IRS limit) can be deducted from your income when filing your taxes, reducing your tax bill. Oh, and if your employer offers 401(k) matching, you can often turn your $100 into $200 in seconds.
With that in mind, managing a 401(k) can be a bit of a hassle. Therefore, using an investing platform like Blooom can help you keep track of your 401(k) and even your IRAs.
Blooom makes it easy for you to automate your investments by providing access to automatic investing and regular portfolio rebalancing. The company also offers access to financial advisors if you have any questions about your investing strategy, making it a great option for new and experienced investors, alike.
8. Open an IRA Account
Regardless of whether or not you currently have a 401(k) plan at work, opening an IRA (individual retirement account) with your $100 is a solid choice for many investors.
Like 401(k)s, IRAs are retirement accounts. So, they're a great option for people that have long-term investing goals. Plus, almost any US resident under the age of 70 with taxable earned income can open and contribute to an IRA, even if they have a 401(k).
What's more, opening a traditional IRA and investing your $100 can help reduce your tax bill come tax time. Alternatively, if you qualify to contribute to a Roth IRA, your $100 investment can grow until retirement, at which point you can take tax-free distributions on your earnings.
So, if you don't already have one, an IRA account is a great thing to open sooner rather than later. If you do have an IRA, using your $100 to make a contribution can be a nice way to save for the future.
9. Invest in Books
While not a traditional investment like the stock market, using your $100 to buy some quality non-fiction books is a strategy that's well worth considering.
Even if you don't think of yourself as a bookworm, it's hard to argue the fact that reading a good book can truly change your life. Taking your $100 and purchasing some meaningful books can help you reflect on your own experiences as you work toward being a better you.
Or, if you're interested in learning more about personal finance, business, or entrepreneurship, then buying highly reviewed books on those topics can be an awesome idea. You never know—what you read in a book just might give you the inspiration or insight you need to invest in yourself and your future. Here are a few good book reads for under $100:
The Intelligent Investor (Investing)
Rich Dad, Poor Dad (Investing)
The Little Book of Common Sense Investing (Investing)
The Book on Rental Property Investing (Real Estate Investing)
The Essays of Warren Buffett: Lessons for Corporate America (Investing)
A Random Walk Down Wall Street (Investing)
One Up On Wall Street (Investing)
Principles: Life and Work (Investing)
The $100 Startup (Entrepreneurship)
The 4 Hour Work Week (Entrepreneurship)
Think and Grow Rich (Entrepreneurship)
How to Win Friend and Influence People (Entrepreneurship)
Zero to One (Entrepreneurship)
The Hard Thing About Hard Things (Entrepreneurship)
See Also: How to Invest in Bonds: Diversify Your Portfolio
10. Start a Side Hustle
If you're looking to make some supplementary income, using your $100 to invest in a new side hustle is a superb option.
Depending on your interests, there are dozens of different side jobs that you can do from the comfort of your own home. Whether you're interested in being a blogger, freelance writer, virtual assistant, or part-time bookkeeper, there are plenty of great side hustles out there to consider.
With your $100, you can set up a website for your new business, purchase supplies, or apply for a state business license. It might seem like a small initial investment, but putting that money into your new gig now could lead to a steady, successful career in no time.
11. Invest in a Course
The old adage that knowledge is power might sound cliché. But, there's a lot to be said for the benefits of investing in your learning and education.
Even if school wasn't your thing, there's probably a topic or industry out there that interests you. Whether you'd love to learn more about a more technical subject like finance or you'd like to start a new hobby, like beekeeping, using your $100 to pay for an online course or a class at a community college is a meaningful investment in your satisfaction.
Or, if you're thinking that it might be time to switch careers, investing your money into an introductory coding class or some nursing school prerequisites can help you determine which job path might be best for you.
12. Peer-to-Peer Lending
Peer-to-peer (P2P) lending is all the rage these days, and for good reason: not everyone can access affordable loans when they need them most. This can leave people in difficult financial situations where they have to do things that they'd rather avoid, like putting a major emergency expense on a high-interest credit card.
So, peer-to-peer lending provides you with a way to give back to people in need in your community. You can sometimes also provide loans to support up-and-coming businesses that can't access traditional financing.
Sites like Prosper and Lending Club both allow you to invest as little as $25 into someone else's loan. This means that your $100 can contribute to multiple loans, lowering your financial risk while also earning you some interest in return.
13. Invest in Your Health
We've already talked a bit about the benefits of investing in your own learning and education through books and courses. However, you could also invest in your health.
Putting your $100 toward a gym membership, yoga classes, or a meal plan program could be a meaningful way to make the most of your money while improving your health in the process.
Furthermore, staying active and eating well can help you financially, too. A number of studies have found a correlation between higher rates of activity levels and lower healthcare costs. That means that investing your $100 in your well-being can be good for your health and wallet.
See Also: 12 Best Online Brokers for Stock Trading
14. Invest in Friendships
Finally, it's always worth investing in your friendships. Through thick and thin, our friends are always there by our sides. So, using your hundred bucks to invest in your friends can let them know that you appreciate their presence in your life.
Depending on your situation, there are plenty of great options for investing in your friendships. A thoughtful gift is always a nice choice, as is using that money to make plans for a future trip or weekend getaway.
Or, if physical distance is keeping you and your friends apart, consider planning a virtual movie and takeout night as a group. Select a date, pick a movie, and use a meal delivery service to drop off a tasty takeout dinner at their home.
In a few years, you may not remember the food you ate or the movies you watched, but your friends will remember that you cared enough to invest in your relationship.
Avoid These "Investments"
In this article, we've offered up 14 ways to invest $100. But, all of these investment options take time to grow and flourish, so we often hear about folks that try to look for alternative investments instead.
Since we want to help you make the most of your money, here are some not-so-good investment options to avoid with your hundred dollars:
Penny Stocks
To many investors, penny stocks seem like an enticing prospect: If you have $100, why would you buy 10% of a stock share valued at $1000 when you could buy 100 shares of a stock valued at $1?
Unfortunately, penny stocks are one of those things that's often too good to be true. While it's easy to get lured into the hopes that a penny stock will turn into the next Amazon, these mega-returns are the exception, not the rule.
In reality, penny stocks are almost always a highly speculative investment, which could put you at risk for major losses at any given moment. Therefore, investing in fractional shares of established companies is often better than buying up large amounts of penny stocks.
Gambling
Gambling is an alluring way to make a whole lot of money quickly. But, it's not a great way to spend your $100.
Sure, buying a bunch of lottery tickets or hitting the slots at a local casino could make you some money, but that's far from guaranteed.
Of course, investing in the stock market isn't risk-free either and you can lose money. But with investing, you can create a diversified portfolio that helps provide you with a bit of a safety net during market downturns. With gambling, on the other hand, a single roll of the dice could make your money vanish in an instant.
Get Rich Quick Schemes
Get rich quick schemes sound awesome. You invest a little bit of money upfront, and poof! You instantly become rich.
If these schemes sound too good to be true, it's because they are. Get rich quick schemes generally don't work for anyone except for the person that's trying to sell you on their bogus program. When the scheme fails (as it invariably will), the salesperson will still profit off your payment while you'll be left with a bank account in the red.
Think about it: If it really was possible to become a millionaire overnight, then we'd all be rolling around in cash.
The reality is that building financial stability is a long-term process that starts with small, regular investments into a quality, diversified portfolio. Meanwhile, a get-rich-quick scheme will simply set you up for disappointment down the line.
Final Thoughts
Whether you're looking to break into the stock market or you'd like to learn new skills through an online course, there are plenty of excellent ways to invest $100. With a little bit of foresight and some planning, investing your hundred bucks now could set you up for financial stability or personal satisfaction down the line.
Up Next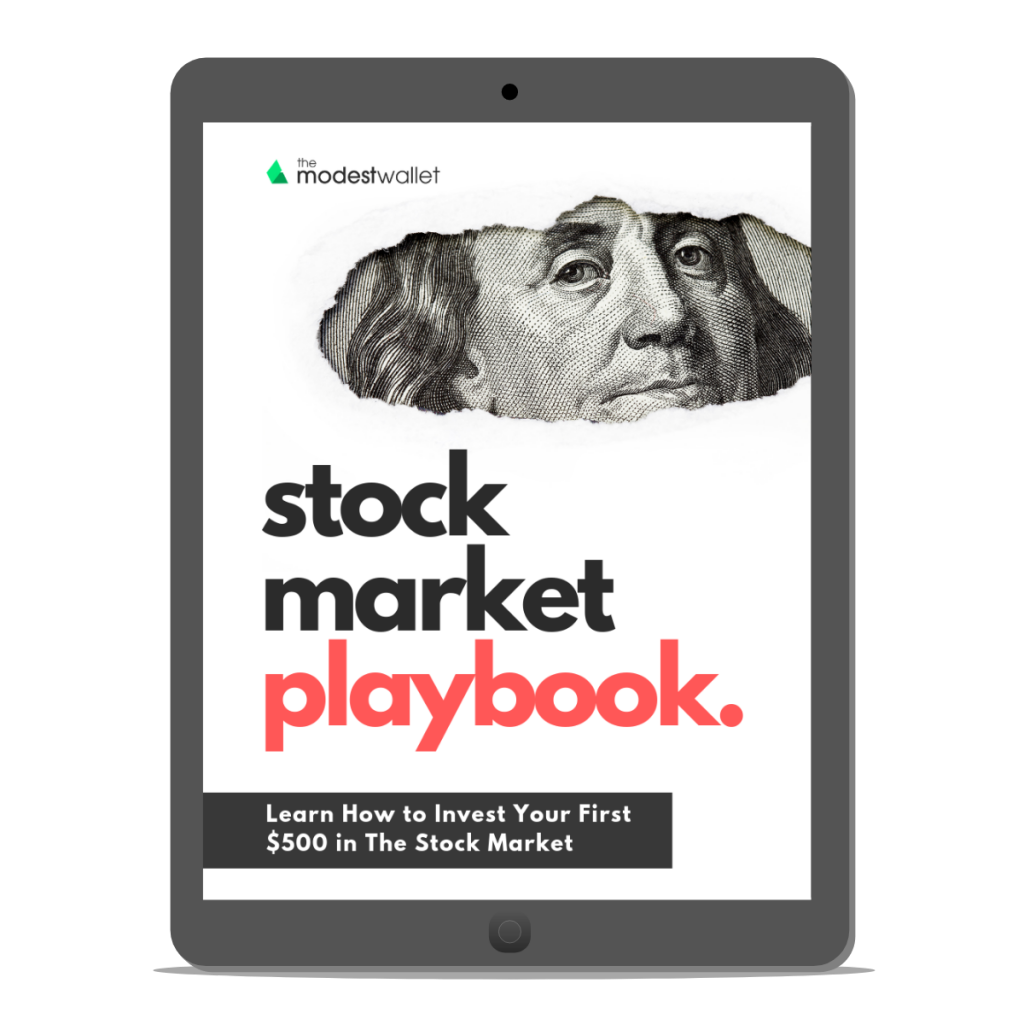 Get our free Stock Market Playbook to learn how to invest your first $500 in the stock market.
Plus our best money tips delivered straight to your inbox.

Gaby is a freelance writer and self-employed business owner with a personal interest in all things finance-related. She has a passion for educating others on how to make the most of their money and loves writing about everything from taxes to crypto.