19 Best Ways to Invest $10,000 in 2023
Many or all of the products featured on this page are from our sponsors who compensate us. This may influence which products we write about and where and how the product appears on a page. However, this does not influence our evaluations. Our opinions are our own. Here is a list of our partners and here is how we make money.
---
The information provided on this page is for educational purposes only. The Modest Wallet is a financial publisher that does not offer any personal financial advice or advocate the purchase or sale of any security or investment for any specific individual.
Have $10,000 to spare and are wondering how you should invest it? We're here to help.
If you recently took a look at your bank balance and found that you have about $10,000 to spare, then you're well on your way toward having a strong investment strategy. But, figuring out precisely how to invest $10,000 isn't easy, especially when you have so many different investment options to consider.
To get you started, we've put together this list of the 19 best ways to invest $10,000. In this article, we'll walk you through a whole host of different methods for putting your money to work so you can make the most of your investments.
19 Best Ways to Invest $10,000
Although you can start investing with as much or as little money as you'd like, having $10,000 to spare puts you in a strong position to create a diversified investment portfolio. With that in mind, here are 19 great ways to invest $10,000:
1. Open a High Yield Savings Account
We know what you're thinking: a savings account isn't an investment, right?
Well, while some folks might not think of a high yield savings account as a traditional investment, it might be a good option for your $10,000. In fact, if you think that you'll need your money within the next 12 months, putting your resources into an FDIC-insured savings account is often your best bet.
That's because the financial markets are volatile. So, purchasing stocks, ETFs, and other securities is usually only a good idea if you're planning on keeping your money invested for more than a few years. Otherwise, you might find that you need to sell your holdings at a loss because you need the cash.
Alternatively, placing your $10,000 in a high yield savings account at an institution like Axos Bank, Discover Bank, or Synchrony Bank can be a solid choice for people with short-term time horizons. Although each bank is slightly different, most offer low (or no) fees, high-interest rates, and easy access to your funds whenever you need them.
See Also: How to Invest in Gold: A Beginner's Guide
2. Invest in Individual Stocks
If you're looking for some potentially high financial rewards, using your $10,000 to invest in individual stocks might be a good move.
That being said, investing in individual stocks does involve risk. But, folks with an interest in learning about market trends and anyone with long-term financial time horizons might find that doing so is perfect for their goals.
Nevertheless, investing in individual stocks requires having a solid online brokerage, such as Public.com or SoFi Invest, both of which have no commission fees on US-listed stocks.
As we've mentioned, though, investing in individual stocks isn't without risk. So, if you're going to do so, it's usually best to diversify your holdings by buying stocks in at least 10 to 15 companies throughout a range of different sectors, geographic regions, and market caps. That way, you can set yourself up for success in the long term.
3. Invest in an ETF
For investors who want exposure to the financial markets without all the research that goes into buying individual stocks, ETFs are a nice alternative.
Like stocks, ETFs are traded on market exchanges. However, they are bundles of different assets, such as stocks, bonds, and commodities and sold as a single entity.
Therefore, buying shares of a single ETF can offer you exposure to a range of different companies, industries, or geographic locations. Investing your $10,000 in multiple ETFs can also help you diversify your asset allocation to help minimize your risk and maximize your potential gains.
As with stocks, though, you'll need an online brokerage to help you buy and sell ETFs. That's where firms like M1 Finance, which offers commission-free ETF investing, come into play. With the right online brokerage on your side, you can research and purchase the perfect portfolio of ETFs to help you reach your financial goals.
4. Invest in a Mutual Fund
When you start investing, the thought of purchasing individual stocks or ETFs can seem a bit overwhelming. Thankfully, there's another option: mutual funds.
Offering a good blend of portfolio diversification and convenience, a selection of mutual funds can be an excellent choice for an investor with $10,000. Indeed, while you'll need to do a bit of research to figure out which funds are best for you, investing in an array of mutual funds using a low-cost brokerage like E*TRADE can pay off big time over the years.
Since mutual funds are bundles of assets that are managed on behalf of shareholders, investing in them can be nice for folks who prefer to take a hands-off approach to investing.
Plus, with tens of thousands of mutual funds out there, you can easily find a handful of funds to invest your money in so that you can minimize your financial risk and maximize your potential profits.
See Also: How to Invest in Index Funds: A Step-by-Step Guide
5. Invest with a Robo Advisor
If managing your portfolio doesn't sound like your idea of a good time, investing your $10,000 with a robo advisor is a worthy choice.
Unlike traditional self-directed investment accounts, robo advisor accounts, like those you can find at Betterment, are managed on your behalf. These accounts are designed to invest your money based on a combination of your financial goals, risk tolerance, and time horizon. They then use advanced algorithms to automatically adjust your portfolio as needed.
At the same time, robo advisor accounts often cost just a fraction of what you'd pay to a human advisor. So, they can help you make the most of your $10,000 investment without the need to shell out hundreds of dollars in management fees each year.
6. Invest in Bonds
Although there's no such thing as a completely risk-free investment, bonds are often considered to be some of the least-risky investment vehicles available.
Bonds, which are effectively official IOUs from a government or corporation, are fixed-income instruments with a relatively small amount of volatility. As a result, using all or part of your $10,000 to invest in some bonds can be a superb choice if you don't like financial risk.
When it comes to investing in bonds, you have plenty of options to choose from. Government bonds from stable, reliable organizations like the US Treasury tend to be considered the gold standard in terms of minimizing risk, though they also come with less opportunity for reward.
In reality, no bond investment strategy works for everyone. But, using some of your assets to purchase a diverse range of bonds can be a solid way to add passive income to your portfolio.
7. Maximize Your 401(k) Contributions
If you currently work for an organization that offers 401(k) retirement benefits, you may already have an ideal investment strategy.
For many people, 401(k)s, which are a type of employer-sponsored retirement fund, are the perfect long-term savings tool. That's because many 401(k) plans offer employer matching, which means that your employer will match all or a portion of your annual contributions with their money.
Here's how it works: If your employer offers 50% matching, they'll contribute an additional 50% to your 401(k) on top of your contributions. So, if you were to contribute $10,000 of your funds, your employer in this situation would tack on an extra $5,000. That's free money!
Plus, 401(k)s are tax-deferred accounts, so you'll get a tax break now on any qualified contributions. Then, your earnings will grow tax-free until retirement. What could be better?
8. Open and Contribute to an IRA Account
Want to save for retirement but are feeling a little bummed that your employer doesn't offer a 401(k)? We have good news for you: You can put part of your $10,000 toward an individual retirement account (IRA), all without the need for a workplace-based plan.
Most US residents with earned income can open an IRA. Doing so gives you access to a tax-advantaged retirement account that you can contribute to at any time with your money.
Depending on your income level, you can even choose between a Traditional IRA, which gives you tax breaks now with deferred taxes on earnings at retirement, or a Roth IRA, which doesn't offer tax breaks but allows for tax-free distributions at retirement. You can also look at self-directed IRAs if you want to manage the account yourself.
Do note, however, that most individuals can't contribute more than $6,000 to their IRAs each year (as of 2021). So, an IRA can be a fantastic option for investing part of your $10,000 but you'll still have a few thousand left to spare on some of our other great investment options.
See Also: 15 Ways to Invest $1,000
9. Invest in Real Estate (REITs)
Real estate has long been a source of passive income for investors. However, until relatively recently, profiting off of real estate was the realm of the rich.
Thanks to new investment vehicles, such as Real Estate Investment Trusts (REITs), making passive income off of real estate has never been easier. What's more, companies like Fundrise have made real estate investments as accessible as possible.
With Fundrise, you can diversify your portfolio by adding real estate into the mix. Due to the firm's $500 investment minimum, anyone with $10,000 can purchase shares in one of the company's different REITs, which are bundles of different income-producing real estate holdings.
Like any investment, REITs aren't risk-free, nor do they have guaranteed returns. But, they do make it easy to gain exposure to a different asset class with a high potential for growth in a balanced portfolio.
10. Peer-to-Peer Lending
Interested in helping others while making money at the same time? Peer-to-peer lending just might be what you need.
With peer-to-peer lending platforms like Prosper, you can put your $10,000 to good use. These platforms let you contribute money to various personal and business loans. These loans go directly to individuals who need affordable financing but can't access loans at a bank.
In exchange for your investment, you earn interest on the capital that you put toward someone's loan. When the loan matures, you receive your initial investment back, too. So, peer-to-peer lending can offer returns of about 4% to 12% with relative ease.
Of course, you can lose money through peer-to-peer lending if the loan holder defaults. As a result, it's important to invest small amounts in multiple loans to minimize your exposure to high-risk loans. It's also best to use peer-to-peer lending as a part of a larger portfolio—rather than as a stand-alone investment strategy—to help maximize your earnings.
11. Contribute to Your Emergency Fund
If you don't already have an emergency fund, contributing some or all of your $10,000 toward your fund is a wonderful choice.
Why? Well, life happens and you never know when you'll find yourself in a tough financial situation.
Whether that's the loss of a job or a major car repair, having enough money on hand to pay for an unexpected expense is a must. Otherwise, you might find yourself paying off debt for years to come.
As a general rule, it's best to have at least six month's worth of expenses stocked away in an emergency fund for when things don't quite go to plan.
Building up this amount of money can take time, but if you have $10,000 to spare, contributing to your emergency fund should be a priority. Once you have enough stashed away, you can get to work with building your investment portfolio.
12. Start a Business
Starting a business can be an incredibly rewarding thing to do. Indeed, being your boss and following your passion can be a sure path to an enriching career.
That being said, starting a business often requires a bit of capital. So, if you have $10,000 to spare, putting that money toward your next career is a great way to invest in yourself.
Depending on your occupation, you may need to use your money to buy supplies or to rent a storefront. Either way, your initial investment in your business can pay off big time in the future.
See Also: 14 Ways to Invest $100
13. Start a Blog
For the more entrepreneurial among us, using part of your $10,000 to start a blog might just be the perfect next career step.
While many folks use blogs as a way to share personal experiences and stories, establishing a professional blog on a niche topic, like photography or DIY home improvements, can be personally fulfilling. Plus, thanks to digital advertising and affiliate programs, you can often use blogs to turn a profit, either as a side hustle or a full-time gig.
Now, you might be asking yourself: "Do I really need to spend $10,000 to start a blog?"
Although this might seem like a princely sum of money to spend on a website, making a professional-looking blog is no easy feat. You will likely need to pay for basics like a domain name, as well as services like website development, marketing, and even content writing to help get your site up and running.
But, if you're passionate about a hobby or a niche topic, starting a blog to help others learn more about your favorite industries is an enriching experience.
14. Invest in Bitcoin
Investing in cryptocurrencies like Bitcoin is all the rage these days and for good reason: from March 2020 to February 2021, Bitcoin soared in price from $5,000 to $50,000. Talk about impressive returns!
That being said, Bitcoin and other cryptocurrencies are still highly speculative investments. So, anyone trading crypto needs to be very comfortable with taking a major financial risk, especially since crypto markets aren't regulated like other securities.
It's worth mentioning that it's best not to put more than 5% of your assets into cryptocurrencies. As crypto is highly speculative, allocating more than 5% of your assets to Bitcoin might expose you to major losses.
So, putting $500 or so of your $10,000 into crypto and the rest into assets like stocks and ETFs could be a solid choice.
15. Pay off Consumer Debt
Using your $10,000 to pay off consumer debt might not be as exciting as trading stocks, but doing so is essential for your financial well-being.
If you're paying interest rates of 20% on your credit card, your money is better spent paying off your debt than it is buying bonds. That's because consumer debt interest piles on incredibly fast, dragging your finances down with it.
So, use your $10,000 to lower or eliminate your current consumer debt. Doing so might not feel like an investment now, but you'll be happy that you got your debt under control before you start trading on the stock market.
See Also: 12 Best Ways to Invest $5,000
16. Fix up Your Home
Owning a home isn't always easy, but it can be a rewarding experience. Plus, if you play your cards right, owning a home can be a great way to build up equity and turn a profit when it comes time to sell your house down the line.
If your home needs a facelift, doing so is often a worthy place to invest your $10,000. Since the return on investments is often quite high with home repairs, putting your money toward a new kitchen or a new roof could help you fetch a better closing price when you sell your home.
Home repairs are long-term investments. Unless you sell your home soon, the money you put into repairs now won't be accessible for many years. But, when you do sell your home, your $10,000 investment might net you an extra $20,000 or more.
17. Fund a 529 Account
Do you have children, grandchildren, or other young people in your life? Then a 529 college savings plan might be what you need.
Named after the section of the US code that brought them into law, 529 accounts are a way for anyone to help a young person save for their future education.
This is how it works: You can set up a 529 for pretty much any beneficiary. Then, you can contribute up to $15,000 each year (as of 2021) to a plan for that beneficiary without a tax penalty.
If those funds are used to pay for qualifying educational expenses like tuition, they are completely tax-free. So, starting a 529 for a loved one with your $10,000 is an excellent way to give the gift of education.
18. Fund an HSA Account
Let's face it: Healthcare can be expensive, so finding a way to save for future medical costs is important.
Luckily for you, if you currently have a high deductible healthcare plan, you're likely eligible to open a Health Savings Account (HSA).
HSAs are tax-advantaged investment accounts that allow you to save money for medical expenses. As of 2021, you can save $3,600 to $7,200 per year of pre-tax dollars in an HSA, depending on your insurance plan.
The best part? HSA funds can be invested and they grow tax-deferred. Plus, if you use your funds for qualifying medical expenses, your earnings are completely tax-free. Therefore, HSAs can be a great part of any investment strategy.
19. Start a CD Ladder
For risk-averse investors, a CD ladder is a popular choice. While CDs, or certificates of deposit, have become less popular in recent years, they are a superb investment tool for people who want an FDIC-insured place to put their money.
Like high yield savings accounts, CDs have interest rates that help you earn passive income. But, with CDs, you earn interest on your capital for a set period until that CD matures.
Since longer-term CDs usually have better interest rates, you'll get more of a return with these investments than with short-term options. But, long-term CDs lock your money away for longer, so you may choose to invest in a CD ladder, instead.
To do so, you'll split your capital into CDs of different maturity dates. For example, you could put $2,000 each into one, two, three, four, and five year CDs. Then, as each CD matures, you can reinvest the funds into a new CD for added interest. Over time, you can build a robust CD strategy that provides passive income for years on end.
See Also: How to Invest in ETFs: A Step-by-Step Guide
Final Thoughts
If you have $10,000 to invest, congrats! You're well on your way toward building a solid investment portfolio or toward building up your financial safety net.
However, everyone's financial goals are different, so there's no single best way to invest your money. Whether you plan to start a new business or open a retirement account, we hope this article helped you figure out how to invest $10,000.
Up Next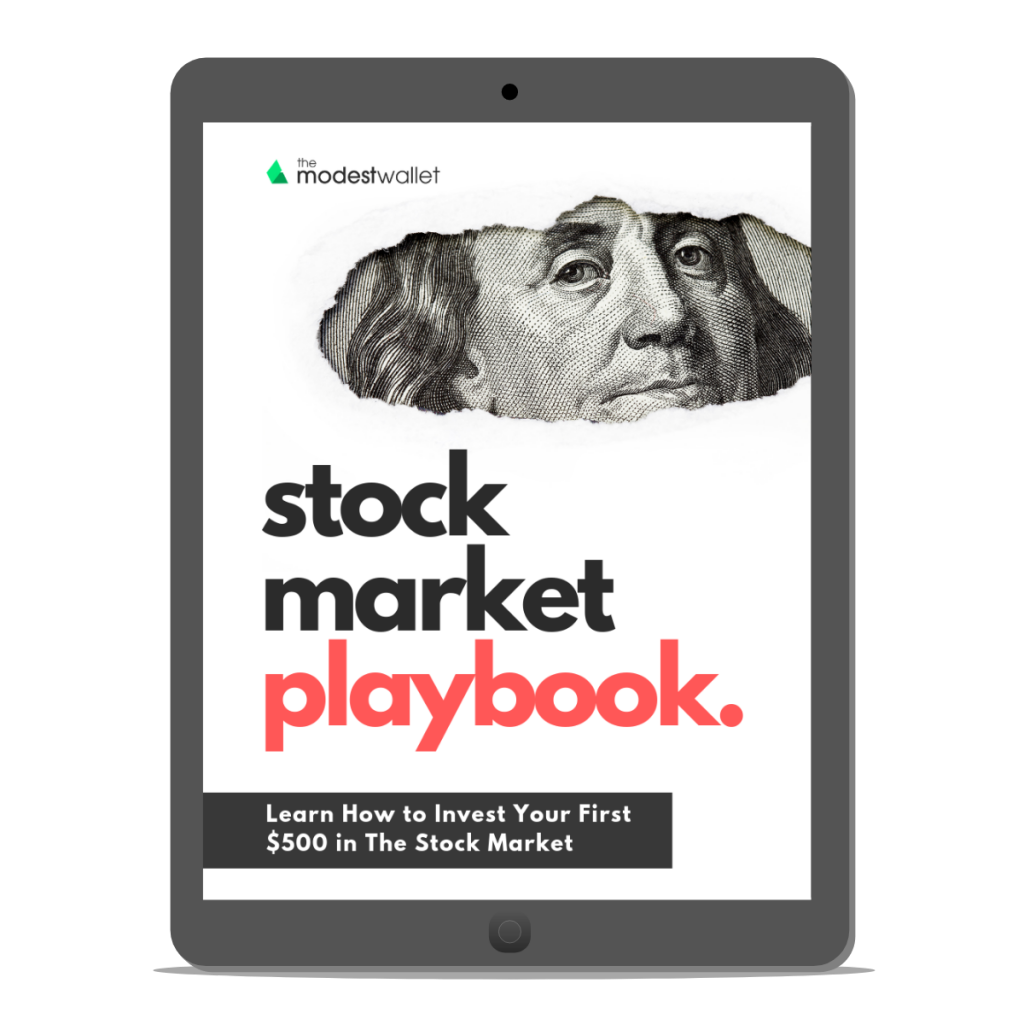 Get our free Stock Market Playbook to learn how to invest your first $500 in the stock market.
Plus our best money tips delivered straight to your inbox.

Gaby is a freelance writer and self-employed business owner with a personal interest in all things finance-related. She has a passion for educating others on how to make the most of their money and loves writing about everything from taxes to crypto.