23 Ways To Make $5 Fast In 2023: Instant Cash
Many or all of the products featured on this page are from our sponsors who compensate us. This may influence which products we write about and where and how the product appears on a page. However, this does not influence our evaluations. Our opinions are our own. Here is a list of our partners and here is how we make money.
---
The information provided on this page is for educational purposes only. The Modest Wallet is a financial publisher that does not offer any personal financial advice or advocate the purchase or sale of any security or investment for any specific individual.
In a world where inflation seems to be going out of control and people are paying way too much for daily necessities, finding ways to make extra money is more important than ever.

Whether you are saving up to pay off some debt, save up for a vacation, or simply free up some extra spending money, there are a number of great ways for people to make money fast.
From rewards platforms and product testing to freelance work and online selling, opportunities are plenty; you just have to know where to start.
In this article, I will be highlighting the best ways to make $5 fast right now. Nothing wrong with some instant cash!
---
Best Ways To Make $5 Fast
Although there is a wide variety of ways to make a fiver, some will definitely be more accessible and effective than others. Here are some of the best ways to make $5 fast.
1. Take Paid Online Surveys
Various online rewards platforms and market research companies provide a way for brands and organizations to connect with the general population to collect opinions and information through online surveys.

Platforms like Branded Surveys, Survey Junkie, and KashKick offer users the opportunity to participate in consumer surveys in exchange for points that can be redeemed for cash. Points are paid out based on the estimated time to complete each survey. Survey times typically range from 1 or 2 minutes to upwards of 20 minutes.

To get started, sign up for an account on one or more of these online survey delivery platforms by providing some basic information that will help match you with relevant surveys. Start taking surveys when you have some extra time, and accumulate points in your account.
When you have reached the cashout threshold for the particular platform (typically $5 – $10), you can redeem your points for cash in the form of a gift card, bank transfer, or PayPal deposit (payout methods vary between platforms).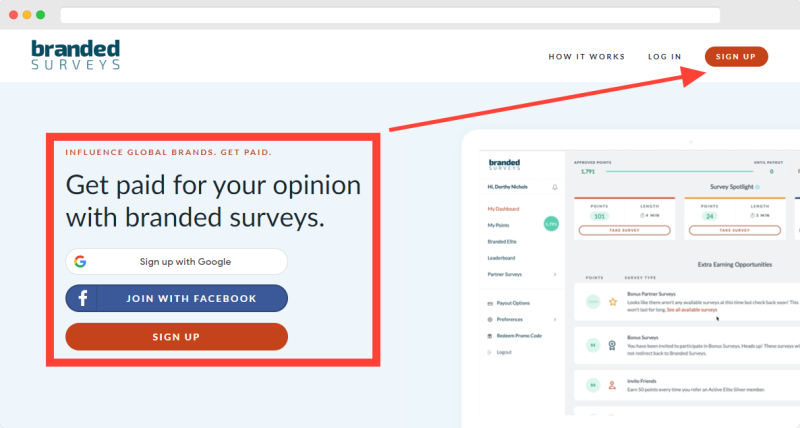 2. Play Games For Cash
If you are someone who enjoys mobile gaming and gaming apps, there are some great opportunities to play games for cash and make $5 fast.

Apps like Bingo Cash, Solitaire Cash, Blackout Bingo, and Bingo Win Cash have taken traditional games that have been played for decades and remastered them into modern app games that people can download and play on their phones.
It is important to remember that making money with these games is typically accomplished by competing against other players online, so a significant level of skill and strategy is required to succeed.

Let's take Bingo Clash, for example. Here is how players can earn money:
Participate in Bingo games against other players, each of which is given a virtual Bingo card with random numbers. Each game has multiple players in it, and the first player to complete a winning pattern on their card wins the round.
Cash prizes are awarded based on your placement amongst other players. Payouts are determined by the number of participants and the entry fee for the competition itself.
Winnings are awarded when a game or tournament has been completed. Withdrawals can be made via a PayPal account, with a minimum cash-out threshold of $2. Withdrawals under $10 are subject to a $1 processing fee.
3. Use Cash Back Apps
Cash back apps like Ibotta, Dosh, Rakuten, and Shopkick provide a super simple and easy way for people to make $5 fast.
These apps are designed to reward users for making typical purchases through a cash-back marketplace. Your job is to surf through participating retailers to find purchases that qualify for cash-back rewards.

Everything from groceries and cleaning products to technology and appliance purchases can potentially qualify for cashback rewards. Customers will receive anywhere from 1% to upwards of 20% cash back on qualifying purchases.

Once you have accumulated enough cash back on your account, redeem it for a gift card, PayPal deposit, or bank transfer (payout options will depend on the platform). The minimum cash-out threshold varies from app to app — Rakuten is $5, Ibotta is $20, Dosh is $25, and Shopkick has a $5 cash-out minimum.
4. Get Paid To Watch Videos
Another instant cash strategy you can use to make $5 fast is getting paid to watch videos through apps like InboxDollars and iRazoo. These rewards platforms pay users for participating in a variety of activities, including watching short videos.
To get started, simply sign up for an account, navigate to the video content category, and start watching videos. Each video will pay out a certain amount of points, the amount of which is directly related to the length of the video — longer videos will pay more than short videos.
When you have accumulated enough points by watching videos, redeem your points for a PayPal deposit, check, or gift card. The minimum cash out is $5 for both InboxDollars and iRazoo, but the available payment methods may differ.
As an added bonus, InboxDollars offers a $5 welcome bonus just for joining the platform, so making $5 is just a matter of plugging in your email address.
5. Sell Unused Gift Cards
Sell your unused gift cards to make a quick $5 by taking advantage of platforms like Raise. Why leave money sitting around on gift cards you have no use for? Cash those babies in.
Raise offers an online marketplace designed specifically to help people buy and sell unused gift cards in no time. Get started by creating an account and listing your gift cards by providing the details for each card (brand, value, other relevant info). Raise has a great guide for new sellers.
Set your selling price and wait for a buyer to swoop in and purchase a gift card. Raise facilitates the transaction process, and sellers receive their payment immediately thereafter (minus a 15% commission fee taken by Raise).
Choose to have your earnings paid out by way of direct deposit to a linked bank account, PayPal deposit, or mailed check.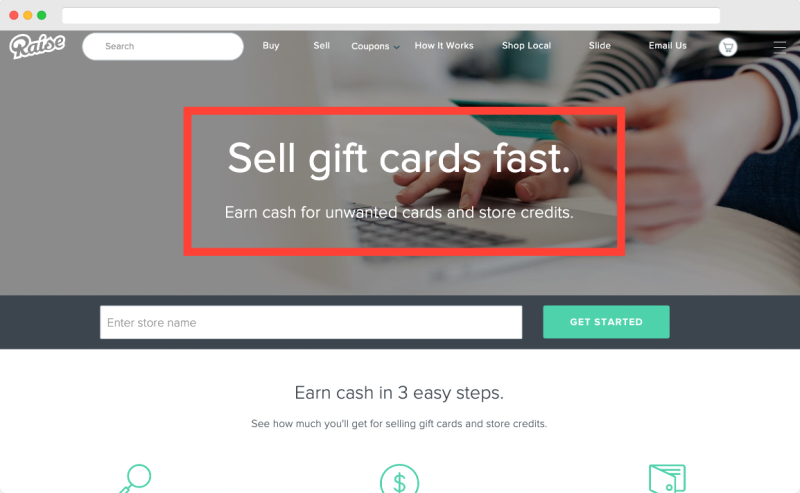 6. Deliver Food
If you have access to a vehicle of some sort (e.g., e-bikes, bicycles, and scooters count), you can consider delivering food as a good way to make some quick cash. Apps like Uber Eats and DoorDash are food delivery platforms that offer awesome gig working opportunities for people to deliver food and earn on a self-employed basis.
Get started by registering as a driver with the platform of your choice, this will require a background check, proof of valid driver's license, and a number of other verification steps. Once you are all set up and ready to go, you will be able to work when you choose.

When you are on the clock, use your mobile app to receive delivery requests, review order details, and navigate to the correct location to deliver to your customers. Earnings are tracked through the app, and payouts are typically made weekly by way of a direct deposit to a linked bank account.
You can easily make $5 with just one delivery.
7. Deliver Groceries
Maybe you would rather deliver groceries instead of food; that is also an option made possible by grocery delivery service platforms.

Instacart and Shipt are two of the most popular grocery delivery apps that are currently operating in the United States. They provide a simple and easy way for people to have their groceries collected and delivered straight to their door.
Delivery drivers are a necessary part of this service, and as a result, there are opportunities for people to work for Instacart, Shipt, or similar companies on a gig working basis.
If you want to start with Instacart, sign up as a driver through the mobile app or website. You will need to complete a background check and provide some other verification information.
When you have completed the registration process, you can set your availability and start working. Receive notifications for grocery deliveries in your area, accept an order, pick up the order from your local Instacart-partnered grocery store, and deliver it to the specified location.

Delivery drivers are paid a base rate for each delivery and any tips provided by the customer. They also provide incentives and other payment promotions for good performance and working during peak hours.
Instacart typically pays its drivers on a weekly basis by way of direct deposit. Similar to food delivery, you can also make $5 easily by delivering groceries.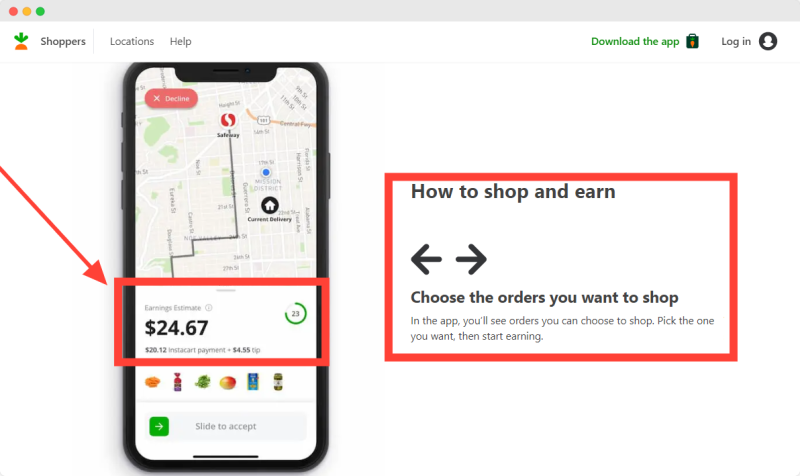 8. Deliver Packages
Delivering packages is another great way to make some quick cash. Programs like Amazon Flex, for example, provide gig working opportunities for people who can deliver packages on behalf of Amazon using their own vehicle.
If this sounds like something you would be interested in doing, here's how to get started delivering packages with Amazon Flex:
Sign up for an Amazon Flex account through the website or by downloading the Amazon Flex mobile app.
Pass a background check, provide proof of a valid driver's license, and meet any other eligibility requirements (i.e., age, location, etc.)
Set your availability through the Amazon Flex app — choose the dates and times that you will be able to deliver packages; scheduling is all up to you.
Receive notifications through the app about available delivery blocks (time slots) in your area. These will range from a couple of hours to a full day of deliveries.
Accept a delivery block, and you will be provided with a list of packages and a delivery route. Use the app to navigate to your package pickup location, confirm the accuracy of your items, and then travel to each of your drop-off destinations.
Amazon Flex pays delivery drivers mainly through a base rate per delivery block, which is determined by the number of packages delivered and the length of the delivery route. Drivers can receive tips from customers as well.
Amazon Flex pays drivers on a weekly basis by way of direct deposit to a bank account.
9. Get Paid To Search The Web
Make $5 fast simply by searching the web as you would any other day, but with the ability to earn cash. Swagbucks is a popular rewards platform that pays users in Swagbucks (SB) for participating in a variety of different tasks and activities on their platform.
One such way to earn Swagbucks is by performing web searches through Swagbucks and their Yahoo! integrated browser instead of the browser you normally use. You will earn Swagbucks that are credited to your account randomly as you carry out searches through the Swagbucks browser.
When enough points, or in this case, Swagbucks, have been accumulated to proceed with a cashout, redeem them for gift cards or a PayPal deposit. The minimum cash-out threshold is $5. It is also important to note that a daily cap on Swagbucks may be earned through searching.
10. Walk Dogs Or Pet Sitting
Platforms like Rover and Wag! make it possible for people to make some fast cash walking and/or taking care of other people's dogs, cats, and other pets.

If you are a responsible caregiver who enjoys spending time with animals, why not consider taking on a side hustle as a dog walker or pet sitter? Getting started is simple, and you'll be on your way to making that first $5 in no time.

Sign up with an account as a caregiver on Rover or Wag!, set your schedule and availability, and start receiving job inquiries from customers right away. Both platforms provide a messaging system within their app that allows people to communicate and arrange jobs.
Rover holds payments for 48 hours after a service has been completed, at which point you can request a payout by way of direct deposit or PayPal deposit, which usually takes 2 – 5 business days. Wag! offers weekly payouts that cover all services rendered from Monday through Sunday of a specific week and are received by way of a Stripe account.
11. Make $5 Or More By Selling Your Jewelry
Sell some of your old or unused jewelry to make $5 fast and potentially a whole lot more, depending on the quality of your jewelry.
Worthy is a platform specializing in helping people sell their jewelry quickly while getting the value they deserve. They have your items professionally evaluated, appraised, and photographed before listing them on their marketplace for auction-style sale.
To start selling your jewelry on Worthy, visit the Worthy website and submit the details for the item(s) you want to sell via the item form. Once your initial evaluation has been completed and your item has been approved for auction, you will ship your item to Worthy's facility for further evaluation and preparation for auction.
Worthy lists your items on their auction platform, where pre-screened buyers can bid for a certain period of time. When the auction has been completed, you can choose to accept or decline the highest bid price. Accepted offers are paid out by way of bank transfer, and declined offers result in the item being shipped back to the seller.
12. Make Money Driving
For those who own a vehicle of their own or have consistent access to a vehicle, making money driving others is a legitimate way to make some extra cash. The rideshare industry is booming, and with it comes more opportunities for people to earn an income driving.
Ride-sharing platforms like Uber and Lyft have made these driving opportunities more accessible than ever before. Drivers can now sign up for a driver account and start working that same week.

To get started as a rideshare driver, choose a platform through which you would like to operate your business (you can choose more than one if you like), and sign up as a driver. You will need to complete a number of preliminary steps to successfully register (identification, driver's license verification, background check, etc.).
When you are all set up, download the mobile app, as this is where you will set your availability and keep track of everything from active jobs and navigation to earnings and payouts. Receive a notification when someone near you needs a ride, complete the job, and receive your earnings right away.

Drivers are typically paid via direct deposit on a weekly basis, but this will depend on the platform.
13. Make $5 Or More Selling Your Stuff
Take advantage of your stockpile of stuff by selling some of the things you don't need to make some quick cash. Platforms like Poshmark, Mercari, ThredUp, Decluttr, and OfferUp have been created to help people sell their stuff to buyers worldwide.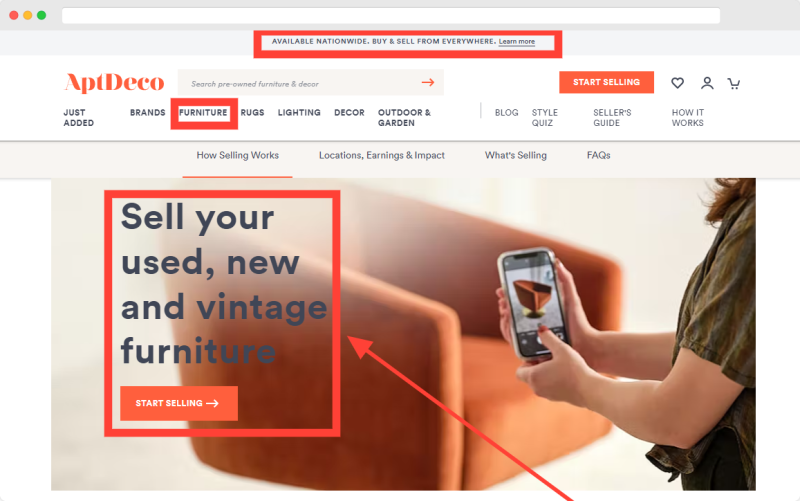 14. Rent Out Unused Space
Another great way to make $5 fast right now is by renting out your unused space. If you have an empty garage, shed, storage locker, shipping container, or other empty space, consider renting it out for some quick cash.
Neighbor is a peer-to-peer self-storage marketplace that has been created to help people who are in need of storage space with locals who have space for rent. This is a great alternative to traditional storage facilities and the often inflated rent prices that they charge their renters.

Start renting your space on Neighbor by signing up as a "host," creating a listing that describes your space, and setting the space's availability and pricing. Upload clear photos that accurately display the space and its features.
When your listing is live, you will receive inquiries from potential renters through Neighbor's internal messaging system. Respond promptly and arrange a time to meet when the renter is ready to move in.
Neighbor facilitates all of the transactions between the host and renters. When a payment is processed, they will take their commission (4.9% of earnings) and then pay the host by way of direct deposit to a linked bank account.
15. Test Products For Cash
Companies often seek to gather consumer data and opinions through the use of product testing programs. This is a great way to make some extra cash and get your hands on cool new products for free.
Platforms like UserTesting, UserCrowd, and uTest make this possible by connecting product testers with companies who are actively seeking consumers to test products.
UserTesting: Get paid to test websites, apps, and digital products and provide feedback geared towards improving user experience.
UserCrowd: Get paid to provide your opinion on websites and apps and complete other opinion-focused microtasks.
uTest: Test different software apps and websites for companies and get paid.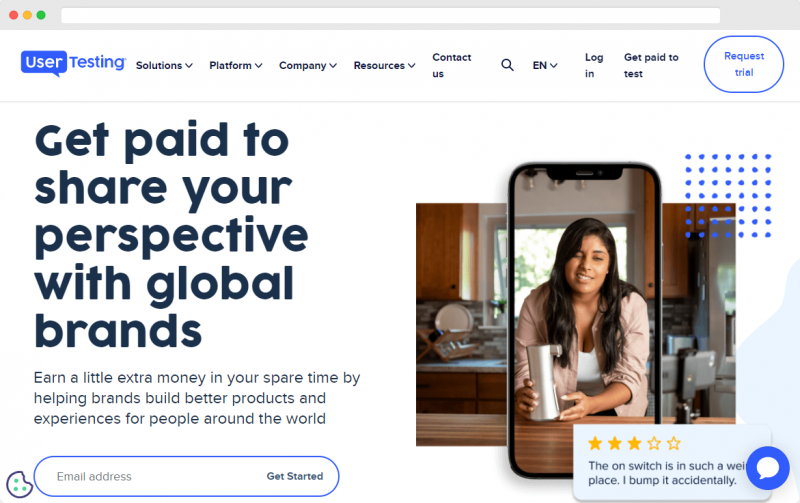 16. Get Paid To Run Errands
Another easy way to make $5 fast is by getting paid to run errands for others. Platforms like TaskRabbit make it easy for people to get help with their errands quickly and for a fair price.

Start running errands on TaskRabbit by signing up for an account and filling out a profile highlighting your experience, availability, and skills. When you are selected for a task, communicate with customers via the in-app messaging system.

Arrive at the specified destination, and complete the errands that were discussed previously. TaskRabbit handles the payment process to ensure security and pays out via direct deposit, typically a few business days after completing the task.
17. Cut Unwanted Subscriptions
Cutting out unwanted subscriptions and finding ways to save money on recurring bills is a great strategy that can leave you with a significant amount of extra cash to use on other things.

Thanks to platforms like BillTrim and Rocket Money, people can learn how to cut down on subscription fees and bill payments, consolidate debt, and get help taking action to generate some extra spending money.
BillTrim: Financial service that helps people save money on monthly bills like internet, cable, mobile phone, and utility bills. They will analyze spending to find saving opportunities and even negotiate with service providers on your behalf.
Rocket Money: A financial service that offers people access to many features, including personal loans, but their flagship feature is bill negotiation and subscription cancellation to help you save money.
18. Rent Out Your Car
Yet another great way to make some extra cash is by renting out your car to people who need a temporary method of personal transportation. If you have an extra vehicle sitting around, or maybe you aren't using your primary vehicle for a period of time, consider renting it out to create some extra income.
Platforms like Turo and Getaround have been created specifically to help connect people with available vehicles with those who need a car to rent.
Turo's car-sharing platform, for example, is quite popular in the Americas, as well as in the UK and Australia.
Here is how renting your car out with Turo works:
Create an account and list your car on Turo's marketplace for free. Verify your identity, register vehicle information, provide photos, and set your vehicle's availability.
Define your pricing and outline any ground rules you have for guests when they use your vehicle.
When a guest books your vehicle through the Turo app, coordinate with them to hand over the keys.
When the trip has concluded, and the keys have been returned to the host, earnings for the rental are processed.
Payments are made via direct deposit within three days of a completed trip. Any fuel or mileage that exceeds the limit that was determined in advance is reimbursed by Turo. You can make $5 and more passively and relatively easily.
19. Sell Your Old Textbooks
Sell your old textbooks and other books you no longer use to make $5 fast. Why not cash in on the books you paid good money for instead of tossing them in the trash — better for your wallet and the environment?

Websites like BookScouter and SellBackYourBook.com have been created to help people get cash for their old textbooks. Getting started is as simple as providing your book's ISBN and then proceeding with the selling process, which can differ between platforms.
The selling process on Bookscouter is as follows:
Browse through over 30 buyback vendors
Compare prices between vendors
Sell your book for the highest available price
The selling process on sellbackyourbook.com is as follows:
Enter your book(s) ISBN
Receive a cash offer
Accept the offer and ship your book(s)
20. Sell Your Skills
Gig work is becoming more of a credible and effective way for people to sell their skills online and create a new source of income. Fiverr and Upwork are reputable gig working marketplaces that are used by millions of buyers and sellers worldwide.

If you have a skill that you want to monetize, taking advantage of platforms like Fiverr and Upwork is a fast and easy way to do it. They provide a way for new freelancers to skip the client acquisition phase and connect with a massive customer base right off the bat!

Let's say you wanted to sell your skills on Fiverr. Here's how to get started:
Sign up for a Seller account and create a profile that highlights your skills, experience, and specific industry expertise if applicable.
Create a "gig," which is a specific service you offer your customers. This is where you give them service details, such as your deliverables, project timelines, and prices.
Once your gig has been published and goes live, you should promote it through different media channels like Facebook and Twitter to attract some attention. Respond promptly to an order or inquiry and provide the best possible service.
Offering your skills as a service is an easy way to make $5 fast.
People can also consider the passive sharing of their data as a way to make some quick cash. Platforms like Honeygain and Nielsen allow users to do just that — share their data in exchange for cash rewards.
Honeygain: Honeygain is a service that gives people the opportunity to share their extra internet bandwidth with the Honeygain network. Install the app on your device, and let it run in the background while you earn credits that can be converted into cash rewards.
Nielsen: Nielsen is an audience measurement and data analytics firm that measures consumers' behavior across various platforms. They offer programs that pay users to allow them access to data about their online data usage, browsing activities, and media consumption.
22. Turn Your Car Into A Billboard
Turn your car into a billboard and get paid to advertise different brands while you regularly drive. There are programs that pay car owners to apply decals, vinyls, or full-on wraps to the exterior of their cars, which will function as moving advertisements.
Car advertisements can be short-term or long-term and will have different payment plans and other requirements included by the brand or advertiser.
If this sounds like something you would be interested in doing, I recommend checking out Wrapify and Carvertise. These companies specialize in the car advertisement industry and serve to connect advertisers with car owners who want to advertise on their vehicles.
23. Sell Empty Cans & Bottles For Cash
Last but not least, selling empty cans and bottles for cash is a good way to make $5 fast. I did this as a kid, gathering up all of the empty bottles and cans from my parents' weekend cookout and exchanging them for cash to hit the dollar store.

Nowadays, people can bring their empty beverage containers made of glass and aluminum to a recycling center or redemption facility and get cash in return. In some cases, supermarkets or other public centers will have a can and bottle redemption area for people to do this.

Gather up empty bottles and cans and return them for some extra cash. Do some good for your wallet while also helping to maintain our environment.
---
FAQ On How To Make $5 Fast
Here are the answers to some frequently asked questions in regard to how to make $5 fast.
How Can I Get Free $5 Instantly?
There are a variety of ways to get a free $5 instantly, some of which we have discussed in this article. It is important to remember that there will typically be some sort of participation or effort required to claim your cash.
This can include signing up for referral programs, participating in short surveys, or taking advantage of promotional offers.
How Can I Get $5 Instantly On PayPal?
There are a number of potential strategies to get yourself $5 instantly on PayPal. Consider online survey platforms like Swagbucks and Survey Junkie, microtask platforms like Amazon Mechanical Turk, or cashback apps that pay you to shop.
Most of the time, these platforms will pay their users by way of a PayPal deposit, with a minimum cashout of $5.
What Are The Best Side Hustles To Make $5 Fast?
Some of the best side hustles to make $5 fast include micro-tasking, freelance work on gig working platforms, answering surveys, selling items online, and product testing.
What Is The Best Way To Make $5 In One Hour?
Depending on your skills and motivation, things like providing freelance services, participating in surveys and market research programs, providing delivery and ridesharing services, and online tutoring are some of the best ways to make $5 in one hour.
How Can I Make $5 Fast As A Kid?
Make $5 fast as a kid by doing things like selling handmade crafts or art, offering to do chores for family, friends, and neighbors, having a garage sale, offering pet care services (walking, grooming, etc.), and collecting cans and/or bottles to exchange for cash.
---
Final Thoughts
There are so many great ways for people to make some extra cash and put it towards things like paying off debt, saving for a vacation, or simply having some extra spending money to live on.
In this article, I have highlighted the best ways to make $5 fast right now and provided insight into how to get started if there is something that you find is worth trying.
Consider all of the different options we have discussed and your skills and aspirations to find out what may work best for you. From freelance work and online sales to pet sitting, product testing, and even renting out your car — there are opportunities for everyone.
I hope you have found the information you came looking for. Thanks for reading.
Get our free Side Hustle Handbook with the best strategies to multiply your income sources today.
Plus our best money tips delivered straight to your inbox.

Rhys is an online content writer & editor, student of decentralized finance and amateur botanist. He loves playing video games with his friends, learning new songs on the piano, and spending time in the sun with his dog Levi.