Many or all of the products featured on this page are from our sponsors who compensate us. This may influence which products we write about and where and how the product appears on a page. However, this does not influence our evaluations. Our opinions are our own. Here is a list of our partners and here is how we make money.
The information provided on this page is for educational purposes only. The Modest Wallet is a financial publisher that does not offer any personal financial advice or advocate the purchase or sale of any security or investment for any specific individual.
Although it's difficult to define "the metaverse," many businesses, banks, and governments see massive potential for this technology. Indeed, a recent Citi report suggested the metaverse could become a $13 trillion industry. Major investment firms like Fidelity offer Metaverse ETFs, and Facebook changed its brand identity to reflect its metaverse push. Even countries like South Korea set aside millions of dollars to research the potential of the metaverse.
While the metaverse is still evolving, many people are already speculating on this potentially groundbreaking technology. If you're interested in making money from the metaverse, consider a few of the ideas below.
---
How To Make Money In The Metaverse
You need a game plan and a few Web3 tools to make the most out of the metaverse. Taking the time to define your metaverse goals will increase your odds of success.
Step 1: Decide On A Way To Make Money In The Metaverse
Since there are limitless ways to earn money in the metaverse, you first need to decide how you want to invest in this sector. An easy way to narrow down your options is to ask whether you're interested in a passive or active metaverse strategy.
How much time could you put towards your metaverse endeavors? Are you interested in using the metaverse as a "side hustle" or a passive income stream? Knowing up front how much energy you're willing to commit to the metaverse will help you find a suitable option.
After deciding whether you want an active or passive method, you should figure out how much capital you want to set aside for metaverse projects. You should also screen the risk-to-reward profile for various strategies.
For example, suppose you wanted a low-risk passive metaverse strategy. In that case, you may consider investing some money weekly in Big Tech companies with metaverse exposure (e.g., Microsoft, Alphabet, and Meta).
Those who don't mind taking on additional risk and still want a passive strategy may invest in speculative metaverse assets. These could include LAND NFTs, blue-chip NFT collections, or tokens associated with play-to-earn games.
People who'd prefer a more active metaverse strategy might want to start researching how to develop virtual real estate on platforms like Decentraland and The Sandbox. Gamers could also consider setting aside time each day to play quests and level up in play-to-earn games like "Axie Infinity," "Gods Unchained," or "Alien Worlds."
Step 2: Choose a Metaverse Platform
After defining your strategy for making money from the metaverse, it's time to explore a few metaverse platforms. Even if you're not going to invest directly in the metaverse, it helps to visit some of the most prominent websites and test this technology. It's free to browse many metaverse platforms and games, and you could get a better sense of where you'd feel comfortable investing after gaining first-hand experience.
There are countless metaverse projects to try, but here's a shortlist of the most notable options:
All of these titles have garnered significant attention within the cryptocurrency space. While there's no guarantee these platforms will remain dominant in the future, they have proven to be some of the most widely followed projects. These sites also have multiple opportunities for people interested in monetizing their experience in the metaverse.
If you don't feel any of these sites fit your metaverse goals, be sure to review metaverse rankings on crypto aggregator sites like dApp Radar. If you go to dApp Radar's "Rankings" portal, you can filter by "Games" to see what metaverse titles are trending. You could scroll through this list and explore metaverse options on dozens of blockchains.
Please take your time exploring all of the features various metaverse platforms offer. You may want to keep track of the "pros & cons" you experience as you test out these sites. After a week or two of experimenting with metaverses, you should find a few that suit your interests.
Step 3: Setup A Cryptocurrency Wallet
Unless you're solely buying metaverse-related stocks, you'll need a crypto wallet to make money in the metaverse. You may also need to sign up for a centralized crypto exchange to deposit digital coins into your wallet.
No matter which blockchain your metaverse platform is on, you'll need to pay crypto gas fees to confirm transactions. Also, if you're going to invest in NFTs on a metaverse, you'll need to buy these digital items with crypto. Therefore, you'll need to send some initial crypto from an exchange into your non-custodial wallet.
Every crypto exchange has unique features, but here are a few of the most trustworthy names available in North America:
Before choosing a crypto exchange and wallet, please ensure it's compatible with the metaverse platform you want to use. You must also double-check your wallet can store the tokens you want to collect. Not every crypto wallet works on every metaverse platform. For example, Decentraland only works with Ethereum-compatible wallets, while "Star Atlas" requires Solana-based wallets.
Currently, MetaMask is the most popular crypto wallet on Ethereum. You can easily set up a MetaMask wallet as a browser extension on the site MetaMask.io. There's also a MetaMask app available on Apple and Android phones.
Other high-profile software wallets like Trust Wallet, Rainbow Wallet, and the Coinbase Wallet also work on Ethereum dApps. These wallets are free to download on iOS and Android devices.
✎ Editor's Note
Those interested in Solana metaverses should consider the Phantom wallet. Currently available as a desktop extension, Phantom has become one of the most downloaded Solana crypto wallets. 
Step 4: Start Making Money In The Metaverse (One Example)
Once you've finished researching your metaverse strategy and you've set up a crypto wallet, it's time to put your plan into action. For example, let's say you want to earn passive income by investing in virtual real estate on Decentraland.
To put this strategy into motion, you'd first have to figure out the average rates for land plots on Decentraland. You could see the lowest price people are willing to pay for LAND NFTs on Decentraland's official marketplace or reputable NFT secondary markets like OpenSea. Take your time reviewing the price history for Decentraland LAND NFTs and check where each of these virtual plots is located.
Remember that the lowest-priced LAND NFTs tend to be in less-than-desirable areas. This doesn't mean you can't make these land plots more valuable, but they probably aren't as close to key attractions in Decentraland. Like in the real world, location can significantly alter a LAND NFT's price. Be sure to keep these considerations in mind when shopping for a virtual land plot.
Once you've decided on the LAND NFT that fits your profile, you can connect your crypto wallet and buy it on the open market. If you're on a secondary NFT market like OpenSea, you'll need ETH in your wallet to make an offer, place a bid, or purchase the NFT outright.
Those using Decentraland's market will need the native MANA tokens to buy virtual properties. Since Decentraland is a major metaverse project, it's not hard to find MANA on exchanges like Gemini, Coinbase, and Crypto.com.
Once the sale is confirmed on the blockchain, you should see the NFT in your wallet. From here, you could simply hold the NFT and hope prices appreciate or begin developing on your virtual plot. You could also research sites like LandWorks.xyz to start renting your digital land to Decentraland gamers.
---
25 Best Ways To Make Money In The Metaverse
There are a lot of creative ways to make money in the metaverse. While the possibilities of metaverse technology are limitless, here are a few concrete examples of how you could get involved with this emerging field. Some of these ideas can start as a great side hustle, while other could turn into a full-time gig.
1. Buy & Sell Real Estate In The Metaverse
Forget the "real" housing boom; real estate in the metaverse has been on a tear in recent years. According to CNBC, people spent roughly $500 million on virtual real estate in 2021. Although these figures dipped in the first half of 2022, many analysts remain optimistic about this sector. Some firms project that the virtual real estate market cap could increase to over $5 billion by 2026.
Of course, it's difficult to say which virtual plots of land will be the most valuable a few years from today. However, many celebrities and corporations have already staked their territory in "blue-chip" metaverses like Decentraland and The Sandbox. Also, Yuga Labs' Otherside deeds remain some of the most actively traded land NFTs on sites like OpenSea.
If you believe metaverse games will continue to increase in popularity, you may want to consider investing in digital real estate. Find a metaverse game you feel has solid fundamentals and invest in a land NFT. Most metaverse games have land NFT marketplaces, but you could also find virtual real estate on major NFT markets like OpenSea or Blockee.
2. Trade Metaverse Tokens
If you aren't interested in metaverse real estate, you could add a few fungible metaverse tokens to your portfolio. Most metaverse titles have digital tokens players can earn and use to buy in-game items. These metaverse tokens also have a spot market value, so players or investors could trade them on crypto exchanges.
Again, Decentraland's (MANA) and The Sandbox's (SAND) are two of the most readily available metaverse tokens, especially on centralized crypto exchanges. However, other metaverse tokens like Yuga Labs' (APE), Enjin's (ENJ), and Axie Infinity's (AXS) are getting easier to find on major exchanges like Binance and Coinbase.
An excellent place to start researching metaverse tokens is on a trusted coin aggregator website like CoinMarketCap. Since the metaverse is such a major topic, CoinMarketCap has a page dedicated to metaverse tokens. You could track each token's market cap and price performance while researching the game's fundamentals. If you find a metaverse you feel has potential, you may want to consider investing in its token.
Also, don't forget that crypto metaverse games are built on a blockchain. For instance, The Sandbox and Decentraland are on Ethereum. So, if you don't want the risk of investing in a solo metaverse token, you could get exposure to the metaverse by investing in a blockchain's native token like Ethereum's (ETH).
3. Become A Metaverse Real Estate Dealer
Since metaverse land has become so hot, some non-tech-savvy investors might want a real estate agent to help them pick the right property. As crazy as it sounds, many real estate agents are adding "metaverse land sales" to their offerings.
If you already have experience with the real estate market, it may be interesting to look into selling properties on metaverse platforms. While the legality of selling digital property isn't as well-defined as in the real property market, it is a growing segment for those willing to take the plunge.
4. Play Games To Earn Money In The Metaverse
While "Let's Play" streamers and e-sports competitors have found ways to monetize today's games, play-to-earn incentives promise to reward everyone. Many titles in the GameFi space already reward gamers for their time and effort. Rather than just getting in-game items, gamers can rack up cryptocurrencies that could be traded on centralized and decentralized exchanges.
In addition to crypto, gamers can now earn valuable NFTs for their efforts. Often, these NFTs correspond to game-specific items, which may make them highly lucrative on the open market.
There are loads of play-to-earn metaverse games now open to trying, but a few popular titles include "Axie Infinity," "Alien Worlds," and "Gods Unchained." Take some time to find a game you enjoy playing and see how much you could bring in per week.
Blockchain gaming may not replace your day job, but you'd be surprised how much you earn per week simply from enjoying your hobby!
5. Stream Metaverse Content
Live-streaming video game content can be lucrative for passionate gamers. Indeed, data from Influencer Marketing Hub suggested the most successful Twitch streamers make a combined $20 million. While not every video game streamer makes multi-millions per year, there's undeniable earnings potential for those who carve out a solid fan base.
Since the metaverse is a relatively new industry, it may give new streamers a competitive advantage. People who aren't camera shy may want to experiment with streaming metaverse content on platforms like Twitch and YouTube.
6. Create NFTs and Sell Them
Whether you're an artist, musician, or game developer, there are ways to monetize your passion with NFTs. Plenty of NFT markets let anyone upload digital files and mint them on public blockchains like Ethereum. While you will have to pay some gas fees to list your NFTs, it's very easy to create these digital collectibles on sites like Rarible, LooksRare, or OpenSea.
There are also many curated NFT marketplaces if you already have a professional art portfolio. However, if you want to sell your work on sites like SuperRare, you'll need to submit an application. While it's more difficult to get onto curated NFT sites, they give artists access to an elite clientele.
7. Invest In Metaverse Stocks
The most "conservative" way to play the metaverse sector is to buy equities that have some relation to this field. Although Facebook's Meta (NASDAQ: META) always springs to mind, it's far from the only company involved in the metaverse. Indeed, most Big Tech names have expressed interest in developing metaverse-like experiences in fields like virtual reality, augmented reality, or gaming.
A few prominent companies that have exposure to the metaverse sector include:
If you don't like picking individual stock names, you could consider tech-heavy ETFs like Invesco QQQ Trust Series 1 (NASDAQ: QQQ). Also, as mentioned in the intro, firms like Fidelity now offer metaverse-focused ETFs like the Fidelity Metaverse ETF (NASDAQ: FMET). So, if you just want broad exposure to metaverse technology, an ETF could help manage your risk.
8. Create A Store In The Metaverse
Whether or not you already have a business, the metaverse is a viable place to sell virtual goods. Indeed, there are now firms willing to pay over $700,000 to create virtual malls on platforms like Decentraland. No matter what market you're involved in, there's a way to market your products to customers on metaverse platforms.
As more people migrate to eCommerce, the extra immersion of the metaverse is a perfect fit for 21st-century shopping. If you have a bit of entrepreneurial spirit, you should scout out territory for a metaverse shop.
9. Start And Monetize A Metaverse Blog
If you have a passion for metaverse tech and writing, you may want to consider writing a blog dedicated to this field. There are countless niches within the metaverse sector you could focus on, including technological innovations, live events, and play-to-earn opportunities.
For the greatest chance of success, consider what area of the metaverse you'd like to focus on and find a receptive audience on social media. To increase your readership, scour online forums dedicated to topics you're interested in and promote your latest pieces.
The more traffic you gain on your metaverse blog, the greater your chances you could start bringing in cash from sponsorships or advertisements.
10. Participate In Concerts & Other Metaverse Events
There are always shows and seminars going on in the metaverse, and often you can get rewards just for participating. For example, the vodka brand Absolut held a special event in Decentraland to celebrate the 2022 Coachella Festival. Anyone who visited this area had the chance to win digital items like wearable NFTs or tickets to the IRL Coachella. Chipotle also gave away free food vouchers in mid-2022 for anyone who participated in its Roblox game.
Pay attention to any free seminars, concerts, or live events on trendy metaverse platforms. Often, you could get digital rewards just for visiting live events in the metaverse.
11. Promote A Metaverse Business
If you're not an enthusiastic entrepreneur, you may want to consider promoting a business that already exists on your favorite metaverse platform. Those who have skills in graphic design or social media communications could potentially earn rewards or commissions for drawing attention to a metaverse company. You might also profit from this strategy by using referral links.
12. Create an eCommerce Business in The Metaverse
Online sales have skyrocketed in recent years. According to a recent report from the US Census Bureau, eCommerce sales in the US were $870 billion in 2021. That's a 50 percent increase since 2019. While the COVID-19 lockdowns contributed to this jump, there's no question that eCommerce is becoming an increasingly prevalent part of our lives.
Will eCommerce extend into the metaverse? Well, it's easy to see why businesses want to bring their online shopping experience onto metaverse platforms. Metaverse eCommerce stores offer extra immersion and interaction that's not possible on standard eCommerce websites. Retailers could also attract new clientele with a metaverse eCommerce portal.
If you already have an eCommerce shop or want to expand your digital footprint, consider integrating your online offerings in the metaverse.
13. Rent Land In The Metaverse
You don't need to sell your metaverse property to lock in gains. In fact, many people buy virtual land as a passive income stream. On most metaverse platforms, it's possible to rent your digital property to people from around the world.
There are now protocols like LandWorks.xyz that help landowners in games like Decentraland find renters and earn passive crypto rewards. The Sandbox also claims people who own land NFTs will be allowed to rent their digital parcels to other players.
Check the rental policies on your preferred metaverse platforms to see how land NFT rentals work. While digital rentals might not be as lucrative as traditional real estate, it's far less time-consuming to manage virtual tenants.
14. Create Custom 3D Printer Items For The Metaverse
As fun as digital collectibles are, sometimes people want to see their NFTs in real life. One great way to bring items and accessories from the metaverse into physical reality is to use a 3D printer.
If you have a 3D printer, you might want to try transforming popular NFTs or metaverse characters into physical replicas. These figurines could be lucrative souvenir items for people who invest a lot of time into their favorite metaverse platform.
15. Advertising Within The Metaverse
As more people stare into digital headsets, advertisers will start competing for space in virtual reality. Hack, many big brands like Warner Media Group, Gucci, and Atari have already bought territory in metaverses to have prime advertising space.
There are bound to be even more advertising opportunities as companies lease space and people put up signs on their virtual property. For example, baseball teams like the Atlanta Braves hinted they might allow advertisers onto their virtual stadium.
Whether you already own metaverse land or you want to get your name out there, it could be a good idea to promote your business in high-traffic areas of the metaverse.
16. Become a Metaverse Freelancer
Many businesses in the metaverse are willing to pay for high-quality freelance work. Indeed, you can find plenty of freelancers offering "metaverse services" on websites like Fiverr and Upwork.
Whether you like coding, digital design, or NFT art, you could probably find a metaverse project looking for extra help. It's a good idea to create a portfolio of your previous work to show off to potential contractors. Put together a resume and start searching for gigs through prominent freelancer sites like Fiverr. Eventually, as you build up an extensive portfolio, you should have an easier time finding decent side hustles in cyberspace.
17. Create A Metaverse YouTube Channel
With roughly 2.6 billion users as of 2022, YouTube remains the dominant player in video streaming. Although there are dozens of alternatives to this Google-owned website, there's no denying that most of the world's eyeballs are glued to YouTube.
If you love sharing your thoughts on the metaverse in video format, it's easy to post clips on YouTube. Whether you enjoy testing metaverse tech, exploring different games, or reporting on the metaverse market, there are plenty of topics to explore on a YouTube channel.
18. Become A Brand Ambassador In The Metaverse
The luxury brand LVMH made waves in 2022 when it unveiled a CGI "metaverse ambassador" online. While some other brands may opt for AI ambassadors, there are others that want human influencers to spread their brand on metaverse platforms.
If you're already social media savvy, you may want to look into opportunities to become a virtual brand ambassador. As more companies are itching to get into the metaverse, ambassadors will play a key role in increasing a brand's presence in Web3.
19. Create Virtual Clothing For The Metaverse
Clothing brands have been incredibly receptive to metaverse technology. Names as big as Gucci, Gap, and Lacoste have already begun experimenting with digital clothing, NFT collectibles, and Web3 communities. Metaverses like Decentraland have even hosted live fashion expos.
Since wearables have become so trendy in the metaverse space, it makes sense that many designers have begun creating NFT clothes for in-game avatars. If you already have a fashion-forward sensibility, consider marketing digital clothing and accessories using NFTs.
20. Become a Tour Guide Or Travel Agent In The Metaverse
Nothing can replace physically traveling to a hot tourist destination. However, with the latest advances in virtual reality, people can get a visceral experience of many places. From Kilimanjaro's summit to the surface of the moon, there are countless places to explore with the help of metaverse apps.
As more people visit touristy areas in the metaverse, experts will need experts to help viewers appreciate their experience. If you are passionate about a particular city, platform, or planet, you may want to share your knowledge with curious Web3 tourists. Please also remember that the metaverse could bring users back in time, so history buffs could find places to profit from their passion for past events.
21. Test Products In The Metaverse
From virtual clothes to makeup, more companies want to bring their physical products into a virtual setting. As more brands like L'Oréal or Gucci enter metaverse titles, so do the opportunities to test their wares in Web3.
Keep your eyes peeled for opportunities to become a metaverse product tester on platforms like Decentraland. You could also follow your favorite companies on social media to see if they hint at any testing opportunities.
While these probably aren't the most lucrative opportunities, they can be a fun way to get free digital swag in your spare time.
22. Design Real Estate in The Metaverse
Developing properties and experiences on virtual land requires a particular skill set. Although platforms like The Sandbox have tools to make construction simple, many virtual property owners prefer having someone else build their dream home.
If you're interested in 3D interior and exterior design, you may want to market yourself as a metaverse property developer. As more people buy land NFTs, chances are they will request the services of people who can bring their dream environments into virtual reality.
23. Virtual Labor
The metaverse takes the "work-from-home" revolution to another level. Although not every company offers metaverse job opportunities, there seems to be a trend toward metaverse meetings. Indeed, recent surveys suggest at least 30 percent of businesses will use metaverse technologies by 2026.
Interestingly, many people are already bringing their "real world" skills into virtual reality. Whether you enjoy creating content, graphic design, or customer service, it's easier to market your skills on or for metaverse projects.
Digital careers will probably become more significant as people migrate to the metaverse. Anyone with an interest in coding, 3D design, or community management should find a plethora of opportunities for freelance and full-time work.
If you're interested in metaverse technology, consider researching job opportunities in this sector that align with your skills and hobbies.
24. Create and Host Events In The Metaverse
Events may seem to happen spontaneously in the metaverse, but there's usually a lot of planning that goes into coordinating these experiences. If you enjoy planning parties, hosting or organizing metaverse events might be right up your alley.
Many groups, organizations, and entertainers are eager to meet in a metaverse setting. As a metaverse host, you can help ensure everyone knows where & when to make their metaverse memories.
25. Create And Monetize Games
If you're into game development, you may want to try your hand at creating your own metaverse game. Many platforms now make it easy for amateur game developers to build monetizable titles with play-to-earn incentives and NFTs.
For example, Enjin offers an SDK for developers to create crypto gaming experiences without learning blockchain code. Also, if you choose to use Enjin's development platform, you could bring NFTs to your game, adding another dimension of potential profit.
Consider looking into game development platforms like Enjin or Horizon Worlds to experiment with creating metaverse experiences.
---
FAQs on How to Make Money in the Metaverse
Although most people have heard of the metaverse, there's a lot of confusion over what it is and why it's significant. Hopefully, the FAQs below will clear up how the metaverse works.
What is The Metaverse? 

Everyone defines "the metaverse" differently, but most agree this term refers to blending the physical and virtual worlds. Most metaverse applications rely heavily on augmented and virtual reality technologies to create hyper-real experiences beyond our current virtual lives. Some people also think of the metaverse as a more immersive and interactive version of the Internet. 
How Do You Buy Land In The Metaverse? 

Most metaverses that offer virtual property sell plots of land in the form of NFTs. Typically, a metaverse platform will have a dedicated store where you can connect your wallet and exchange crypto for land NFTs. These NFTs serve as your "deed" and grant you ownership over whatever area you purchase.

You may also find land NFTs on the secondary market on prominent NFT sites. For instance, Decentraland, The Sandbox, and Yuga Labs' Otherside sell their NFT land parcels on OpenSea. 
What is Metaverse Crypto? 

The concept of the metaverse has been around before crypto, but it has become increasingly connected with innovations in blockchain technology. Since many popular metaverse platforms are on blockchains, you'll usually see crypto weave its way into metaverse discussions.

"Metaverse crypto" may also refer to the tokens used to buy goods and services on metaverse platforms. If a metaverse is built on top of a blockchain, chances are it has a native cryptocurrency. Also, most metaverse crypto projects use NFTs to prove ownership over various in-game assets. 
---
Final Thoughts
The metaverse is an ambitious concept and may prove to be one of the 21st century's most influential innovations. However, since this space is so new, we could only speculate on how much the metaverse will be worth in the ensuing years. In the meantime, there are ways people could place their bets on the future of the metaverse and make some income from "cyber side hustles." Hopefully, the ideas above have got you thinking about ways you could potentially make the most of the metaverse.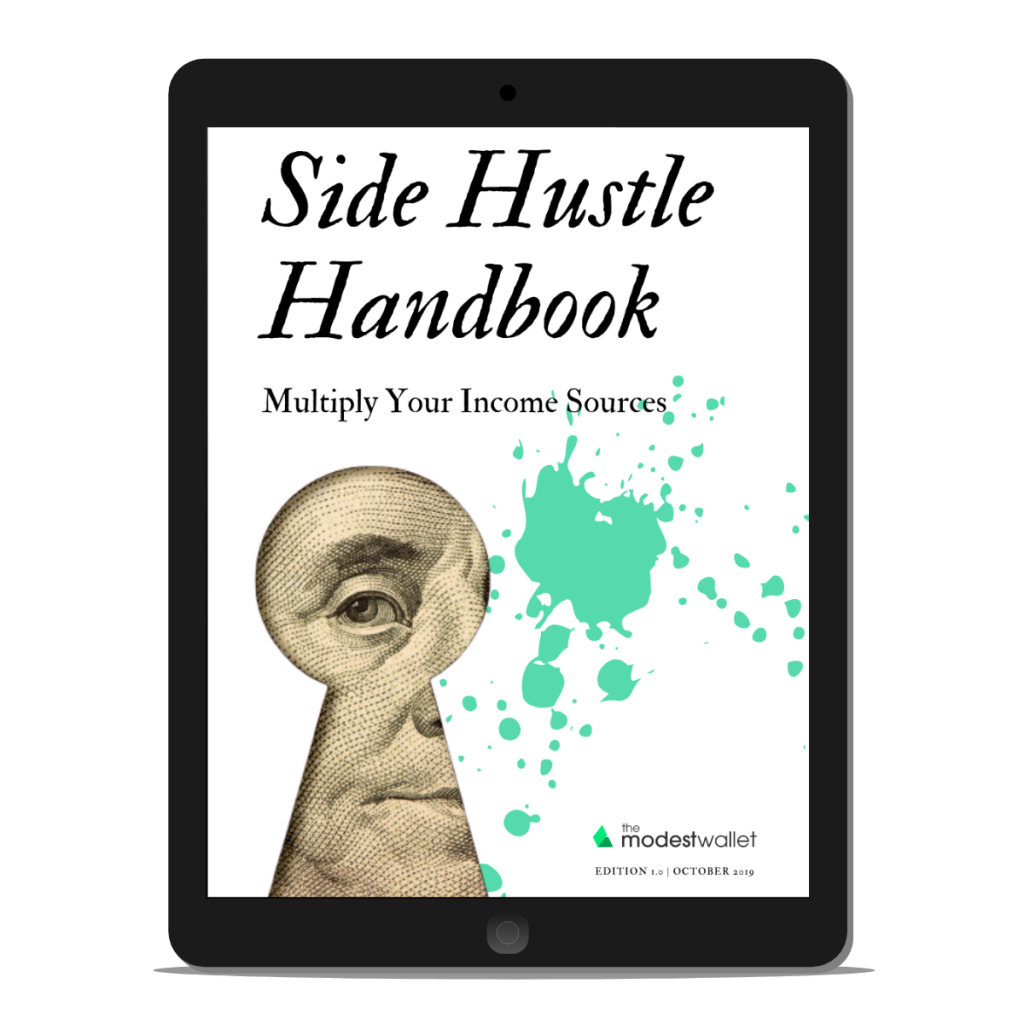 Get our free Side Hustle Handbook with the best strategies to multiply your income sources today.
Plus our best money tips delivered straight to your inbox.
Eric Esposito is a freelance writer, editor, and cryptocurrency enthusiast. Although it took him a few years to grasp the Bitcoin revolution, Eric has become a crypto convert and long-term "hodler." Besides crypto investing, Eric is interested in helping others understand how to safely stack sats with passive income opportunities.