How To Sell Printables On Etsy & Best Ideas [2023 Update]
Many or all of the products featured on this page are from our sponsors who compensate us. This may influence which products we write about and where and how the product appears on a page. However, this does not influence our evaluations. Our opinions are our own. Here is a list of our partners and here is how we make money.
---
The information provided on this page is for educational purposes only. The Modest Wallet is a financial publisher that does not offer any personal financial advice or advocate the purchase or sale of any security or investment for any specific individual.
Etsy is a very popular online marketplace that gives sellers the opportunity to sell their goods to a massive customer base of buyers. Sellers list everything from vintage clothing and collectibles to handmade items and digital products.
Becoming an Etsy seller is a great way to create a supplementary source of income, and when done right, it can be incredibly lucrative. One of the keys to success is to research the market, find out what products are selling well, and apply that knowledge to your side hustle or business.
In this article, I will be talking specifically about the process of selling printables on Etsy, as well as providing a number of ideas and tips for business owners to take advantage of.
Find out how to sell printables on Etsy today.
---
What Are Etsy Printables?
Etsy printables are digital files that are designed to be downloaded and then later printed by the buyer. Printables can be sold on any number of platforms, but Etsy's printables marketplace is among the most popular in the world.
Printables are typically some sort of design or template that provide a general or specific use. This can include anything from planners, budget trackers, and flashcards to wall art, party games, and coloring pages. Printables can be designed for simple black-and-white fonts and designs or more complex and colorful designs when needed.
Etsy printables are a convenient and affordable way for buyers to take advantage of useful products by simply purchasing and downloading them online. They can browse through hundreds of high-quality products and make safe and secure purchases directly through Etsy's platform.
On the seller side of things, business owners get access to a state-of-the-art online marketplace to create their storefront, list items, attract customers, and build a successful and profitable business. Etsy provides an incredibly powerful tool for entrepreneurs to take advantage of.
---
Why Etsy Printables Are A Good Side Hustle
Selling printables on Etsy is a side hustle that is simple, accessible, and lucrative for people who put in the work and do things right.
If you are considering the idea of starting an Etsy printables business and are unsure of its legitimacy as a potential side hustle, let me give you a few reasons why it most definitely is.
Scalable
One thing that makes printable businesses so powerful is their ability to scale quickly, and without the need for substantial time and resources.
Printable products are digital in format, meaning that what is actually being sold is a digital file instead of an actual tangible product. This means that there is absolutely no need for physical inventory because the buyer either uses the digital format or prints a tangible themselves if the need arises.
Businesses selling printables can produce an unlimited number of copies of their product, which means that scaling operations and increasing sales volume can be done without incurring substantial extra costs.
Passive Side Hustle
Printable businesses are awesome because they can generate income passively and will also build passively, thanks to an Etsy marketplace that is optimized to help sellers get discovered.
Once the initial design and development work for your printable products is completed and the marketplace listings are live, all of the hard work is essentially over. Your products will be available for sale 24 hours a day, 7 days a week, and customers can make purchases whether you (the seller) are awake or asleep.
Passive income is the name of the game when it comes to building wealth, and a printable business is a great way to get started.
Low Starting Costs
Unlike many traditional businesses (especially brick-and-mortar businesses), new business owners in the printables space have the advantage of an incredibly low initial investment to get started.
Designing and developing the designs for your printables is going to be the main aspect of the launching process that can potentially require some funds. However, there are ways to minimize and even eliminate these costs, which I will talk about later on.
Low Overheads & Expenses
Printables are digital products that customers download from the Etsy marketplace upon purchase. This means that business owners do not have to worry about overhead costs like inventory storage, rent for a storefront space, and a number of other monthly expenses.
An Etsy printable business can be run efficiently and effectively from anywhere that has a stable internet connection, making it an awesome remote hustle.
Build A Profitable Etsy Printables Business
Selling Etsy printables is the perfect side hustle if you don't have much time, experience, or money.
Julie and Rob will teach you the best Etsy printables ideas and how to make money selling them.
They will teach you how to set up your shop and how to price your digital products.
Julie and Cody earn over $10,000 per year selling printables on Etsy.
---
How To Sell Printables On Etsy
Now that we understand why an Etsy printables business is such a great option for aspiring side hustlers let's jump into the meat and potatoes of our article.
This next section highlights a step-by-step process that will guide you through how to sell printables on Etsy. We cover everything from creating your printables and customizing your store, to understanding the market and defining a niche.
Step 1: Perform Market Research
Market research is essential to every new business venture. Understanding consumer trends, identifying profitable niches, and using knowledge of the market to create a successful business plan is always a good first step.
Etsy Keyword Research
Start by nailing down a solid set of keywords. These are words/terms that will be used in your product titles, product descriptions, social media posts, email marketing scripts, or any other business-focused copy you are publishing. Keywords drive SEO (search engine optimization), which in turn drives your business' exposure level.
To do this, you will want to perform some keyword research in order to narrow down your keyword list to the most effective terms. This involves evaluating things like keyword search volume, term popularity, keyword competition, and other important metrics.
There are a variety of high-quality tools available online that are designed specifically to help users carry out crucial keyword research and build their businesses successfully.
The best news for Etsy printable business owners is that some of these tools are built SPECIFICALLY for Etsy businesses on the Etsy marketplace. I recommend checking out Sale Samurai and Crest as two awesome all-in-one Etsy business growth tools. Other Etsy keyword research tools worth checking out include:
Performing keyword research for your Etsy printables side hustle is key to picking the right niche as well as optimizing your shop, listing, and overall visibility.
Understand Product Seasonality
Product seasonality is a concept that refers to the fluctuation in consumer demand for certain products throughout the course of a year — often affected by things like the weather, cultural events, holidays, and other recurrent events.
Etsy printable business owners need to understand product seasonality in order to tailor their business strategies to leverage seasonal product trends and boost revenue. For example, back-to-school season (mid-July to mid-September) is potentially a great time to sell products like planners, worksheets, and goal trackers.
One of my favorite resources for Etsy printable business owners is this free ebook from Gold City Ventures. It provides valuable insight into seasonal product trends and how business owners can capitalize on them to increase their shop's ROI. Definitely a must for new sellers.
Determine A Niche
One of the golden rules for almost all modern-day businesses is understanding that the riches are in the niches. Printable businesses are a dime a dozen these days, so it is important for new sellers to stand out amongst a fair number of competitors.
Some examples of highly lucrative niches for Etsy printable businesses include:
Wedding printables: Table numbers, place cards, invitations, seating charts, name tags, bridal shower games, etc.
Wall art & home decor: Artwork, graphics, motivational quotes, welcome signs, famous artwork prints, etc.
Planners & organizational: Planners/agendas, worksheets, statistic trackers, educational guides, and other organizational tools.
Make sure you pick a niche to make the most of your Etsy printables. Most profitable stores on Etsy have a specific niche.
Step 2: Create Your Etsy Printables
Next, we get into the fun part. Now that you have learned about the market and devised a business strategy, it is time to create your Etsy printables.
There are three main routes sellers can take to design their printables and end up with a finished product.
Use Pre-Made Templates
Taking advantage of pre-made templates and designs for printables can be a great way to get high-quality products created in a short period of time. This will help new business owners get products developed and listed quickly to really hit the ground running with their Etsy store.
I recommend checking out platforms like CraftBundles, Creative Market, Design Cuts, and TheHungryJPEG to find both free and paid resources.
Create Your Own Etsy Printables
Sellers can also choose to create their own Etsy printables, which is a great way to get creative and learn some new skills along the way.
Some of the best tools available for users to create their own high-quality designs include:
Adobe Illustrator: Professional graphic design software that is used to create high-quality vectors, illustrations, graphics, and logos.
Canva: Canva is a beginner-friendly graphic design tool that is incredibly popular among designers from all backgrounds and occupations. Their drag-and-drop style interface makes the platform extremely easy to learn and use effectively.
Procreate: Procreate is an iOS digital drawing application that provides users with a variety of brushes and drawing tools that help create awesome printable designs. The interface is simple and easy to use — great for creatives.
Creative people can put together some templates with these tools in a matter of hours, and the cool thing is that some of these tools have free versions (i.e., Canva).
Hire A Freelancer For Your Etsy Printables
Sellers can also choose to outsource their printable design and development work to a freelancer who has the experience and expertise to create a high-quality product.
Take advantage of platforms like Fiverr, Upwork, and Dribble to discover, connect with, and hire reliable freelance graphic designers and creative freelancers. This will typically be the most expensive route to take but can result in a fast turnaround and high-quality products.
If you are looking for more elaborate designs, perhaps this would be your best bet.
Step 3: Open An Etsy Store
Your printables have been designed and developed, and you are ready to start selling. The next step is to open up your Etsy store by creating an account, uploading your products, and customizing your storefront.
Open An Etsy Account
Start by registering for an Etsy seller account by visiting their website and clicking "Get Started." You will be prompted to input some basic personal information (i.e., address, email, first and last name, etc.).
Start An Etsy Shop
Once your account has been successfully registered, open your Etsy shop. Sellers will need to define some general shop features like the currency they will be using, language preferences, and shop location.
Choose a name for your shop that isn't already in use by another Etsy seller. This is where your keyword research from Step 1 will come in handy.
Upload Products To Sell
The minute your store is active, you can start listing and selling items. Create a new listing for each product you have ready to sell, there will be an option to define your product type as "digital."
Upload your printable products as files and sell them as digital downloads. Give each product a title, upload photos/samples, define what category it should be listed in, and provide an effective product description that incorporates the keywords you have deemed best to use for SEO.
Input Your Payment Details
When you are happy with your store and its inventory, your next step is to provide your payment details. This will determine how you get paid when your products sell on Etsy.
Select whether you are an individual seller or an incorporated business, and then proceed to provide the requested information for the bank account you wish to have your funds sent to.
Etsy has an initial bank verification process that sellers must complete before they can start getting paid. They make a small deposit to the account on file, which must be accurately recorded by the seller in their Etsy Payment Account — simple and easy.
Setup Billing Information
Customers on Etsy's platform can browse and purchase products for free. However, Etsy sellers are required to pay certain fees to sell products on their marketplace.
Set up your billing method by choosing and confirming a payment method. This is how you will pay for things like listing and payment processing costs. We will cover these in more depth below.
Customize Your Etsy Store
Your next step is to customize your Etsy storefront. This is what all of your customers will see when they first visit your store, so it is important to make it appealing and welcoming.
There are a number of features that Etsy sellers can play with to put a personal touch on their digital storefront. Start by uploading a profile image as well as a banner image — this can be a brand logo, photos of products, photos of yourself, or a combination of these.
Include a seller profile that gives customers some insight into who you are as a person and member of the community. This helps to create a human connection between buyer and seller and will bode well for your business.
Provide details about your business, what you sell, and how your store came to be, and give new customers a reason to buy your products. Keep it short, sweet, and to the point.
Finally, you will need to define your shop policies. This includes things like payment options, delivery details, return policies, exchange policies, and privacy policies. Get this done from the get-go to avoid potential issues in the future.
Etsy Fees To Consider
As mentioned previously, there are a few important Etsy fees for sellers to consider when starting their business and pricing their products. Etsy's main fees include:
Listing fees: Sellers pay a $0.20 flat fee for each product listing that is published on the Etsy marketplace. Listings are guaranteed to stay active for up to 4 months.
Transaction fees: Sellers will pay a 6.5% transaction fee that is applied to each product that is sold through your Etsy shop. For example, a product that sells for $75.00 would incur a transaction fee of about $4.87.
Payment processing fees: Sales that are carried out using Etsy Payments (Etsy's own payment system) are subject to a payment processing fee. This fee is a set rate plus a specific percentage of the total product sale price, including shipping and applicable sales taxes. The rate and percentage vary from country to country.
Understanding the fees involved in selling your printables is key to determining the pricing and profit margins of your products.
Step 4: Market Your Etsy Printables
Your products have been designed, developed, and listed in your Etsy store to be seen by customers from all over the world. However, success on Etsy requires printable sellers to be actively marketing their products.
There is a fair amount of competition in the printables space and on Etsy in general. Let's talk about some of the best marketing strategies that you can use to stand out.
Use Etsy Ads
Sellers can use Etsy ads to advertise their products in a variety of different places (i.e., Etsy Search, Category Pages, Market Pages, etc.).
Simply set your daily ad budget and define which listings you want to have advertised. There is a default minimum budget of $1.
Etsy will optimize your budget to run ads in the right place and at the right time. Sellers can customize things like country targeting preferences, ad budget, and which listings they would like to have advertised.
Use Offsite Ads
Etsy partners with other websites and networks to promote their sellers' listings in offsite advertisements. They send all of the listing information, and their partners advertise it using their own platform and algorithm.
Offsite advertising fees for sellers are governed by their Etsy shop's annual revenue. Shops that make less than $10,000 USD in a calendar year are charged a 15% fee of the total sale for orders attributed to an offsite ad.
Shops that make more than $10,000 USD in a calendar year receive a discounted fee of 12% on all orders attributed to an offsite ad.
Use Popular Ad Networks
Etsy sellers can leverage other ad networks and platforms to promote their digital products. Sellers can use social media platforms like Facebook, Twitter, and Pinterest to buy ads to promote their Etsy printables.
You can also run ads on search engines like Google and Bing to promote your Etsy printables. One thing to keep in mind are costs of acquiring leads and customers through paid advertisements.
Use Social Media
Social media is another great way for sellers to promote their Etsy shop and drive more customer traffic. Platforms like Twitter, Instagram, and Facebook are incredibly powerful tools that can help sellers build their customer base.
Etsy has a social media tool that allows sellers to promptly share important posts to different social media platforms for things like announcements and updates.
Offer Coupons & Sales
One of the best ways to attract new customers and, at the same time, ensure that current customers become return customers is to offer sales and product coupons.
Run a limited-time weekend-long sale that features 10% off all of your listed printable items. Try giving out coupon codes that give customers 20% off of any purchase of 3 products or more. Whatever works for you and your business.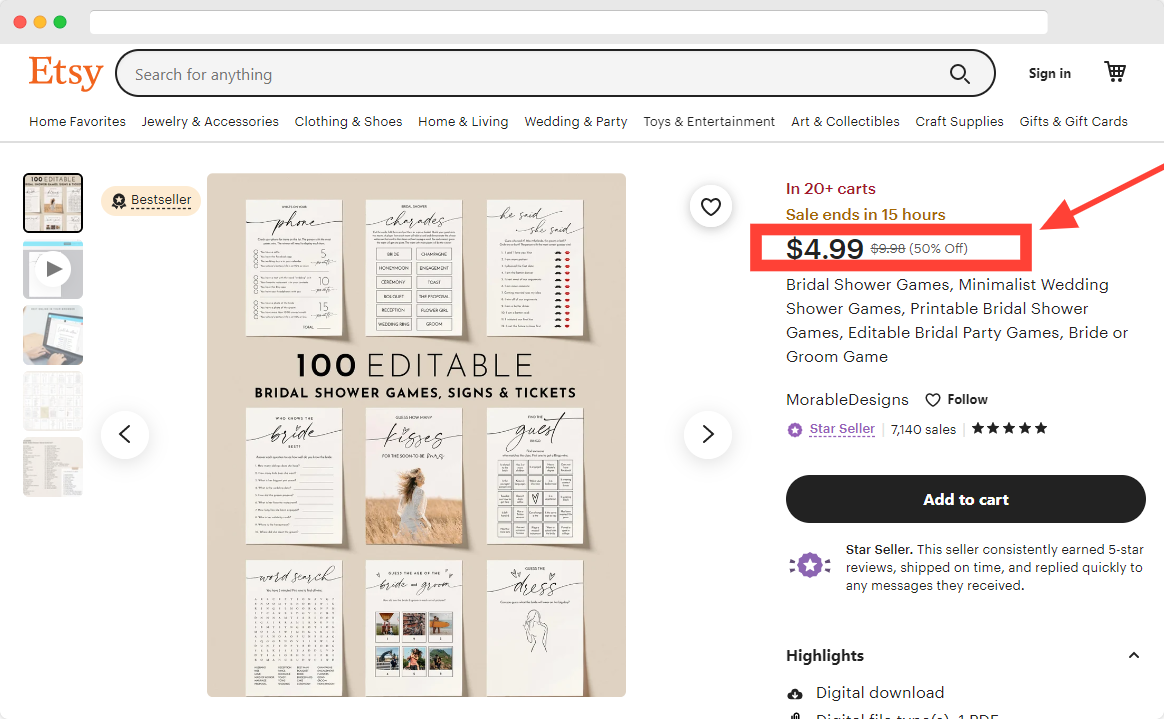 Offer Bundles
Bundles are specialized offers that give customers a number of products typically sold separately as one item at a discounted price. Three printables priced at $9.99 each could be bundled at a reduced price of $24.99 for the trio.
Bundles will help incentivize customers to buy from your store as opposed to other similar printable stores. People love bundles — more bang for their buck.
Join A Relevant Etsy Team
Etsy offers an awesome platform-specific feature called Etsy Teams that allows sellers to connect with other Etsy sellers. It provides a way for store owners to socialize, discuss, provide and receive advice, and share info.
Join an Etsy team that has sellers who are in the same or similar space as yourself — in this case, the digital printables business.
Build A Profitable Etsy Printables Business
Selling Etsy printables is the perfect side hustle if you don't have much time, experience, or money.
Julie and Rob will teach you the best Etsy printables ideas and how to make money selling them.
They will teach you how to set up your shop and how to price your digital products.
Julie and Cody earn over $10,000 per year selling printables on Etsy.
---
How To Price Your Etsy Printables
One of the most important aspects of your business to consider before launch is how to price your Etsy printables. Businesses will often make or break their success with the pricing of their products, so it is incredibly important to be strategic with your printable prices.
Sellers should be thinking about things like the demand for their products, the pricing of similar products on the Etsy marketplace, and their bottom line ROI with all costs considered.
In this next section, I will highlight these three concepts and discuss how they apply to the process of pricing your Etsy printables.
Demand
Demand refers to the amount of a product or service that consumers are willing to purchase at a given point in time. In Etsy printable business terms, demand refers to the current level of interest and desire to purchase digital printable products on the Etsy marketplace.
Things like design uniqueness, seasonal trends, current events, and pop culture can have a significant effect on the demand for printables.
For example, the back-to-school season will typically see planners, worksheets, and school-oriented printables in high demand. Another example would be a potentially high demand for Pokemon printables after the mobile game "Pokemon Go" was released back in 2016.
Consider the demand for printables in general, but also take a look at more specific aspects of demand trends to offer desirable products that will sell well.
Competition
Competition, from a business standpoint, refers to the presence of other businesses that are offering similar products and/or services to customers within the same market.
Etsy printable businesses are subject to a fairly stiff level of competition. However, Etsy boasts over 95 million active buyers on the platform, so there is no shortage of potential.
The main aspect of your business that competition will affect is the pricing of your printable products. Sellers who are offering the same or similar printables at a lower price than yourself will likely be converting more sales.
Consider your bottom line, and maybe even find ways to cut costs in order to be competitive with your pricing amongst other similar sellers.
With this being said, it is important not to get caught up in the race to offer the lowest prices, as this can be detrimental to the business in the end. When a certain competitive price point is not feasible, sellers need to find other ways to differentiate their products and stay competitive.
Costs
One of the great things about an Etsy printable business is the inherent lack of high overhead costs to produce products and the lack of need to hold inventory. However, there are other costs that must be considered when pricing your printables to ensure the business is generating profit.
Costs that printable business owners should take into consideration include:
Initial product design and development costs
Etsy store opening costs
Transaction fees and listing fees on Etsy
Marketing and promotional costs
Factor these costs into your plan for product pricing in order to ensure that your ROI is not only positive but substantial enough that it is worthwhile to continue running your business.
---
Best Ideas For Etsy Printables
Ideas for Etsy printables are virtually endless, however some are going to be better sellers than others. This next section highlights a collection of the best ideas for Etsy printables.
Take a look and pick out a few ideas that may align with your printable business niche. Another great thing about a printable business is the fact that developing and offering new products does not incur anywhere close to the same expense as a traditional product business.
Wedding Planning Printables: Wedding planning printables are printable products that help people plan and organize their dream weddings! These include things like seating charts, checklists, place cards, budget trackers, guest lists, and more.
Event Planning Printables: Event planning printables are printable products that help people plan and organize a variety of different events, including fundraisers, corporate events, and birthday parties. Sell checklist templates, budget trackers, guest lists, event activities, and more.
Calendars: Calendars are a great Etsy printable product that sees a consistent amount of demand. These allow people to have a calendar template that they can personalize with their own schedule. Sell weekly, monthly, or yearly calendars for general use, or customize them to target specific needs like work schedules, meal planning, exercise tracking, finance budgeting, and/or a variety of others.
Diaries: Diary printables are great for people who want to customize their own diaries or journal with a personal touch. These can be used for things like daily activity tracking, goal setting and tracking, gratitude, and manifestation journaling, and so much more.
Checklists: Checklist printables are an extremely popular product that sells well in the organization niche of the printable market. These can include general checklist templates that people customize themselves or offer task-focused checklist templates for things like house chores, moving, and travel packing or equipment checklists for sporting events.
Business Cards: Business cards may be an old-school tradition in business, but they are still quite frequently used in many parts of the world. Business card printables provide a nice clean template that people can customize with their own business information and print off to distribute.
Greeting Cards: Greeting card printables give people a great way to quickly find, customize and print off a high-quality greeting card that will impress. Sellers provide the greeting card template, which they can offer in a variety of themes or styles depending on their target market.
Coloring Books: Coloring book printables can be great for both kids and adults. These printables feature different designs, illustrations, patterns, and different fun templates that people purchase to print off and enjoy coloring in with their own personal touch. Choose different themes and styles to attract different target consumers. For example, sellers could offer a zoo animal-themed coloring book, a baseball-themed coloring book, or maybe an adult version that features different historical locations.
Board Games: Board games have been around for decades and are still a common item found in many households around the world. Board game printables can be anything from a Scrabble, Catan, or Chess board to a full-fledged Risk game with the board and all of the cards included.
Gift Tags: Gift tag printables are printables that are designed to be printed off and attached to gifts as a personal touch to the gift given. Sellers can choose to offer a single generic gift tag printable and/or offer a variety of different gift tags that feature different themes and styles (modern, floral, cartoon, etc.).
Envelopes: Envelopes are another printable idea that has been proven to sell well on the Etsy marketplace. Customers purchase an envelope template and can print off as many as they need at one time. Sellers can offer the typical standard letter size envelope, as well as other commonly used sizes like A2, A6, and A7.
Product Packaging Label Designs: Product packaging label design printables are templates that customers can purchase and use for their own product packaging purposes. Sellers can offer a generic product packaging label design that can be customized by the customer, and/or offer niche-specific labels (sports, food, clothing, etc.).
Baby & Children Printables: Printables for babies and children are incredibly popular and have been proven to sell extremely well virtually all throughout the year. These include things like baby milestone cards, educational worksheets, nursery wall art, baby shower and party decorations, chore charts, and much more.
Embroidery & Knitting Patterns: Embroidery and knitting patterns are another great printable idea that Etsy sellers can consider for their store. These are printable designs or patterns that people can use to help guide the process of embroidering or knitting an item. They can be simple shapes and designs or more intricate patterns like florals, characters, or landscapes.
Stickers: Sticker printables are another highly popular product that Etsy printable sellers have notable success selling on the marketplace! Sticker printables are digital files for designs or templates that can be printed onto adhesive paper by customers to create their own stickers. Some common sticker uses include personalizing laptops, journals, or other personal items, customizable adhesive labels, party favors and games, decals for vehicles, and many more.
Teaching Resources & Material: Teaching resource printables are another great Etsy printable idea for sellers to consider. They help make teaching more engaging and organized for both teachers and their students. These printable products include things like worksheets for different subjects, lesson plan templates for teachers to personalize, flashcards and other study aids, organizers, planners, and so many more.
Fitness & Habit Tracking: Fitness and habit tracking printables are consistently in demand and provide a great option for Etsy sellers and their printable stores. These can be any number of different products, including nutrition and diet trackers, fitness regimen planners, workout logs, sleep trackers, and countless more.
These are just a few examples of the most common and profitable printables on Etsy, but the ideas are endless.
---
Best Tools For Selling Etsy Printables
This next section highlights a collection of some of the best tools sellers should take advantage of to create high-quality printables for their Etsy store.
From font and icons to stock photos and graphic design software, there is something here for everyone to craft beautiful Etsy printables.
---
Advantages of Selling Printables On Etsy
Selling printables on Etsy comes with a number of notable advantages that will help new business owners start off on the right foot, learn the selling process quickly, and grow their business exponentially.
Let's talk about some of the main advantages of selling printables on Etsy.
Massive Customer Base
One of the biggest advantages of selling on Etsy, in my opinion, is access to one of the largest online customer bases in the world. Their marketplace boasts over 90 million active buyers and generated a total revenue of over $2.5 billion in 2022 alone.
The numbers speak for themselves — sellers on Etsy come out of the gate with a huge audience and potential reach for their products, as opposed to building your own customer base and selling independently.
Easy To List & Sell
Etsy makes it incredibly easy for business owners to create their shop, list all of their products, and sell to customers. The listing process is simple and straightforward, with no hidden fees or tech issues.
Etsy also makes the transaction process as easy as possible for sellers. They offer their own payment method (Etsy Payments) as the primary way to get paid, which gives buyers multiple ways to make their purchases (credit card, debit card, Etsy credits, etc.).
Low Cost
Selling on Etsy allows business owners to skip the cost of developing their own eCommerce website, listing items, setting up a payment gateway, and then updating and maintaining the website. These costs can run into the 4 and even 5 figures in some cases.
Etsy provides a place for sellers to host their shops, list their products, and connect with sellers without the need to invest in up-front costs to create an eCommerce website of their own.
Built-In Marketing
Etsy is heavily invested in different advertising campaigns and promotional efforts that attract customers to their marketplace. Sellers benefit from the influx of customers without having to pay a cent for marketing.
They also offer affordable ways for sellers to market their products directly through Etsy by publishing ads in different locations throughout the platform. They also make it easy for sellers to implement offsite ads from third-party providers.
---
Disadvantages Of Selling Printables On Etsy
Despite the multitude of awesome advantages that Etsy provides to its sellers, there are some disadvantages that should be considered as well.
Competition
The popularity of Etsy's platform is somewhat of a double-edged sword. It attracts tens of millions of active buyers on a monthly basis, but has also become quite saturated with sellers over recent years.
Currently, there are over 2 million active sellers operating their businesses on the Etsy marketplace. As a new seller, especially in the popular printables space, competing with other potentially more experienced and established stores can be a challenge.
Fees
There is also the disadvantage of incurring Etsy fees for selling your products through their marketplace. As highlighted earlier, sellers pay listing fees, transaction fees, and/or payment processing fees on every item sold through Etsy.
These fees will inevitably take a significant chunk out of your business' net profits, which needs to be factored into your ROI calculations. Creating your own eCommerce website to sell your products will give you more control over your earnings but will eliminate some of the important advantages that selling on Etsy provides.
Restrictions
Etsy has a variety of strict and specific policies that govern what can and cannot be sold on the platform. Etsy sellers are required to follow these rules to the letter, which may restrict the types and styles of products they can offer in their shops.
There are cases in which sellers who violate the Etsy seller policies have had their shops temporarily suspended or even permanently terminated.
Build A Profitable Etsy Printables Business
Selling Etsy printables is the perfect side hustle if you don't have much time, experience, or money.
Julie and Rob will teach you the best Etsy printables ideas and how to make money selling them.
They will teach you how to set up your shop and how to price your digital products.
Julie and Cody earn over $10,000 per year selling printables on Etsy.
---
FAQ On Selling Printables On Etsy
Let's wrap up with the answers to some of the frequently asked questions regarding selling printables on Etsy.
How Much Can I Make Selling Printables On Etsy?
Earnings for entrepreneurs selling printables on Etsy can range anywhere from a few extra dollars to thousands each month. Sellers can expect to earn about $10 – $100 a week in the beginning, while more established shops with consistent, substantial sales can earn upwards of $1,000 a week.
Is Selling Printables On Etsy Profitable?
Yes, selling printables on Etsy can be a profitable endeavor, however there is the possibility of failure. Some sellers may end up making a full-time income from their Etsy printables store, while others may actually end up losing money.
Factors like the quality of your products, demand for your designs, seasonal trends, pricing strategies, and marketing efforts will all have an effect on profitability.
What Is The Average Price Of A Printable On Etsy?
It is difficult to define an exact average price of a printable on Etsy, however it can be said that many printables fall into the price range of $4 to $6 per product.
What Are The Fees For Selling Printables On Etsy?
The three main fees that sellers will have to pay in order to sell their printable products on Etsy are listing fees, transaction fees, and/or payment processing fees. For more details regarding these fees and how they apply, refer back to the "Etsy Fees To Consider" section of Step 3.
In general, there are listing fees (around $0.20 per listing), transaction fees (around 6.5%), and payment processing fees (varies depending on the payment method).
Can I Sell Printables On My Own Other Than Etsy?
Yes, you can definitely sell printables on your own, apart from Etsy. Sellers can create their own online store using platforms like Shopify, WordPress, or Squarespace, which will provide more control over earnings, pricing, branding, and marketing.
Sellers can also choose to take advantage of other marketplaces like Amazon, Creative Market, or Gumroad to sell their printables without using Etsy's platform.
Is It Legal To Sell Printables On Etsy?
Yes, it is perfectly legal to sell printables on Etsy, as long as you have the legal right to the designs, icons, and other elements being used in your products. Ensure that you are not infringing on the IP (intellectual property) rights of other parties when using different images and designs to create your printables.
It is also important to be compliant with all of the regulations and laws associated with selling goods and collecting revenue. This includes things like paying income taxes, protecting consumer data, and a number of other important factors.
---
Final Thoughts
Starting a business selling printables on Etsy can be a lucrative and rewarding business venture for creative entrepreneurs who are willing to learn. The right business strategy and market knowledge combined with some passion and drive can turn a side hustle selling printables into a full-time income.
This article has provided an in-depth, step-by-step guide to selling printables on Etsy today, as well as providing a comprehensive list of some of the best printable product ideas. From planners, worksheets, and organizers, to wall art, stickers, and greeting cards, there are so many possibilities for printable sellers to choose from.
Follow these steps and consider some of the tips we have discussed to launch and build yourself a successful Etsy printables business.
Thanks for reading, and best of luck in all of your future endeavors.
Get our free Side Hustle Handbook with the best strategies to multiply your income sources today.
Plus our best money tips delivered straight to your inbox.

Rhys is an online content writer & editor, student of decentralized finance and amateur botanist. He loves playing video games with his friends, learning new songs on the piano, and spending time in the sun with his dog Levi.