Instacart Shopper Review 2023: A Good Side Hustle?
Many or all of the products featured on this page are from our sponsors who compensate us. This may influence which products we write about and where and how the product appears on a page. However, this does not influence our evaluations. Our opinions are our own. Here is a list of our partners and here is how we make money.
---
The information provided on this page is for educational purposes only. The Modest Wallet is a financial publisher that does not offer any personal financial advice or advocate the purchase or sale of any security or investment for any specific individual.
If you're interested in a side hustle that involves shopping and delivering groceries to customers, then Instacart may be a good option for you. The flexibility of the job and the ease of registering to become an Instacart Shopper can't be beaten when it comes to finding ways to make extra money.
More people every day are looking for ways to cut down on the time they spend on mundane tasks like shopping for groceries and the food delivery industry has grown exponentially in recent years.
Recent statistics show that the food delivery market in the United States has been growing steadily. In September 2023, sales for major meal delivery services collectively increased by 7% compared to the previous year. It's a great time to capitalize on this growth by becoming a part of the food delivery workforce.
Here's everything that you need to know about getting started with Instacart and how to best maximize your earnings.
Bottom Line: Instacart is a popular on-demand grocery delivery service that allows users to shop for groceries online. Working as an Instacart shopper is a great way to make some extra cash in your spare time. On average, shoppers can expect to earn anywhere from $10-$18 an hour.
| | |
| --- | --- |
| Flexibility | |
| Company support | |
| Earnings potential | |
| Ease of use | |
| Perks | |
---
What Is Instacart?
Instacart is an American company that operates a grocery pick-up and delivery service in the United States and Canada. The company was founded in 2012 by Apoorva Mehta, Max Mullen, and Brandon Leonardo, and it is based in San Francisco, California.
Instacart allows customers to order groceries and other household items from local stores and participating retailers and have them delivered to their doorstep by personal shoppers (known as "Instacart Shoppers").
Instacart operates in various regions across the United States, serving both urban and suburban areas. It partners with a wide range of grocery stores, including national chains like Costco, Kroger, Safeway, and Target, as well as local specialty stores. The availability of Instacart varies by location, and customers can check the app or website to see if their area is serviced. However, it is estimated that Instacart delivers to over 14,000 cities across the US and Canada.
Instacart has gained significant popularity, especially during the COVID-19 pandemic, as it provides a convenient and contactless way to shop for groceries. As of 2023, Instacart holds a record 21.8% market share in the online grocery industry in the United States.
---
How Does Instacart Work?
Instacart personal shoppers fulfill, pack, and deliver grocery orders to Instacart customers within the customer's designated time frame, which could be within one hour or up to five days. Customers pay delivery and service fees for their orders with Instacart and are requested to leave a gratuity for their Instacart personal shopper.
Instacart Full-Service Shoppers have no set hours and can pick to shop as much or as little as they like, anytime they want. When shoppers are paid, they can cash out instantly, as well as earn more with tips for great service.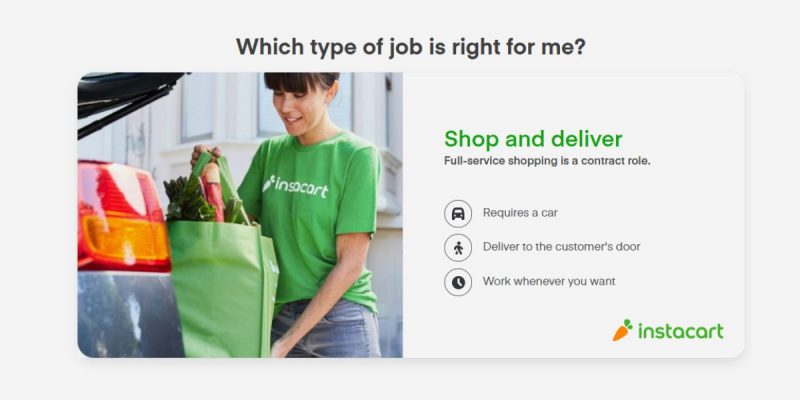 ---
What Do Instacart Shoppers Do?
Instacart shoppers work as either Full-Service Shoppers or In-Store Shoppers. There are differences in these two roles that affect job flexibility, what you do, and how much and in what way you are paid.
Full-Service Shopping
Full-Service Instacart Shoppers get paid per shopping trip that they complete, including the shopping and delivery part of the service. Instacart will provide an estimate of your earnings on every order that you accept, as well as an estimate of your total earnings for the week. The amount you earn depends on the number and types of items in the order, your driving distance, and the effort involved in the shopping and delivery trip.
Full-service shoppers work as independent contractors, meaning that you have the flexibility to work as much or as little as you want. You'll always get to set the payment amount for the completion of the order, 100% of customer tips, and the opportunity to earn extra through promotions that Instacart runs.
In-Store Shopping
In-store Instacart Shoppers are Instacart employees who earn an hourly wage and only do shopping in stores. You'll be scheduled for shifts based on your availability. You can only pick up 29 hours per week or less. No car is required for this role, and individuals with a medical condition or disability may qualify for reasonable accommodations.
---
How to Become an Instacart Shopper
To sign up to become a Full-Service Instacart Shopper in the United States, you'll create an account at shoppers.instacart.com. Next, you will download the Instacart Shoppers app from the Google App Store or Google Play Store to complete the signup process and start your background check. Once the background check has cleared and you're approved by Instacart, you will be ready to sign on to shop and make money as a Full-Service Instacart Shopper.
To become an In-Store Instacart Shopper, you'll need to apply for a position on the Shopper app or online. Local Instacart teams will review your application, and if approved, you'll get an email outlining the next steps you'll need to take, including an in-person onboarding session.
Instacart Full-Service Shopper Eligibility
To become a Full-Service Instacart Shopper, you must meet the following requirements:
18 years of age or older
Eligible to work in the United States or Canada
Have a Smartphone Android 5.0 or later or iOS 9 or later
Have a functioning, registered vehicle
Have vehicle insurance, in accordance with local laws
Can lift 30+ lbs
Can follow Instacart's food safety policies
Instacart In-Store Shopper Eligibility
To become an In-Store Instacart Shopper, you must meet the following requirements:
18 years of age or older
Eligible to work in the United States or Canada
Have a Smartphone Android 5.0 or later or iOS 9 or later
Can lift 30+ lbs
Can follow Instacart's food safety policies
Individuals with a medical condition or disability may qualify for reasonable accommodations.
Sign Up & Approval Process
Signing up with Instacart as a Shopper is a fairly simple process:
Complete and submit your initial application: If you're interested in offering your services as either a Full-Service or In-Store Instacart Shopper you'll submit your initial application either in the Shopper app or on the Instacart website.
Start your background check: Instacart contracts with Checkr to perform Instacart Shopper background checks. Background checks are typically processed within 10 days. However, delays are possible.
Complete an in-person onboarding session (In-Store Shoppers only): Once your initial application has been reviewed by a local Instacart team if accepted, you'll be invited to an in-person onboarding session. You can choose an available session from the times and dates available in the Shopper app, or if all dates are full or you can't make those sessions, check back as more sessions show up every week.
Complete your paperwork: Full-Service Shoppers will complete contractor agreements and W-9 forms as independent contractors and In-Store Shoppers will sign an offer letter and complete a W-4 tax form as part-time employees.
Register an Instacart payment card: You'll use a pre-loaded payment card to purchase orders for your Instacart customers. Typically, new shoppers will receive their payment card within five to seven business days or may have the option to pick it up from a local location.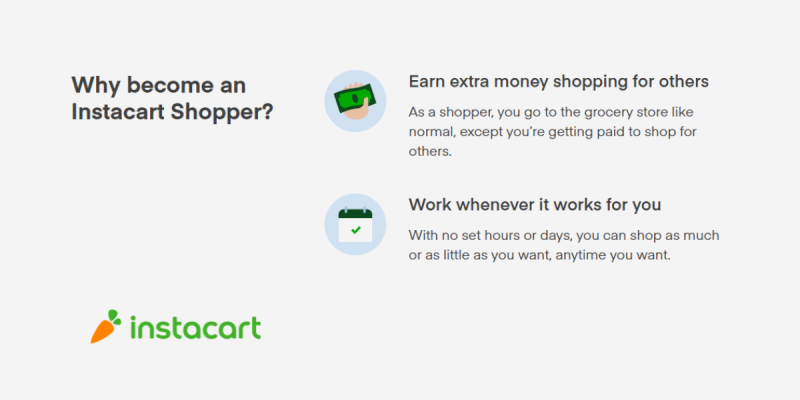 ---
Instacart Payment
Instacart pays Shoppers weekly and how much a Shopper earns can depend on several factors, including their location and how many orders they complete.
Full-service shoppers have complete control over their schedule as independent contractors, so that means total earnings potential depends on the individual's desire to work. The amount earned per shopping "batch" depends on the number and type of items, driving distance, and effort involved in the shopping and delivery. Shoppers keep 100% of tips.
In-store shoppers earn an hourly wage which is detailed in the initial offer letter. Shoppers are scheduled for shifts based on availability, up to 29 hours per week.
Full-service shoppers typically have greater earnings potential because of tips, and some even double their pay. In-store shoppers have the advantage of a steady pay rate and fewer travel expenses. If you take into account tips (which are often 5% to 20% of the order) and mileage deductions, it works out to Full-Service Shoppers on average making $20+ per hour.
Shoppers can also earn referral bonuses. Shoppers in select locations are eligible for Guaranteed Earnings referral bonuses in which the referrer is eligible to receive a cash bonus and the referee is eligible to receive Guaranteed Earnings when the referee completes the required amount of batches in the specified period. You must be an active Instacart shopper and have completed at least 40 hours of service on the Instacart platform within the last six months to qualify if this bonus is available in your area.
---
Things Instacart Offers Its Shopper
Instacart staff provides a 24/7 support line that you can call if you have any issues as an Instacart Shopper. This support can be accessed through the Instacart all-in-one help center in your Shopper's account.
Calling this line gets you in touch almost immediately with a customer care team member, which is often the best way to report a problem or handle a customer dispute.
If you'd like to try to solve the problem yourself, before making a call, Instacart also offers online help and FAQ pages that provide answers to many common problems.
Instacart requires that all of its shoppers download and use the Instacart Shoppers app. This is where you'll accept shopping batches, log your shopping trip, communicate with your customers, and view your payments and tips.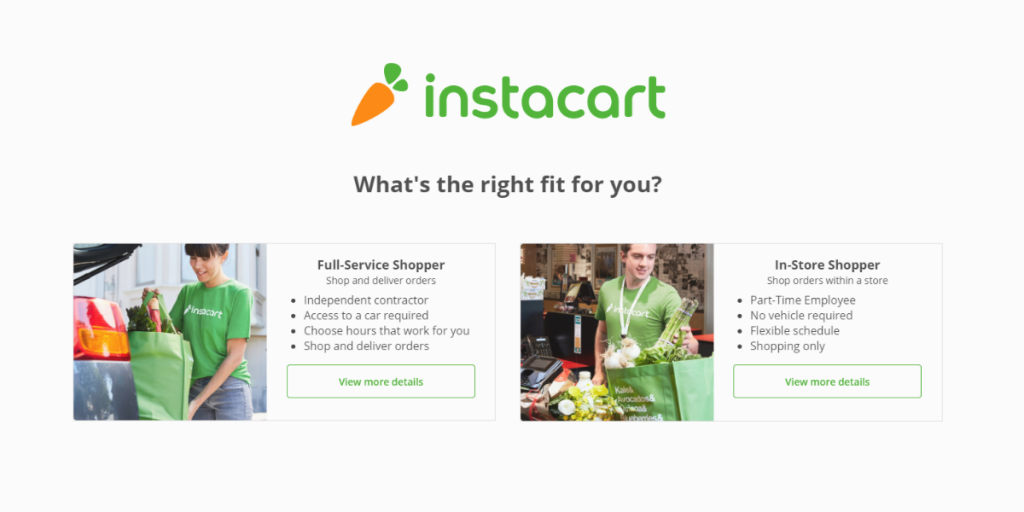 ---
---
Things Instacart Drivers Have to Consider
If you become a Full-Service Instacart Shopper, as an independent contractor, there are several things that you'll need to take into consideration that will affect your pay and taxes.
Manage income taxes: As you will be an independent contractor with a W-9, Instacart will not withhold any taxes from your pay. You are responsible for tracking and paying your income taxes.
Pay self-employment taxes: Being a Full-Service Shopper with Instacart means that you are self-employed, so you'll also be responsible for reporting and paying your self-employment taxes.
Pay for own expenses: When you incur travel expenses like paying for gas, parking, car insurance, and other maintenance costs, you'll be expected to cover those costs yourself.
Pay for one-off expenses: If you happen to get into an accident or are given a parking ticket while working for Instacart, you'll also need to cover those expenses.
---
How Much Can You Make as an Instacart Shopper?
Glassdoor reports that the average hourly pay for an Instacart In-Store Shopper is $13 per hour. However, pay goes as high as $23 per hour. This average hourly rate is a few dollars lower than the average for a Full-Service Shopper. Indeed reports the average hourly rate for a Full-Service Shopper at $17.
For Full-Service Shoppers, Instacart guarantees a minimum of $5 in pay for each delivery-only batch and a minimum of $7 to $10 for each full-service (shop and deliver) batch. Pay for both roles varies by region, but you'll make at least minimum wage.
On average, most Instacart shoppers report making between $150 to $18 per full-service batch. Indeed reports that the average yearly salary for an Instacart shopper working full-time hours would be around $40,000, and Glassdoor reports that number at approximately $41,500.
---
How to Maximize Earnings As An Instacart Shopper
As you get used to the Instacart platform, you'll want to look for ways to maximize your earnings.
Be efficient: The more you become accustomed to the layout of your local stores and the locations of specific foods, the more quickly you'll be able to complete your shopping trips, which can result in more batches completed and higher earnings.
Attention to detail: Customers appreciate an accurate order, as well as your attention to any specific requests, which can result in higher tips. Remember to watch for customer notes added during your shopping trip.
Don't be late: Instacart customers request a specific time frame for their order delivery because that's when they need it. If you're late, that may be an inconvenience to them and could result in a small tip or no tip at all.
Be nice and go the extra mile: Greeting customers with eye contact and a smile is always a good idea, along with offering to carry their groceries into their homes. Anything you can do to "go the extra mile" can result in higher tips and better reviews.
Go online during busy hours: Being available to work during busy hours can result in more batches being available, and therefore higher pay. Peak times on Instacart are between 4 and 8 p.m. Monday through Friday, and anytime on the weekends.
Work in high-demand zones: You can check on the Instagram Shopper app as to which stores are hotspots at various times of the day. If you station yourself near these stores, you have the potential to grab multiple batches at once. You can also look for stores that have the In-Store Shopper option so that all you have to do is grab the bagged groceries and deliver them.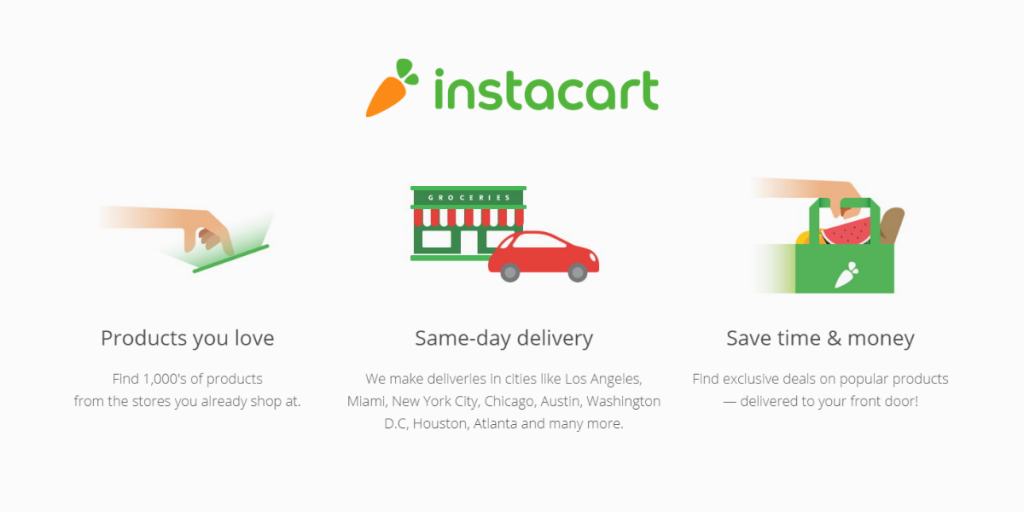 ---
Instacart Shopper Pros Explained
Know the order details and pay rate before accepting an order: You'll always know approximately how much you'll be paid, how long the order is, and which store you'll need to go to before deciding if you want to accept an order.
Lots of flexibility in your work schedule: As a Full-Service Shopper, you'll have complete flexibility in deciding when you want to work and in which order you accept batches.
You get to stay physically active: You'll be walking the store aisles shopping for groceries, so it's a side hustle that will keep you moving regularly, rather than rooted to a chair.
Great side-hustle option for introverts: You'll be spending most of your time shopping for groceries and driving in your car, which does not require much talking. You can even pop in earbuds and listen to whatever you want as you go.
---
Instacart Shopper Cons Explained
Wear and tear on your car: Consider that you'll be adding additional miles and expenses to your car, as you'll be using it to deliver every order as a Full-Service Shopper.
Inconsistent orders available: Some days, there may only be very small orders available, which you may decide are not worth your time and effort for the pay. So if you want to do this for full-time hours, it could be difficult in some locations.
Wasting time searching for items: Grocery stores are big and people will order random items that you may have never heard of before. You may waste time searching for an item that ends up being out of stock.
Busy stores and traffic: One of the most popular times for Instacart is during the evening rush hour, so you'll need to be ready to deal with traffic and busy stores as you shop.
---
How Does Instacart's Rating System Work?
Instacart customers are asked to rate their experience on a scale of one to five stars after their order is completed, although it is not a requirement. An Instacart Shopper's overall rating score is the average of their last 100 rated orders, and that number is refreshed every night.
Instacart states that "Shoppers are offered batches based on average customer star rating, starting with the highest rated shoppers." So, if you want the opportunity to cherry-pick the best assignments, you'll need to keep your customers happy and maintain a high rating with Instacart.
Instacart customers are also given a thumbs up vs. thumbs down option to rate alternative products that are picked for things that are out of stock in their order. However, this should not affect the shopper's rating. `
There has been a lot of controversy recently about how Instacart ratings are calculated and their impact on Shoppers and their ability to receive enough quality assignments. Some Instacart Shoppers complain that even a high four-out-of-star rating can significantly decrease their ability to earn with Instacart.
---
Instacart Alternatives for Shoppers
One way to maximize your earnings is to work for multiple food delivery companies. Two companies you may want to consider are Uber Eats and DoorDash.
Instacart vs. Uber Eats
Uber Eats is an online food ordering and delivery platform that was launched by Uber in 2014. Uber Eats operates in 32 countries, with meals being delivered to customers by couriers using cars, scooters, or bikes.
Uber Eats drivers earn around $15 to 24 per hour on average, but this can vary depending on factors like market, tips, delivery speed, and promotions. It is busier, and it hold a larger market share than Instacart and provides steadier orders, making it a popular choice for many drivers. However, tips can be much larger for Instacart (in general).
On the other hand, delivering for Instacart involves shopping for groceries and delivering them to customers. Instacart shoppers earn around $10 to $18 per hour on average, but again, this can vary based on various factors.
Read our full Uber Eats Driver review to learn more.
Instacart vs. DoorDash
DoorDash is the largest online food ordering and delivery platform in the United States. DoorDash specializes in the delivery of restaurant meals, and as a driver (known as "Dasher"), you will be responsible for picking up orders from restaurants and delivering them to customers.
DoorDash drivers earn around $15 to 25 per hour. Instacart shoppers can expect to make anywhere between $10 to $18 per hour, so in that regard, DoorDash is a bit better.
The availability of both services may vary by location, and each has different requirements for workers. DoorDash operates in more cities and is the largest food delivery service in the U.S.
Read our full DoorDash Driver review to learn more.
| | | | |
| --- | --- | --- | --- |
| | | | |
| Our Rating | | | |
| What You Will Deliver | Groceries. | Meals from local restaurants. | Meals from local restaurants. |
| Age Requirements | 18+ years old | 18+ years old | 18+ years old |
| Vehicle Requirements | Have a vehicle with relevant insurance. | Have a car, scooter, or bicycle with relevant insurance. | Have a car, scooter, or bicycle with relevant insurance. |
| Earning Potential | $10 – $18 / hr | $15 – $25 / hr | $14 – $24 / hr |
| Working Hours | Delivery windows depend on the stores you work with. | 24/7 on-demand. | 24/7 on-demand. |
| Rating System | Instacart customers rate shoppers on a scale from 1 to 5 stars | Driver rating (0 to 5 stars). | Driver rating (0 to 5 stars). |
| What We Like | Option for in-store shopping if you don't have a vehicle. | Easy to sign up for if you are already an Uber driver. | Easy to sign up for if you are already an Uber driver. |
| | | | |
Compare DoorDash
Find out how DoorDash stacks up against the competition.
---
Instacart Shopper FAQ
We have found some of the most frequently asked questions with regard to Instacart Shoppers, here are our answers:
Does Instacart Offer Benefits to Its Drivers?
Instacart offers several benefits to its Full-Service Shoppers, no matter how much they work, through the Shopper Perks Program. These benefits include injury protection insurance, a Care.com membership for help in locating childcare, the Stride Benefits program for managing health and finances, and access to the Peanut Butter program for help in paying down debt. In-store shoppers can expect to receive more traditional employee benefits, including 401(K) savings. 
Is Being an Instacart Shopper Worth It? 
With the opportunity to earn $10 to $18+ per hour as an Instacart Full-Service Shopper, it's a great way to bring in some extra income with a lot of flexibility as to when and how much you work. 
Do Instacart Shoppers Make Good Money? 
How much you make with Instacart depends on how much you work and how many shopping batches you complete. Shoppers have the potential to earn $18+ per hour, which is well above minimum wage in most states. Instacart shoppers who work it as more of a part-time gig, report earning $250+ a week, while shoppers working closer to full-time hours report earning $1,000+ per week.
How Much Do Instacart Shoppers Typically Make?
According to Glassdoor and Indeed, Instacart shoppers average $13 to $17 per hour. However, with tips, which are typically 5% to 20% of the order price, Shoppers can easily make $18+ per hour. 
Does Instacart Offer Support to Its Drivers?
Yes, Instacart offers a 24/7 support portal and telephone support team that can be contacted to resolve any problems you have as a Shopper.
Where Is Instacart Available?
Instacart is available in thousands of cities globally. A search feature is offered on the Instacart website where you can search to see if they serve your ZIP code. 
How Do Instacart Shoppers Pay for Food?
Instacart provides its Shoppers with an Instacart shopper debit card to cover the cost of groceries with a pre-approved amount for each selected batch.
---
Final Thoughts
Instacart is a gig-style job that offers a lot of flexibility, with the amount of money you make directly tied to how much you work and how many order batches you accept.
If you have a decent car, don't mind navigating the grocery aisles, and are looking for a simple side hustle that is easy to start quickly, then Instacart may be the right choice for you. Go the extra mile to keep your customers happy to increase your tips and you'll likely be making $18+/hour before you know it.
Up Next
Get our free Side Hustle Handbook with the best strategies to multiply your income sources today.
Plus our best money tips delivered straight to your inbox.

Summer Tannhauser is an entrepreneur, online educator, and freelance writer who is passionate about helping others to create additional income by leveraging their life experiences and passions. Summer works with budding entrepreneurs through her online courses and workshops and has appeared in numerous online publications and podcasts including Inc., Teachable, and USA Today.