Ipsos iSay Review 2023: Share Your Opinion & Earn Rewards
Many or all of the products featured on this page are from our sponsors who compensate us. This may influence which products we write about and where and how the product appears on a page. However, this does not influence our evaluations. Our opinions are our own. Here is a list of our partners and here is how we make money.
---
The information provided on this page is for educational purposes only. The Modest Wallet is a financial publisher that does not offer any personal financial advice or advocate the purchase or sale of any security or investment for any specific individual.
If you've ever considered taking online surveys as a potential way to make money on the side, then you've likely come across Ipsos iSay as one program to consider. When it comes to signing up for survey rewards programs, you want to join a company that can be trusted to keep your personal data safe and that delivers on the rewards that they promise.
In this article, we'll give you all the details about the Ipsos iSay program including if it's a legit company that you can trust. We've done the research so that you can decide for yourself if you'd like to give Ipsos iSay a try!
Quick Summary: Ipsos iSay is a service offered by Ipsos, one of the largest market research companies in the world. People can sign up and make extra cash by completing online surveys or testing new products.
Promotion: None
---
What Is Ipsos iSay?
Ipsos iSay is an online survey rewards program that allows you to share your opinion in exchange for earning rewards like gift cards, cash, and sweepstakes entries. You can also enter contests and participate in polls as a way to win additional prizes and connect with other Ipsos iSay members.
---
How Does Ipsos iSay Work?
You're eligible to register with Ipsos iSay if you are at least 18 years old and a permanent resident of the United States, United Kingdom or Canada. It's completely free to sign up and use Ipsos iSay.
To sign up for Ipsos iSay you'll be asked for some basic identifying and demographic information including your:
Name
Email address
Date of birth (month and year)
Gender
Mobile phone number
Address
Education level
Income level
Number of people in your household
Once you've supplied this information, your Ipsos iSay profile has been completed and you can log in to Ipsos iSay. You'll be invited to take your first 10 to 15-minute survey and earn 45 Ipsos iSay points.
The number of Ipsos iSay points you earn for each survey depends on several factors, including survey length. Once you have enough Ipsos iSay points, you can redeem them for the reward options found on the Ipsos iSay Rewards page. Available rewards include electronic gift cards, virtual prepaid Visa cards, PayPal funds, merchandise, sweepstakes entries, and charitable donations.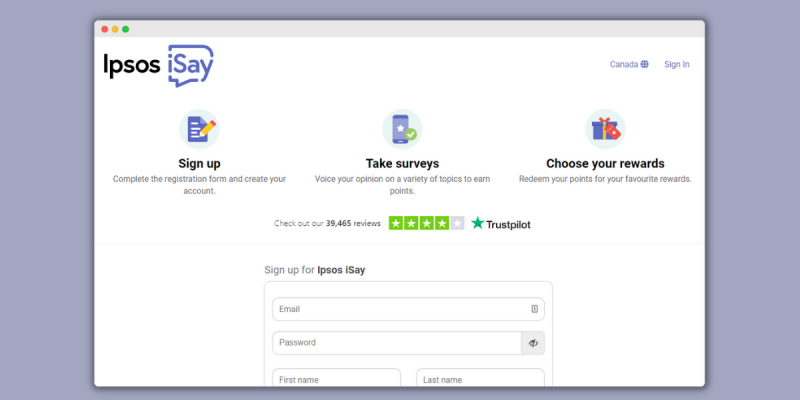 ---
Ipsos iSay Features
Ipsos iSay offers several ways to earn rewards through their Rewards and Sweepstakes programs.
Take Surveys
Taking Ipsos iSay surveys is the primary way to earn rewards from Ipsos iSay. When you log in to the Ipsos iSay website, under the Survey tab, you'll see any current surveys that are available for you to take. Ipsos iSay will also send you an email when a survey is available for you.
For each available survey you'll see information about:
Its expiration date
How long it will take you to complete the survey
How many Ipsos iSay Points are available
Eligibility for a sweepstake drawing entry
Accepted devices for taking the survey
Each survey will begin with qualifying questions for you to answer before being presented with the full survey. If you don't qualify, you'll still get five to 10 points for trying.
Once you've completed a survey, the Ipsos iSay points that you've earned will show up in your points balance in your Ipsos iSay account.
Take Polls
When you take Polls with Ipsos iSay, you are not earning Ipsos iSay Points. The Polls feature is a way to be a part of the Ipsos iSay community and connect with other users. You can view other users' accounts, follow them, read their bio, and see what polls they have created or voted on. You can also create your own Ipsos iSay poll for others to vote on.
Bonus Quest
Completing the Ipsos iSay Bonus Quest gives you the opportunity to be crowned a Survey Champion and receive a bonus of 100 Ipsos iSay Points. You'll also get Extra Awards on your Ipsos iSay membership milestones and anniversaries.
Your Bonus Quest automatically begins when you take your first survey. As you take more surveys, you'll advance through levels. Even if a survey you start is not a good match for you or is already full, it will still count towards your quest.
The levels of your Bonus Quest are:
Novice: One to four surveys taken
Intermediate: Five to 12 surveys taken
Advanced: 13-22 surveys taken
Survey Champion: 23 surveys taken
When you reach the Survey Champion level, you'll earn your one-time bonus of 100 Ipsos iSay points. You must be a member for seven days before any bonus Ipsos iSay points will show up in your points balance.
Contests and Prizes
Ipsos iSay offers quite a few different contests, prize draws, and sweepstakes that you can participate in as an Ipsos iSay member.
Click Draws: Every quarter, 10 Ipsos iSay members will win 5,000 i-Say points each, which has an approximate value of $50. You can earn points by clicking on Ipsos iSay survey links during the draw period.
The VIP Draw: Every active Ipsos iSay member in the United States who completes at least 50 surveys during the contest period will earn an entry. Additionally, each active member who completes at least 20 additional surveys (up to 200 surveys) during the contest period will earn one extra entry.
Poll Predictor: Every time you complete an Ipsos iSay survey, you'll be invited to play Poll Predictor for a chance to win additional prizes. You're given a question and your job is to guess the % of respondents who answered "YES." The closer you get to the correct answer, the more entries you receive for the Ipsos iSay Prize Draws that occur every other week. The prizes vary and have included a Visa prepaid gift card, Amazon gift card, iPad, touchscreen notebook, an audio soundbar, and Ipsos iSay Points.
Daily Prize Wheel: Every day, Ipsos iSay Members in the United States can click on the Daily Prize Wheel while logged in to your Ipsos iSay account for the chance to instantly win prizes. There are over 1,000 winners daily and each person is limited to one entry per day. Prizes values range from five Ipsos iSay Points to a $10 Amazon gift card.
Redeeming Points
There are five different categories of Rewards for which you can redeem your Ipsos iSay points:
Electronic Gift cards – Electronic gift cards are available starting at $5 for many popular brands including Amazon, Target, Starbucks, Walmart, Apple, Home Depot, and Lowe's.
Charity – You can donate 200 points ($2) to a variety of charities including Habitat for Humanity, Ronald McDonald House Charities, Doctors without Borders, and others.
PayPal – PayPal Funds are available for as few as 1,530 Ipsos iSay Points which equals $15 cash through PayPal.
Products – You can browse the Ipsos iSay Market for a variety of physical products that can be purchased with your points, including appliances, beauty products, electronics, home automation products, and clothing.
Virtual Visa Prepaid Cards – Redeem your points for a Visa prepaid gift card starting at 1,000 i-Say points for a $10 card.
Mobile App
The Ipsos iSay mobile app is an easy way to take surveys, earn points, and choose rewards on the go. You have the option to get text notifications about new surveys available to you and all alerts are fully customizable.
Referral Program
Ipsos iSay offers a referral program that you can participate in if you've been an Ipsos iSay member for at least 30 days. You'll receive 100 i-Say points for each friend you refer that successfully registers.
---
How Much Can You Make from Ipsos iSay Online Surveys?
When you qualify for an Ipsos iSay survey, you have the potential to earn 45 to 250 points. If you are invited to take a survey but don't qualify you'll still receive five to 10 points for giving it a try.
Generally, 100 Ipsos iSay points are worth $1 in rewards. The minimum payout is 500 Ipsos iSay points, which earns you a $5 e-gift card. That means you'd need to take four to 12 surveys to earn enough points for a $5 gift card.
Let's take the initial survey that you're offered when signing up with Ipsos iSay as an example. That survey is worth 45 points and takes 10 minutes to complete. You'd need to take 11 other surveys like that one, which could take a total of about two hours to complete to earn $5. That means your hourly earn rate would be approximately $2.50 per hour.
---
Ipsos iSay Pricing
There is no cost to be a member of Ipsos iSay and earn rewards for taking surveys.
---
Ipsos iSay Customer Support
Ipsos iSay offers an FAQ section on their website where many commonly asked questions are answered. If you can't find the answer to your question there, you can contact Ipsos iSay support. They offer an email form as the primary way to contact support.
---
Ipsos iSay Security
Ipsos iSay uses several security precautions to keep your personal data safe including the physical security of the Ipsos iSay offices, controlled access to computer systems, and the use of secure and encrypted internet connections when collecting personal data. They do not sell or rent their lists of panelists for any reason and they do not provide their research clients with any identifying personal data when they deliver survey results.
In general, it seems as though Ipsos iSay is a safe survey rewards program with a good level of security in place that you can trust to keep your data safe.
---
Ipsos iSay Pros
Easy to Sign up and Qualify – Ipsos iSay makes signing up for their site a very easy process and pretty much any adult living in the UK, US or Canada can qualify for their surveys. Enter a few demographic details and you're in.
Variety of Rewards Offered – Ipsos iSay offers a good variety of rewards including e-gift cards, Visa prepaid cards, PayPal funds, charity documents, and physical products.
Mobile App – You can use Ipsos iSay through their app only if you like, including taking surveys, earning points, and redeeming for rewards.
Survey Notification Emails – Ipsos iSay will send you an email when there is a survey available for you to take, so you don't have to log in all the time to check.
---
Ipsos iSay Cons
Lack of Surveys – While some people report receiving eight to 10 survey invitations per week, others report going weeks without receiving a survey invite. It can also be hard to qualify to take the entire survey even if you get an invite.
Redundant Questions – Most of the surveys start out with questions that you already answered when setting up your initial Ipsos iSay profile, so it can become frustrating to have to answer these each time.
Earning Potential – Taking online surveys is not designed to be a way to make a significant amount of money. You've got to look at it as a way to make a couple of bucks in your free time throughout the day.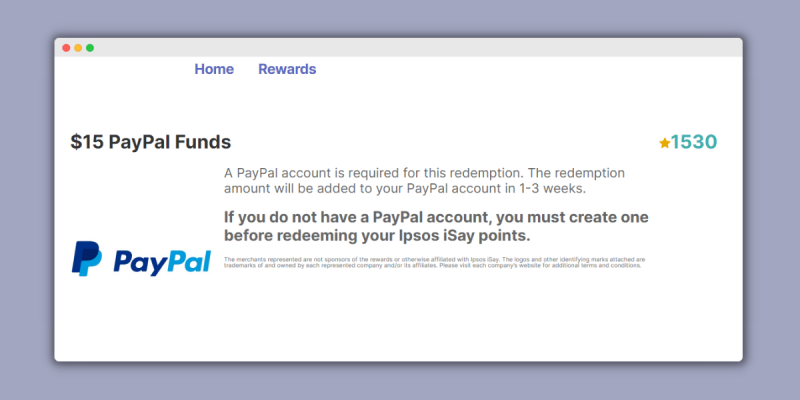 ---
Ipsos iSay Alternatives
You have several options if you'd prefer to try a different survey rewards program.
Branded Surveys
Branded Surveys matches market research firms and Fortune 500 companies with people who wish to be paid to share their opinions through online surveys. They offer a $1 sign-up bonus. Read our full Branded Surveys review to learn more.
Survey Junkie
Survey Junkie is an online survey company that pays members for sharing their opinions. You'll earn points for each survey that you complete. Points can be redeemed for PayPal cash or gift cards. You'll typically make between $0.50 to $3 per survey. Read our full Survey Junkie review to learn more.
Swagbucks
Swagbucks helps you earn cash and gift cards for taking part in shopping, taking surveys, watching videos, donating to charity, completing web searches, and playing online games. 100 Swag Points will earn you a $1 reward. Read our full Swagbucks review to learn more.
InboxDollars
InboxDollars rewards its members for completing online activities such as taking surveys, playing online games, watching videos, or searching the web. Read our full InboxDollars review to learn more.
| | | | |
| --- | --- | --- | --- |
| | | | |
| Our Rating | | | |
| Avg. Payout Per Survey | $0.20 – $1.00 | $0.50 – $5.00 | $0.50 – $3.00 |
| Payment Method | PayPal, Prepaid Visa Card or Gift Card | PayPal, Prepaid Visa Card, or Gift Card | Bank Transfer, PayPal, or Gift Card |
| Sign Up Bonus | None | Get $1.00 | None |
| Minimum To Cash Out | $15 PayPal, $5 Gift Cards, and $2 Charity Donations | $5.00 | $10 (1000 points) |
| Highlight | Online surveys, focus groups, product testing and video surveys | Online surveys | Online surveys and focus groups |
| | | | |
---
Who Is Ipsos iSay Best For?
Ipsos iSay is best for anyone looking to earn rewards in the form of PayPal funds, Visa prepaid cards, or e-gift cards for sharing their opinions through online surveys. Ipsos iSay is a reputable company that has a clean and easy-to-use survey interface both through its website and mobile app.
When you want to make money with online surveys, it's always smart to sign up for multiple survey rewards programs to maximize your earnings. If that's you, then signing up for Ipsos iSay makes sense.
---
Ipsos iSay Review FAQ
We've found some of the most frequently asked questions about Ipsos iSay. Here are our answers.
Is Ipsos iSay Legitimate?
Yes, Ipsos iSay is a legitimate survey rewards company. Ipsos is a multinational market research firm that was founded in 1975 and they have created or acquired numerous companies since then.
Is Ipsos iSay Safe?
Yes, Ipsos iSay is a safe company to work with. They have multiple security features in place to keep your data safe. Ipsos iSay is 100% free to join and use and they have a proven track record of providing rewards in exchange for the Ipsos iSay Points you earn.
Does Ipsos iSay Offer a Mobile App?
Yes, Ipsos iSay offers a mobile app for iOS and Android that allows you to take surveys, earn points, and pick your rewards from your mobile device.
Do Ipsos iSay Points Expire?
Ipsos iSay points do not expire as long as you remain an active member of Ipsos iSay. If you unsubscribe from Ipsos iSay, if your membership becomes inactive, or if you're deactivated, your points account will be closed and any unused points will be forfeited.
If you don't click on any survey invitation links or participate in any surveys for more than three months, Ipsos iSay will inform you of your termination from the program and you'll have 45 days to redeem any remaining points.
What Is the Minimum Payout Amount for Ipsos iSay?
Once you have 500 points, you can pick an e-gift card valued at $5. With 1000 points, you can pick a $10 virtual Visa prepaid card. For PayPal Funds, you'll need a minimum of 1,530 points for $15 in PayPal cash. Points can be donated to a charity, starting with 200 points.
Avg. Payout Per Survey: $0.45 to $1.00 or more
Payment Method: PayPal, Visa Prepaid Card, and Gift Cards
Sign Up Bonus: None
Min. Cash-Out Amount: $15 PayPal, $5 Gift Cards, and $2 Charity Donations
Min. Age Requirement: 18+ years
Availability: USA, UK, and Canada
Trustpilot Rating: 4.2/5.0 with over 37,000 reviews
---
Final Thoughts
Taking online surveys isn't going to make you rich, but it can be a fun way to make a couple of extra bucks during pockets of downtime during your day. With many of the surveys only taking 10 to 15 minutes and the option to complete them on a mobile app, it's easy to fit Ipsos iSay into your schedule.
Ipsos iSay is a reputable survey rewards company that has been around for many years, so if you're thinking about making extra cash by taking online surveys, Ipsos iSay should be on your list of programs to consider signing up for.
Get our free Side Hustle Handbook with the best strategies to multiply your income sources today.
Plus our best money tips delivered straight to your inbox.

Summer Tannhauser is an entrepreneur, online educator, and freelance writer who is passionate about helping others to create additional income by leveraging their life experiences and passions. Summer works with budding entrepreneurs through her online courses and workshops and has appeared in numerous online publications and podcasts including Inc., Teachable, and USA Today.