M1 Finance Review 2023: A Hybrid Robo-Advisor & Brokerage
Many or all of the products featured on this page are from our sponsors who compensate us. This may influence which products we write about and where and how the product appears on a page. However, this does not influence our evaluations. Our opinions are our own. Here is a list of our partners and here is how we make money.
---
The information provided on this page is for educational purposes only. The Modest Wallet is a financial publisher that does not offer any personal financial advice or advocate the purchase or sale of any security or investment for any specific individual.
Robo-advisors are one of the latest innovations in the financial industry. They combine the power of artificial intelligence and algorithms with time-tested investment methodologies to automatically create portfolios for those who prefer to let professionals do the heavy lifting for them.
In this article, we will be reviewing one of the leading players in this up-and-coming space — M1 Finance. We will be sharing further details about how its services work, what makes it stand out from other similar firms, and what users can expect from the platform once they have signed up.

Bottom Line: M1 Finance is a hybrid robo-advisor and online brokerage that combines the features of more traditional robo-advisors (like portfolio profiles) with online brokerage options (like trading individual stocks).
| | |
| --- | --- |
| Account minimum | |
| Account fees | |
| Portfolio construction | |
| Accounts supported | |
| Customer support | |
| Features and tools | |
| Security | |
| Ease of use | |
| Educational resources | |
---
What Is M1 Finance?
M1 Finance is a Chicago-based financial services company that manages over $6 billion in assets under management. The firm's most popular solution is a guided investing platform — a.k.a., robo-advisor — that allows users to build investment portfolios easily in a matter of minutes.
In addition, M1 Finance also offers cash management and financing products as part of its goal to become "The Finance Super App™."
Participating in the financial markets, saving for retirement, and building wealth are all activities that were previously confined to the wealthiest cohorts of society. M1 Finance's mission is to democratize access to a sophisticated yet affordable investment solution, as its services are mostly free.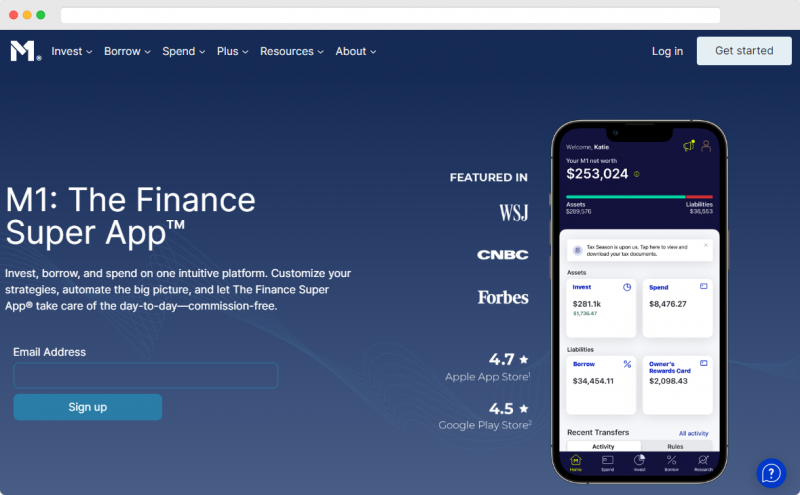 ---
How Does M1 Finance Work?
M1 Finance is a cash management and investing app. The signup process is quite easy, and users can start building their investment portfolios right after they complete the registration process.
In this section, we share further details about how M1 Finance's services work, such as how much money you need to open an account and how much it costs to have access to the company's solutions.
Account Minimum
M1 Finance requires a minimum deposit of $100 to open an individual brokerage, joint brokerage, custodial, or crypto account. Meanwhile, the minimum amount goes up to $500 for a Traditional IRA, Roth IRA, and SEP IRA account.
Types of Accounts Supported
M1 Finance supports seven types of investment accounts at the moment, along with two bank accounts. This is a summary of the characteristics of each type of account:
Investment accounts
Individual brokerage account: This is the traditional taxable investment account that a user would open to get access to the firm's guided and self-directed trading solutions. It allows users to trade U.S.-listed stocks, ETFs, bonds, and other similar financial assets.
Joint brokerage account: This works the same as the individual account, but it can be opened by couples and adults caring for aging partners. The account gives each holder equal ownership over the assets it contains.
Trust account: These accounts are set up by an individual to benefit a third party – a child, for example. Separate paperwork must be filled out to open this type of account. Once the account is approved, it will work in the same way as a regular taxable individual account.
Custodial account: This account is set up by parents to benefit a minor. All the assets contained in it will be transferred to the beneficiary once they have reached a certain age. This type of account is only available to M1 Plus users.
Traditional IRA: This is a tax-advantaged account used by individuals to save for retirement. They can contribute to the account periodically and withdraw the assets after they reach retirement age. Early withdrawals are subject to penalties and taxes. There is a maximum annual limit to the contributions that can be made to this account.
Roth IRA: This works similarly to the traditional version, but contributions are made on an after-tax basis.
SEP IRA: This works similarly to a traditional IRA but is specifically designed for freelancers, small business owners, and independent contractors. The contribution limits are typically higher than the other two versions of IRAs.
Bank accounts
Checking account: This account was created to allow users to pay for their daily expenses. However, it also offers an attractive annual percentage yield (APY), cashback rewards on eligible purchases, and no annual fees. Account holders can make payments by using their M1 Spend Visa® debit card.
Savings account: M1 Finance will introduce a high-yield savings account that offers a 4.5% APY. The account will be insured by the FDIC and furnished by the B2 Bank.
M1 Finance Membership Plans
M1 Finance's core services are free via the Basic package. However, the company has introduced a premium version of its service called M1 Plus that offers additional benefits for the majority of M1's products and solutions.
The annual cost of M1 Plus is $125. This is a list of some of the most interesting benefits that this premium package includes:
Access to custodial accounts
Taking out margin loans at a lower rate compared to Basic users
Access to an interest-bearing checking account
Higher cashback rewards
Privileged access to the company's upcoming high-yield savings account
Getting Started With M1 Finance
The process of opening an account with M1 Finance is fairly easy to complete and can be done in a matter of minutes. Here's a step-by-step guide for those who want to sign up with this investment platform.
Step 1: Click on the light blue "Get Started" button located in the upper right corner of the website.
Step 2: A valid e-mail and password must be provided to create the account.
Step 3: Create a pie. A pie is a portfolio of financial assets that can be built by using the M1 Finance platform. These pies can include a slice of any of the stocks or ETFs supported by this provider or cryptocurrencies.
Step 4: Provide some required personal and contact information.
Step 5: Fill out a questionnaire about your financial situation and knowledge of the financial markets. The goal is to establish the user's risk profile and financial goals.
Step 6: Provide your Social Security Number (SSN).
Step 7: Review your account application form.
Step 8: Link your bank account with your M1 Finance account.
Step 9: Submit your application.
It may take a day for the M1 Finance team to review and approve a user's application. The company could require further information or documents to verify the identity of the user. These documents can be uploaded by using M1 Finance's user platform if required.
In case additional documents are required, the registration process could take a bit longer, but it should typically be completed in seven days or less.
An M1 Finance account can only be opened by a U.S. citizen or a permanent resident. Individuals must be 18 years old or older, and they have to provide a valid residential address and phone number.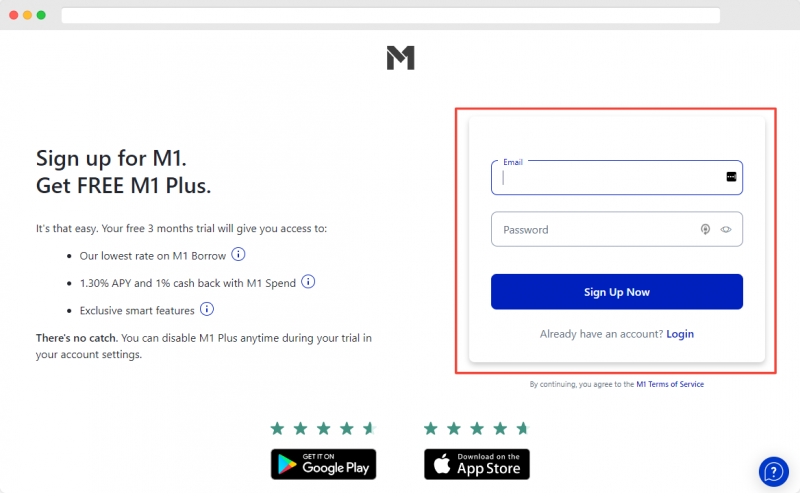 ---
M1 Finance Features and Tools
In this section, we will be reviewing the different features and tools that are available within the M1 Finance platform for engaging in trading and investing activities. We will also share further details about how the interface works and which operating systems are currently supported.
| | |
| --- | --- |
| Minimum Investment | $100 on taxable accounts and $500 on retirement accounts |
| Fees | $0 (M1 Basic) and $125/year (M1 Plus) |
| Checking APY | 0% (M1 Basic) and 1% (M1 Plus) |
| Debit Card Cashback | 0% (M1 Basic) and 1% (M1 Plus) |
| Margin Rates | 2.25% (M1 Basic) and 3.75% (M1 Plus) |
| Investment Types | Stocks and ETFs |
| Account Types | Individual Taxable, Joint Taxable, Traditional IRA, Roth IRA, Rollover IRA, SEP IRA, Trusts and Custodial (UTMA/UGMA) |
| Platform | Web Access and Mobile (iOS / Android) |
| Assets Under Management | Over $6 billion |
| Promotion | Get up to $500 (*when you sign up for M1 and make a deposit of $1,000 or more within 14 days) |
| Socially Responsible Investing | |
| Fractional Shares | |
| Portfolio Rebalancing | |
| Tax-Loss Harvesting | |
| Support | Live Chat, Support Tickets, Email ([email protected]) and Telephone: (+1 312-600-2883) |
M1 Invest
M1 Finance allows users to either build portfolios by using a robo-advisor — also known as guided investing — or engage in self-directed trading and investing activities by using the platform's interface.
With M1, users have access to multiple financial assets, including stocks, exchange-traded funds (ETFs), bonds, and cryptocurrencies. This provider does not charge a commission for trading any of these instruments.
M1 Finance also offers fractional shares, meaning that users can buy a portion of a stock instead of the whole unit to create well-diversified portfolios without having to invest thousands of dollars.
All of the trades that users would like to execute with M1 Finance can be completed within two daily windows. There is a morning window available to all users and an afternoon window that is only available to M1 Plus users. The latter begins at 3:00 PM ET and the former at 9:30 AM ET.
Pie Investing
Pie Investing is how M1's guided investing solution works. The platform makes available a user-friendly interface through which users can handpick any financial asset — i.e., a stock or ETF — that they would like to incorporate into their portfolio. They can assign a specific weight to it, which is the percentage of the portfolio that it would account for.
Meanwhile, it is also possible to pick among the platform's suggested pies. These are known as Expert Pies. This is the guided-investing feature made available by M1 as it allows investors to create a portfolio that fits their financial goals, risk tolerance, or investment preferences without having to handpick the individual securities that they would be incorporating into the portfolio.
Rebalancing
One of the benefits of M1 Finance's guided-investing solution is that the system automatically rebalances the portfolio, so it matches the original target allocation. This is the percentage that should be allocated to each stock contained in the pie. This feature is known as Auto-Invest.
The required trades that the system has to make to stick to the pie's target allocation will be executed within any of the two daily trading windows that M1 Finance has made available for its users.
Trade Stocks and ETFs
With M1 Finance, users can opt to trade securities by themselves without necessarily having to create a pie. This can be done by placing an individual trade order for any of the assets supported by the platform.
Slices are also available for this kind of trading, but there are certain limitations. For example, users cannot buy and sell securities during the two trading windows within a single day unless they have an account balance of $25,000 or higher.
M1 Spend
M1 Spend is the cash management solution currently offered by M1 Finance. It consists of a checking account that charges no annual fees and that entitles the holder to receive an M1 Spend Visa® debit card.
The account's best benefits are available to users who subscribe to the M1 Plus program. For example, Plus users can enjoy a 3% annual percentage yield (APY) on their account balance, 1% cashback rewards, and early deposits.
This account is furnished by the Lincoln Savings Bank and is insured by the Federal Deposit Insurance Corporation (FDIC) for up to $250,000.
Owner's Rewards Card
The Owner's Rewards Card is a credit card issued by M1 Finance that entitles the holder to get up to 10% in cashback rewards when making purchases with certain vendors. The rewards program is currently sponsored by more than 70 companies, including popular brands such as Target, The Home Depot, and Apple.
The card features contactless technology and can be easily managed by using M1's user interface. There is a maximum limit of $200 for monthly cashback rewards, and the annual percentage rate (APR) of the card typically ranges between 18% and 29%.
The approval of the card is subject to a review of the user's credit profile. The Owner's Card is powered by Deserve and issued by the Celtic Bank.
M1 Borrow
M1 Borrow is a program that allows investors to take a loan by using their investments or account balances as collateral. Currently, M1 Finance offers two types of loans: margin loans, which can be used to trade securities, and personal loans, which are cash loans that can be used for any purpose.
Margin Loans
Eligible users are allowed to take out up to 40% of their account's balance as a margin loan. The interest rate for these loans starts at 6.25% as of December 2022 for M1 Plus users. To access these loans, users must be eligible for a margin account. A minimum account balance of $2,000 is required to access this alternative. Margin loans are typically approved within minutes.
Margin loans are subject to margin calls. This occurs if the equity of the account falls below a certain threshold. If a margin call is issued for a user, the person must deposit additional money into the account to raise its equity value. If this is not done, the system may automatically liquidate some of the open positions within the portfolio to reduce the amount borrowed to the point that it complies with the firm's maintenance margin.
Personal Loans
Personal loans are only available to residents of Florida, Illinois, and Minnesota at the moment. Interest rates for these loans start at 7.49% as of December 2022 for M1 Plus users.
With M1 Finance, users do not have to pay any origination, prepayment, or late fees when taking out a personal loan. The maximum amount that can be borrowed is $50,000, and the repayment period can extend to up to seven years.
To be eligible for a personal loan, users must meet one of the following requirements:
Being an active M1 Invest customer for at least 90 days
Being an active M1 Spend customer for at least 180 days
Maintaining at least $100 on any funded account at the time the application is sent
M1 Finance conducts a soft credit check to assess the creditworthiness of its users. These checks do not affect the person's credit score.
M1 Save
M1 Finance plans to launch a high-yield savings account under its Save program in 2023. According to its website, APY of this product would be 4.5%. The account will be insured by the Federal Deposit Insurance Corporation (FDIC) for up to $250,000 as they will be furnished by the B2 Bank — a member bank of the FDIC.
M1 Plus
M1 Plus is the premium subscription offered by M1 Finance for users who would like to enjoy more benefits for all the products and solutions the company offers. The cost of the subscription is $125 per year. The following is a summary of the added perks that this provider offers to Plus users.
Access to custodial accounts
Executing trades during two daily time windows instead of one
Lower interest rates for margin and personal loans
Higher APYs for the company's savings products
Better cashback rewards when using M1 Finance's debit card
Unlimited number of crypto trades
To sweeten the deal, M1 Finance is offering a three-month trial period during which users can test the benefits of the Plus subscription before formally enrolling. The membership can be canceled at any time.
M1 Crypto
M1 Finance offers access to the cryptocurrency market via its M1 Crypto account. This account is available to both Basic and Plus users, but the free version limits the number of trades to 10 per calendar month. Meanwhile, M1 Plus users can trade crypto whenever they want.
Even though M1 Finance is considered a zero-commission trading platform, crypto trades are subject to a 1% or 100 basis points transaction fee charged by Apex Crypto — the clearing company used by this provider to execute the transactions.
As with traditional assets, users can create pies made up of crypto assets and enjoy the same dynamic rebalancing feature that is available for stocks and ETFs. At this time, a portfolio made up of crypto, and other assets, such as stocks, cannot be created.
Meanwhile, the cryptos bought with M1 Finance are stored with Apex Crypto. These assets cannot be transferred to an external wallet, and the firm does not support individual wallets, either. Crypto assets are not eligible for margin loans.
The specific list of crypto assets supported by M1 Finance is not disclosed. However, it does include some of the most popular cryptocurrencies, such as Bitcoin, Ethereum, Solana, Avalanche, and Litecoin.
Mobile App
M1 Finance is more an investing app than a trading app. Hence, the firm's user-facing interface is designed to be easily accessed and used. An M1 Finance account can be accessed via the company's official website or by using the mobile app, which is available for both iOS and Android devices.
With M1 Finance's mobile app, users can make all sorts of transactions, including buying and selling securities, creating pies, borrowing funds, transferring money, rebalancing their portfolios, and signing up for M1 Plus.
The M1 Finance app has been given a 4.5-star rating on the Google Play Store from over 21,000 reviews. The app boasts over 500,000 downloads. Meanwhile, on the Apple App Store, it has received a 4.7-star rating from over 49,000 reviews.
---
M1 Finance Portfolio Construction
M1 Finance is best known as a provider of guided-investing solutions. However, its service does not work in the same way as others, as it does not create portfolios based on the users' financial goals or risk tolerance.
Instead, it suggests some alternatives that the company's team has come up with that may be suitable for different types of investors. In this section, we provide further details about how users can build portfolios by using this provider's flagship solution — the "pies."
Expert Pies
Expert pies are portfolios created by the M1 Finance team that follow a certain strategy or incorporate a specific type of asset. These pies are typically made up of exchange-traded funds (ETFs). This makes them widely diversified investment alternatives compared to portfolios made up of individual stocks only.
M1 Finance can suggest the pies that best suit a certain investor based on what they intend to achieve — i.e., build a retirement fund, save money for a trip, or set money apart for a kid's college fund.
Expert pies cannot be modified, and once they are adopted, they will be automatically rebalanced from time to time by the firm's systems to maintain the target allocation. There are more than 80 different Expert Pies available for users to pick from. The most popular choices include:
General Investing
Responsible Investing
Hedge Fund Followers
Plan for Retirement
Income Earners
Custom Pies
Custom pies are created by users based on the investment preferences, methodologies, and strategies they would like to pursue. Pies can be easily built by using the M1 Finance platform and are available for both traditional assets — i.e., stocks and bonds – and cryptos.
To build a custom pie, users just have to click on either the "Build a stock-and-fund pie" or "Build a crypto pie" button. Then, they have to select the assets that will be incorporated into the pie and finally choose the percentage of the funds that they will allocate to this specific pie. The target allocation can be edited after the pie has been created.
Users will see a dashboard of all of their pies. The M1 Finance system executes the required trades to ensure the users' preferred target allocations are achieved. Users can change the percentage allocated to each pie at any given point, and the required trades will be executed during one of the system's daily time windows.
---
M1 Finance Fees
M1 Finance aims to offer an affordable stock trading and investment platform. To achieve this, they have slashed their trading commissions for stocks and ETFs to zero and also offer banking products that charge low or no fees.
| Service | Fee |
| --- | --- |
| Management Fee | $0 |
| IRA Termination Fee (Per Event) | $100 |
| Inactivity Fee | Accounts with up to $20 & no activity for 90+ days. |
| Expense Ratios (Funds) | 0.06% – 0.20% |
| M1 Spend | $0 |
| M1 Plus | $125 per year |
M1 Checking Fees
The M1 checking account is a product that aims to charge as little as possible to customers. As a result, M1 Finance does not charge annual maintenance fees or penalize users for maintaining an account balance that is lower than a certain threshold.
As for ATM fees, M1 Finance's free users are entitled to get one reimbursement per month for the ATM transactions they make, while Plus users are entitled to four reimbursements per month.
Meanwhile, international fees go from 0.8% to 1% for Basic users, while M1 Plus users will get full reimbursement of these charges. Finally, outgoing wire transfers cost $25 per transaction.
M1 Investing Fees
M1 Finance's investment platform is free to use. Users can register without having to pay anything, and there are also no annual fees for keeping the account open.
Trading U.S.-listed stocks and ETFs is free as well, except for some minor regulatory fees imposed by the U.S. Securities and Exchange Commission (SEC) and Financial Industry Regulatory Authority (FINRA).
Meanwhile, non-trading fees include charges for paper copies sent via overnight email (starting at $100), a $20 inactivity fee if the account has not been accessed within a 90-day period, and a $100 charge for outgoing direct account transfers. A full list of all non-trading fees related to the M1 Invest program can be found on their website.
M1 Plus Fees
M1 Plus is the premium subscription package offered by this provider. It costs $125 per year for users to enroll. No other charges or fees have to be paid.
Other M1 Finance Fees
M1 Finance charges 1% or 100 basis points for every crypto trade made within its platform. In addition, requiring tax documents related to the account generates a $50 charge.
---
M1 Finance Customer Support
M1 Finance has made available a Help Center that contains answers to some of the most frequently asked questions about the firm's services. Some of the subjects covered in this module include account management, details about how the firm's programs work (Invest, Save, Spend, Crypto), and how money can be transferred into and out of the accounts.
Non-registered users can contact the firm via a feature called "Instant Help," which relies on a chatbot to answer any questions they may have about the service. The company can also be reached via email by sending a support ticket from the "Contact Us" section.
An M1 Finance representative can be reached via phone call at 312-600-2883. They are available from Monday to Friday from 9 a.m. to 4 p.m. ET. Meanwhile, holders of the firm's Owner's Rewards Card can reach out to M1 to solve any issue they may encounter with their cards from Monday to Saturday.
Users have rated M1 Finance 3.3 stars on the firm's official Trustpilot account. The company has replied to 51% of all negative reviews. Some users have complained of inconveniences when reaching out to a representative from the firm.
Meanwhile, the firm has received a 1.48-star rating on the Better Business Bureau (BBB) website. However, it is important to note that M1 Finance is not an accredited BBB business.
According to the BBB, the firm has closed 84 complaints from consumers within the last three years and 27 in the past 12 months as of December 2022. M1 Finance's response rate is 100%.
---
M1 Finance Ease of Use
M1 Finance's trading interface was created with beginners in mind. This means that both the web-based and mobile versions of its systems are highly user-friendly. Users can easily create pies, go through their account details, search the financial assets they would like to invest in, and more.
Since M1 Finance aims to become the #1 finance super app, the firm devotes a lot of time to improving its mobile interface. All of the features and services that this provider has made available can be accessed via the app, and users can opt-in and out of all of them by using their smartphones.
The positive reviews that the app has received on both the Google Play Store and the Apple App Store confirm that M1 Finance's mobile app is quite good and performs as expected.
---
M1 Finance Security
M1 Finance LLC is a broker-dealer company registered with the U.S. Securities and Exchange Commission (SEC) and is also a member of FINRA and SIPC. This means that investors' accounts are insured for up to $500,000 in securities and $250,000 in cash.
Meanwhile, the firm's banking products, such as its checking account, debit card, and upcoming high-yield savings account, are supported by so-called "program banks" — i.e., Lincoln Savings Bank for M1 Spend and the Celtic Bank for the Owner's Rewards Card.
These are FDIC-insured financial institutions that partner with M1 Finance to allow them to offer these products. M1 Finance is not a bank.
M1 Crypto is a service supported by Apex Crypto. This is a company that provides custodial services for digital assets and facilitates trading activities for cryptocurrencies.
The company shares some data from its users with third parties and ad networks. It also uses Plaid to offer end-user account linking and aggregation services to integrate bank accounts with its proprietary trading platform.
Users are not allowed to opt out of having their information shared for M1's own marketing efforts, but they can when it comes to sharing the data with third parties.
---
M1 Finance Educational Resources
In terms of education, this provider lacks a library of materials that can enrich the user's financial knowledge. The closest to this type of information that users can obtain could be found on the website's Help Center, where the company answers some frequently asked questions about the products it offers, such as what stocks and exchange-traded funds (ETFs) are. They also have a blog where they publish financial content to educate their audience.
This is by far the most notable deficiency of M1 Finance's ecosystem, as the company caters mostly to beginner investors who would benefit from learning more about how the financial markets and investing work.
---
M1 Finance Pros Explained
M1 Finance is a well-established, regulated U.S.-based broker-dealer that provides access to a wide range of banking, investment, and financial products.
The firm charges no commissions for trading U.S.-listed instruments such as stocks or exchange-traded funds (ETFs).
Opening an account with this provider is easy and may only take a few minutes.
M1 Finance's services are free. Users who opt to enroll for M1 Plus may have access to some benefits, but the free version of the service is quite good by itself.
The minimum deposit required to open an M1 Finance brokerage account is low at $100.
M1 Invest can be used to create widely-diversified portfolios easily.
The firm's cash management solution (M1 Spend) offers access to low-cost banking products.
The Owner's Rewards credit card entitles the holder to receive attractive cashback rewards.
M1 Finance's trading interface (primarily mobile) is highly user-friendly.
All of the firm's products are insured by either the FDIC (banking) or SIPC (investment).
---
M1 Finance Cons Explained
Cryptocurrencies cannot be incorporated into pies that include traditional assets — i.e., stocks or ETFs.
Cryptocurrencies cannot be deposited or withdrawn from/to external wallets.
Users have complained extensively about customer support issues.
---
M1 Finance Alternatives
In this section, we compare M1 Finance's services with those of other similar firms, such as Robinhood and Fidelity, to highlight both their similarities and differences so users can have a better sense of which provider is the best fit for them.
M1 Finance vs. Robinhood
Robinhood is a self-directed trading platform that also offers access to complex financial products such as options. This provider is perhaps better for active traders than long-term investors, although the latter can also benefit from their zero-commission trading service for U.S.-listed securities and user-friendly platform. What Robinhood lacks that M1 Finance has is a guided-investing solution. In addition, Robinhood does not provide access to personal loans. Read our full Robinhood review to learn more.
M1 Finance vs. Fidelity
Fidelity Investments is a long-standing U.S.-based financial institution that offers many products and services to customers, including asset management, trading, and guided-investing solutions. One positive aspect of Fidelity is its stability as a company since it counts on a large asset base and extensive resources to stay afloat. In addition, the firm has been in this business for decades and has a positive track record that includes surviving multiple financial crises. Fidelity has something to offer to match virtually all of the services that M1 Finance has made available. However, its guided-investing solution — Fidelity Managed Accounts — charges a 0.35% annual fee for account balances higher than $25,000. Read our full Fidelity review to learn more.
| | | | |
| --- | --- | --- | --- |
| | | | |
| Our Rating | | | |
| Fees | $0 | $0 | $0 |
| Promotion | Get up to $500 (*when you sign up for M1 and make a deposit of $1,000 or more within 14 days). | 1 Free stock (*after linking your bank account). | None |
| Highlight | Personalization and automation in one single platform | Zero commission stock and ETFs trading | Reputable and reliable brokerage firm |
| Best For | DIY long term investors | Beginner stock traders | Beginner investors |
| | | | |
Compare M1 Finance
Find out how M1 Finance stacks up against the competition.
---
Who Is M1 Finance Best for?
M1 Finance is a great alternative for investors who prefer to take a hands-off approach when it comes to managing their investments. With Expert Pies, they can easily create highly-diversified investment portfolios that focus on generating certain results.
Meanwhile, the service is also suitable for more experienced investors who also prefer not to spend much time managing their portfolios, as they can let the robo-advisor perform the required rebalancing from time to time after they have built the portfolio the first time.
Finally, the cash management products and loans provided by M1 Finance are great additions to a service that is already attractive for investors, as they can use the balance on their accounts to take some money out for whatever needs they may have without affecting their investment portfolios.
---
Notable M1 Finance Updates
High-Yiled Savings Account: On November 14, 2022, M1 Finance announced that it would soon be launching a new product: a high-yield savings account with a 4.5% APY for Plus users. This will be an FDIC-insured product that will be furnished by the B2 Bank.
Owner's Rewards Card: On September 22, 2022, the firm launched its Owner's Rewards Card. Only a few minutes after the announcement was made, it decided to remove the $95 annual fee it was initially charging.
Crypto Feature: On September 8, 2022, M1 Finance announced that it would give customers access to the crypto market by allowing them to ask for early access to this feature. In addition, they made available the possibility of opening up to four M1 Checking accounts. M1 Spend users were also allowed to open a checking account without having to open a brokerage account.
---
M1 Finance FAQs
We've found some of the most frequently asked questions with regard to M1 Finance. Here are our answers.
Is M1 Finance Available Outside of the U.S.?
No. M1 Finance requires a U.S. address, Social Security Number (SSN), and a valid U.S. phone number to complete the registration process. Hence, people living outside the U.S. are not allowed to open an account with this provider. 
How Does M1 Finance Make Money?
M1 Finance makes money from payment-for-order-flow by collecting interest from its margin and personal loans and from its M1 Plus premium subscription package. Meanwhile, program banks used by M1 for its banking products may also compensate the company for the business they bring.
Can I Transfer My Crypto From M1 Finance to an External Crypto Wallet?
No. The cryptocurrencies bought with M1 Finance are stored by Apex Crypto — a third party that provides custodial services for the firm. At the moment, it is not possible to transfer crypto in or out of the M1 Finance ecosystem.
Is M1 Finance Good for Beginners?
Yes. M1 Finance is a good guided, and self-directed trading platform for beginners as its systems are fairly easy to use while the company charges zero commissions for trading U.S.-listed securities. In addition, the minimum deposit to open an account is low.
Is M1 Finance Safe?
M1 Finance is a regulated broker-dealer registered with the U.S. Securities and Exchange Commission. The company is also a member of FINRA and SIPC, meaning that its brokerage accounts are covered by an insurance policy of up to $500,000 in securities and $250,000 in cash per account in case the company goes under.
Moreover, M1 Finance's banking products are FDIC-insured as they are furnished by regulated U.S.-based financial institutions.
How Can I Transfer Investment to M1 Finance?
It is possible to transfer a third-party brokerage account's assets to an M1 Finance account by following the instructions provided by the company in its Help Center. Both full and partial transfers are supported. The process takes from five to seven business days. Incoming transfers are free.
Account Minimum: $100 taxable accounts ($500 retirement accounts)
Fees: Zero-commission stock and ETF trading
Promotion: Get up to $500 (*when you sign up for M1 and make a deposit of $1,000 or more within 14 days).

---
Final Thoughts
M1 Finance has grown to become one of the leading players in the increasingly growing space of cash management and investing apps available to U.S. residents. The company offers an ample range of innovative products and services, including guided-investing solutions such as its flagship Expert Pies and alternatives for investors who prefer to take the wheels of their investment accounts.
Overall, this broker is a good and safe alternative for U.S. investors looking to easily create investment portfolios from scratch. Its banking and loan products are a great addition, as other brokers in the space do not provide access to this kind of product just yet.
Up Next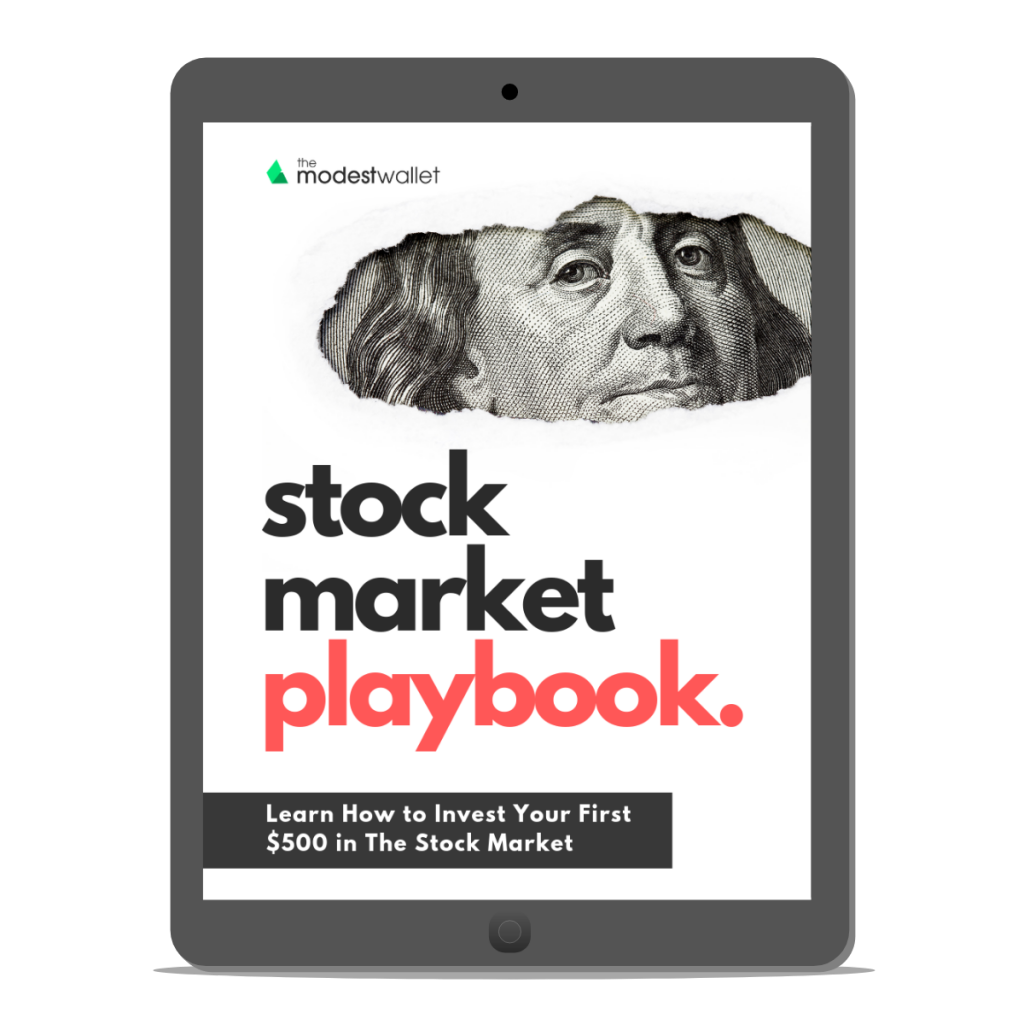 Get our free Stock Market Playbook to learn how to invest your first $500 in the stock market.
Plus our best money tips delivered straight to your inbox.

Alejandro is a financial writer with 7 years of experience in financial management and financial analysis. He writes technical content about economics, finance, investments, and real estate and has also assisted financial businesses in building their digital marketing strategy. His favorite topics are value investing and financial analysis.