Many or all of the products featured on this page are from our sponsors who compensate us. This may influence which products we write about and where and how the product appears on a page. However, this does not influence our evaluations. Our opinions are our own. Here is a list of our partners and here is how we make money.
The information provided on this page is for educational purposes only. The Modest Wallet is a financial publisher that does not offer any personal financial advice or advocate the purchase or sale of any security or investment for any specific individual.
Budgeting may sound simple on paper but it's never easy. You can't have too much help. Even the most careful spenders need help to keep their finances on track. Yet, less than 41% of people in the country do proper budgeting. This is where the Mint App can help you stay on track with your personal finances.
Mint, a free offering from Intuit, promises to help users balance finances as it shifts the focus on to the big picture. It links to bank accounts, offers great suggestions, and sends timely alerts. But is it worth a try?
In this Mint review, we'll have a look at the app in detail and conclude if it can be effective. Let's move ahead.
What is Mint?
Mint is a simple personal finance program with over 20 million users. The tool is free to use and only requires minimum knowledge to operate.
The app syncs bank accounts, PayPal accounts, credit cards, and other financial accounts to keep a record of the flow of money.
Owned by the makers of QuickBooks and TurboTax, the app is designed to be a one-stop solution for users. It offers a free credit score and sends notifications when a user goes over budget.
In addition to this, the app can also track bills and send reminders so they are paid on time. It works on computers, laptops, and even hand-held devices including smartphones.
You can download the app for free from Google Play, Apple Store.
We tested the app by signing up for several personal accounts. The tool seamlessly downloaded financial data and required only a few minutes to set up. We tried the mobile app and also the web interface to check the tool from every perspective.
It presents information in an easy-to-comprehend manner. The use of graphs makes it easy to grasp information. All in all, it appears to be useful in keeping your financial information in one place.
The dashboard is cleverly managed and can provide a lot of financial information. Overall, Mint looks like a powerful app that's also quite easy to use.
How Does Mint Work?
Mint is essentially a finance aggregation app. It allows users to create and manage budgets by pulling information from all financial accounts. Users can easily track the incoming and outgoing of money to understand their financial standing.
You can feed information from any US-based financial institution including debit and credit card information.
The app can help you pay or track loans, bills, and investments including IRAs and 401(k)s. It keeps a record of previous data and also downloads new data automatically.
In addition to this, the app can also track all kinds of transactions including ATM transfers and transactions to paint a true picture of spending and earning.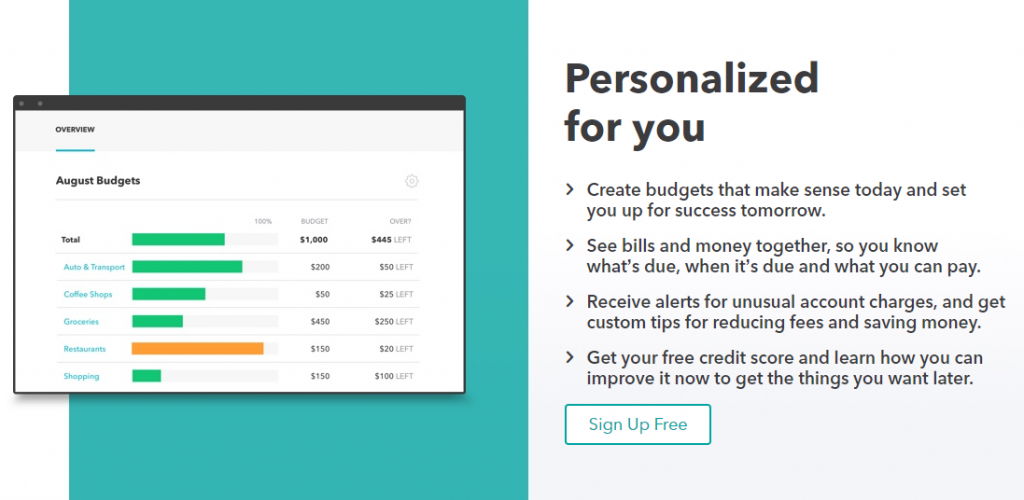 It offers a customization feature that lets users categorize spending and tag certain transactions for a more detailed analysis.
Some of the main categories include bills, overview, transactions, budgets, ways to save, goals, trends, and investments. Users can manage the categories according to their own goals and even set up reminders or alerts.
One of the apps biggest strengths is the ability to create categories designed to track their own budgets. Each category uses its own transaction and financial data and history to create reports.
Users can set the budget by any time period out of the available options (weeks, months, etc.). The tool sends automatic reminders if a user goes over budget in any category. This can be very effective for users who lack motivation or discipline.
Other than this, the app can also help you save. It recommends financial deals including insurance and credit card deals to help users save money. Moreover, it also suggests brokerages to help you manage IRAs or 401(k)s.
The aim of the app is to ensure you stay within your budget, miss no bills, and make informed financial decisions by keeping an eye on reports on net worth, income, spending, and debt.
Mint Features
| | |
| --- | --- |
| Cost | Free |
| Supports | Website, Apple Watch, Android App, SMS, iOS App |
| Import QIF, QFX Files | ✘ |
| Currency | Dollars (US and Canada) |
| Budgeting | ✓ |
| Investment Tracking | ✓ |
| Reconcile Transactions | ✘ |
| Bill Management | ✓ |
| Credit Score Monitoring | ✓ |
| Custom Categories | ✓ |
| Retirement Planning | ✘ |
| Tax Reporting | ✓ |
| Two-Factor Authentication | ✓ |
| Online Synchronization | ✓ |
| Bill Payment | ✘ |
Track Expenses and Create Budgets: The main function of the app is to track expenses and help users with budgeting.
It is quite easy to set up budgeting. Download the app, make an account, and sync your transactions. The transactions will automatically get categorized. You may choose to make your own categories as well but the app does not give users the option to modify top categories.
One of the app's strongest features is the ability to make changes to transactions after they have been downloaded. We did not like the auto-categorization feature, hence it may be better to make some adjustments as you deem necessary. It may work for some people but it's not very well organized.
The good thing, however, is that the system is smart. It can memorize transactions and place them in the right category once it learns how you like to keep your transactions.
Monitor Credit Scores: The app gives a free option to track credit scores (TransUnion). This feature gives a true picture of your financial standing right after you log in. Also, it does not affect your score since Mint uses the "soft pull" technique to show you scores.
The feature shows more than just the credit score. It also provides payment history and the age of credit accounts in addition to other details. There is also a premium version that offers more information.
Click here to know more about Credit Monitor, available for $16.99/month.
Create and Manage Goals: Mint lets you track and manage goals. You can create new goals such as saving for a new car or paying off debt. The goals are very easy to set up and are also reflected in budgets.
Taxes: Tax tools integrate with Intuit's TurboTax. This way you can enjoy free tax calculators and other such options.
The system helps you estimate refunds, uncover deductions and credits, etc.
Investments: This feature can be of great help to understand your portfolio. Information is available in a graphical form and is simple to read. You can get reports on asset allocation, value, performance, comparison, etc.
Users can set the budget by any time period out of the available options (weeks, months, etc.). However, overall, this section looks weak. In fact, other apps offer more options in this category.
Mint seems to be well aware of the lackings here, which is most probably why it does not mention this section on the official site.
Customer Support: You can get in touch with company agents over live chat between 5AM-9PM Pacific time. The help is available 7 days a week. The agents appear to be helpful, well informed, and quick to respond.
Pros of Mint
SMS or Email Alerts: Mint sends you regular alerts on pending bills with tips to save money.
Weekly Emails Containing Summaries: This is a great feature to know about your weekly transactions. It sums up your finances and can be helpful in understanding your transactions.
Graphical Presentation: The app makes budgeting easy by providing information in an easy-to-understand graphical format. You can understand transactions at a glance.
Safe and Secure: The app is said to be safe to use thanks to two-factor authentication that prevents hacks and unauthorized access to your account.
Auto Sync: You will not have to worry about manually syncing accounts or downloading transactions. The app updates all information as you open it. This is a great, time-saving feature. The ability to see all your accounts in real-time is quite beneficial.
Easy to Use: The tool is very easy to use and is made for the everyday user. You do not need to have complex financial knowledge in order to use or understand it.
Net Worth: It allows you to feed the value of your assets (homes, cars, etc.) to calculate your net worth. While the value may not be very true, it's close to the actual figure.
Money Saving: The tool is mainly designed to manage finances, but it also allows you to save money by helping you understand taxing and net worth. Plus, the ability to know and manage your credit score can also play an important role in saving money.
Great Offers: Some users appear to be fond of the recommendations and deals it offers. They may help you pick the right company.
Credit Score: It lets you monitor your score, payment history, account usage, and errors that can be very helpful in maintaining and improving your credit score.
Cons of Mint:
No Option to Pay Bills: If you have used Mint in the past, you might have used it to pay your bills. However, this feature is not available anymore.
Limited Currencies: A lack of other currency options may make it unattractive to some users, especially foreigners. The company, however, doesn't appear to be working on it as Mint, for now, is mainly designed for American and Canadian users.
Some Features Are Lacking: The app has a lot of features yet some sections appear to be missing important options. For example, the investing section is not as useful as we'd like. Plus, you can generate reports only by exporting a CSV file. There are no other options to generate reports.
Can Be Slow at Times: The app generally works fast and is quick to load, but synchronization can often be very slow.
No Reconciliation: It does not give you the option to reconcile statements. This might be due to the company assuming the data it provides is always correct, however, that may not always be the case.
Limitations: There is no option to assign multiple saving goals to one account. Moreover, there are no running account balances in registers. Plus, the app is no more available on Windows devices.
No Quicker Support: If you are used to Quicken, you may have some problems in using Mint as it does not allow users to import data from Quicken.
Get Alerts From Mint
The alert system is great. It removes the need to open the app every day to have a look.
You can get regular alerts for:
Late fees warnings
Bill reminders
Over budget (specific categories)
Large purchases
Rate changes
Who is Mint For
Mint is for everyone who is serious about managing finances. Originally made for individuals, it is also suitable for small businesses.
It can be a great option if you want to be able to get notifications on the go and never miss bills. The app is free to use and quite easy to understand.
Additionally, it can help you save money by preventing you from having to pay late fees. Also, the tax section is quite good as well thanks to the ability to integrate with Intuit's TurboTax.
Who is Mint Not for
Mint may not be suitable for people who want to use their Windows phones to access the app since it's no more available on the Windows app store. Other than this, it may not be suitable for temporary workers or freelancers as the budgeting feature requires predictable income.
The app may also not be the right fit for users who want to concentrate on investments as its investment section is not well developed.
Mint Pricing Plan
The tool is completely free to use with no hidden charges. The company makes money by suggesting you ways to save money and earning a referral fee.
You will also see ads on the site. While the tool is generally free, there is a small premium feature (premium credit reports) for detailed reports.
In addition to this, the company is also known to make money by selling aggregate financial data (not individual) to providers. This data includes information such as the number of accounts a user may have, where the consumer spends most of the money, etc.
This, however, must not be a concern for most users since the data is collected anonymously and doesn't refer back to individuals.
Are There Mint Alternatives?
Mint might be a popular service but it's not the only app offering help in this regard. There are some other great apps like Personal Capital, Quicken, and EveryDollar.
All of these tools have their own pros and cons. You can see what works for you.
Is Mint Safe to Use?
Technically speaking, Mint is safe to use. As mentioned earlier, it uses two-factor authentication to prevent anonymous logins. Other than this, you can disable a device in case you lose your phone or part ways with it.
It's, however, often under fire for asking users to provide both the usernames and passwords to their credit cards, bank accounts, etc. The company keeps this information in its databases which may not be very secure as there is a risk of the databases being hacked, in which case login details would go public.
The company in 2017 entered into an agreement with Chase, agreeing to develop software that would allow Chase customers to send their data to Mint without the company requiring to store login details.
In addition to this, the two parties also agreed to keep customer data private and not sell it to third parties.
A few more such deals would make Mint even safer to use. However, it must be mentioned that the servers appear to be secure and guarded. Plus, the company hasn't been hacked in the past. Hence, it can be considered safe to use.
Summary
Mint is a great tool for tracking and creating your budget, credit score, and goals. The alert system is a great plus. However, it does lack in some departments, i.e: the investment section isn't very well designed and the app is not available for Windows phone users.
Final Verdict
Mint can be a good option for basic budgeting, credit score management, etc. Since it is free to use, you can get an account and see how it works for you. The huge number of users it has is a good indication of the app doing what it promises to do.

Ricardo is an entrepreneur, investor and personal finance nerd who enjoys spending time with his family and friends, travelling and helping others achieve their financial goals. Ricardo has been quoted as a personal finance expert in several online publications including Healthline, Bankrate, GOBankingRates, MSN Money, Yahoo Finance, U.S. News & World Report, Forbes and USA Today.