40 Best Money Making Apps in 2023
Let's face it, inflation is high, and grocery and gas prices are rising—we could all use some help supplementing our budgets. If you're like us, you're looking for simple, reliable ways to earn extra cash. You probably also want to save money and build wealth over the long term.
That's where these money-making apps come in.
Why apps? If you're like the average American, you check your phone 344 times per day. From survey apps to investing to cashback programs, these apps are available at the tap of a finger.
TL;DR
---
Best Survey Apps For Making Money
The apps in this section pay you to provide your opinion on products, ads, marketing campaigns, and more. Survey apps are usually fun and easy to use. You can fill out surveys while you're watching TV, waiting in line, or any time you have a few minutes free.
 1. Branded Surveys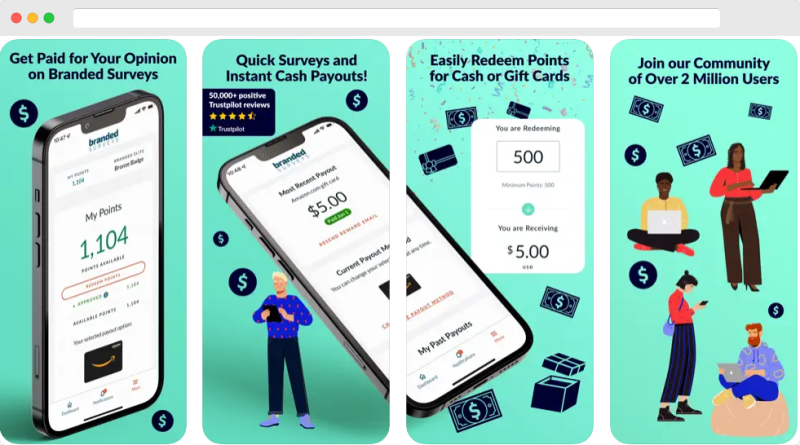 Branded Surveys is an online platform that connects users with market research companies and brands seeking consumer feedback. By participating in surveys, members can contribute their opinions on various topics, ranging from product preferences to advertising effectiveness. This valuable information helps companies shape their offerings and make informed business decisions. At the same time, users can make extra cash for providing their opinion.
While it's challenging to estimate the exact amount of money you can make from surveys on Branded Surveys, it's important to manage your expectations. Surveys typically offer a range of points, with longer and more complex surveys generally providing higher rewards (generally speaking you can make anywhere between $0.50 per survey to $5.00 or sometimes a bit more per survey completed). Accumulated points can be redeemed for various rewards, such as gift cards, cash payouts, or merchandise, depending on the options available.
The amount of money you can earn ultimately depends on factors like the number of available surveys, your demographic fit for specific surveys, and the time and effort you invest in completing them. Some users may earn a modest supplementary income (around $200 to $300 per month), while others may view it as a way to earn rewards for their spare time.
2. Survey Junkie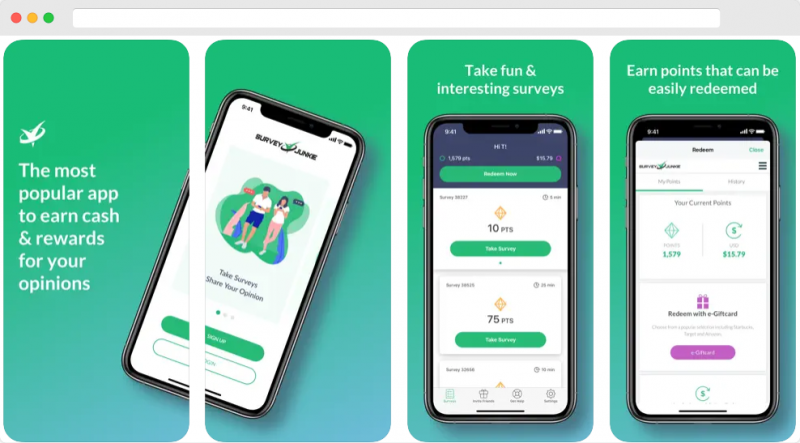 With Survey Junkie, you complete surveys to earn points, which you can redeem for gift cards.
Start by answering some profile questionnaires. A complete profile will help match you with appropriate surveys.
When you have a match, you'll see the survey in your Survey Junkie dashboard. Go ahead and complete the survey by sharing your honest opinions.
For each completed survey, you'll earn points. Once you've earned 500 points, or $5, you can exchange them for a gift card to stores like Walmart, Amazon, and iTunes. You can also receive your payment through PayPal or a bank transfer.
In addition to surveys, you can earn points by sharing your digital data via the SJ Pulse program. Install Pulse on your Android device or your computer. It automatically tracks activities such as web searches, shopping, and browsing. Read our full Survey Junkie review to learn more.
3. Swagbucks
For each survey you complete on the Swagbucks app, you'll earn Swagbucks. You can then trade in your Swagbucks for gift cards or a PayPal deposit.
Gift card payout options include Amazon, Walmart, Starbucks, and more.
It's easy and free to sign up. Once you do, fill out your profile to be matched with appropriate surveys.
Swagbucks currently has more than 20 million active members, and they give out 7,000 gift cards every day.
Aside from surveys, Swagbucks offers coupons and cash back at stores like Old Navy, Best Buy, and eBay. When you shop, you'll earn cash back in the form of Swagbucks.
Right now, when you spend $25 at a featured store, you'll earn a bonus of 1,000 SB, equal to $10. Read our full Swagbucks review to learn more.
4. InboxDollars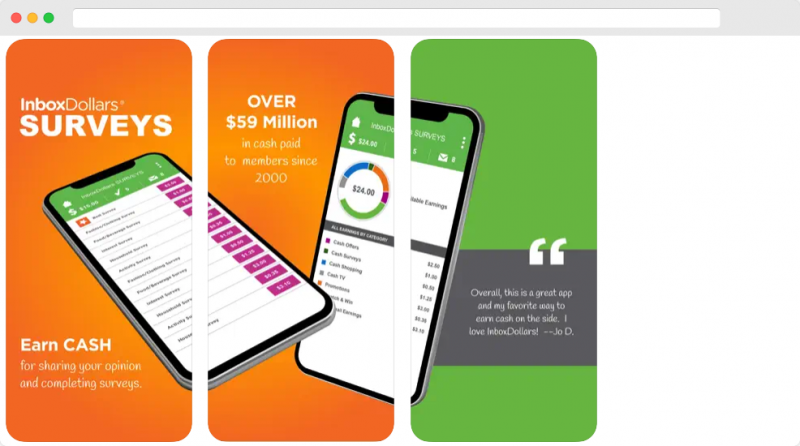 Unlike other survey sites, InboxDollars pays you in straight-up cash rather than points.
For each online survey, you'll typically earn between $0.50 and $5.00. If you're lucky and your profile is a match, you might land a survey that pays $10 or more.
InboxDollars offers an instant, free $5 bonus just for signing up. Just note that you'll need to earn $30 before you can cash out.
Once you have $30 saved up, you can receive your payment in the form of a gift card. Options include Target, Sephora, Amazon, and more. You can also choose a PayPal payment.
To begin, sign up and complete a profile to receive matching surveys.
There are a few other ways to earn cash from InboxDollars. One popular option is Paid Emails, which will pay you a few cents just for reading an email. Visit our full InboxDollars review to learn more.
5. Ipsos iSay
What makes Ipsos iSay unique is that in addition to surveys, they offer product testing. Some lucky users receive products in the mail to test and can then provide feedback.
You get to keep any products the site sends you to test.
Ipsos iSay will match you to both surveys and potential product testing based on your profile. When you complete surveys and give product feedback, you'll earn points. Exchange your points for gift cards to stores like CVS, Dunkin' Donuts, and Target.
In the Ipsos iSay Market, you'll also find rewards like event tickets and charity donations.
If you prefer, choose a PayPal payout for a few extra rewards points. For example, a PayPal payment of $5 costs 510 points, while a $5 Amazon gift card costs 500 points. Check out our full Ipsos iSay review for more info.
6. LifePoints
LifePoints is a survey site and community with members in 45 countries. In addition to paying out points, called LifePoints (LP), for completing surveys, there are weekly prizes and giveaways.
Prize winners are announced on LifePoints' social media, so make sure you follow them to find out if you've won. In addition to points, you could win a tablet, a smart TV, or a new phone.
Keep an eye out for other methods to earn points, such as tagging LifePoints in your social media posts.
When you join LifePoints, you'll get ten free LP. As you earn more LP, you can exchange them for gift cards or PayPal payments.
Make sure you complete your profile so you can qualify for appropriate surveys. Check out our full LifePoints review to learn more.
---
Best Cash Back & Reward Apps
These apps help you save money and earn cash back while you shop for groceries, gas, and other items you need.
You'll typically scan your receipt and product barcodes to get your cash. In some cases, you can link your credit card to the app, making the process even easier.
7. Capital One Shopping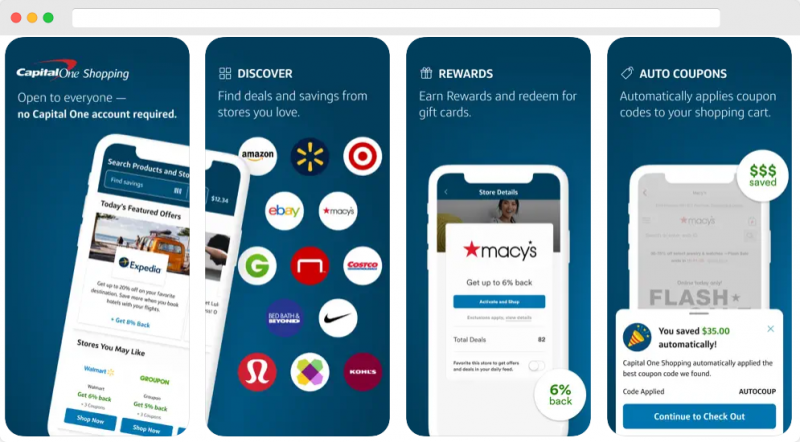 Capital One Shopping offers a browser extension and an app that help you find the best deals on items you already shop for.
You don't need a Capital One account to use the app, and it's free to download.
Start by browsing and finding deals and coupons at stores you love. Capital One Shopping automatically finds coupon codes and applies them when you check out.
You can also earn rewards on specific purchases. Once you've earned some rewards, exchange them for gift cards to stores like Lowe's and Walmart. There's no minimum amount to trade in for a gift card.
When you shop with the app in stores, use the barcode scanner to compare prices. Check out our Capital One Shopping review to learn more.
8. Ibotta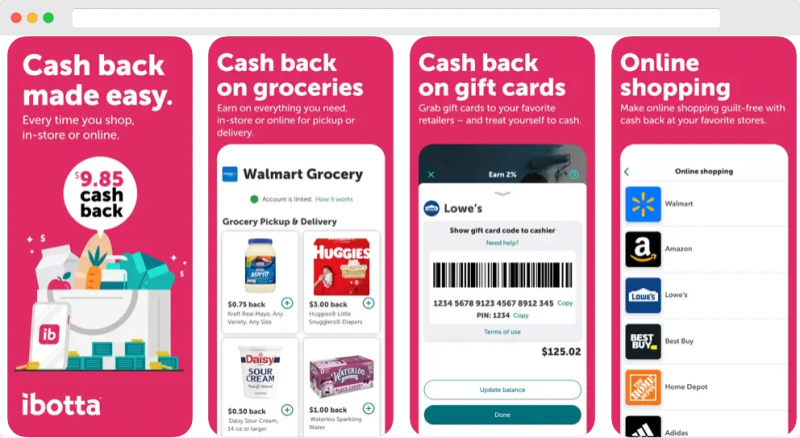 Ibotta started out as a cash back app focused on groceries. Now, they offer deals at other local and online stores too.
In addition to the app, there's a browser extension you can use while you shop online.
Before you shop, check out the cash back offers in Ibotta and add them to your account. After you're done, take a photo of your receipt and scan your products' barcodes. Ibotta will add your rebates to your account.
Ibotta works with some stores' loyalty cards to make the process even easier. With these stores, you don't even need to scan your receipt to get cash back. This option is available at more than 100 stores nationwide.
There's a $20 minimum to withdraw your earnings. Once you reach $20, you can transfer your funds to your bank account or PayPal or buy a digital gift card.
Keep an eye out for $10 or $20 sign-up bonuses. Don't forget to refer friends too, which can earn you a bonus of $5. Visit our full Ibotta review for more details.
9. Dosh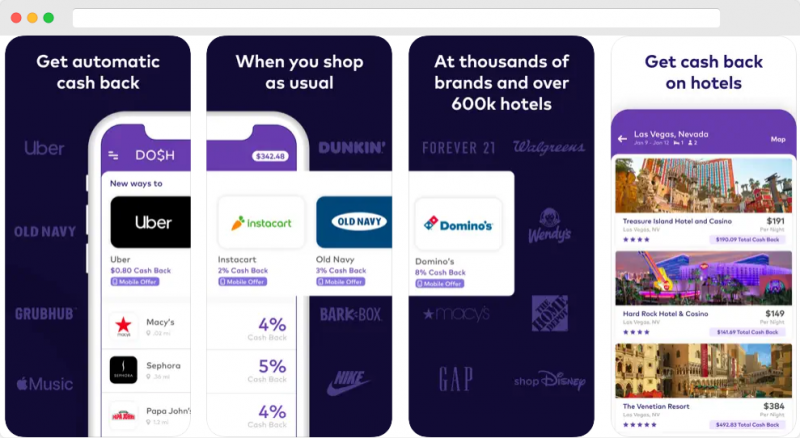 Dosh is a cash back app that you can safely link to your credit card. When you shop with more than 10,000 participating stores, you'll get money back automatically.
We all know gas is expensive right now—Dosh can earn you cash back when you fill your tank. Besides gas stations, the app works with big-name stores like Walmart, Sephora, and Finish Line.
There's also a travel feature that can earn you up to 40% back on hotel stays.
When you've earned $25 in rewards, you can cash out to your bank account or PayPal.
If you don't have a credit card or don't want to link your card, Dosh also works with Venmo. When you use Venmo to make a payment, you'll automatically get cash back from participating retailers. Check out our full Dosh review for more info.
10. Drop
Drop is another app that rewards you when you shop with your favorite brands. It works a little differently than other cash back apps in that you earn points when you shop.
There are some other ways to earn points besides shopping. Try playing games or filling out surveys.
Like Dosh, Drop offers the option to link a credit card and earn rewards automatically when you use your card. With Drop, linking a card is optional.
If you do decide to link your credit card, you'll automatically become a Premium member. This means you'll get access to some exclusive benefits, like in-store offers. Premium members can even use Drop to invest in Bitcoin and Ethereum.
You'll need a minimum of $25 worth of Drop points to earn a gift card to Amazon and other stores. Drop offers other options for redeeming your points, like crypto investments and virtual collectibles. To learn more, see our full Drop review.
11. Fetch Rewards
With Fetch Rewards, you earn rewards when you shop for groceries and other items. The cool thing about this app is that you can use it at any store or restaurant just by submitting your receipt. If you buy specific eligible products, you'll earn even more money back.
L'Oreal Paris, Betty Crocker, Absolut, and Huggies are just a few examples of the brands that partner with Fetch.
When you're done shopping, upload a photo of your receipt. You can also submit emailed receipts from online purchases. You'll earn 25 points or more per receipt.
Receipts that show eligible purchases will earn you additional points.
There's a minimum withdrawal of 3,000 points, which comes out to $3. Redeem your points for gift cards to stores including Target and Amazon or a versatile Visa gift card. Read our full Fetch Rewards review to learn more.
12. Rakuten
Shoppers who use Rakuten earn up to 40% cash back at more than 2,500 stores and restaurants.
Formerly known as eBates, Rakuten has been around since 1999. In that time, they've paid out $2.2 billion to members. That's a lot of cash back!
Like Dosh and Drop, Rakuten lets you link your credit or debit card, which makes it easy to redeem offers. Just make sure to activate your offers in the app before you shop.
Rakuten automatically pays you every three months as long as you have a balance of $5 or more. This means you don't have to remember to cash out your rewards.
If you sign up now and spend $25 on eligible purchases within 90 days, you'll get a welcome bonus of $10. Read our full Rakuten review to learn more.
13. Upside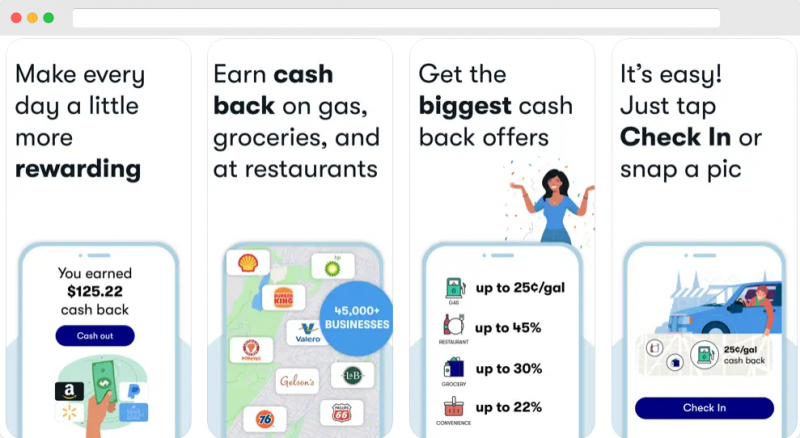 Upside is a cash back app that offers deals at more than 50,000 stores across the country. Best of all, it can save you serious money at gas stations like Shell, Conoco, Circle K, and more. Users report saving up to 35 cents per gallon.
To use the app, start by opening it and claiming an offer from a nearby business. Pay for your purchase as you normally would.
Next, you can either check in to the business's location, or snap a photo of your receipt and upload it.
That's all there is to it! You'll receive cash back that you can redeem via PayPal, a bank transfer, or a gift card.
There's no minimum for cashing out. However, if you transfer less than $10 to your bank account or less than $15 to PayPal, there's a $1 fee.
---
Best Investing Apps
The following investing apps can help you earn serious money. They aren't for people who need cash fast. But if you have the time and patience to let your investments grow, these apps can be highly lucrative.
14. Public.com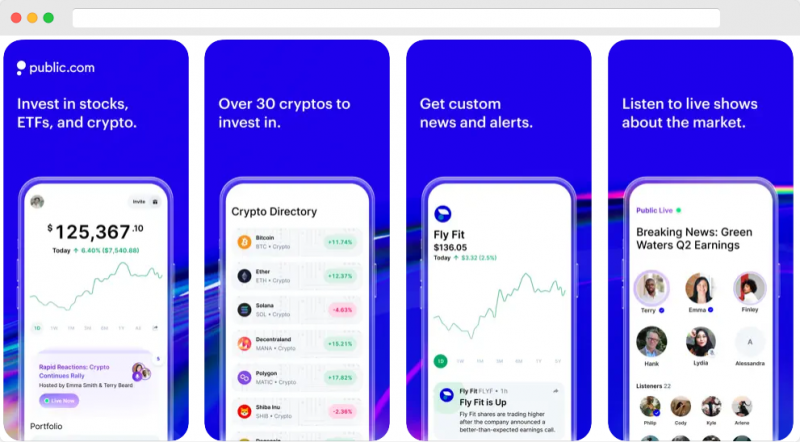 Public makes investing accessible to everyone, even if you're brand new to investing and don't have much money to start with.
Use the site to invest in stocks, ETFs (exchange-traded funds), and crypto.
By offering fractional shares, Public lets people invest in big companies. You can own a small slice of Amazon, Apple, Tesla, Chewy, and many more.
Public also offers educational resources and opportunities to connect with other investors. You can grow your financial knowledge and your bank account at the same time.
When you first sign up and deposit some funds into your account, Public will give you a free slice of stock. The slice you receive is chosen at random, and its value could be any amount from $3 to $300. For more details, have a look at our full Public review.
15. Fundrise
Have you ever thought about investing in real estate but worried you didn't have enough funds to break into this market? Then Fundrise is the app for you.
This crowdfunding-based investment app helps people buy into commercial real estate assets for as little as $10.
Fundrise vets all of its projects to ensure they're high quality. While no investment is guaranteed, they aim to maximize returns and minimize risk.
The app also uses cutting-edge technology to keep fees low. In general, you'll pay 0.15% in annual advisory fees and an annual 0.85% asset management fee. In other words, you will pay $10 for every $1,000 you invest. To learn more, check out our Fundrise review.
16. M1 Finance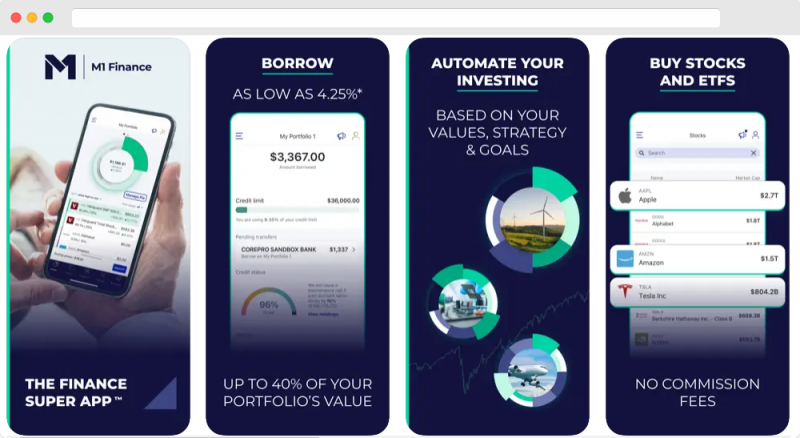 M1 Finance is an investment app that offers a range of tools for managing and investing your money. It's a hydride between a robo advisor and a stock broker.
Use the app to build an investment portfolio for free. Choose the stocks and funds you want to create a custom portfolio or opt for an expert selection.
M1 helps with automatic contributions and dynamically rebalancing your investments so you can sit back and watch your wealth grow.
If you need help planning for retirement, M1 offers traditional, Roth, and SEP IRAs.
Once your portfolio value reaches $2,000, you'll gain access to a line of credit with rates as low as 3.5%. Use this money for anything you like, from a timely investment to an unplanned expense or large project. Visit our full M1 Finance review to learn more.
17. Acorns
Acorns offers several ways to automate your investing, making it easy to build a diversified portfolio over time.
With Round Ups, Acorns rounds up all your purchases and invests the change for you.
Say you make a purchase on your credit card for $2.75. The app will "round up" the sale to $3.00 and invest the difference of $0.25 in your ETF portfolio. You'll barely notice any difference, but those small amounts add up.
You can also earn rewards with hundreds of brands through Acorns Earn. Right now, for example, Macy's has an offer to invest 3% of your purchase price back into your portfolio.
Plan for your retirement with Acorns Later, which includes Roth, traditional, and SEP IRAs. Acorns Family includes Acorns Early, an investment account for kids. For more details, check out our full Acorns review.
18. Coinbase
Coinbase is an investment app, but instead of stocks, you use it to buy and sell cryptocurrencies.
Even if you're brand new to crypto, Coinbase makes it easy to sign up and get started. You can use the app to hold your crypto assets (although for holding large amounts, we recommend a digital wallet for security reasons).
One exciting feature on the app is called Coinbase Earn. With this program, you can earn crypto by watching educational tutorials about different cryptocurrencies.
Coinbase often has sign-up bonuses available. Right now, you can spin a rewards wheel and earn up to $200 of Bitcoin.
As with any investing service, there's no guarantee you'll earn money. Cryptocurrency, especially, can be volatile. Do some research before you buy, and don't invest more than you're okay with losing. Learn more by visiting our complete Coinbase review.
19. Worthy Bonds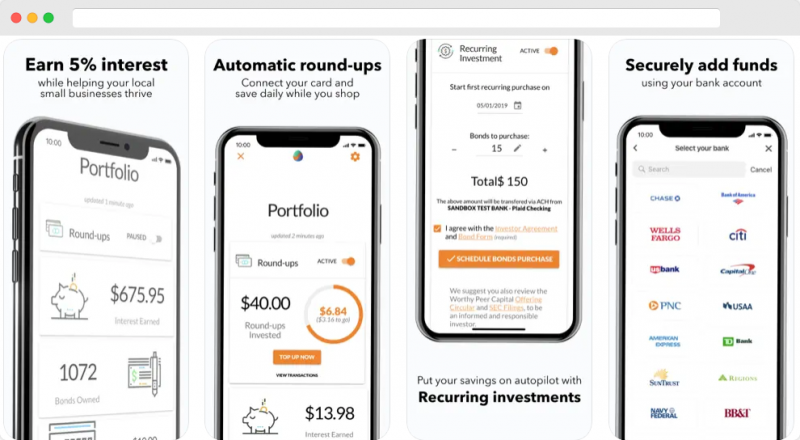 With Worthy Bonds, users invest in bonds that provide capital to small businesses. You can invest with as little as $10, and there are no fees for getting started. You'll earn 5% fixed annual interest while making a positive impact.
While the platform can't guarantee the success of any particular business, the bonds are asset-backed and SEC-qualified. To date, Worthy has never missed a principal or interest payment.
You can also cash out your investment at any time. There are no penalties for withdrawing.
The app offers a Recurring Purchase feature that makes it easy to schedule investments. Choose between daily, weekly, bi-weekly, or monthly purchases.
There's also a roundup option that lets you invest the spare change from credit or debit card transactions. When your roundups reach $10, Worthy automatically purchases a bond for you.
---
Best Gig Economy Apps
Our gig economy apps will help you find work that you can do at your own pace and on your own schedule. You'll need a vehicle for some of these gigs, but not all of them.
20. Uber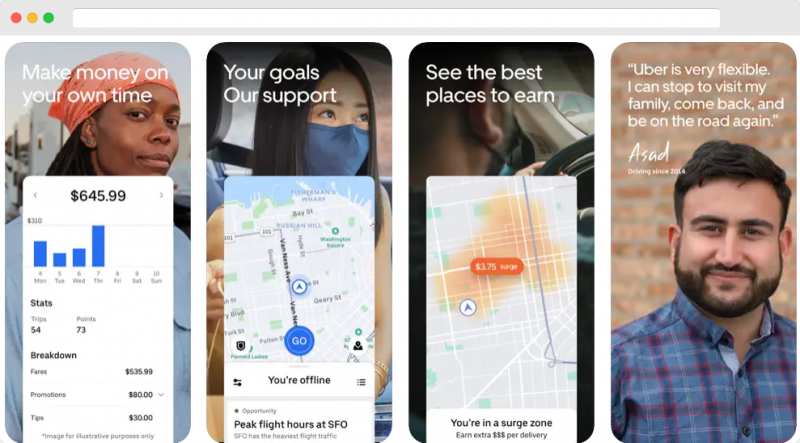 If you have a car and you're comfortable driving people where they need to go, Uber is for you.
And if you'd prefer to deliver food, you can work for Uber Eats through the same app. Either way, you'll be able to make your own schedule and work when you choose.
Most Uber drivers earn between $10 and $20 per hour. Your wages will depend on how many rides or deliveries you complete each hour. You keep 100% of your tips, which can make a big difference.
In some areas, drivers earn up to $25 per hour.
Aside from tips, you'll earn a standard fare based on the time and distance of each trip. Uber also charges surge pricing, which means you'll make more when there's high demand. This is a good way to make money driving.
21. DoorDash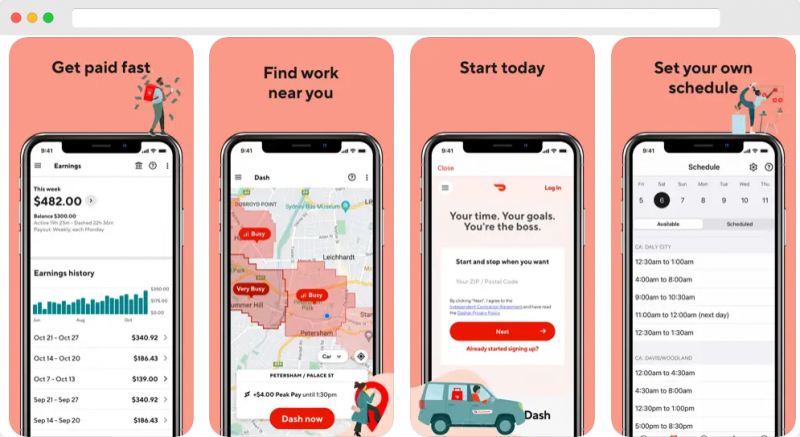 DoorDash drivers earn money by bringing food from restaurants to hungry diners' homes.
The pay works similarly to Uber Eats. You'll earn base pay and keep 100% of your tips. You'll also have opportunities to earn Peak Pay during busy times.
One difference between DoorDash and other delivery gigs is that you can schedule shifts, known as Dashes. You choose when to schedule a Dash. Some drivers find that this helps them plan and stay motivated.
If you're ready to drive but don't have a Dash scheduled, you can sign in and see if Dash Now is available. If it is, start delivering and earning right away. If Dash Now isn't available, it means there are enough drivers on the road already. You can try again a little later. Read our full DoorDash driver review to learn more. Or also check out our guide on the best delivery app jobs.
22. Rover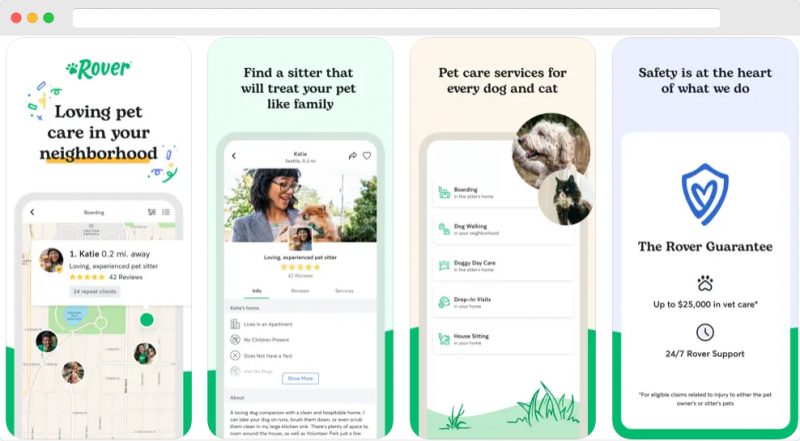 This one's for all the dog and cat people out there (and fish people, and bird people…)
Rover matches pet owners with trustworthy pet sitters, dog walkers, and more. You can earn around $20 for walking a dog and $40 or more for pet sitting overnight. Overall, you can earn up to $1,000 a month.
Rover charges 20% in service fees, so keep that in mind when you estimate your possible earnings. Payment is via PayPal or paper check.
For your peace of mind and your clients', Rover provides insurance and 24/7 veterinarian support.
When you sign up, you'll need to pass a background check and provide some references if you have them. You'll also watch educational videos and complete a safety quiz. Check out our full Rover review to learn more.
23. Lyft
Lyft, like Uber, is a ridesharing service that pays drivers to take people where they need to go.
You'll earn base pay, which is calculated from the distance and time you spend driving. You keep 100% of any tips grateful passengers give you. And you can earn bonuses when you drive during busy times or in busy areas.
Lyft drivers report making about $15 an hour. This rate varies based on how many rides you complete per hour and other factors.
If you don't have a car, you can still start earning cash with Express Drive. This program hooks you up with an affordable rental car so you can drive with Lyft on your own schedule.
Express Drive is available in several large and mid-sized cities across the country.
24. Instacart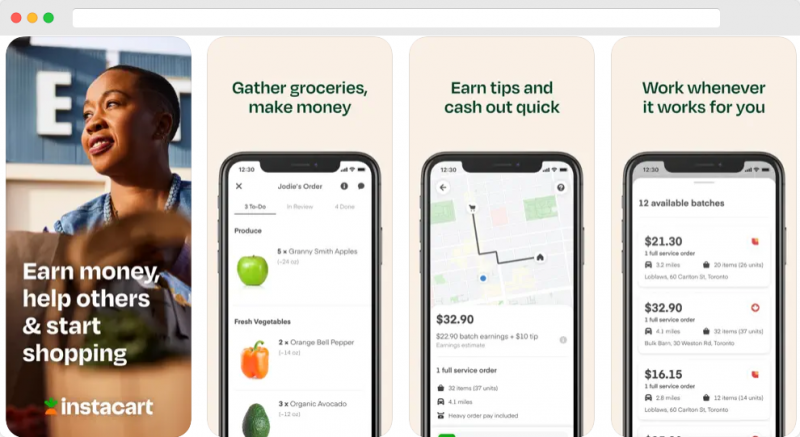 Instacart is a service that allows customers to buy groceries online for delivery or pickup.
Delivery drivers are called shoppers. You choose your schedule and work when you want. You'll drive to stores, shop for each customer's order, and deliver their items to them.
The money you earn is based on the number and type of items, driving distance, and effort. Instacart sometimes offers promotions where you can earn more. And you keep 100% of any tips customers give you.
If you don't have a vehicle or just prefer not to deliver, you can work as an in-store shopper. With this option, you're an employee of Instacart, and you can schedule your own shifts up to 29 hours per week.
Pay depends on location and other factors, but the average is around $14 per hour. Some shoppers earn up to $23 per hour. Visit our full Instacart Shopper review to learn more.
25. Steady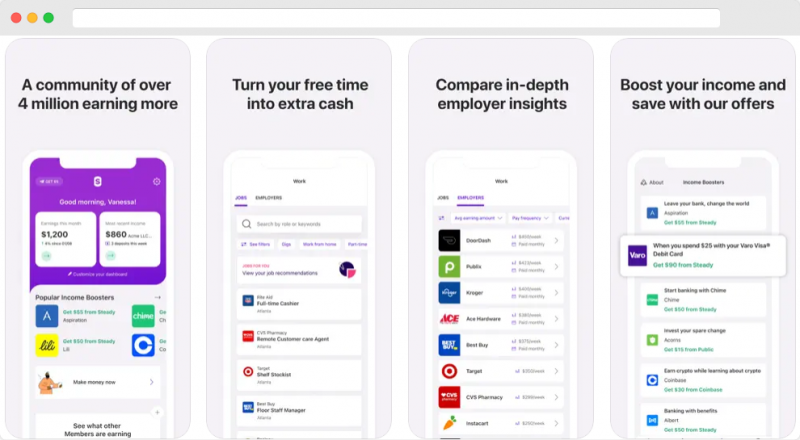 Steady is a noteworthy app that collects part-time jobs and gig economy openings together in one place.
Search by gigs vs. part-time or full-time jobs, work-from-home opportunities, and recently-added openings.
According to Steady, its members earn an extra $5,500 annually after joining. In addition to job posts, the platform offers emergency cash grants, bonus incentives, and much more.
Here's one example of a cash incentive. If you decide to sign up with DoorDash, steady will give you an extra $50!
The Steady community can also help you earn more money. There are posts about employer pay rates, what people are earning in your area, and more. Perusing these posts can help you make sure you're getting paid fairly.
26. Sittercity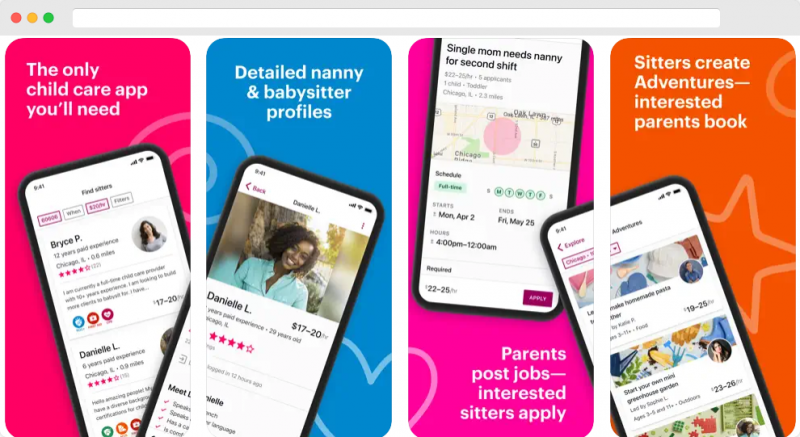 Sittercity matches babysitters, nannies, and tutors with potential clients.
If you're an expert at caring for children with special needs, Sittercity is a great place to find gigs. You can also use the app to look for senior care and pet sitting jobs.
Keeping both kids and workers safe is the app's top priority, and they use a variety of tools to do so. When you sign up as a sitter, Sittercity will verify your identity. You'll fill out a detailed profile, including your work history and qualifications.
Families, meanwhile, are screened through a Family Watchdog database.
Once you get started, users can upload ratings and reviews to reflect your work.
When a family hires you, you'll work with them to agree on your rate and method of payment. Check out Sittercity's blog for a table showing average nanny and babysitter pay rates in different cities.
27. Fiverr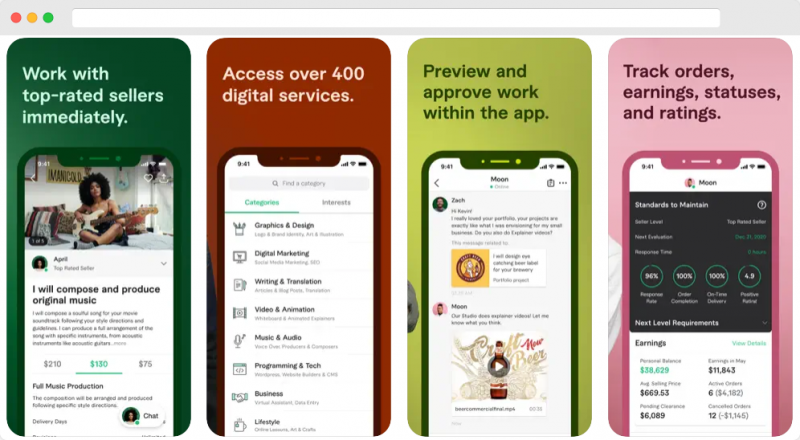 Fiverr is an online and app-based freelancing platform that allows individuals to offer their creative, technical, or business skillsets to clients through a user-friendly system.
Start by selecting "Become a Seller" on the welcome page, which will guide you through creating an effective and engaging freelancer account to start publishing your services, or Gigs, quickly and easily.
With Fiverr, the amount of money you can make depends on you! Sellers can use the platform to supplement their regular income or, if they actively pursue Gigs, be able to replace their day jobs entirely.
Fiverr also hosts its own education platform called Fiverr Learn, which offers highly rated courses to help sellers maintain and advance their skills to start making even more money.
One downside to this app is that it does charge a 20% service fee, meaning sellers only receive 80% of the total they charge the client.
28. Upwork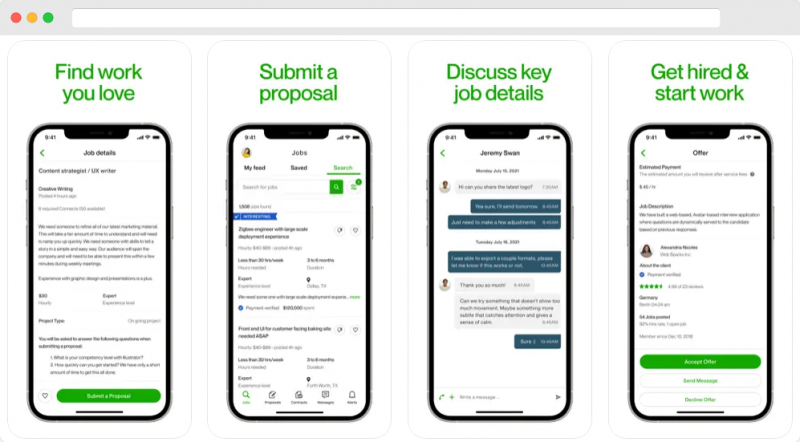 Similar to Fiverr, Upwork is a hub for freelancers who want to make some extra money with their unique skills.
Once you've downloaded the app (Upwork for Freelancers), choose "New to Upwork?" to create a freelancer account. Then, build an in-depth profile that acts as your Upwork resume, displaying your past experience and education, your hourly or fixed rate, the skills you offer, and badges you will earn as you complete jobs successfully.
Depending on your field and years of experience, you can make enough with Upwork to bulk up or even replace your monthly income—as an editor or transcriber, you can average $20–$35 an hour, whereas if you are an expert programmer, you can hit $60–$70 an hour.
The Upwork Community is a definite perk to this platform. Here, you can keep up to date with company announcements, get questions answered through discussion forums, and check for talent huddles in your area.
---
Best Sharing Economy Apps
The below apps are for people who have unused space or vehicles that they want to share. Do you have an extra home or a spare room, or a car you don't use every day? Then these are the apps for you.
29. Neighbor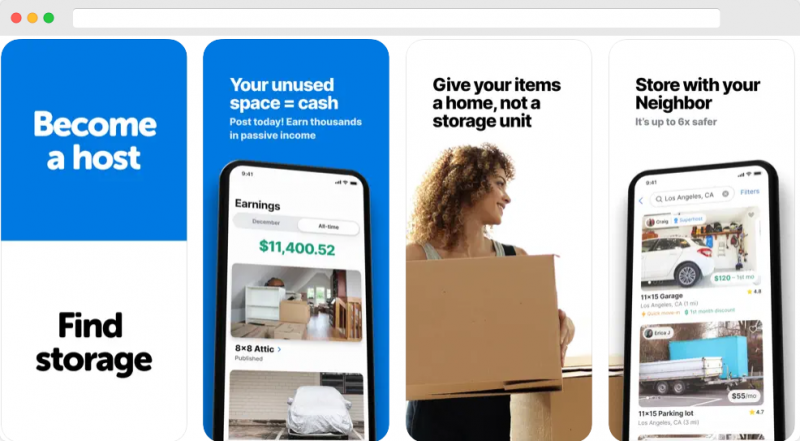 With Neighbor, you can share unused space in your home with people in your community who need it.
Do you have an extra garage or driveway space, spare room, or space in your attic or basement? If so, you could be earning mostly passive income.
All you have to do is sign up for the app, make a listing, and approve a potential renter's profile. You choose how much you want to charge. Of course, you'll need to be somewhat competitive if there are other hosts in your area.
You'll receive automatic payments every month, and Neighbor guarantees payments. That means you'll get paid even if your renter flakes.
Neighbor charges hosts a small fee, which they deduct from your monthly payments.
30. Turo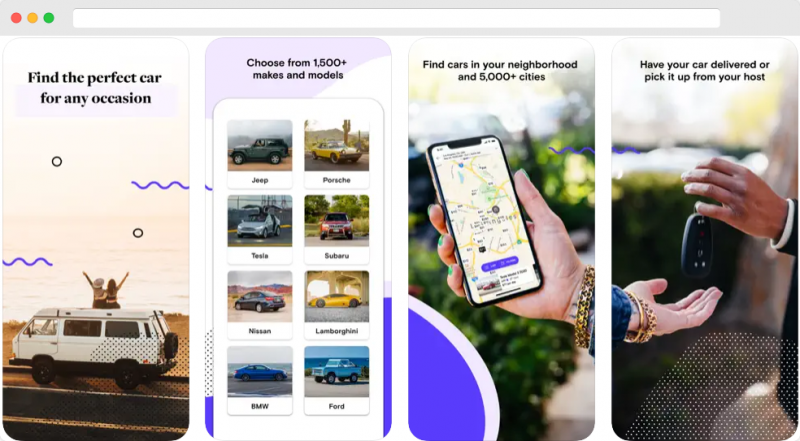 Turo offers passive income for anyone who has a car they don't need to use regularly.
Think of it like Airbnb for cars (see the next app on our list if you're not familiar). Use Turo to rent out your car to someone who needs it.
Turo has a "carculator" that you can use to see your potential earnings. Search by budget if you're planning to buy a car to rent out. Or, scroll down to search for your current vehicle.
According to Turo, the average annual income for one car is $10,516. Just keep in mind that as the host, you're responsible for costs like maintenance and cleaning.
31. Airbnb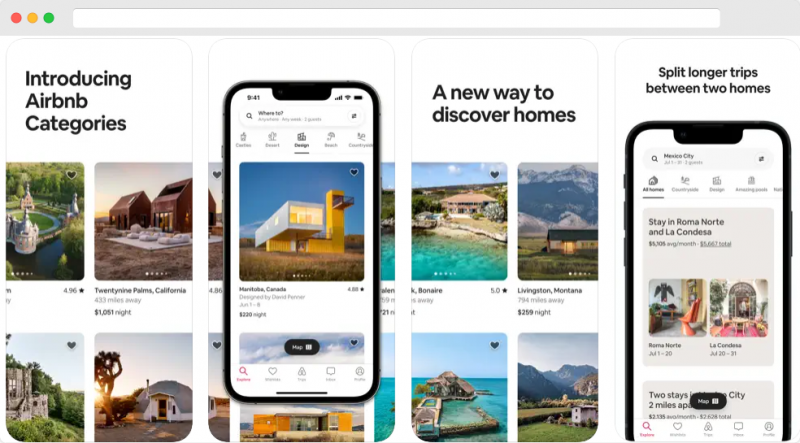 Do you have a spare room or a beach house, or do you spend a lot of time traveling away from home? Why not use Airbnb to rent your unused space to guests?
It's free to create a listing, and Airbnb handles almost everything, from marketing to bookings to payments.
You choose how much work you want to put in. You can clean and maintain your space yourself between guests, for example, or you can hire a cleaning service.
Your income will vary based on the type of accommodation you offer, where you live, and other factors. But according to Airbnb, hosts in the U.S. earn more than $9,000 per year on average.
---
Best Unique Apps To Make Money
We've covered 28 apps so far, but that's only the tip of the money-making iceberg. In this section, you'll learn about some intriguing and unique ways to earn cash.
32. Decluttr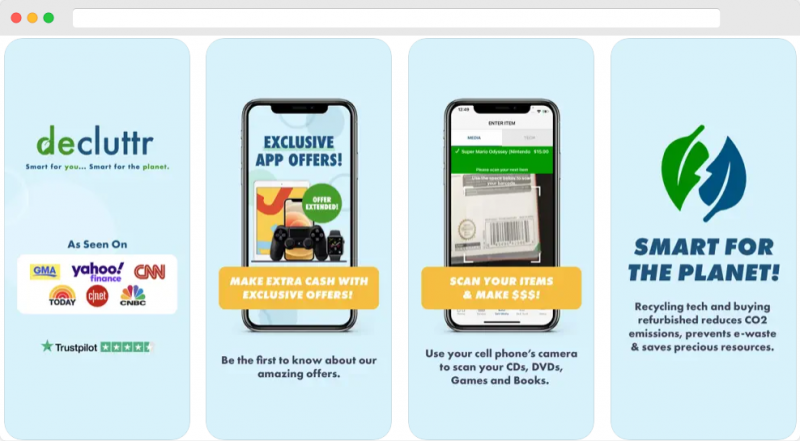 On Decluttr, you can sell phones, tablets, gaming consoles, and other electronics you don't need anymore. If you have any CDs or DVDs you'd like to trade for cash, Decluttr will help with that too.
Items that have a barcode are especially easy to sell via the Decluttr app. Use the app to scan each item and get an instant offer.
For electronics, you'll need to provide some info like the condition, storage capacity, and whether there's a carrier (for phones).
One awesome thing about Decluttr is that you can sell stuff even if it's in poor or faulty condition. For an unlocked, 64gb iPhone X, for example, you'll get $161 if it's in good condition. If the same phone has major hardware issues or physical damage, you can still get $48.30.
For more details on Decluttr, check out our Decluttrs review.
33. HealthyWage
HealthyWage is an app that aims to motivate people to lose weight using monetary rewards.
There are individual, team, and corporate challenges, so you can use the app by yourself or with a group.
Use the HealthyWage calculator to pinpoint the amount of weight you want to lose. Based on this amount, you'll see the potential cash prizes you can earn if you meet your goal.
Next, you'll place your bet, or HealthyWager. You can bet any amount you choose, but remember, if you don't reach your goal, you're not getting that money back!
If a friend joins your team challenge, you'll get a referral bonus of $40.
At the end of the challenge, you get paid if you reach your target weight. You can win up to $10,000, depending on the amount you lose.
34. Honeygain
Honeygain offers $18 or more per month in completely passive income once you get set up. It's a program that helps trustworthy companies use your internet as part of a "residential proxy network." Basically, if you have any unused data in your data plan, you can share it and earn money.
The app doesn't gather any personal data, aside from your email and IP address(es). Your private info is absolutely secure.
When you first sign up, you'll get $5 for free. There's also a referral program; if you refer another user, you'll get 10% of all their daily earnings.
The amount you earn overall depends on a couple of factors, like how many IP addresses you share. With 10 IPs, you can earn up to $184 monthly.
You'll need a minimum of $20 to request a payout. The default payment method is PayPal, but you can also request payment in Bitcoin.
35. Evidation
Evidation rewards people for engaging in healthy behaviors.
It works by connecting with health-tracking apps like Apple Health, Google Fit, Fitbit, and Garmin. When your apps show that you did something healthy, you earn points in Evidation.
Activities that earn you points include exercising, meditating, and reading educational articles.
You can also earn points for filling out surveys. The surveys on Evidation contribute to cutting-edge medical research. The company partnered with Merck to study Alzheimer's Disease, for example, and with the Michael J. Fox Foundation for a Parkinson's initiative.
Once you earn 10,000 points, you can redeem a $10 reward. Redemption options include a PayPal payment, bank deposit, prepaid card, or gift card.
If you want to, you can donate your reward to a charity of your choice.
36. BookScouter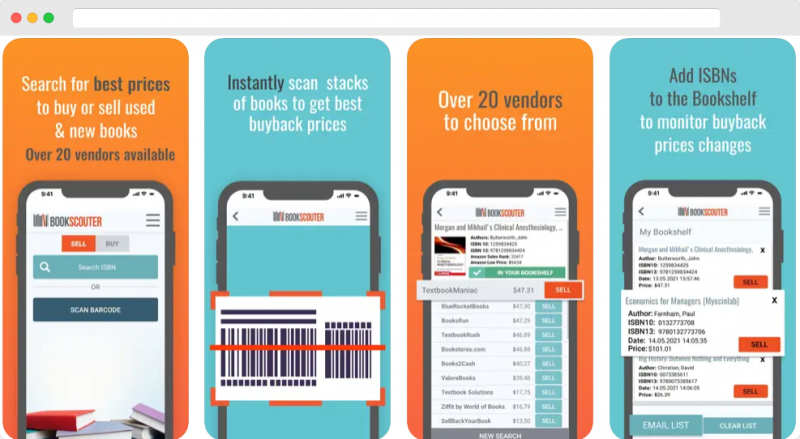 Book lovers, this is the money-making app for you. BookScouter makes it easy to find buyers for your used books.
If you have a ton of books you're done with, you can make some cash and room on your shelves. But you can also turn BookScouter into a side hustle.
It will take some practice, but you can get a feel for what types of books sell well on the app. Then, look for those books at garage sales, estate sales, and online. Use the BookScouter app's range of tools, like the ISBN scanner, to compare offers and maximize your profits.
Each vendor on the site pays separately. In general, you'll receive payment within three days of sending your shipment. Most payments are via PayPal, but if you prefer, you can request a mailed check.
37. Tapestri
Aside from a couple of easy setup steps, Tapestri provides completely passive income. The app pays you up to $25 a month for sharing your mobile location data.
All you need to do is allow Tapestri to access your location info, then go about your business as usual.
The data Tapestri collects is anonymous device data. It doesn't include Personally Identifiable Information (PII). The app also completes a complex separation process to ensure your data is completely anonymous.
Earn more money on the app by filling out surveys, referring friends, or becoming a Brand Affiliate. Each active user you refer will earn you an extra $1 per month.
Tapestri pays once per month. Once your account balance reaches $10, you'll receive an automatic payout. Payments are via Stripe or PayPal.
38. Foap
Are you one of those people who snaps phone pics of all kinds of interesting things that catch your eye? Do you have hundreds of photos and videos of your friends, family, pets, interesting buildings and nature?
If so, why not turn those appealing images into cash? You can, with Foap. This app works with companies to find photos for marketing purposes.
Brands like Heineken, Volvo, and Nivea have worked with Foap to gather photos for their campaigns.
There are a few ways to earn money through Foap. You can join missions, which are specific ad campaigns. You'll need to include a brand's products in your images for these missions, and you can earn up to $2,000.
You can also upload any photos to your profile and caption and tag them appropriately. If someone chooses to buy a photo, you'll get 50% of the purchase price.
39. OfferUp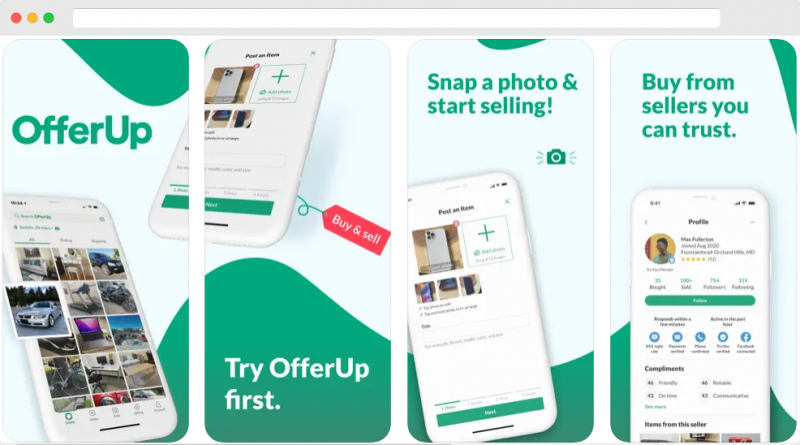 Do you have a house full of items fit for a garage sale or Facebook Marketplace but don't want to go through the trouble of setting up a table or dealing with online scammers? OfferUp is the app for you.
OfferUp allows users in the same area to buy and sell all kinds of items, from household decor and furniture to appliances and cars. The in-app messaging system helps streamline communication about price and meeting location without disclosing your personal information, and seller profiles help buyers vet other users by displaying ratings, verifications (such as reply rate, legitimate social media accounts, and confirmed payment method), and past completed sales.
Posting an item is quick and simple—take a photo or two, add a few descriptors, set your price, and you're good to go!
40. Poshmark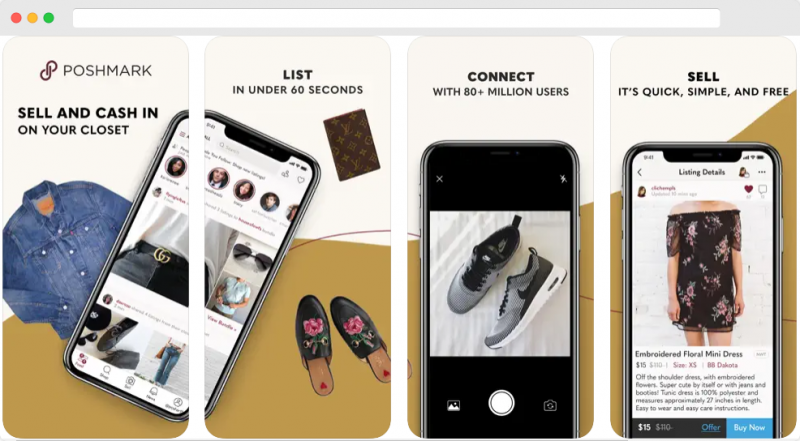 Are you ready to rid your closet of impulse buys you never wore, pieces that don't quite fit, and clothing items you've had for too many years? Using Poshmark can help you clean out that closet and make some money back!
Once you've downloaded the app, simply create an account with your shoe and dress size as well as your ZIP code, follow brands you love, and connect with friends in your contacts to start selling your unwanted clothes right away.
Similar to OfferUp, you can easily post your tops, bottoms, shoes, and more with a quick picture, a short description, and a price. Shipping your items is also easy with Poshmark's pre-paid and pre-addressed labels.
Posh Parties are another perk of Poshmark—these are virtual gatherings where users can buy and sell in real time and ramp up their chances of getting their items seen and purchased. Start selling today!
---
FAQ Money Making Apps
Do you have questions about using apps to make money? Here are our answers.
---
Final Thoughts
You might be looking for a delivery gig to start today or a place to invest your funds for years to come. Maybe you want to earn beer money by taking surveys in your free time. Whatever your monetary goals, there's a money-making app for you.
The best part about these options is that they're all free to download and try out. If one app isn't a good fit, try the next in the list, or combine a few. You could take the money you make selling photos on Foap and invest it in real estate on Fundrise, for example.
With some effort and a bit of flexibility, you'll be making money in no time.