Many or all of the products featured on this page are from our sponsors who compensate us. This may influence which products we write about and where and how the product appears on a page. However, this does not influence our evaluations. Our opinions are our own. Here is a list of our partners and here is how we make money.
The information provided on this page is for educational purposes only. The Modest Wallet is a financial publisher that does not offer any personal financial advice or advocate the purchase or sale of any security or investment for any specific individual.
Money is tighter than ever for a lot of people in the US today. As a result, they're looking for ways to stretch their dollars or make a little extra cash.
We've compiled the best ways to make, save, and invest money — using your smartphone — in one comprehensive review. Continue reading below to find the best that the internet has to offer!
Make Money with Surveys
Paid online survey sites are still the kings of online money-making. Simple to use, available to all, and reasonably profitable, survey apps can turn an idle afternoon or evening into a money-making opportunity.
Just be aware of the fact that you're not going to get rich filling out surveys on survey sites. The pay is relatively low. However, given the amount of effort you're putting in (which is minimal), this isn't surprising.
Earning Potential: Low (Spare Change)
Effort: Medium (Takes some active participation)
Barriers: Low (Accessible to almost everyone)
Survey Junkie
Survey Junkie is one of the leading survey sites on the market today. It offers a wide variety of surveys. Some survey sites allow a user to receive emails, sign up for services, watch videos, or play games to earn additional points. Survey Junkie avoids all of that, choosing instead to focus purely on surveys. This focus prevents the site from feeling cluttered and busy.
As with most survey sites, Survey Junkie functions by rewarding you with points, which are then exchanged for either gift cards or cash. If you choose the cash option (delivered via PayPal), you'll have to cash out all of your points at once. If you choose gift cards, you can elect to redeem a portion of your points.
You must earn at least $10 before you can choose to cash out or receive a gift card. Many other survey sites require a significantly higher threshold (like $20 or even $30).
Go check out our Survey Junkie review to learn more.
Swagbucks
Swagbucks is an online survey site that offers a lot of additional ways to earn money. Unlike Survey Junkie, which focuses almost exclusively on surveys, Swagbucks awards points (called, unsurprisingly, "Swagbucks" on the site) for a variety of activities, including:
Using their search bar
Signing up for special offers
Shopping via their online portal
Trading in your old electronics for points
Completing polls
Referring people to the service
Referring others to the site is particularly rewarding, providing you with up to 1,000 Swagbucks per referral. Go check out our Swagbucks review to learn more.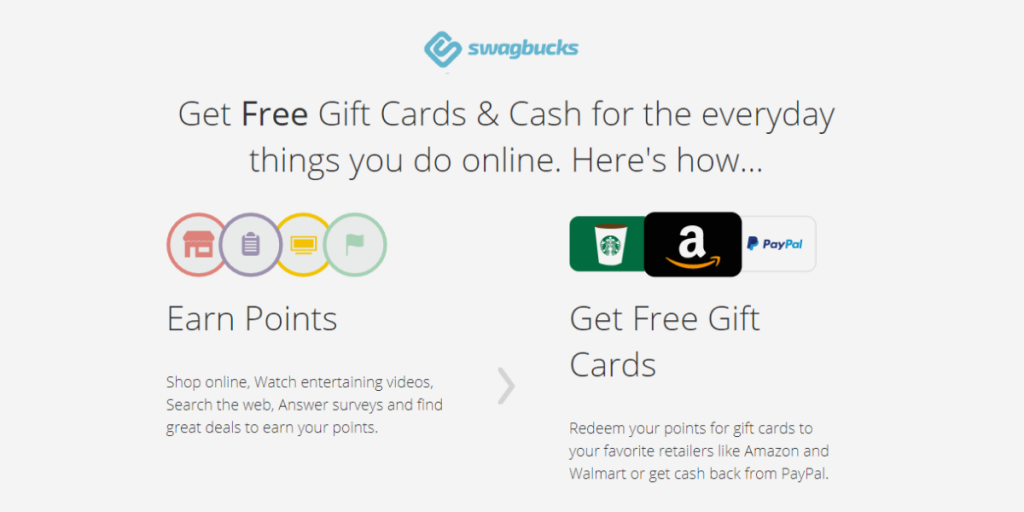 See Also: 15 Legit Ways to Get Paid to Walk, Fast and Easy
Vindale Research
Another survey site, Vindale Research, provides additional ways to earn money while you're at your computer. They include:
Using Reward Codes provided by the site
Watching videos
Receiving emails
Referring friends
The survey functionality is well-designed. Vindale Research provides links to surveys that you may qualify for based on your answers to past surveys, which eliminates some of the fruitless searching required by other survey websites.
As with the other survey sites, referring friends to Vindale Research can be profitable, earning you up to $5 per successful, active referral.
Read our full Vindale Research review to learn more.
MyPoints
MyPoints is more than just a survey site. They offer a ton of additional ways to make money, including:
Watching videos
Playing video games
Shopping through their online portal
Searching the web with their Yahoo!-powered search bar
Using in-store coupons
Reading emails
Participating in special offers
Referring friends
The additional options are helpful, since some reviewers report that the survey portion of the site is lacking. Users indicate that the survey disqualification rate (which is a problem with every survey site we've tried so far) is especially high on MyPoints.
You can choose to redeem your points in the form of gift cards, for denominations as low as $5. Or you can save up a little more and get money transferred directly to your PayPal account.
Read our full MyPoints review to learn more.
InboxDollars
As with MyPoints and Swagbucks, InboxDollars offers a number of ways to make money. They also offer a $5 signup bonus. You should be aware, though, that the signup bonus isn't activated until you sign up and receive their first sponsored email.
This site specializes in sending sponsored emails to your inbox (hence the name). If you don't like getting junk mail, this site may not be for you. (Though you can always sign up for the emails and then unsubscribe to each one you receive.)
For ways to earn money other than by receiving emails, you can try:
Printing and using in-store coupons
Playing video games
Watching videos
Completing various sign-up and orientation tasks
Go check out our InboxDollars review to learn more.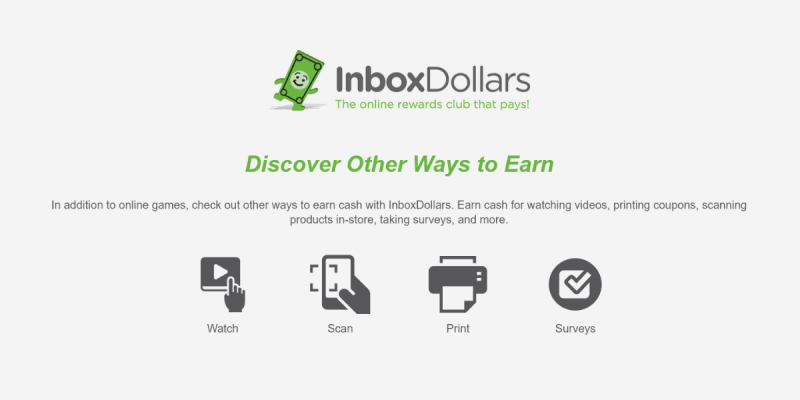 See Also: 23 Best Work from Home Jobs: Start a Career from Your Couch
Best Cash Back and Reward Apps
Cash back and reward apps provide you with (you guessed it) cash back and rewards when you buy certain items and services from certain stores. These programs function by collecting your consumer data while you shop in exchange for offering you a fixed amount of money or percentage of your purchase in the form of rewards points or cash.
Those concerned about their privacy may want to steer clear of these options. Others who are comfortable with sharing their information should take a close look
Earning Potential: Low (Spare Change)
Effort: Low (Entirely or almost entirely passive)
Barriers: Medium (Accessible to those with spending money)
Rakuten
Rakuten (formerly Ebates) is a cash back program that includes a large number of participating retailers, including:
Nordstrom
Amazon
Sephora
Target
Many others
You'll find it easiest to enable their browser extension, which activates the Rakuten service and makes you eligible for cash back every time you're shopping with a participating retailer. Otherwise, you can go to the Rakuten site and start your shopping by clicking on the links they provide.
If you want to buy something in a brick-and-mortar store, just get on their site and activate the offer. Link your credit card to the service, then buy the item with that card. It'll take a few days, but eventually, you'll see your cash back added to your account.
Rakuten pays out your accrued money once every quarter via check or PayPal — or, in the form of a gift card from a selection of retailers (with extra money potentially added), if you respond to their email notice before they send out a check). What's nice about this is that the payout is usually significant, especially if you do a lot of online shopping.
Go check out our Rakuten review to learn more.
Ibotta
Ibotta is a cash back app with some additional features that may interest you. You can shop in-store and claim your cash back by scanning the receipt. You can link your store loyalty cards at qualifying businesses and have the app automatically track your purchases that way. You can shop online via the Ibotta portal. You can even pay with the Ibotta app if you link your credit card.
Ibotta offers a number of opportunities to not only earn cash back but also gain access to immediate savings. Offers, coupons, and Ibotta payments all unlock instant savings at a variety of in-store and online retailers.
Go check out our full Ibotta review to learn more.
Dosh
Dosh is another cash back app with some cool features that aren't available on other cash back apps. Namely:
Earn 20% of the Dosh fees earned by any businesses you refer to Dosh (for two years!)
Earn $5 per friend you refer to the service (sometimes this is bumped up to $15)
They also offer the usual array of cash back app features, including both in-store and online rewards at participating stores and restaurants, rewards at local and national retailers (for most large, urban locations), and automatic cash back via credit card-linking.
It should be noted that there are a few drawbacks. You can't link any credit cards that are already linked to a competitor app. You can only link credit cards once, so couples who share a card are out of luck. And some geographic locations have few rewards opportunities available.
Go check out our Dosh review to learn more.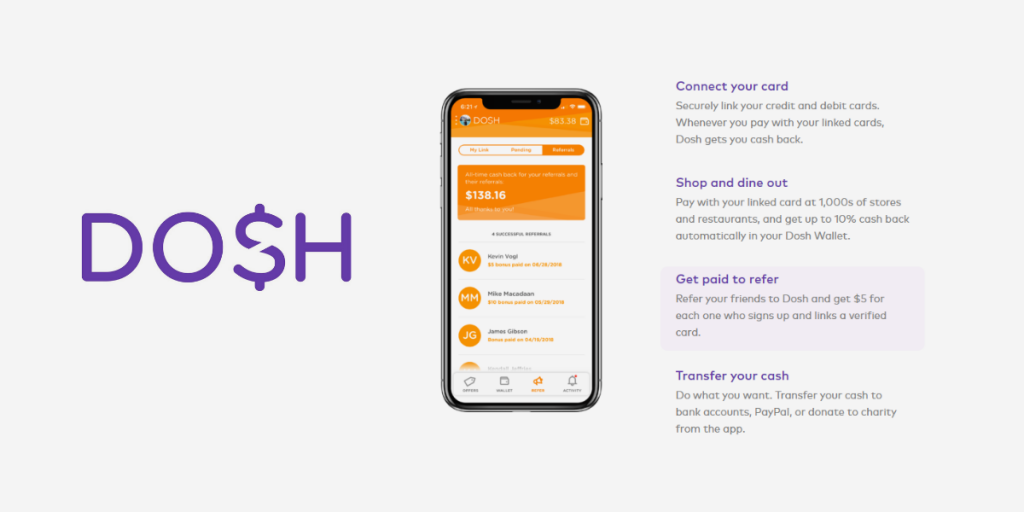 See Also: 26 Easy Ways to Get Free Amazon Gift Cards
Drop
Drop is a very cool little cash back app. After signing up, you select your five favorite brands and link your credit card. From then on, whenever you shop at those stores or restaurants, you'll earn points (up to a maximum of 5,000 points per day). The number of points awarded per dollar spent changes depending on the brands you choose. Each point is worth 0.1 cents, so 5,000 points are worth $5.
On the app, you can also select special bonus offers from brands that aren't on your top five list. These special offers are often quite lucrative, providing tens of thousands of points for completed shopping trips. Read our full Drop App review to learn more
Checkout 51
Checkout 51 offers cash back on select product offers that can be redeemed at your favorite grocery retailers. Offers are usually for everyday items like food and household products. You simply activate the offer, buy the item, and scan the receipt in order to qualify for cash back.
Offers are time-limited (going live each Thursday and expiring each Wednesday), and quantity-limited, so you'll want to make sure you redeem your offer as quickly as possible so someone else doesn't get the last one. You'll also want to make sure you scan your receipt shortly after purchase for the same reason.
Checkout51 is available in the US and Canada. There's also a referral bonus of $10 for every person you successfully refer to the program!
Passive Income Money-Making Apps
Passive investment apps are the latest in "responsibility automation" (our phrase). Some of them work by automatically depositing a small amount of money into an investment account at certain intervals, or after certain events. Or they make investing easier by providing educational materials in the app itself. Basically, they make it simpler to invest in order to make it easier to save up for retirement (or any other major life event).
Check our our passive income ideas post for more ways to make money while you sleep.
Earning Potential: High (Real Money)
Effort: Low (Entirely or almost entirely passive)
Barriers: Medium (Accessible to those with spending money)
Acorns
Acorns is an investment app that rounds up each of your purchases to the nearest dollar and socks away those cents in an investment account. So, for example, if that last cup of coffee cost you $3.14, Acorns would have invested $0.86. Your total spending would be $4.00.
Acorns also offers IRAs (Individual Retirement Accounts) and checking accounts for an additional $1 each per month. Since their basic service only costs $1 per month, the most expensive management fee you may be paying is $3 every month.
While this may not sound like a lot, if you have a small investment account, the management fee as a proportion of your investment can be high. We'll illustrate with an example.
Say that you have just started a taxable investment account, and you're paying $1 a month to Acorns for the trouble. Your balance is $100. This means your annual Management Expense Ratio (MER, for short) is 12% ($12 per year over $100). In case you're unfamiliar with typical MERs, that's quite high. It can eat into your returns pretty quickly.
However, if you have quite a bit saved up, the MER will be relatively low. Say you have the same taxable investment account at $1 per month but you have $10,000 saved up. Your MER is now 0.12% ($12 per year over $10,000). A much better deal.
Whether the fee structure discourages you from getting the app depends on your behavior. If you think the automatic savings functionality will encourage you to save more, the fees are probably worth it. If you don't need the nudges to save, you're probably better off with a different investment strategy.
Go check out our Acorns review to learn more.
Stash
Stash is like a real-life investing tutorial. It offers a simplified interface and fee structure, renamed exchange-traded funds, and thematic investing (more on this below) to help newbie investors get the lay of the financial land.
The exchange-traded funds are renamed to simplify the holdings contained within them (for example, a small-cap fund might be named "Small and Mighty," or a biotech fund might be labeled "Modern Meds").
Thematic investing provides guidance on how to group your investments into various "Beliefs." So, for example, you can invest in "Clean and Green" stocks and funds, or "Do the Right Thing" companies that are focused on social responsibility.
Interestingly, Stash also provides "stock-back" rewards points for money spent at various companies. For example, money spent with Netflix would reward a fractional share in Netflix stock. You just need to link your credit card to make this functionality work.
As with Acorns, the flat fees can get a little high (proportionally speaking) for investors with low balances. But the novice-friendly approach will certainly appeal to many investors. Go check out our Stash review to learn more.
Betterment
Betterment is a fantastic robo-advisor with glowing reviews from many online users. Unlike Acorns and Stash, Betterment offers a low 0.25% management fee for its basic "Digital" account. This account has no minimum balances. If you'd prefer more personalized service, you can opt for a Premium account, which costs 0.4% per year, requires a $100,000 minimum balance, and provides you with on-demand access by telephone to an advisor.
Betterment offers a huge number of features, from a checking and investment account balance monitor to retirement accounts, high-yield savings accounts, and even personalized financial planning and consulting. There isn't a lot that Betterment doesn't offer its clients.
Go check out our Betterment review to learn more.
See Also: 42 Legitimate Ways to Make Money From Home
Stockpile
Stockpile is a brokerage with a unique hook. It's otherwise bare-bones, but you can buy gift cards for recipients to redeem in exchange for fractional shares of popular stocks and ETFs. While mutual funds are not offered (and neither are more sophisticated financial tools like options), Stockpile can be a great way to get a young relative interested in investing.
Just be sure that the recipient of the gift card has a willing parent who will sign them up for the service — minors can't open their own accounts.
Robinhood
Robinhood is a 0% fee and commission US brokerage. It offers few features, but stands out in its ability to allow you to trade cryptocurrencies without a fee. Unfortunately, now that major brokerages like TD Ameritrade have moved decisively into the 0% fee arena, Robinhood's lack of available research and features is a serious liability.
However, if you're looking for a clean, simple interface and want to trade cryptocurrencies online for free, Robinhood just might be your solution. Go check out our Robinhood review to learn more.
Sell Your Stuff for Money
Hanging on to unwanted and unneeded personal property is a surefire way to waste money. Not only do you forego the money you'd get by selling the items (a huge opportunity cost), you actually spend money maintaining and storing your stuff. Check out these services that specialize in decluttering and minimalizing your life.
Earning Potential: High (Real Money)
Effort: Low (Entirely or almost entirely passive)
Barriers: Medium (Accessible to those with spending money)
Bookscouter
Bookscouter will scan the internet for the best book buyback prices for your lightly used textbooks, novels, and other reading material. Once you've found the best bang for your buck (we recommend the more trusted "Preferred Merchants" on its list), you click the link and use that service to sell your book.
Some of these services are companies that buy your book directly (like Amazon), while others are services that match individual secondhand book buyers with booksellers. (You need to be careful about who you sell your book to so you don't get scammed, so keep a close eye on that "Preferred Merchants" tag we mentioned earlier.)
Decluttr
Decluttr will buy old media (DVDs, CDs, etc.), video games, and some electronics (like tablets, cellphones, and e-readers). You scan the item's barcode with your phone and the app will give you an instant quote for the item. If you accept the offer, Decluttr will email you a shipping label to print out. Then you securely box up your item and ship it to their warehouse.
Shipping is paid for by the company. When it arrives, they inspect the product to ensure the condition matches your description. Then you get paid (in cash, not gift cards).
All things considered, it's a pretty simple way to make a few dollars, especially if you have a large DVD or video game collection lying around.
Check out our full Decluttr review to learn more.
Gazelle
Gazelle buys used iPhones, iPods, iPads, and non-Apple phones. (Note that they only accept the items listed on their website.)
If you have a gadget that matches something they list, just tell Gazelle what condition the product is in. They'll give you an offer, and if you accept it, they'll email you a shipping label. You ship the item to their warehouse, and they check the condition of the item. If it matches what you indicated on the website, then they'll pay you the offer price. If its condition is not what you indicated, you'll be given a revised (reduced) offer.
You're given 5 days to accept or decline the offer. If you accept, you'll receive your money via PayPal, paper check, or an Amazon e-gift card) in a few days. Like Decluttr, it can be a nice way to put a few dollars in your pocket if you've got some spare gadgets lying around collecting dust.
Check out our full Gazelle review to learn more.
See Also: 12 Online Data Entry Jobs: Get Paid to Work from Home
OfferUp
OfferUp connects buyers and sellers who live near one another. In order to sell items on the app, you can simply list, for free, the item you want to sell. (You won't be allowed to sell certain restricted items, like alcohol or pornography.) You're also given the option of paying a small fee to "Bump" your listing to the top of the heap.
Buyers will see, or not see, your item depending on where they live. The closer they are to you, the higher on their list your items should be. (Keep in mind that this means sellers who live in more remote locations will have much less luck on OfferUp than users in more populated areas.)
Many buyers and sellers report a significant danger of scams on this app. There is virtually no protection against fraud or verification of users, so sellers will have to watch out for their personal safety and their wallets. (You are, after all, dealing with people you've never met before.)
LetGo
LetGo operates similarly to OfferUp. It connects buyers and sellers who are physically near one another to allow them to buy, sell, and trade secondhand goods in person. As with OfferUp, you're on your own when it comes to security and fraud prevention. Buyer (and seller) beware.
If you take reasonable care, though, LetGo can be a great way to connect with locals who might want to buy your gently used gear at a price that's often higher than what's offered by Gazelle and Decluttr (if the latter two are willing to accept your items at all).
Apps to Save Money
Earning money doesn't have to involve going out and getting more money. It can also take the form of saving what you'd otherwise spend. Mountains of consumer research show that a person's wealth can better be predicted by how much they spend rather than how much they earn.
These money-saving apps aim to save you money by cutting out unnecessary expenses from your budget. They take a piece of the money they save you as a fee, so it's not a free ride. But if you're unable to complete these tasks on your own, they can be well worth the cost.
Earning Potential: Med (Nothing to sneeze at)
Effort: Low (Entirely or almost entirely passive)
Barriers: Low (Accessible to almost everyone)
Trim
Trim connects to your primary bank account and credit card, and monitors your monthly or annually recurring charges. With that information, Trim will recommend ways to save significant amounts of money on the following items:
"Ghost" subscriptions: These are services you opted into when you signed up for a different service. Usually, they're free to start with, but often start charging a fee after a set amount of time has passed.
"Freemium" services: These are services that started out free to use, but after a while, started to charge a fee.
Nuisance charges: These are services you've tried to cancel but keep popping up no matter how often you try to banish them.
Cost creep: These are services whose fees have increased since you signed up. Cell phone, internet, and television plans are notorious for this.
Normally, Trim just alerts you to the recurring charges and reminds you to cancel them. But Trim also offers some premium services. Its bill negotiator service reads your mobile, telephone, internet, and TV bills and uses AI to determine if a phone call or two to your provider could significantly lower your rates. If the answer is yes, and you opt into the service, Trim will go ahead and contact the provider and attempt to negotiate your rate.
If Trim successfully lowers the rate, they'll take a cut of one-third of the annual savings (which they charge to your credit card). If Trim is unsuccessful in reducing your payments, you pay nothing.
Go check out our Trim review to learn more.
Truebill
Truebill is very similar to Trim in that it monitors your bank accounts for unwanted service charges and fees and alerts you to them. The functionality is slightly different, though. Truebill will cancel these services on your behalf if you sign up for the Concierge service (which costs between $3 and $12 per month). Also, Truebill keeps an eye out for:
Service outages that affect you
Overdraft and other banking fees
If it finds either of these, Truebill offers to send letters to banks and providers asking for refunds.
Truebill, like Billshark and Trim, will negotiate bills on your behalf and take a cut of the money you save. However, some users report that Truebill negotiators have made substantive changes to their services (for example, changing channel availability on cable subscriptions) in order to save money, and then billed them for the trouble.
At the end of the day, the best criticism of Truebill, along with Billshark and Trim, is perhaps that these are activities best left to you. After all, most people should be keeping an eye on their own finances to spot rogue subscriptions and overcharged bills. But, as we know, the world is not perfect and time is not infinite. If you find yourself unable to keep a watchful eye over your bills, give these services a look.
Go check out our Truebill review to learn more.
See Also: 20 Best Places to Sell Textbooks to Make Some Extra Cash
Billshark
Billshark is similar to Trim except that it only offers bill negotiation. Basically, it's a straightforward bill negotiation company. You send Billshark a copy of your bill online, and if you choose to use their services, they'll contact your provider(s) and attempt to negotiate a reduced rate.
Billshark is, by default, empowered to enter into one- and two-year contracts on your behalf. They take 40% of the in-contract savings they secure for you. So, for example, if you're paying $150 per month for cable, and they negotiate a $100 per month price in exchange for entering into a two-year contract, they will charge you $1,200 ($50 savings x 24 months).
You can elect to spread out Billshark's fee over two to six months if you're willing to pay a $9 fee.
If Billshark fails to negotiate a lower rate for your bill, you don't owe them anything. Go check out our Billshark review to learn more.
Money-Making Apps for Simple Tasks
Some activities are so simple, almost everyone knows how to do them: drive, exercise, shop, etc. Why not get paid while you do them? These apps allow you to fulfill simple demands and make money at the same time.
Earning Potential: High (Real Money)
Effort: High (Significant amounts of time or work)
Barriers: High (Accessible to those with resources)
DoorDash
DoorDash requires drivers to deliver food orders from restaurants to customers' doors. The job is really that simple. The well-known DoorDash app tells you where to pick up and where to deliver. It also allows you to rate customers on their ability to be where they say they'll be and when.
Of course, customers also rate you, so it's in your interest to be as prompt, quick, and polite as possible (while still following all traffic regulations and laws, of course).
One of the expenses that people forget about when driving for companies like DoorDash or Postmates (discussed in a later section) is vehicle wear and tear. Constant driving can put a lot of miles on your car's odometer. So you'll need to keep the car well-serviced and clean. That obviously costs money, and drivers will want to keep a close eye on how much they spend on their vehicle in order to get a realistic appraisal of how much they're earning.
Go check out our DoorDash review to learn more.
Instacart
Instacart is like the DoorDash of grocery stores. It's a grocery shopping app that connects Instacart shoppers and drivers with customers who want to pay for groceries delivered right to their door.
To make money on Instacart, you sign up as either a full-service shopper and driver or as an in-store shopper. The latter only fulfill shopping orders in-store; they don't deliver the groceries to customers. So if you don't have a car, being an in-store shopper can be a great option.
If you do have a car, however, you can make real money grocery shopping for people and delivering the food to their door. All of the order logistics are handled by the Instacart app, so you just bring your phone to the nearest store, collect the items on your list, and deliver them to the indicated address. Payments for shoppers and drivers are handled within the app. Go check out our Instacart Shopper review to learn more.
HealthyWage
HealthyWage is an interesting take on incentivizing people to lose weight. Effectively, people bet on themselves and their ability to hit predefined weight loss goals. If they succeed, they win a cash prize based on the amount of weight loss and the size of the bet. If they fail, they lose the money they wagered.
So, for example, say you wager that you'll lose 20 pounds in four months. You'd enter that information on the website, indicate how much you're betting, and the site would come back with your potential cash reward for winning the bet. The reward is usually about 10% of the total amount of money you wager.
If you hit your goal, you win the reward. If you don't, you lose your wager. Weight loss is verified by self-taken videos of you standing on a scale. (So no cheating!)
See Also: How to Make Money Flipping Cars: Can You Actually Make Money at It?
Sweatcoin
Sweatcoin allows you to earn in-app currency (called "Sweatcoins") by walking outdoors. It uses your phone's geolocation capability and pedometer to measure your outdoor steps, and then allows you to purchase health-related items (think workout gear or yoga classes, for example) with the Sweatcoins you earn.
Sweatcoin is similar to other rewards apps in that it monetizes your data and rewards you with a portion of the money to spend on items and services.
Since you're presumably walking outside anyway (especially if you're a long-distance walker or runner), why not earn a few Sweatcoins while you're at it? While privacy enthusiasts may not be interested, everyone else should consider this one.
Lyft
Lyft is a rideshare company that allows hundreds of thousands of people to drive customers to their locations of choice. Operating much like Uber, Lyft services a wide range of locations around the US and Canada. If it's available in your city, and you meet their requirements, you can drive for Lyft. The requirements include:
Exceeding the minimum age (varies by city)
Possessing a smartphone
Passing a driving record check
Passing a background check
If you don't have a car, don't despair. Lyft partners with "Express Drive" partners who can hook you up with a rental with unlimited miles to get you started.
Of course, driving people around will ensure that you see a little of everything humanity has to offer. But mostly you'll see drunk people. Lots and lots of drunks. Be friendly, polite and punctual, since passengers rate drivers (and vice versa).
Honorable Mentions
Check out these honorable mentions for apps that don't fit neatly into one of the other categories. There are some great ideas here for turning your next night out or window shopping trip into a money-making opportunity!
Earning Potential: Variable
Effort: Variable
Barriers: Variable
Shopkick
Shopkick is a shopping rewards program with a neat twist. You don't actually need to buy anything to be rewarded. Shopkick uses an app, geolocation, and the camera on your phone to reward you for things like:
Walking into an eligible store
Scanning the barcode of an item in the store
Watching videos on the app
Visiting online stores through the app
Referring friends (this one is especially lucrative)
It can be a lovely app to have if you tend to window shop a lot, or if you frequently find yourself walking into or walking by a lot of eligible stores. Of course, the more populated the area you live in, the more success you'll have with finding opportunities to earn the in-app currency (called "Kicks").
ShopTracker
ShopTracker is an app made by Harris Poll Online, an online survey company. The purpose of the app is to track your Amazon shopping habits. In exchange for allowing the company to do that, they will reward you with about $36 per year.
Harris Poll Online can afford to pay you because it sells the data you create. People concerned about their online privacy may not be interested, but an effectively free $36 per year is nothing to sneeze at.
Honey
Honey is an online money-saving and cash back app. It adds functionality to your online shopping cart in the form of a price monitor button, and most importantly, a discount finder. Honey will scour the internet for coupons and discounts on any items in your online shopping cart. It will then provide you with the discount code, or even apply it itself.
As you shop, you'll earn Honey Gold and Honey Keys that you can use to redeem for hotel rooms and gift cards.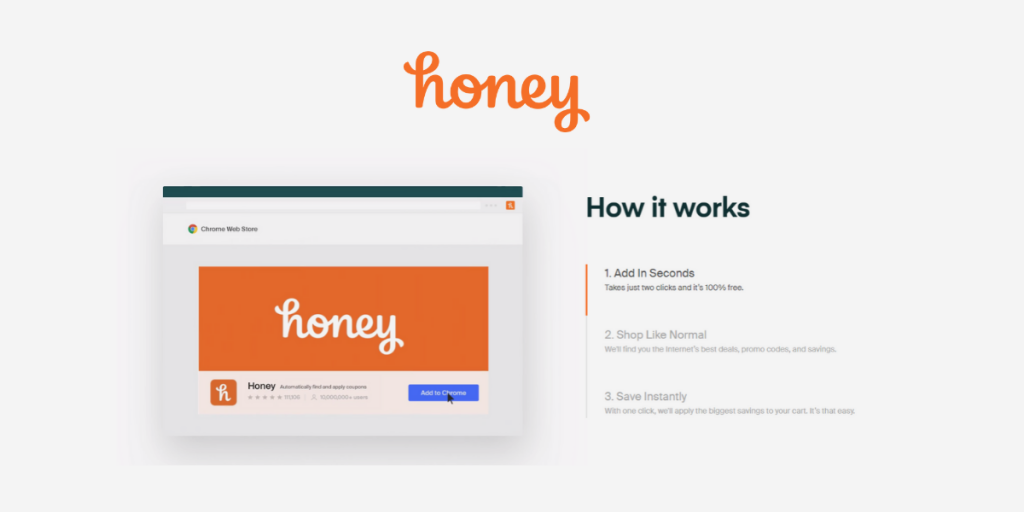 See Also: 48 Legitimate Ways to Get Free Money, Fast and Easy
Paribus
Paribus is an online retail shopping assistant that watches for price drops on retail merchandise you recently bought. If it finds a price drop, it interfaces with the retailer to refund you the difference.
Paribus also watches for late shipments of items and drops in booked hotel room prices to try and help you get refunds on them.
It needs access to a whole heck of a lot of personal accounts, including personal emails, bank accounts, credit cards, and loyalty accounts in order to accomplish its mission. If you're comfortable with that, Paribus can provide a valuable service at no additional charge to you.
Earny
Earny functions much like Paribus. It keeps track of what you've purchased and provides access to refunds if the price drops soon after you buy an item. Unlike Paribus, however, you'll need to pay Earny for the privilege of providing you with refunds. As of this writing, that's $48 per year, or $8 per month if you'd like to be able to cancel at any time.
Seated
If you live in a city that Seated covers and you like going to nice restaurants, you're in luck. Seated will give you rewards for dining at the restaurants you were going to go to anyway. You make a reservation in the app and go to the restaurant at the appointed time. After you've finished your meal and received the check, just scan your receipt via the mobile app's camera functionality. Then, you'll receive your rewards!
Rewards include Amazon credits, Lyft gift cards, and points with other popular services and businesses.
You may be wondering how this business model works. Basically, restaurants struggle with reservations for people who don't show up. The empty tables cost them money. So they partner with Seated in order to increase the chance that you'll actually show up to eat (because of the rewards). In addition, Seated keeps track of how often and where you eat out in order to market special offers to you.
It's a great idea, and definitely worth checking out if you're in the mood for some fine dining.
Final Thoughts
Hopefully we've given you some new ideas on how and where to make some extra cash. From investing in the stock market to monetizing your web searches, the internet allows for countless ways to make money during your spare time. Don't let these opportunities pass you by.
Up Next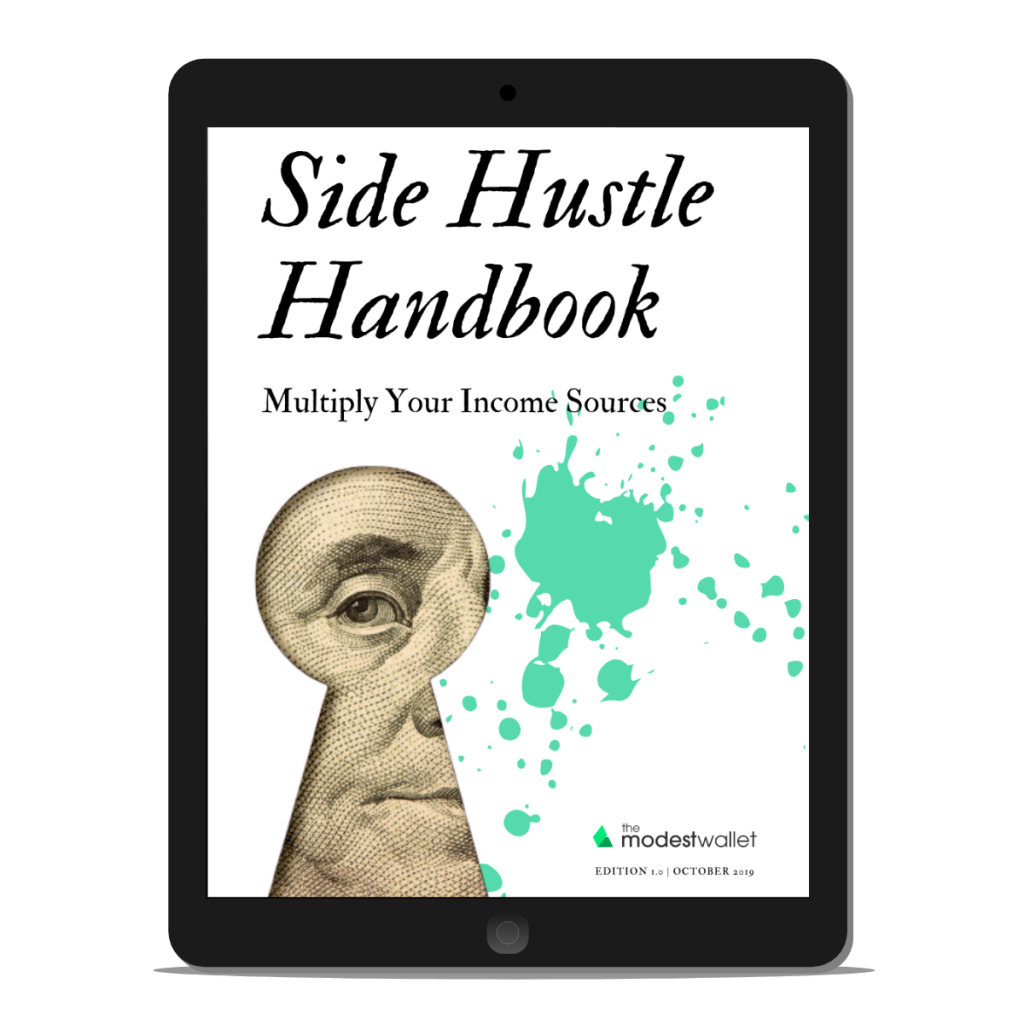 Get our free Side Hustle Handbook with the best strategies to multiply your income sources today.
Plus our best money tips delivered straight to your inbox.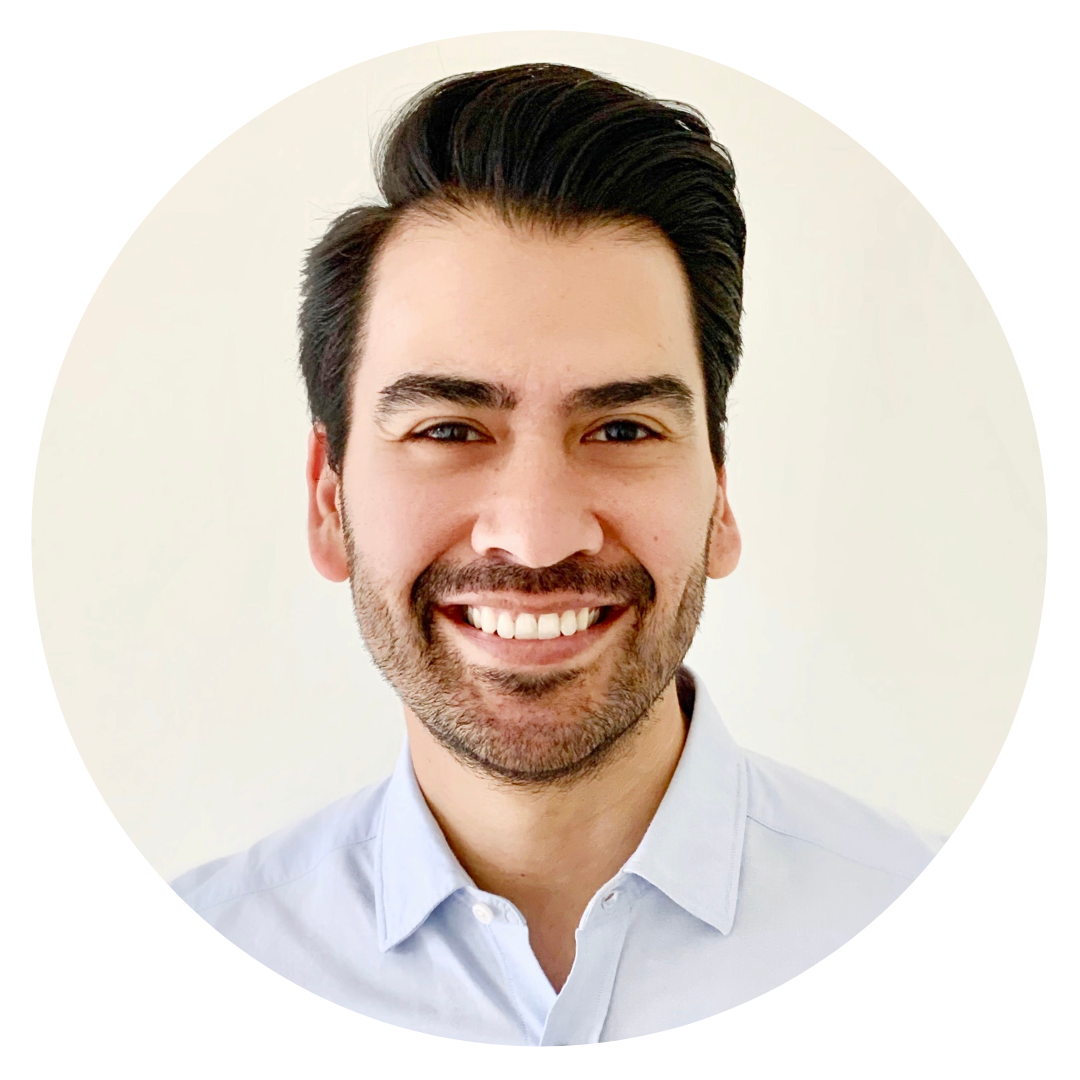 Ricardo is an entrepreneur, investor and personal finance nerd who enjoys spending time with his family and friends, travelling and helping others achieve their financial goals. Ricardo has been quoted as a personal finance expert in several online publications including Healthline, Bankrate, GOBankingRates, MSN Money, Yahoo Finance, U.S. News & World Report, Forbes and USA Today.