20 Best Money Saving Apps in 2023 (Save Like a Pro)
Many or all of the products featured on this page are from our sponsors who compensate us. This may influence which products we write about and where and how the product appears on a page. However, this does not influence our evaluations. Our opinions are our own. Here is a list of our partners and here is how we make money.
---
The information provided on this page is for educational purposes only. The Modest Wallet is a financial publisher that does not offer any personal financial advice or advocate the purchase or sale of any security or investment for any specific individual.
Saving money isn't easy, especially if you are on a tight budget. First, you need to reduce your expenses to free up some cash, and then you need to work out a savings strategy. This can involve managing multiple accounts for each of your savings goals, so things can get complicated. The good news is there are plenty of money saving apps that can help organize your efforts.
In this article, we'll look at 19 of the best apps to help you save money.
20 Best Money Saving Apps
We cover four types of money saving apps in this article: coupon apps, bill negotiation apps, budgeting apps, and banking apps. Each helps you save in different ways.
Capital One Shopping
Disclosure – Capital One Shopping compensates us when you get the Capital One Shopping extension using the links provided.
Capital One Shopping is a website that helps you save by providing discounts and offers for your online and offline shopping. You can browse trending and popular products or use the site's toolbar to search for specific items.
The platform also has a browser extension that automatically compares prices and highlights offers for products when you are shopping online. The extension is available on all major browsers, including Chrome, Firefox, Edge, and Safari.
This means that whenever you buy something online, you get a good deal for that product.
How it Works: Whenever you add an item to your cart while you're shopping, the extension scours the internet to help you find an incredible deal for that product. If you see a deal that's better than the one you are looking at, you can click on it to either visit the website where it's available for less or add the discount code to your purchase.
Cost: Capital One Shopping is entirely free.
Who Should Use It? Capital One Shopping is excellent for people who do a lot of their shopping online and always looking to find a good deal. When installing the extension, make sure that having access to deals won't encourage you to spend more than you would without it. To learn more, check out our Capital One Shopping Review.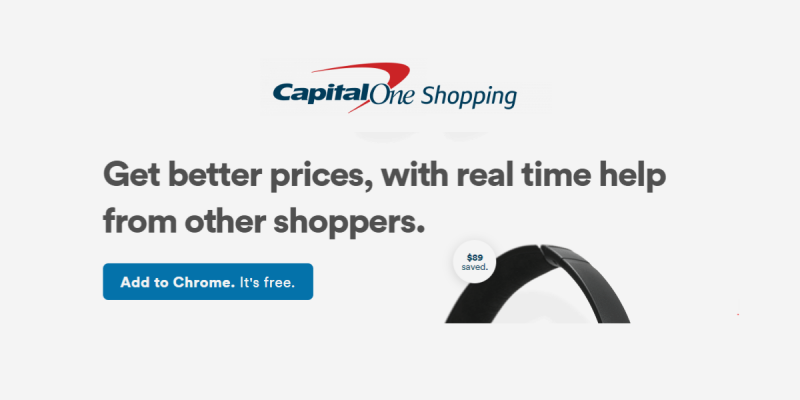 See Also: 13 Simple Financial Habits of The Wealthy That We Often Ignore
Drop
Drop is a mobile app and browser extension that allows you to earn points for shopping at your favorite stores. Users are also able to link debit or credit cards to earn points from selected brands. This eliminates the need for scanning receipts or joining loyalty programs. Every 1,000 points you earn with Drop is equivalent to $1.00.
Drop is currently available in Canada and the United States. Read our full Drop App review to learn more.
How it works: You basically download the app and create an account. Then you link a credit and/or debit card to the app to maximize your point earnings on exclusive offers and receive personalized recommendations.
Shop through the app at your favorite brands (300+), play a game, or take a survey. Another cool thing is that no coupon clipping or receipt scanning is involved making it very easy for people to save money.
Brands pay Drop a commission for sending you their way and Drop shares the commission with you through the rewards points you receive after completing offers on the app.
Cost: Drop is entirely free.
Who Should Use it? Drop is designed for people wanting to get a little something back every time you shop. If you use Drop with other cash back tools and cards, you could potentially double your rewards from a single purchase.
Ibotta
Ibotta is a cash back app that pays you for both online and offline shopping. While you won't save any money in the short term, when you cash out, you'll get a lump sum you can put towards your financial goals.
The platform has partnered with many popular retailers, including Walmart, Domino's Pizza, and Target. When you shop at any of these stores, you get instant cash back on your entire purchase. The exact percentage you earn will depend on the offers available at the time.
How it Works: Ibotta is flexible and has options to suit all types of shopping. When buying online, you can earn cash back by purchasing through the app, on your phone, or the browser extension on desktop.
When shopping offline, you can either upload your receipts post-purchase, link your store loyalty cards, or connect a debit or credit card to the app for automatic cash back.
Cost: Ibotta is free to use.
Who Should Use it? If you regularly spend money at Ibotta-partnered shops, it's a no-brainer to sign up to the platform because you will get cash back on all qualifying purchases. Over the long-term, this will build up and can help you reach your savings goals. Read our full Ibotta review to learn more.
Rakuten
Rakuten gives cashback on purchases made through its app. It works with many online and offline retailers, which, at the time of writing, includes household names like Nike, Macy's, Levi's, and The Body Shop.
Cashback can be up to 40% of your purchase. While payouts of this size are rare, the site still has plenty of special offers, which can potentially earn you 6% to 10%.
How it Works: Once you sign up, you can shop through either the site's homepage or through the mobile app. Just search for the deals you want, and then click through the site or app before you buy.
Once the retailer alerts Rakuten about your purchase, the platform will add money to your account. When you cash out, you can choose either PayPal credit or check.
Another money-saving option is to apply for the Rakuten credit card. This automatically adds cash back to your purchases.
Cost: Rakuten is free to use.
Who Should Use It? If you shop online, then it's likely Rakuten has partnered with at least some of the shops you buy from. If you are planning a big purchase, it is well worth signing up to Rakuten to see if there are any offers available. To learn more, check out our Rakuten review.
Shopkick
Shopkick gives users points when they make relevant purchases. Once you have enough points, you can exchange them for gift cards at retailers like Amazon and Walmart. This helps you save because you can spend these vouchers on necessities instead of using your hard-earned cash.
How it Works: To use Shopkicks, you have to search the app for Select products. If there are any items you like, just scan the barcode using the in-app scanner before you buy it and then scan your receipt after shopping to earn points.
You can also earn points for every dollar you spend at partner stores when you connect your card to Shopkicks. If you'd prefer to shop online, it's possible to collect points by clicking through the app before purchasing.
Cost: Shopkick is free to use.
Who Should Use it? If you do a lot of shopping offline, Shopkick can be an easy way to earn points. There is a wide selection of gift cards available when it's time to cash out, but you should check before making a choice that there is one you will use.
Trim
Trim is a powerful app that helps reduce the amount you spend on bills and recurring payments. Customers report saving hundreds of dollars when they use the service.
Many of the features are free, such as spending alerts, canceling old subscriptions, and finding overdraft fees. The app also has paid features, such as access to a high-yield savings account that pays 4% interest on your first $2,000.
How it Works: When you sign up to Trim, you provide the company with access to your bank account. It then analyzes your spending patterns and suggests ways to cut costs. You can then instruct the software to cancel old subscriptions or negotiate your bills.
Cost: Trim is free to sign up to and use, but it takes 33% of any savings you get via the negotiation feature. For example, if the service cuts your phone bill by $10 a month ($120 a year), you have to pay $39.6 (33% of $120). If Trim's negotiators don't get you savings, you don't pay anything.
Who Should Use it? Anyone worried about the amount they are spending on recurring payments will get value from Trim. The only question is whether you'd rather cancel and negotiate your bills manually (letting you keep all the savings). To learn more, check out our Trim review.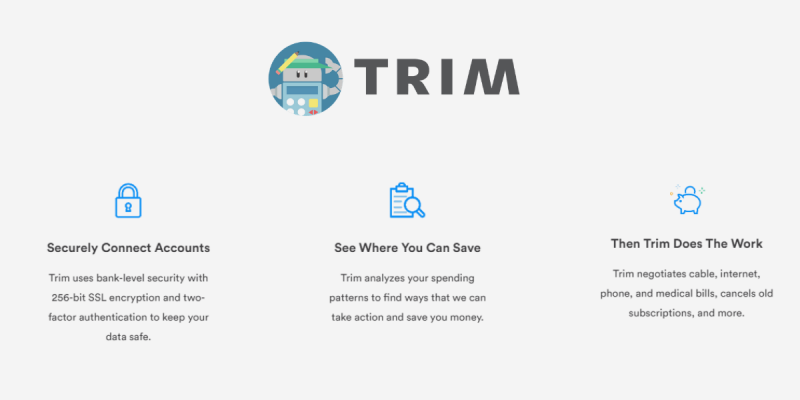 See Also: Capital One Shopping Review: The Best Way to Save Money Online?
Rocket Money
Rocket Money helps you save by managing your subscriptions, negotiating subscriptions, and providing visibility into your finances.
How it Works: Just download the app and connect your bank accounts. Rocket Money analyzes your spending habits and provides suggestions on how to save. You can then instruct the service to cancel unwanted subscriptions or negotiate bills.
You can also see exactly how much you spend each month in the app, and how this compares to previous periods. It also tells you when your recurring payments are due, so you have no surprises. Overall, it's a powerful tool to help you track spending.
Cost: You can use the basic product for free, although Premium features cost between $3 and $12 per month. The app also takes a 40% commission for bill negotiation.
Who Should Use It? Rocket Money can help if you feel like you're losing control of your finances. If you want to track how much you spend each month and reduce your bills, then consider Rocket Money. To learn more, check out our Rocket Money review.
Billshark
Billshark is a bill negotiation and subscription cancellation service. It can help reduce your internet bills, phone bills, Pay TV bills and more, leaving you with more cash to save.
How it Works: To use Billshark, just hop over to the website and enter your bill information into the savings calculator, which will estimate how much the company thinks it can save for you. If you like the estimate, upload your data, and the Billshark team will get to work. The company will then invoice you for its commission.
Cost: Billshark is free to sign up, however the company takes a 40% commission on any savings and charges $9 to cancel a subscription. You only pay when they save you money.
Who Should Use It: Billshark is a good service for people who want someone to negotiate their bills, but don't need the extra features found in Rocket Money and Trim. To learn more, check out our Billshark review.
Digit
Digit is a neat app that uses an algorithm to analyze your financial habits. It then uses the results to automatically put away money each month without needing to do anything. When you save for three consecutive months, you earn a 0.5% annualized saving bonus. Read our full Digit review to learn more.
How it Works: Like many savings apps, you start off by telling the app what your savings goals are. This includes both short-term and long-term goals. You then link your bank accounts so the app can begin analyzing your income and spending habits.
Digit then starts to put money towards your savings goals once it knows more about how you spend. You can add daily limits and safe levels if you are uncomfortable about the idea of an app moving your money around without telling you. It is also possible to manually move money using the app if you want to save more.
Cost: Digit costs $5 per month after a free 30-day trial.
Who Should Use It? Digit works well if you have savings goals, but you don't want to get bogged down in moving your money into different accounts, or if you aren't sure how much you can save each month.
Qapital
Qapital is a powerful saving app with multiple features to help you hit your financial goals. You set goals and then use the saving tools to decide when and how you want to add cash to each one.
Qapital also provides access to investment portfolios. Just open an account and choose when and how you want to add money to it. Read our full Qapital review to learn more.
How it Works: Getting started with Qapital is easy. When you sign up and link your checking account, it will ask you about your savings goals. You then create accounts for each goal and choose how you will save for them.
Saving options include monthly deposits or the "round-up rule," which rounds up any purchases you make to the nearest dollar and adds them to your account.
Perhaps the most exciting way to save is to set up your own If This Then That rules with other apps on your phone. This lets you tell Qapital to automatically save a certain amount when you do a particular activity.
For example, you could automatically transfer $5 to your savings account whenever you hit a goal on Fitbit or post an image to Instagram.
Cost: There are three payment tiers for Qapital; the most basic is $3 per month, while the most expensive is $12 per month.
Who Should Use it? Qapital is great if you have multiple savings goals, or if you want to get creative about how you save. But, you should be confident that the savings you accumulate will be worth the $3 to $12 monthly fee.
Acorns
Acorns is an app with multiple features to help you save. The headliner is Round-Ups, which rounds up every purchase you make using the Acorns Debit card to the nearest dollar and adds the difference to an investment account.
You can also invest a lump sum or set up an amount to invest on a set date every month. It is possible to set up a dedicated retirement account. Choose from multiple investment options depending on your needs and start with as little as $5.
How it Works: Getting started with Acorns is Easy. Just create an account on the site and then choose which savings and investment accounts you want to open.
Cost: Acorns has three pricing options. The most basic costs just $1, while the most expensive is $5.
Who Should Use it? Acorns is a good option if you have long-term savings goals and don't mind putting your money into portfolios that could fluctuate in value over time. Read our full Acorns review to learn more.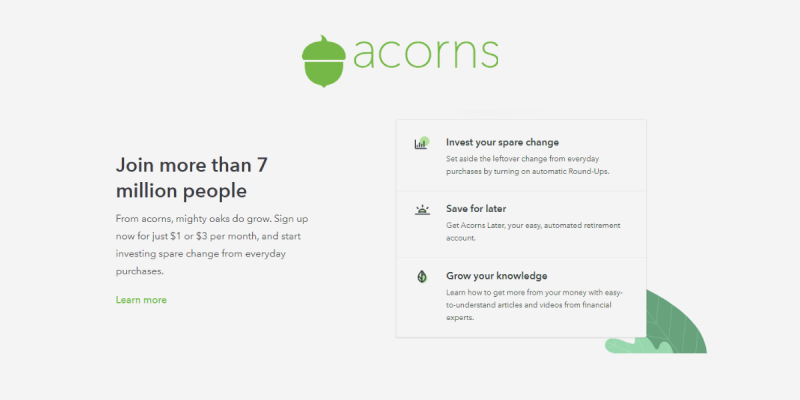 See Also: 12 Best Budgeting Apps to Master Your Money
Stash
Stash is an app that helps users save. It allows you to set up multiple savings and investment accounts to organize your money.
A unique feature of Stash is its Stock-Back debit card. This works similar to a cash back card, but it gives you stocks from the companies you buy from instead of cash. These stocks enter your portfolio and have the potential to increase (or decrease) in value.
How it Works: When you sign up with Stash, the app asks you questions about your savings goals. You then add money to your Stash account and set up different spaces for your saving goals. At this point, you can also begin to invest in stocks and ETFs.
Cost: Stash has plans that run from $1 to $9 per month. They currently offer a $5 welcome bonus when you deposit $5 into your account.
Who Should Use it? Consider using Stash if you want help reaching your saving goals, and you like the idea of a card that gives you stocks instead of cash back. Read our full Stash review to learn more.
Empower
Empower is another app that helps you save. Like Digit, it analyzes your spending habits and income and automatically saves any excess funds. The app also has budgeting features, a checking account that pays 0.25% APY, and it lets users receive a loan of up to $250 direct to their bank account.
How it Works: When you sign up to Empower, you tell it your weekly savings target and choose a checking account you want to transfer the money from. The app then studies your financial habits and sets aside an amount it thinks you can afford.
This varies depending on your weekly spending trends. Empower also provides insight into your spending and makes suggestions for how you can save money, such as by canceling subscriptions or negotiating phone bills.
Cost: Empower Finance costs $8 per month.
Who Should Use It? Empower Finance is good for people who want to automate their savings, and for those who would benefit from personalized suggestions about how they can manage their finances better.
Earnin Tip Yourself
Earnin Tip Yourself is a handy savings feature of payday advance app Earnin. The Tip Yourself feature lets you create virtual jars of money for different goals that you can add to whenever you want. This makes keeping track of your savings targets easy.
How it Works: To use Tip Yourself, sign up to Earnin and then head to the relevant section. From here, you can create new jars and give them a name and a savings goal. You can then add up to $50 to each jar per day.
Cost: Earnin Tip Yourself is free to use.
Who Should Use It? Use Tip Yourself if you have multiple savings goals. The account is best for short term goals because you won't earn interest on your savings.
Peak Money
Peak Money is an app that helps you build savings plans. You can set up multiple goals and create a personalized strategy to reach each one. Your money gets a 0.5% annual return, which can help you hit your targets faster.
How it Works: Just sign up to the app, and then set your targets. Peak Money then recommends how much you should save. You can customize this by setting up automatic transfers or asking it to round up your purchases to the nearest dollar and save the difference.
Once set up, the app provides an overview of your finances and shows how close you are to each goal.
Cost: Peak Money is free to use.
Who Should Use It? If you want a free app that can help you reach your savings goals, Peak Money is worth a look.
Twine
Twine puts a unique twist on the savings app formula by optimizing the product for couples. It helps you and your savings partner save up for joint goals such as holidays, weddings, buying a house, or new products.
How it Works: To start with Twine, download and sign up to the app. You can then create savings goals and set up monthly deposits, which can be the same or different for each person. Your savings partner can either work from your app, or download the app to their device and link accounts.
Cost: Saving with Twine is free. Investing costs $0.25 per month for every $500 you invest.
Who Should Use It? Twine is a good option for couples or people who want to hit their savings goals together.
Aspiration
Aspiration is an online bank that combines features for saving money with features for saving the planet.
The company provides a savings account with up to 1% interest and access to investment products.
When you spend with the Aspiration card, you can receive up to 10% cash back by shopping at businesses that are members of the Conscience Coalition, or 0.5% at companies with a high Aspiration Impact Measurement score.
How it Works: Sign up for an account with Aspiration via the app. This will give you access to both the Aspiration Spend checking account and the Aspiration Save savings account. You can also apply to access funds and IRAs.
Cost: Aspiration is free to use. There is also a Plus version that costs $7 per month and offers up to 10% cashback and high-interest rates.
Who Should Use It? Aspiration is a good option for environmentally conscious people. If you like to spend at companies that share your concerns, then the Aspiration card is worth considering.
See Also: 25 Best Coupon Websites to Save Thousands
Chime
Chime is an online bank that provides users with a checking and savings account. Chime has automatic saving features that encourage users to move money from the former to the latter.
The checking account comes with a card and has no monthly fees. The savings account offers 1% APY (as of this writing), which ensures your money works for you. The app has other useful features to help you save, including spending alerts and daily balance notifications.
How it Works: Signing up for a Chime account online is easy. You can then set the app up so that it rounds up your purchases to the nearest dollar and saves the difference. Or you can save a certain amount every time you get paid. You can also make one-off transfers from the checking account into your savings account whenever you want.
Cost: Chime is free to use, with no hidden fees.
Who Should Use It? Chime is a good option for people who want something more like a traditional savings account with helpful automatic savings features.
Varo
Varo is an online bank that provides access to a high-interest savings account. The account offers 1.21% interest to all users or 2.8% to people that make at least five Varo debit card purchases and receive $1,000 into their account each month. This increased savings rate applies to the first $10,000 in your account.
The app also offers savings features that automatically save money when you receive a payment, or that round up your purchases to the nearest dollar and save the difference.
How it Works: Signing up for Varo is easy via the app. Once you have the regular checking account, you can then open a savings account. Transfer any amount you can afford into the savings account to start earning interest.
Cost: Vara is free to use, and there are no monthly fees.
Who Should Use it? Consider using Varo if you want access to a high-interest savings account and regular banking features.
Simple
Simple is an online bank with powerful budgeting tools built-in. The main feature of the app is that you can set it up to automatically divvy up deposits to ensure all your expenses and savings goals are covered. It then clearly shows how much money you have left.
The app also has a round-up savings feature to help you save without thinking. The Simple high-yield account offers up to 0.8% interest to push you towards your goals.
How it Works: When you sign up for Simple, you will gain access to the checking and high-yield checking account. Tell the app about your expenses and goals, and it will help you set up the automatic divvy-up features.
Cost: Simple is free to use and has zero fees.
Who Should Use it? Divvy is suitable for people who want to open up a bank account that also has many of the features of a budgeting app.
Money Saving Apps FAQ
We get it—there are so many apps out there that it's easy to get overwhelmed by the selection, so here are some of the most frequently asked questions about money-saving apps on the web.
What are Coupon and Cash Back Saving Apps?
Coupon and cash back sites are great at helping you spend less. They help you buy everyday items like groceries and save on them, as well as providing discounts for more significant purchases. Because these tools help you spend less, you will have more money at the end of the month to save.
What Are Bill Negotiation Apps?
Bill negotiation apps are another way to seriously cut down your monthly expenses. Doing so will leave you with more money at the end of the month. Some bill negotiation apps also have reporting features that provide increased visibility into how you spend your money. If you are spending too much on a type of product—for example, coffee or rideshare services—these apps will show you. You can then take steps to reduce those expenditures.
How Do Budgeting and Automated Savings Apps Save You Money?
Budgeting and savings apps connect to your bank account and help you put away money for all your different financial goals. They often have automated features that help you save without you having to lift a finger. Many also let you get started investing.
How Can Banking Apps Save Me Money?
Online banks provide many of the benefits of a regular bank account, but with added extras. These can include higher interest rates and automated saving and budgeting features.
Final Thoughts
As this list shows, there are many ways to use apps to save money. To get the biggest savings, consider signing up for multiple products.
For example, you could install a coupon browser extension and use a bill negotiation service to cut your expenses, and then sign up to a money-saving app to help you reach your wealth-building goals.
When choosing an app, be sure to watch out for fees. If you use an app that costs money, you want to be confident that the value you'll get for it surpasses the price. Otherwise, it is taking from your financial goals, not contributing to them.
With a little bit of planning and some help from an app, it shouldn't be too hard to start your savings journey.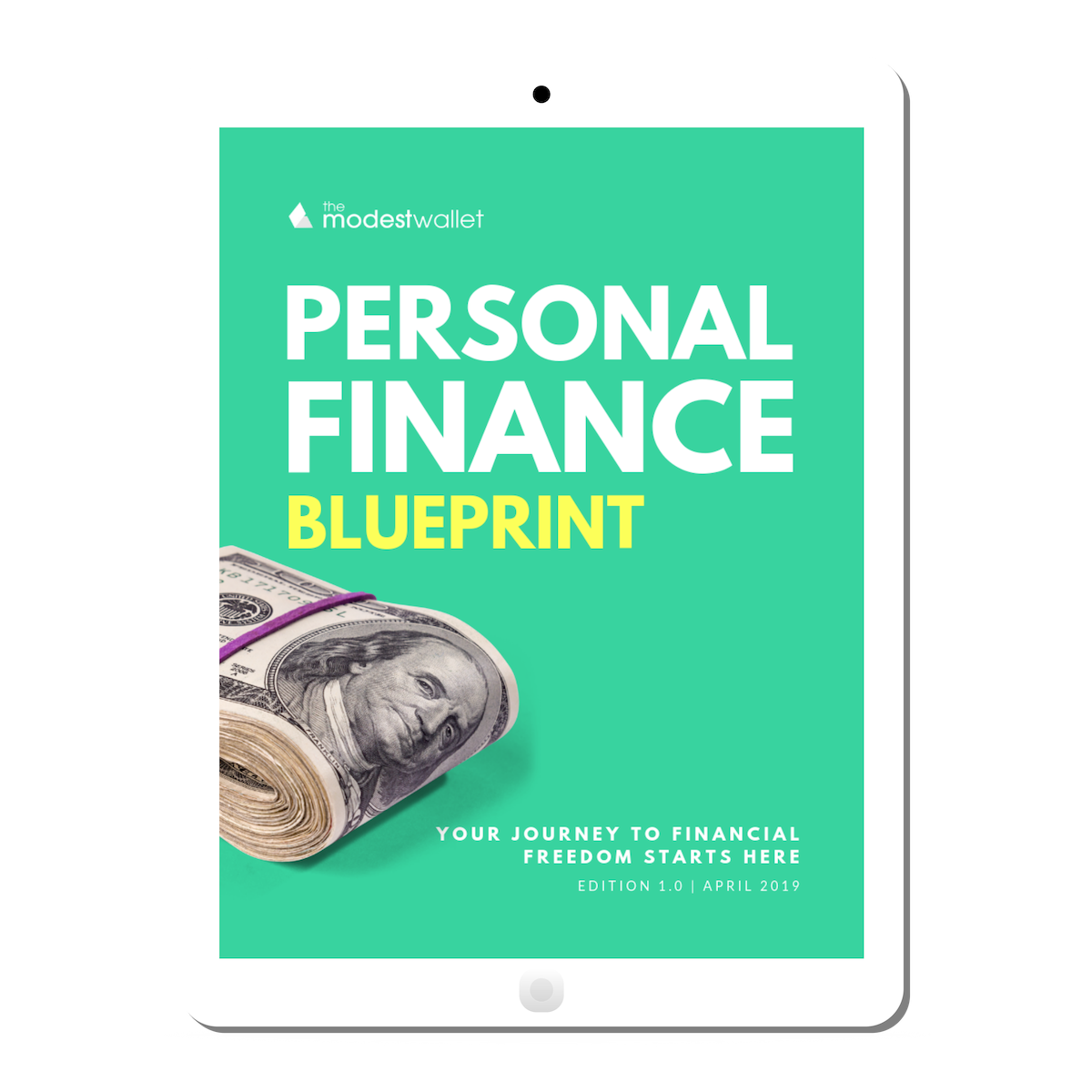 Get our free Personal Finance Blueprint to learn everything you need to know to build wealth.
Plus our best money tips delivered straight to your inbox.

Ricardo is an entrepreneur, investor and personal finance nerd who enjoys spending time with his family and friends, travelling and helping others achieve their financial goals. Ricardo has been quoted as a personal finance expert in several online publications including Healthline, Bankrate, GOBankingRates, MSN Money, Yahoo Finance, U.S. News & World Report, Forbes and USA Today.