MyPoints Review 2023: Multiple Ways to Earn Quick Cash
Many or all of the products featured on this page are from our sponsors who compensate us. This may influence which products we write about and where and how the product appears on a page. However, this does not influence our evaluations. Our opinions are our own. Here is a list of our partners and here is how we make money.
---
The information provided on this page is for educational purposes only. The Modest Wallet is a financial publisher that does not offer any personal financial advice or advocate the purchase or sale of any security or investment for any specific individual.
We all have little pockets of extra time in our lives that we inevitably waste on mindlessly scrolling social media or watching YouTube videos. Instead of letting that time slip by, why not find a way to make some quick money by doing simple online tasks in your free time?
Do you enjoy sharing your opinion through surveys? Watching the latest videos and reading blogs? Shopping online? If that's a yes for you, then MyPoints may be a great fit. MyPoints is a rewards program that gives you an opportunity to earn some extra spending money quickly by completing online tasks that you're likely doing anyways.
If you find yourself grabbing your phone whenever you have a free moment, consider giving MyPoints a spin to earn some extra cash at the same time.

Quick Summary: MyPoints is a rewards platform allowing users to earn points for everyday tasks such as shopping, playing games, and completing surveys. These points can be cashed out for gift cards, PayPal money, and more.
Promotion: Get a $10 welcome bonus (*When you spend $20 or more)
---
What Is MyPoints?
MyPoints is a mobile app and website that allows you to earn points for shopping online and completing other online activities like reading emails, taking surveys, and completing web searches. The points can then be redeemed for $3 to $500 gift cards from popular brands like Amazon, PayPal, Target, and Starbucks. MyPoints has been in operation since 1996 and has over 10 million members. Over $235 million in gift cards and cash have been given out to members over MyPoints' history which makes it one of the best cash back apps ou tthere.
---
How Does MyPoints Work?
Signing up for a free account with MyPoints is a fairly simple process. Once you've entered your email address and created a password, you'll be taken to your MyPoint dashboard. You can access MyPoints either through their website or the MyPoints mobile app.
On your dashboard you can browse the various ways to earn Points, including shopping, participating in deals, using coupon codes, taking surveys, watching videos, playing games, searching the internet, and answering a daily poll. This is also where you can access the incentives that MyPoints' offers when you complete a set number of daily tasks to earn bonus points through a daily To-Do List, Bingo card, and creating a seven-day challenge.
Each task that you pick will have a set number of Points available to you upon your completion of the task, along with any applicable bonus points available. You'll find a running total of your Points within your MyPoints account. When you're ready to exchange your points for gift cards or other rewards, you'll click the "Redeem Points" button to browse the rewards available like e-certificates and gift cards from many brands.
MyPoints partners with over 1,900 retailers, including popular brands like Amazon, eBay, Walmart, Target, Macy's, and Kohl's.
---
MyPoints Features
The MyPoints app and website give you multiple ways to earn Points that can be redeemed for gift cards. These tasks include shopping, taking surveys, watching videos, playing games, reading emails, searching the web, and completing other online tasks.
Shopping
Your can earn Points through MyPoints for your shopping purchases in many ways, all of which can be found on the MyPoints website or app. In terms of cash back potential, we have compared MyPoints with similar sites to see how they stack up against the competition. We have selected a few major retailers for this comparison.
Magic Receipts
Magic Receipts let you earn points for specific items that you purchase at participating stores. First, you'll search the Magic Receipts offers for deals that you like and add them to your list on MyPoints. Once you purchase these items from the participating stores, you'll click "Submit Receipts" on MyPoints and follow the instructions to upload your receipt.
The Magic Receipts offers include many everyday purchase items like groceries and personal care items. Participating stores include Walmart, Target, Kroger, Costco, Rite Aid, and more.
This is one of the best ways to earn Points quickly on MyPoints because the offers are very flexible regarding the brands that you can purchase and you earn a good number of points for everyday items. For example, one current offer gives you 170 Points for purchasing eggs, bread, or milk of any brand. Most of the offers can only be redeemed once per year.
Buy Gift Cards
MyPoints gives you the opportunity to buy gift cards through My Gift Cards Plus and earn Points for your purchases. You can receive up to 30% of your gift card purchase price in Points, based on the individual gift card offers available through My Gift Cards Plus. There are offers from hundreds of popular retailers, and the gift card you purchase will be delivered to you electronically within one to two business days.
Discover Deals
Each day new deals are presented under the tab "Today's Deals." The deals can be searched by category, including travel deals on hotels, flights, car rentals, and vacation packages. Some of the other deal categories include electronics, health and wellness, home, sports and leisure, and toys and hobbies. Each offer gives you a chance to earn additional Points which can be redeemed for gift cards.
Coupon Codes
MyPoints curates functioning coupon codes for popular brands, and then gives you additional bonus Points when you click on the MyPoints coupon code link to make a purchase. The easiest way to use this feature is to search by the brand that you want to purchase from on MyPoints and then find the best coupon code offer from the list provided.
Take Surveys
After taking an initial three-minute survey for which you'll earn 10 points, you'll unlock the ability to take additional surveys on MyPoints for additional Points. For each available survey, you'll be shown approximately how long the survey will take to complete, along with how many points you can earn.
On average completing a five to 10 minute survey will earn you between 35 to 85 points, while 20+ minute surveys can earn as much as 400 to 600 points. Sometimes bonus points will be available which can result in double points for completing surveys. Surveys are one of the best opportunities to earn significant Points on MyPoints. Many of the surveys do have initial qualifying questions, so you may not be qualified to complete every survey that you attempt.
We've compared MyPoints against the competition to see how they stack up in terms of earnings potential, payment methods and minimum amount to cash out your points.
| | Avg. Payout (per survey) | Payment Method | Min. to Cash Out |
| --- | --- | --- | --- |
| MyPoints | $0.40 to $2.50 | PayPal or Gift Card | $5 |
| Branded Surveys | $0.50 to $5.00 | PayPal, Visa Prepaid Card, or Gift Card | $5 |
| Survey Junkie | $0.50 to $3.00 | PayPal or Gift Card | $10 |
| Swagbucks | $0.50 to $2.00 | PayPal or Gift Card | $1 for gift cards, $25 for PayPal cash |
| InboxDollars | $0.50 to $5.00 | Check, Visa Prepaid Card or Gift Card | $30 |
Watch Videos
Under the Watch tab on MyPoints, you'll find a curated selection of videos and articles that you can explore to earn additional points. Typically, you'll need to view several pages of content or videos to earn two to three Points.
Play Games
There is also an opportunity to earn points by playing games on MyPoints' partner site operated by World Winner. However, you can only earn Points if you fund your GSN Games account. You'll typically gain four Points for every dollar that you deposit. GSN Games also has a separate point system that is not related to MyPoints.
Read Emails
BonusMail is one of MyPoints' reward programs that awards you Points whenever you read a BonusMail. You can also earn more Points when you either shop or complete a transaction found in a BonusMail. You can control the types of emails that you receive by editing your email subscriptions under your MyPoints accounts and picking the categories that interest you. You can typically earn five points just for clicking links in the emails.
Search the Web
Another way to earn Points is to use the "Search and Earn" feature on MyPoints to complete a web search that is powered by Yahoo. You'll earn Points randomly for your web searches throughout the day. Points will credit to your account once you earn some with your searches.
Referral Program
You can refer your friends and family to join MyPoints through the Refer-a-Friend web form operated by MyPoints. When someone joins through your referral code and makes a merchant purchase of at least $20 within 30 days through the MyPoints website or emails, you'll receive 750 Points and your friend will receive 1,750 Points. Purchases from Amazon and MyPoints Games are excluded.
MyPoints BINGO!
MyPoints Bingo! gives you an opportunity to complete a series of actions and get rewarded with Points based on how many you complete. Each space on your Bingo Board has an action item associated with it. Once you complete the action, the space will mark as complete. Complete the tiles in a specified pattern like a full board, middle row, or plus sign and earn between 10 to 500 bonus points for your board.
You'll only have a limited amount of time to complete your Bingo board to receive your bonus point. Some of the actions you may be asked to complete are visiting specific websites through MyPoints, adding items to your shopping list, answering daily polls, or redeeming a point perk.
MyPoints Daily Goal
Your Daily Goal is a personalized Point threshold that you try to meet or exceed each day to earn a Bonus. You can earn points towards your Daily Goal by completing MyPoints activities. If you hit your Daily Goal then you'll earn additional bonus points. You can earn even more bonus points for meeting your goal multiple days in a row with 10 Points for a five-day streak and up to an additional 300 Points for completing your Daily Goal every day within a given month. Each day your Daily Goal will vary and it can be viewed in the Daily Goal window on MyPoints.
MyPoints Score!
Score! is a browser extension that will alert you when you're on a MyPoints partner merchant site so that you don't forget to get your Points. It will also display coupons for select sites and apply them automatically at checkout. Score! is available for Chrome, Firefox, and Microsoft Edge and only works on desktops and laptops. Once the Score window pops open simply click the Activate button to earn points for your purchase.
The Daily Five
Each day, you have the opportunity to earn Daily Five bonus points by completing at least five tasks from the day's To-Do List. If you complete five tasks, you'll earn five bonus points, and if you complete all nine tasks you can add another five bonus points. The tasks that you can pick from include:
Vote in the Daily Poll
Magic Receipts
Activate Score!
Deal of the Day
Complete a Watch Activity
Complete a survey
Earn points from Discover
Attempt a survey
Meet your Daily Goal
Redeeming Points
You can redeem your Points for gift cards or online certificates from online stores, restaurants, airlines, hotels, and more. On the Rewards page on MyPoints, you can filter your reward options by gift cards or e-certificates, as well as sorting out only the awards for which you currently qualify based on your Points total. Once you have decided on a reward you'll click the "Get Rewarded!" button to redeem your points for your reward.
Rewards range in value from $3 to $500 and are available from a large variety of well-known brands like Amazon, DoorDash, CVS, Home Depot, Starbucks, Walmart, and Target. There are travel gift cards available from popular travel brands like Delta, American Airlines, United, and Hotels.com. You also have the option of a prepaid Visa gift card or a PayPal cash deposit starting at $10 of value, which will cost you between 1,500 to 1,600 points. There is no fixed value for each Point, so you'll have to browse the reward options to see what offer is your best value.
---
MyPoints Pricing
MyPoints is free to use. Signing up for an account is the only requirement to earn Points with MyPoints, which can be redeemed for gift cards from a large variety of brands.
---
MyPoints Customer Support
The best way to get support from the MyPoints customer support team is through your Activity Ledger in your MyPoints account. Find the specific activity that you need support with under the Visited Section and then click the help/contact us link that is directly next to it. It will either direct you to start a help ticket or to an applicable help article. If you still need help you can click the Still Need Help button to start a support ticket.
Business hours are 9 am to 6 pm Pacific time Monday through Friday, excluding holidays. However response time is typically within 10 business days and account-related questions may take up to 30 business days. You can also try chatting with MyPoints on Facebook, which will typically get you a response within one business day. However, based on the situation you may still have to submit a ticket.
---
MyPoints Security
MyPoints does not share your personally identifiable information with advertisers without your express consent. Your information will not be rented or sold. However, MyPoints may send the information that they gather about their members to third-party processors to analyze the data for MyPoints. The third-party data processors are prohibited from using the data for any reason other than what is provided to MyPoints. All in all, it seems reasonable to conclude that MyPoints keeps your personally identifiable information confidential.
---
MyPoints Pros
Free to join: The MyPoints rewards program is free to join. There is no cost to participate in the tasks in MyPoints, and the Points and gift cards do not cost anything to earn, other than your effort.
Mobile app: The MyPoints mobile app is easy to use and provides the same functionality as the MyPoints website. It makes it easy to complete tasks on the go throughout the day.
Many different ways to earn points: There are multiple different ways to earn points on the MyPoints program including shopping and completing easy-to-do tasks that can be done in little pieces of free time throughout your day.
Gift cards from multiple brands: There are many brands of gift cards available through MyPoints including Amazon, Walmart, Starbucks, Target, travel brands, Visa pre-paid cards, and PayPal deposits.
---
MyPoints Cons
Delayed points on some activities: For some tasks, it can take multiple days to receive points for completing the task. If you are trying to complete tasks for your Daily Goal and To-Do list, this can cause a delay on Points that you may have been expecting to reach your points totals.
Only for residents of the US and Canada: MyPoints is currently only available for US and Canadian residents, and not all gift cards are available for use in Canada.
Low points per activity: While there are some easy activities like taking surveys and shopping that can gain you over 100 points per activity, most activities only are worth a few points each. It can take a while to gain enough points to exchange for a gift card.
Slow customer service: Customer service has a typical response time of 10 business days by email and can take up to 30 days in some situations. This can be a frustratingly slow response time if you have a pressing question.
---
MyPoints Alternatives
Looking for an alternative to MyPoints? You've got a couple of options available.
Swagbucks
Swagbucks is a free service, available both as a browser extension and app. It pays you in cash and gift cards for a variety of activities including shopping online and in-store, taking surveys, watching videos, donating to charity, searching the web, and playing online games. Read our full Swagbucks review to learn more.
InboxDollars
InboxDollars is a cash rewards website that helps you make money for doing a variety of online tasks including taking surveys, playing games, watching videos, reading emails, and searching the web. Read our full InboxDollars review to learn more.
| | | | |
| --- | --- | --- | --- |
| | | | |
| Our Rating | | | |
| Avg. Payout Per Survey | $0.40 to $2.50 | $0.50 to $2.00 | $0.50 to $5.00 |
| Payment Method | PayPal or Gift Card | PayPal or Gift Card | Check, Visa Card or Gift Card |
| Sign Up Bonus | $10 Amazon card (*conditions apply) | $5.00 welcome bonus | $5.00 welcome bonus |
| Minimum To Cash Out | $5.00 | $1 for gift cards, $25 for PayPal cash | $30 |
| Highlight | Multiple ways to earn money and cash back | Multiple ways to earn money | Online surveys, video surveys and more |
| | | | |
---
Who Is MyPoints Best For?
MyPoints is best for someone willing to put some daily effort into earning Points. Ideally, you want to commit to completing your Daily Goal and Daily Five each day as a good way to regularly earn bonus Points and build up your overall points total. It's easy to fit the tasks into your spare time, but to earn decent Points and rewards from MyPoints you'll need to be intentional with regularly completing tasks online.
If you do a decent amount of shopping and are willing to use the Magic Receipts feature with MyPoints to upload your shopping receipts, MyPoints will also likely be a good fit for you.
---
MyPoints Review FAQs
We've found some of the most frequently asked questions about MyPoints around the web. Here are our answers.
Is MyPoints Legitimate?
Yes, MyPoints is a legitimate online rewards platform that is free to use and allows you to earn Points that can be exchanged for gift card rewards. You'll earn points by completing activities like shopping online, answering surveys, playing games, watching videos, and others. While it's not designed to make you a significant side income, it can help you make some extra money in your free time. 
Is MyPoints Safe?
Yes, MyPoints is a safe rewards platform to use. Your personally identifiable information will not be sold or rented and you can expect to earn and receive gift cards for your Points as promised.
Avg. Payout Per Survey: $0.40 to $2.50
Payment Method: PayPal or Gift Card
Sign Up Bonus: $10 welcome bonus (*After spending $20 or more)
Min. Cash-Out Amount: $5
Min. Age Requirement: 13+ years
Availability: USA and Canada
Trustpilot Rating: 4.4/5.0 with over 11,000 reviews
---
Final Thoughts
If you have extra time each day to spend online working through tasks like taking surveys, playing online games, watching videos, and searching the web, then signing up for MyPoints is something you'll want to consider. It's a great way to use your extra time to make some money. Additionally, if you do a decent amount of online or in-store shopping, you should be able to increase your Points total even more quickly, which you can then exchange for gift cards from your favorite brands.
While MyPoint isn't likely to become a significant side income for you, if you're committed to spending some time working through MyPoints tasks each day, then there's no reason you couldn't make a few hundred extra dollars each year from MyPoints!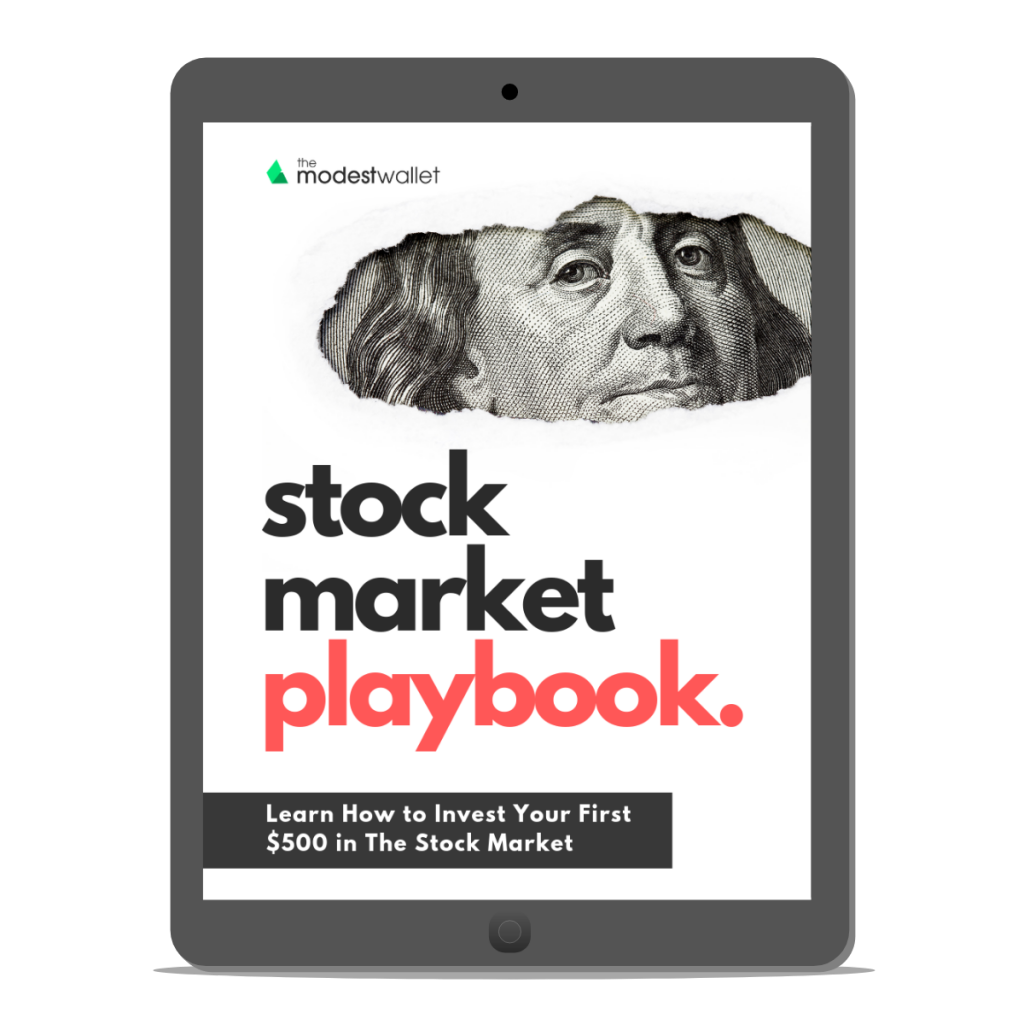 Get our free Stock Market Playbook to learn how to invest your first $500 in the stock market.
Plus our best money tips delivered straight to your inbox.

Summer Tannhauser is an entrepreneur, online educator, and freelance writer who is passionate about helping others to create additional income by leveraging their life experiences and passions. Summer works with budding entrepreneurs through her online courses and workshops and has appeared in numerous online publications and podcasts including Inc., Teachable, and USA Today.