24 Best NFT Projects in 2023: From Apes to Punks
An NFT project contains unique collections of Non-Fungible Tokens (NFTs). These are the top NFT projects right now.

Reviewed By

Vanja Petrovic

Many or all of the products featured on this page are from our sponsors who compensate us. This may influence which products we write about and where and how the product appears on a page. However, this does not influence our evaluations. Our opinions are our own. Here is a list of our partners and here is how we make money.
---
The information provided on this page is for educational purposes only. The Modest Wallet is a financial publisher that does not offer any personal financial advice or advocate the purchase or sale of any security or investment for any specific individual.
Fungibility is so old-fashioned. Today, non-fungible tokens (NFTs) are where it's at!
NFTs are the latest craze in cryptocurrency. Unlike fungible coins like Bitcoin or Ethereum, these unique digital tokens only have one location on their respective blockchains.
NFT artworks, sports clips, and celebrity memorabilia have sold for jaw-dropping prices recently. However, not all NFTs are worth hundreds of ETH. Only a select few NFT projects drive the bulk of trading traffic on Web3 marketplaces.
If you're interested in what NFT projects remain the "top dogs" (or apes?), then you've got to check out the list below.
---
What Are NFT Projects?
NFT projects are collections of non-fungible tokens put out by a single artist or a team. Usually, there's a story and aesthetic associated with this project and each NFT in the collection has a unique set of attributes.
The most influential NFT art projects release collections of 10,000 NFTs. Artists often choose a few possible features and then use an algorithm to generate these unique images. The rarity of each picture's attributes usually determines its worth.
Although many NFT projects follow the "10,000 standard," there's no rhyme or reason for operating an NFT project. As long as all the NFTs come from the same team and the tokens are thematically related, they could be considered an "NFT project."
---
How Do NFT Projects Work?
Nowadays, most NFT projects start by generating a buzz on social media. Once they gain a large enough following, project leaders most often release their NFTs on their website's marketplace, an open NFT marketplace (e.g., OpenSea), or a curated NFT platform.
Although NFT creators won't know who bought their NFTs, they can tell where each NFT is on the blockchain. So, if you have an NFT in your MetaMask wallet, you can connect it to the NFT project's website to gain access to any special perks and private features.
Each NFT project has different ways of releasing its art and keeping in touch with token holders. Customers should always research the official social media pages on Twitter and Discord for their favorite NFT projects.
---
Best NFT Projects Today
Today, it seems like everyone and their grandpa is an NFT artist. Since anyone can put an NFT on an open marketplace, there has been an explosion of digital art and collectibles on sites like OpenSea.
Although it is challenging to distinguish gems from junk, a few NFT projects have become the premier picks in cyberspace.
1. CryptoPunks
CryptoPunks isn't the oldest NFT project, but it's unquestionably one of the most revered "OG" collections. Were there no CryptoPunks, there would have been no template for the contemporary NFT marketplace.
CryptoPunks first appeared on the Ethereum blockchain back in 2017. Engineers Matt Hall and John Watkinson at Larva Labs created a program that generated 10,000 8-bit characters, each with unique attributes. Rather than use these punk-themed NFTs in a game, the duo decided to give these initial NFTs to a few fortunate Ethereum users.
Flash-forward to 2021, and CryptoPunks have become priceless "pixelated art." Currently, professional auction houses like Christie's have sold CryptoPunks for millions.
Interestingly, unlike other NFT projects, Larva Labs doesn't give users any special perks. Plus, since these NFTs were so early, they pre-date the ERC-721 standard for Ethereum-based NFTs.
The high price for CryptoPunks is due to their aesthetic appeal and historical legacy. In addition, many developers and early investors consider CryptoPunks to be symbolic of the revolutionary crypto movement.
Anyone interested in investing in a CryptoPunk should visit the official Larva Labs CryptoPunks page. Here, visitors could connect a MetaMask wallet and bid on any available ERC-20 CryptoPunks. Potential investors could also view ERC-721-wrapped CryptoPunks on OpenSea.
Editor's Note
On March 11, 2022, Yuga Labs acquired CryptoPunks and Meebits and gives commercial rights to the community. The Cryptopunks web app will soon be moving to cryptopunks.app
Key Facts
2. Bored Ape Yacht Club
The Bored Ape Yacht Club (BAYC) has swiftly become the Internet's most elite clique. Created by a pseudonymous group of gamers at Yuga Labs, these 10,000 funny primates have made some investors serious money.
Although these ERC-721 NFTs first sold for 0.08 ETH each, they now sell for hundreds of ETH. Celebrities like Justin Beiber, Steph Curry, and Jimmy Fallon have shelled out thousands (if not millions!) to use one of these primates as their profile pics.
We don't know much about the BAYC's founders, but Yuga Labs claims it began this project in early 2021. Apparently, the famed CryptoPunks project — especially the ultra-rare ape punks — were an inspiration to the developers. The "story" behind BAYC is that a group of crypto-trading apes became so wealthy that they retreated to a ramshackle club in the Everglades.
Like CryptoPunks, the rarity of a Bored Ape depends on which traits it has. Each ape could have a combination of seven attributes, with some of the rarer features including cyborg eyes, gold fur, and cross earrings.
Besides their funky designs, the BAYC became famous for giving members many exclusive perks. For instance, only BAYC owners could enter the club's virtual "Bathroom" and paint graffiti on the walls. Long-term BAYC holders have received rare airdrops, party invites, and merchandise as rewards. The BAYC also allows NFT holders to use their apes on commercial products.
To bid on Bored Ape NFTs, you'll need a MetaMask wallet and an OpenSea account.
Key Facts
3. Axie Infinity
With roughly 3 million active monthly users, Axie Infinity is a "monster" in the blockchain-gaming niche. This Pokémon-style battle game on Ethereum allows players to breed and fight floating monsters called "Axies" to earn crypto. The developers of Axie Infinity are also gearing up for a massive jump into the metaverse with their virtual world Lunacia.
So, why are we talking about this game in an NFT post? Well, not only can you buy land NFTs in Axie's metaverse, the Axies themselves are ERC-721 NFTs. To start playing the game, users need to purchase three of these NFTs from the Axie marketplace.
Since the demand for Axie Infinity has gone through the roof, the prices for Axies have increased in recent years. Indeed, the cost barrier on Axie Infinity got so high that the development team recently created a "scholarship program." Players who qualify to be a "scholar" could borrow three Axies from another player and share a cut of their earnings.
Those interested in play-to-earn games may get value out of owning, using, or trading these NFTs. The more skilled you become at playing Axie Infinity, the more potential ways you could get crypto by loaning your creatures, earning in-game tokens, or selling Axies on the marketplace.
For more info on the current rates for Axies, be sure to check the official Axie Infinity marketplace. For virtual land prices in Lunacia, it's best to visit land.axieinfinity.com.
Key Facts
4. Meebits
If you're looking for a somewhat affordable alternative to CryptoPunks, then Meebits might be your best bet.
Matt Hall and John Watkinson, the designers of CryptoPunks, put out Meebits in 2021. Given the Meebits' association with the legendary Larva Labs, it's no surprise they sold out for thousands of dollars after their release.
So, what are Meebits? These ERC-721 NFTs are 3D avatars that look similar to Minecraft characters. There are 20,000 animal or human Meebits, each of which has randomly generated traits.
A big selling point associated with Meebits versus the OG CryptoPunks is their potential integration in the metaverse. Larva Labs hinted that people who own a Meebit could use it as an in-game avatar in various blockchain-based games.
Anyone interested in purchasing Meebits could visit Larva Labs' official marketplace or OpenSea.
Editor's Note
On March 11, 2022, Yuga Labs acquired Meebits and CryptoPunks and gives commercial rights to the community. This web app will soon be moving to meebits.app.
Key Facts
5. MekaVerse
Fans of Transformers-style art will be most intrigued by the "MekaVerse" collection. This NFT project dropped in 2021 with 8,888 randomly-generated "Mekas," which are highly stylized robot portraits inspired by Japanese pop culture.
According to founders Mattey & Matt. B, these "Mekas" are subdivided into four "Factions," each fighting for domination in a future dimension. NFT holders may soon compete with other Mekas in a metaverse-style "Meka Universe."
This futuristic NFT project now counts over 200,000 members on its Discord and Twitter pages. Developers are also hard at work creating novel NFTs related to the MekaVerse, including new art projects and films.
Anyone who wants to see the latest Mekas for sale could connect their MetaMask to OpenSea.
Key Facts
6. VeeFriends
Arguably, the VeeFriends project is more about its creator than the actual tokens. Resy founder Gary Vaynerchuk hand-drew each of the 268 animals that make up this collection of 10,255 NFTs. However, most people don't buy a VeeFriend just because it's a cute image with an admirable trait. Instead, investors are most interested in the VIP access that their NFT grants them.
The advantages you'll enjoy from a VeeFriend will depend on whether you own an Admission, Access, or Gift token. However, every VeeFriend owner gets free passes to Gary Vaynerchuk's entrepreneur-focused conference "VeeCon" until 2024.
Those who opt for a rarer "Access" token have the opportunity to speak with Gary Vaynerchuk either in-person or online. In addition, a few of these NFTs allow token-holders to play video games, ping-pong, or tennis with Vaynerchuk!
Lastly, 555 "Gift Goat" tokens reward holders with at least six presents each year until 2024.
People who are most interested in networking may get a lot of value from a VeeFriend NFT. You could find these ERC-721 NFTs on the official VeeFriends website or secondary sites like OpenSea and Rarible.
Key Facts
7. Mutant Ape Yacht Club
In August 2021, the BAYC went through a major "mutation." Anyone who had a BAYC NFT in their wallet during this month could have received one of three "serums" to create a marvelously macabre version of their ape.
Unlike the original BAYC collection, the Mutant Ape Yacht Club has 20,000 NFTs. People who weren't already BAYC holders could have minted a Mutant Ape for 3 ETH when Yuga Labs dropped them on OpenSea.
Interestingly, you can still purchase a few of the serum NFTs in OpenSea's Bored Ape Chemistry Club. These serums range in rarity from "common" M1 to the ultra-exclusive M3.
If you feed your ape M1 or M2, it will "mutate" into an NFT that mimics the original. By contrast, M3 serums create an entirely new—and potentially very rare—mutant NFT. Perhaps that's why people have been willing to pay $6 million for M3 NFTs!
Mutant Ape holders get all of the benefits BAYC holders enjoy, including access to the exclusive online community. While MAYC NFTs aren't as high-priced as original Bored Apes, they are still amongst the most expensive NFTs in the industry.
Editor's Note
BAYC holders also got free dog-themed NFTs that are in the "Bored Ape Kennel Club." While prices for these NFTs aren't as high as BAYC or MAYC NFTs, these pups are becoming increasingly cost-prohibitive! 
Whether you're interested in the MAYC or the BAKC, you could find them all on OpenSea.
Key Facts
8. Cool Cats
Even if you're a dog person, you've got to admit that Cool Cats are one of the cutest NFT projects. Heck, these blue animated cats are so charming that even Mike Tyson had to have one!
Based on Ethereum, Cool Cats consists of 9,999 blue cat NFTs (because of a cat's nine lives, of course!). According to the Cool Cats team, these ERC-721 tokens could have had one of 30,000 trait combinations and each NFT has a rarity score ranging from a low three to an "exotic" 10.
While Cool Cats may not have the online cred of BAYC, it has become one of the more mainstream projects in recent years. In addition to Mike Tyson's profile pic, Cool Cats and Time magazine had a notable collaboration in 2021.
The Cool Cats team takes great care to make their exclusive club as family-friendly and inclusive as possible. People who own a Cool Cat can join various contests and raffles throughout the year and developers keep 20 percent of the ETH they receive for redistribution.
In the near future, Cool Cats may release a MILK cryptocurrency to broaden its metaverse endeavors. In addition, the Cool Cats team has already introduced new pet NFTs via "eggs" and it says NFT breeding may become a possibility in the future.
The best place to find authentic Cool Cats NFTs is on OpenSea.
Key Facts
9. Decentraland
Mark Zuckerberg helped make the term "metaverse" mainstream, but crypto projects have been working on virtual worlds long before Facebook's re-branding. Most notably, the Decentraland Foundation has been actively building an online "metaverse" on Ethereum since 2015.
While Decentraland shares similarities with games like Minecraft, it has a decentralized governance structure (hence the game's name). True, the Decentraland Foundation helps direct this project, but players could purchase the game's native MANA tokens to vote on changes to the game's protocol.
OK, so what does this all have to do with NFTs? Two words: virtual land.
While you don't need LAND to play Decentraland, many people want to "stake their territory" in this up-in-coming game. Companies like Atari and Sotheby's have already spent millions on LAND NFTs in Decentraland. Those who own one of these 90,000 LAND parcels could create whatever they want on their property with the Decentraland Builder.
And it's not just LAND that's available as an NFT in Decentraland. Players can also buy in-game wearables or avatar names as NFTs from the Decentraland Marketplace. You could also purchase art NFTs in Decentraland's museums or buy NFT tickets to special events.
Although Decentraland is currently the largest and most active metaverse, please remember it's not the only option for NFT investors. For instance, The Sandbox has generated a lot of buzz with NFT land sales to big companies like Warner Music Group, Gemini, and Adidas.
If you're curious about buying LAND NFTs on Decentraland or The Sandbox, you could visit either site's official marketplace or check out their OpenSea pages. Since both of these platforms have grown in popularity, you could easily find MANA and SAND tokens on exchanges like Gemini, Coinbase, and Crypto.com.
Key Facts
10. Crypto Baristas
If you're crazy about coffee and crypto, then Crypto Baristas is the NFT project for you. As the name suggests, this NFT project offers a collection of cute animated characters pouring a steamy cup of coffee.
Launched in 2021, Crypto Baristas claims to be the world's first NFT project to open a physical NYC café. That's right, the proceeds from Crypto Baristas will go towards creating a business outside the metaverse.
Anyone who buys one of these ETH-based Crypto Baristas will get exclusive benefits once this café opens. NFT holders get discounts on merch, access to coffee-themed lotteries, and the right to vote on the project's future roadmap.
The first season on Crypto Baristas included sixty hand-drawn characters, each of which had a unique rarity ranking. The five rarest baristas were one of one, whereas the 20 middle-tier NFTs were one of five, and the most common 35 were one of ten.
Crypto Baristas are on the Rarible NFT marketplace. You could also learn more about upcoming NFT drops on Crypto Baristas' official website.
Key Facts
11. The CryptoDads
If you're a mature crypto investor, then you might want to show off your style with a quirky CryptoDad NFT.
This collection of 10,000 NFTs features randomly-generated gentlemen with some very odd traits. In a tongue-in-cheek description of the project, developers claim these dads were going through a "midlife crisis" as they delved ever deeper into the crypto rabbit hole. Some CryptoDads seem to have come out with newfound riches, while others got "rekt" from the volatility.
People who join the CryptoDads community could take advantage of this project's fun games, including a popular "lawnmower racing challenge." The CryptoDads developers are also keen to introduce a metaverse game and the ability to add CryptoMoms and CryptoTots to your collection.
Even more exciting, CryptoDads hinted it would be working on an animated series in the upcoming months.
These ERC-721 NFTs are available on OpenSea.
Key Facts
12. Fast Food Punks
Are you looking for a CryptoPunk NFT at a "Happy Meal" price? If so, Fast Food Punks may be the project for you!
Created in 2021 using the ERC-1155 contract, this set of 1,000 hand-drawn NFTs looks remarkably similar to Larva Labs' famed Crypto Punks. However, it appears these "punks" need an extra paycheck to fuel their crypto dreams! Each character in this collection sports a uniform associated with a popular fast-food chain.
The creators of Fast Food Punks claim these NFTs are a riff on the "bear market meme" in which every "rekt" crypto investor ends up working at McDonald's. The founders of Fast Food Punks also clarify that their project is a lighthearted spin on Larva Labs' creation.
The FFP team first sold its NFTs on OpenSea for 0.01 ETH each. Today, you can still find the Fast Food Punks on markets like OpenSea in the ERC-1155 or ERC-721 versions. You could also migrate the older ERC-1155 NFTs into the ERC-721 version via FFP's migration tool.
Anyone who owns an ERC-721 FFP will get special access to future NFT projects and the opportunity to play games on FFP's platform. Currently, FFP has a "burger flipping" simulator as well as a metaverse where token holders could serve virtual "McMeals."
The best place to find FFP NFTs is on OpenSea.
Key Facts
13. Moonbirds
Moonbirds is one of the newest NFT collections on our list, but it has arguably made the greatest impact on the NFT market. Created by entrepreneur Kevin Rose and the exclusive PROOF Collective, the 10K Moonbirds collection instantly shot to the top of OpenSea's charts in April of 2022. On its mint day, Moonbirds brought in roughly $80 million. Within a week, these pixelated owls on Ethereum raised a staggering ~ $400 million.
So, why are Moonbird NFTs so valuable? According to many NFT investors, it primarily has to do with the team behind Moonbirds. Kevin Rose and PROOF Collective have proven their success in the past with projects like Grails NFTs. Since Moonbirds are supposed to be the official pfp avatar of PROOF — and since the 1,000 PROOF NFT entry cards are costly — some people see Moonbirds as a way to take advantage of PROOF Collective's success.
There are also reports that Moonbird holders will enjoy great utility from these NFTs. For instance, PROOF Collective says Moonbird holders could soon "nest" their NFT to earn rewards. Plus, since Moonbirds raised so much capital in such a short period, many people speculate there could soon be NFT airdrops, official merch, and even a metaverse game.
Key Facts
14. Azuki
Despite its nod to the bright red "adzuki bean," Azuki NFTs have rarely had a "red" day since launch. First dropped on Ethereum in January of 2022, these 10K pfp NFTs feature a blend of Japanese artistry and skateboarder swagger. The LA-based studio Chiru Labs designed each Azuki NFT by hand, and it grants NFT holders entrance to an exclusive online portal known as "The Garden."
Even though Chiru Labs' founders have mysterious monikers, that hasn't stopped NFT collectors from buying into the Azuki collection. Just a few months after its mint date, Azuki had the highest weekly trading volume on OpenSea. NFT fans seem to be impressed with the attention to detail in each Azuki avatar — plus the promise of future airdrops!
Like the Bored Ape Yacht Club, Azuki has already awarded token holders with free NFTs from a new collection called "Beanz." Similar to how the MAYC and Kennel Club NFTs gave people more ways into the BAYC, Azuki's Beanz seems to be a complimentary & "lower-cost" NFT project.
As a final note, the Azuki team is the first major NFT project to experiment with fractionalizing one of their NFTs. With the help of Fractional.art, Azuki created 20,000 "shares" of the Azuki #40 NFT (aka "Bobu") in March of 2022. People who want moderate exposure to Azuki could pick up a few "Bobu Tokens" to enjoy partial ownership of Azuki #40's IP rights.
Key Facts
15. Clone X
According to its website, Clone X NFTs represent virtual avatars created by a group of aliens from the planet "Orbitar." Supposedly, these 3D representations of humans are extensions of our consciousness in the metaverse.
In reality, Clone X is a 20K collection of NFTs put together by RTFKT Studios and the artist Takashi Murakami. People who love collectible sneakers may already know Nike bought RTFKT in late 2021; so, Clone X NFTs are technically a Nike brand. However, even without Nike's ownership, Clone X NFTs have been a high-ranking project since their 2021 mint.
Many people love the wild traits connected with the eight core Clone X "DNA types." While 50 percent of this collection is in the "human" category, a few more exotic NFTs include angels, aliens, and demons. RTFKT claims its avatars are "metaverse-ready," so owners could use their Clone X to explore a wide range of Web3 games.
As a perk, those in the Clone X community frequently enjoy airdrops from RTFKT Studios. For instance, anyone who held a Clone X in early February got a free pair of Nike Dunks NFTs with a Clone X-themed skin. There's no telling what RTFKT and Nike will reveal in the future, but it will probably continue to solidify Clone X's blue-chip status.
Key Facts
16. Doodles
Along with Cool Cats, Doodles is one of the top-ranking NFT projects in the "cute" & "colorful" categories. Launched in October of 2021 for 0.123 ETH each, this 10K collection of pastel profile pic NFTs has remained incredibly popular. Indeed, Doodles are so hot that they've attracted the attention of celebrities like Snoop Dogg and companies like Shopify.
The three men behind Doodles NFTs include Evan Keast, Scott Martin, and Jordan Castro. Of these three, Scott Martin (aka "Burnt Toast") is most responsible for the unique design and colors of these pfp NFTs. Although many of the Doodles are humans, there are plenty of skeletons, aliens, apes, and cats.
Doodles may not be as mainstream as the BAYC, but they have become increasingly prominent in pop culture. For instance, Behr recently released paint colors in honor of Doodles, and the company Biion footwear released limited edition Doodles shoes. The Doodles team also unveiled a new "Space Doodles" portal where NFT holders could put their avatar in a spacecraft. With all of these partnerships and new ventures, it's safe to say Doodles will remain a prominent pfp NFT collection.
Key Facts
17. CyberBrokers
The CyberBrokers NFTs are a group of 10,001 futuristic human and animal avatars leading the charge into the metaverse and the crypto revolution. Launched on March 1st of 2022, each CyberBroker NFT initially minted for 0.35 ETH, and they currently trade on secondary markets like OpenSea.
Each CyberBroker NFT gives holders access to an exclusive Discord and any perks the team may introduce down the line. To date, CyberBrokers doesn't have an official road map, but the team says to expect "anything and everything."
Speaking of the team, Josie Bellini is the top name associated with the CyberBrokers project. Although Bellini began her career in traditional finance, she left the established order in favor of cryptocurrency and Web3 technologies.
Besides designing and launching CyberBrokers, Bellini has been busy writing and developing in the crypto space. In fact, some of Bellini's digital art has been featured in Sotheby's and Christie's, and she has close relationships with projects like "Age of Rust" and CryptoKitties. Given Bellini's strong track record in the crypto industry, it's understandable why CryptoBrokers has attracted so much hype.
It's also essential to mention CryptoBrokers NFTs have their data stored "on-chain." Unlike many other NFTs that only store partial data on the blockchain, the CryptoBrokers team says all of the metadata associated with their NFTs is on Ethereum. According to CryptoBrokers, this "on-chain" storage system should help verify each holder's NFT ownership.
Key Facts
18. 3Landers
3Landers is a 10K cartoon NFT collection launched at the end of February 2022. At the time of public sale, these colorful NFTs sold in a Dutch auction beginning at 0.75 ETH and gradually declining to around 0.15 ETH each.
A Thai artist named "Pom" is the lead creator behind 3Landers. According to the official 3Landers site and Medium page, Pom is a full-time digital artist living in Japan. For the 3Landers project, Pom primarily drew inspiration from Japanese pop art and 1990s fashion and animation. The 3Landers team also has a partnership with 0xStudio to help manage their digital avatars.
99.82 percent of the 3Landers have one of 18 "DNA" strands that helps define their style. While "human DNA" is the most common, you'll also find an assortment of devils, aliens, cyborgs, and spirits in the 3Lander family. Also, the 3Landers team set aside 0.18 percent of the collection (or 18 NFTs) in an exclusive "no DNA" category.
In terms of utility, holding a 3Landers NFT grants users access to a private Discord. Although 3Landers hasn't announced an official roadmap on its website, the team says it's interested in creating a sense of "community" and "adventure." People who hold a 3Lander will also get a say in the project's future direction.
Key Facts
19. Coolman's Universe
Released in December of 2021, Coolman's Universe is the first NFT collection by the LA-based animator Danny Casale. Fans of YouTube may better recognize Casale by the title "Coolman Coffeedan" or his breakout video "Snakes Have Legs." Casale frequently refers to himself as a "bad animator" who puts more attention on the message behind his creations rather than the technical precision of his work.
Casale's Coolman's Universe focuses on a bright white character called "Spesh." There are 10K "Speshies" NFT avatars in the Coolman's Universe set, each on the Ethereum blockchain. According to the Coolman's Universe website, the primary plot behind Spesh involves a quest for his BFF. Fans could also check out new Spesh-themed videos on Casale's popular YouTube page.
Casale says he wants to build Coolman's Universe and Spesh into a mainstream animation series. There are hints on the Coolman's Universe roadmap of an upcoming "Speshverse" metaverse game, and Casale announced a BABIES NFT airdrop in the summer of 2022. Casale also says he is working on many exciting collaborations.
To keep tabs on everything in Coolman's Universe, NFT holders could join the project's official Discord.
Key Facts
20. Creature World
The Creature World has been a labor of love for Danny Cole long before NFTs were popular. According to recent interviews, Cole began creating his colorful "Creatures" in his teens. He continued to develop his vision of the "Creature World" in his twenties, and he started hosting live events and art exhibitions dedicated to his creation. Danny Cole has experience with many big-name brands and events, including the Coachella Music Festival and Converse.
To help take others into his imaginative realm, Cole decided to jump into the NFT space on the platform SuperRare. He then launched his signature 10K "Creature World" NFT collection on Ethereum in August 2021. Today, you can find the primitivist-style Creatures NFTs on big marketplaces like OpenSea, Nifty Gateway, and the Coinbase NFT market.
People who hold a Creature NFT get the chance to participate in immersive experiences (aka "Journeys") put out by Cole's company Creature Labs. From community-driven puzzles to a virtual "quest" created by Muse, there are plenty of opportunities for Creatures to connect with others and earn virtual or physical artworks. Interestingly, Creatures NFTs can change their design patterns in response to decisions you make during different "Journeys."
Anyone interested in this immersive NFT art project may want to watch Danny Cole's keynote speech before picking up a Creature.
Key Facts
21. Party Degenerates
Organized by prominent NFT influencers like seedphrase.eth and AleksKay.eth, Party Degenerates is a 10K NFT collection consisting of randomly generated futuristic & abstract artworks. Each of the "degens" in this NFT collection has a set of traits designed by significant NFT artists, including Cory Van Lew, Dario de Siena, and MBSJQ. Within a day of their October 2021 launch, these NFTs brought in roughly $24 million.
Aside from their association with dozens of prominent artists, a Party Degen NFT functions as a key to many VIP events. According to the NFT collection's website, people who have a Party Degenerate NFT will enjoy access to meet-ups in the metaverse and IRL. Party Degenerates also has a line of exclusive merch, and NFT holders can expect new functions like breeding and potential airdrops.
Indeed, the Party Degenerates team recently released its rEVOLUTION drop, which allows token holders to modify the style of their PD NFT. The project claims to use a new "dual metadata" technology to help users swap between different designs while still retaining their original PD NFT.
Like many other NFT projects, Party Degenerates has a DAO for decentralized governance. This NFT collection also promises to donate 15 percent of secondary sales to artist-focused charities.
Key Facts
22. IlluminatiNFT
The IlluminatiNFT invites brave "initiates" interested in penetrating the "TRUTH" to enter their secret society. Drawing on the mythos surrounding the elite Illuminati clique, IlluminatiNFT created 8,128 NFTs that feature artistic renditions of the "All-Seeing Eye" pyramid. The team behind IlluminatiNFT says each digital collectible was forged with "chaos, fire, and magik," but they were all literally minted on the Ethereum blockchain.
Speaking of the team, IlluminatiNFT lists key project members on its official site illuminatinft.com. A few key developers you could follow on Twitter include Alexander Taub, Cesar Kuriyama, and Process Grey.
People who buy one IlluminatiNFT can gain access to the exclusive "Orchard," Discord server, and the Illuminati Collective DAO. The IlluniatiNFT project also runs a Twitter feed, "@truth," and it posts its current treasury holdings on this Etherscan address.
Befitting its secretive status, not much is known about IlluminatiNFT's ongoing activities — at least not to those outside its secret circle. Fans of mystery, magik, and the occult may get a thrill taking part in this deliberately "under the radar" NFT collection.
Key Facts
23. World of Women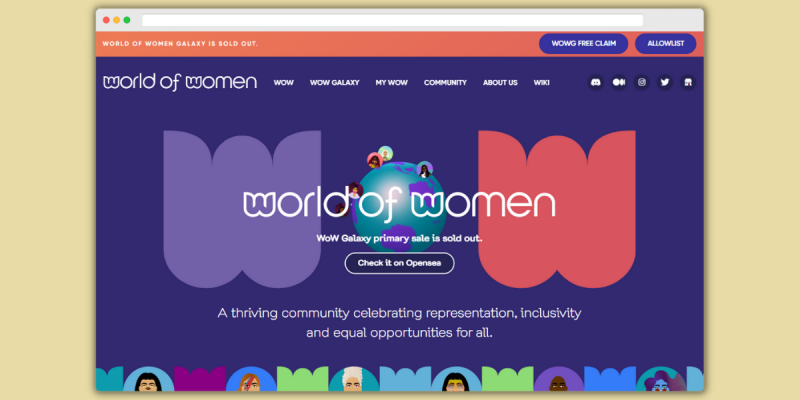 Besides releasing beautiful profile pic NFTs, World of Women's core mission has always been to promote gender equality in Web3. To date, it's safe to say the 10K animated World of Women NFT collection far exceeded its initial goals.
Starting at a mint price of 0.07 ETH in 2021, WoW NFTs are now amongst the most valuable NFT projects. Lead artist Yam Karkai has also become one of the most sought-after female designers in the NFT space.
Celebrities like Reese Witherspoon, Eva Longoria, and Sofia Vergara have already become vocal fans of the WoW collection. In fact, Witherspoon announced she's working on a TV series that will feature numerous WoW avatars. Even accounting firms like KPMG have bought into the WoW collection.
As if that wasn't enough, the World of Women series recently partnered with Madonna's agent Guy Oseary. WoW continues to "wow" fans with prominent collaborations either in the metaverse (e.g., Otherside and The Sandbox) or the real world (e.g., Billboard Magazine). Plus, World of Women recently introduced a second 22,222 NFT series called World of Women Galaxy.
Unquestionably, World of Women remains the most iconic female-led project in the NFT space.
Key Facts
24. Women Rise
Drawing inspiration from the World of Women collection, Women Rise is an NFT project dedicated to female empowerment and education.
Artist Maliha Abidi helped bring these 10,000 female NFTs to life, each of which has a randomly generated set of traits. Maliha Abidi has a long track record in mainstream art and activism, and her work has been featured in prominent news outlets like the BBC and Good Morning America.
To inspire the next generation of women, many of Abidi's Women Rise avatars are seen in stereotypically male professions, including astronauts, coders, and scientists. The Women Rise team hopes these images will spur more activism for full gender equality in Web3.
In addition to their artistic merit, Women Rise NFTs help support numerous charities and educational initiatives for women. Women Rise says its primary goal is to build a virtual school in the metaverse. Women Rise also helps token holders show their support for the cause with merchandise and IRL art airdrops.
As a bonus, some of the rarest Women Rise NFTs depict real-life female trailblazers. For instance, #9724 shows Ruth Bader Ginsburg, and #241 features an image of Frida Kahlo. So, in addition to inspiring women of the future, Women Rise NFTs help honor historic achievements in the history of feminism.
Key Facts
---
What To Look for in an NFT Project
Investing in NFTs shouldn't feel like a "coin flip." While there's no telling which project will be the next BAYC, there are some telltale signs an NFT project has a better chance of success.
To guard yourself against scammers, you should scan the following traits before adding an NFT to your wallet.
Founders
Transparency is a huge blessing in the NFT industry.
Unfortunately, many developers use the Internet's anonymity to create phony projects simply to cash in on the NFT craze.
If your project has a clear development team with a track record in cryptocurrency, art, or tech, then you know there's some degree of accountability. Having vocal and transparent founders also helps increase the visibility of your NFT project.
Roadmap
Successful NFT projects should never remain static. Unless you're investing in NFT art that has aesthetic or historical merit (e.g., CryptoPunks), it's unlikely your project will grow in value if there's no roadmap. This document should set out the NFT team's goals for future development.
A successful roadmap should have achievable goals that help further the NFT project's core features and increase the incentive to hold these tokens. Be sure to carefully review the roadmap on your NFT team's website to get a feel for the project's direction.
Community
Many people buy NFTs for the feeling of being in a select group more than for the artwork itself. Post-BAYC, building a sense of community has become a significant factor in an NFT project's prospects. Company leaders need to create a unique aesthetic and atmosphere that helps build camaraderie amongst NFT holders.
Ask yourself, is this NFT project a club you would want to join in real life? Does it seem fun, exciting, or cool? Are developers actively interested in addressing members' questions and concerns?
If the sense of community seems strong, then there's a good shot this NFT project is solid.
Social Signals
No matter how beautiful an NFT project is, there's no way it will gain traction if developers aren't savvy on social media. If an NFT team isn't gaining followers on Twitter or Discord, then there's no chance they're going to have a red-hot auction on OpenSea.
Check out how active your NFT project is online and see how many likes and followers they get for their NFTs. These are great signs of the demand for your NFTs and the strength of your project's community.
Reach
High-quality NFT projects go far beyond the cryptosphere. Ideally, you want a project that could reach mainstream pop culture like CryptoPunks and BAYC.
For example, The Cool Cats team actively pursued partnerships with traditional publications like Time magazine. This move helped expose people who may not be interested in crypto to the Cool Cats community.
The more high-profile partnerships NFT projects make, the better they can increase their visibility and reach.
Innovation
Since the NFT market is so hot, copy-and-paste projects can do surprisingly well. However, the demand for these clone collections probably won't retain their value in a bear market compared to the originals.
For instance, there are dozens of ape-themed NFT collections nowadays, but BAYC remains the top seller. Why? Because BAYC was the first to change how people perceived NFT art and community-building.
Copycats (or dogs or monkeys) may make a few bucks, but only innovators make millions. If you want an NFT project that has the potential to be a trendsetter, you need to be on the lookout for innovation and unique features.
---
FAQs About the Best NFT Projects
Are you craving more NFT knowledge? If so, you should read through these top-ranking FAQs on NFTs.
Are NFTs a Good Investment?
There's no denying some NFTs have made investors a ton of money. Indeed, some NFT projects like BAYC and Crypto Punks had a better ROI than blue-chip cryptos in 2021.
However, that doesn't necessarily make NFTs a "good investment." Some people view NFTs as "collectibles" and "digital fine art," but others claim this asset class is a bubble getting ready to burst.
It's difficult to say which NFTs will increase in value long-term. Arguably, big-name projects like Crypto Punks and BAYC have the best chance of being "investments," but even these assets are speculative.
At this point, you should only put as much money as you're willing to lose into an NFT project. Please manage your expectations and remember the hype for NFTs may not be this high in a few years.
What Makes NFTs Popular?
There are many possible explanations for the insane popularity of NFTs, but a few key factors include novelty, exclusivity, and mainstream hype.
NFTs are one of the latest technological innovations and that novelty seems to be causing a lot of excitement. Like EVs or 5G, people want to be a part of this new tech trend.
Plus, since NFTs are scarce by nature, they grant token holders access to a highly exclusive club. This exclusivity makes valuable NFTs a status symbol in the digital age.
Sure, other people could copy and paste a Bored Ape NFT, but that doesn't mean they're in the club. Genuine BAYC members could quickly pull up Etherscan and show their contract address. There's no way a non-BAYC member could take advantage of all the perks BAYC offers.
Also, it helps that some of the world's most influential people are jumping into the NFT market. Not only are actors and athletes getting into NFTs, there are plenty of companies releasing NFTs with everything from NBA clips to Taco Bell meals. Gamers also have no shortage of in-game NFTs they could use to "level up" or trade.
When you consider factors like novelty, mainstream media hype, and exclusivity together, it's easier to see why NFTs have blown up in the past few years.
Where Can I Find NFT Projects?
There are dozens of NFT marketplaces online, but OpenSea remains the big kahuna. On this Ethereum-based website, you'll find a wealth of NFTs ranging from the uber-popular BAYC to smaller niche projects. Since OpenSea is an "open" NFT marketplace, anyone with an account can mint, buy, or sell NFTs with a MetaMask wallet.
Although OpenSea is the dominant place to buy NFTs, it's far from the only NFT site online. A few other hot Ethereum-based NFT marketplaces include Rarible and SuperRare.
Outside of Ethereum, you could find NFT marketplaces popping up on many competing chains, including:
Centralized crypto exchanges also have NFT galleries associated with their websites. For instance, Gemini runs the curated Nifty Gateway, while Crypto.com has its proprietary NFT Marketplace. Coinbase fans could also expect a new NFT marketplace sometime in 2022.
Many NFT projects also have dedicated NFT marketplaces on their main website.
While you could find news of many NFT drops on all these platforms, you'll need to scour social media sites like Twitter and Discord to find projects before they go live. NFT-focused websites like Rarity Tools, Rarity Sniper, and NFT Calendar could also help you stay in the loop on all things NFT.
Is Bitcoin an NFT?
Interestingly, crypto enthusiasts often debate whether Bitcoin is an NFT.
Since all of Bitcoin's transactions are on a public ledger, it's possible to track every coin's history on the blockchain. So, in this sense, each Bitcoin has a unique and verifiable record.
For instance, authorities could tell which Bitcoins were associated with the Colonial Pipeline hack in 2021. So, although these Bitcoins technically trade for the current market price, they have a unique "fingerprint" that may make them unsellable.
On the flipside, everyone knows the price of Bitcoin. All you have to do is pull up CoinGecko or CoinMarketCap to figure it out. The same can't be said about NFTs like BAYC or CryptoPunks. Like a Rembrandt painting or a rare baseball card, the worth of an NFT solely depends on how other people value it.
Generally speaking, Bitcoin isn't considered an NFT because you can trade it with exchanges or other people for a pre-established rate. However, some in the crypto community argue Bitcoin has many NFT-related traits.
---
Final Thoughts
NFTs are here to stay. No, that doesn't mean pics of Bored Apes will always sell for thousands of dollars, but the technology that underlies NFT projects will likely revolutionize many fields. For instance, realtors may soon settle ownership rights with NFT deeds, and doctors might use NFTs to keep track of medical records.
Unfortunately, it's impossible to say whether today's crazy-expensive NFT projects will always increase in value. Sure, NFTs could make you a lot of money, but they come with substantial risks.
If you find an NFT that you like, please be sure you've verified the team behind it is legit before spending any crypto. You should also consider storing your NFTs on a hardware wallet to avoid theft. And, as always, please don't spend more on NFTs than you're willing to lose!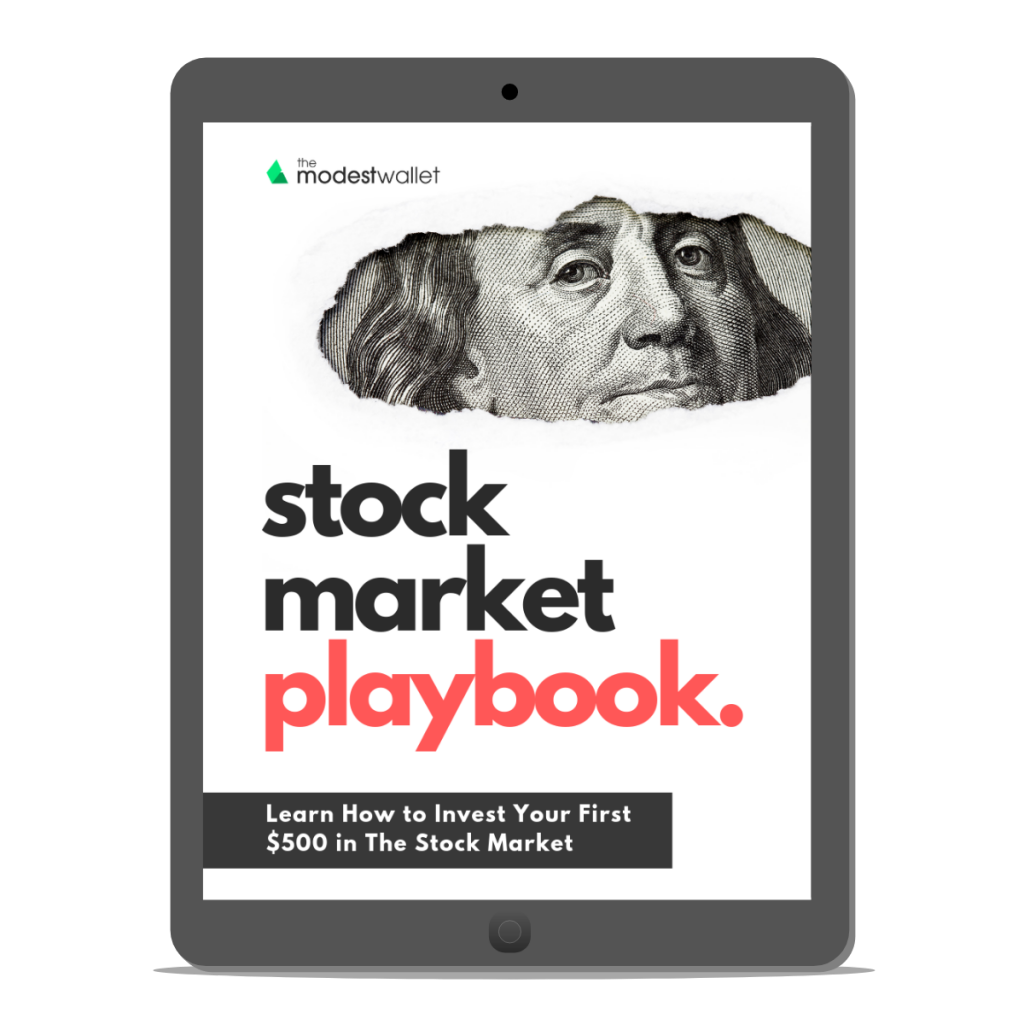 Get our free Stock Market Playbook to learn how to invest your first $500 in the stock market.
Plus our best money tips delivered straight to your inbox.
Eric Esposito is a freelance writer, editor, and cryptocurrency enthusiast. Although it took him a few years to grasp the Bitcoin revolution, Eric has become a crypto convert and long-term "hodler." Besides crypto investing, Eric is interested in helping others understand how to safely stack sats with passive income opportunities.