30 Best Online Jobs That Pay Well in 2023
Online jobs allow you to have the flexibility to work from home or remote location, instead of working from a set location.

Reviewed By

Vanja Petrovic

Many or all of the products featured on this page are from our sponsors who compensate us. This may influence which products we write about and where and how the product appears on a page. However, this does not influence our evaluations. Our opinions are our own. Here is a list of our partners and here is how we make money.
---
The information provided on this page is for educational purposes only. The Modest Wallet is a financial publisher that does not offer any personal financial advice or advocate the purchase or sale of any security or investment for any specific individual.
In this day and age, many of us are looking for ways to supplement our income or improve our work-life balance. Online jobs promise to meet those needs more conveniently and more quickly than other potential solutions.
But we all know that advertisements for "online jobs" or "remote jobs" are a dime a dozen. We also know that half of them are scams, and much of the remaining half aren't worth your time.
But what about those few diamonds in the rough that actually allow you to make some decent money? How do you go about separating the wheat from the chaff and finding those online positions that would let you support yourself and your family, or at least let you bring in a decent side income?
Continue reading below to find out about our favorite online jobs that actually pay well.
Best Online Jobs That Actually Pay Well
There are many, many options out there when it comes to working remotely. The best part is that you don't necessarily have to sacrifice pay. The following list outlines online jobs that are legitimate and actually pay well. Check out our work from home jobs article for more ideas.
1. Virtual Assistant
Virtual assistants are exactly what they sound like. They act as assistants in a virtual setting. So, for example, instead of coming into an office every day, you might log into a Slack channel and answer phones, respond to emails, manage documents, and perform other assistant-type duties remotely.
Competent and reliable virtual assistants (VAs) are in huge demand at the moment. Professionals of all stripes are deluged with communications and paperwork that take up a lot of their time, and they would rather delegate it. The problem is that they often can't find someone they can regularly count on to handle this work.
The high level of demand and huge amount of value that good VAs bring to their employers ensures that wages for virtual assistants are high and increasing over time.
The only caveat is that you need to know your stuff if you're going to be a good VA. While experience in the profession is invaluable, you might be wondering what to do if you're just starting out. How do you go about learning the fundamentals of being a virtual assistant if you've never done it before?
That's where the Horkey Handbook comes in. This amazing online course will teach you how to be a top-notch virtual assistant in 30 days or less. With her course, Gina Horkey does this by eliminating all of the fluff often associated with online courses and getting right down to the essentials. Office management, software skills, and working in an online environment are all taught to an expert degree of efficiency.
Income Potential: $15-$40 per hour
Find jobs on: Upwork, FlexJobs, Toptal and Freelancer
See Also: 20 Best Places to Sell Used Furniture for Cash (Online & Locally)
2. Facebook Ad Manager
Accessibility: High
Income Potential: High
Work Required: Medium
Online and offline businesses everywhere struggle with marketing. Their dilemma is simple. Everyone knows that Facebook, Google, Amazon, and other tech companies have created powerful and effective new micro-targeting tools that are available to the public. But most people have no idea how to use these tools.
That's an unfortunate position to be in. To have the opportunity to bring in hundreds of new customers and be unable to use it is incredibly frustrating for companies both large and small.
Luckily for you, that dilemma creates strong demand for someone who can navigate the world of digital marketing. There is potential here for you to create large amounts of value for businesses, especially local businesses in your area, if you become able to manage Facebook Ads.
There's no need to get an expensive digital marketing diploma. (Many of the skills you learn in university programs for those roles will be out of date by the time you graduate). Instead, take a look at this FB Side Hustle course offered by Laptop Empires. It offers timely, up-to-date, and comprehensive training in how to manage Facebook Ads for companies in your area (and globally).
With a special focus on helping local businesses target local customers, you'll be an expert in micro-targeted Facebook Ads in no time at all. No nonsense, no fluff, and no extraneous info you don't need.
3. Freelance Writer
Accessibility: Medium
Income Potential: High
Work Required: High
If you find that you've got a talent for the written word, you're doing yourself a disservice if you don't look into the world of freelance writing. There are huge amounts of money to be made in this industry, particularly if you're able to break into the area of marketing copywriting for larger companies.
Freelance writers put pen to paper (or fingertip to keyboard) for people and companies who need something written. It's that simple. You could be tasked with everything from blog posts to email campaigns to ad copy and press releases.
Many freelance writers develop subspecialties in subject areas or mediums in which they're especially experienced or knowledgeable.
It's not easy, and you'll have to write a lot of words per day (especially at the beginning), but the sky's the limit on your income potential with this online job.
There are thousands of people out there who have impressive skills with the English language (or maybe some other language) but don't know where to begin with freelance writing. Maybe you're one of them. For you, we recommend the Earn More Writing online course.
This course walks you through exactly how to begin earning money writing—or if you've already started, how to substantially increase your earnings in the profession. Earn More Writing is a lifesaver for new freelance writers who are stuck in the $0.01 per word purgatory and want to know how to find clients who pay higher rates.
4. Become an Online Data Entry Clerk
Accessibility: High
Income Potential: Medium
Work Required: Medium
VA jobs should be distinguished from online data entry jobs. The latter are less involved positions that usually just require you to enter data from one source into another program. For example, you may be asked to transfer the contents of a Word document into an Excel spreadsheet.
While data entry jobs can be lucrative, they tend to pay less than VA positions. However, data entry may be a great way to get your foot in the door of online freelancing.
See Also: 40 Proven and Legitimate Ways to Make Money Fast
5. Freelance Proofreader
Accessibility: Medium
Income Potential: Medium
Work Required: High
Proofreading is a desperately needed skill in all sorts of industries. It's a surprisingly technical and intricate field that combines skills including writing, editing, office software management, client management, and others.
Proofreaders review previously written work to identify and correct grammatical and factual errors, typos, and subtle inconsistencies in text that may have been missed in previous editing passes. These days, proofreaders don't necessarily have to know standard proofreading marks — In the digital age, you'll likely be using Track Changes in Word or Suggesting mode in Google Docs.
As opposed to editors and copyeditors, proofreaders don't usually address the content of the material they are provided. Proofreading is the final step in the writing process before text is ready for use.
Because proofreaders are in such high demand, a number of online courses have sprung up to teach participants how to become involved in this lucrative field. Our favorite, though, is definitely Proofread Anywhere. It's a no-nonsense class that takes you through the basic and advanced concepts you'll need to master to become an indispensable part of any organization that produces a lot of written work.
One of the great things about skills like proofreading, writing, managing ads, and providing virtual assistant services is that they are so highly transferable. For example, a writer can easily learn and use the proofreading skills taught by Proofread Anywhere, and a Facebook Ads Manager can make great use of the skills taught in Earn More Writing.
6. Become a Blogger
Accessibility: High
Income Potential: High
Work Required: Medium
We've written before about how to create and maintain a successful and profitable blog. When done properly, it's highly lucrative and provides a great deal of additional income and flexibility. This is definitely a profitable online job.
Basically, successful bloggers seek to monetize their content by converting their page views into conversions for their own products or services, or for products they sponsor. It's an elegant and simple business model that has stood the test of time.
Virtually any kind of content can be transformed into blog-worthy material. The list is long because there are people in the world with internet access. And one of the best aspects of blogging income is that it's largely passive. You post your content once, and the income keeps rolling in, month after month.
The problem for many is that they don't know how to transform quality content into content that converts. That's where the Full-Time Blogger course offered by my friend Larry Ludwig comes in. This course will take you from $0 per month to a full-time blogger in no time.
It should be noted that not everyone will realize this sort of income. Your results will depend on your skill level, your commitment, and a little bit of luck. But the potential for a life-changing salary is definitely there.
We strongly recommend that you give blogging a shot if you have an interest in online income. Go to Hostgator and sign up for an inexpensive hosting plan (their most popular plan is less than $2.75 per month at the time of this writing). So feel free to grab a domain name, and start posting some content. The worst that can happen is nothing.
7. Become a Bookkeeper or Accountant
Accessibility: Medium
Income Potential: High
Work Required: High
Bookkeepers are an essential component of any well-run business. They keep a firm's books clear and organized so its owners and managers can properly understand where the company is strong, where it's weak, and where it can be improved.
But good and reliable bookkeepers are extremely difficult to find. Given the level of responsibility they have, businesses don't want to entrust their books to just anyone. In order to successfully compete in this industry, you need to have a lot of credibility.
You can help develop that credibility by taking a superb online course at Bookkeepers. These fine folks will show you how to develop your financial acumen to the point where you'll be able to manage and organize a company's books with confidence and skill.
If you happen to be a licensed and qualified accountant, you're in even better shape, because in addition to offering bookkeeping services you can offer full accounting services virtually and online as well (if you choose to). You'll command a higher price with your additional expertise.
See Also: 26 Best Selling Apps to Sell Your Stuff Fast (Online or Locally)
8. Online Tutor
Accessibility: High
Income Potential: Medium
Work Required: High
"Knowledge is power." We've all heard that cliché. But knowledge is also money. Most of us have some form of specialized knowledge that we might be able to monetize given the right audience.
While you can always tutor in-person, a lot of online services have sprung up to offer tutoring services online. These services span a wide range of subjects and geographies, ensuring that almost everyone with a relatively advanced education or relevant experience can participate in providing tutoring services to students.
Services like CheggTutors and Studypool connect students with tutors via their online portals. Using these sites, tutors can forget about the intricacies of marketing services, setting up an online portal of their own, or finding students to tutor. They can focus entirely on tutoring and get paid.
As with everything in life, the more in-demand your skills and experience, and the more advanced your education is, the more money you will likely be eligible to earn. But your income is also dependent on your ability to engage with students and effectively teach difficult concepts.
9. Become an Online English Teacher
Accessibility: High
Income Potential: Medium
Work Required: High
An interesting sub-niche in the online tutoring world is English tutoring. As the world globalizes and more and more people seek to learn the international language of business, services have popped up to connect expert English speakers and writers with people who are trying to learn the language. Does this online job interests you?
A website called VIPKid is one of these services. It's a platform that facilitates connecting children (most of whom are from Asia), and English teachers. Using a service like VIPKid allows you to focus on teaching and, like with Chegg and Studypool, forget about marketing.
10. Social Media Manager
Accessibility: High
Income Potential: High
Work Required: Low
Social media has become an essential and invaluable marketing tool for businesses of all sorts. From local barbershops to international conglomerates, firms have realized that the money to be made by properly utilizing social media is substantial.
Many of them, however, are not well-equipped to manage and maintain their own social media accounts. Whether it's because of a lack of time, expertise, or inclination, many companies are looking for help with their social media.
And that's where social media managers come in. If you find yourself obsessively crawling Twitter, Facebook, Instagram, Pinterest, Reddit, and the rest of the usual social media suspects on a daily basis, why not turn your passion into a vocation?
Managing social media for companies and people who don't want to do it themselves can be both challenging and highly lucrative. One of the great things about managing social media is that the tech has matured to the point where automation software significantly reduces the workload imposed on social media managers. Posts can be scheduled, updates can be automated, and other elements can be easily managed with apps like Hootsuite.
See Also: 33 Best Money Making Apps: Cash at Your Fingertips
11. Transcription
Accessibility: High
Income Potential: Medium
Work Required: High
Countless industries rely on transcribed audio and video to function. Medical professionals, legal systems, corporate administrators, and others all need audio and video available in written form to complete their functions.
Transcription, though, requires a very specific set of skills. There are rules and best practices you need to adhere to if you want to be competitive in this industry. And best practices also shift depending on the type of transcription you're working on. For example, a medical doctor who needs his audio notes transcribed will require a different format than a lawyer who wants a deposition transcribed verbatim.
To learn these specific skills, we highly recommend the online course offered by Transcribe Anywhere. Transcribe Anywhere will show you the ropes and take you from transcription newbie to master in no time flat. It gets straight to the point and covers all of the usual customs and practices of transcribers. It also discusses the equipment and software you might find useful, and explains the different kinds of transcribing you will likely be doing.
This line of work is especially useful for those with specialized industry knowledge. Those in the healthcare field who can understand and decode medical jargon, and lawyers and paralegals who understand courtroom lingo are in high demand.
Our only issues with this specialty are that it's highly competitive, which reduces rates across the board, and it's very labor-intensive. Luckily, even though it's a crowded field, highly skilled practitioners will stand out and earn significantly more than their less-talented counterparts.
12. Become a Product Tester
Accessibility: High
Income Potential: Low
Work Required: Low
Paid online survey companies are a dime a dozen. But a couple of them stand out by offering unique ways to make extra money. Vindale Research is one of them. This company offers people the opportunity to test products at home and respond to surveys about their experiences with those products.
The really great thing about the product testing offered by Vindale is that it pays significantly more than other survey sites just interested in people answering surveys about their consumer opinions. Vindale offers other services as well, including "regular" surveys, a job search feature, and a referral program. These are all ways to earn a couple of extra dollars through the site.
But you should go in with your eyes open. You're not going to get rich on Vindale Research. It might provide a few extra dollars here and there, but the income isn't comparable to, say, a profitable blog. Luckily, this option also requires much less effort than some of the more involved strategies on this list.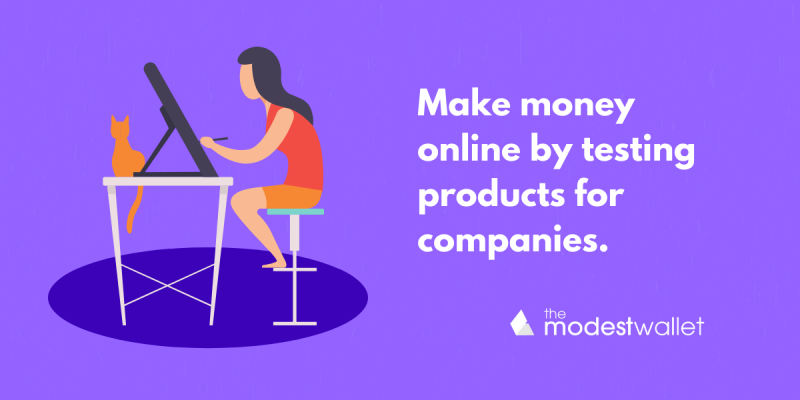 See Also: Free PayPal Money: 20 Legit Ways to Earn PayPal Cash Now
13. Start a Dropshipping Business
Accessibility: High
Income Potential: Medium
Work Required: High
Dropshipping is one of the newer business models that has popped up since the spread of a phenomenon known as product "curation". Product or service curators are people who others look to for advice regarding what to buy in a crowded marketplace.
Piggybacking off the rise of product and service curation is the concept of dropshipping. Dropshippers don't hold any inventory on their own. They list products for sale that they've sourced from providers. When a customer places an order, the dropshipper arranges for the holder of the inventory to ship the product directly to the consumer, bypassing the dropshipper entirely.
In effect, the dropshipper makes money by marking up the price of a product offered by someone else, hoping that the consumer finds value in their recommendation or review of the product.
While you can begin a dropshipping business entirely on your own, services like Shopify make the process a heck of a lot easier by providing guidance, product sources, and logistics advice to people who want to enter the industry.
You need to keep in mind that you'll be responsible for any customer service issues that arise during or after the shipment of the product. So be prepared to work out issues surrounding international delivery of items, like unexpected duties or customs fees.
The dropshipping game can be difficult. The trick is to build up significant amounts of trust and authority in a subject area before offering products for sale on your site. Remember — the value to your customers comes from your recommendation. If you don't have any authority on the subject, your recommendation isn't worth much.
14. Become a Graphic Designer
Accessibility: Medium
Income Potential: High
Work Required: High
Becoming a graphic designer is, in a lot of ways, similar to becoming a freelance writer. The only difference is that you work with images and video rather than words. Graphic designers work with all sorts of graphics, including ads, social media, email campaigns, website images, and more.
Obviously, to make any headway in this field, you'll need to develop at least some degree of artistic ability. Familiarity with software suites like Photoshop will also be tremendously helpful if you're working online, since very few clients will accept scanned copies of hand-drawn pictures.
As with freelance writing, the way to differentiate yourself in this industry is to show a high degree of professionalism, reliability, and skill. Over time (and not very much time at that) you will establish credibility with your target market, and you'll see your rates begin to rise.
Becoming a graphic designer may be a great option if you're looking to work from home.
15. Start a YouTube Channel
Accessibility: Medium
Income Potential: High
Work Required: High
YouTube has become a mecca for influencers and bloggers who seek to reach a wider audience. Successful YouTube channels pull in millions of views per video and make thousands of dollars per week in ad revenues and sponsorships.
Beginning a successful YouTube channel is similar to starting a popular blog. You need to identify and target a lucrative niche and differentiate yourself from your competition. You need to regularly post content on a fixed schedule. Most of all, you need to provide value to your viewers in the form of educational or entertaining content.
As we wrote above, the best YouTubers draw millions of eyeballs every week. People like Dr. Mike and Jeffree Star have expertly navigated the intricacies of YouTube's complex web of algorithms and monetization policies to create lucrative brands on the platform.
One of the great things about YouTube is that there are multiple ways to earn money from the platform. While you can restrict your money-making strategy to ad revenue, you can choose to expand into affiliate marketing and product sponsorship if you like. You'll want to be careful, though, not to dilute your brand by overwhelming your viewers with ads and sponsorships.
As with all forms of content marketing, you need to strike a robust balance between offering products and services for sale to your readers and offering content that they find valuable. Ideally, there will be a lot of overlap between these categories.
See Also: 42 Legitimate Ways to Make Money From Home in 2020
16. Become a Video Editor
With the explosion in YouTube channels and influencers, there is now a huge increase in demand for people able to competently and quickly edit videos for publication on the Web.
In addition to graphic design and software skills, video editors need to be well-versed in global and American copyright legislation. Failure to abide by copyright laws can result in videos being "demonetized" or even taken down by YouTube.
17. Flip Websites for Profit
Accessibility: High
Income Potential: High
Work Required: Low
Websites can be like fine art. The right ones are worth huge amounts of money in the right hands, and at the same time, their value can be overlooked by many. This results in some websites with significant traffic and even more potential that's underutilized in the hands of their owners.
Therefore, an opportunity exists to find unpolished gems, purchase them from their owners, and sell them to people who recognize their value.
We recognize that this may not be an industry in which you have much experience or intuition. Luckily, the Blog-Flipping Masterclass offered by Her Paper Route will take you through selling a blog in the open market, from the most basic steps to advanced.
Don't try to sell your blog without learning how to recognize its true value. You could be significantly underpaid in some circumstances if you fail to fully investigate the fundamentals of your blog or website. Use the course listed above to make sure you don't miss out.
We gave a great article on how to make money flipping websites if you want to learn more about it.
18. Start an SEO Agency
Accessibility: Medium
Income Potential: High
Work Required: High
Sometimes it seems like Search Engine Optimization is the next gold rush. For those who are unfamiliar with the topic, Search Engine Optimization (SEO) is the optimization of a website or a blog which can allow it to appear much higher on search engines.
The best SEO practitioners can move a website from obscurity to the top of Google's rankings in a surprisingly short amount of time. This skill is in extremely high demand amongst bloggers, webmasters, and companies of all sorts. Organic search traffic (those visitors who click on unpaid links on Google to get to your website) are coveted because of the revenue potential they represent.
Requiring a mix of digital marketing knowledge, writing ability, and research acumen, SEO is an ideal industry for anyone looking to excel in a field that allows them to work from home and on a flexible schedule. While the competition can be fierce, those who can demonstrate concrete results will quickly be in high demand.
See Also: 15 Legit Ways to Get Paid to Walk, Fast and Easy
19. Website Designer
Accessibility: Low
Income Potential: High
Work Required: High
The role of website designer has undergone an interesting transformation recently. With the rise of content management systems (CMS), the ability to create a simple website has been disseminated to the masses. To adapt, website designers have developed a unique set of talents to create increasingly beautiful and intuitive websites.
Anyone with a talent for HTML, CSS, and other web programming and markup languages has the ability to become a top-notch web designer. Combining elements of graphic design, programming, and digital marketing, the best website designers can create products that truly set their clients' web offerings apart from the rest.
Website designers need excellent client management skills, a high degree of professionalism, and digital and design talent.
20. Become a Website and App Tester
Accessibility: High
Income Potential: Low
Work Required: Low
Website designers may also be uniquely qualified for an easy side gig we'd like to quickly mention. Usertesting.com offers a platform that connects people who test websites and apps with site and app creators, and the interaction informs creators' design and programming decisions.
The work is relatively easy, and you will generally be judged with respect to your ability to communicate with the designers and creators of the products you're testing. So if you can provide coherent, constructive criticism, this might be the side gig for you.
21. Flip Textbooks for Profit
Accessibility: Medium
Income Potential: Low
Work Required: High
A service called Bookscouter provides a portal for the buying and selling of textbooks online. Even a cursory review of the portal will show you that there is a big difference between asking prices for the same book. A person with a keen eye for textbook values could make a significant amount of money buying textbooks at a low price and flipping them for a profit.
As with any "flipping" vocation, a high degree of subject knowledge is required. So this might be the perfect side hustle for an instructor, teacher, teacher's aide, or anyone else in the education field.
22. Photographer
Accessibility: Medium
Income Potential: High
Work Required: High
While many people think they're good photographers, especially with the ubiquity of high-quality smartphone cameras, very few people have "the eye." But artistic ability is not just inborn. It can be developed via practice and hard work. Further, the ability to market your work and reach potential clients is a business skill that anyone can develop.
For those interested in the field, photography can be a highly lucrative side gig or full-time job. There are a wide variety of sub-niches to target (wedding photographer, local newspaper photographer, blogger, etc.) and a whole world of subject matter in which to specialize.
As with any creative field, your pay will be proportional to your skill level, your marketing ability, and your willingness to demand what you're worth.
23. Start an Etsy Business
Accessibility: High
Income Potential: High
Work Required: High
Etsy is a fun and exciting platform that lets creatives reach a huge new audience of potential customers. As the favorite outlet for creators of all types, Etsy allows you to create all sorts of products to share with your clients.
Some of our favorite products to create and sell on Etsy are digital products. They're easy to digitally store, require no warehousing, and they don't create any shipping problems. If you don't have ideas of what you could create that would be of value to customers, take a quick look at the Eprintables Side Hustle course.
This course shows you how to create high-value printable designs for your customers that will generate revenue for months or years to come. Create them once and see the money flow indefinitely!
24. Course Creator
Accessibility: Low
Income Potential: High
Work Required: Medium
Online course creation combines the best of tutoring, digital marketing, writing, and graphic and video design. Course creators pick a subject in which they have unique expertise and teach it to people willing to pay for the course. The courses usually come in the form of transcribed video or audio and often include peer-graded assignments and projects.
Many courses provide certificates of completion, diplomas, or even degrees in exchange for finishing them.
Course creation pairs extraordinarily well with blogs and YouTube channels. This is because the trust and authority built by successful bloggers and YouTubers translate nicely to the credibility required by course creators.
One of the benefits of course creation is that it provides mostly passive income. Once the course has been created and offered online, the revenues flow in on a regular basis without requiring significant amounts of additional work. You'll need to update your course from time to time, regardless of the subject, so the income isn't entirely passive. But it's still less work to maintain an online course than, say, writing a blog.
Podia is a great platform to create and sell your own courses online. Check them out.
See Also: 23 Best Places and Apps to Sell Clothes Online or Locally
25. Complete Micro-Tasks Online
Accessibility: High
Income Potential: Low
Work Required: Low
Microtasks are a way to make a few dollars online without putting in too much effort. They're exactly what they sound like: little tasks. These microtasks usually provide a few cents to a few dollars per completion. They're also usually simple — like requiring people to enter information, answer an easy question, or provide some sort of data.
Services like Amazon Mechanical Turk (MTurk) provide a platform that connects people who perform small, simple tasks with people who need the work completed.
These tasks will not make you rich, but they can be an interesting way to turn a few hours of downtime into cash.
26. Become an Online Juror
Accessibility: High
Income Potential: Low
Work Required: Low
A sub-genre of microtasks that offers a higher rate of income is online jury duty. Some services, like eJury, Online Verdict, and Resolution Research, will allow you to act as a mock juror for cases based on real facts. The information gathered is used to inform resolution and plea bargain discussions from lawyers in actual cases. Because of the highly specialized nature of the research, pay for these services is usually a bit higher than non-legal alternatives.
27. Start a Podcast
Accessibility: Medium
Income Potential: High
Work Required: High
Podcasting, like blogging or running a YouTube channel, can be extremely lucrative for those skilled and dedicated enough to develop a substantial audience.
Like online courses, podcasts pair very well with blogs. Both require a significant audience, and both are most useful to people who have established some credibility in their niche of choice.
In The Dark, published by American Public Media, and Serial, are both examples of podcasts that have seriously impressive audiences. (They both happen to be in the true crime category). They've achieved success by offering compelling content, high production values, and giving their audience what it wants.
Monetization options for podcasters are similar to those for YouTubers. Podcasters can rely on the ads built into most podcast-hosting services, or they can accept sponsorships and engage in affiliate marketing plans.
28. Become a Voiceover Artist
Accessibility: Low
Income Potential: Medium
Work Required: Medium
If you have the voice for a podcast, you may wish to consider becoming a voiceover artist. These folks lend their voices to people who need scripts read. Currently, the need is especially high for ads with narration.
If you think you have a voice with a soothing or unique quality that you think could help advertisers, then voiceover work is worth looking into.
29. Become an E-Book Publisher
Accessibility: High
Income Potential: High
Work Required: Medium
E-Books are another form of passive income available to anyone with specific knowledge, skills, experience, or education in a niche. Like so much else we've talked about in this article, e-books pair exceptionally well with blogging and website hosting.
E-Books are typically a more substantive and "meaty" alternative to blogs and other online content. They usually cover a topic in-depth and at a level of detail that you would be unlikely to find in a blog.
These digital products have grown tremendously popular, and with the growth of digital platforms like the one offered by Amazon, they're increasingly simple to market and distribute.
See Also: 26 Easy Ways to Get Free Amazon Gift Cards
30. Become A Virtual Talent Recruiter
Accessibility: High
Income Potential: High
Work Required: High
As the number of available online and remote jobs has skyrocketed in recent years, so has the demand for people able to locate and recruit online talent.
This job requires you to develop and maintain your network of professional contacts in a variety of industries. Many recruiters focus on professionals who work in particular fields, like software engineering or journalism.
Because online freelancer networks already provide rating services for their members, online talent recruiters need to add value beyond simply recommending qualified people for jobs. An ability to scout previously unexplored areas of the internet (and not just LinkedIn) will come in very handy in this role.
Online Jobs FAQ
We've found some of the most common questions people have asked about online jobs. Here are our answers.
Is everyone suited to an online job?
No. Working an online job really is different than an in-person one. For one thing, you need to be able to easily navigate new technologies and software. Second, it usually requires a great deal of self-motivation. There's no boss looking over your shoulder in these jobs so you need to provide your own motivation. So if you have a tough time with technology and you need someone to keep you motivated, you may be better off looking for an in-person job.
Can anyone get an online job?
It depends on the kind of job you're looking for. Certain work does not lend itself to an online setting. For example, you obviously can't be a courtroom litigator or an NBA athlete. But most office-type jobs translate very well to the online setting, and even offline jobs can be enhanced or made partly remote with the right technology.
Where should I look for online jobs?
One of the best places to begin looking for online jobs is…online. Freelancing sites are a great place to start (Upwork, Fiverr). Flexjobs.com is an online jobs portal geared towards remote work. In fact, you can just Google "remote work" followed by your desired profession and watch the listings pile up.
Can online jobs provide a secure and stable income and benefits?
There are very few remote positions that right out of the gate, will offer you a full 401k, health insurance, and severance. Some will, but that's generally for people with a lot of education or experience.
Instead, most people will have to piece together a secure and stable income by compiling a list of regular and reliable clients across a broad cross-section of locations. Like a stock portfolio, a client list is most stable when it's diverse.
How do I get paid for online jobs?
You'll need to employ different strategies for getting paid that depend on where you found the position. Portals like Upwork and Fiverr have built-in payment solutions (along with payment protection) for which they charge a fee.
If you found your position outside of a freelancing portal, you can employ PayPal to accept payments and forward them to your bank account. Other solutions include services like Venmo and Payoneer.
Please keep in mind that you will likely be liable for keeping proper records at tax time. So make sure you're keeping your invoices, 1099s, banking statements, and any other related documents organized. And don't forget records for potential deductions (business phone fees, internet fees, any new software for your work, a new computer, etc.).
How can I keep from getting ripped off?
A lot of online "jobs" are scams. Keep an eye out for jobs that seem too good to be true. Jobs that pay poorly initially but increase in pay exponentially at some point in the future are suspect, as most of these employers will cut off contact with you after the poorly paid "probationary period."
As a general rule, scammers use the same tricks they always use —trying to get you to give up your credit card, financial, or identity info. Trying to get you to send them money. You're familiar with the list at this point.
If you want to be extra careful, stick to the freelancing platforms at the beginning. They offer payment protection and identity verification.
Final Thoughts
For people looking for work flexibility, the internet has opened up a world of possibilities. It's allowed us to access sources of income that weren't available just five or 10 years ago.
Whether or not you'll want to take advantage of any of these ideas will depend on your unique combination of circumstances and skills. But odds are that at least one of the aforementioned ideas will suit you just fine. And with the right amount of effort, you'll be able to improve your personal cash flow in no time.
Up Next

Ricardo is an entrepreneur, investor and personal finance nerd who enjoys spending time with his family and friends, travelling and helping others achieve their financial goals. Ricardo has been quoted as a personal finance expert in several online publications including Healthline, Bankrate, GOBankingRates, MSN Money, Yahoo Finance, U.S. News & World Report, Forbes and USA Today.