Many or all of the products featured on this page are from our sponsors who compensate us. This may influence which products we write about and where and how the product appears on a page. However, this does not influence our evaluations. Our opinions are our own. Here is a list of our partners and here is how we make money.
The information provided on this page is for educational purposes only. The Modest Wallet is a financial publisher that does not offer any personal financial advice or advocate the purchase or sale of any security or investment for any specific individual.
Making money while you sleep may sound like an impossible dream. But people who have mastered the art and science of passive income are living that dream. Keep reading below to find the best passive income ideas to make money with little to no active effort from you.
What is Passive Income?
Passive income is income that doesn't require constantly spending time or effort to earn it. The opposite, active income, requires consistent effort (and your time) in order to earn it; if you have a job, even if you're on salary, you need to go in every day and do the work in order to be paid for it. If you stop going in, you (eventually) stop being paid.
Passive income, however, keeps bearing fruit even after you've done the initial setup. For example, an eBook you've created required work to write, but once written (and promoted), it can earn money as it sells. This income works in the background, while you're going on with life.
Capital gains may be the best example of truly passive income. This is when your money earns money through a variety of intelligent investments in equities, real estate, commodities, etc.
You can think of your passive income situation as a collection of cash flows. The more sources of cash flow you have, and the larger those sources are, the better off you are.
See Also: 45 Side Hustle Ideas to Boost Your Income
Types of Passive Income
There are several different ways to acquire a base of passive income. You can buy it, create it, repurpose it, or even engage in what we call "reverse passive income" (i.e. saving).
Buying Cash Flow Assets
Purchasing assets that produce cash flows might be the most common way to produce passive income. There is another word for this: investing. You can invest in several different types of products, including:
Real estate
Equities
Commodities
Businesses
When you're investing, it's important to keep in mind that each investment inevitably involves a certain amount of risk. You need to choose investments that involve an amount of risk that you're comfortable with and that make sense for someone in your circumstances. For example, it doesn't make sense for someone on the verge of retirement to invest all of her money in a single, risky stock. It may make sense, however, for that person to invest in a low-risk balance of diversified, dividend-paying stocks and bonds.
You also need to keep in mind that the purchase of cash flow assets involves a trade-off between the money you have in-hand and future earnings. The time value of money says that money now is more valuable than money later. Therefore, you'll need a larger total amount of cash flow in the future to justify an expenditure of money today. We'll give you an example to illustrate this.
Let's say you're buying a rental property for $300,000. The rental promises to bring in an income net of expenses of $3,000 per month, or $36,000 per year. You need to balance the value that $300,000 has to you immediately with the value that $36,000 has to you one year, and two years, and five years from now.
The calculations involved in determining what's called the Net Present Value of a future stream of cash flows is beyond the scope of this article — but for now, suffice to say that if you're paying money for future cash flows, you should get significantly more in return than what you paid to make the transaction worth it.
Building Cash Flow Assets
Instead of purchasing cash flow assets, you can build them yourself. There are all sorts of passive income streams you might be able to build or create, including:
Real estate
Software and apps
Websites
eBooks
Online courses
You'll notice that this list is heavily weighted in favor of digital products. These tend to be relatively simple to create and cheap to store and distribute.
You should keep in mind that you need to value the time it takes to create these products. As an example, if you normally command $40.00 per hour through your next most lucrative work, and you expect it will take you 100 hours to create an online course, your Cost of Goods Sold is effectively $4,000. You then need to value your future income stream against the immediate cost of creating the product and determine if it's worth it to create the product.
Sometimes you can convert property you already own into income-producing capital. Modern apps and websites will help you with this, allowing you to rent out your car, home, or boat to people online for a profit.
While this can be an excellent way to turn a piece of property into an income-producing one, it's important to keep your costs in mind when you do this. Expenses like maintenance, upkeep, and cleaning must all be considered when you're calculating your profit margins.
"Reverse" Passive Income
This might be one of our favorite ways to make money over time. Reverse passive income simply involves spending less money as you move forward. (In other words, saving.)
Since building wealth is all about striking the appropriate balance between money coming in and money going out, getting the latter part of that equation in check is incredibly important to building a healthy financial future.
35 Best Passive Income Ideas
Without further ado, here are 35 of the best passive income ideas we found to make money while you sleep. For each option, we've included three characteristics: priority, potential, and simplicity.
Priority: Refers to the importance of starting this now. A low priority suggests you can put it off while you work on other items on this list. A high priority suggests you should do this immediately if you're interested.
Potential: Refers to the income potential of the idea. A low potential suggests you can make or save a small amount of money, while a high or unlimited potential suggests you can make a killing.
Simplicity: The ease with which the average person can execute the strategy.
While we could have included different or other criteria, we thought these were the most crucial ones to help you decide which strategies to undertake and which to leave alone.
1. Crowdfunded Real Estate
Buying commercial and residential real estate used to be reserved for highly sophisticated investors with large pools of disposable capital. However, thanks to the rise of real estate crowdfunding platforms, retail investors can now invest in real estate with as little as $10. For instance, a platform called Fundrise has brought residential and commercial real estate investing to the masses. This site allows individual investors to buy fractional shares of commercial and residential real estate ventures all over the United States.
These ventures come with both high return potential and high risk. Additionally, the terms and conditions of the investments, and the prospectuses that describe the products, can be complex and should be read carefully. Finally, the fees charged by Fundrise can be on the high side, because the investment product is a complicated one.
If you're willing to tolerate some risk, and you have some knowledge of real estate investments, this might be the strategy for you.
Priority: Medium
Potential: High
Simplicity: Low
2. Robo-Investing
Investing once required paying out high fees to pampered stockbrokers in corner offices. Robo-investing has made that a relic of the past, however, and brought low-cost investing to the average person. Services like Betterment and M1 Finance allow you to choose low-fee products from a panoply of options. You can then put the money you save on fees towards more investments.
These services are built for the average person, and while you should still know the basics of investing in stocks, bonds, and other investment products, they have put the financial markets within reach of almost anyone.
Priority: High
Potential: High
Simplicity: High
3. Micro-Investing
You don't need a huge pile of cash to invest in the markets. Apps like Acorns and Stash allow you to set aside tiny amounts of money on a regular basis and help you grow it into a significant nest egg over time.
These apps work by providing simplified products with no or low account minimums and encouraging you to engage in practices that increase your level of involvement with your investment accounts. For example, Acorns will "round up" purchases to the nearest dollar and deposit the difference in a savings or investment account.
One thing to watch out for with these apps is the management fee. Because they both charge a flat fee of $1 to $9 per month, the fees as a proportion of your investment account total can be on the high side. Ideally, the fees associated with low-cost investing, especially index investing (where your money isn't actively managed but instead tracks a popular market index), amount to a fraction of a percent. With apps like Acorns and Stash, though, fees can amount to several percentage points of your total investments.
Priority: High
Potential: Medium
Simplicity: High
4. Invest in the Stock Market
Of course, you may not want assistance when you're investing in the stock market. And that's where apps like Public.com come in. Another commission-free digital broker, Public offers you a tremendous amount of technical research so you can carefully consider which stocks you purchase and which ones you take a pass on.
There is one caveat, however. We here at The Modest Wallet are huge fans of index investing, where you let your money track a stock market index like the Standard & Poor's 500 in the U.S. rather than actively picking and choosing your own stocks. We generally advise against trying to "beat the market" by picking your own stocks. If, however, you want to select the equities in which you invest, we wish you all the best!
Priority: High
Potential: High
Simplicity: Medium
5. Invest in REITs
If you don't want to deal with tenants directly, consider a service called PeerStreet. This site is like the Lending Club of real estate investments. Similar to a REIT (Real Estate Investment Trust) but providing you with the option of choosing which real estate to invest in, PeerStreet connects real estate projects seeking capital with investors looking to make a profit.
The same cautions we provided for the service known as Fundrise apply here. You'll want to know the basics of real estate investments and developments before you dive into this area of the market. But, if you have some useful knowledge in this subject, this site definitely opens up new areas of interest for the real estate investor.
Priority: Medium
Potential: Medium
Simplicity: Low
6. Invest in Real Estate
Maybe the financial markets aren't your thing. Maybe you prefer investments that you can touch and see. In that case, you may want to consider a website called Roofstock. Roofstock allows you to invest in rental properties that already have tenants living in them. Rental properties can be fantastic purchases if you carefully plan your strategy for property management and upkeep.
The only reason Roofstock didn't get a higher rating potential is that many people underestimate the costs involved in managing rental properties, especially from a distance. But if you have a sound strategy in mind for running your rental property cheaply, you stand to make a fortune with a website like Roofstock.
Priority: Medium
Potential: Medium
Simplicity: Low
See Also: How to Make Money Building Websites: A Step by Step Guide
7. Invest in Farmland
Just as real estate investors can buy fractional shares of real estate with services like Fundrise and PeerStreet, people interested in buying up shares of farmland can use a service called Acretrader to buy up shares of farmland.
You'll need to be an accredited investor, which means you'll need a net worth of over $1,000,000, or you'll need to earn over $200,000 annually to qualify. This might put it out of reach of the average person. But in the event that you meet the requirements, Acretrader is a great way to get your hands on an asset class that is usually hard to access on the market.
Another great alternative to Acretrader is FarmTogether. FarmTogether also requires investors to be accredited to use the service.
Priority: Medium
Potential: Medium
Simplicity: Low
8. Invest in Art
If real estate isn't your cup of tea, and you have an artistic bent, you may want to check out a website called Masterworks. This company allows you to buy fractional shares in works of art that (hopefully), will appreciate in value over time. Now you can invest in art with little money.
We caution potential investors that art is a particularly tricky asset class to accurately price and forecast. However, if you have a knack for knowing which artists and which works will increase in value, Masterworks provides access to assets that are otherwise out of reach for most people.
Priority: Low
Potential: High
Simplicity: Low
9. Invest in Bonds
Bonds are a fantastic way to diversify a portfolio of equities. Since they often move in a direction that's opposite that of the equity market (i.e. when stocks are down, bonds are up, and when bonds are down, stocks are up), they can be a great hedge against volatility and risk. Make sure you check out our how to invest in bonds guide to learn more.
A company called Worthy Bonds advertises returns of up to 5% on bonds sold by small businesses across the US. A minimum investment of only $10 is required. If you're willing to connect your checking account, Worthy will round up your purchases up to the nearest dollar, and when you reach $10, you can purchase another bond automatically. (See Worthy's help center for more information.)
Returns are higher with Worthy bonds compared to many other types of bonds because the risk is higher. Small businesses are more likely to default on loans, and for that reason, the return you earn on your investment will be higher.
Priority: Medium
Potential: Medium
Simplicity: Medium
10. High-Yield Savings Account
High-yield savings accounts are a necessity in any well-rounded portfolio of investments. While the amount of income you'll earn is relatively low (since even the highest-interest savings accounts rarely top 3% per annum), your money is insured by the Federal Deposit Insurance Corporation (in the US), and is almost completely safe from risk.
Think of high-yield savings accounts as an adjunct to a fulsome strategy of passive income generation. It won't get you to the finish line on its own, but it will balance out the risks inherent in the other strategies on this list and reduce your exposure to unexpected contingencies.
Priority: High
Potential: Low
Simplicity: High
11. Certificates of Deposit (CDs)
Having a Certificate of Deposit (CD) is very similar to putting your money in a high-interest savings account. It's an extremely safe investment insured (in the US) by the Federal Deposit Insurance Corporation.
The difference between a CD and a savings account is that a CD will "lock-in" your money for a set amount of time. The longer you lock in your money, the higher the interest rate.
We recommend that all investors keep at least some of their money in safe investments like CDs to hedge against risk and the inevitable ups-and-downs of the financial, real estate, and commodities markets.
Priority: High
Potential: Medium
Simplicity: High
12. Advertise with Your Car
While you won't make a fortune wrapping your car in an advertisement, you'll definitely make more than you would without wrapping it in an ad. Turn your driving experience into a profitable one (or, at least, one that's less costly) by using the Wrapify service.
We think of this service as less of a money-maker and more of a money-saver. Since driving is an inherently expensive activity (vehicle costs, fuel costs, maintenance costs, etc.), Wrapify can help defray some of the expenses associated with it.
Priority: Medium
Potential: Low
Simplicity: High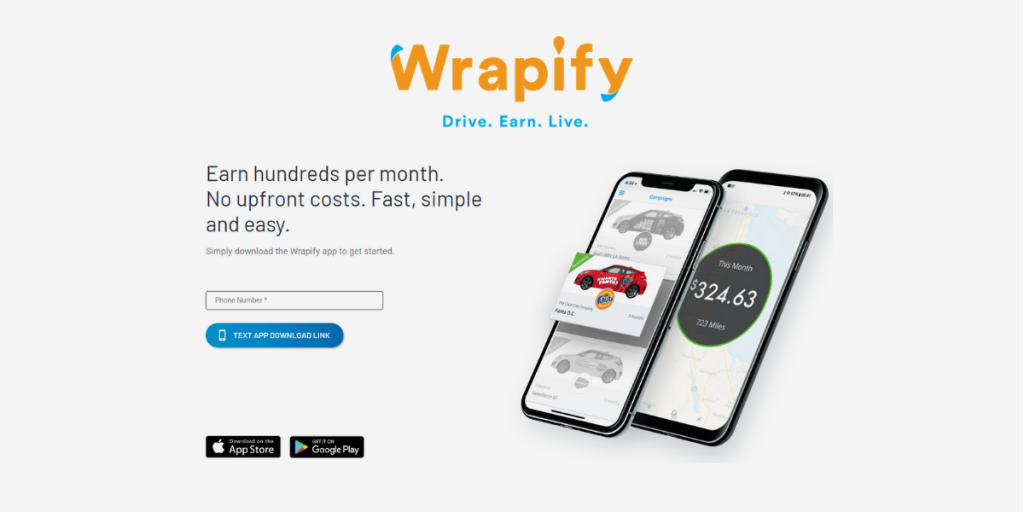 See Also: 90 Legit Ways to Make Extra Money on The Side
13. Rent Out Your Home
If you'd like to put the real estate you already own to work, then Airbnb might be for you.
Everyone has heard of this company. It allows you to rent out a room in your home, an apartment, or a whole house to short-term tenants online.
The amount you can earn from Airbnb will vary dramatically depending on the nature and location of your offering. A downtown Manhattan condo will command a substantially higher price than a studio apartment in Houston. That being said, even less in-demand locations and lower-quality offerings can yield surprising revenue if the host is careful to nurture his or her online reviews.
You'll need to keep an eye on your local municipality's regulations surrounding short-term rentals, however. Not every area allows people to utilize services like Airbnb. Additionally, remember to keep in mind the time you spend on hosting when you're calculating your profit and loss statement for the rental. (You do prepare a P&L statement, right?)
Priority: High
Potential: Medium
Simplicity: High
14. Buy Royalty Rights
We recommend that you buy royalty rights if (and only if) you are comfortable and familiar with intellectual property rights and law. In other words, you'll want to work in close consultation with an IP lawyer (or be one yourself) before you dive into the murky waters of royalty sales.
However, if you have the requisite knowledge, royalty rights can be extraordinarily lucrative. Even individual properties can bring in hundreds of thousands of dollars every year.
A website called Royalty Exchange facilitates the transfer of royalty rights in an online auction marketplace. It's extremely user-friendly, and it's a great way to get into the market. But, again, ensure that you know your stuff when it comes to intellectual property law.
Priority: Low
Potential: High
Simplicity: Low
15. Create and Sell an eBook
If you have a flair for writing, then creating and selling an eBook can be an excellent way to earn passive income. The process is pretty simple:
Pick a niche in which you're highly knowledgeable.
Review the existing literature in that area and find a gap in the marketplace.
Write your book.
Market your book on a digital publishing marketplace like Amazon.
The trick to writing a successful eBook is to add significant value to the existing marketplace of ideas. Don't just churn out derivative material, or content that can be found in dozens of other books. Focus on quality. Create something, new, unique, and valuable, and you'll be rewarded for it.
We strongly recommend that you get your book edited before you publish it. A good editor is an asset — and an integral component of the journey to a high-quality, reader-friendly, and salable eBook or other piece of writing (like a blog post). Your readers will thank you.
Priority: Medium
Potential: Medium
Simplicity: Medium
16. Start a Blog
Blogs are amazing sources of passive income because they can be monetized in so many different ways. At the root of all of them, though, is the idea that you're converting the attention of readers into money. Keeping this principle in mind will keep you focused on gathering and retaining the attention of your audience.
It's never been easier to start and run a blog online. Content management systems like WordPress and Squarespace will keep you focused on writing instead of the technology behind the blog. There are also a huge number of resources you can find online that can help you to deal with the necessary marketing and business side of maintaining a blog.
As with writing an eBook, you'll need to find an underserved niche in which you're an expert in order to differentiate yourself from the crowd.
Priority: High
Potential: High
Simplicity: High
See Also: 30 Best Gig Economy Jobs That Pay Well
17. Start a Podcast
While a little more technically challenging than running a blog, starting a podcast involves many of the same principles. At the end of the day, you're attempting to monetize the attention and interest of your listeners. Whether that's through selling ads on your podcast, through affiliate marketing, sponsorships, online courses, or some other way that you've found to turn listeners into customers, you'll need to stay focused on the idea that attention equals money.
We urge you to focus on creating high production values if you decide to create a podcast. Many podcasts today suffer from inadequate sound engineering and tinny production. One of the best ways to stand out is simply to get the basics (like production) right.
Priority: Medium
Potential: High
Simplicity: Medium
18. Start a YouTube Channel
Think of a YouTube channel like a podcast with video. It involves exactly the same principles as podcasts and blogs but requires a video-friendly personality and appearance.
Countless YouTube celebrities have made YouTube their full-time job. Those that are successful at it see that they are there to add value to their viewers' lives. Viewers don't tune in (primarily) to buy things or click on affiliate ads. Instead, they want to be entertained. Successful YouTubers know how to strike a balance between providing engaging and entertaining content and sales.
As with podcasts, we strongly suggest you focus on creating an environment conducive to solid production values. Get your lighting right, your audio on point, and hire a professional editor. You'll stand out from the crowd just by acing production.
Priority: Medium
Potential: High
Simplicity: Medium
19. Buy a Profitable Affiliate Marketing Website
Affiliate marketing is the process of directing traffic to products — often digital products — sold by creators. Affiliate marketing has grown exponentially with increased online shopping.
The ease with which a link can be placed on the Web and the simplicity of tracking the movements of online shoppers with cookies has led to an increase in the effectiveness of attributing a sale to an affiliate marketer. This, in turn, has increased the attractiveness of affiliate marketing as a full-time job.
It can be challenging, though, to create an affiliate marketing website from scratch. You need to build an audience, build authority, create trust between you and your readers, and find products to promote. Rather than starting at Step 0, you may want to purchase an already profitable affiliate marketing website.
Be careful to properly value the websites you're interested in. You may even want to engage the services of an experienced business valuator.
Priority: Medium
Potential: High
Simplicity: Low
20. Create and Sell an Online Course
Creating and selling an online course can not only be an excellent source of passive income all by itself, but it can also be an amazing adjunct to a successful blog, podcast, or YouTube channel.
Creating an online course is similar to writing a successful eBook. You need to identify a gap in the market in which you have particular knowledge, experience, or credentials, and tailor your product to cater to that niche.
Platforms like Podia and Teachable allow you to focus on creating the content for your course rather than hosting and marketing your product. They're extremely easy to use and can grant you access to markets you wouldn't otherwise have access to.
Priority: Medium
Potential: High
Simplicity: Low
21. Sell Your Music
If you're a talented musician, there's no place like the internet to sell your creations. Modern platforms like Soundcloud make it easier than ever to reach massive audiences. Those with the right stuff can quickly connect with millions of listeners.
Of course, this option isn't for everyone. For many of us, the only musical ability we have is putting our lips to a kazoo or humming off-key in the shower. We've indicated the priority, potential, and simplicity as low for this option because of this reality. But if you're one of the lucky few with a talent for music in a popular category, you just might be the next Billie Eilish.
Priority: Low
Potential: Low
Simplicity: Low
22. Rent Out Your Stuff
If you have in-demand items that cost a fortune and that people prefer to rent instead of buy, Fat Llama may be the website of your dreams.
On Fat Llama, you can post various items for rent for people to use for a short period of time. Things like photography equipment, electronics, sporting equipment, and music gear do very well on Fat Llama.
There is some risk involved, but Fat Llama insures all of your rentals so you can make a claim for reimbursement in the unlikely event that someone makes off with your fancy camera or guitar.
Priority: Low
Potential: Medium
Simplicity: Medium
See Also: 30 Best Online Jobs That Are Legitimate and Actually Pay Well
23. Rent Out Your Garage
If all you have in the way of valuable property is space, you may wish to consider Neighbor. On that site, you can offer to store your neighbors' excess stuff in exchange for a fee.
This service is very similar to Airbnb, except that you're hosting personal property instead of people.
People with more space in high-demand areas will be able to command a higher price, but you might be amazed at how much you can earn just by offering some space in your garage to the packrats who live near you.
Priority: Medium
Potential: Medium
Simplicity: High
24. Rent Out Your Parking Space
In some areas, parking spaces are as good as gold. In fact, in some parts of the world, the wealthy will hire drivers to drive their cars around at night rather than park them because it's cheaper to pay the driver's hourly wage than to shell out for a small amount of parking spot real estate.
While we're not yet at that stage in the U.S., services like Pavemint will connect those who have extra parking spaces with those who need a place to park their cars. It's like the Airbnb of parking.
You'll need to be careful of the contract that governs your use of the parking space (if it's not on land you own outright), as some will not allow you to assign your rights to someone else.
Priority: Medium
Potential: Medium
Simplicity: High
25. Create an App
Successful apps can earn millions for their creators. As with other digital products, you'll need to find an underserved niche in which you have particular knowledge and cater your product to that niche.
App development requires a combination of technical skills and marketing savvy. You need to know what your market is having trouble with, and how to design an app that solves their pain points. But if you can accurately identify those issues, and create an elegant solution for those who need it, you'll be in the money.
Priority: Low
Potential: High
Simplicity: Low
26. Rent Out Your Car
Just like renting out a room in your home on Airbnb, renting out your vehicle can bring in some much-needed passive income from your personal property. Services like Turo and GetAround allow you to access a marketplace of consumers who need to rent vehicles while they're visiting a new city or town.
The amount you can make through these websites depends heavily on the kind of vehicle you have and on the location you're in. Nice cars in touristy cities will be easier to rent out and command higher prices than less desirable vehicles located in less vacation-focused locations.
As always, don't forget the costs associated with the maintenance, upkeep, and depreciation of your vehicle as you rent it out. It can have a significant impact on your bottom line.
Priority: Medium
Potential: Low
Simplicity: Medium
See Also: 20 Best Places to Sell Used Furniture for Cash 'Online & Locally'
27. Buy an Existing Business
Buying an already successful business can be a great way to take a shortcut to reliable passive income. The options in this area are virtually infinite, and you're limited only by your imagination. We do suggest, however, that you remain within your area of expertise when you're shopping around. You'll be in a better position to assess the value of the company.
Buying an existing company can be a simple process if the firm is a small one with only a few moving parts — or it can be monstrously complex if the company is larger and more complicated. For all but the simplest of transactions, we'd recommend you consider the services of an acquisitions expert and certified business valuator.
Priority: Medium
Potential: High
Simplicity: Low
28. Flip Domain Names for Websites
Flipping domain names is much like trying to forecast the weather. In fact, it's more difficult. At least meteorologists have established models they can rely on. In the field of domain name flipping, you're trying to guess which domain names might be popular in the future, without any real guide.
For those few with a talent for this practice, however, buying and selling domain names can be a lucrative exercise in bargain hunting. As with most of the items on this list, you'll want to stick close to your area of expertise, so focus on those domain names that have something to do with a subject you know more about than most.
Priority: Medium
Potential: High
Simplicity: Medium
29. Vending Machine Business
The vending machine business is like real estate. It's all about location, location, location. If you've located a lucrative area with a lot of foot traffic, you may consider renting or buying a vending machine and setting it down right there.
Don't forget to take into account the repair and upkeep costs you'll be responsible for — they can eat into your profit margins pretty quickly.
Priority: Low
Potential: Low
Simplicity: Medium
30. ATM Machine Business
Like vending machines, ATMs dispense something we want. Unlike vending machines, the item dispensed is cash.
High-traffic areas are perfect for ATMs. If you happen to be familiar with the economics of ATM rental, maintenance, and placing, you can make some decent bank by staking your claim with one.
Priority: Low
Potential: High
Simplicity: Medium
31. Arcade Games
While not for everyone, renting or buying an arcade game and placing it in the right location can provide a nice little chunk of change for the proprietor.
Arcade games go great in pubs, cafeterias, and anywhere else people gather to eat or have fun.
Priority: Low
Potential: Low
Simplicity: Low
32. Peer-to-Peer Lending
If you'd prefer to invest in people rather than companies, then Lending Club might be your best option. At Lending Club, you lend money to individuals who need the capital for a variety of reasons: debt consolidation, funding an education, starting a business, etc.
Lending Club screens applications for loan requests, and for the ones that qualify, it assigns them a risk rating. The higher the risk, the higher the amount of interest you can expect to make on the loan.
Lending Club is a great way to diversify your income streams if you're looking for something other than commodities, equities, and savings to add to your portfolio.
Priority: Medium
Potential: High
Simplicity: Medium
33. Get Cash Back While Shopping
Cash back apps like Swagbucks and Rakuten won't turn into a full-time side hustle like some of the other items on this list, but they can help minimize some of your regular expenses. Taking some of the bite out of grocery and household shopping, these apps help you recapture a few percentage points of your spending every time you buy something.
Apps like these are especially useful when you combine them with other cash back or rewards programs (like those offered by major credit cards), and then combine them with coupons. In some cases, when all is said and done, you can earn back over 10% of your regular spending just in rewards and cash back.
Priority: High
Potential: Low
Simplicity: High
See Also: 15 Best Places to Sell a Wedding Dress Online and Locally
34. Sell Your Photos Online
This passive income idea is similar to selling your music online. Most of us can't take a good picture to save our lives, but some people have a talent for photography. For the people who fall into the latter category, selling photos online can be a tremendously lucrative way to earn some extra money.
Consider relying on sites that sell stock photography for your photographs. You'll earn ongoing royalties when people choose to download your photos, and you'll create an ongoing income stream.
Priority: Low
Potential: High
Simplicity: Low
35. Start an eCommerce Site
We'll close this article with one of the granddaddies of passive income ideas. Starting an eCommerce site can be hugely profitable in the right niche. And with the advent of dropshipping and affiliate marketing, you may not even have to store inventory or deal with fulfillment.
An eCommerce store can run the gamut from a full-service online mall to a highly specialized niche outlet offering just a few items for a specific market segment. We strongly recommend you take the latter approach because the former can require significantly more startup costs and competition.
We've marked the simplicity for this one as low for one reason. While almost anyone can start an eCommerce site, it can be difficult to run a successful one. It requires a combination of marketing and technical savvy that not everyone has right out of the gate. Luckily, these are skills you can learn over time.
Priority: Medium
Potential: High
Simplicity: Low
Final Thoughts
There are as many ways to earn passive income as there are clouds in the sky. But they aren't all equal. We strongly suggest focusing your efforts on just a few of the items on the above list and sticking to areas in which you have some level of expertise. For example, don't buy an arcade if you've never played a video game in your life, or start flipping domains if you don't know a search engine from a website.
But if you stick to your strengths and invest with discipline, you'll begin to notice your net worth starting to grow.

Ricardo is an entrepreneur, investor and personal finance nerd who enjoys spending time with his family and friends, travelling and helping others achieve their financial goals. Ricardo has been quoted as a personal finance expert in several online publications including Healthline, Bankrate, GOBankingRates, MSN Money, Yahoo Finance, U.S. News & World Report, Forbes and USA Today.