Pinecone Research Review 2023: Paid Online Surveys and More
Many or all of the products featured on this page are from our sponsors who compensate us. This may influence which products we write about and where and how the product appears on a page. However, this does not influence our evaluations. Our opinions are our own. Here is a list of our partners and here is how we make money.
---
The information provided on this page is for educational purposes only. The Modest Wallet is a financial publisher that does not offer any personal financial advice or advocate the purchase or sale of any security or investment for any specific individual.
Trying to make money by taking online surveys can quickly become an exhausting task. Often you'll end up investing a lot of time to complete the surveys for minimal pay. If that's been your experience so far, then you'll be excited to learn more about Pinecone Research.
Pinecone Research is a market research company that awards its members points that can be exchanged for cash, gift cards, and other rewards by completing surveys and testing products.
Their surveys typically take 15 to 20 minutes to complete, and the pay is a minimum of $3 per survey. This makes them one of the highest-paid survey sites around.
Pinecone Research works through an exclusive invite system and they don't accept every applicant, so if you're wondering if it's worth your time to apply, we've got you covered. In this article, we'll look at how to get accepted as a member, how much money you can make, and some of the top pros and cons of joining so that you can determine whether Pinecone Research makes sense for you.

on Pinecone Research's website
Quick Summary: Pinecone Research is a market research platform operated by The Nielsen Company since 1998. The platform allows people to make extra money by participating in paid surveys. 
Promotion: None
---
What Is Pinecone Research?
Pinecone Research is a company that specializes in collecting consumer opinions about products and brands through online surveys and product testing. This data is provided to companies that are seeking input in their development of new and improved products. Pinecone Research has been around since 1998 and is owned by The Nielson Company, so you can trust that they are a legit survey company that will accurately reward you for your work with them.
---
How Does Pinecone Research Work?
It's free to apply to be a member of Pinecone Research, but they are selective and have a few minimum requirements that you must meet:
be at least 18 years old
have only one person of your household as a member
have no one in your household that works for a consumer packaged goods company, as a marketing researcher, or in the advertising industry
Pinecone Research does not accept every completed application. They only accept people from the demographic backgrounds that they are currently looking to fill with new members. According to Pinecone Research, they are not currently accepting any new members right now, however from time to time throughout the year they will post recruitment opportunities through banner ads on various unsolicited websites where you can sign up.
The application process is quick, so you'll be able to find out if there is an opening for you or not by providing your:
Name
Email
Birthdate
Gender
Education level
Race or ethnicity
If Pinecone Research is not currently looking for someone with your demographic background they will keep your application on file for a few weeks to see if a spot opens up. If you are accepted, then you'll be able to fill out your complete household information profile and be eligible to begin receiving paid surveys.
---
Pinecone Research Features
There are a couple of different ways that you can make money with Pinecone Research.
Take Surveys
Taking online surveys is one of the primary ways to make money as a member of Pinecone Research. For each successfully completed survey, you'll receive points which can then be redeemed for cash or prizes. Pinecone Research tries to keep their surveys as short as possible, and their typical questionnaire will take 15 to 20 minutes to complete.
Pinecone Research pays a minimum of 300 points, which is valued at $3, per survey. The minimum reward payout amount is $3, so you can request a cash bank transfer of $3 or a gift card after completing a single survey.
You will receive new surveys via email when the desired population for a survey matches your household demographics. You may receive as many survey invites as one per week or as few as one per month. While Pinecone Research pays well, they do not have as many opportunities available for their members on a regular basis as some other survey companies do.
Test New Products
Pinecone Research also asks its members to test new products and provide feedback on their experience. Manufacturers will typically mail the product directly to you to test and leave a review. Sometimes, you will get to keep the product, and other times you may have to send it back.
Product testing opportunities are available less frequently than surveys, however, you typically can earn more when completing a product testing assignment. Typical pay rates are $6 for testing the product and $3 for completing a survey about your experience.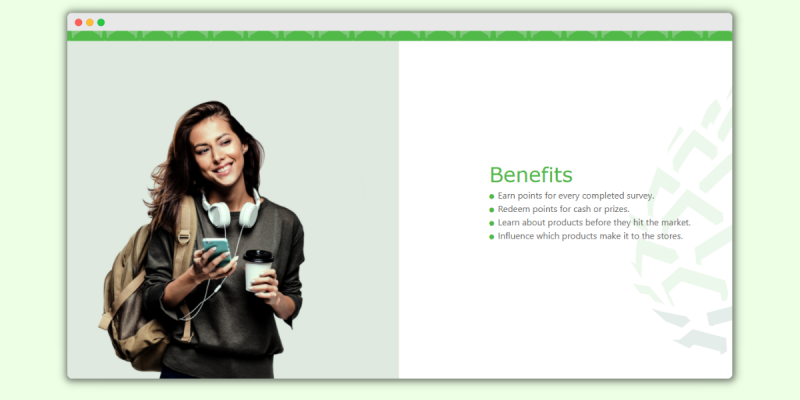 Sweepstakes
Pinecone Research also offers regular cash prize sweepstakes for panel members that are hosted in conjunction with other survey companies. There is a drawing every two weeks for $500 and one every quarter for $4500. All you have to do is be a member to participate.
Redeeming Points
Pinecone Research provides a variety of ways to redeem the points that you earn through taking surveys and reviewing products. They have a minimum payout amount of $3, which is awarded for redeeming 300 points. You can typically earn at least 300 points by completing one survey.
Pinecone Research's options for redeeming your points include bank transfers, which take three to five business days to complete, PayPal cash, prepaid Mastercard debit card, virtual gift card including Amazon and other popular brands, or physical merchandise.
The first time that you redeem your points it must be via bank transfer if you have been a member of Pinecone Research for fewer than 30 days. If it's been more than 30 days since you joined, then you have any of the rewards options available to you.
Reward points will remain valid until there is no earning activity for 12 consecutive months at which point they will expire.
Compliance
When you are accepted as a member of Pinecone Research, you don't want to blow it by not complying with their terms of service. Pinecone Research can cancel your membership at any time for reasons that are both within your control, as well as out of it.
Your membership may be canceled if:
Another person from your household becomes a member
You share confidential information about the products publically
Your account is inactive for 12 months
Pinecone Research no longer needs a household with your specific demographic background
As long as you stay active in taking the surveys that are sent to you, and you don't jeopardize your account by sharing information publicly about the products then you should be fine. There is always the chance that Pinecone Research no longer needs you as a part of their membership panel based on your demographics, but that's really out of your control.
Mobile App
Pinecone Research offers a mobile Android or ioS app to its members. The app provides real-time alerts for any available surveys, as well as easy and direct access to the rewards center and customer service team. However, some members have reported that the app can be buggy.
---
How Much Can You Make from Pinecone Research Online Surveys?
While Pinecoach Research pays fairly well when it comes to survey companies, with a minimum payment of $3 for a 15 to 20 minute survey, you'll be limited in the amount you can make by the number of surveys that are made available to you. Typically, you could receive as many as one survey per week or as few as one survey per month. So your earnings per month can vary greatly, mostly depending on how many surveys Pinecone Research sends your way. Plan on typically earning $3 to $5 per survey, and around $10 for product testing for which opportunities come up less often.
---
Pinecone Research Pricing
There are no fees to be a part of Pinecone Research. It's 100% free to sign up and you'll never be charged anything to be a member.
---
Pinecone Research Customer Support
Pinecone Research states that their goal is to always respond to an inquiry within 24-72 business hours. You can normally expect a quicker reply but sometimes a heavy workload can affect response times.
A form is provided on the website and within the member's area. There, you can submit a customer support ticket. However, there is no option to contact them via phone or chat support. They also provide a snail mail address if needed.
---
Pinecone Research Security
Pinecone Research does use SSL encryption on their website. However, there is no mention of other security or data protection protocols on their website, other than their website's standard privacy policy.
They do use two-factor authentication for logging into your account, which is a feature that offers a high level of security to ensure that you are the only person who can access your account. It's a common tool used to protect accounts by most major banks as well as Google, Apple, and many other websites.
Pinecone Research has also drawn attention on their website to two current scams that have targeted their brand. One involves a scam Facebook page impersonating Pinecone Research that may try to request your login information and the other is a mystery shopping scam in which you'd be asked to cash a fake check.
---
Pinecone Research Pros
High pay rates – With a minimum pay of 300 points, which is equal to $3, per survey, this is one of the best paying survey companies around. You can also request your reward as soon as you hit 300 points.
Survey length – Surveys are typically 15-20 minutes long, which seems to be a reasonable length for $3+ of pay.
Product testing opportunity – While it's not as common as survey opportunities, there is an opportunity to test products as a member of Pinecone Research. These opportunities typically pay closer to $10 and sometimes you get to keep the product.
---
Pinecone Research Cons
Not always accepting new members – Pinecone Research does not accept new members year-round, so you'll have to look for their banner ads or keep checking back at their website.
Not all users match a needed demographic – They only accept new members that match a household demographic that they are currently seeking. So even if sign-ups are open, you may not be a match.
Limited survey opportunities – You may receive as few as one survey per month, and at most four surveys per month. This will limit the amount you can make.
---
Pinecone Research Alternatives
When signing up for survey companies, you'll maximize your earnings by being a member of multiple companies. These are a few good options to consider in addition to Pinecone Research.
Branded Surveys
Branded Surveys, previously known as MintVine, is a company that matches market research firms and Fortune 500 companies with consumers who wish to be paid to share their opinions. Users earn points for taking online surveys and can redeem them for cash or gift cards. They offer a $1 signup bonus. Read our full Branded Surveys review to learn more.
Survey Junkie
Survey Junkie is an online survey platform that pays users for sharing their opinions. Each survey is worth a certain number of points which can be redeemed for PayPal cash or gift cards. You'll typically make between $0.50 to $3 for each survey you take. Read our full Survey Junkie review to learn more.
Swagbucks
Swagbucks is an app and a browser extension that lets you earn cash and gift cards for shopping online and in person, taking surveys, watching videos, donating to charity, completing web searches, and playing online games. Typically 100 SwagPoints is equal to a $1 reward. Read our full Swagbucks review to learn more.
InboxDollars
InboxDollars is an online rewards club that connects brands with consumer insights by rewarding their members for taking surveys, playing online games, watching videos, or searching the web. You can complete these activities on your computer or smartphone. Read our full InboxDollars review to learn more.
| | | | |
| --- | --- | --- | --- |
| | | | |
| Our Rating | | | |
| Avg. Payout Per Survey | $3.00 | $0.50 – $5.00 | $0.50 – $3.00 |
| Payment Method | Prepaid Visa Card, Check, PayPal, or Gift Card | Prepaid Visa Card, Check, PayPal, or Gift Card | Bank Transfer, PayPal, or Gift Card |
| Sign Up Bonus | None | Get $1.00 | None |
| Minimum To Cash Out | $3.00 | $5.00 | $10 (1000 points) |
| Highlight | Product testing and online surveys | Online surveys | Online surveys and focus groups |
| | | | |
---
Who Is Pinecone Research Best For?
Pinecone Research is best for someone who enjoys making a little extra pocket money each month for sharing their opinions through surveys and product testing. This is not a company that will overwhelm with you the number of surveys they send you, so if you're interested, it's worth the couple of minutes required to see if you have a household demographic that they are currently seeking. The option to sign-up is not always available with Pinecone Research, so if you happen to find they are open for new members, don't let that opportunity slip by.
---
Pinecone Research Review FAQ
We've found some of the most frequently asked questions with regards to Pinecone Research. Here are our answers.
Is Pinecone Research Legitimate?
Yes, Pinecone Research is a legitimate website that allows you to complete surveys and product testing for compensation. Pinecone has been around since 1998 and is owned by The Nielson Company, so they are not new in the market.
Is Pinecone Research Safe?
Pinecone Research is safe. Their website features SSL and two-factor login authentication, which protects your account. You can expect to be accurately paid on time for your points earned.
How Much Are Pinecone Research Points Worth?
Every 100 points are worth $1 in rewards. You can request a payout at a minimum threshold of 300 points which will earn you a $3 reward.
How Long Do Pinecone Surveys Take?
Pinecone Research tries to keep their surveys at a length that will take 15 to 20 minutes.
Is Pinecone Research Worth My Time?
If you're looking to make some extra pocket each month, then Pinecone Research is worth your time. Just be sure to complete every survey offered to you to maximize your earnings, as you likely will not receive more than four surveys a month.
Do Pinecone Research Points Expire?
Yes, Pinecoach Research Points will expire after 12 months of earnings inactivity on your account.
---
Final Thoughts
If you're looking for an easy way to earn extra cash on the side each month by sharing your opinions, Pinecone Research is a great option. They are one of the most exclusive survey companies around, so if you are accepted as a member, congrats!
You're not going to earn a significant income from them since you won't be offered more than a handful of surveys to complete each month. However, you'll find that most Pinecone Research members end up participating for years and are happy with their experience. If they are currently accepting new members and you've got a couple of minutes to see if your household demographic matches what they are looking for, then it's worth giving Pinecone Research a shot.
Get our free Side Hustle Handbook with the best strategies to multiply your income sources today.
Plus our best money tips delivered straight to your inbox.

Summer Tannhauser is an entrepreneur, online educator, and freelance writer who is passionate about helping others to create additional income by leveraging their life experiences and passions. Summer works with budding entrepreneurs through her online courses and workshops and has appeared in numerous online publications and podcasts including Inc., Teachable, and USA Today.