Planning Cheap Family Vacations: How to Travel On A Budget
Many or all of the products featured on this page are from our sponsors who compensate us. This may influence which products we write about and where and how the product appears on a page. However, this does not influence our evaluations. Our opinions are our own. Here is a list of our partners and here is how we make money.
---
The information provided on this page is for educational purposes only. The Modest Wallet is a financial publisher that does not offer any personal financial advice or advocate the purchase or sale of any security or investment for any specific individual.
It is possible to enjoy a cheap family vacation if you know how to save money. Allianz Travel Insurance Vacation Confidence Index showed that Americans spent more than $100 billion on summer vacations in 2017, which represents a 12.5 percent increase compared to the previous year.
The average person spends around $1,200 on vacations. For a family of four, this will amount to $4,800. This amount includes transportation, food, lodging, and entertainment.
There are many benefits to vacationing with your family. It allows you to rejuvenate, get rid of stress, strengthen the family bond, and have a good time. However, a large number of people are not able to take out time to vacation simply because they are too busy working to save money and are never able to reach their goal.
If you have a low budget, you can still make things work and plan a vacation for yourself.
We have listed down a few ways you can cut down on the costs while still enjoying and having a good time. Let's have a look at how to plan the best cheap family vacation:
Plan In Advance
It is always a good idea to plan well in advance. The first step is to create a budget. Be clear about how much you can spend and plan accordingly.
Talk to all your family members and make sure you are all on the same page regarding the plan.
Planning in advance would allow you to research about different places you can go to and compare prices. It is important to be clear about your budget so you only consider places you can afford to go to.
Moreover, advance planning can help you save money. Tickets and bookings made in advance are typically cheaper. Hence, it may be a good idea to plan your holiday a few months in advance.
Choose A Cheap Destination
Choose your destination wisely. Make sure to go for an option that satisfies everyone.
A family vacation will be no fun if you do not cater to one and all. Talk to your partner about what he or she prefers. Have a conversation with your children as well.
Next, give them options to choose from. Having a few options will make the process quicker and you will not have to say no to an option due to budgetary constraints.
The easiest way to lower your travel expenses is to pick a place where the cost of living is low and the exchange rate is favourable.
Here are a few things to consider when selecting your next holiday destination:
See Also: How to Prepare a Killer Budget and Stick To It
Ticket Price
The ticket is going to be a major chunk of your budget. Use different comparison sites like FareCompare and SkyScanner to find the best deal.
Here are some more tips:
Clear your cookies before starting a search. Airlines are known to inflate prices if they know you're interested in a specific destination.
Direct flights are usually more costly hence look for flights with a stopover. However, since you're travelling with family, ensure the stopover is not too long. It can begin to get irritating.
January is said to be the cheapest month to book tickets. Also, Sunday is said to be the best day to book tickets.
For domestic flights, book your tickets between one to three months prior to your trip. A survey conducted by CheapAir concluded that it is best to book domestic tickets 47 days in advance. If you wait to book until last week, the prices shoot up by 25 percent.
International trips require a lot more preparation and planning. It's a good idea to book tickets for international flights at least five months in advance.
Compare flight rates from different airlines so you can grab the cheapest and most affordable deal. Also, check official sites as well and consider booking offline as you may get a cheaper deal if you book online.
Most well-known airlines grant loyalty points to travellers. Collect yours and use 'em wisely.
Tip: Some low-cost airlines are not cheap after all. The cost may end up being more when you include the charges for food and seats.
Things To Do
When you are choosing a travel destination, consider what attractions it has to offer. It is best to go to a place that offers nature as you will not have to spend a lot of money to enjoy yourself.
Beach holidays, for example, can turn out to be cheap. On the other hand, holidays to a country known for amusement parks and other such facilities can be expensive since entrance tickets are usually pretty high.
Hence, it will be good to consider what things you will have to do in a specific country. Turkey, for example, is said to be a good option. Istanbul is very cheap when it comes to sightseeing.
There are museums, beaches, and other such elements. On the other hand, Dubai can be very expensive as it offers a lot of things to do.
Visas And Vaccinations
Find out if the place you are planning to visit requires visas or vaccinations before booking your ticket. Some places do not require a visa or have a visa on arrival policy making it easier and affordable to travel.
You may want to reconsider a travel destination if the visa process is long, expensive, and tiresome.
Avoid Going During the Season
Avoid travelling during peak seasons such as summertime when schools are off. Prices are usually high during such periods due to higher demand.
It is best to plan your visit during 'off days'. Hotels and airlines may even offer deals or discounts to attract more people during such periods.
Plus, it will offer other benefits as well. You will be able to enjoy each other without having to worry about privacy. Europe, for example, can be very crowded during summers. It can get hours to buy tickets to your favourite park. Plus, standing in long queues can be a problem as well.
On the other hand, you will face no such problems during the offseason. There will be able to enjoy without any worries.
Also, remember that offseason changes from country to country. Do your research when making a decision.
Choose Your Hotel Carefully
After flight tickets, accommodation is the second thing that will take up a big part of your budget. You have to be wise about the kind of hotel you choose. There is no need to book an expensive five-star hotel. Go for a reasonably priced hotel that offers good services.
Consider options like Expedia or Hotels.com to find the right deal. These websites are known to offer discounted rates. However, we suggest that you also call the hotel or check the official site to confirm you get the best possible rate.
Some sites such as booking.com are also known to offer a price matching policy, hence make sure to make good use of it.
You can make use of different apps that are available to make your cheap family vacation a reality. There is one called Pruvo that will alert you if it finds a cheaper option after you book. You can then cancel your original reservation and make a new one using the website's booking service. If you book with Service you will get automatically get a refund anytime the prices drop after you have booked.
Other good options include AirBnB. While it is usually a cheaper option, you may not get the luxury service that hotels are known for.
Tip: Most well-known hotels grant loyalty points to travelers. Collect yours and use 'em wisely.
Consider Special Discounts and Packages
Getting travel packages is a good way to save money and enjoy cheap family holidays. There are a lot of travel agencies that offer very attractive packages. These packages normally include hotel, accommodation, meals, transportation, tours and other things.
Some agents even offer customized packages. Let 'em know your requirements including budget and they will prepare a plan accordingly.
There are many perks of doing so. First of all, you will not have to worry about anything as the agent will handle all the work on your behalf. Secondly, since everything is paid for, you will not run the risk of going over budget. However, you will have to pay the agent's commission.
Other than this, you can also consider booking hotel and airline tickets together. Such deals can help you save up to $50 per person.
Use Tourist Pass And Discount Codes
Make use of all the tourist passes and discounts you can get to enjoy cheap family vacations. A number of countries including Singapore, Dubai, and Turkey offer special tourist passes for tourists to enjoy their stay at a discount.
Since there are a variety of passes and discounts available, you should make sure to pick one that suits you the best. For example, buy 1 get 1 free discount offers can be very good when you are with your family. Such offers can help you save up to 50%.
On the other hand, a card that offers discounted entry to museums will be of no use to you if you do not intend to visit museums. Hence, refer to your original plan and invest accordingly.
Pack Smartly and Take All That You Need
Many of us get a little over excited and go overboard when packing for a trip. Packing two pairs of clothes for each day is not really required. Keeping your luggage light will make it easier for you to manage. Moreover, you will not have to worry about paying extra money if your luggage goes overweight.
Baggage fees can add a lot to the cost. Plus, it can be a lot of trouble if you are travelling abroad and have domestic flights there. This is because domestic carriers have different policies when it comes to baggage. Hence, always pack light.
However, make sure to pack everything that you need so that you do not have to spend money on buying things. Pack all your medicines (with prescriptions, if necessary), also take our identity documents including student card as you or your children might be able to get discounts for being students.
Eat Wisely and Save Money
It is important to get in touch with the local culture when you're travelling abroad but you do not have to eat at 5-star restaurants to do so.
Consider tasting street food. It's cheaper and also delicious. Moreover, you may also opt for a cheap family vacation 'All Inclusive' package to ensure you do not have to spend money on food. However, check reviews before you do so as not all hotels offer good food.
Also, waste no food. If you have extra food then pack it and take it to the hotel. You can use the microwave to enjoy it.
Cheap Family Vacation Ideas
Here are some cheap family vacation ideas:
Turkey: You can get a decent hotel in Turkey for as low as $80. Food for four costs just about $40 making it a good option for a cheap family vacation.
India: India is among the cheapest but you need to be careful as it is known for scams as well. You can get a decent hotel for as low as $70 and food for four will only cost you about $30.
Malaysia: Malaysia is fast growing to be a popular destination for tourists. You can get a decent hotel for as low as $50 and food for four will cost only about $30.
Indonesia: Indonesia was a very cheap destination once but Bali is now overcrowded yet still cheap. You can get a decent hotel for as low as $50. Food for four will cost only about $30.
Georgia: Consider Georgia if you want to enjoy Europe on a budget. You can get a decent hotel for as low as $90 and food for four will only cost about $50.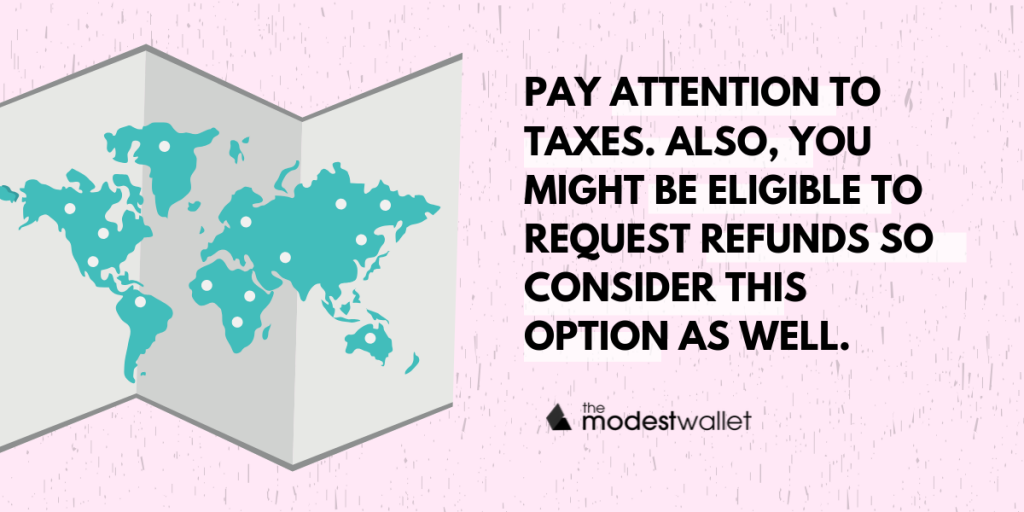 Some Mistakes To Avoid For Cheap Family Vacations
Never miss your flight if you want to enjoy cheap family vacations. It can add a lot to the expense and cause your trip to go haywire.
Pay attention to taxes. Also, you might be eligible to request refunds so consider this option as well.
Use public transport instead of hiring private vehicles. However, if you have a big family then hiring a private vehicle that can accommodate you all might be a better option.
Take care of your belongings. You do not want to lose your goods.
Always compare prices before you buy it.
Using a credit card might be more expensive than paying in cash in some cases. Always do the math and choose the right payment method. Also, try to get your hands on a special travel card, if available. They offer discounted rates and special benefits.
Consider using your loyalty points whenever you can.
Speak to your bank or card provider about available discounts. Some cards offer free lounge access, free night stays, etc.
Follow these simple tips to enjoy a nice family cheap family vacation. The key lies in planning in advance and spending carefully. Consider visiting your own country if you cannot afford an international destination.

Ricardo is an entrepreneur, investor and personal finance nerd who enjoys spending time with his family and friends, travelling and helping others achieve their financial goals. Ricardo has been quoted as a personal finance expert in several online publications including Healthline, Bankrate, GOBankingRates, MSN Money, Yahoo Finance, U.S. News & World Report, Forbes and USA Today.