Public vs. SoFi Invest 2023: Which Investing App is Best For You?
Many or all of the products featured on this page are from our sponsors who compensate us. This may influence which products we write about and where and how the product appears on a page. However, this does not influence our evaluations. Our opinions are our own. Here is a list of our partners and here is how we make money.
---
The information provided on this page is for educational purposes only. The Modest Wallet is a financial publisher that does not offer any personal financial advice or advocate the purchase or sale of any security or investment for any specific individual.
Public.com, launched in 2017, is a relatively new service in the investment world. However, it quickly gained the support of multiple celebrities such as Will Smith, J.J. Watt, and Sophia Amoruso. SoFi on the other hand, although a slightly more mature company, only introduced its SoFi Invest offering in 2018.
While Public focuses on social investing and creates an investing community, SoFi Invest offers a two-way approach with its active and passive investing features. However, both brokers offer an appealing investing platform to potential clients.
This review will compare these two brokerage firms and dive deep into their main features, investment options, and available account types. We also look into their pricing, customer support, pros, and cons.
Public vs. SoFi Invest: Overview
Public, as well as SoFi Invest, are two online brokers that allow users to trade assets on their platform for free. However, both brokers follow different approaches and cater to slightly different audiences.
In A Nutshell: Public is a social investing platform. What this means is that investors can interact with each other by using the Public's mobile app. Public facilitates the process of investing by offering fractional shares. The company offers $0 commission trades on stocks and ETFs.
In A Nutshell: SoFi Invest services provide a user-friendly trading environment for active and passive investors. Their Active Investing service offers $0 commission trading and $0 account minimums which make it attractive to new investors. The service is mainly targeted towards Millennials.
About Public
Public is a social investing platform where self-directed investors can trade stocks and exchange-traded funds (ETFs) commission-free. The broker believes that everybody should be able to invest in the stock market and provides a solution through fractional shares.
What sets Public apart is the social aspect because it allows investors to follow each other and share ideas about the financial markets. To learn more about Public, check our full Public.com review.
See Also: 12 Best Online Brokers
About SoFi Invest
SoFi Invest is an online broker that caters to active as well as passive investors. On the one hand, SoFi offers commission-free trading for a range of assets to investors who actively want to manage their portfolios. On the other, hands-off investors can use the firm's automated investment feature that acts like a robo-advisor. For more information about SoFi Invest, have a look at our detailed SoFi Invest review.
Public vs. SoFi Invest: Main Features
The two brokers have exciting offerings for potential investors. Depending on your trading preference, Public or SoFi Invest might be right for you. However, if you want to use a passive automated investing service, SoFi is the broker of your choice.
| | | |
| --- | --- | --- |
| | | |
| Minimum Investment | $0 | $0 ($1 to start investing) |
| Fees | $0 | $0 |
| Trading Commissions | $0 per trade | $0 per trade |
| Investment Types | Stocks and ETFs | Stocks, ETFs and Cryptocurrencies |
| Account Types | Individual Taxable | Individual Taxable, Joint Taxable, Traditional IRA, Roth IRA, SEP IRA and Rollover IRA |
| Platforms | Mobile (iOS / Android) | Web-based and Mobile (iOS / Android) |
| Promotions | Free $10 stock slice | None |
| Fractional Shares | | |
| Individual Stocks | | |
| Dividend Reinvestment (DRIP) | | |
| Best For | Beginner social investors | Low fees and new investors |
Public
Public's standout feature is the possibility to follow other accounts in the app and watch their portfolios. On this social-media-like platform, users can share ideas, talk in group conversations, and comment on each other's investments. You can further integrate your phone's contact book and connect with registered friends and family.
Another core feature of the platform is investing in fractional shares. Buying fractions of stocks and ETFs allows small-balance users to invest in high-priced assets. By doing so, investors can diversify their money effectively instead of putting all their money into one asset.
Real-time trading is also a beneficial feature. Public executes placed orders immediately and investors can benefit from price changes that occur due to market volatility.
To categorize investable stocks and ETFs within the platform, Public curates investing themes for its investors. This innovative approach lets users invest in trends, economic sectors, or personal interests. Examples are the Crypto Revolution theme, which focuses on the crypto movement, or the Cash Cows theme, which contains companies that pay high dividend amounts.
With its Top Movers feature, Public gives clients an overview of the biggest winners or losers with regard to intraday price fluctuations. Using the feature, investors can spot potential bargains or find stocks that have positive momentum and might see further price increases.
Dividend investors can utilize the broker's dividend reinvestment plan (DRIP) if they wish. The broker automatically reinvests paid dividends so investors can grow their money faster.
Public also offers two live events called Public Talks and Public Learn. In Public Talks, financial advisors and experts share their assessment of the stock market and financial topics. Public Learn, on the other hand, answers frequently asked questions from beginner investors.
Main Features Overview
Social features: Investors can follow other investors, mimic their actions, and discuss stock and ETF trading.
Fractional Shares: Small balance investors can diversify their portfolio through fractional shares without having to save for a whole share.
Real-time Trading: Investor's trades are executed without delay, which helps find stocks at reasonable prices or sell at a gain.
Themes: Thanks to different themes, investors can directly find particular assets, trends, and sectors they want to invest in.
Top Movers: Using Top Movers, investors can benefit from an overview of the biggest price fluctuations of the day.
Public Talk/Public Learn: Through Talks and Learn, Public explains complex topics easily and understandably to beginner investors.
Dividend Reinvestment Plan: Public automatically reinvests the paid dividends back into stocks or ETFs.
SoFi Invest
SoFi Invest's Active Investing feature allows investors who want to build their portfolios from scratch to trade US-listed stocks and more than 2,000 exchange-traded funds (ETFs). It is also possible to trade cryptocurrencies and fractional shares on the platform.
These fractional shares are called Stock Bits at SoFi. Letting users buy Stock Bits is perfect for small-balance investors because they don't have to wait to buy a single high-priced stock. Instead, they can buy small portions of stocks and diversify their portfolio. The only minor downside is that Stock Bits are only available for a few companies.
Crypto investing is an option for SoFi Invest clients. This asset class is getting more and more attention as an alternative investment to stocks and funds. So far, SoFi has added the three most popular cryptocurrencies to its offering. These include Bitcoin, Ethereum, and Litecoin.
Investors that prefer a passive investment approach will likely utilize the broker's Automated Investing service. This robo-advisor uses low-cost ETFs to invest and rebalance your portfolio according to your financial goals. Small account investors will benefit greatly from this service because SoFi doesn't charge any management fees for accounts with less than $10,000.
Retirement Investors will prefer SoFi over Public because the broker offers multiple retirement accounts. They are available for both services, and clients can get advice from qualified financial advisors.
SoFi Invest also offers a portfolio of low-cost exchange-traded funds, which are priced affordably. Currently, the broad-market ETFs don't carry management fees, whereas actively-managed ETFs have management fees.
Main Features Overview
Zero-commission trades: SoFi's clients enjoy zero-commission trades for stocks, ETFs, and fractional shares.
Stock Bits: Investors can buy portions of assets without having to save for a whole share.
Crypto Investing: SoFi makes it possible for investors to trade three different cryptocurrencies.
Automated Investing: The broker offers hands-off investors a robo-advisor service that does all the heavy lifting for them. Unfortunately, tax-loss harvesting isn't supported.
Retirement accounts: Investors saving for retirement can use different retirement accounts to grow their financial cushion for their golden years.
SoFi ETFs: SoFi Invest offers exchange-traded funds and actively managed ETFs. Active as well as passive investors can invest in these.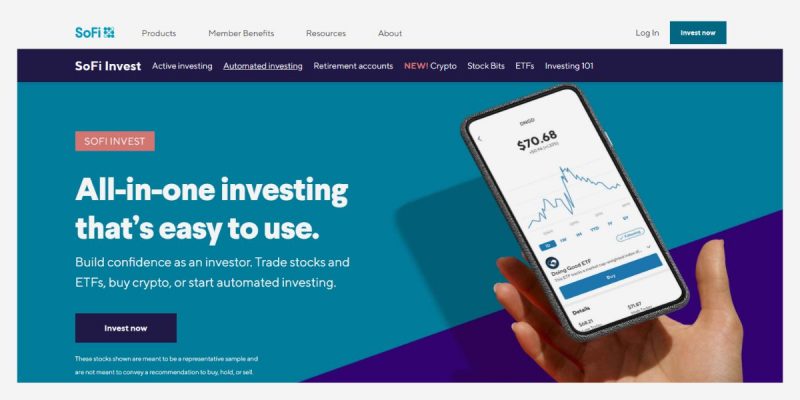 See Also: 7 Best Micro-Investing Apps
Public vs. SoFi Invest: Investment Options
Both brokers focus on offering commission-free trading to their self-directed audience. Although they don't provide many asset classes, they have what most investors are looking for.
Public
Public currently offers its users the option to invest in 3,000+ stocks and low-cost ETFs from Vanguard, BlackRock, and other companies free of charge. The social trading platform facilitates its investment service through fractional shares. The firm believes that this approach is the best way for every type of investor to invest in the stock market.
Other asset classes, such as options, mutual funds, cryptocurrency, are currently not supported.
SoFi Invest
While SoFi Invest also offers investing in stocks, ETFs, and fractional shares without fees, they added cryptocurrencies to their basket of tradable assets with a 1.25% markup. This makes the broker especially appealing for investors who also want to trade cryptocurrencies.
Like Public, SoFi Invest doesn't offer any other asset classes except the ones mentioned.
Public vs. SoFi Invest: Account Types
While Public offers just one account type, SoFi Invest provides at least a few taxable and retirement accounts. Still, both offerings aren't extensive compared to other brokers.
Public
Although being a relatively new broker in the financial area, Public only offers Individual Taxable Brokerage Accounts. Retirement, joint, or custodial accounts are not available.
SoFi Invest
Investors can choose from two types of accounts: taxable and retirement accounts. SoFi Invest's active and passive investors can pick from the account types below:
Individual taxable brokerage account
Joint taxable brokerage account
Traditional IRA
Roth IRA
SEP IRA
Rollover 401 (k)
Public vs. SoFi Invest: Sign up Bonuses and Promotions
To attract new members to their platform, brokers typically offer sign-up bonuses and referral programs to increase their number of customers quickly.
Public
Right now, Public has two promotional offers for its customers. The first is a classic sign-up bonus, and the second is the refer-a-friend program.
To claim your sign-up bonus, you must open an account with Public. Once you download the app and your account is approved, you can claim one slice of nine different stocks worth up to $10.
No matter if you use Public's service or not, you can gift a free stock to a friend via text, tweet, or email. After the sign-up, your friend will get a randomly designated portion of your selected stock, worth up to $50. Your overall referral value is limited to $500.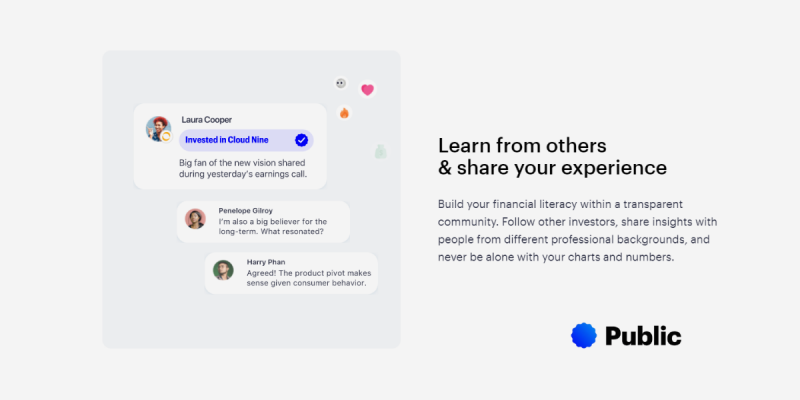 See Also: 12 Best Investment Apps: For Beginners & Pros
SoFi Invest
Sometimes, SoFi Invest offers a bonus for opening a taxable account.
Public vs. SoFi Invest: Fees & Pricing
Public and SoFi Invest have a similar approach to account minimums, trading, as well as their overall fee structure. Both offerings are compelling for cost-conscious investors.
Public
Public allows users to invest in US-listed stocks and exchange-traded funds (ETFs) without a commission.
Also, the broker doesn't have an account minimum, and all accounts are free. There are no tiered membership plans with extra features you have to enroll in because all accounts are equal.
However, you have to pay $30 for broker-assisted phone trades, $30 for domestic outgoing wires, $30 for ACHs, $35 for domestic overnight check deliveries, $30 for returned checks and stopped payments, and $75 for ACAT account transfers.
SoFi Invest
Like with Public, you can trade financial securities free of charge on SoFi's platform. Moreover, the robo-advisor service doesn't have a management fee as long as your account balance is below $10,000. Above that threshold, you will have to pay a moderate 0.25% management fee.
Besides, you can start investing with as little as $1 as this is the required account minimum to open a SoFi account. The support from financial advisors is also free of charge, which will undoubtedly help beginner investors.
See Also: 12 Best IRA Accounts
Public vs. SoFi Invest: What We Like (Pros)
The brokers in this review designed their offerings with their target audiences in mind. Therefore, there are a lot of things that we like about them. Have a look at our lists to find out more:
Public
Public is a regulated US-based investing platform
Commission-free trading of US stocks and ETFs
Investing in fractional shares is supported
A dividend reinvestment plan is offered
No account minimums
The community can help broaden an investor's financial literacy
Draws a community of like-minded people
SoFi Invest
Social Finance Inc (SoFi's parent company) is a regulated US-based firm
SoFi caters to active as well as passive investors with its two-way investing approach
Commission-free trading of stocks, ETFs, and Stock Bits
Buying fractional shares is supported
Cryptocurrencies can be traded 24/7 or incorporated into the robo-advisor portfolio
The account minimum is just $1
No management fees for passive investment accounts with a balance lower than $10,000
Free-of-charge access to financial investment advisors
Public vs. SoFi Invest: What We Don't Like (Cons)
While there are many things we like about both brokers, there are also things we don't like that much. You should be aware of the following:
Public
Public has a very limited investment option offering
The broker has no web-based or desktop trading platforms
There are no retirement or margin accounts available
A robo-advisor service isn't supported
ACAT account transfers are relatively expensive
SoFi Invest
SoFi Invest's robo-advisor doesn't offer tax-loss harvesting, which is available at some of SoFi's competitors
Stock Bits are only available for a handful of companies and not across the board
The cryptocurrencies are currently limited to Bitcoin, Ethereum, and Litecoin
The investing platform might be too basic in its features for advanced traders
SoFi Invest doesn't incentivize new users or users that refer friends to the platform
See Also: How to Invest in ETFs: A Step-by-Step Guide
Public vs. SoFi Invest: Security
Public and SoFi Invest are highly-regulated US-based financial companies. This means that your investments are well-insured. Keep in mind, assets losing value through market volatility isn't covered.
Public
All investments made on Public's platform are backed by Securities Investor Protection Corporation (SIPC). In case something goes wrong, all investments on Public's accounts are automatically insured for up to $500,000 (with a maximum of $250,000 for cash in accounts).
SoFi Invest
SoFi Invest's parent company Social Finance, Inc. is regulated by the US Securities and Exchange Commission (SEC) and a member of the Financial Industry Regulatory Authority (FINRA).
Besides, SoFi Securities LLC and Apex Clearing are members of the Securities Investor Protection Corporation (SIPC). Therefore, SoFi investors enjoy the same protection as Public investors. Your account is protected up to $500,000 with $250,000 in cash claims.
Public vs. SoFi Invest: Customer Support
Both brokers make it easy to get in touch with their customer support if you run into issues. While SoFi Invest offers all the traditional channels, Public's customer support can be reached only via digital channels.
Public
Public offers multiple alternatives to reach their customer support. If you are a user of Public's services, you can contact the broker for assistance right through the Public App. This in-app live chat will get you in touch with a real person who can resolve all your questions.
Other contact options include customer support through email as well as social media channels. These channels currently include Twitter, Instagram, and Facebook.
What is missing is the option to contact Public via phone, which some clients might prefer for complex questions compared to having a conversation through text only.
SoFi Invest
To contact the customer support of SoFi Invest, you have multiple options. You can either call the different departments via phone or get in touch with them through email. For example, money support is available every day of the week, while investment support is there for you from Monday to Friday.
If you rather use social media to contact SoFi Invest, you can also use Twitter and tweet your problem directly to the broker's Twitter handle.
Public vs. SoFi Invest: Platform and App
Public and SoFi Invest both have a basic mobile app for Apple and Android devices. However, Public follows an app-only approach, whereas SoFi offers a web-based trading platform as well.
Public
The social investing platform exclusively uses a straightforward mobile app to provide its services. The app is kept very basic and doesn't offer many bells and whistles. Other platforms such as web-based or desktop applications are not supported.
After downloading the app, users can interact with each other on the platform. Using the app is also the only way to invest in the 3,000+ offered fractional stocks and ETFs in real-time and to interact with your brokerage account.
See Also: How to Invest in Bonds: Diversify Your Portfolio
SoFi Invest
The broker offers a web-based as well as a mobile trading platform to its users. They are easy to use and very intuitive.
Having said this, the offering may be relatively basic for experienced investors who are looking for more advanced features such as technical indicators to analyze and execute trades.
Who Is Public For?
Public is an excellent platform for every type of self-directed investor who enjoys sharing ideas with like-minds. Beginner investors can rapidly learn more about investing and the stock market and benefit from the community's swarm intelligence.
The fractional shares offering of stocks and ETFs also makes the platform an exciting choice for small account balance investors as well as buy-and-hold investors who don't want to trade much.
That said, Public isn't for active traders, retirement investors, or beginner investors that need help in the form of a robo-advisor or human guidance for portfolio building.

Who Is SoFi Invest For?
Fractional shares and cryptocurrency options, commission-free trading of stocks and ETFs, as well as a stylish look, all cater to SoFi's younger audience. The zero-fee structure further attracts cost-conscious investors with small account balances.
Investors who want to trade actively and save for retirement using a robo-advisory service can do both on the SoFi platform.
Besides, SoFi's offering is also perfect for these types of investors that Public isn't for.
Account Minimum: $0 ($1 to start investing)
Fees: Zero-commission stock and ETF trading
Promotion: None at the moment

Final Thoughts
Public.com and SoFi Invest both have zero-fee structures which allow clients to save money and generate higher returns over time. Providing stocks, low-cost ETFs, and fractional shares free of charge is especially appealing to cost-conscious and small account investors.
Public's standout feature clearly is its social-media-like investing approach. Investors sharing ideas, following each other, and exchanging thoughts on investment options and the market is something very few brokers offer.
What stands out with SoFi Invest is that investors can access direct trading as well as passive investing through a robo-advisor on the same platform. That separates it from most competitors that offer only one of the two services. However, its services are similar to what other brokers offer.
Ultimately, retirement investors, hands-off investors, and investors who want to talk to financial advisors will probably choose SoFi Invest over Public. New investors who wish to participate in a like-minded community may opt for Public.com.
Up Next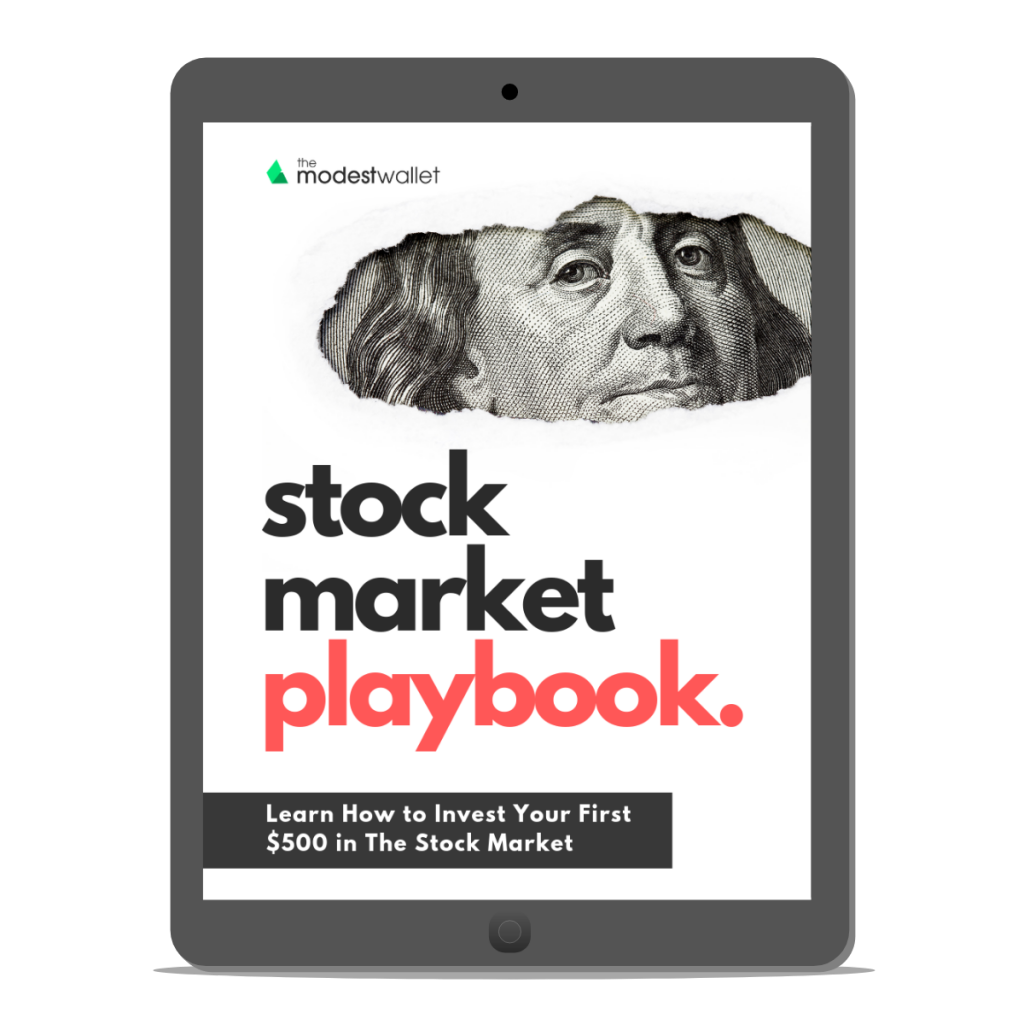 Get our free Stock Market Playbook to learn how to invest your first $500 in the stock market.
Plus our best money tips delivered straight to your inbox.

Carsten is a Freelance Copywriter with a personal interest in money management and investing. Besides taking care of his investments, he loves traveling, reading books, and working out (calisthenics & yoga).