Many or all of the products featured on this page are from our sponsors who compensate us. This may influence which products we write about and where and how the product appears on a page. However, this does not influence our evaluations. Our opinions are our own. Here is a list of our partners and here is how we make money.
The information provided on this page is for educational purposes only. The Modest Wallet is a financial publisher that does not offer any personal financial advice or advocate the purchase or sale of any security or investment for any specific individual.
Public and Stash are two innovative financial services firms that aim to democratize access to the stock market for beginner investors. While Public launched its financial offering in 2019, Stash entered the investment world four years earlier. More than five million investors currently use Stash, while Public has the financial backing of multiple celebrities such as Will Smith, J.J. Watt, and Sophia Amoruso to get retail investors on board.
The two companies take different approaches in helping their users make their first moves in the stock market. Public focuses on social investing and creates an investing community. Stash is a personal finance app that aims to help small retail investors reach their financial goals through long-term investing.
This review will compare the two companies and look at their main features, investment options, and available account types. We also check out their fee structure, customer support, and what we like and don't like, so you can determine which investing app is best.
Public vs. Stash: Overview
Public, as well as Stash, target beginner investors and provide inexpensive investment solutions. Both companies apply different strategies while using the same investment vehicles.
| | | |
| --- | --- | --- |
| Our Rating | | |
| In A Nutshell | Public is a social investing platform. What this means is that investors can interact with each other by using the Public's mobile app. Public facilitates the process of investing by offering fractional shares. The company offers $0 commission trades on stocks and ETFs. | Stash is a subscription-based investment platform that offers fractional shares and ETFs for investors in the United States, with zero trading fees involved. Stash offers various plans with monthly fees starting at just $1. |
| Our Review | Full Public.com Review | Full Stash Review |
| | | |
About Public
Public is a social investing platform for self-directed investors. It enables them to trade stocks and exchange-traded funds (ETFs) commission-free. Public believes that everybody should be able to invest in the stock market and provides a low-cost solution through fractional shares.
What makes Public different from other brokers is its social investment approach. Investors can follow each other, share ideas, and exchange thoughts on financial topics. To learn more about Public, have a look at our full Public.com review.
See Also: 12 Best Online Brokers
About Stash
In contrast, Stash is a one-stop-shop and subscription-based investing platform. The company offers three different plans to cater to the various personal finance needs their investors have. Like Public, Stash also uses fractional shares as their investment method.
While Stash further offers banking, saving, and personalized advice, the firm sees itself more as a tool for long-term investing. For more information about Stash, check out our detailed Stash review.
Public vs. Stash: Main Features
Thanks to their different approaches in providing their services, the two broker's fee structures and offerings differ. Compare their features in detail to find the one that suits your current financial situation best.
| | | |
| --- | --- | --- |
| Account Minimum | $0 | $0 |
| Fees | $0 | $1 per month (Stash Beginner), $3 per month (Stash Growth) and $9 per month (Stash+) |
| Trading Commissions | $0 per trade | $0 per trade |
| Investment Types | Stocks and ETFs | Stocks and ETFs |
| Account Types | Individual Taxable | Traditional IRA, Roth IRA, Individual Taxable and Custodial Account |
| Platforms | Mobile (iOS / Android) | Mobile (iOS / Android) |
| Promotions | Free $10 stock slice | Get a $5 welcome bonus |
| Fractional Shares | | |
| Individual Stocks | | |
| Dividend Reinvestment (DRIP) | | |
| Best For | Beginner social investors | Beginners looking for more than trading |
Public
Using Public, you join a like-minded community and have the possibility of following other accounts and watching other investor's actions. On the social-media-like platform, users can share ideas, talk in group conversations, and comment on another person's investment. You can further integrate your phone's contact book and connect with registered friends and family.
Investing in the stock market is possible through fractional shares. Buying fractions of stocks and ETFs allows small balance users to invest in high-priced assets and diversify their money effectively instead of putting all their money into one stock.
Real-time trading is also supported. Placed orders are executed immediately, enabling investors to benefit from price changes that occur due to market volatility.
To quickly find particular niches and sectors, Public created investing themes to categorize investable stocks and ETFs. This innovative way lets users invest in trends, economic sectors, or personal interests. Examples are 'Crypto Revolution', which focuses on the crypto movement, or 'Cash Cows', which contains companies that pay high dividends.
Public also gives you an overview of the biggest winners or losers regarding intraday price fluctuations with its Top Movers feature. This feature allows investors to spot potential bargains or find stocks with positive momentum that might see further price increases.
Dividend investors can use the broker's dividend reinvestment plan (DRIP). The broker automatically reinvests the paid dividends so investors can grow their money faster.
Ultimately, Public offers Public Talks and Public Learn to educate its users. In Public Talks, financial advisors and experts share their stock market assessments and talk about financial topics. Connected to this educational feature is Public Learn, which aims to answer frequently asked questions.
Main Features Overview
Social features: Investors can follow other investors, mimic their actions, and discuss trading stocks and ETFs.
Fractional shares: Small balance investors can diversify their portfolio through fractional shares without having to save for a whole share.
Themes: Thanks to different themes, investors can directly find particular assets, trends, and sectors they want to invest in.
Top Movers: With this feature, users can benefit from an overview of the biggest price fluctuations of the day.
Public Talk/Public Learn: Through Talks and Learn, Public aims to explain complex topics easily and understandably for beginner investors.
Dividend reinvestment plan: Public automatically reinvests the paid dividends back into stocks or ETFs.
Stash
Stash has an array of features that are unlocked depending on the subscription plan you choose. Stash Beginner is the entry-level plan which costs $1 per month. Investors can trade fractional shares, receive a Stock-Back Visa debit card, get a bank account, and have access to saving tools and personalized advice.
With Stash Growth (available at $3 per month), users can set up a retirement account, get retirement advice, and have access to the Stash Smart Portfolio next to all the Stash Beginner features.
The premium package is Stash+ and comes at $9 per month. This plan includes all the features mentioned before, as well as two custodial accounts, a 2x Stock-Back card, and premium research and advice.
To invest in the stock market, Stash allows you to buy whole or fractional shares of thousands of stocks and ETFs. This feature enables investors with smaller accounts to purchase portions of their favorite stocks and adequately diversify their portfolio instead of putting all of their capital in one high-priced stock.
Using Stash, you also get a zero-fee checking account from Green Dot Bank, which lets you transfer money to your investing account immediately and includes the Stock-Back Visa debit card. The card enables you to withdraw cash from more than 19,000 ATMs in the US and use the early-payday feature. Stash banking further includes a budgeting app to keep track of your expenses.
One innovative feature is Stash's Stock-Back card. If you use the debit card at a merchant contracted with Stash, you get rewarded with that company's stock. So, instead of buying stocks of publicly traded gas stations, restaurants, or phone service providers, simply shop at their outlets.
Stash also makes it easy to increase your financial knowledge through StashLearn. Their educational area includes resources for adults and children (Stash Academy for Kids), blog articles, money news, and a newsletter. StashLearn covers multiple topics such as retirement, parenting, traveling, income, marriage, and many more.
Ultimately, retirement, as well as custodial accounts, are also available if you want to invest for your or your children's future.
Main Features Overview
Stash plans: Stash users must choose one of three reasonably cheap subscription plans to use the broker's services. While the beginner plan provides you with the bare minimum, the premium plan is perfect for families.
Fractional shares: Investors can buy portions of stocks and ETFs without having to save for a whole stock.
Stash banking: With every plan, you get a banking account and a Stock-Back Visa debit card.
Stock-Back: If you shop at a publicly-traded merchant contracted with Stash, you get rewards in the form of stock in that company instead of cashback.
StashLearn: Stash offers an extensive education section that helps users with limited financial knowledge get a better understanding of the stock market.
Various account types: Investors who want to invest for their own or their children's future can open a retirement or custodial account.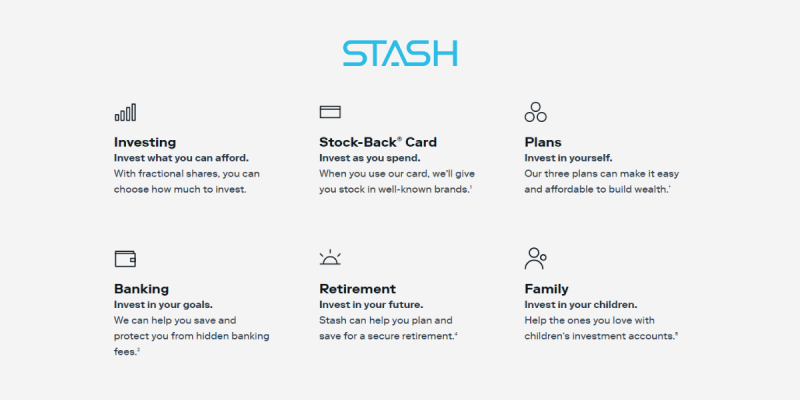 See Also: 7 Best Micro-Investing Apps
Public vs. Stash: Investment Options
The two financial firms offer fractional shares as their primary investment option. Having said this, Public and Stash use stocks and ETFs for fractional share investing and don't provide other asset classes.
Public
Public currently offers more than 3,000 stocks and low-cost ETFs from Vanguard, BlackRock, and other providers free of charge. Investors who can't afford whole shares can buy fractional shares instead to diversify their portfolio.
Stash
Stash has a similar offering as Public. The app currently lists 3700+ companies from various sectors and 90+ ETFs as investment options. The ETF selection consists of nine different categories and includes ETFs of bonds, broad markets, commodities, and more.
Public vs. Stash: Account Types
While Public offers just one account type, Stash has more account options for their users. With Stash, however, your access to the different account types depends on the plan you choose.
Public
Public currently offers only Individual Taxable Brokerage Accounts. Other account types – such as retirement, joint, or custodial accounts – are not available.
Stash
As an investor, you get access to different account types depending on the plan you choose. Stash offers the most common account types and can probably cater to your needs. The following account types are currently available:
Individual taxable brokerage account
Joint taxable brokerage account
Traditional IRA
Roth IRA
Custodial account for your children
Public vs. Stash: Sign up Bonuses and Promotions
To get a new customer to use their services, brokerage firms use sign-up bonuses and promotions to rapidly grow their customer base. Public and Stash both offer promotions to new users at the moment.
Public
Public offers one stock slice worth up to $10 to new customers. To claim this sign-up bonus, you must open an account with Public, download the app, and have your account approved. After approval, you can claim your slice from nine different stocks.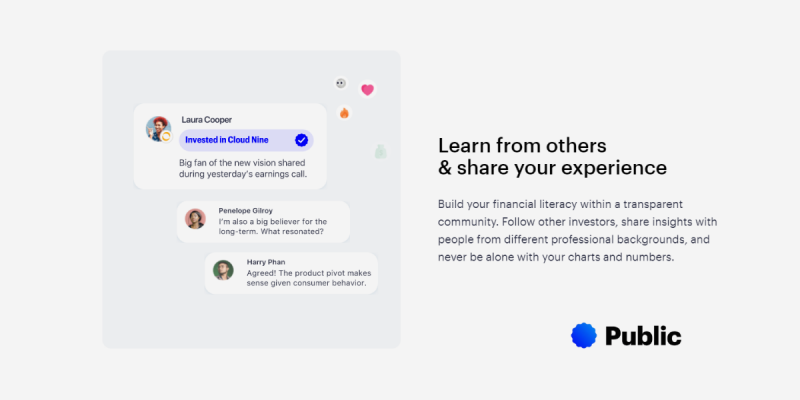 See Also: 12 Best Investment Apps: For Beginners & Pros
Stash
Signing up with Stash, you can get a $5 welcome bonus. The way it works is that you add $5 to your investment portfolio and Stash gives you an additional $5.
Public vs. Stash: Fees & Pricing
Public and Stash go down different routes when it comes to pricing their services. While one broker is entirely free of commissions, the other uses a subscription model to cater to its investor's needs. Still, both platforms don't have account minimums.
Public
Public allows you to invest in US-listed stocks and exchange-traded funds (ETFs) commission-free. All investment accounts are free of charge and there are no tiered membership plans to choose from.
However, broker-assisted phone trades cost you $30, domestic outgoing wires will set you back $30, ACHs $30, domestic overnight check deliveries $35, returned checks and stopped payments $30, and ACAT account transfers $75.
Stash
To get started with Stash, you have to enroll in one of their three subscription plans. Their monthly flat fees start at $1 and can go as high as $9 for their Stash+ plan.
Next to the monthly payments, investors have to pay the annual expense ratios of the funds they invest in. However, this is nothing unique to Stash and expenses ratios aren't very expensive.
Like Public, Stash also has non-trading and non-subscription-related fees. Outgoing ACAT transfers cost you $75 and paper accounts, as well as tax statements, are $5 per piece.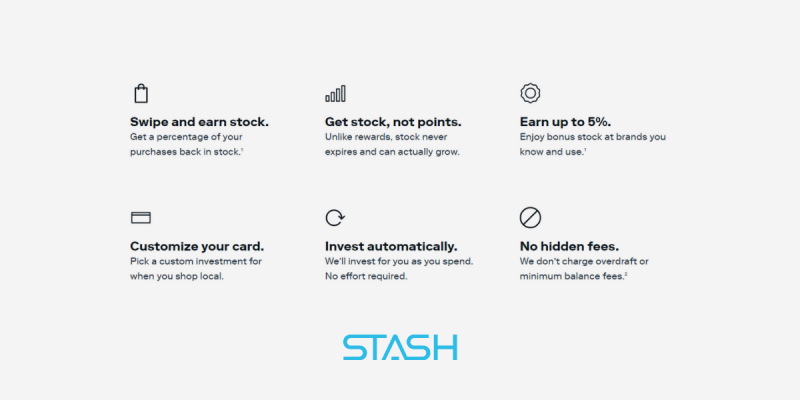 See Also: 12 Best IRA Accounts
Public vs. Stash: What We Like (Pros)
There are many things to like about the two brokers featured in this review. Have a look at our lists below to find out more:
Public
Commission-free trading of thousands of US stocks and ETFs
Investing in fractional shares is supported
A dividend reinvestment plan is offered
No account minimums
Interaction between investors increases financial literacy
Stash
Investors can invest in thousands of stocks and ETFs through fractional shares
Stash doesn't have any trading fees or account minimums
Retirement and custodial accounts are available
The monthly flat fees for their subscription models are fairly cheap
New investors can use the firm's extensive educational materials
Stock-Back allows users to earn stocks as a form of cashback
Stash users benefit from the firm's all-in-one solution
Public vs. Stash: What We Don't Like (Cons)
Although Public and Stash offer many things we like about them, we also have to address the things we don't like so much. These things are:
Public
Public has a minimal investment option offering
The broker has no web-based or desktop trading platform
There are no retirement, custodial, or margin accounts available
A robo-advisor service isn't supported
ACAT account transfer are relatively expensive
Stash
Mutual funds, cryptocurrencies, or options aren't available
Stash also doesn't offer a robo-advisor to its customers
No social aspects or investment community
Advisory services are somewhat limited to what competitors offer
See Also: How to Invest in ETFs: A Step-by-Step Guide
Public vs. Stash: Security
Public and Stash both are regulated financial companies. This helps to keep your investments safe. Still, assets can lose value through market volatility which isn't covered by either broker.
Public
Public is a member of the Securities Investor Protection Corporation (SIPC). This means that if Public goes down, all of your Public accounts are automatically insured for up to $500,000, including $250,000 in cash claims.
Stash
Stash is a registered member of the Securities and Exchange Commission (SEC). The company also uses Apex Clearing Corporation for its trading service, which is regulated by the Financial Industry Regulatory Authority (FINRA) and Securities Investor Protection Corporation (SIPC). With Stash, you enjoy the same protection as Public users.
Besides, Green Dot Bank, which provides Stash's bank accounts, is a member of the Federal Deposit Insurance Corporation (FDIC). Therefore, deposits made with Stash are covered up to $250,000.
Public vs. Stash: Customer Support
Public and Stash make it easy to get in touch with customer support. While Public goes all-digital, Stash uses the rather traditional contact channels.
Public
Public offers multiple channels to reach their customer support but phone support is not one of them.
As a Public user, you can reach out to customer support through the app, connecting you with a real person in a live chat. Other contact options include support via email and social media outlets that currently include Twitter, Instagram, and Facebook.
Stash
In contrast to the many digital ways you can contact Public's customer support, you will only find a customer service email address and a phone number on the Stash homepage.
Public vs. Stash: Platform and App
Public and Stash both have beginner-friendly apps for the user base. Whereas Public only offers an app, Stash users can use their computer and mobile phone to access the platform.
Public
The social app solely relies on its simple mobile app interface to facilitate its financial services. The app is rather basic and doesn't offer many features. A web-based or desktop platform is currently not available.
Once you have downloaded the app, you can interact with other Public users within the app. Using the app is also the only way to invest in the 3,000+ offered fractional stocks and ETFs in real-time and interact with your account.
See Also: How to Invest in Gold: A Beginner's Guide
Stash
Unlike Public, Stash makes it possible to use your computer and your mobile phone to access the investing platform. With Stash, you can manage everything within the app, which includes investing, banking, budgeting, and saving.
Who Is Public For?
Public is perfect for social investors who enjoy sharing thoughts with like-minded investors. Beginner investors can rapidly learn more about the stock market and benefit from the community's swarm intelligence.
Fractional shares investing also makes the platform an exciting choice for small account balance investors as well as buy-and-hold investors who don't trade much.
However, Public isn't for active traders, retirement investors, or beginner investors that look for a robo-advisor service or portfolio building guidance.
Who Is Stash For?
Stash is a one-stop-shop that includes investing, banking, saving, and spending. The broker offers many features that are perfect for beginner investors who want to bundle all their finances in one place. Investors who wish to invest for retirement or their kid's college education will also find a solid partner in Stash.
Account Minimum: $0
Fees: $1 per month (Beginner), $3 per month (Growth) and $9 per month (Stash+)
Promotion: Get a $5 welcome bonus
Final Thoughts
Public and Stash offer inexpensive services to their target audiences. The brokers don't have account minimums and offer investing in stocks and ETFs through fractional shares. These aspects are especially beneficial for cost-conscious investors with small account balances.
Due to their different approaches, you will find features at Public which Stash doesn't have, and vice versa. Public's services are completely free and let you join a social community of like-minded people, which is quite unique. Besides, dividend investors can use a dividend reinvestment plan to grow their investments faster.
However, if you are looking for retirement and custodial accounts, educational materials, banking solutions, and stock-back rewards, then you will have to go with Stash as Public doesn't offer these features.
Ultimately, it comes down to which investing approach you prefer. As an informed self-directed investor, you will probably choose Stash over Public. But if a community is essential to you, then you should sign up to Public.
Up Next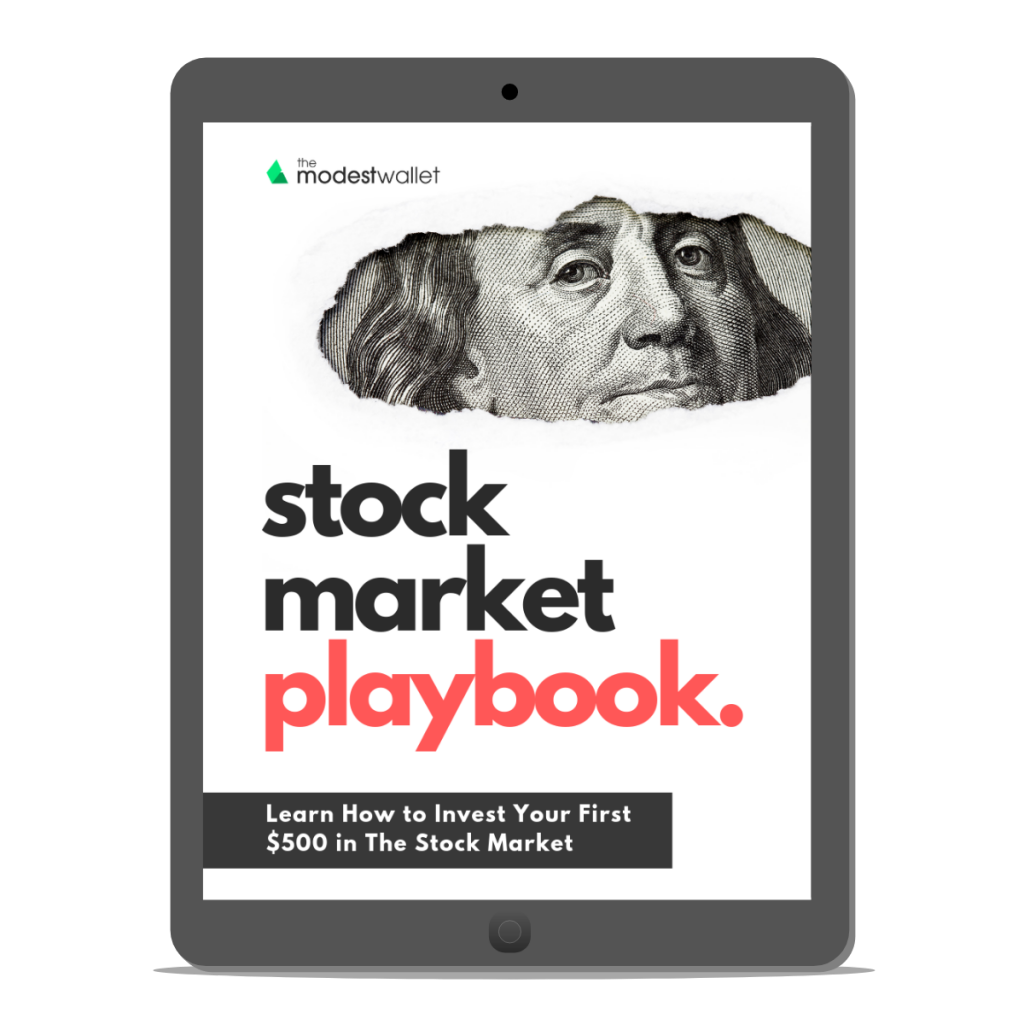 Get our free Stock Market Playbook to learn how to invest your first $500 in the stock market.
Plus our best money tips delivered straight to your inbox.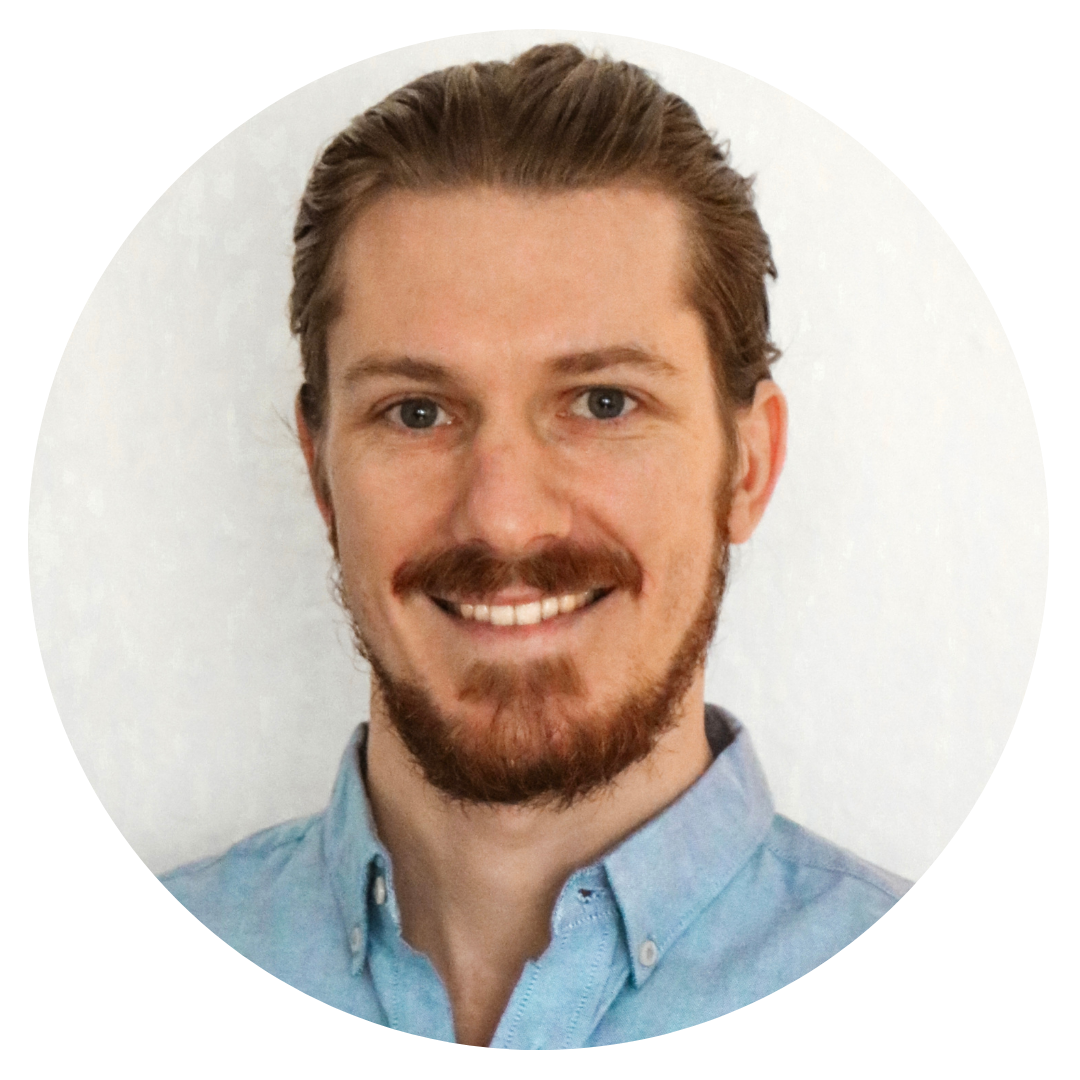 Carsten is a Freelance Copywriter with a personal interest in money management and investing. Besides taking care of his investments, he loves traveling, reading books, and working out (calisthenics & yoga).