Many or all of the products featured on this page are from our sponsors who compensate us. This may influence which products we write about and where and how the product appears on a page. However, this does not influence our evaluations. Our opinions are our own. Here is a list of our partners and here is how we make money.
The information provided on this page is for educational purposes only. The Modest Wallet is a financial publisher that does not offer any personal financial advice or advocate the purchase or sale of any security or investment for any specific individual.
Launched in 2015, Qapital is an exciting millennial-friendly app that could help you save money in areas where you didn't see any saving potential before. The app uses modern technology to make saving fun and effortless. By offering various features and automated processes, Qapital allows you to find suitable ways to save money quickly and reach your financial goals faster.
The company takes saving to an entirely different level and makes it easy to micro-save for multiple goals such as a vacation, a major purchase, or an emergency fund. People who always have more month left than money should take a look into what Qapital and its app have to offer.
This review will focus on how Qapital works, its features, and which pricing models are available. After that, we will look into the pros and cons, alternatives, and who should get or avoid the app.
Quick Summary: Qapital is a personal finance app designed to encourage its users to save and invest money. Using goals, rules, and triggers, users can automatically transfer money from their checking account to a savings account.
What Is Qapital?
Qapital is a mobile-only banking solution that helps people get smarter about their saving, spending, and investing habits. The overall goal of Qapital is to make it easy for its users to be good with money.
You can use Qapital's app on your own or as a couple to save your way to your financial goals. The micro-savings app helps you save small amounts of money through various features while paying for your regular expenses and activities.
See Also: 20 Best Money Saving Apps
How Does Qapital Work?
The Qapital app works as a personal finance solution where you can set up saving rules, organize your savings goals, and invest for your future. The app works automatically and can help you save thousands of dollars depending on your selected plan.
To start the sign-up process, download the app from the Google Play Store or the App Store. After that, the company will verify your identity using IDology to create your Qapital Spending Account. This is a checking account in your name held at a Qapital partner bank. In case IDology can't verify your identity, you need to go through a manual review process and provide a photo of your ID and a billing statement.
The spending account, which is also linked to your Qapital Visa Debit Card, will further allow you to open a Qapital Invest Account and choose your investment portfolio. Opening an Invest account takes around five to seven business days and a $10 minimum.
The Qapital Goal account is your dashboard for setting all your saving goals and rules and needs linking to an external checking account, which becomes your funding account. In linking the two accounts, your applied rules will trigger transfers to your Qapital Goal account. You can also use the app to withdraw cash at any time from any goal free of charge. Transfers to your linked bank account take approximately two business days.
Customer service is available via in-app chat or email support. Usually, customer support reaches back out to you within 24 hours to respond to your query. However, phone contact details aren't provided because contacting Qapital via phone isn't possible.
To avoid overdraft fees in your funding account, Qapital puts all transfers on hold that would leave you with $100 or less in your checking account. Once the balance is above $100 and covers the transfer amount, Qapital will put the transfer through. If this doesn't happen within 14 days, the transfer will be canceled.
Qapital Features
Qapital offers a dozen features to help its users reach their short-term and long-term financial goals. These features include fun rules that trigger small money amounts being deposited in your savings account, setting money aside from your paycheck, and reaching goals as a team. In addition, you can save by swiping your debit card, challenge yourself to think deeper about your spending patterns and invest in low-cost funds.
| | |
| --- | --- |
| Minimum Investment | $10 |
| Fees | $3 per month (Basic), $6 per month (Complete) and $12 per month (Master) |
| Investment Types | ETFs |
| Account Types | Savings |
| Platform | Mobile (iOS and Android) |
| Promotion | None |
| Support | Via app |
Rule-Based Triggers for Saving
Like other micro-savings apps, Qapital has different creative triggers, called rules, that help you save automatically and increase your account amount. You can choose from a pool of different rules and pause them for a few days if money is tight.
Using the Set and Forget rule, the app automatically deposits a fixed amount in your savings account. This can be done once a day, week, or month. Through this rule, you periodically set aside some money and forget that it was there.
The Round-Up rule is the most popular method to save your change every time you make a purchase. Your change will automatically be rounded up to the nearest $2 and deposited in your account. However, you can also select the nearest dollar amount yourself.
The Guilty Pleasure rule supports you in saving money when your desire takes over and you buy things you didn't want to buy. Qapital will deposit a certain amount in your account, and you will probably feel a little less guilty. This works for any merchant.
Then there is the Spend Less rule. With this rule, you set up a budget for a particular location, for example, the supermarket. If you stay below your target budget, the difference in money will automatically be saved.
A rule created for freelancers and independent workers is Qapital's Freelancer rule. To avoid trouble with the IRS, Qapital sets aside a certain percentage of every deposit above $100 for tax payments.
Using the 52 Week rule, you save money every week. You start with $1 in week one and gradually increase the amount up to $52 in week 52. Developing this saving habit adds up to $1,378 per year.
The Apple Health rule combines your fitness with your finances. You will incentivize yourself for reaching physical activity goals. Because you save money for every performed activity, you will feel twice as good.
Behind IFTTT hides the "If this, then that" rule which links with your favorite apps. This is a simple cause and effect rule. Every time you do any of your daily activities in one of your apps, you will automatically save some money.
Ultimately, the Payday rule saves a certain percentage for you once you get paid.
See Also: How to Save Money: 91 Effective Ways to Save Money Fast
Payday Divvy
The Payday Divvy feature is available for users of the Complete or Master subscription models and enables you to set aside a certain amount once you receive your paycheck. Using Payday Divvy, you commit yourself to stick to your money plan.
If you enable this feature, the app automatically goes to work every time you get paid. You tell Qapital what percentage you want to have set aside, and Payday Divvy does the rest for you. This feature includes budgeting the right amounts for saving, investing, and your expenses and bills.
Swipe & Save
Qapital also allows Complete and Master plan users to save money when using the Qapital Visa debit Card for purchases.
Spending Sweet Spot
With the spending sweet spot feature, you give yourself a budget for your day-to-day or weekly expenses. This includes expenses such as your daily dose of coffee, a cab ride, and everything else that isn't part of your fixed expenses. But the feature is more of a treat than a restriction because you can spend this money lavishly without worrying about overspending.
Qapital Invest
Qapital Invest is Qapital's long-term investing solution and available to Complete and Master plan users. The solution is perfect if you are saving for big goals down the road or retirement. Qapital Invest uses pre-built portfolios and only needs an investment horizon and the amount of money you want to reach.
From there, Qapital invests your money in low-cost exchange-traded funds and follows the Nobel Prize-winning Modern Portfolio Theory. Portfolio diversification is achieved through a mix of stocks, bonds, and REITs across 12 asset classes. Overall, there are five different portfolios that range from very conservative to very aggressive. And based on your time horizon, one of them will suit your situation best.
Very Conservative: 90% fixed income and 10% equity
Conservative: 70% fixed income and 30% equity
Balanced: 50% fixed income and 50% equity
Aggressive: 30% fixed income and 70% equity
Very Aggressive: 10% fixed income and 90% equity
Qapital brokerage services are provided by Apex Clearing Corporation, an SEC-registered broker-dealer and member of the FINRA and the SIPC. Also something to keep in mind is that Qapital monitors your account, reinvest dividends, and rebalance your portfolio based on changing market conditions.
See Also: 7 Best Micro-Investing Apps
Dream Team
A feature that is perfect for dynamic couples who want to control their finances together is Dream Team. As the name suggests, you can seamlessly integrate your finances with your partner's and share spending, saving, and investing goals.
That way, you will keep the other person motivated to stick to the plan and move as a team. The joint banking experience also lets you choose which balances you want to share, and you will get notifications when you reach a shared goal. Currently, the feature is only available in the Master subscription plan.
Money Missions
The Money Missions feature was developed by behavioral economists and challenges you to think more about your spending habits. In giving you challenges, Qapital provides you with meaningful insights into your habits, so that you can make better-informed decisions in the future. Completing these Money Missions offers you the opportunity to master your finances sustainably.
Qapital Pricing and Fees
Currently, Qapital is offering three different subscription plans that carry monthly fees. A big plus is that you can try a plan for 30 days and see if the Qapital app is right for you. When your free 30 days are over, Qapital bills you according to your chosen plan. The three available plans are Basic, Complete, and Master.
The Basic plan is the entry-level plan, and members have to pay $3 per month for it. You can create as many personalized goals as you wish, use the rule-based trigger feature, and transfer money between goals seamlessly. Qapital states that members save around $1,500 per year through this plan.
In addition to the Basic plan, the Complete plan lets you use the Swipe & Save, Payday Divvy, and Spending Sweet Spot feature. You can further invest in low-cost funds through the app. This plan is available for $6 per month, and members save around $4,300 on average.
Ultimately, the Master plan lets you share your finances with your partner for $12 per month. In addition to all the other features, Master members are the first to experience new features such as Money Missions. The saving potential is $5,000 per year on average with this plan.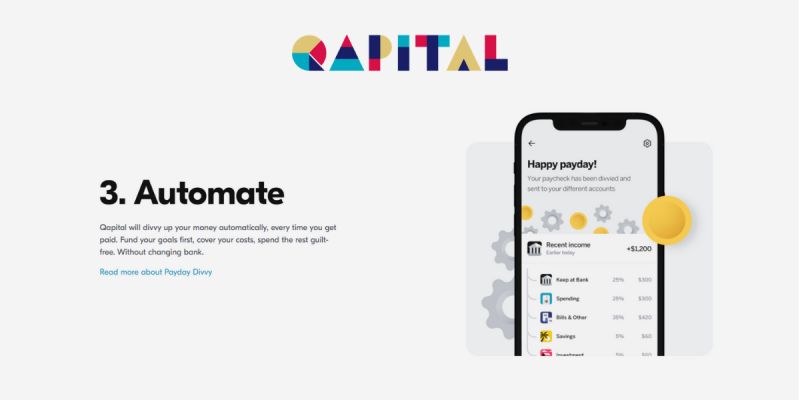 See Also: 15 Ways to Invest $1,000
Qapital Security
Apex Clearing provides all of Qapital Invest LLC's brokerage services and is a registered broker-dealer with the US Securities and Exchange Commission (SEC). In addition, the firm is also a member of the Financial Industry Regulatory Authority (FINRA) and the Securities Investor Protection Corporation (SIPC).
Your accounts are held by one of Qapital's partner banks and further FDIC-protected with insurance going up to $250,000. Besides, your account data is encrypted between the app and Qapital's servers as well as to any third party.
Qapital Pros
No minimum amount is required to get started
Dozens of features help you immediately save for big financial goals and retirement
Freelancers can avoid a lot of hassle with the IRS thanks to the freelancer rule
People having difficulties saving money will turn into saving pros with Qapital's help
The Qapital app comes with a Visa Debit Card
Flat-fee pricing is beneficial for larger account balances compared to percentage-based models robo-advisors use
Qapital monitors your portfolio, reinvests dividends, and rebalances your portfolio
Qapital Cons
Customers don't get any phone support at Qapital
No access through a web-browser
Higher fees for smaller account balances compared to robo-advisors that don't have management fees or use a percentage-based model
See Also: 12 Best Roth IRA Accounts
Qapital Alternatives
Qapital has many intriguing saving features that other micro-savings apps don't offer. The IFTTT rule, for example, is unique to Qapital. Having said this, the app is on the higher end of fees, and the prices of the two premium plans might be too much for willing savers.
For that reason, let's have a look at the following two competitors that offer similar services and might be a good choice for you as well.
Acorns
Acorns and Qapital share the round-up feature, but that's about it. Acorns automatically rounds up to the next dollar, and the saved spare change flows directly into a pre-built investment portfolio. While Qapital focuses on fun ways to save money, Acorns is hybrid and allows saving and investing at once.
Acorns' plans cost between $1 and $5 per month and are significantly cheaper than Qapital's plans. With Acorns Invest, Acorns Later, and Acorns Spend, Acorns offers investment, retirement, and spending solutions. Find out more about Acorns' features in our full Acorns review.
Digit
In contrast to Qapital, Digit uses an algorithm to analyze your financial habits. The app looks at past income and expenses and calculates your future income and expenses from the results. Using this information, Digit automatically puts small amounts of money into your savings account each month. You can also set up an investing account to invest for the long run. However, after your 30-day trial, you have to pay $5 per month to use Digit's services.
Read our full Digit review to learn more.
Who Should Sign up for Qapital and Who Should Avoid It?
Qapital has been designed to help people get better and smarter about their money, primarily by correcting their saving habits. The app targets individuals having difficulties saving and offers them dozens of features to help them reach their financial goals.
Another group that might want to look into the Qapital app are freelancers and independent workers. The Freelancer rule helps them allocate money for future tax payments. That way, these groups don't spend the money they actually own the IRS.
Having said this, Qapital is not for savvy savers or investors with smaller account balances who benefit more from investing with robo-advisors that have low management fees.
Qapital FAQ
Below you will find some of the most frequently asked questions regarding Qapital's services. Make sure to read through our answers to get an even better understanding of the app's services.
Is Qapital Worth the Fee?
The answer comes down to your personal preference. If the services valued between $36 and $144 per year are worth it to you, then go for it.
However, there are two instances when Qapital is or isn't worth the fee. If you have a larger account balance and want to use Qapital Invest, it makes sense because the flat-fee model is beneficial compared to percentage-based robo-advisors. In contrast, if you only have a small account balance, the flat-fee model causes higher costs for you as a percentage of your invested money than robo-advisors with no or low management fees.
Is Qapital Safe to Use?
Yes, it is safe to use Qapital. The app requires two-factor authentication for logging in and communication between the app and Qapital's servers uses secure socket layer (SSL) and transport layer security (TLS) encryption. The same goes for communication between the app and third parties such as banks. Besides, critical personal information isn't stored on Qapital's servers.
Does Qapital Charge a Fee?
The app itself is free to use. However, if you want to use Qapital's services, you must enroll in one of the three available membership plans. These are available for $3 per month (Basic), $6 per month (Complete), or $12 per month (Master).
You also need a $10 minimum if you want to use Qapital invest and its low-cost exchange-traded funds to reach your long-term financial goals.
How Do I Get My Money Back from Qapital?
Your deposits to your Qapital Goal account have to sit for at least four business days before you can access them. After that period, however, you can transfer the money back to your checking account.
If you want to withdraw money from your Goals or your spending account, you can do so immediately and not be subject to a deadline. Getting your money to your funding account should not take longer than two business days.
Final Thoughts
Qapital's flexible, short-term approach to saving is fun and certainly helps people with saving difficulties get better with money. The app offers more bells and whistles than simply rounding up your spare change and is a great choice for automated saving based on your current lifestyle and spending habits.
The many different rules and triggers give you the flexibility to save money when, where, and how you want. The IFTTT rule is an especially interesting twist no other micro-savings app offers so far. Other app features let you team up with your partner, use money missions to challenge yourself, or find your spending sweet spot make Qapital a really exciting app.
However, the Complete and Master plans are quite expensive compared to what other apps charge their customers. Still, they don't offer that many features like Qapital does. In the end, it comes down to you to decide whether the premium plans are worth the money.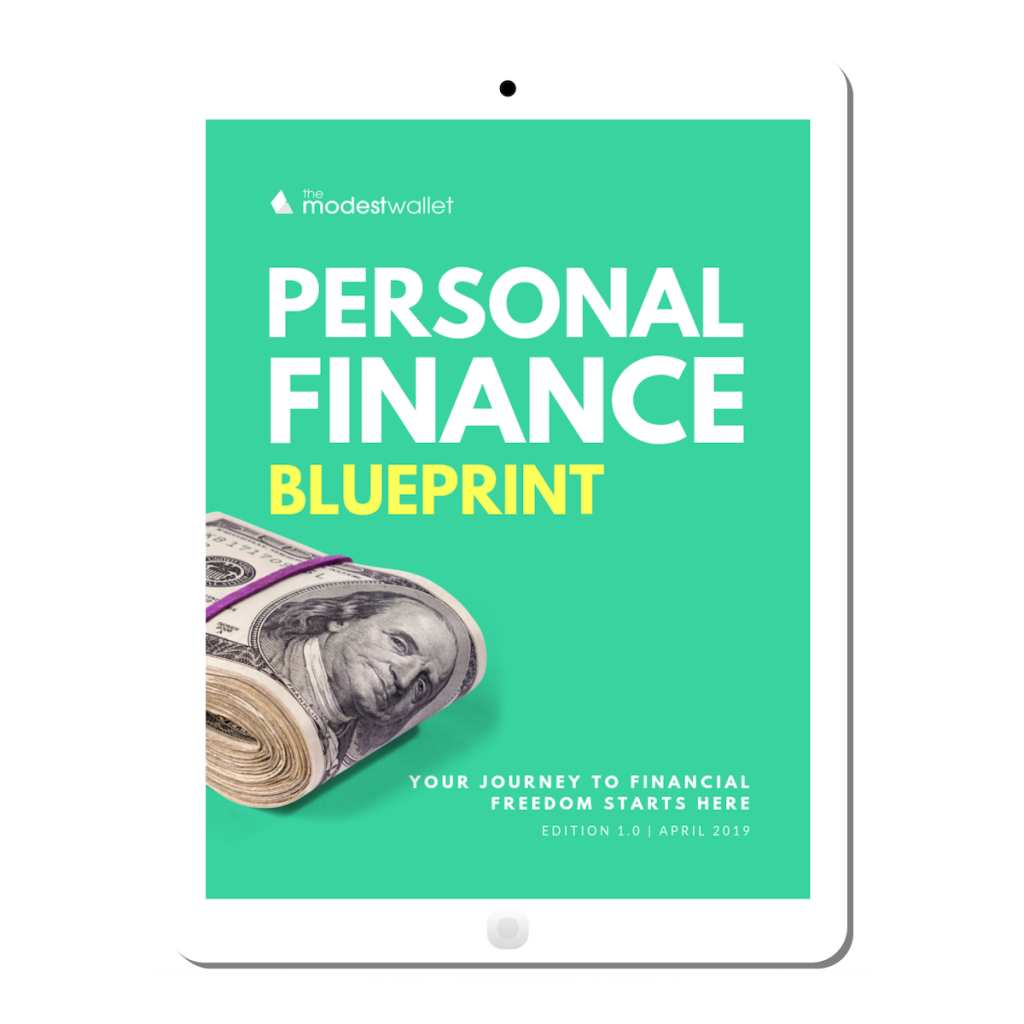 Get our free Personal Finance Blueprint to learn everything you need to know to build wealth.
Plus our best money tips delivered straight to your inbox.

Carsten is a Freelance Copywriter with a personal interest in money management and investing. Besides taking care of his investments, he loves traveling, reading books, and working out (calisthenics & yoga).