Many or all of the products featured on this page are from our sponsors who compensate us. This may influence which products we write about and where and how the product appears on a page. However, this does not influence our evaluations. Our opinions are our own. Here is a list of our partners and here is how we make money.
The information provided on this page is for educational purposes only. The Modest Wallet is a financial publisher that does not offer any personal financial advice or advocate the purchase or sale of any security or investment for any specific individual.
Qapital and Acorns offer passive investing services to retail investors and make saving and investing a relatively painless affair. Both apps allow you to save hassle-free and provide valuable features.
Qapital is all about rule-based saving and automating the process. At the same time, Acorns specializes in saving long-term through its Round-Up feature that directs your spare change into an investment portfolio. Both platforms allow you to get into the game of saving and investing but don't come for free.
This review will have a closer look at these two companies and focus on the main features, investment options, and account types. We will also check their fee structure, positive and negative aspects, and who should use which app.
Qapital vs. Acorns: Overview
Both companies in this review offer exciting technology-based services. While Qapital applies saving rules, Acorns uses a robo-advisor to help investors reach their financial goals.
In A Nutshell: Qapital is a personal finance app designed to encourage its users to save and invest money. Using goals, rules, and triggers, users can automatically transfer money from their checking account to a savings account.

In A Nutshell: Acorns can be categorized as a one-stop-shop for all things personal finance. They offer a wide variety of financial products related to banking, retirement planning, and investment management for as low as $1 per month.
About Qapital
Qapital is a micro-savings app and mobile-only banking solution. The firm launched its service in 2015 and uses rules to help you save money. In addition, various features and automated processes make it easy to tackle financial goals like a vacation, an emergency fund, or getting out of debt.
People having trouble saving every month should look into Qapital's different plans as the app helps you keep track of your saving, spending, and investing habits. To learn more about Qapital, have a look at our full Qapital review.
About Acorns
Acorns is slightly older than Qapital as it launched its services in 2012. Its online robo-advisor uses predefined algorithms and time-tested investment strategies to build a portfolio based on your risk tolerance, financial goals, income, and other factors.
Financial products and services connected to banking, retirement planning, and investment management are available from $1 per month, which is reasonably cheap. To learn more about Acorns, check out our full Acorns review.
Qapital vs. Acorns: Main Features
Qapital and Acorns provide investment solutions for investors who don't want to strategize much about their money. However, thanks to their main features, Qapital and Acorns are exciting options for passive investors.
| | | |
| --- | --- | --- |
| Minimum Deposit | $0 | $0 |
| Fees | $3 per month (Basic), $6 per month (Complete) and $12 per month (Master) | $1 per month (Lite), $3 per month (Personal) and $5 per month (Family) |
| Investment Types | ETFs | ETFs |
| Platforms | Mobile (iOS and Android) | Web and Mobile (iOS and Android) |
| Promotions | 30 days free trial | Get $5 when you sign up |
| Savings | | |
| Checking | | |
| Round Up Features | | |
| Pre-Built Portfolios | | |
| Individual Stocks | | |
| Goal Tracking | | |
| Best For | Savers | Investors |
Qapital
Qapital's number one feature is its rule-based saving triggers. You can choose from an array of different rules to automatically save money and increase your account balance. Popular rules are periodically setting aside a fixed amount, rounding up your change, and increasing your savings rate over 52 weeks.
Spending Sweet Spot is a budgeting feature where you give yourself a budget for your daily, weekly, or monthly expenses. These expenses don't contain your fixed costs and can be spent without regrets.
Two other features available for Complete or Master plan subscribers are Payday Divvy and Swipe & Save. With Payday Divvy, users can set aside a certain amount of their paycheck once they receive it. Swipe & Save further allows you to save money using the Qapital Visa debit Card on your purchases.
For investing purposes, the firm offers Qapital Invest as the solution for saving for long-term goals such as a home, vacation, or emergency fund. Using your investing time horizon and your money amount, Qapital will invest your cash in a suitable pre-built and low-cost exchange-traded fund (ETF) portfolio.
Qapital also offers a feature for couples who want to control their finances together, called Dream Team. That way, you can stay motivated and integrate your finances with your partner's.
Ultimately, Qapital will give you challenges from time to time. These challenges may reveal interesting spending habits and aim to help you make better decisions with your money.
Main Features Overview
Rule-based triggers: These features help users reach their short-term as well as long-term goals faster and in a fun way.
Payday Divvy: By setting aside a fixed amount of your weekly or monthly paycheck, you make sure to save every time you get paid.
Spending Sweet Spot: This feature lets you spend money lavishly on the things you love without regretting it afterward.
Qapital Invest: Users who want to invest long-term will benefit from a low-cost ETF investment portfolio.
Dream Team: Qapital makes it possible for couples to reach their financial goals as a team instead of going solo.
Money Missions: In challenging you from time to time, Qapital lets you discover your spending habits yourself.
See Also: 18 Legit Ways to Get Free Cable TV (and Cheap Alternatives)
Acorns
Acorns' main feature is Acorns Invest, which is a robo-advisory service. This robo-advisor uses an algorithm to recommend a particular asset allocation that aims to generate wealth based on the investor's financial goals and risk profile.
Currently, Acorns offers five different portfolios ranging from conservative (100% bonds) to aggressive (100% stocks). Depending on the chosen level of risk, financial goals, and other factors, the robo-advisor recommends a portfolio that suits your current situation.
Using Acorns Invest, investors can utilize the Round-Up feature for micro-investing spare change into their portfolio. Linking a checking account, debit, or credit card to Acorns, the provider rounds up the change to the next dollar and makes reaching financial goals easier and faster.
Like Qapital, Acorns uses a monthly subscription fee model to access its features. Acorns plans are called Lite, Personal, and Family and include banking, retirement, and cash management solutions depending on the chosen plan.
Acorns Later is the firm's retirement planning feature. Investors must sign up for the Personal or Family plan to open a Traditional IRA, Roth IRA, SEP IRA, or roll over a 401(k).
If you are a Personal or Family subscriber and want a checking account, you can access Acorns Spend. Lincoln Savings Bank provides the account, issues a tungsten metal Visa™ debit card, and provides FDIC insurance up to $250,000.
Parents who want to invest in their children's future should use Acorns Early within the family plan. They can include multiple kids at no added costs in a custodial account.
Ultimately, the Acorns Earn rewards program entitles Acorns' users to make money when shopping at one of the 350+ affiliated partner brands. Using Acorn's credit or debit card, the cashback rewards will automatically be deposited to the investment account.
Main Features Overview
Automated passive-investing service: Investors using the firm's robo-advisor will have their portfolios managed professionally at low costs.
Round-ups: Users can benefit from their purchases' left-over spare change (rounded to the next dollar).
Pre-built portfolios: The five pre-built portfolios enable every investor to find the right investment portfolio based on their financial goals and risk profile.
Banking and retirement products: Acorn Spend (checking account), Acorn Later (retirement account), and Acorn Early (investment account for kids) add significant value to Acorns' robo-advisor.
Competitive subscription fees: Acorns offers competitive rates for their subscription plans compared to other providers.
Qapital vs. Acorns: Investment Options
Qapital and Acorns use low-cost ETFs on stocks and bonds to create their portfolios. To achieve a high level of efficiency, investors can't change anything about the portfolio structure.
Qapital
The Qapital Invest feature directs your money into one of five pre-built ETF portfolios. The portfolio is diversified across 12 asset classes and contains stock, bonds, and REITs. The available portfolios range from very conservative to very aggressive, depending on your time horizon. In addition, earned dividends will be reinvested automatically.
Acorns
Acorn's robo-advisors use a handful of exchange-traded funds to build the platform's five portfolios. Depending on the investor's risk tolerance, the portfolio basket will hold only bonds (conservative), stocks (aggressive), or a mix of the two (moderately conservative, moderate, or moderately aggressive).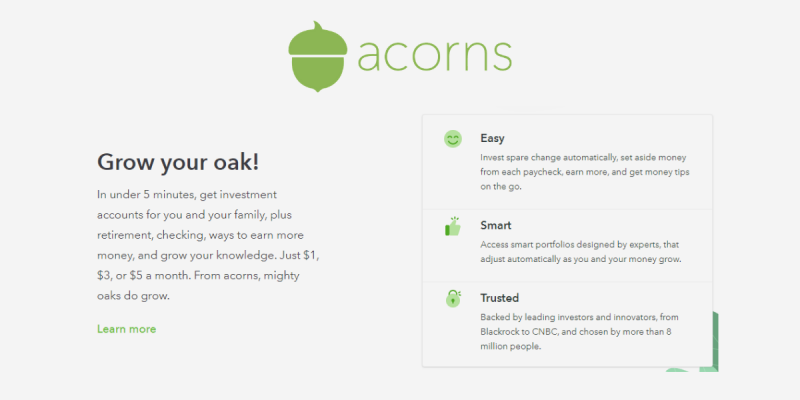 See Also: 20 Best Alternatives to Cable TV: Cut the Cord Today
Qapital vs. Acorns: Account Types
Looking at the different account types, you will see that Acorns is ahead of Qapital.
Qapital
Qapital doesn't offer any taxable or retirement accounts.
Acorns
Acorns provides various investing accounts to its users. Have a look at the list below:
Individual taxable account
Joint taxable account
Traditional IRA
Roth IRA
SEP-IRA
401(k) rollovers
Custodial account
Qapital vs. Acorns: Sign up Bonuses & Promotions
Companies usually offer rewards or bonuses for new users or referring friends to the platform. While Qapital doesn't make use of this practice, Acorns does.
Qapital
Currently, Qapital doesn't offer any promotion for new sign-ups or referrals.
Acorns
Acorns offers a sign-up bonus of $10 for opening an account on the platform. In addition, users receive a $5 reward when a friend joins the platform.
Qapital vs. Acorns: Fees & Pricing
Qapital, as well as Acorns, have the same approach to offering their services. Both companies use subscription-based models to give users access to different features but require no minimum investment.
Qapital
Qapital offers three subscription plans priced according to the level of access to its features. Opening an account is free, but $10 are required to use Qapital Invest. The available subscription plans are:
Basic: The entry-level plan costs $3 per month and lets you utilize all triggers.
Complete: For $6 per month, you can further use the Payday Divvy, Swipe & Save, and Spending Sweet Spot feature as well as invest in low-cost ETFs.
Master: Using this plan, you can team up with a partner and access the latest features for $12 per month.
See Also: What is an Emergency Fund and Why You Need One?
Acorns
Opening an account is entirely free, but investors must deposit $5 to start investing on the platform. There are also three plans to choose from:
Acorns Lite: The cost of Acorns Lite is $1 per month and gives access to the company's robo-advisor, Round-Up feature, and rewards program.
Acorns Personal: The medium-priced Acorns Personal program costs $3 per month and further allows opening a retirement account (Acorn Later) and checking account (Acorn Spend).
Acorns Family: The Acorns Family subscription model is available at $5 per month and gives access to the whole package. This includes access to the programs mentioned above and the Early program for custodial accounts.
Closing an Acorns account, the provider charges $50 per ETF to transfer it to another broker. Selling your ETFs and closing the account doesn't lead to any fees.
Qapital vs. Acorns: What We Like (Pros)
There is a lot to like about both fintechs' offerings. Find out below what we like best about Qapital and Acorns:
Qapital
No account minimum, account setup, or overdraft fees
An array of features help you save money and turns you into a saving pro
"Rules" allows you to automate savings
The app comes with a Visa debit card
Qapital monitors and rebalances your portfolio and reinvests dividends
Acorns
No account minimum and no inactivity fee
Acorns offers a variety of investment accounts, including IRAs
User-friendly web-based platform and mobile app for tracking the progress of accounts
Hassle-free portfolio selection through Acorns' robo-advisor service
The pricing structure is competitive for investors with a portfolio value of $15,000+
A time-tested investing methodology that aims to produce steady returns over a long investment horizon
A vast network of affiliated brands that offer rewards and cashback purchase
The robo-advisor automatically rebalances quarterly when the portfolio is off-target
Acorns Early is an innovative investment feature for parents who want to build wealth for their kids early on
The Round-Up feature allows investors to save and invest seemingly unimportant spare change that can turn into larger sums over time
Qapital vs. Acorns: What We Don't Like (Cons)
Unfortunately, Qapital and Acorns have a few cons as well. Below are the things we don't like:
Qapital
Qapital doesn't allow users to change the portfolio structure
No customer support via phone
No web browser solution
Mobile-only
The flat-fee model has small account balances at a disadvantage compared to percentage-based models
Acorns
Acorns doesn't allow changes to the portfolio structure.
No tax-loss harvesting
No human advisory service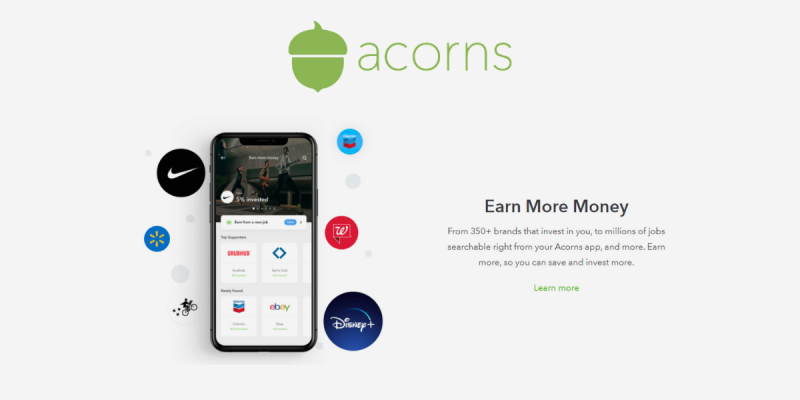 See Also: How to Save Money: 91 Effective Ways to Save Money Fast
Qapital vs. Acorns: Security
Qapital and Acorns provide well-insured products and offer protection for investments (excluding portfolio drops).
Qapital
Apex Clearing (Qapital's brokerage service provider) is registered with the SEC and a member of the FINRA and the SIPC.
Your accounts held at Qapital's partner banks are FDIC-protected up to $250,000. In addition, your account data is encrypted between the app and any other server.
Acorns
Like Apex Clearing, Acorns is highly regulated by the Securities and Exchange Commission (SEC) and part of the Financial Industry Regulatory Authority (FINRA).
Acorns is also a member of the Securities Investor Protection Corporation (SIPC). Therefore, investor's accounts have a coverage of up to $500,000. Acorn's bank accounts are provided by Lincoln Savings Bank and enjoy the same FDIC protection as Qapital's partner banks.
Qapital vs. Acorns: Customer Support
Both firms make it easy to get in touch with their respective customer support. However, Qapital goes all-digital, while Acorns offers the common contact channels.
Qapital
You can reach Qapital's customer support via in-app chat or email, and you should get a response within 24 hours. Unfortunately, support via phone isn't offered.
Acorns
In contrast to Qapital, Acorns provides more touchpoints for its customers. For example, you can reach the firm via email, phone, live chat, and social media.
Qapital vs. Acorns: Platform and App
Qapital and Acorns provide easy-to-use and user-friendly investment apps. Both cater to long-term investors that just start out saving and want to get their feet wet in the financial arena.
Qapital
Qapital is a mobile-only banking solution and therefore doesn't offer a web-based platform. However, their app is well-designed and provides a clear overview of the provided features and how to integrate it into your life.
The app is available for Android as well as iOS devices. Qapital's iOS app has a 4.8-star rating with 75,800 reviews, while the Android app has a 4.2-star rating stemming from close to 19,700 user reviews.
Acorns
Acorns has a well-designed web-based version and an aesthetic mobile app for Android and iOS devices. The app is very simplistic and does most of the heavy lifting for you. You can also change your strategy very easily within the app.
Currently, Acorn's iOS version has a 4.8-star rating and 732,100 user reviews. In contrast, the Android app has a slightly lower 4.4-star rating with more than 147,000 reviews.
Who Is Qapital For?
Qapital was created for people who have difficulties saving. The company's goal is to help people make smarter money decisions and dozens of features empower this group of investors to go for their financial goals.
The app is also great for freelancers and couples. The freelancer rule helps independent workers allocate money for future tax payments, while the Dream Team feature allows partners to reach their financial goals together.
Still, investors using Qapital Invest can't change the portfolio structure or set up a portfolio independently. So if you want a say in your ETF portfolio creation, you must look elsewhere.
Who Is Acorns For?
Acorns is an excellent option for hands-off investors. The robo-advisor matches the investor's risk tolerance and financial goals with the best-suited portfolio so that users don't have to spend much time on the platform.
Investors who have trouble saving can easily put aside what they would usually spend elsewhere through the Round-Up program, which charms them into saving effortlessly while contributing to their portfolio growth.
Like Qapital, Acorns doesn't support self-directed investing. As a result, investors who want to change their asset allocation or trade securities by themselves must also look elsewhere.
Account Minimum: $0
Fees: $1 per month (Lite), $3 per month (Personal), and $5 per month (Family)
Promotion: $5 sign up bonus
Final Thoughts
Qapital and Acorns do a great job of empowering beginner investors and owners of small account balances to save and invest. However, each offers a different approach to reaching your financial goals.
Qapital is considered a banking app and uses rule-based saving. It offers various features, including Qapital Invest for complete or master plan subscribers who want to invest for their future. In contrast, Acorns focuses on investing your spare change. Its users can further benefit from various features such as Acorns Later, Acorns Spend, Acorns Early, and Acorns Earn.
What sets the two apart is the number and kind of features they have as well as the accompanying fees. Depending on the features you want, one or the other app might be perfect for you. Acorns is slightly less expensive and small dollar amounts saved in subscription fees can add up over time.
Up Next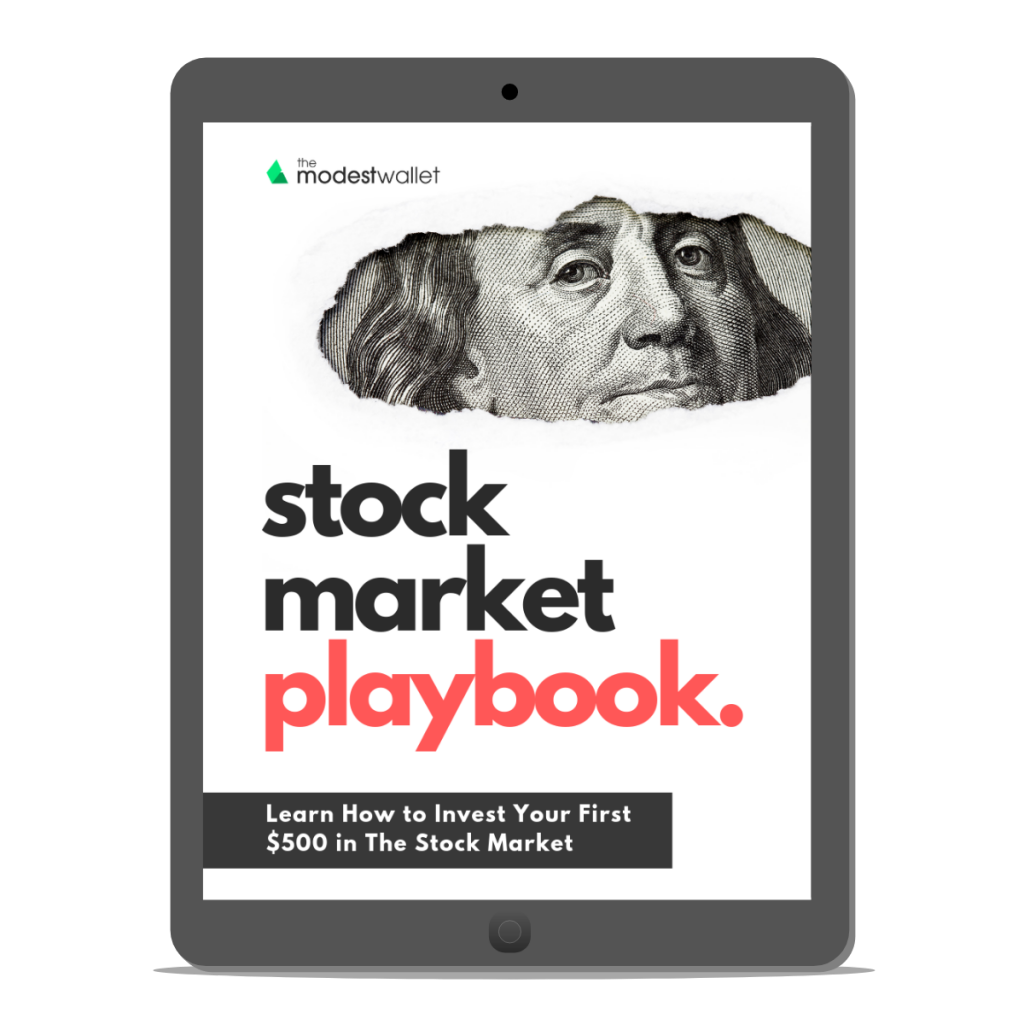 Get our free Stock Market Playbook to learn how to invest your first $500 in the stock market.
Plus our best money tips delivered straight to your inbox.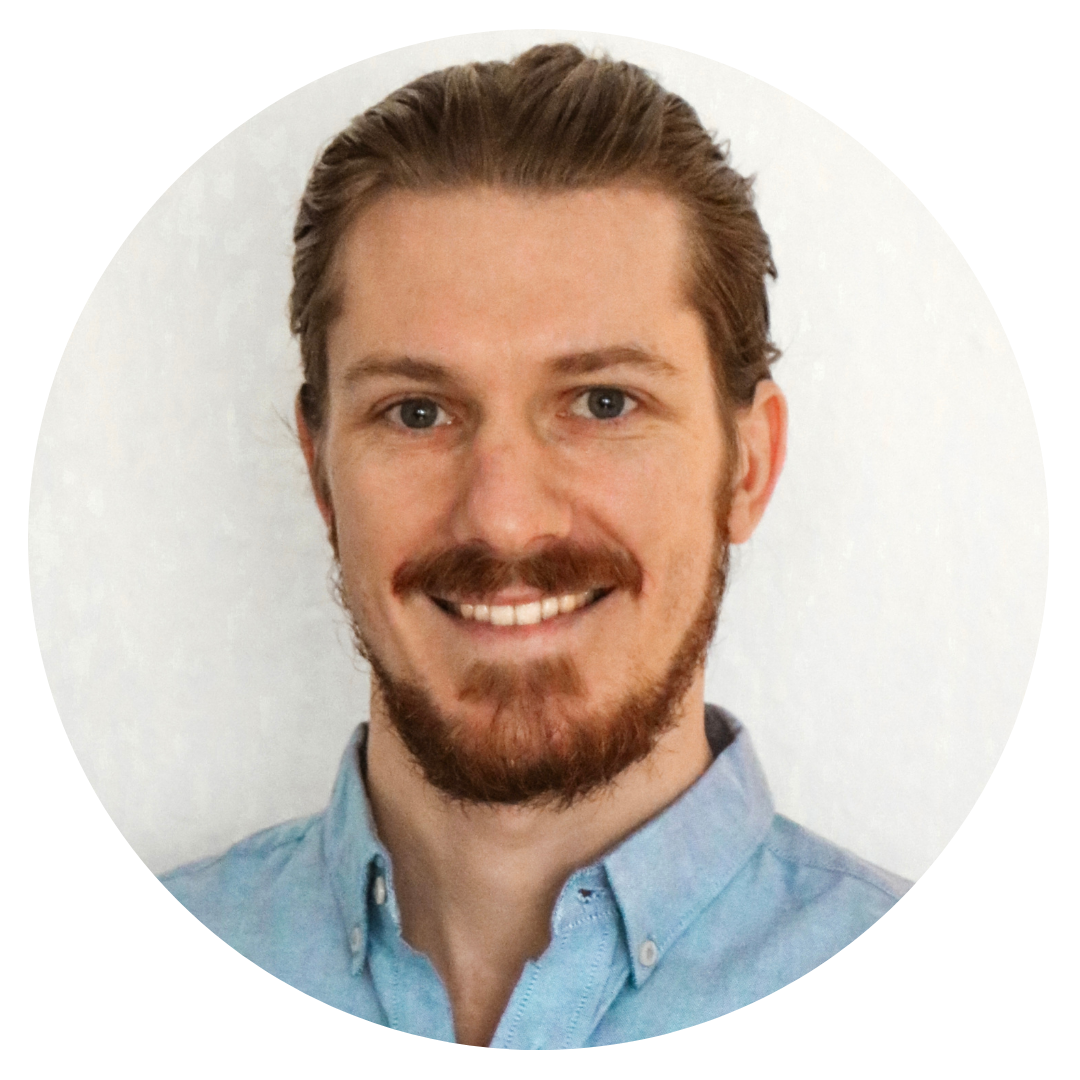 Carsten is a Freelance Copywriter with a personal interest in money management and investing. Besides taking care of his investments, he loves traveling, reading books, and working out (calisthenics & yoga).