Qapital vs. Digit 2023: Which Money Saving App Is Best?
Many or all of the products featured on this page are from our sponsors who compensate us. This may influence which products we write about and where and how the product appears on a page. However, this does not influence our evaluations. Our opinions are our own. Here is a list of our partners and here is how we make money.
---
The information provided on this page is for educational purposes only. The Modest Wallet is a financial publisher that does not offer any personal financial advice or advocate the purchase or sale of any security or investment for any specific individual.
Qapital and Digit are two apps that use technology to help people save and invest money. They both offer a range of features that motivate users to work toward their financial goals.
Qapital focuses on using rules to save money based on your spending habits. And Digit is all about smart, automated savings.
In this review, we'll take a deep dive into both services, their main features, investment options, pros and cons, and more.
| | | |
| --- | --- | --- |
| | | |
| Our Rating | | |
| In A Nutshell | Qapital is a personal finance app designed to encourage its users to save and invest money. Using goals, rules, and triggers, users can automatically transfer money from their checking account to a savings account. | Digit is a financial app that uses algorithms to analyze your spending habits, bills, and cash flow to help you save. The app will automatically transfer money from your checking account into your Digit savings account. |
| Our Review | Full Qapital Review | Full Digit Review |
| | | |
---
Qapital vs. Digit: Overview
Both of these companies use technology to help users improve their relationships with money. They both focus on micro-savings and automation.
About Qapital
Qapital is a mobile solution that helps people improve their financial habits. It gives users the ability to automatically save money by creating rules based on their personal financial goals. These rules can relate to saving, spending, investing, or all of the above.
The company got its start in Stockholm in 2013 and launched in the U.S. in 2015. Today, Qapital focuses on automation and understanding behavioral science to help people reach their goals. Read our full Qapital review to learn more.
About Digit
Like Qapital, Digit is a mobile-based service that helps users save, budget, and invest. What makes Digit unique is that it uses a proprietary algorithm to determine how much you can save each day. When you have extra money, it automatically transfers it into your savings account.
Digit is based in San Francisco and launched in 2013. According to the company, its customers have used Digit to save more than $7 billion. Read our full Digital review to learn more.
---
Qapital vs. Digit: How Do They Work?
Qapital and Digit work fairly similarly, but do differ. Both apps aim to make it easy for users to reach their financial goals.
Qapital
To start using Qapital, download the app. You'll need to verify your identity using IDology.
To begin saving, link your Qapital account to an external checking account. Select some rules to automatically transfer money from your checking account into your Qapital savings account.
Qapital will also send you a Visa debit card linked to your account.
Set up a Qapital Invest account if you want to begin investing. Your Invest account will take about five to seven business days to set up, and you'll need $10 to fund it.
If you need help, check out Qapital's help center or reach out via the in-app chat or email.
Qapital is free for 30 days after you sign up. After that, choose from three pricing options.
Digit
Access Digit through their mobile app or website. You'll need to create an account and log in.
Next, connect your bank account to your Digit savings account. Choose some goals that you want to save for. Digit's algorithms will analyze your spending habits and automatically transfer money to your savings account.
Check out Digit's investing options to set up an investment account or an IRA retirement account. If you like, you can automatically transfer money to both a savings account and an investment account.
Digit offers customer support through a form on their website or via email.
The first 30 days are free and then you can choose between two pricing plans.
---
Qapital vs. Digit: Main Features
Both apps are based on saving money and investing, but their unique features will help you choose the best option for you.
| | | |
| --- | --- | --- |
| | | |
| Minimum Deposit | $0 | $0 |
| Fees | $3 per month (Basic), $6 per month (Complete) and $12 per month (Master) | $5 per month |
| Investment Types | ETFs | ETFs |
| Platforms | Mobile (iOS and Android) | Mobile (iOS and Android) |
| Promotions | None | 30-day free trial |
| Savings | | |
| Checking | | |
| Round Up Features | | |
| Pre-Built Portfolios | | |
| Individual Stocks | | |
| Goal Tracking | | |
| Best For | Individuals having difficulties saving | People who want to kick-start their savings strategy |
| | | |
Qapital
One of Qapital's main selling points are its rule-based triggers. These triggers help you save money automatically based on your spending behaviors. There are several different rules, and you can use as many or as few as you prefer.
Qapital's Round Up Rule is the most popular. With this rule, any time you make a purchase, Qapital rounds up your change to the nearest dollar. The app then deposits the change into your savings account.
The Spending Sweet Spot trigger helps you treat yourself without the guilt of overspending. Use it to manage day-to-day costs like dining out, coffee runs, and movies.
The Payday Divvy trigger automatically sets aside money for your goals every time you get paid. Depending on your settings, Payday Divvy allocates funds to savings, investments, and more.
Use the Qapital Invest trigger to set up a low-cost exchange-traded fund (ETF) portfolio. Qapital will help you choose an appropriate portfolio based on your goals and risk tolerance.
On the other hand, the Dream Team trigger helps you combine your finances with your partner's to work on your goals together.
Finally, the Money Missions trigger aims to make saving money fun and meaningful. Example missions include adding a meal-prep day to your week or canceling a subscription that isn't making you happy.
Main Features Overview
Rule-based triggers: Save money automatically with rules that move small amounts of cash into your savings or investment accounts.
Spending Sweet Spot: This trigger helps make sure you always have funds for your day-to-day needs (and wants).
PayDay Divvy: Set aside a specific amount from each paycheck to use for saving, investments, bills, or anything else with this trigger.
Qapital Invest: Invest in an ETF portfolio based on your risk tolerance and goals with this trigger.
Dream Team: Work with your partner to reach your financial goals together with the help of this trigger.
Money Missions: Use this trigger to challenge yourself to find new ways to save money and improve your financial health.
Digit
The feature that sets Digit apart from other apps is its automated savings tool, which is based on a complex algorithm. When you sign up for an account, enter information about your income, spending habits, and more. The app uses this data to determine how much money you can save each day.
To make saving as effortless as possible, Digit automatically moves small amounts of money into your savings, investment, or retirement accounts. If you prefer, you can set a maximum daily transfer amount.
Another way Digit motivates people to save is with savings bonuses. Whenever you deposit money into your Digit savings account for three consecutive months, you'll get a bonus. The bonus is 0.10% of your account balance.
While Digit's goal is to move money only when you can afford it, they offer overdraft protection and reimbursement. Digit will automatically reimburse you for any fees your bank charges for up to two overdraft instances.
Digit is all about setting goals. You can enter as many goals as you like in the app. Digit will use its algorithm to allocate money toward each goal.
If you want to prioritize one goal, use the Digit Boost feature to allocate more of your savings toward it.
Do your goals involve paying down credit card or student loan debt? Link your loan account to your Digit account and set up a loan repayment goal. Digit will automatically send an extra payment every month.
In addition to saving, Digit offers a robo-advisor option for investing. Choose a regular investment account or an IRA retirement plan. With either option, the app will set up an ETF portfolio for you.
Main Features Overview
Automated savings: Easily save the amount you can afford with automatic transfers to your savings account.
Savings bonuses: Get a reward for saving money consistently.
Overdraft protection and reimbursement: If your account is overdrawn, Digit will reimburse any fees for up to two instances.
Goal setting: Work toward as many customizable goals as you like.
Digit Boost: Prioritize your most important goals.
Credit card and student loan debt payments: Repay loans faster with automatic extra payments.
Investing: Set up investment and traditional or Roth IRA accounts using Digit's robo-advisor.
---
Qapital vs. Digit: Investment Options
Qapital and Digit offer robo-advising solutions that make it easy to begin investing, even with small amounts of money.
Qapital
To get started with Qapital Invest, answer a few questions about your investment timeline and goals. The service will recommend one of five ETF portfolios, ranging from Very Conservative to Very Aggressive.
Each portfolio includes 12 diversified asset classes, including stocks, bonds, and REITs. Qapital rebalances your portfolio as market conditions change. And as you earn dividends, the service automatically reinvests them.
Digit
When you get started with Digit, the app will choose investments for you based on a questionnaire. There are two products you can opt into: Retirement and Investing.
If you choose the Retirement feature, Digit opens a traditional IRA or Roth IRA account for you. The type of IRA account is based on your income, while your specific portfolio is based on your age and retirement timeline.
The Investing feature includes a taxable brokerage account, with an ETF portfolio based on your risk tolerance and goals. There are three options: conservative, moderate, and aggressive. Each portfolio includes a variety of asset classes.
---
Qapital vs. Digit: Account Types
You might be wondering which types of accounts you can open with Qapital or Digit. Both apps have options for saving and investing, but only Digit offers retirement accounts.
Qapital
When you use Qapital, the app will create a spending account for you. This account is a checking account with a Qapital partner bank and is linked to your Qapital Visa debit card, if you choose to use one.
If you use Qapital for investing, you'll set up a taxable investment account.
Digit
As you save money with Digit, your funds are kept in an account with a partner bank. You can also create a taxable investment account or a traditional or Roth IRA.
---
Qapital vs. Digit: Fees & Pricing
Each app charges a monthly fee. Qapital has three pricing options, while Digit has two.
Qapital
With Qapital, you can open an account for free and start with a free 30-day trial before you begin paying. After that, there are three pricing tiers.
Basic: This plan costs $3 per month. It includes access to all rule-based triggers and lets you create as many goals as you like.
Complete: This plan costs $6 per month. It includes the above features plus Payday Divvy, Spending Sweet Spot, and investing.
Premier: This plan costs $12 per month and includes the above features plus access to the Dream Team function. You'll also get early access to brand new features.
Digit
Digit offers a free 30-day trial.
There are two pricing plans. If you just want help with saving and nothing else, you can pay $5 per month.
For investing, retirement account access, and more, Digit costs $9.99 per month. If you sign up for an annual plan, you'll pay $95 per year and save 20%.
---
Qapital vs. Digit: What We Like (Pros)
There's a lot we like about both of these platforms. Either one will help you save money, and they both offer investing options. Here are some of the specific benefits of Qapital and Digit.
Qapital
Wide range of money-saving rules
No minimum amount to start saving
Qapital Visa debit card
Pricing tier options for different budgets
Qapital monitors and rebalances your investment portfolio and reinvests dividends
Money missions keep you motivated to save
Digit
Automatic savings based on algorithms
No minimum account balance
Bonuses for consistent saving
Goal setting features with option to prioritize certain objectives
Help with student loan and credit card repayments
Investment and retirement accounts, including traditional and Roth IRAs
Annual payment option saves money
---
Qapital vs. Digit: What We Don't Like (Cons)
Both Qapital and Digit also have some downsides. Here's what you should know about before you sign up.
Qapital
Mobile only (no web browser access)
No retirement account offerings
Some users report difficulty when closing their account
No customer support by phone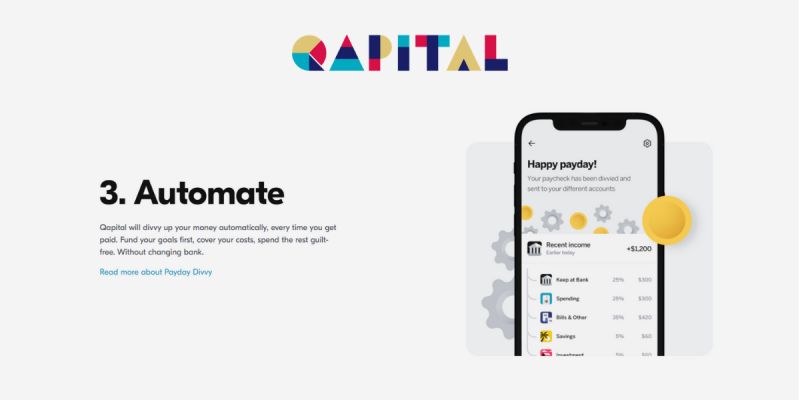 Digit
Higher monthly fee for access to investing services
No interest paid on savings account (aside from savings bonuses)
Unclear whether Digit automatically reinvests dividends in investment accounts
No customer support by phone
---
Qapital vs. Digit: Security
Both apps are safe to use. Here, we'll go into more detail on how they keep your money secure.
Qapital
The money in your Qapital savings account is held with a partner bank and is FDIC-protected up to $250,000.
For investment accounts, Qapital works with Apex Clearing for brokerage services. Apex Clearing is registered with the SEC and is a member of FINRA and SIPC.
In terms of technical security, Qapital uses SSL and TLS encryption standards. When you access the app, you'll have to use a passcode or fingerprint ID.
Digit
Digit's partner banks are FDIC insured up to $250,000. For investments, Digit works with DriveWealth LLC, which is SEC-registered and a member of FINRA and SIPC. SIPC protects investment accounts up to $500,000.
Digit secures your data using 256-bit encryption. You can set a passcode and require Touch or FaceID using the iOS app.
---
Qapital vs. Digit: Customer Support
Qapital and Digit both have online help centers that answer common questions. Neither service offers phone support, which may concern some users.
Qapital
Qapital offers customer support via chat within the app or email. There isn't an option to speak with support over the phone.
There's also an extensive help and support center with how-to guides and FAQs.
Digit
Digit has an online help center with FAQs and guides. If you need extra help, you can submit an online request, and an agent will get in touch with you. Or, if you prefer, you can send an email.
There isn't currently a way to reach customer service via phone.
---
Qapital vs. Digit: Platform and App
Qapital and Digit make it easy to get started with their services. Some users feel that Qapital has a more attractive interface, while others prefer that Digit is simpler.
Qapital
Qapital is a mobile-only solution. The app is easy to use and well-designed. It's free and available for iOS and Android devices.
The iOS app currently has a rating of 4.8 stars with 78.8 thousand ratings. The Android app has 20.6 thousand ratings resulting in 4.3 stars.
Digit
Digit has a free app for iOS and Android. It also has a website you can log into to access your account.
The iOS app is currently rated at 4.7 stars with 260.8 thousand ratings. The Android app is at 4.6 stars with 43.8 thousand ratings.
---
Who Is Qapital For?
Qapital is a great choice for anyone who wants help saving money. If you struggle with motivation and want to gamify your budget, Qapital will help.
The app is also an excellent fit for freelancers due to its freelancer rule, which can help you set aside money for taxes.
If you're an advanced investor and want to choose your portfolio structure, Qapital might not be for you. There are five different portfolio options, but you can't change their structure or choose individual assets.
Qapital also doesn't offer retirement accounts.
Account Minimum: $10 (to invest)
Fees: $3 per month (Basic), $6 per month (Complete), and $12 per month (Master)
Promotion: None
---
Who Is Digit For?
Digit is a great choice for anyone who wants to automate the process of saving money. Because of its advanced algorithms, Digit will do the work of determining how much you can afford to save. You can relax as your savings grow.
Digit probably isn't for you if you want to manage the specific details of your investments. You can choose from three portfolios, but you can't change the assets within each portfolio.
---
FAQ Qapital vs. Digit
Here are our answers to some common questions about Qapital and Digit.
Which App Is Better, Digit or Qapital?
We like both apps. They each have pros and cons and our recommendation for you specifically will depend on your needs and preferences. If you like the idea of saving money based on specific rules that your behaviors trigger, try Qapital. If you prefer to automate your savings completely, try Digit. For more info, see the Pros and Cons sections above.
Is the Digit App Safe?
Yes, the Digit app is safe. They take security seriously and work with FDIC-insured banking partners. Keep in mind that there are risks with any investments, and Digit is no exception.
Is the Qapital App Safe?
Yes, the Qapital app is safe. Qapital ensures that your data is safe each time you log in to the app, and they work with FDIC-insured banking partners. There are some risks to investing with Qapital, as with any service.
How Do Qapital and Digit Make Money?
Qapital and Digit each charge a monthly fee for their services, which is one way they make money.
Qapital offers a Visa debit card and when you use the card, Visa pays Qapital a small fee. Digit launched a debit card in July of 2021 and will make money from those fees as well.
---
Final Thoughts
Both services we've covered in this review can help you save and invest your money. They're similar in several ways and unique in others. Both are safe to use and highly rated.
The specific features and different fee structures can help you decide which app is right for you. Since each app offers a 30-day trial period, you can always try both and see which is a better fit.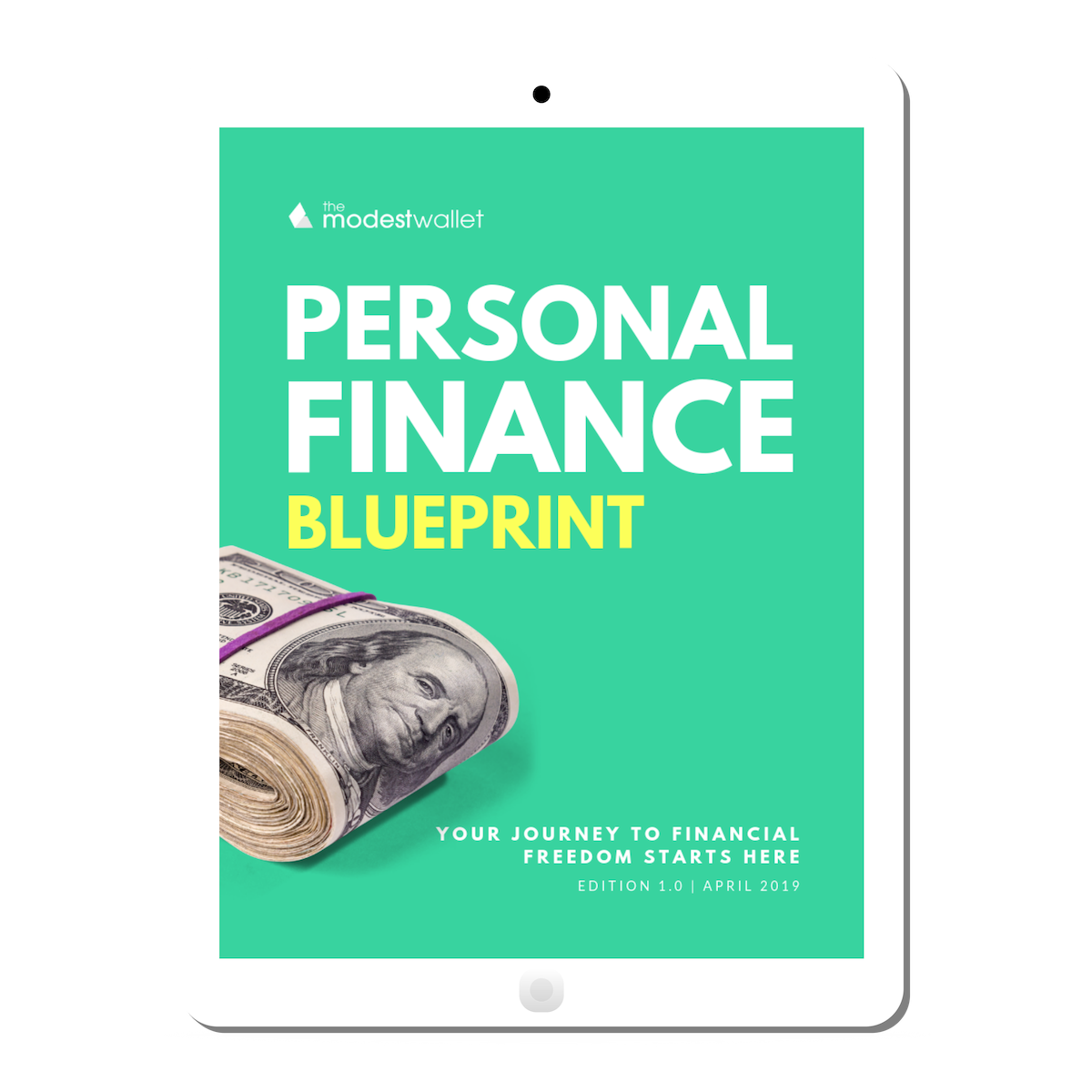 Get our free Personal Finance Blueprint to learn everything you need to know to build wealth.
Plus our best money tips delivered straight to your inbox.

Amy Besen is a freelance finance writer who covers topics including the gig economy, small business funding, and FinTech. Before starting her writing business in 2019, Amy worked in financial services for 12 years. She believes in helping people access the tools and knowledge they need to make better decisions about money.